12.05.04 US accused of eliminating witnesses to Iraqi attacks
Dec 6 – The US has been fighting two wars in Iraq: a war to eliminate insurgents and another war to eliminate witnesses, according to a November 26 article by Naomi Klien in London's Guardian newspaper. She wrote, "In Iraq, US forces and their Iraqi surrogates are no longer bothering to conceal attacks on civilian targets and are openly eliminating anyone - doctors, clerics, journalists - who dares to count the bodies...General Franks said, "We don't do body counts." Her initial concerns were of the pattern of US forces attacking hospitals first and confiscating communicatin devices, non-embedded reporters are shot, etc. Anyone in Iraq - doctors, clerics, journalists - who dared to count the bodies of civilians were killed. The U.S. Embassy in London complained, but the columnist hit back [More>>Big News Network] See also, story by Ashish Kumar Sen, "Confusion over Aids workers in Iraq makes workers sitting ducks."
---
12.05.04 Bush arrested for War Crimes on November 29 trip to Canada
(AP) On the first of his two day trip to Canada, President Bush was arrested and charged with War Crimes. Canadian Prime Minister Paul Martin released the written statement indicating that "proceedings have commenced against President George W. Bush under the Crimes Against Humanity and War Crimes Act 9(3)."

Irwin Cotler, Minister of Justice and Attorney General of Canada, performed the investigation into the Bush administration's alleged crimes and made a statement warning any former official of the Bush administration that they will be entering Canada at their own risk [of being arrested for War Crimes]. Earlier Secretary of Defense Rumsfeld was charged in Germany with War Crimes. [More>>CNN.com via commonground common sense.org]
---
12.05.04 Saudi unified front breaking up
Members of the Gulf Cooperation Council (GCC) are breaking away from their Saudi alignment and making separate economic and security agreements with foreign powers. "It is alarming to see some members of the GCC enter into separate bilateral agreements with international powers in both the security and economic spheres, taking precedence over the need to act collectively," Saudi Foreign Minister Prince Saud al-Faisal told a conference on security in the Gulf on Sunday. [More>>Al-Jezeera]

---
12.05.04 Phillipine President Macapagal-Arroyo cracks down on loggers
Lumping illegal loggers together with terrorists and drug dealers, President Gloria Macapagal-Arroyo ordered all logging activity in the country suspended after massive floods in Luzon blamed on rampant tree-felling left over 1,000 people were found dead or missing. Ms. Arroyo, in a statement released by Malacacang Saturday, also urged the Philippine Congress to amend the environmental laws and impose harsher penalties on illegal loggers and corrupt officials in cahoots with them. [More>>asiannewsnetwork.net via inq7.net]
---
12.05.04 Blast in Kazakhstan coal mine kills 23, maybe more
A blast in a coal mine in the central Karanganda region of Kazakhstan killed 23 people Sunday. Three others were injured. More than 80 miners were said to be working underground in the Shakhtinskaya coal mine at the time. [More>>Big News Network]
---
12.05.04 1st SARS vaccine primarily proved safe and effective
PYONGYANG, Dec. 4 – North Korea is not in hurry to resume the six-party talks on the country's nuclear activities, a spokesman for the Democratic People's Republic of Korea (DPRK) said on Saturday. It wants to establish a "peace mechanism" with the five other parties involved while discussing nuclear issues on the Korean peninsula.

Criteria for the "peace mechanism" would involve US recognition of the DPRK's political system and make a switch its policy in the direction of coexisting with the DPRK in peace. "Then it would be impossible for the US to overthrow the DPRK's regime or lead to the dismantlement of its nuclear program," the commentary from the official Korean Central News Agency (KCNA) declared. It went on to say that a peace agreement between the DPRK and the US should include a comprehensive solution to the political and military issues between the DPRK and the US and between Korea's north and south. [More>>xinhuanet]
---
12.05.04 Landslide in China kills 25
BEIJING, Dec. 4 – A landslide in a mountain village in Nayon County, China, Friday, killed 25 villagers. 19 others are missing. The cause of the landslide has not yet been identified. Nayon County is in southwest China's Guizhou Province. [More>>xinhuanet]
---
12.05.04 German Chancellor on three-Day trip to China to deepen "strategic partnership"
BERLIN, Dec 5 – On the eve of his trip to China German Chancellor Gerhard Schroeder said, "Germany and China share common views on many international issues and can make important contributions to securing peace and stability in the world." In a written interview with Xinhua he said the talks will cover a broad range of topics such as how to double bilateral trade volume by 2010, expand cultural and environmental protection, deepen people-to-people contact and contribute to solving international problems. Germany and China have common concerns on strengthening the United Nations and a multilateral system, fighting international terrorism and solving regional crises in the Near-and Middle East, as well as nuclear issues concerning the Democratic People's Republic of Korea and Iran. [More>>xinhuanet]
---
12.05.04 Japanese scientist says DNA samples from Nicholas II not related to Romanovs
Japanese professor Tatsuo Nagai, currently the Director for the Department of Forensic Medicine and Science at Kitasato University, Kanagava Prefecture, says that DNA samples of Czar Nicholas II were not the same as the DNA samples taken from the hair and nails of his brother Georgy Romanov, who was buried in 1998. Nicholas II and his family were assassinated during the Russian revolution and Stalin had the bodies recovered and reburied at the Peter and Paul Fortress. Professor Nagai took sweat samples from Nicholas II that were on his frock coat and his blood-stained handkerchief. They didn't match his surviving brother's DNA. The evidence suggests that the murdered Russian royal family are still not accounted for. [More>>kommersant.com]
---
12.05.04 Foreign oil companies in Kazakhstan accused of discriminating against Kazakhstanis
Companies avoid employing Kazakhstani citizens by setting knowingly unattainable standards, such as age limitations, experience of work abroad in large companies for at least 10-15 years, and obligatory knowledge of foreign languages. Such requirements are set even for welders. All this represents direct abuses of the constitutional rights of citizens, according to Kazakhstan's prosecutors. "It is impossible to get a job under such conditions," they said [More>>khabar.kz]
---
12.05.04 1st SARS vaccine primarily proved safe and effective
BEIJING, Dec. 5 – The Chinese government announced Sunday that a vaccine for Severe Acute Respiratory Syndrome (SARS) has been developed and has completed phase-one clinical tests. Wang Xiaofang, a senior official with China's Ministry of Science and Technology, said the first test involved 36 volunteers who were injected with the vaccine 56 days ago and did not report any abnormal physical reactions. Antibodies were found in w4 volunteers. [More>>xinhuanet]
---
12.04.04 Confusion makes aid workers in Iraq sitting ducks
WASHINGTON, Dec. 4 – Ashish Kumar Sen reports that an unprecedented number of aid workers are being targeted by terrorists in Iraq. US forces in Iraq have held a prominent position in providing aid, from medical support to feeding the displaced population. Since CARE International's director of operations Margaret Hassan was killed, insurgents have stepped up their attacks on people giving aid. Oliver Burch, Iraq program manager at London-based Christian Aid, said it's "very important for there to be a clear line between what the military is doing - particularly if large parts of the population regard it as belligerent - and humanitarian groups. The latter should be seen as neutral...We have a situation where the Iraqi population is totally confused. They cannot distinguish between foreign forces and foreign aid workers." [More>>atimes.com]
---
12.04.04 Japanese government studying proposal for offensive "first strike" weapons
A new proposal changing the mission of Japan's Self-Defense Forces to an offensive mission was submitted by Japan's Defense Agency Friday. The proposal to the Liberal Democratic Party provides for the development of long-range precision-guided missile technology capable of attacking enemy ballistic missile bases. [More>>Daily Yomiuri]
---
12.04.04 India's Prime Minister Singh: "South Asia no longer nuclear flash point"
Addressing the Prime Minister's Trade and Industry Council in New Delhi, Prime Minister Manmohan Singh said today that South Asia was no longer being regarded as a "nuclear flash point." "No one now talks of South Asia as a nuclear flash point and no travel advisories are being issued apprehending war," he said. [More>>ptinews]
---
12.04.04 Tokyo Finance Minister loses sleep over dollars but still buying
TOKYO, Dec. 3 – James Brooke and Keith Bradsher report that the top official at Japan's Finance Ministry, Masatsugu Asakawa, is standing pat on his $720 billion portfolio of US government securities. The dollar has been sliding and other Asian portfolio managers have been shifting their positions in dollar holdings, and though Asakawa is losing sleep at night, he's not changing his buying habits just yet. Asian bankers, including Japan's, own 40% of the US debt. [More>>New York Times]
---
12.04.04 Thieves take advantage of poor record keeping in National Archives
The National Archives is the country's official repository of documents from the Bill of Rights to photos of Nancy Reagan. Yesterday the National Archives reported that documents written by Ulysses S. Grant, photos of Nancy Reagan and the king and queen of Jordan, letters from General Grant and Civil War Confederate President Jefferson Davis, and a "stately portrait of Franklin D. Roosevelt" were among items that came up missing. The procedures for viewing and checking out items in the archives are apparently loose...or lost. [More>>Washington Post]
---
12.04.04 Russia and India sign strategic partnership

Singh and Putin in New Delhi on Dec. 3, 2004
NEW DELHI, Dec. 3 – India and Russia signed Friday a Joint Declaration emphasizing a strategic partnership between the two countries and taking note of the transformation in the global environment in recent years.
The two countries also signed accords on outer-space, long-term cooperation in the field of joint development and use of Russian Global Navigational Satellite System (GALLONS) for peaceful purposes, visa-free travel for holders of diplomatic and official passports and cooperation between the cities of Mamba and St. Petersburg, the Press Trust of India reported. [More>>xinhuanet]
---
12.04.04 Musharraf says talks with India on Kashmir "moving well"
WASHINGTON, Dec. 4 – After meeting with President Bush, President Pervez Musharraf of Pakistan said that talks with India to resolve the dispute over Kashmir "were moving well" and that he was "very optimistic of the future" on bilateral ties. [More>>jang.com]

(AP) Dec. 4 – The meeting between President Musharraf and President Bush Saturday went very well, said Bush, and he complimented Musharraf for the fine job he was doing in Paksitan. Bush left Musharaf with some "unanswered wishes" – some of which involved Musharraf's advocacy that the Kashmir and Palestine disputes can be solved. [More >>CNN.com]
---
12.04.04 Mixed signals on India's role in the UN Security Council
India apparently misunderstood the mixed signals it was receiving from Putin on the matter of allowing India to have a permanent seat on the UN Security Council, with voting priviledges along with the other permanent members. In his meeting today in India he categorically rejected the interpretation given by newspaper reports on India's voting powers on the Security Council. In his meeting with Vice President Bhairon Singh Shekhawat and Leader of the Opposition LK Advani Putin emphasised the need of retaining the instrument of veto as a means of ensuring the effectiveness of the UN Security Council.

In extending full support to India's candidature, Putin felt that India, as a new member, should have the full rights of permanent membership, including the right of veto, the spokesman said. [More>>hindustanitimes.com]

---
12.04.04 Russian & American bases in Kyrgyzstan growing
BISHKEK, Kyrgyzstan, Dec. 4 – Kim Murphy, Times Staff Writer reports that Moscow is angling for influence in its former republics in the face of growing US and NATO presence. The US established a base in Kyrgyzstan for its troops fighting in Afghanistan and the Russians have just opened their new base nearby and has quadrupled the number of their troops. Murphy says that the commanders of the rival bases are not speaking to each other and the installations are symbols of "a new rivalry between East and West for influence over the lands of Russia's old empire." [More>>latimes.com]

Two hundred years ago or so forts were established as trading centers – to protect traders like the East India Company, or, in the New World, the Hudson Bay Company. We reported that this is an area to watch from an economic standpoint, since the region is also where an oil pipeline to China may pass. India and Pakistan have just agreed on the resurrection of an old railway, which anticipates the need for the landlocked central Asian republics to find an more efficient means of transport and communication. Kyrgyzstan has great significance to archeologists and anthropologists as well. A great find from a Scythian tumulus was found there. To view the gold go to: http://www.fotuva.org/history/archaeology.html.

Tumuli containing red-haired people, called the Tocharians, who spoke an Indo-European language and wore clothes that would have passed easily in a Scottish pipe group, were found in the region. The ancient Silk Road passed right through the area on the way to China. To view Marco Polo's route go to: http://silkroadfoundation.org/maps/images/polomap.jpg. A modern map of the area is in the side bar.
Mel Copeland
---
12.04.04 Indian Prime Minister Singh's response to Musharraf
MOSCOW, Dec. 3 (UNI) Reiterating India's stance on willingness to hold dialogue with all parties on the issue of Kashmir, Prime Minister Manmohan Singh has said that India will not compromise with terrorists. "Our position has always been firm and consistent. We will not compromise with terrorists. It is unacceptable and cannot be justified on any pretexts," Dr. Singh said in an exclusive interview to leading Russian business daily "Kommersant" published today.

"At the same time, we are ready to sort out any political issue and any conflicts by peaceful means," he said. "We are discussing problem of Jammu and Kashmir with the members of the legislature of the state," he added. "We made it clear that we are ready to talk to anybody who gives up violence. And our withdrawal of troops is connected with general improvement of the situation in the state that became possible due to effective measures taken to stop cross-border terrorism, and due to the fact that fight against terrorism gained public support," Dr. Singh noted. [More>>Kashmir Times]

For those who have been following Musharraf's statement that the Kashmir and Palestinian disputes "are ripe for solution," the comment by Dr. Singh seems obtuse from our perspective. More on the troubles in Kashmir can be seen at Kashmir Times. Friday-Saturday separatists, fighting for Indian rule in Kashmir, carried out another attack, killing 6 people. [Al-Jezeera]

President Putin of Russia began a three day visit with Dr. Singh Friday, and there is talk of a Russia-China-India pact of some kind. Putin's visit to India will focus mainly on negotiations of military equipment. [Kommersant.com]
Mel Copeland
---
12.03.04 US National Debt reduction a priority for Senator Feinstein
by Mel Copeland
Maravot News Dec. 3 – Wondering whether there might be another movement brewing in Congress to stop borrowing to fund the US government, we contacted California Senator Diane Fienstein (D). Her answer is posted below.

History buffs may recall that former Speaker of the House Newt Gingrich (R) led the last revolt (September 1994 - April 1995) to stop irresponsible government borrowing, converting President Clinton into a "pay as you go" plan of government funding. The historic announcement was called, "Republican Contract with America." It worked quite successfully, producing a budget surplus (reducing the National Debt as well).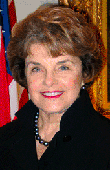 Senator Feinstein
(1992-present)
December 3, 2004

Dear Mr. Copeland:

Thank you for contacting me to share your concerns about
Federal spending priorities and tax legislation. I welcome the
opportunity to respond.

Like you, I appreciate the value of taxpayer dollars and
believe they should be spent on appropriate programs. I am
committed to an efficient Federal government and I have made it a
priority to reduce the size of the national debt. In order to achieve
this goal, the President and Congress must maintain strict fiscal
discipline so that deficits do not continue to rise. At times, this
may mean voting against tax cuts we cannot afford, and at other
times it may mean keeping spending in check. But regardless, be
assured that I am firmly committed to supporting legislative
initiatives that will substantially reduce the Federal budget deficit.

Once again, thank you for writing. Please know that I
believe that Congress should closely and continuously examine
areas where federal dollars are not being spent effectively. I value
and respect your opinion and hope that you will continue to share
your thoughts and ideas with me. If I can be of further assistance,
please do not hesitate to contact my Washington, D.C. office...

Sincerely yours,

Dianne Feinstein
United States Senator

http://feinstein.senate.gov

Further information about my position on issues of concern to California and the Nation are available at my website http://feinstein.senate.gov.
At first frowning over the Republican contract, Clinton soon jumped with glee at the positive response by Americans to the "pay as you go plan" and was surely warmed by the smiles coming from the international banking community. Most importantly, the stalled American economy began to steam ahead; and then the average American taxpayer took a deep breath, thinking, "for the first time, after years of deficits, we could see the light at the end of the tunnel." At that time even the patron saint of the Conservatives, Wm. F. Buckley Jr., was happy to that end. For my part, I thought we were on a sinking ship before Gingrich and 300 Republican House members made their great announcement on the steps of the Capitol.

In my correspondence with Mr. Buckley I used a metaphor of being on a sinking ship (I asked whether we were on the Pequod or the Titanic and feared it was the Titanic) suggesting that our economy was sinking as a result of the enormous Reagan-Bush deficits (see table below). Though Mr. Buckley was a friend of President Reagan, with regard to the National Debt Mr. Buckley expressed the need to stop the borrowing. Actually, to keep his response to my inquiry in the context in which it was expressed, he made two initial comments on the excessive deficits.

The conversation began as a result of my letter to him in December 1992 asking him to correct a misstatement on his Firing Line Debate, where all the panelists were quoting the deficit at $200 billion. The actual deficit that year was running ~$300 billion per year, and I noted in my letter to Mr. Buckley – a sailor as I – that had his navigator been off in his bearings to Europe in their trans-Atlantic crossing, as much as the Firing Line panelists were with regard to the deficit, he would have ended up in the island of St. Helena rather than Paris.

I was concerned about the deficit then, because it was sinking our economy, in my opinion. Most people – then and now – don't know the difference between the "deficit" and the "National Debt." They thought then and still think that way, if you follow media reports, that we are passing the debt on to our children. But the argument I posed to Mr. Buckley went far beyond that somewhat small, self-indulgent guilt-trip, for I was concerned that the National Debt involved an interest payment (just as in a home mortgage); and at the time in 1992-1993 the interest being paid each year was more than our Defense Department expenditures – which were then considered way out of line, over the top, excessive, a complete waste, etc. But I pointed out that the deficit and interest on the debt were about the same amount each year (which is true once again under the Bush administration), and the annual expenditure was far more than any other item in our government outlays. For instance, in December 1992 and early 1993 interest on the National Debt was about $320 billion per year. The Defense outlays projected for 1993 were $220 billion. Welfare – a major boil at that time, as Congress complained that we were spending too much money on the beggars – was $152 billion (half that which we were spending on interest!). Congress was apparently then in favor of throwing those who could not provide for themselves out on the street, following Reagan's prior example in California, where he emptied mental and other institutions by cutting off their funding. That was around 1985, before which there were no homeless people in San Francisco. (Since Reagan's stint as governor of California San Francisco has not failed to be credited as one of the homeless capitals of the United States, if not the world)

So you can understand that my inquiry with Mr. Buckley concerning the amount of money we were spending on interest on the National Debt was not unconnected to the reality of the poverty we see creeping through the streets of America.

Most of you are familiar with the Titanic. My reference to it, as being an allegory of a sinking ship of state upon which we were sailing, involved a lot of passengers. I argued that other boats were tied to it, and pointed out how the European and Asian economies would probably begin sinking before the water flowing into our titanic ship of state could be plugged. As for the Pequod, for those of you who are not familiar with Herman Melville's great work, "Moby Dick" (1851), the introduction of that work explained the origin of the name of the whaling ship. The Pequod was stove in by a great white whale, Moby Dick. Melville explains, something to the effect, "The Pequods, you see, were a tribe of Indians that are now extinct." They weren't quite extinct in Melville's time, and certainly they are not now extinct, from the size of their casinos on the east coast of the United States. However, the hint is well taken as to what his story is about: that the whaler, Pequod, in her hunt for Leviathan would become extinct.

I also argued in my complaint to Mr. Buckley that the people who were collecting most of the money we taxpayers were shelling out were like a handlebar-moustached rent collector appearing in the dead of night, wrapped with his huge, dark cape over his shoulders, broad brimmed hat shading his evil eyes, demanding the rent payment or else. These are the two letters that began the 2 1/2 year conversation with reference to our National Debt (keep in mind that the spectre has come back to haunt us again, but the debt is much higher today, and thus the conversation is once again relevant):

February 2, 1993

Dear Mr. Copeland,

Perhaps we ought to divide the arguement. Whether the government is properly engaged in the business it funds with debt, and whether the costs of those businesses are lower than their benefits, is one question. Whether the people whose money the government borrows to fund those businesses are sociopaths because they make money by lending it, is quite another. Not even people who make more thant $200,000 per year can compel the feds to borrow. If debt service is growing too high too fast, then the tax-and-spend-and-elect crowd in the congress are the sociopaths.

Yours Cordially,

Wm. F. Buckley Jr.
Agreeing with Mr. Buckley as to the Leviathan that stove us in, being Congress and our Presidents, I offered data which showed that Presidents Reagan and Bush essentially got every appropriation they asked for out of congress and it was they who were the leaders of the sociopaths. Captain Buckley replied:
February 19, 1993

You may quote my letter of February 2 in its entirety, if you wish; but I have to decline to give you latitude to excerpt. As to the Presidents' budget requests, I said at the time they were too high. I still say so. President Reagan might possibly have succeeded with a lower one, the first time out. After that, we were probably sunk.

Yours cordially,

Wm. F. Buckley Jr.
In keeping with Mr. Buckley's terms, I must refer you to the work, Against Leviathan, that records the beginning of our conversation. My objective with regard to stopping the borrowing on the debt – which Mr. Buckley shared – also involved issues on ethics, having to do with the responsibilities of leaders "telling the people what they had a right to know." [Cicero, The Offices]; thus explaining why we drifted from an "Economics 101" issue" to "faith." Mr. Buckley is a highly respected Catholic.

Bad economic policies by a leader can lead to extraordinary suffering; certain suffering in the 80's and early 90's might not have been seen had a more fiscally responsible leader been at the helm. As pertaining to the Reagan-Bush era of irresponsible, unnecessary borrowing we must leave it behind us, as part of our history. Mr. Reagan cannot answer from the tomb, as far as anyone can tell, and thus can no longer defend himself. So our argument is not with the dead, but rather to promote the common welfare for those who are alive.

Deficit Spending was first experimented upon by Hoover, and his policies left us in the Great Depression. When Reagan entered office with his new ideas on borrowing – strapping the next generation with his debts – pundits gave the term a more respectable nomenclature, "Reaganomics." Ultimately that term involves an ethical question.

While the issue may appear scary – for prudential reasons – we have seen that dealing with Leviathan is not that difficult. In the end there is less head scratching, trying to find money that does not exist, and people hoping in our economy can get more sleep at night. The Clinton era proved this point.
---
12.03.04 Ukrain's parliament votes to pull 1,600 peacekeepers out of Iraq
The Ukrainian parliament has called on outgoing President Leonid Kuchma to withdraw the nation's 1,600 peacekeepers from Iraq, where they make up the fourth-largest contingent in the US-led force.

"Due to the sharp deterioration of the situation in Iraq, the parliament addressed the president with the proposal on withdrawal of (Ukrainian) troops from Iraq," the resolution on Friday said. The chamber voted 257-0 in support of the proposal. Forty deputies who were present did not take part in the vote. [Al-Jezeera]
---
12.03.04 US continues to rattle sabres at Iran
LONDON, Dec. 3 – The United States on Thursday denounced Iran for not allowing inspectors from the International Atomic Energy Agency (IAEA) to visit military sites suspected of housing work on nuclear weapons. The State Department said the denial of access to the two sites, despite Tehran's repeated insistence that it is not developing nuclear arms and vows to cooperate with the IAEA, was "an anomaly in Iran's behavior."

"The issue is Iran's commitments to transparency, Iran's commitments to openness, Iran's repeated statements that they're not seeking to develop nuclear weapons and how Iran can build confidence in the world that they're indeed sincere and true," spokesman Richard Boucher said. [IranMania.com]
Parallel article: WASHINGTON, Dec. 3 – US Defense Secretary Donald Rumsfeld said Thursday Iran was "making a lot of mistakes" but said any action to prevent it from acquiring nuclear weapons was a call for President George W Bush and other leaders to make.

Rumsfeld was asked in an interview with Fox News television whether the United States could allow Iran to become another North Korea, which is believed to have nuclear weapons. "The Iranians are making a lot of mistakes, let me just put it that way," Rumsfeld said. [IranMania.com]

Rumsfeld's comment recalls similar Washington threats to Iraq before invading Iraq. The Bush administration needs to back off and give peace a chance for a change, in my opinion. There are other ways of diplomacy besides invading countries, according to old American and UN covenants.
Mel Copeland
---
12.03.04 French Prime Minister acts to stop Hizbullah TV; anti-Semitism increasing in Europe
PARIS, Dec. 2 – French Prime Minister Jean-Pierre Raffarin on Thursday called for a television channel run by the Lebanese Shi'ite terrorist group Hizbullah to be taken off the air after it accused Israel of exporting AIDS to the Middle East. [More>>Jerusalem Post]

See Maravot News editorial on the consequences of hate propaganda by clicking on the caption in the side bar: "Do you know this man?" See also former chief rabbi Meir Lau's comment Thursday regarding rising anti-Semitism in Europe. [haaretzdaily.com]
---
12.03.04 Explosions rock Madrid
Five explosions were heard at 7:30 p.m. Friday in Madrid, several hours after the Basque newspaper Gara said it received a call from a person speaking on behalf of the armed Basque separatist group ETA who said five explosive devices had been placed at gas stations along major highways leading out of Madrid. No injuries were reported and there was little damage. [More>>Jerusalem Post]
---
12.03.04 Committee calculates dollars needed to restore Iraq's largest industrial complex
Basra contained the largest industrial complex, employing tens of thousands of workers, in southern Iraq. After the 2003 US-led war most of the companies closed. They survived under nearly 13 years of UN trade sanctions, but since the war the factories disappeared. Now a committee is studying the requirements to rebuild Basra's industrial complex. Millions of US dollars have already been identified: for the restoration of a paper factory (3,000 workers), $2 million; the Ibn-Majid state-run Strategic Oil Industries which supplied spare parts to oil industry installations, ports and terminals, $ unknown; fertilizer and petrochemical industries, $5 million; a pharmaceutical firm, $1 million; iron and steel factory (5,300 workers), $ unknown. [More>>Azzaman.com]
---
12.03.04 Syria: Peace talks can go on without precondition
(Reuters and Haaretz Service), Dec. 3, 19:27 – Syrian ambassador to London, Sami Khiyami told Reuters in a telephone interview that peace talks with Israel can go on without preconditions. Earlier Syria had insisted that talks should resume where they left off in 2000. [More>>harraetzdaily.com and Jerusalem Post.com]
---
12.03.04 Senior Hamas leader accepts two state solution
(AP and Haaretz Service), Dec. 3, 19:32 – Sheikh Hassan Yousef, the top Hamas leader in the West Bank, told The Associated Press the militant Islamic group would accept the establishment of a Palestinian state in the West Bank and Gaza Strip as well as a long-term truce with Israel. [More>>haaretzdaily.com]
---
12.03.04 Germany stops plot on Prime Minister Allawi

(AP, 10:41am) German authorities arrested three Iraqis with alleged Al-Qaeda links on suspicion they were planning an attack on Iraqi Prime Minister Ayad Allawi during his visit in Germany on Friday. An increase in phone-calls and suspicious movements by the suspects who were under watch tipped the investigators off. [More>>msnbc.msn.com via topix.net]
---
12.03.04 Empty promises – Social Security benefits not sustainable
WASHINGTON, Dec. 2 A top economic advisor to President Bush said Thursday that the current system of Social Security benefits is not sustainable. N. Gregory Mankiw, chairman of the Council of Economic Advisers, at a conference on tax policy here. "The benefits now scheduled for future generations under current law are not sustainable given the projected path of payroll tax revenue," he said. "They are empty promises." [More>>New York Times>> topix.net via Presstelegram.com]
---
12.03.04 Eye rinse recalled – may cause infections
(AP) American health & Herbs Remedies issued a nationwide recall Thursday on four eye rinse products. The recall followed a Food and Drug Administration inspection that found the Albany, Oregon-based company's manufacturing conditions and controls were insufficient to guarantee a sterile product. The products pose an unacceptable risk of causing eye infections. Subject to recall are all lots of American Health & Herbs Ministry's Eye Rinse Concentrate formula 1036 live concentrated herbal tincture, White Willow Bark 3193 live concentrated herbal tincture, Fennel Seed 3126 live concentrated herbal tincture and Elderberry Flower 3247 live concentrated herbal tincture. [More>>www.fortwayne.com]
---
12.03.04 Family Health International says Asian prisons are "HIV factories"
JAKARTA, Dec. 1 (AP) Prisons ``are HIV factories,'' said Elizabeth Pisani of Family Health International, an AIDS prevention group in Jakarta. Uprotected sex and rampant drug use in Asian prisons is fueling the AIDS epidemic in the region. The AIDS threat in the overcrowded and run-down prisons is not being dealt with by governments. [More>>article by Michael Casey, guardian.co.uk. via /tajikistannews.net]
---
12.02.04 New meeting for progress in the Middle East and North Africa

The first meeting of G8 nations, Middle East and North African nations will take place in Morocco December 11. The meeting is called, "Forum for the Future," and will explore economic and cooperative ventures among the nations. The Morocco meeting will bring together foreign affairs and finance ministers from more than 20 countries of the Broader Middle East and North Africa region, along with G8 counterparts and representatives from regional and international organizations. [More>>dailystar.com]
---
News to keep your eyes on
US DEBT & ECONOMICS

12.02.04 US moves bases; Bush leaves Koizumi holding the bag for East Asian Security; Franks shrugged
12.01.04 Dollar drops, oil prices rise
12.01.04 Morgan Stanley's chief Asian economist warns against devaluing China's currency
11.30.04 "The dollar is depreciating and it is not managed," complains Chinese Premier Wen Jiabao
11.30.04 Economic growth in 2005 will be sluggish due to oil prices
11.28.04 Asia complains about falling dollar and US has no savings
11.27.04 Bush administration has new idea on funding American kids' retirement: borrow the money!
11.26.04 US dollar climbed above $1.32 to the euro and fell again against the yen
11.25.04 Russian Central bank concerned over US dollar demise
11.14.04 US September Bond sales a flop
11.14.04 Editorial by Priscilla Penwright, China hogging the oil not fair to America
11.26.04 Anti-dumping law may cut exports of American hogs
11.19.04 "US must cut record budget deficit or face painful consequences," said Greenspan to Bankers
10.30.04 Central Asia and Caucasus conference held October 12-13, 2004 – US "me-only" approach; New Great Game
11.18.04 US unilateralist position may leave it out in the cold
11.01.04 (Trend Story) Central Asian Common Market and the critical role of Afghanistan


BUSH & WAR CRIMES

12.01.04 Fallujah the 21st century Guernica?
11.30.04 Rumsfeld facing war crimes case in Germany & petition for victims filed with OAS
11.28.04 Protesters to attend Bush Inaugural Jan. 20; War Crimes complaint against Bush
11.27.04 Human Rights group accuses Bush administration of genocide in Iraq
11.01.04 Washington has opened a Pandora's box, intensifying ethnic and religious conflicts

IRAN
12.02.04 Defense Secretary Rumsfeld's office & the "Iran's secrets to Israel" papers
11.30.04 Iran's freezing of uranium enrichment activites verified by IAEA
11.29.04 Bush administration rattling sabers over Iran nuclear agreement
11.28.04 Suicide mission recruiters more active in Iran – 30, 000 recruits
11.14.04 Iran agrees to suspend uranium enrichment.
10.31.04 Iran signs $70 Billion energy contract with China

RUSSIA

12.01.04 New oil deal between India and Russia in the making
12.01.04 Russia announces ambitious space program
12.01.04 Russia rolls out new naval ships
OTHER

12.02.04 Austrailia refuses to sign non-aggression pact
12.01.04 Not to forget the hate merchants
12.02.04 Solving the problem in Cyprus is a key to peace in the EU
12.01.04 Musharraf repeats position: Kashmir and Palestine disputes ripe for solution


11.26.04 President Musharraf sees common solutions in the disputes in Kashmir and Palestine
12.01.04 European heatwaves increasing
12.01.04 Japanese minister wants Security Council over-hauled
11.30.04 United Nations to be restructured
11.29.04 Russia tests anti-missile system in Kazakhstan
11.26.04 America's soft underbelly, her ports, are enormous targets
11.26.04 India plagued by separatist groups
11.26.04 Japan still miffed over Chinese oil wells off coast
11.26.04 South Korea's nuclear developments a concern to IAEA and China
11.22.04 Saudis expanding Islamic schools in South Asia
11.24.04 Syria wants to have "unconditional" negotiations with Israel
11.17.04 Forty-seven Iraqi groups protest forthcoming January election in Iraq
11.16.04 Bin Laden's mountain fortress?
11.16.04 Wanted militant Mehsud meets with Pakistani commander


11.14.04 Terrorist leader Abdullah Mehsud released from Guantanamo; continues terrorist activity
11.16.04 Kurdistan leaning heavily towards independence from Iraq
11.15.04 US wants to redefine security treaty with Japan
11.15.04 US troops round up prominent imams of the Association of Muslim Scholars (AMS)
11.13.04 Landmark decision against US-based fund raisers for terrorist organization Hamas
11.11.04 Bush II adopts Hama Rules One thing leads to another. An interesting article by Charles Glass [11.09.04 article in belfasttelegraph.co.uk ; also carried by kurdistanobserver.com/] compares the US assault on Fallujah to the Syrian assault on a rebel stronghold of Hama, Syria in the spring of 1982.
11.01.04 US soldiers pull out of the demilitarized zone (DMZ)
11.01.04 China's reliance on imported oil grows

---