12.08.04; 12.09.04 Update: Military personnel enlistment is for as long as there is war
American troops volunteer for military duty that is open-ended. The contract they sign says that the term of the contract may be extended indefinitely in times of war. Copy of the contract: enlistment.pdf.

Scott Pelley's report Wednesday, CBS 60 Minutes "Deserters:..," dealt with the issue of about 5,500 American deserters, some of whom are in Canada and filing for asylum. The situation recalls the sequence of the Vietnam War, where soldiers becoming more informed about the war began to object to the war on principals involving "non participation in an illegal war." For those of you who are history buffs, the Vietnam War was launched by John F. Kennedy to take up the slack of the French pull-out and based upon what was called, "The domino theory," supposing that Communism was evil and would spread from nation to nation from China and Russia. Korea, Berlin, and Vietnam were the frontiers that the West chose had to be defended against the evil. When an American ship was attacked in the Gulf of Tonkin, the President asked for authority to conduct an act of war against North Vietnam, which was invading South Vietnam. The authority the President received was called "The Gulf of Tonkin Resolution." Under the Constitution, Congress, however, did not have the authority to authorize acts of war by the United States via the vehicle of a "resolution." A resolution is an "opinion," and such is not legally an "act of Congress." Thus, the United States did launch an illegal war against Vietnam under the foundation of a "resolution." The war lasted 10 years.

Objectors of the Iraq War have a similar complaint in terms of legality. UN Secretary General Kofi Annan answered the media on the question of George W. Bush's war in Iraq, saying, " It is an illegal war according to UN covenants. The act of war against a member nation requires approval of the Security Council, which George W. Bush did not have. Rushing into war, Bush thumbed his nose at the UN legal body and essentially went it alone with the support of Britain. (See BUSH & War Crimes)

November 29, 2004 on a visit to Canada, George W. Bush was arrested and charged with War Crimes in Iraq by the Canadian Prime Minister. Shortly before that in Germany Secretary of Defense Donald Rumsfeld was charged with War Crimes in Iraq. Based upon these international acts of governments, soldiers serving in Iraq now are placed in an odd situation, since they have enlisted for an indefinite period, until the war is declared ended.

At issue in the Iraq War is an act of war by the presidency that has been identified not only as illegal among the international community but also a war that involves War Crimes, filed under the terms of the Nuremberg Trials and covenants signed as a result of them. The Nuremberg Trials were conducted under the auspices of the United States and its allies Britain, Russia and France, who prosecuted the war in Europe and Africa, World War II, against Hitler.

Western Law is founded on the principal of "precedence," following the body of laws inherited from the Roman Empire. To ascertain whether George W. Bush and his administration have conducted an illegal war in Iraq, no doubt the courts – that will now have to hear and judge the charges against him – will refer to any precedence that would indicate what George W. Bush has done is legal under International Law, and if it is judged to be illegal – or even a War Crime –then the remedies provided in International Law and the UN Covenants would have to be applied.

In the mean time our soldiers are engaged in a War in Iraq, and recent sentiments from the experts observing the war conclude that it will continue for several years. International Law and US law governing enlistments forbid American soldiers to serve in activities that have been established as War Crimes.

The Bush administration's argument that no matter how we got engaged in the war in Iraq, the world is better off with Iraq's dictator Saddam Hussein, currently in US-Iraqi custody. The argument anticipates the old rules, "might makes right," and "all's well that ends well."

Two recent, similar precedents can be mentioned, of the United States invading a nation and deposing its leader(s). The first can be found in the case of Panama, where President George H. W. Bush conducted an act of war (December 1989) against the sovereign government of Panama, captured its leader, Manuel Noriega, and charged him for drug trafficking and racketeering. Noriega resides in an American prison. An earlier invasion by President Reagan involved the small Caribbean island of Grenada (Oct. 21, 1983) "where Cuban influence was growing." My neighbor – a former UN economics advisor – told me that he was there at the time and felt the attack was unjustified. The invasion received international criticism. "It was popular in the US but nowhere else." [Encyclopaedia Britannica]

Hero of the West, Andrew Jackson (1829–37) invaded Florida (Dec. 1817) and wrenched it out of the hands of Spain. "He captured two Spanish posts and appointed one of his subordinates military governor of Florida. These bold actions brought an immediate and sharp protest from Spain and precipitated a cabinet crisis in Washington. The staunch defense of Jackson by Secretary of State John Quincy Adams saved Jackson from censure and hastened the U.S. acquisition of Florida. Later, President James Polk, attempting to resolve border disputes with Mexico over the Rio Grande, sent General Zachary Taylor, with a Congressional Act of War, recorded as the "Mexican War," to fight the Mexican army in California and the Mexican border. General Taylor was not excited in pursuing the Mexican army into Mexico, so President Polk ordered General Winfield Scott to take an army to Veracruz, who marched inland and entered Mexico City on September 14, 1847, bringing down the Mexican government. Under the "Treaty of Guadalupe Hidalgo" Mexico ceded to the United States nearly all of the territory included in the states of New Mexico, Utah, Nevada, Arizona, California, Texas, and western Colorado for $15 million, with US assumption of its citizens' claims against Mexico. [Encyclopaedia Britannica].

Ultimately the arguments defer to the position of the United States as a Supreme Power, its responsibilities, and acts of war conducted under the auspice of the US Congress as legal "Acts of War." Except for Vietnam there appears to be no precedence (except the "Emergency Powers Act) in US history to justify acts of war without the US Congress issuing an "Act of War."

The UN covenants and International Law do not recognize any preferential treatment for Supreme Power(s), beyond the requirements of the Security Council which is presided over by 5 permanent members: the United States, Britain, Russia, France and China, and 10 nonpermanent members. Procedures for the Security Council are as follows:


Each Security Council member is entitled to one vote. On all ³procedural² matters—the definition of which is sometimes in dispute—decisions by the council are made by an affirmative vote of any nine of its members. Substantive matters, such as the investigation of a dispute or the application of sanctions, also require nine affirmative votes, including those of the five permanent members holding veto power. In practice, however, a permanent member may abstain without impairing the validity of the decision. A vote on whether a matter is procedural or substantive is itself a substantive question. Because the Security Council is required to function continuously, each member is represented at all times at the UN's headquarters in New York City.

Any country—even if it is not a member of the UN—may bring a dispute to which it is a party to the attention of the Security Council. When there is a complaint, the council first explores the possibility of a peaceful resolution. International peacekeeping forces may be authorized to keep warring parties apart pending further negotiations. If the council finds that there is a real threat to the peace, a breach of the peace, or an act of aggression (as defined by Article 39 of the UN Charter), it may call upon UN members to apply diplomatic or economic sanctions. If these methods prove inadequate, the UN Charter allows the Security Council to take military action against the offending country.
[Encyclopaedia Britannica]
These appear to be the main issues and precedents involved in George W. Bush's War in Iraq, and some legal arguments available to soldiers who refuse to participate in the war.
Mel Copeland
---
12.09.04 North East Asian countries uneasy with Bush administration direction – fear another Iraq
An article posted by Bruce Klingner is of interest. He begins, "Continuing indications that the administration of US President George W. Bush will pursue a firm and potentially more activist policy towards North Korea are exacerbating regional concerns, straining already frayed United States relations with South Korea, and spurring Seoul to seek a more independent role in efforts to resolve the North Korean nuclear impasse...Despite US assertions that northeast Asian nations agreed on the need for North Korea to abandon its nuclear weapons programs, Bush's counterparts concurrently emphasized the need for US restraint and a measured diplomatic approach." [More>>atimes.com]
---
12.09.04 Panel urges use of Shuttle to help Hubble telescope
After six months of study conducted at the request of Congress, 21 experts urged the use of the Shuttle to maintain Hubble. There were too many uncertainties in using a robotic device for the mission. [More>>nytimes.com]
---
12.09.04 President Bush rules out hike in payroll tax to fund Social Security
WASHINGTON, Dec. 9 – President Bush on Thursday flatly ruled out raising payroll taxes to ensure the solvency of Social Security as he began a push for historic changes in the retirement program. Bush renewed his call for legislation that would let workers create private retirement accounts within the government-run program. "We will not raise payroll taxes to solve this problem," Bush said as he met in the Oval Office with a panel of advisers on the Social Security issue.

Bush sidestepped questions about whether the nation can afford to borrow in order to confront a shortfall in the trillions of dollars. "I will not prejudge any solution," Bush said. [More>>(AP) washingtonpost.com]
---
12.09.04 Five dead, including gunman, in Columbus shooting
COLUMBUS, OHIO, Dec. 9 – A gunman charged onstage at a packed nightclub and opened fire on the band and crowd, killing top heavy metal guitarist "Dimebag" Darrell Abbott and three other people before a police officer shot him to death, authorities and witnesses said. The gunman was identified as Nathan Gale, 25, of Marysville, 25 miles northwest of Columbus. [More>>(AP) latimes.com]
---
12.09.04 Explosions rock Italian embassy in Iraq
ROME, Dec. 9 – Iraqi Defence Minister Antonio Martino announced in Rome, "Several mortar shells fell about 50 metres from the embassy but there were no Italian victims. We don't know if there were Iraqi victims." Martino added: "Our intelligence services have for some time been passing us information that an attack against the embassy may be possible. This time there was no harm done." Italy has 3000 military personnel in Iraq based in the area around the southern town of Nasiriya. [More>>Al-Jezeera]
---
12.09.04 Israelis suffer from '"anti-Frenchism" according to French ambassador to Israel
The French ambassador to Israel accused Israelis on Thursday of suffering from "a mental disorder of anti-Frenchism," sparking protests from the Foreign Ministry. "I think there is a neurosis that causes anti-Frenchism," the ambassador, Gerard Araud, told Army Radio. "This anti-French neurosis has led to France being so hated in Israel. The relationship between the two countries is very difficult. You simply love to hate us." [More>>Haaretzdaily.com and Jerusalem Post]
---
12.09.04 Powell asks European nations to commit more forces to Iraq and Afghanistan
A statement by NATO foreign ministers, meeting in Brussels, said the alliance wanted to enhance and expand its commitments in those countries. But there was no sign the Europeans had come up with the numbers requested. However, amid calls for improved ties between the US and Europe, diplomats said President George W. Bush will visit Brussels on 22 February next year. [More>>Bignewsnetwork]
---
12.09.04 Asian markets down – consumer confidence reaches four-year low in South Korea
Korea's consumer confidence plunged to its lowest in four years in November, suggesting that domestic demand will continue to be a big drag on Asia's third-largest economy. The consumer confidence index fell to 86.6 last month from 88 in October, the sixth decline in seven months, the National Statistical Office said yesterday in a statement from the government complex in Gwacheon, southern Seoul.

A reading below 100 indicates that more households are pessimistic than optimistic about the nation's economy in the coming six months and therefore intend to spend less. [More>>asianews.net and Korea Herald]
---
12.09.04 EU looking to lift arms ban to China
BEIJING, Dec. 9 – The European Union says it is willing to work towards lifting the arms embargo on China, president of the European Council Jan Peter Balkenende said. Netherlands Prime Minister Balkenende, who holds the 25-nation bloc's rotating presidency, confirmed that work to strengthen the application of the EU Code of Conduct on arms exports was continuing.

"China welcomes this positive signal," said Premier Wen Jiabao, adding it is beneficial to the sound development of the comprehensive strategic partnership between the two sides and would not harm the interests of any other third party." In a joint statement released after the summit, China reaffirmed that the EU arms embargo against China is a "political discrimination" and is "not acceptable" and should be "immediately removed." [More>>Xinhuanet.com]
---
12.09.04 Coast Guard copter crashes, six missing
(CNN), Dec. 9 – A U.S. Coast Guard helicopter crashed Wednesday off Alaska's Aleutian Islands while attempting to rescue crew members from a derelict Malaysian-flagged cargo ship, dumping 10 people into the frigid waters of the northern Pacific Ocean, a Coast Guard spokesman said. [More>>Bignewsnetwork]
---
12.09.04 Miracle in the Philippines
Three adults and a three-year-old girl were pulled out alive Thursday from the rubble of a two-story building that collapsed in a storm 11 days ago in the town of Real, Quezon province, reports culled by INQ7.net said. Major Bartolome Bacarro said an estimated 50 people were still trapped in the collapsed building in Barangay (village) Tignoan. [More>>INQ7.net]

---
12.09.04 Export zone on Vietnam-Laos border successful
More than 50 foreign firms have set up in a special export zone established by the Government of Vietnam at Lao Bao, near the Lao People's Democratic Republic (Lao PDR) border at Lao Bao-Dansavanh. Foreign investments in the Lao Bao commercial area have so far created more than 1,000 jobs in one of Vietnam's less developed regions, where 1 in 10 people is from an ethnic minority.

The increased presence of investors in the area owes much to progress on the East-West Economic Corridor, which the Lao PDR and Vietnam are turning into an all-weather highway with assistance from funding agencies including ADB and the Government of Japan. The zone is a mixed blessing, however, since people are being attracted to the area and with the flare-up of AIDS in Asia, the mix of people coming to the area increases the risk of AIDS. [More>>bignewsnetwork]

---
12.09.04 President Karzai of Afghanistan declares Holy War on drug trade
KABUL, Dec. 9 – Afghanistan's President Hamid Karzai Thursday declared a holy war on the drugs trade gripping his war-shattered country, which produces nearly nine-tenths of the world's opium. Karzai, who was sworn in on Tuesday as the first democratically elected Afghan leader, told a conference of key figures whom he wants to involve in the crackdown that the trade was more dangerous than terrorism. [More>>jang.com.pk]
---
12.09.04 Moqtada al-Sadr left off Sistani's electoral list
BAGHDAD, Dec. 9 – The electoral list backed by the highest religious authority among Iraq's Shiite Muslim majority includes all the country's Shiite parties except that of radical leader Moqtada al-Sadr, a Shiite party official said Thursday. [Jang.com.pk]
---
12.09.04 NATO increasing training mission to Iraq
BRUSSELS, Dec. 9 – NATO Secretary General Jaap de Hoop Scheffer Thursday announced an increase in the organisation's military training mission in war-wracked Iraq, which would be boosted from 60 to 300 officers. [jang.com.pk]
---
12.09.04 China to move to flexible currency (yuan, aka RMB)
China will move gradually toward a more flexible exchange rate. Premier Wen Jiabao said that loosening control requires macro-economic stability, and a sound banking system in the world's fastest-growing major economy. Wen spoke at the 7th China-EU Summit in the Hague. Trading partners like the US, want China to alter the exchange rate system. They argue that the fixed rate gives Chinese exporters an unfair advantage. But Wen said China has always kept the world's interests in mind. During the 1997 Asian financial crisis, China maintained the RMB exchange rate under great pressure, making considerable efforts to maintain world economic stability.

In the future, Wen said "China will also take the global economy into consideration, while reforming its exchange rate system." [Xinhuanet.com]

---
12.09.04 Pakistani scientist's link to nuclear technology sales to Iran
A Pakistan-based nuclear proliferation ring has been broken up and its mastermind, Dr. Abdul Qadeer Khan, has been "brought to justice," and is under house arrest. According to a CIA report November 23, Khan not only sold advanced uranium-enrichment centrifuges to Iran; he likely sold it an actual nuclear weapon design along with nuclear fuel material. [More>>atimes.com]
---
12.09.04 Good news for San Francisco: Chinese tourists may be on the way – but some bad news
BEIJING, Dec. 8; Update Dec.9 – China and the U.S. signed a memorandum of understanding on tourism cooperation, which adds the US to China's list of approved destination tours. According to the National Tourism Administration, Chinese citizens will be able to travel to America before next May at the earliest or no later than the end of next year.
You heard the good news; now here's the not-so-good-news:Thursday the Chinese government revealed that Chinese tourists to America will will have to put down a substantial deposit before booking a trip to America. Group tourists will be required to pay travel agencies a deposit of about 100,000 yuan (US$12,000) before their trips, which is refundable after they return. [More>>Xinhuanet]
---
12.08.04 Planned cut-back in oil supply by OPEC
Saudi Arabian Oil Minister Ali al-Naimi Wednesday questioned the need to cut back oil supplies. Cut-backs were being proposed as a prelude to Friday's ministerial meeting of OPEC oil producers in Cairo. OPEC is concerned about falling prices in crude oil, though the cartel's reference crude price was still above its official target. [More>>The Daily Star]
---
12.08.04 China's computer giant buys IBM's computer business
BEIJING, Dec. 8 – China's personal computer giant, Lenovo Group Limited, signed an agreement Wednesday with IBM to take over the latter's personal computer business for 1.25 billion US dollars. According to the agreement, Lenovo will acquire IBM's entire global desktop and laptop computer research and development and manufacturing business. In return, Lenovo will pay IBM $650 million in cash and grant it $600 million worth of Lenovo stocks, which will make IBM an owner of around 18.5 percent of Lenovo's equity stake. [More>>Xinhuanet]

---
12.08.04 Rumsfeld says, "You go to war with what you have."
Based upon TV broadcasts Wednesday, apparently the need to go to war in Iraq was so urgent President Bush could not plan on supplying the troops with necessary equipment and resources. The strategy revealed Wednesday in an appearance before our troops at Camp Buehring, Kuwait, by Secretary of Defense Rumsfeld now is, "You go to war with what you have." He said this in answer to a soldier's complaint at the briefing, having to do with soldiers still not having armor and forced to raid rusted debris to add armor to their vehicles and equipment. Although March will be the second anniversary of Bush's invasion, troops still don't have proper equipment. Rumsfeld explained that it is a matter of logistics. With reference to supplying armored Humvees Rumsfeld said America can't build them fast enough. Let's face it, the 250 tons of ammunition that came up missing – after Bush's army rushed by Saddam Hussein's unguarded armories heading to Baghdad to secure the oil ministry – might possibly be the reason why America can't keep up with the demand for armored Humvees.
Mel Copeland
---
12.08.04 New missile system about to be tested in Alaska
The first test of a new missile defense system in two years is waiting on the weather. The $85 million test comes as the military is in final preparations to activate missile defenses designed to protect against an intercontinental ballistic missile attack from North Korea or elsewhere in eastern Asia. [More>>CNN.com]

---
12.08.04 Israeli soldiers admit having killed 15-year-old Palestinian for sport
According to the Israeli newspaper Yediot Ahronoth, the incident took place in March when a group of newly graduated soldiers were on a hike near the town of Khan Yunus. According to the report, an undisclosed number of Givati brigade soldiers shot and killed Khalid Sulaiman Mahdi while he was working with his father on their farm. The boy's father, Sulaiman Mahdi, told the paper the killing was "just for the sake of it...Seven bullets pierced my son's head..."[More>>Al-Jezeera]
---
12.08.04 Chinese Prime Minister arrives in the Hague for summit with EU
THE HAGUE, Dec. 8 – Chinese Prime Minister Wen Jiabao arrived in The Hague Wednesday for a summit with the European Union. Beijing's desire for the EU to lift a 15-year-old arms embargo seems to be part of his mission.
---
12.08.04 Turkey economically strategic to Russia
The terrorist attack Monday on the US consulate in Jiddah shows that Saudi security is vulnerable. After the attack that killed eight or possibly nine people, Tuesday the US government made announcements for Americans not to travel to Saudi Arabia. One assesment on the attack explained that the American consulate did not have a multiple gate structure as other American consulates. The terrorists attempted to break through a barrier with their vehicle, and failing that got out and attacked the consulate on foot, getting through the gate. Securing American consulates in these perilous times poses the same problems known to builder's of ancient castles. The Mycenneans about 1,500 B.C. used a wall-projection in front of the gate, on the left, that allowed defenders to shoot down on the men attacking the gate. Since soldiers then were right handed and kept their shield in their left hand, they were vulnerable from their unshielded side. During the Middle Ages castle builders went a bit further and installed a "keep" behind the main gate. Also in front of the main gate might have been a moat and other breastworks. The idea behind the keep – which can be seen in American prisons such as San Quentin – involves iron gates that close, front and aft, trapping those attacking in a confined room at the gate. Above the room are windows or parapets from which defenders can shoot down on the trapped men.

While such ideas of defending Bush's consulates may not be appropriate to combat modern attacks, we can say as an overview that Bush's general strategy of protecting US forces and consulates is most definitely light-armed and far below the standards of the Crusaders he emulates. He sends troops into the field with little armor to protect them in the house-to-house combat (which Saddam Hussein warned would occur if the US attacked), losing ground against men equipped with what might be called antique weapons. His fortifications are easily penetrated and he has little control over key supply routes. Another commander-in-chief who made similar strategic mistakes, of not protecting supply lines, was Hitler. History buffs will recall that a key strategy of General Eisenhower, in breaking the back of Hitler, was the bombing of fuel refineries and supply routes. Without fuel Hitler's Luftwaffe could not get airborne and his feared Panzer tanks ran out of gas.

An article by Breffni O'Rourke posted December 7 examines what happened and why in the Jiddah attack Monday. [Story at Radio Free Europe]
Mel Copeland
---
12.08.04 US Colin Powell and Russian Sergey Lavrov verbally duke it out over Ukraine – conference scuttled
According to most media sentiments, Bush side-tracked and essentially scuttled much of the economic agenda of the Asia-Pacific Economic Cooperation Conference (APEC) in Chile, November 20. But that was expected since he had Korean missiles on his mind.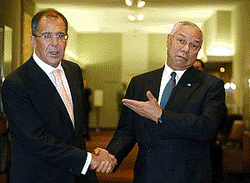 Powell vs Lavrov - Nobody won. Photo courtesy of kommersant.com, at OSCE conference.
US Secretary of State Colin Powell and Russian Minister of Foreign Affairs Sergey Lavrov got into an exchange at Tuesday's Council of Ministers of the Organization for Security and Cooperation in Europe (OSCE) in Sofia. The scuffle between the two distracted the meeting and says Pavel Belov: "As a result, the meeting ended in complete failure – for the first time in many years, the participants were unable to even adopt a final declaration." [More>>kommersant.com]
This method of disrupting economic conferences may be a new diplomatic strategy of the Bush administration.
---
12.08.04 EU and China sign strategic partnership
THE HAGUE, Dec. 8 – The Chinese government and the European Union (EU) on Wednesday agreed to work together to strengthen the international nonproliferation and arms control regimes.

"The proliferation of weapons of mass destruction (WMD) and their means of delivery poses a serious threat to international peace and security," said a joint declaration signed here after the one-day summit between Chinese Premier Wen Jiabao and EU leaders, represented by Dutch Prime Minister Jan-Peter Balkenende, whose country holds the rotating EU presidency, and European Commission President Jose Manuel Barroso.

Recognizing each other as a major strategic partner in the area of disarmament and nonproliferation, China and the EU will deepen their cooperation in these pursuits and promote close policy dialogues at various levels...China and the EU also commit their support for the international verification agencies including the International Atomic Energy Agency (IAEA) and the Organization on the Prohibition of Chemical Weapons. They agreed that the specific role and responsibilities of the United Nations Security Council in this area should be fostered... [More>>Xinhuanet]
---
12.08.04 Elections in Iraq unimaginable under occupation by foreign troops, says Putin
Iyad Allawi, interim prime minister of Iraq, visited Russian President Vladimir Putin in Moscow, Tuesday. Putin told Allawi that he could "not imagine how elections could be organized under a full occupation of the country by foreign troops."

"I also cannot imagine how you on your own will be able to restore the situation in the country and stop it from breaking up," he said. Allawi re-affirmed the election date of 30 January but indicated that the troubled regions could involve two to three weeks longer to vote. [More>>Al-Jazeera]
---
12.08.04 Turkey economically strategic to Russia
What would not have been possible a few years ago, because of historical concerns: Cold War alignments making Turkey the West's first wall of defense against Russia, Turkey's genocide against Armenians (Russia came to the Armenian's aid), the ancient conflict between Imperial Russia and the Ottoman Empire, etc. is now becoming reality. Russia is seeking close economic ties with Turkey. Turkey lies in the crossroads of pipeline routes and Russia needs them.

For delivery of oil and gas, Turkey is geographically strategic to the West like the Kyrgyzstan -Tajikistan - Afghanistan corridor (KTA corridor) are to the East. Plans for pipelines to China and India have to include the KTA corridor just as the Silk Road depended upon that critical geographical passage. Guarding the southern route to India from the West is the Khyber Pass, the location of many battles from the time of Alexander the Great to the British Empire. It guards the frontier of the Peshawar tribal areas where Osama bin Laden was /is believed to be in hiding (see map). Looking at the map, one can follow the route from Kabul, Afghanistan, through the Khyber Pass to Pakistan's city of Islamabad. Adjacent to Islamabad is Kashmir, over which India and Pakistan are in conflict. Peace in Kashmir and Afghanistan are thus essential to the placement of oil and gas pipelines feeding from the Caspian Sea and Russia to China and India. Associated with this is a southern route through Iran, where Iran and Pakistan have entered into an agreement to rebuild a bridge crossing their southern areas, allowing a truck passage directly to Karachi. Associated with this, to handle increasing economic growth and trade with the Central Asian countries, Pakistan and India have agreed to rebuild an old railroad line running north and south.

Both routes, to the West through Turkey and the East through the KTA corridor, are important to Russia. Thus, Putin has been courting India and Pakistan. He may have some bridges to repair in Afghanistan, however, since the invasion of Afghanistan by Russia is still fresh in most minds.

Bilateral trade is forecast to reach $10 billion in 2004 between Russia and Turkey. A December 8 article by Paul de Zardain special to the Daily Star explains the oil connection:

"Turkey is a key piece in Putin's overall strategy to re-establish a sphere of influence. Behind the Kremlin's rhetoric against a unipolar world is not only veiled criticism of U.S. hegemony, but a reminder that Siberian fields hold the largest deposits of natural gas.

This is no idle talk. A global switchover at electricity plants from oil to natural gas has already begun. And Russia is by far the largest source of European gas oil imports (390,000 barrels per day in 2002, or 80 percent of West European imports). Gazprom, Russia's state-owned giant, is responsible for European energy security. But in order to stay competitive, Russian energy firms need full-scale pipeline infrastructure.

Blue Stream, a pipeline through the Black Sea, carried 1.3 billion cubic meters (bcm) of Russian natural gas to Turkey in 2003. Exports this year will likely reach 2 bcm. Gazprom's CEO Aleksei Miller is especially interested in Turkish distribution networks. Prior to Putin's visit, Miller met with Mehmed Gueler, Turkey's Energy Minister, to discuss investment opportunities.

For years, Russian investors have placed bids on Turkish electricity plants, oil refineries and LNG projects. But privatization in the 1990's was trumped by political instability in Ankara. As a bargaining tool, the Turkish side never tires of bringing up tanker traffic volume in the Bosphorus. Developing safer pipeline infrastructure is now in both parties' interest.

Russia, like Iran, cannot hide its distaste for the Baku-Tbilisi-Ceyhan (BTC) pipeline project. It bypasses both countries on its way from Caspian oil fields to the Mediterranean. BTC also places Anatolia, Turkey's sleepy inland, at the heart of world energy supply.

The Nabucco project, another pipeline route for natural gas deliveries, crosses Turkish territory on its way to Austria..." [More>>dailystar.com.lb]
Putin's visit also involved the discussion of military equipment sales to Turkey, according to Zardain. This should be a burr in the collar of Commander-in-Chief George W. Bush's new military jacket.
Mel Copeland
---
12.08.04 President Musharraf of Pakistan meets with French President Jacques Chirac
President Musharraf of Pakistan met with French President Jacques Chirac to discuss a number of global and regional issues, including F-16 fighter planes. Replying to a question about purchasing French F-16 fighter planes, the Musharraf said: ³We would shore up defence cooperation with France in a number of matters.² Both Chirac and Musharraf agreed that tension in the Middle East would never be overcome until the Palestinian issue is resolved. [More>>jang.com]

In following Musharraf's tour, Britain's Tony Blair stiff-armed Musharraf on the issue of mediating the India-Pakistan dispute on Kashmir, and it appears that the most he got out of Bush and Blair on the Palestine-Kashmir solution was blank stares – like a deer staring into headlights. Meanwhile, India has vociferously opposed the acquisition of F-16 fighters from the US and has been entertaining Putin for several reasons. Could a future stop of Musharraf's tour be Putin's office?
---
12.08.04 European Airbus may subcontract subsytems of A350 jetliner to China
BEIJING, Dec. 8 – European aircraft maker Airbus SAS said Tuesday it might let Chinese aviation manufacturers supply up to 5 percent of parts on the proposed A350 jetliner, a day after signing a $1.33 billion deal with Air China. The Chinese companies would join Airbus in research, development and production of its A350 parts. [More>>Xinhuanet]
---
12.08.04 Japan shelves long-range offensive missiles
The development of Japan's long-range missiles was somewhat cancelled based upon a meeting of the Japanese ruling parties task force Tuesday. Long-range surface-to-surface precision-guided missiles in the next Midterm Defense Program (fiscal 2005-09) were considered to be too offensive. Nevertheless the missile's range of up to 300 kilometers "for counterattacks if remote islands were attacked" could be extended to reach neighboring countries. [More>>Daily Yomiuri.co.jp]
---
12.08.04 Oil producing governments in Mideast getting rich while their people starve
Paul Cochrane, The Daily Star staff, posted an article December 8, saying that Mideast stock markets are booming and oil revenues have hit record highs this year, but large sections of the oil producing populace have not benefited economically. Labor productivity has averaged just 0.1 percent growth in the past decade. A new report from the Geneva-based International Labor Organization published Tuesday says that GDP figures among the region's oil-producing countries are close to "three times higher than the average for non-oil-producing countries." [More>>dailystar.com.lb]
---
12.08.04 Iraq War troops give up jobs at home to serve Bush – become homeless after service
American veterans from Iraq are already showing up in homeless shelters, according to a December 8 article by Mark Benjamin. Advocates fear they are the leading edge of a new generation of homeless vets not seen since the Vietnam era. [More>>bignewsnetwork]
---
12.08.04 US Democratic Transformation of the Middle East coming under attack
Coming under attack is Bush's thesis of waging war – using Iraq as an example – to overthrow Mideast regimes and install a "market-based democracy" (another way of expressing the ambition to overthrow oil-producing regimes to get control of their oil fields). We can compare Bush's methods of establishing trade relations to the new paths being led by the new Big Four: the EU, China, India and Russia, that are [so far] based upon peaceful economic interchange.

An article by Erich Marquardt, Power & Interest News Report, examines the process which has demonstrated why Bush's War in Iraq has produced an increasing, adverse reaction towards the US. Bush appears to have put his foot in his mouth and endangered American lives when he said in his January 2004 address:
"As long as the Middle East remains a place of tyranny and despair and anger, it will continue to produce men and movements that threaten the safety of America and our friends. So America is pursuing a forward strategy of freedom in the greater Middle East. We will challenge the enemies of reform, confront the allies of terror, and expect a higher standard from our friend."
[More>>www.pinr.com via Asia Times Online]
---
12.08.04 Eritrea in fourth year of drought Somalia suffering from drought; both ignored
Timothy Bancroft-Hinchey offered an article Wednesday on the dire circumstances of the drought ridden countries on the horn of Africa whose plight is being ignored by the International Press who are engrossed in, or distracted with, Bush's war on Iraq. Curiously the story was only covered by Pravda. In Eritrea 900,000 people are suffering, a quarter of the population is dependent upon food supplied by the United Nations, and the malnutrition rate is 19% of the population (The UN classifies a rate of 15% as an emergency). Bancroft-Hinchey ends his story on a poignant note: "We apologize for being so disturbing, but there is a humanitarian crisis in these countries and millions of people need help. They do not wish to be bombed, they do not wish to be invaded, they simply request the right to survive." [Story at pravda.ru]
---
12.08.04 National Geographic gives Persian Gulf new name; infuriates Iranians
In what appears to be typically Bush mentality, the National Geographic Society published its latest issue with a picture of the Persian Gulf now called "Arabian Gulf." What's going on? Is the National Geographic anticipating that the Saudis will own the Persian Gulf area? American Iranians are understandably upset and Iran has banned National Geographic Magazine. [More>>Radio Free Europe]
---