---
12.22.04 Cassini-Huygens mission set to launch probe to Saturn's moon Titan
A report from the Jet Propulsion Laboratory says, "The highlights of the first year of the Cassini-Huygens mission to Saturn can be broken into two chapters: first, the arrival of the Cassini orbiter at Saturn in June, and second, the release of the Huygens probe on Dec. 24, 2004, on a path toward Titan.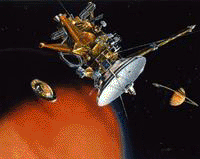 Artist's concept of Cassini releasing the Huygens probe to Titan (JPL)
The Huygens probe, built and managed by the European Space Agency (ESA), is bolted to Cassini and fed electrical power through an umbilical cable. It has been riding along during the nearly seven-year journey to Saturn largely in a "sleep" mode, awakened every six months for three-hour instrument and engineering checkups. In three days, it will be cut loose from its mother ship and will coast toward Saturn's moon Titan, arriving on Jan. 14, 2005.

"As partners with ESA, one of our obligations was to carry the Huygens probe to Saturn and drop it off at Titan," said Robert T. Mitchell, Cassini program manager at NASA's Jet Propulsion Laboratory, Pasadena, Calif. "We've done the first part, and on Christmas Eve we will release Huygens and tension-loaded springs will gently push it away from Cassini onto a ballistic free-fall path to Titan."

Once freed from Cassini, the Huygens probe will remain dormant until the onboard timer wakes it up shortly before the probe reaches Titan's upper atmosphere on Jan. 14. Then it will begin a dramatic plunge through Titan's murky atmosphere, tasting the chemical makeup and composition as it descends to touch down on its surface. [More>>jpl.nasa.gov]


---
12.22.04 Iraqi children freezing; hospitals raising fees, have broken windows, no heat, no water, lots of corruption
At least 16 children in Iraq have died during one of the coldest spells hitting the country in years. In Baghdad a family of six froze to death on Monday night. Acute fuel shortages have exacerbated conditions for Iraqi families as temperatures drop below zero at night. The interim government, as has been the case during other crises, is oblivious to the suffering. Hospital sources say the number of casualties will rise dramatically if the spell continues and there is no immediate solution to the fuel crisis. Fuel is in short supply and heating fuel is getting scarcer and scarcer in a country endowed with the worldıs second largest reserves of oil. Government officials refused to comment on whether they had any plans in mind to provide emergency help.

U.N. and non-governmental organizations usually come to the aid of countries facing unprecedented cold spells. Local relief workers from the Red Crescent warn that the situation would deteriorate unless resources were made available to help vulnerable families prepare for this yearıs harsh winter. Those affected are some of Iraqıs poorest people as well as the refugees from Fallujah who are in urgent need of blankets and warm clothes. Red Crescent doctors, who refused to be named, say respiratory diseases have spread among the refugees, particularly children. [azzaman.com]

In a separate story azzaman.com reports that Iraqi hospitals and clinics are worse than during Saddam Hussein's regime. There is wide-spread corruption, medical staff flee in fear for their lives, hospitals have no heat, no water and fees charged by private doctors and hospitals have soared and are currently beyond the reach of most Iraqis. [azzaman.com]
---
12.22.04 US locks down Mosul after bombing of US mess tent
BAGHDAD, Dec. 22 – (AP) U.S. troops backed by armored vehicles swept through virtually empty streets of Mosul amid an undeclared curfew in Iraq's third largest city Wednesday, a day after an insurgent strike on a nearby base killed 22 people and wounded dozens in one of the deadliest attacks on American troops since the war began. The military was investigating whether a bomb was planted at the mess tent in Forward Operating Base Marez, where the blast sprayed shrapnel as U.S. soldiers sat down to lunch Tuesday. Initial reports said a 122 mm rocket ripped through the tent's ceiling. [Associated Press and Reuters]
---
12.22.04 Saddam bids to challenge case in US
Robert Winnett reports that Saddam Hussein is preparing a legal challenge in America to his trial for war crimes, according to leaked papers prepared by his defence team...The leaked brief, entitled ³The Iraqi Special Tribunal as Victorsı Justice – the Inherent Illegality and Bias of the whole Process," argues that US law should prevail in the case because the trial is effectively being taken at the behest of the Americans...It continues: ³Legally, the United States is bound to ensure that Saddam Hussein has counsel since the US has exclusive control over him, and the denial of such access to counsel leaves the US legally liable for the deprivation of his civil rights.² [More>>timesonline.co.uk]
---
12.22.04 Microsoft to issue stripped-down Windows in Europe
Microsoft Corp. Wednesday said it will alter its Windows operating system sold in Europe and release more information about how its programs work after it lost a legal bid to postpone sanctions imposed by European regulators for allegedly violating antitrust laws. Revealing the inner workings of Microsoft programs could expose many of the world's computers to new attacks, lawyers for Microsoft had argued. Microsoft will market a stripped-down version of Windows, without its digital media player. [More>>latimes.com and reuters.com; for the court ruling, etc. see nytimes.com]
---
12.21.04; 12.22.04 Update – US base in Mosul attacked; 22 killed
An attack on a mess-hall, which occurred about noon, killed 22 US and Iraqi troops and wounded 72. It is the deadliest single attack against the US since the start of the Iraqi War. [Associated Press; Update at defenselink.mil]
---
12.21.04 Bush renews threats against Syria
US President George Bush has threatened to use new economic and diplomatic measures to pressure Syria over its suspected interference in Iraq before January elections. "We have sent messages to the Syrians in the past and we will continue to do so. We have tools at our disposal - a variety of tools, ranging from diplomatic tools to economic pressure. Nothing's taken off the table," Bush told a news conference. The president is reviewing a wide range of options, including freezing the assets of high-ranking Syrian government officials, US officials said. Bush said he had discussed with American generals "whether or not there are former Saddam loyalists in Syria ... funnelling money to the insurgents."

"We ought to be working with the Syrian government to prevent them from either sending money and/or support of any kind," he added. [More>>Al-Jezeera]
---
12.21.04 UN General Assembly criticizes Iran's human rights violations
LONDON, Dec. 21 – The UN General Assembly on Monday criticized the human rights situation in Iran in a relatively close vote that lashed out at citing new restrictions on freedom of expression and the persecution of political and religious dissenters.

The assembly, which contains all 191 UN member states and is not legally binding but reflects global opinion, approved the resolution 71-54 with 55 abstentions. The measure was sponsored by Canada. [More>>IranMania.com]
---
12.21.04 World Bank offers carrot to Palestinians
JERUSALEM (Reuters) – Visiting World Bank chief James Wolfensohn said on Tuesday Palestinians could expect an extra $500 million a year in vital aid if violence stopped and there was progress towards peace with Israel. Outside funding currently runs at about $900 million a year. [More>>haaretzdaily.com]
---
12.21.04 Terror victims sue Arab bank
NEW YORK (Reuters) – Terror victims filed a multibillion-dollar lawsuit in federal court on Tuesday accusing Arab Bank of supporting Palestinian suicide bombings, lawyers said. Attorneys for plaintiffs said the Jordanian bank was complicit in a "campaign of genocide" by converting funds raised in Saudi Arabia into U.S. dollars and moving the money to branches in the West Bank and Gaza, where it is withdrawn by families of militants and by the militant group Hamas. The suit was the second lodged against the bank, based in Amman, Jordan, with more than 400 branches in 25 countries. [More>>haaretzdaily.com]
---
12.21.04 Judge nixes guilty plea of AOL spammer
NEW YORK (AP) — A federal judge refused to accept a guilty plea Tuesday from a former America Online software engineer accused of stealing 92 million e-mail addresses and selling them to spammers. Judge Alvin Hellerstein of Manhattan federal court said he was not convinced Jason Smathers, 24, had actually committed a crime under new federal "can-spam" legislation that took effect earlier this year. [More>>seattletimesnwsource.com via topix.net]
---
12.21.04 Yukos auctioned to 2-day-old company; owners unknown
Group MENATEP announced yesterday that it would prosecute the buyer of 77 percent of the shares of Yuganskneftegaz. But for the time being, the company cannot file a single suit – company representatives admitted they didn't know who was behind the winner of Sunday's auction. Government officials refused to disclose information on who is in fact the real owner of OOO Baikal Finance Group, and Yuganskneftegaz's new owner is in no hurry to publicize itself. [More>>kommersant.com]
---
12.21.04 India joins the US and Russia in supersonic missile technology
New Delhi Dec. 21 – In a major technological feat, India today successfully carried out for the first time a test firing of the supersonic cruise land-to-land missile Brahmos in the Pokhran test range in Rajasthan, becoming the only country outside the US and Russia to acquire the capability. The missile has a 290 km range. [More>>jang.com.pk]
---
12.21.04 Four suspected al-Qaeda operatives arrested
LAHORE, Dec. 20 – Police on Monday claimed arresting four suspected Al Qaeda operatives, including a close associate of top terrorist Abu Fraj, allegedly involved in two attempts on the life of President Pervez Musharraf.

The arrested men belonged to banned organizations Lashkar-i-Jhangvi and Harkat Al Jihad Islami and had been working for the Al Qaeda network for some years, Lahore police chief (investigation) Chaudhry Shafqaat Ahmad said at a press conference.

One of the accused, Malik Tehsin alias Abdul Jabbar of Rawalpindi, had been a close aide to Abu Fraj, the mastermind of the two assassination attempts with a Rs250 million bounty on his head...The police chief also alleged that the four men had been working to reorganize the terror network in Lahore, and they had been on a looting spree to raise funds for their operations. [More>>dawn.com]
---
12.21.04 United States attacking itself from behind
An article by George Monbiot - The Guardian, Dec. 22, makes a point not all Americans can see as easily as foreigners: a view of America attacking itself from behind. It's a progressive situation where America's monsters are invented in a lab and emerge from the lab to wreak havoc. I'd like to comment on his view.

Vietnam involved such a laboratory-invented device. Theorists devised the idea that Communism would spread like a virus from nation to nation, eventually bringing down Capitalism and the American democratic way of life. To counter this threat the United States espoused the "Domino Theory." Believing that the virus had to be stopped in Vietnam and failure to do so would result in Southeast Asia falling to Communism as falling dominos, the United States went to war in Vietnam. The US lost the war, after an eight-year struggle (1964-1972). There were no falling dominos, and we learned that each nation has its own identity and the nations of Southeast Asia have established their own forms of government and relationships to suit their needs. Vietnam not only cost America enormous sums of money ( $346.7 billion ) and 211,000 dead and wounded (see http://www.libraryspot.com/lists/listwars.htm), it ruined the American image. No longer was America a nation ruled by democratic values and Constitutional Law, it became something in conflict with those principles. For instance, it waged an eight-year war in Vietnam without a formal declaration of war, an Act of Congress, according to its Constitution; and it became a meddler in world politics, subverting nations that do not suit American needs. It became a nation that consumes and wastes the most energy, a nation that has the most deleterious effect on the earth's climate, and dominated by monstrous companies launches wars for oil. It conducts wars without regard to International Law and its own Constitutional Law.

During the Cold War era the United States invented nuclear, biological and chemical weapons to counter theoretical weapons of the Soviet Union and China. The race to develop weapons of mass destruction resulted in an American win. The Soviet Union collapsed, leaving missiles and weapons in the former Soviet republics. To appreciate the extent of this problem, Presidential candidate George McGovern (1972) complained that the United States had 3,000 nuclear warheads but only about 1,800 missiles to carry them. America back then had developed weapons of mass destruction on a scale that exceeded America's ability to deliver. Think of it: stockpiles of warheads that could never be delivered. Back then the United States assumed the worst case scenario, called then, "overkill." At the same time the Soviet Union – it has been assumed – had similar plans.

After the collapse of the Soviet Union weapons storage areas in former Soviet Republics have been discovered and now draw international concern that the weapons could get into the hands of terrorists. The former Soviet Republics – like Georgia – have expressed that they don't have the means to clean up what the Soviets left behind. What the United States is doing with regard to the identification and disposal of such weapons of mass destruction is unknown. In any event, what America helped create is now at our rear.

What Monbiot addresses in his article scratches the surface of the area where monsters created by the US are lurking. Monbiot begins:

"I have a persistent mental image of US foreign policy, which haunts me even in my sleep. The vanguard of a vast army is marching around the globe, looking for its enemy. It sees a mass of troops in the distance, retreating from it. It opens fire, unaware that it is shooting its own rear.

Is this too fanciful a picture? Both Osama bin Laden and Saddam Hussein were groomed and armed by the United States. Until the invasion of Iraq, there were no links between the Ba'athists and al-Qaida: now Bush's government has created the monster it claimed to be slaying.

The US army developed high-grade weaponised anthrax in order, it said, to work out what would happen if someone else did the same. No one else was capable of producing it: the terrorist who launched the anthrax attacks in 2001 took it from one of the army's laboratories. Now US researchers are preparing genetically modified strains of smallpox on the same pretext, and with the same likely consequences.

The Pentagon's space-based weapons programme is being developed in response to a threat which doesn't yet exist, but which it is likely to conjure up. The US government is engaged in a global war with itself. It is like a robin attacking its reflection in a window...In February, a leaked report from the Pentagon revealed that it sees global warming as far more dangerous to US interests than terrorism. As a result of abrupt climate change, it claimed, "warfare may again come to define human life... As the planet's carrying capacity shrinks, an ancient pattern re-emerges: the eruption of desperate, all-out wars over food, water, and energy supplies. The nuclear powers are likely to invade each other's territories as they scramble for diminishing resources." [More>>bignewsnetwork.com]
Mel Copeland
---
12.20.04 2001 "Yoo memo" justifies war on Iraq & unlimited presidential power
Justice Department lawyer John Yoo wrote a 15 page memo outlining the President's powers against terrorism that became the framework under which President Bush launched the war in Iraq. Yoo is now a law professor at the University of California at Berkeley. The title of the memo says all: "The President's Constitutional Authority to Conduct Military Operations against Terrorists and Nations Supporting Them." According to a Dec. 18 article by Newsweek, The memo was only recently posted on an obscure portion of the Web site of the Justice Department's Office of Legal Counsel. The memo argues that there are effectively "no limits" on the president's authority to wage war – a sweeping assertion of executive power that some constitutional scholars say goes considerably beyond any that had previously been articulated by the department. [More>>Newsweek]

A link to the John Yoo article is at: http://www.usdoj.gov/olc/2001opinions.htm. For other opinions go to the Office of Legal Council index: http://www.usdoj.gov/olc/opinionspage.htm. The actual article, The President's Constitutional Authority to Conduct Military Operations against Terrorists and Nations Supporting Them, dated September 25, 2001, can be read at: http://www.usdoj.gov/olc/warpowers925.htm. Later arguments in expanding the President's powers are experessed in a Yoo-Delahunty December 28,2001 Philbin/Yoo memo on Possible Habeas Jurisdiction over aliens held in Guantanamo Bay, Cuba, and a January 9, 2002 memo, in four parts, entitled, Application of Treaties and Laws to al-Quaeda and Taliban Detainees. The December 28 and January 9 memos are in pdf format and may be read at: http://antiwar.com/news/?articleid=2637.
Many of President Bush's statements post-9/11 – and leading up to his invasion of Iraq – reflect conclusions proffered by the Yoo memorandums which give unlimited power to the President of the United States. Bush is above all governments – including the US government – and all international law, according to the Yoo advocacy; as confirmed in President Bush's and his administration's statements and behavior. President Bush has been recognized by Time magazine as "Man of the Year," and it is anticipated that historians will remember how Bush trashed the US Constitution and International Law in this context.
---
12.19.04 Indo-Pak delegation to South Asia from West to deliver peace message

WASHINGTON, Dec. 19 – A 30-member Joint Indo-Pak Peace and Goodwill Mission of expatriate Pakistanis and Indians living in the US, Canada and Britain, will embark on a visit to Pakistan and India, from December 27. "It is for the first time that such an effort is being undertaken by individuals of Indian and Pakistani origin living outside their homelands, who passionately feel for South Asia's peace, prosperity and stability," Coordinator of the visit, John Prabhudoss, chairman, Federation of Indian American Christian Organizations of North America, told newsmen at a local hotel... Our purpose, he stated, is to interact at the grass roots level and stimulate understanding.

The mission statement said: "we, the people of Indian and Pakistani origin living in the western countries, take this responsibility seriously, and travel to the region to create goodwill, promote friendship, mutual understanding, peace and harmony between the people and the governments of India and Pakistan."

The composition of the delegation is: 15 from each side, and it includes Tufail Ahmad, John Prabhudoss, Ali Nawaz Memon, Samuel Mall, Jos Anthony Puthenveetil, Raju Rajgopal, Mohammad Rasheed Ahmed, Nilofer Ahsan, Tavishi Alagh, Dr. Tariq Cheema, Kartikeya Desai, Mohammad Imtiazuddin, Muhammad Shams Kazi, Shrikumar Poddar, Pritam Rohila, Rajseelan Sampson, Faizullah Khan, Suleman Mehtab, Dr. Nizamuddin, Vanita Sharma, Rati Tripathi, Azmat Yusuf and Mohammad Zeena. [More>jang.com.pk]
---
12.19.04 China to build nuclear power plant in Pakistan; stronger economic ties

KARACHI, Dec. 18 – China will install a nuclear reactor at the Chashma-II nuclear power plant early next year, officials accompanying Prime Minister Shaukat Aziz during his visit to China told Dawn on Saturday...Meanwhile, Prime Minister Shaukat Aziz flew back to the country on Saturday, concluding his four-day visit to China. Talking to newsmen aboard a special PIA plane, he said that China had agreed to establish large regional manufacturing bases in Pakistan.

"Previously, the economic relationship between China and Pakistan was based on the donor-recipient model. Now our ties have upgraded to partnership level." [More>>Dawn.com]
---
12.19.04 EU moves to more independent role
BRUSSELS, Dec. 19 – As the world's largest regional bloc, the European Union (EU) has scored significant achievements in 2004 in building up its independent military capability, a process at the expense of US influence in the transatlantic military alliance. The EU's decade-long drive to develop its military muscle to back up its diplomatic weight took visible form as 7,000 peacekeepers in Bosnia and Herzegovina replaced their NATO shoulder tags with the EU's blue and gold colors.

The mission, which started on Dec. 2, marks the 25-nation bloc's largest and most complex operation to date. Now, the EU's military aspirations stretch much further as it seeks to erase its enduring image as an economic giant and a military midget. The military operation is seen as a crucial test of the military capabilities of EU nations, as well as their ability to act in unison, as the EU seeks to develop its own coherent military force independent of NATO.

If successful, it could pave the way for other such missions in areas where NATO has long borne the brunt of responsibility for collective security on the continent, for example in neighboring Kosovo... EU plans are under way to set up 13 battle groups, which are military units that can be deployed rapidly to deal with crisis around the world, by 2007, each with 1,500 troops. Also in the pipeline is a 60,000-strong rapid reaction force for bigger peacekeeping operations. "The battle groups are at the forefront of capability improvement, providing the EU with credible, rapidly deployable, coherent force packages capable of stand-alone operations, for the initial phase of larger operations," said an EU statement.

Besides, the EU announced in September that it will set up a gendarmerie force which will be operational in 2005. The force, to be headquartered in Italy, will be made up of 900 military policemen from France, Italy, Spain, Portugal and the Netherlands, and be financed by the contributing countries.

Although the EU has done a lot in enhancing its independent military role and capabilities, EU leaders have come to realize that Europe has lagged far behind the United States in armaments, intervention capabilities and abilities to cope with crisis. [More>>Xinhaunet]