1.01.05 TSUNAMI HELP & RESOURCES
1.02.05 LATEST TSUNAMI NEWS
1.02.05 Remote Andaman & Nicobar islands pose rescue challenge
Port Blair, Jan. 2 – Thousands of Andaman and Nicobar islanders are missing, feared killed by last week's deadly tsunami, but few bodies have been located so far, officials on the remote archipelago said. Only about three dozen of the more than 550 islands in the group, a strategic military zone, are inhabited. Several are home to primitive tribes including some who subsist on hunting with spears, bows and arrows and on fishing and gathering fruit and roots. The fate of many of the tribals is unknown. A Home Ministry official expressed concern about the endangered Shompen tribe who live in the badly hit southernmost island of Great Nicobar.

"We have no news of them. No news," A.K Rastogi told a news conference in New Delhi late on Saturday. The Shompens number close to 400. [More>>expressindia.com[ See Maravot_News article 12-23.04 - 12.27.04 on the anthropological interest relating to the hostile aborigines in the Andaman islands: "The Andaman islands are important from the standpoint of Anthropological research which places their original Negrito population in a unique place. According to a book by George H.J. Weber, The Andaman Association, the population may reflect one of the early populations that moved out of Africa. His site, www.andaman.org, provides a detailed account of these people and, for Anthropology buffs, is quite informative, good reading."
---
1.02.05 Estimated 4,500 Scandinavians still missing
Sweden, Finland and Norway had a day of mourning Saturday for victims of the Asian tsunami, as 4,500 Scandinavians remained missing. Nearly 100 people from Sweden, Finland and Norway countries have been declared dead in the disaster, and more than 4,500 were still unaccounted for Saturday, the BBC reported. The BBC said 60 of those killed were from Sweden, with 3,559 Swedes missing. Most of the victims were vacationing in Thailand when the tidal waves hit. [More>>bignewsnetwork.com]
---
1.02.05 India raised number of dead to 14,488
NEW DELHI, Jan. 2 – (Reuters) India raised the number of people killed or feared killed in last week's tsunami to 14,488 on Sunday, up by more than 1,700 since the previous evening's estimate. A Home Ministry statement said the rise was due to a sharp jump in the numbers missing and presumed dead in the remote Andaman and Nicobar islands, from 3,754 to 5,421. [More>>expressindia.com]
---
1.02.05 Fresh Tremor in Andaman and Nicobar Islands at 17:43 hours
NEW DELHI, Jan. 2 – A fresh earthquake measuring 5.2 on the Richter Scale shook the Andaman and Nicobar Island at 17:43 hours today, the Indian Meteorological Department (IMD) said. Describing the tremor with its epicenter at West Coast of Great Nicobar as moderate, IMD said it was positioned at the latitude of 6.1 degree north and longitude of 92.9 degree east. Earlier, three earthquakes of moderate intensity occurred in the islands in the wee hours today. [More>>Press Trust of India]
---
1.02.05 Half of the population of Baan Nam Khem, Thailand feared dead
Police in Baan Nam Khem said up to 3,000 people - more than half the town's population - were feared dead. The Thai prime minister visited tourist areas on Sunday, and promised to take action on a tsunami warning system. Religious services were held across the country for the thousands killed exactly a week before. The Thai interior ministry said 4,985 people were confirmed dead, including 2,457 foreigners, 2,252 Thais and 276 whose background was unknown. The figure for those listed as missing was reduced from 6,424 to 3,810. [More>>bbc.co.uk]
---
1.02.05 Singapore hospitals providing care for tsunami injured
SINGAPORE (DPA), Jan. 3 – Singapore offered the use of its hospitals and medical facilities on Sunday to those injured in the tsunami disaster and expressed willingness to beef up medical facilities in the Indonesian island of Batam. Some of the wounded evacuated from the hard-hit Thai resort of Phuket and from Banda Aceh in Indonesia are already being treated in public and private hospitals in the city-state. Health Minister Khaw Boon Wan said late Saturday he had received a report from the hospital in Batam saying that several Indonesian military aircraft had been ferrying medical supplies from the facility to Banda Aceh but returning empty. [More>>thejakartapost.com]
---
1.02.05 Fifty aid groups giving medical care in Aceh
BANDA ACEH, Aceh, Jan. 3 (AFP) – Fifty international aid groups have arrived in Indonesia's Aceh province to provide medical care for the survivors of the tsunami disaster, the World Health Organization said on Sunday. The WHO's Indonesian representative, Georg Petersen, told AFP his organization was trying to coordinate all the groups and was due to a hold a meeting with many of them later on Sunday. Petersen said coordination was proving difficult because many had gone directly into Aceh and set up operations. "We are trying to sort it out, everyone has just come in... however everyone has shown a great willingness to cooperate," Petersen said by telephone from Jakarta. [More>>thejakartapost.com]
---
1.02.05 Death toll nears 9,500 in India
NEW DELHI, Jan. 2 – The official death toll in tsunami disaster has gone up to 9,451 in four states and a Union territory with the fate of another 5,511 still not known even as the relief and rehabilitation operations continued in the areas which have experienced 94 aftershocks since December 26. According to the latest status report released by the Home Ministry, Tamil Nadu accounted for largest number of human casualties where 7,793 people lost their lives after the tsunami hit the state in the wee hours of December 26.

However, no person was reported missing from Tamil Nadu now and Home Ministry officials claimed this as a final number of casualties in this southern state. This was followed by Andaman and Nicobar Island where the death toll officially was 812 with another 5,421 still missing. As many as 16 relief camps were operating in the Island, the report said, adding out of the missing, 4657 were from Katchal Island. [More>>Press Trust of India]

The death toll in Sri Lanka is near 30,000 as reported Jan. 2 by the Press Trust of India.
---
1.02.05 Remote areas 'may wait weeks'
Jan. 3 – US and Australian helicopters has started the difficult task of delivering aid to remote areas of Indonesia, as the UN acknowledged the aid effort was falling behind in some of its most remote areas. A United Nations official said today some remote Indonesian villages may not receive help for a couple of weeks because of remoteness and heavy damage caused by last weekend's tsunami disaster. "We're able to reach out in all of the affected countries except in (the Indonesian regions of) Sumatra and in Aceh at the moment. That is where we are behind," said Jan Egeland, the UN's emergency relief coordinator.

"Ninety percent of our problems are now in those areas because they are more remote, because the damage was much bigger, because the roads are more damaged (and) because the airstrips are fewer and they are more damaged." The death toll from the Boxing Day disaster is nearing 130,000 across the affected areas in Asia. With around 100,000 dead, Indonesia bore the brunt of the December 26 tsunami caused by a quake off the island of Sumatra, and the country has given up trying to provide an exact death toll.

Mr. Egeland said the global relief effort should be able to meet the food needs of 700,000 people in Sri Lanka in the next few days, but it would take "much longer" to get food to the one million who needed it in Indonesia. [More>>news.com.au]

---
1.02.05 Tourist flights continue from Kazakhstan to Thailand, where tsunami did not reach
Tourist flights to Thailand are continuing. The country has not declared a state of emergency, and in most cases, tourist companies, who had sold tickets, have the right not to return money, if their clients refuse the trip. A plane with more than 300 passengers departed to Bangkok from Astana, Kazakhstan on the evening of December 29th. The tourists are headed to Pataya, a city which was not damaged by the tsunamis...30 Kazakhstanis still remain on Phuket island. Most of them plan to return home after New Year celebrations. Three Kazakhstanis are still missing and three others remain at the Phuket hospital.[ More>>khabar.kz]
---
1.02.05 Israeli team to head efforts of identifying tsunami victims in Krabi, Thailand
An Israeli forensic team will head efforts to identify hundreds of bodies of foreign victims of last Sunday's devastating tsunami, in the Thai city of Krabi. The Israeli crew will oversee crews from Europe and Japan, and will direct local teams involved in efforts to identify the bodies, currently kept in a temple in the city. [More>>haaretzdaily.com]
---
1.02.05 Rain, flooding, slows disaster relief
BANGKOK, Thailand, Jan. 2 – Heavy rains and fresh floods disrupted aid to Asia's tsunami-hit villages Sunday as the U.N. refugee agency started a 400-tonairlift as part of a $2 billion relief operation to save millions struggling to survive. Tropical rains in Indonesia's northern Aceh province, with more than half of the 127,000 known dead, and flooding along Sri Lanka's low-lying coast halted some aid deliveries. Rescuers were already struggling to cope with the logistical nightmare of reaching devastated villages cut off from the world. "Further flooding caused by heavy rains in some areas is hampering the relief effort and exacerbating poor sanitary conditions of those displaced," the United Nations said in its latest report on the tsunami relief operation. [More>>Reuters.com via expressindia.com]
---
1.02.05 OTHER NEWS
1.02.05 Terrorist base discovered in Daghestan
MAKHACHKALA – A terrorist base has been discovered near a village of Osman-Yurt in Daghestan (Khasavyurtovski district). It contained a large cache of explosives prepared for use in terrorist acts, including suicide-bombing, reported head of Daghestani interior ministry's press service, Police Colonel Abdulmanab Musaev. He said that the base had three dug-outs for 10 people. Police officers discovered four suicide-bomber belts filled with a large amount of explosives, two field charges and other explosives. The search-and-destroy operation was conducted by several groups of operatives from the Chechen and Daghestani interior ministries. [rian.ru]
---
China's provincial administration of coal-mine production confirmed Saturday the deaths of ten miners in a gas explosion. The government began discussing compensation for the victims' families once all ten bodies were recovered from the Chenzhou City mine Saturday morning, reported Xinhua, China's main government-run news agency. [More>>bignewsnetwork.com via tajikistannews.net]

There have been several mine explosions reported in the past weeks, some concerning mines by individuals hoping to cash in on the higher demand for coal.
---
1.02.05 Four policemen die in Peru clash
Four Peruvian policemen have died in a shoot out with army reservists who have taken over a police station. The exchange of gunfire came early on Sunday morning in the town of Andahuaylas, in Apurimac region. The government declared a regional state of emergency after the 150 reservists seized a police station on Saturday, taking ten officers hostage. The reservists are led by a retired army major who is calling on President Alejandro Toledo to resign. [More.>bbc.co.uk]

---
1.02.05 US says Syria has made progress on Iraq but must do more
DAMASCUS, Jan. 3 – US Deputy Secretary of State Richard Armitage said Sunday that Syria had made progress in improving security on the border with Iraq but that it must do more to stop fighters moving across the border. [jang.com.pk; See also dailystsr.com]
---
1.02.05 Suicide bombers, Gunmen kill 32 in Iraq
BAGHDAD Jan. 2 – Suicide car bombers hit a bus packed with Iraqi National Guards on Sunday, killing 26 people in the deadliest attack of its kind in four months on Iraqis cooperating with U.S. forces to secure a Jan. 30 election. Two insurgents in an explosives-laden vehicle veered into the path of the bus and blew it up outside a U.S. military base near the town of Balad, north of Baghdad. [More>>Reuters.com via expressindia.com]
---
1.02.05 – Countries around the world pledged $2 billion in aid for victims of the South Asian (Indian Ocean) tsunami [More>>news.com.au]. Secretary-General Kofi Annan will visit tsunami-stricken Indonesia next week. [More>>Reuters.com]. Also posted 1.02.05 is a report that deaths may have been prevented by Tsunami Warning Center in Hawaii and people on duty explained to The Sunday Telegraph that they are now looking at the creation of a "rapid reaction" emergency team. After 15 minutes of monitoring of the quake they realized that it would do far more damage than they originally assessed. [More>>news.com.au ; for more background see also Maravot_News story 12.28.04]. Barbara Demick, Times Staff Writer, reports that other experts paid no heed to the catastrophe's warning signs [More>>latimes.com].

A strong ~6.5 - 7.0 magnitude (Richter Scale) earthquake was measured Saturday afternoon (1.01.05) about at the same location – its epicenter was 350 kilometres west of Banda Aceh – of the 9.0 quake that launched the tsunami 12.26.04 [More>>news.inq7.net]. Saturday flash floods in eastern Sri Lanka caused the evacuation of 2,000 people already affected by a tsunami that killed more than 28,000 people along the country's coasts, officials said [More>>thestar.com via lankapage.com]. 1,000 bodies have been found in the Andaman islands and 5,400 are still missing. [More>>Press Trust of India].
Foreigners lost in Thailand: Thai authorities said more than 2,230 foreigners from 36 nations were confirmed dead from Thailand's southern resorts alone. They include: Sweden, 59; Britain, 34; Germany, 34; France, 22; Norway, 21; Japan, 17; United States, 15; Italy, 14; Switzerland, 13; Australia, 10; Denmark, 7; Singapore, 7; Belgium, 6; Austria, 5; Canada, 5; Netherlands, 5; Finland, 4; South Africa, 4; South Korea, 4; Philippines, 3; Brazil, 2; Taiwan, 2; Columbia, Czech Republic, Mexico, New Zealand, Poland, Russia, Turkey, 1 each. (AP). Four Israelis were just identified [Jerusalem Post]. Many tourists from the Commonwealth of Independent States (CIS) are also reported dead or missing, including nearly 50 Russian and Kazakh tourists. Citizens from other CIS states were also traveling in the disaster zone. [More>>Radio Free Europe]
Breakdown of deaths by country, from AP, via The Globe and Mail

An internet link has been restored from Banda Aceh's main post office. They are using the post office's Wasantara.net internet kiosk infrastructure. [More>>thejakartapost.com]
US helicopters flying relief to Banda Aceh: Sorties involving a dozen H-60 Seahawk helicopters from the USS Abraham Lincoln aircraft carrier, which positioned off the coast of Sumatra island late Friday, began touching down in the city, a U.S. military spokesman told AFP. [More>>thejakartapost.com]. The US military role is a first in Indonesia, says Al-Jezeera: "American navy helicopters and transport planes have begun ferrying aid supplies to Aceh province six days after a tsunami slammed into the coast killing tens of thousands of people. In a ground breaking piece of diplomacy, US soldiers will for the first time touch down on Indonesian soil in an operational capacity. Australian military aircraft have been involved in relief work in Aceh since mid-week, joining small Malaysian, Singaporean and New Zealand contingents." [More>>Al-Jezeera]
Aftershocks from the Sumatra quake are moving northward: Aftershocks of last week's killer quake off Sumatra are moving northwards and can potentially trigger a major earthquake in Assam, scientists in the United States have cautioned the Indian government. Scientists at the Center for Earth Observing and Space Research in George Mason University in Virginia, have been analyzing the seismic data since December 26, and have found the aftershocks moving towards north along a 90-degree Ridge. "If the sequence of these aftershocks moves further north then it may trigger a very big earthquake in Assam region which is expected by the scientists since long time," Ramesh P Singh, a member of the team and Vice Chairman of the International Union of Geodesy and Geophysics (IUGG) Risk Commission said. [More>>Press Trust of India]
Medical personnel planning to go to Sri Lanka: The Sri Lanka government may not need more medical personnel; check with them before leaving.
Sri Lanka tsunami relief coordinator: The Centre for National Operations (CNO) has been set up under President Chandrika Bandaranaike Kumaratunga to coordinate all operations related to tsunami disaster at the Presidential Secretariat. [More>>dailynews.lk]

India tsunami relief coordinator: The center to coordinate relief from the tsunami is under Defence Secretary Ajay Vikram Singh who was designated to monitor the relief operation including supply of food, medicines, tents and clothing. [More>>Press Trust of India]

German military set up medical station in Aceh: BERLIN (DPA): The German Armed Forces medical service is to set up a field hospital in Aceh province to treat Indonesians injured by the Dec. 26 tsunami or caught up by the spread of diseases since, a Defense Ministry spokesman said in Berlin on Saturday. Up to 100 personnel are on stand-by to fly to Indonesia, but the size and form of the medical station will not be decided until an advance party of eight have reached the Aceh region and determined what is needed. [More>>thejakartapost.com]

Japanese agency to warn other countries of tsunami beginning March: Japan's Meteorological Agency will expand the geographical scope of its observations and provide tsunami forecasts to other Asian nations starting in March, agency sources said Tuesday. The agency's system will be able to issue tsunami warnings that include such information as the height of a tsunami and its arrival time about 20 minutes after a strong earthquake. [More>>Daily Yomiuri]

Dec. 31 – Pakistan sends two ships, army medics and engineers: The government is sending army medics and engineers to Indonesia and has ordered two naval ships to join relief efforts in Sri Lanka where devastation caused by tsunamis has created a humanitarian crisis , the foreign ministry said on Friday. [More>>dawn.com]
Jan. 1 – A Chinese rescue team began work in Banda Aceh: A 35-member rescue team from China treated more than 30 victims within their first two hours of work this morning (Saturday). The victims mainly suffered from diarrhea, flu and stress. [More>>CRIonline]. China increased its aid to South Asian tsunami relief from $2.4 million to about $60.46 million. [More>>CRIonline]. See also Xinhuanet.com]

TOKYO, Jan. 1 – Tsunami relief summit in Jakarta next week: Prime Minister Junichiro Koizumi of Japan plans to join a meeting of world leaders next Thursday in Jakarta to discuss the massive earthquake in Indonesia and subsequent devastation by tsunamis in Southeast and South Asia, officials close to the premier said Saturday. [More>>japantoday.com]
1.01.05 US to deploy troops & aircraft to Sri Lanka

COLOMBO (AFP) - The United States will send up to 1,500 marines with at least one ship and 22 aircraft, including Black Hawks, to help Sri Lanka's tsunami relief efforts, US marine Colonel Tom Collins said. Operation "Humanitarian Assistance and Disaster Relief" will be the biggest ever US military deployment in Sri Lanka. The first contingent of 200 marines was expected here Sunday travelling from their base at Okinawa in Japan, Collins said, adding they would be responsible for setting up logistics for larger US military efforts. [More>>turkishpress.com via lankapage.com]. The Star.com posted several "Tsunami accounts from readers."

1.01.05 Bush sending brother Jeb to Asia seen as savvy
TALLAHASSEE, Jan. 1 – An article by Dara Kim says that Bush's decision to send his brother Jeb to tsunami-stricken South Asia was a savvy move. It may stem criticism of the United States' initial response to one of the world's worst natural disasters. [More>>palmbeachpost.com via tajikistannews.net]
1.01.05 Thai fishermen save village of 181 people
By the time killer waves crashed over southern Thailand last Sunday the entire 181 population of their fishing village had fled to a temple in the mountains of South Surin Island, English language Thai daily The Nation reported. [More>>cnn.com]
1.01.05 Not a Living Soul Seen On Long Trek Home; only flattened villages
Alan Sipress of the Washington Post Foreign Service, reports the scope of the devastation during a 100 mile stretch from Banda Aceh south, through the story of three construction workers. Nurdin Muhammed and two fellow construction workers who lived in Banda Aceh had been working 100 miles south when the tsunami struck. They had to ford or swim 10 rivers for five days to get back home to their family, and in their trek home did not see a living soul. They described flattened village after flattened village on their way to their native village. [More>>washingtonpost.com]
1.01.05 Tsunami a horror for paralyzed children
GALLE, Sri Lanka (AP) Jan. 1 – Screaming with fear, paralyzed children at a shelter for the physically disabled and mentally ill in Galle, Sri Lanka, lay helplessly in their beds as seawater surged around them. The tsunami roared in on the day after Christmas. Some of the desperate children gripped the rafters as the water rose inside the one-story Sambodhi shelter. Others floated away on mattresses to their deaths, according to witnesses. Just 41 of the 102 residents of the home survived, caretaker Kumar Deshapriya said Saturday. [More>>cnn.com]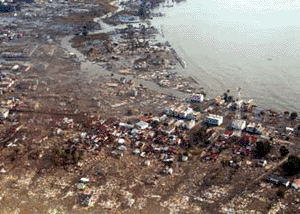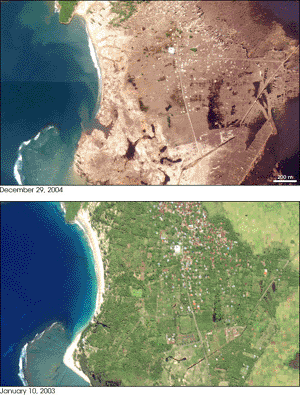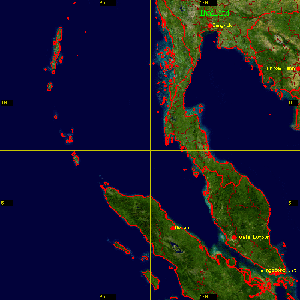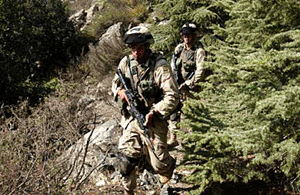 DoD image for Army Year in Review slide show – 85 slides worth viewing: http://www.army.mil/yearinphotos/
1.01.05
Breeding farm for Andaman sea-turtles lost
Because tourist activity on the coast of Thailand was contributing to the decline of the Andaman sea-turtles and they were in danger, a breeding station had been established at a naval base in Phangnga. The base was completely destroyed by the tsunami and 2,000 turtles were lost. [Full story>>bangkokpost.net]

1.01.05 View pictures of the tsunami from the globeandmail.com and Earth Observatory photos.
1.01.05
View galleries of pictures posted by www.Guardian.co.uk
1.01.05 At a glance interactive map: Countries hit by the tsunami (BBC.co.uk)
1.01.05 Bush declares next week flags to fly half-staff to honor tsunami victims

CRAWFORD, Texas, Jan. 1 – President Bush, seeking to bolster America's humanitarian image after the Asian tsunamis, called on Saturday for flags to be flown at half-staff next week to honor victims of the disaster. A day after he raised the U.S. aid contribution to $350 million from $35 million, Bush used his weekly radio address to emphasize the need for private relief donations for devastated areas where massive waves killed at least 124,000 people and left 5 million others homeless. "The carnage is of a scale that defies comprehension," Bush said, noting that $15 million of the U.S. aid has been disbursed to relief organizations in the Indian Ocean region. [More>>Reuters.com]
---
1.01.05 OTHER NEWS
1.01.05 Five Iraqi guardsmen beheaded by Zarqawi group
DUBAI, Jan. 1 – The group of Abu Musab al-Zarqawi aired a video on the Internet Saturday purporting to show the execution of five members of the Iraqi National Guard in the militant stronghold of Ramadi west of Baghdad, said sources. [jang.com.pk]

---
1.01.05 American oil executives see opening to developing Libyan oil reserves
TRIPOLI, Libya, Jan. 2 – For the first time in a decade, a new oil territory is opening up. Reopening, that is. American oil executives have recently been flocking to Libya, crowding the lobby of Tripoli's only luxury hotel and literally standing in line to meet local officials.[More>>nytimes.com]
---
1.01.05 Construction of 150 new health centers starts in Iraq
Iraq¹s health ministry is building 150 modern health centers at a cost of $37 million, the ministry said in a statement. The statement, obtained by the newspaper, said the construction was made possible when international donors agreed to release part of the funds they had pledged for Iraqi reconstruction. Dr. Niama Saeed, the ministry¹s health care director, told Azzaman the new centers will be supplied with latest medical equipment and will offer a variety of services. [More>>azzaman.com]
---
1.01.05 World Jewish Congress probed
New York State Attorney-General Eliot Spitzer has reportedly been holding an initial and informal investigation into suspicious money transfers made by the World Jewish Congress, which has its international headquarters in New York. Among the dealings inquired is a transfer of $1.2 million by the WJC Chairman of Governing Board Rabbi Israel Singer, according to The New York Times. [More>>Jerusalem Post]
---
1.01.05 Most wanted militant among Riyadh suicide bombers
RIYADH, Jan. 1 – One of Saudi Arabia's most wanted militants, Abdullah Saud al-Subaiei, was among three suicide bombers who attacked the interior ministry in Riyadh this week, said sources Saturday. [jang.com.pk]
---
1.01.05 At least 11 killed, 600 injured in Philippine New Years revelry
MANILA, Philippines (AP) Jan. 01 – At least 11 people were killed and nearly 600 injured as Filipinos welcomed 2005 with daredevil revelry, but there were fewer firecracker blasts and less celebratory gunfire than in the past, officials said Saturday...Of the 11 deaths monitored by police in the two weeks that ended Saturday, seven were caused by a firecracker-ignited fire, three by stray bullets and one by a firecracker blast, Bataoil said. He said 547 people were injured by firecrackers and 30 by stray bullets. Fireworks ignited 22 fires across the country during the period. Among the dead were seven trapped early Friday in houses set alight when a man set off a firecracker that hit and ignited a stack of pyrotechnics. [More>>thestar.com.my]

---
1.01.05 North Korea experiencing creeping capitalism
South Korea's Unification Ministry predicts in analyses of the latest trends in the North that during this year the principles of a market-oriented economy will expand further into the Stalinist state's society and the minds of its people...The capitalistic concept is spreading and taking hold among the people thanks to a practical social atmosphere. The report also noted that some foreign culture is spreading.

Pool, bowling and computer games are popular. There are 24-hour stores operating in the capital city Pyongyang and six to seven PC bangs (rooms) providing computer access. Some restaurants in universities in Pyongyang are selling hamburgers, yet another symbol of foreign culture. Pyongyang also has about 150 bars and 350 restaurants, as well as karaoke, and many run late into the night as long as there are customers. Financial reforms are also underway. The North is moving to change the funding source for its state corporations from the state coffers to banks, a move seen as a bid to infuse capitalistic thinking into management of state-run enterprises. [More>>koreaherald.co.kr]
---
1.01.05 China's gas fields penetrate Japanese territory; Japan is upset
Twelve spots at which China has established mining fields under its natural gas field exploration project in the East China Sea extend into an area claimed by Japan as its exclusive economic zone (EEZ) in the region, government sources said Friday. Three of the spots lie entirely in the area designated by Japan as its EEZ, according to the sources. [More>>Daily Yomiuri]. For background see article dated 11.26.04, Japan still miffed over Chinese oil wells off coast.
---
1.01.05 India and Pakistan exchange lists of nuclear installations to avoid attacks
ISLAMABAD, Jan. 1 (PTI) – India and Pakistan today exchanged the lists of their nuclear installations under an agreement that prohibits the two countries attacking such facilities in case of war. [More>>Press Trust of India]
---