SOUTH ASIA TSUNAMI 12.26.04

12.30.04 Tsunami Help & Resources
12.27.04 Massive 9.0 Richter Scale earthquake in Sumatra
12.28.04 Update on Massive 9.0 Richter Scale earthquake in Sumatra


US DEBT & ECONOMICS

2.03.05 Senate Minority Leader Harry Reid provides rebuttal to President's address
2.03.05 Greenspan to testify to panel
1.26.05 Chinese economist: China has lost faith in stability of US dollar
1.26.05 Weak US dollar threatens worldwide economic stability: UN
1.19.05 2004 inflation measure highest in 4 years
1.16.05 Social Security agency is enlisted to push its own revision
1.12.05 US trade deficits hit records; swells to $60.3 billion
1.08.05 Senator Feinstein comments on the fight to stop Bush cuts in Medicaid
1.07.05 The US at the center of a world doughnut that is crumbling
12.30.04 Korea's current-account surplus to top $28 billion in 2004
12.25.04 Governors fear Bush is cutting off Medicaid
12.23.04 Dollar slumps to lowest level; foreigners fear it's Washington's plan


BUSH & WAR CRIMES

1.31.05 Judge declares military tribunals in Guantanamo 'unconstitutional'
1.27.05 Bush softens pitch on ending tyranny worldwide
1.26.05 Iran: US tops list for threatening world peace
1.26.05 Rice is confirmed amid criticism
1.25.05 Kennedy, Dems assail Iraq policy, Rice


PALESTINE AND KASHMIR SOLUTION
2.01.05 Israel ordered to rescind land grab law
1.31.05 Russia to support Abbas
1.31.05 Israeli government to bring all Falashmura from Ethiopia by 2007
1.28.05 Hamas wins overwhelming victory in Gaza vote
1.28.05 An unholy alliance
1.27.05 If Pakistan and India can do it, so can Israel and Pakistan: Peres
1.26.05 Israel warned over impending health disaster in Gaza
1.24.05 Palestinian land in Jerusalem seized
1.24.05 Israel resumes work on illegal wall
1.21.05 Abbas instructs PA police to fire on Qassam launchers
1.20.05 Israel plans big Jerusalem land grab
1.19.05 Israel allows Palestinian talks
1.18.05 Rice: I will personally oversee Israel-Palestinian contacts
1.14.05 Sharon suspends contacts with Palestinian Authority
1.13.05 Israeli High Court freezes building of separation fence near Jerusalem
1.12.05 Musharraf seek US help in resolving Kashmir
1.11.05 Prime Minister Ariel Sharon calls Abbas, both leaders agree to meet in coming weeks
1.07.05 Barghouti expelled from Jerusalem for campaigning on Temple Mount
1.04.05 U.S. preparing post-election boost in Palestinian aid
12.23.04 Palestinians vote for first time in 30 years
12.21.04 World Bank offers carrot to Palestinians
12.12.04 Latest talks on Kashmir hold promise
12.06.04 Prime Minister Blair refuses to mediate Kashmir dispute
12.04.04 Musharraf says talks with India on Kashmir "moving well"
12.01.04 Musharraf repeats position: Kashmir and Palestine disputes ripe for solution
11.26.04 President Musharraf sees common solutions in the disputes in Kashmir and Palestine
12.04.04 Indian Prime Minister Singh's response to Musharraf
IRAN & SYRIA
2.03.05 Bush outlines vision of Mideast freedom
1.28.05 Iran-Afghanistan sign 3 cooperation documents
1.27.05 Assad warns Middle East states face break-up threat
1.25.05 Syria looks to Moscow for stronger regional role
1.25.05 Assad: Russian missiles would not pose threat to Israel
1.24.05 Iran replies to Bush: If Bush really wants to end tyranny, he should help liberate the Palestinians
1.24.05 Germany says force should not be used to resolve nuclear issue with Iran
1.24.05 Israel says Egypt, Syria, Saudi Arabia have nuclear programs
1.24.05 Iran rules out possibility of talks with US
1.23.05 British Foreign Minister Straw snubs US hawks on Iran
1.22.05 GC spokesman denies report women can run for presidential post in Iran
1.21.05 Russia slams US for accusing Syria of terror ties
1.21.05 NATO stresses need for unity on Iran
1.20.05 Khatami: US not in a position to attack, but Iran is ready to defend
1.20.05 Cheney expresses concern that Israel may attack Iran
1.19.05 Iran ready for security cooperation with Europe
1.19.05 Iran's supreme leader labels Rushdie an apostate who can be killed
1.18.05 Bush doesn't rule out war on Iran
1.18.05 Pentagon attacks New Yorker's Iran report
1.18.05 "No country can attack us," Iran says
1.18.05 Pakistan not helping US against Iran
1.18.05 US imposes sanctins on 9 firms over trade with Iran
1.18.05 UN to revisit Iranian military site
1.14.05 Ancient seal corroborates Bisitun Inscription text
1.14.05 Ruins of 9th - 12th century city found in Iran
1.14.05 New plan under study for rest of oil fields in southern Iran
1.13.05 Vietnam's FM hails Iran's nuclear stance
1.11.05 Halliburton wins Iran gas contract despite sanctions
1.11.05 India and Iran close oil deal
1.07.05 UN watchdog, IAEA, to inspect Parchin military site in Iran
1.07.05 Reporters Without Borders condemns mistreatment of cyberjournalists and webloggers in Iran
1.02.05 US says Syria has made progress on Iraq but must do more
2.25.04 Rafsanjani lashes out at Iran's critics in Iraq
12.21.04 Bush renews threats against Syria
12.21.04 UN General Assembly criticizes Iran's human rights violations
12.18.04 Afghan warlord assets frozen
12.17.04 Neoconservatives on the way to Damascus
12.17.04 Syria & Iran rebut Iraqi minister's charge
12.16.04 Iraq accuses Syria and Iran of backing terror
12.16.04 US man involved in smuggling arms to Israel and possibly Iran
12.14.04 US War games to invade Iran
12.13.04 UN atomic watchdog, Mohamed ElBaradei says Iran's nuclear program not a threat
12.12.04 Iran looking to Russia to build nuclear power-plants
12.10.04 Singapore and Iran looking to closer ties
12.09.04 Pakistani scientist's link to nuclear technology sales to Iran
12.07.04 Yawar warns Iran against meddling in Iraqi election
12.07.04 Al-Quaeda members tried and convicted in Iran
12.03.04 US continues to rattle sabres at Iran
12.02.04 Defense Secretary Rumsfeld's office & the "Iran's secrets to Israel" papers
11.30.04 Iran's freezing of uranium enrichment activites verified by IAEA
11.29.04 Bush administration rattling sabers over Iran nuclear agreement
11.28.04 Suicide mission recruiters more active in Iran – 30, 000 recruits
11.24.04 Syria wants to have "unconditional" negotiations with Israel
11.14.04 Iran agrees to suspend uranium enrichment.
10.31.04 Iran signs $70 Billion energy contract with China

RUSSIA

1.31.05 'Time ripe for India-Russia-China cooperation'
1.31.05 South Korea to contribute to construction of oil pipeline in Siberia
1.26.05 Putin happy over new Indo-Russian strategic partnership
1.25.05 Russian inflation will leap over 11% this year
1.24.05 Putin notes sincerity of talks with Yushchenko
1.21.05 Russia's Atomic Energy Ministry recognizes problem of nuclear waste storage in Murmansk
1.21.05 Russian spy satellite missing
1.21.05 Gazprom's CEO discussed oil and gas cooperation with North Korea
1.19.05 Russia and Europe sign space agreement
1.18.05 Russia, US meet on chemical weapons
1.14.05 Japan wants to help finance Russian Siberian-Pacific Pipeline
1.14.05 Russia denies sales of missiles to Syria
1.13.05 Russia's Putin and Turkey's Erdogan celebrate booming trade relations
1.12.05 Russian deputy FM explains to Israel Russia's planned sales of missiles to Syria
1.11.05 Turkey supports Russia becoming a member of the World Trade Organization
1.02.05 Terrorist base discovered in Daghestan
12.31.04 East Siberia-Pacific oil pipeline will be laid
12.30.04 China may aquire one-fifth stake in Russian oil company Yukos
12.30.04 East Siberia oil pipeline endorsed
12.25.04 Iraq invites Russian help
12.23.04 YUKOS deal ruined Russia's reputation says Richard Boucher
12.23.04 Russian state oil firm Rosneft bought YUKOS's core unit Yuganskneftegaz
12.23.04 Russian president accuses US of attempting to isolate Russia
12.21.04 Yukos auctioned to 2-day-old company; owners unknown
12.18.04 Yukos affair a test of Bush imperialism
12.17.04 Yukos sale proceeding despite court ruling
12.12.04 Cold War being revisited by Bush administration?
12.12.04 Russian-Chinese strategic partnership
12.10.04 Russia and Spain partnership prospects
12.08.04 US Colin Powell and Russian Sergey Lavrov verbally duke it out over Ukraine – conference scuttled
12.08.04 Elections in Iraq unimaginable under occupation by foreign troops, says Putin
12.08.04 Turkey economically strategic to Russia
12.06.04 Russian President Putin accuses US of dictatorial foreign policy
12.04.04 Russia and India sign strategic partnership
12.04.04 Russian & American bases in Kyrgyzstan growing
12.01.04 New oil deal between India and Russia in the making
12.01.04 Russia announces ambitious space program
12.01.04 Russia rolls out new naval ships
11.29.04 Russia tests anti-missile system in Kazakhstan

CHINA
2.03.05 China responds to Bush address on Iran Issue
2.01.05 China: US irrational on arms embargo
2.01.05 China, US discuss setting up defense hotline
2.01.05 India keen on energy alliance with China
1.30.05 China and Venezuela sign a series of cooperation agreements
1.30.05 First direct flights in 56 years took off
1.30.05 Beijing considers talking with Taiwan's Chen Shui-bian
1.28.05 Japan nervous of Chinese military action, relations chill
1.27.05 Tibetan lama dodges Chinese bullet – history behind persecution of Tibetan Lamas
1.27.05 Explosive situation in Xinjiang – Muslim separatists?
1.27.05 China questions death penalty
1.27.05 Coal shortage rises to be China's top concern in economy
1.26.05 China now Japan's top trade partner
1.25.05 Korea investments in China rise sharply
1.25.05 China and Mexico sign cooperation accords
1.25.05 China's economy soars
1.24.05 China, India complete strategic talks
1.21.05 China now ranks equal to US in importance as trade partner with Japan
1.20.05 Death toll in Xinjian blast rises to 12
1.21.05 India, China to hold first-ever strategic dialogue next week
1.16.05 End of China arms embargo worries US
1.16.05 China's population hits 1.3 billion
1.16.05 Japan oil firms eye natural gas development in East China Sea
1.14.05 China, US optimistic about future trade relations
1.14.05 China decides to resume issuance of IPO's
1.14.05 India lags China in manufacturing: Tata
1.13.05 China floats idea of highway to Taiwan
1.13.05 Canada and China to boost ties
1.12.05 EU arms ban on China may be lifted soon: Britain
1.11.05 China becomes No 3 trading nation
1.08.05 China turned down by Ishihara on conducting marine research off Japan
1.01.05 China's gas fields penetrate Japanese territory; Japan is upset
1.02.05 China mine explosion kills 10
12.24.04 Iraqi Prime Minister Hoshiar al-Zibari visits China
12.19.04 China to build nuclear power plant in Pakistan; stronger economic ties
12.17.04 China, Pakistan to strengthen defense ties
12.14.04 China arresting internet news reporters
12.12.04 China miffed over Japan's new military focus; 32 years of Sino-Japanese relations at stake
12.12.04 Japan cutting capital cooperation projects in China
12.09.04 EU looking to lift arms ban to China
12.09.04 Good news for San Francisco: Chinese tourists may be on the way – but some bad news
12.08.04 Chinese Prime Minister arrives in the Hague for summit with EU
12.08.04 EU and China sign strategic partnership
12.05.04 German Chancellor on three-Day trip to China to deepen "strategic partnership"
11.26.04 Japan still miffed over Chinese oil wells off coast
11.01.04 China's reliance on imported oil grows

EUROPEAN UNION VERSUS UNITED STATES
1.11.05 EU, US avert clash over Airbus-Boeing
12.19.04 EU moves to more independent role
12.18.04 Bugging device found in Salon Français of United Nations
12.14.04 Friends of the Earth Europe ask EU to get rough with US over Kyoto Treaty
IRAQ

2.03.05 Insurgents kill 12 Iraqi army recruits
2.01.05 US guards shoot dead 4 inmates in Iraq prison riot
2.01.05 Turkey slams US failure to halt Kurds' designs on Kirkuk
2.01.05 Tens of thousands of Iraqis may have missed vote
1.31.05 Mainly Kurds voted in Mosul
1.31.05 The purple finger revolution
1.31.05 Post-polls attacks kill three US marines
1.31.05 Turkey welcomes Iraq vote, renews concerns over Kirkuk
1.30.05 Iraqi turnout for vote may be 60%, not 72%
1.30.05 Iraqis brave violence; voter turnout high
1.30.05 Bush calls Iraqi election 'a resounding success'
1.30.05World leaders hail Iraq vote as key to restoring sovereignty
1.30.05 British military plane crashes in Iraq
1.28.05 5 US soldiers, 5 Iraqis killed in attacks in Baghdad
1.28.05 Iraq sets dusk-to-dawn curfew before vote
1.28.05 How to assess Iraqi election results
1.28.05 Kurds to demand key government post
1.28.05 Excited over Iraqi election
1.28.05 Iraq catches 3 Zarqawi lieutenants; winning war on rebels
1.27.05 US military too eager to help Iraqis vote
1.27.05 Over 30 die in Iraq as bloody campaign rages ahead of polls
1.27.05 US will pay the bill if Kirkuk plunges into turmoil, Turkish PM warns
1.27.05 Kirkuk tensions could spark Iraq civil war, Turkish intervention: report
1.27.05 Turkey warns Kurds about Kirkuk control
1.26.05 31 US troops killed in Helicopter crash in Iraq
1.26.05 Paris detains 4 more Islamist suspects bound for Iraq
1.25.05 Militants show video of US hostage; judge killed
1.25.05 Kirkuk under curfew as poll centers hit
1.24.05 Muslim organization advocates electoral process to end violence in Iraq
1.24.05 Iraqi voters in Iran lead the pack
1.24.05 Saudi clerics point militants toward Iraq
1.24.05 Arab candidates pull out of Iraq vote in multi-ethnic Kirkuk
1.24.05 Top Zarqawi lieutenants netted in Iraq
1.24.05 Car bomb explodes near Iraqi Party Headquarters
1.23.05 Iraqi exiles shun election; with 1 million worldwide, perhaps 10% will vote
1.23.05 Zarqawi tape declares all-out war on Iraq
1.22.05 Iraq refuses to say if Zarqawi detained
1.22.05 China says eight hostages held by Iraqi insurgents freed
1.21.05 15 people killed in Shiite mosque
1.20.05 Britian urges US to set Iraq withdrawal timetable
1.18.05 UK soldiers deny Iraq abuse charges
1.18.05 US man charged in Oil-for-Food probe
1.16.05 Iraq voting day security plan unveiled; 18 bodies discovered
1.16.05 Saudi scholars condemn violence
1.16.05 Mass grave found in Iraq
1.13.05 European press reduce Iraqi coverage
1.13.05 Baghdad election center director killed
1.13.05 Iraq poll fears deepen as 2 Sistani aides killed
1.13.05 US confirms it was informed of Iraqi oil trafficking
1.08.05 Jordanian terrorist Abu Musab Al-Zarkawi believed captured
12.25.04 Zarqawi-linked insurgents arrested in Iraq
12.22.04 Saddam bids to challenge case in US
12.12.04 Saddam's illegal oil trade to Syria, Jordan and Turkey
12.10.04 Fatwas – edicts issued by Islamic clerics – getting out of hand
12.09.04 Moqtada al-Sadr left off Sistani's electoral list
12.06.04 Eight soldiers plan to sue over Army's Stop-Loss policy
12.07.04 Situation deteriorating in Iraq says CIA
12.04.04 Confusion makes aid workers in Iraq sitting ducks
11.17.04 Forty-seven Iraqi groups protest forthcoming January election in Iraq
11.16.04 Kurdistan leaning heavily towards independence from Iraq
11.15.04 US troops round up prominent imams of the Association of Muslim Scholars (AMS)
11.11.04 Bush II adopts Hama Rules One thing leads to another. An interesting article by Charles Glass [11.09.04 article in belfasttelegraph.co.uk ; also carried by kurdistanobserver.com/] compares the US assault on Fallujah to the Syrian assault on a rebel stronghold of Hama, Syria in the spring of 1982.

FIGHTING TERRORISM
2.03.05 EU commissioner: suicide bombing is crime against humanity
1.30.05 Kuwait City gun battle
1.30.05 Three arrested in Lahore for suspected links with Al-Qaeda
1.30.05 Bomb explodes in Spanish seaside town
1.27.05 Bali bomber 'killed'
1.27.05 Parts of Muslim world in deep crisis: Malaysian PM
1.24.05 Annan tells world to face up to evil
1.24.05 Officials: Pentagon moves into overseas spy operations
1.20.05 Taliban chief (Omar) rebuffs talks with US, Afghan government
1.16.05 80 Afghans released from US custody in Afghanistan
1.07.05 Pakistani security forces arrest 3 suspected Al-Quaeda-linked terrorists
1.01.05 Most wanted militant among Riyadh suicide bombers
12.21.04 Terror victims sue Arab bank
12.17.04 Bush signs 9/11 intelligence reform
12.13.04 US forces detain Khan of Kalat and his "hunting party"
12.03.04 French Prime Minister acts to stop Hizbullah TV; anti-Semitism increasing in Europe
12.01.04 Not to forget the hate merchants
11.26.04 America's soft underbelly, her ports, are enormous targets
11.16.04 Bin Laden's mountain fortress?
11.16.04 Wanted militant Mehsud meets with Pakistani commander

11.14.04 Terrorist leader Abdullah Mehsud released from Guantanamo; continues terrorist activity
11.13.04 Landmark decision against US-based fund raisers for terrorist organization Hamas

OTHER
2.03.05 Ukraine's President Yushchenko invited to NATO summit
2.03.05 Georgian PM Zhvania found dead
2.03.05 From Nepal with fear: an e-mail from Hindustani Times correspondent
2.03.05 Lost city believed found in Johor, Malaysia
2.03.05 Tuna to be traced by DNA in Japan to ensure catches are legal
2.01.05 Nepal king dismisses government, declares emergency
2.01.05 Pentagon to propose bigger military death benefits
2.01.05 Libya disappoints European firms as US wins most oil exploration permits
1.30.05 Artic zone to melt by 2060: study
1.30.05 Lybia auctions off oil fields
1.30.05 80% of Japanese regional banks consider IC cards
1.30.05 Glowing corals may be lifesavers
1.28.05 Washington lobbies United Nations for new Darfur court
1.27.05 Sudan Air Force bombs village in Darfur
1.27.05 World remembers Holocaust at snow-swept Auschwitz
1.27.05 North Korea has bought N-bomb from Pakistan: report
1.27.05 UN Security Council's Counter-Terrorist Committe meets in Khazakhstan
1.27.05 UN troops pull out as Cyprus peacekeeping mission downsizes
1.27.05 Nepal closes Dalai Lama's office in Kathmandu
1.27.05 US women at greatest risk of sexual disease
1.26.05 ISS Crew wraps up successful spacewalk – next walk prepares for ATV
1.26.05 The European Space Agency (ESA) plans to launch 8 Automated Transfer Vehicles (ATV)
1.26.05 China to build world's first wave power station
1.26.05 Study finds earth temperature skyrocketing
1.26.05 Thailand heads into the space age
1.26.05 Bush says Japan is good example of democracy-spreading policy
1.26.05 Pakistan says not seeking arms race with India
1.26.05 UN envoy warns Maoists of being brought to trial
1.25.05 Pakistan gives US 'key militant'
1.25.05 German regulators seek criminal investigation into Citigroup bond case
1.24.05 Central Sulawesi quakes: 1 killed 4 injured
1.24.05 North Korea cuts food rations
1.24.05 Software identifies cancer-causing genes; facilitates stem-cell research
1.23.05 Johnny Carson dies
1.23.05 Islamic cleric urges all Muslims to reject terrorism
1.23.05 Germany detains two al-Quaida members
1.22.05 US citizens kidnapped in Mexico
1.22.05 Politician wants Schwarzenegger to lose citizenship
1.22.05 Georgians take 12 Ossetians hostage in South Ossetia
1.21.05 FBI addes 10 names to Boston alert
1.21.05 'Flammable' Titan covered in liquid gas
1.21.05 Top UN human rights official to visit Nepal next week
1.20.05 North Korea says it wants to denuclearize
1.20.05 Bush takes oath of office (Speech causes world concern)
1.20.05 US to be nuclear dumping ground
1.19.05 US tries to remove climate change references in UN disaster talks
1.19.05 Romans hail discovery of their 'new Pompeii'
1.18.05 The primordial, Titanic splat
1.18.05 British police study internet sermon by radical Muslim cleric
1.18.05 India invites bids for oil exploration off its shores and on land
1.18.05 Nepal's rebels planning to set up bases in India
1.14.05 North Korea ready to rejoin six-way talks
1.15.05 Possible shoreline shown in Huygen's first picture
1.14.05 Japan developing translating service accessed by cell phones
1.14.05 Congressman Frank Pallone: F-16 sales to Pakistan to be used against India
1.13.05 Harry rules out Auschwitz visit
1.13.05 Turkish PM wants to meet UN chief over Cyprus 'at first opportunity'
1.13.05 'Defense minister of Korea stresses Japan's transparent role in region
1.13.05 'Nuke talks may resume after lineup of US team'
1.11.05 Accused Australian terrorist Mamdouh Habib to be released
1.11.05 Who owns your e-mails?
1.11.05 Disaster relief only lasts as long as media coverage
1.11.05 Wearable PC's may be new trend
1.07.05 US advertises reward in Pakistan daily, Jang
1.01.05 DoD image for Army Year in Review slide show
1.01.05 North Korea experiencing creeping capitalism
12.31.04 Super 3G Cell Phone standards being set by 26 nations
12.30.04 Space travel makes one kinder
12.30.04 First snow ever in desert emirate of Dubai
12.30.04 Kyoto University team develops stem cells without using embryos
12.25.04 New York art collector looting Pakistan
12.25.04 Huygens successfully separates from Cassini spacecraft
12.21.04 India joins the US and Russia in supersonic missile technology
12.18.04 US spent $65 million to fund Ukrainian opposition groups
2.14.04 Crown Prince of Dubai says "change or lose power"
12.06.04 Kurds in southeastern Turkey want their requests met before EU admits Turkey
12.13.04 Convention on Climate Change starts in Buenos Aires
12.13.04 FBI in disorder
12.12.04 Korea uneasy over Japan's new military focus; fears of arms race
12.09.04 North East Asian countries uneasy with Bush administration direction – fear another Iraq
12.09.04 President Karzai of Afghanistan declares Holy War on drug trade
12.08.04 Israeli soldiers admit having killed 15-year-old Palestinian for sport
12.08.04 Oil producing governments in Mideast getting rich while their people starve
12.08.04 Eritrea in fourth year of drought, Somalia suffering from drought; both ignored
12.07.04 US CDC forcasts on global warming grim
12.06.04 US Environmental Protection Agency may become more lenient to polluters
12.05.04 Saudi unified front breaking up
12.02.04 Austrailia refuses to sign non-aggression pact
12.02.04 Solving the problem in Cyprus is a key to peace in the EU
12.01.04 European heatwaves increasing
12.01.04 Japanese minister wants Security Council over-hauled
11.30.04 United Nations to be restructured
11.26.04 India plagued by separatist groups
11.26.04 South Korea's nuclear developments a concern to IAEA and China
11.22.04 Saudis expanding Islamic schools in South Asia
11.15.04 US wants to redefine security treaty with Japan
11.01.04 US soldiers pull out of the demilitarized zone (DMZ)


---
EDITORIALS

1.26.05 Update Impact of FY 2005 deficit US budget deficit pegged at $368 billion in fiscal 2005 plus $80 billion more for Iraq
12.23.04 US is losing war of ideas
12.21.04 United States attacking itself from behind

---
11.22.04 (11.26.04; 11.30.04; 12.08.04; 1.26.05 Updates) US twin deficits are causing Japanese jitters: the story behind the collapse of the dollar
This is an ongoing article. See latest EDITORIAL, Impact of FY 2005 deficit .

12.08.04 We received a response from Senator Diane Fienstein which we cuddled midst a general review of the historic repeat of Deficits from father to son: Bush I to Bush II.

While this story has been breaching for several weeks, it will continue to be a big item in the news until the world press loses interest in the money others are losing. So we're keeping it at the top of the page.

The Bush administration's deficits in both trade and fiscal budget – the Twin Deficits –are dragging down world economies. Both deficits are largely responsible for the plunge in the value of the dollar. In Japan the plunge has lasted 55 months. The Bush administration's policies have caused the yen to appreciate for the past 55 months. While the Bush administration publicly supports a strong dollar, it is reportedly accepting the weakening dollar, since a weakened dollar makes US goods and services better buys on the foreign market.

Says Yomiuri Shimbun, [http://www.yomiuri.co.jp/index-e.htm] "The yen's sharp appreciation is fueling concerns over the nation's economic recovery. But the market direction is unlikely to change soon as the recent yen appreciation is closely related to U.S. trade and fiscal deficits...According to estimates of the Dai-Ichi Life Research Institute Inc., Japan's gross domestic product will drop by 0.4 percent annually if the 100 yen-to-the-dollar level continues for a year."

---

Decline in dollar to the Japanese yen and euro
* January 1, 2002 the euro was first put into circulation.
© 2004 Mel Copeland


| | | | |
| --- | --- | --- | --- |
| President | Jan. year | yen to dollar / ($) | euro to dollar / ($) |
| George H. W. Bush | 1990 | 146.25 ($.0068) | x |
| George H. W. Bush | 1991 | 124.5 ($.0075) | x |
| George H. W. Bush | 1992 | 125.4 ($.0080) | x |
| William J. Clinton | 1993 | 112.5 ($.0079) | x |
| William J. Clinton | 1994 | 112.5 ($.0088) | x |
| William J. Clinton | 1995 | 100.52 ($.0099) | .816 ($1.22) |
| William J. Clinton | 1996 | 103.92 ($.0095) | .780 ($1.28) |
| William J. Clinton | 1997 | 115.49 ($.0086) | .807 ($1.25) |
| William J. Clinton | 1998 | 132.4 ($.0075) | .913 ($1.10) |
| William J. Clinton | 1999 | 112.15 ($.0089) | .846 ($1.18) |
| William J. Clinton | 2000 | 101.7 ($.0098) | .984 ($1.01) |
| George W. Bush | 2001 | 114.26 ($.0087) | 1.05 ($.95) |
| George W. Bush | 2002 | 132.02 ($.0076) | 1.11 ($.90) * |
| George W. Bush | 2003 | 119.86 ($.0083) | .96 ($1.04) |
| George W. Bush | 2004 | 106.95 ($.0093) | .79 ($1.26) |
| George W. Bush | Nov. 18, 2004 | 104.23 ($.0097) | .77 ($1.29) |
In general, based upon the complaints coming in from overseas concerning the decline in the value of the US dollar and comparing rates since 1990 we can see a trend, where the Bush economics (Presidents George H. W. Bush and George W. Bush) have not been healthy for the United States, Europe and Japan. The former Bush, in fact, caused a major world-wide recession, beginning in Europe and surfacing in Indonesia. While we experienced years of economic stability under Clinton, the irresponsible deficit spending policies now continued from father to son (George H. W. to George W.) give no promise of prosperity in the coming years.

The US deficit, being the source of the declining dollar, perpetuates further debt and increases interest rates and inflation. About half of the US $6 Trillion debt is owned by foreign investors (primarily banks). When investors redeem their bonds in a period when the dollar is declining, as is the case in the two Bush administrations, they lose money on their investment in US bonds. This causes potential buyers of US bonds to back out of the US bond market. When buyers back away from the US bond market, the US has to raise interest rates to draw them back into the market. Following the increase in the prime rate, mortgages and other loan rates increase.

The greatest fear in international exchange is inflation. Foreign interests who own the US public debt – who cash in five year bonds today– will lose about 35% on their investment. Historic yen and euro rates compiled in the "Decline in dollar to yen" table are from http://www.x-rates.com.

The National Debt is an exponential debt. The adding of interest, plus continued borrowing / sales of US Bonds, compounds the debt. The debt takes on the form of a "J" curve. President Bush claims that he will "halve the debt," presumably in the next four years. The Clinton years, 1993-2000, represented the most fiscally responsible administration since Nixon (see "Running a government with a credit card" below). During Clinton's term Congress had adapted and applied a "pay as you go" process, preventing further borrowing to fund the government and actually paid down the National debt through their diligence. The dedication of Congress and the President during the Clinton years is not present in the current administration of Bush II, and reducing the deficit, let alone the National Debt, would seem improbable. It appears that the National Debt has reached a point of no return, where interest on the debt alone will consume any efforts to retire the debt. The debt from 1974 through 2009 (the data are current as of 11.22.04, from the Office of Management and Budget (OMB); the years 2004 - 2009 are OMB estimates) look like this: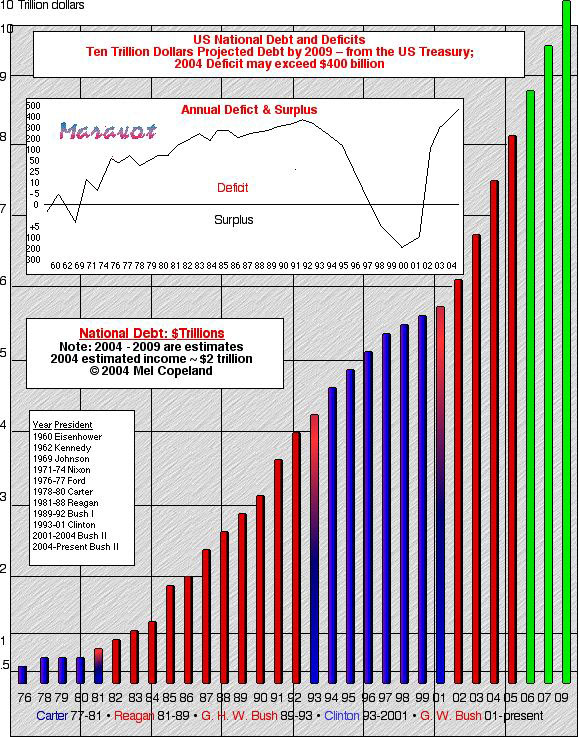 "J" Curve of the National Debt through 2009. Years 2004 through 2009 are estimated by the US Government: http://www.whitehouse.gov/omb/budget/fy2005/, and listed below. Inserted in this table is an "Annual Deficit and Surplus" chart (the image curiously resembles a dragon). For charts on expenditures and deficits from President Wilson to the present click here, "Review of the presidencies." The National Debt above can be compared to my 1993 J Curve projection from Duty & Profit, a conversation with Wm. F. Buckley Jr. Total receipts in 2004 were forecasted at just less that $2 trillion – the US income is about 27% of expenditures, using Federal data. Note that a large part of the deficits during the Reagan-Bush I and Bush II years comes from interest on the debt! This compounding debt can only be resolved by paying down the principal of the debt – which Clinton recently attempted and Bush II cannot do. A government that borrows without the intention to pay off the principal of the loan can only be headed one way: the interest on the debt will consume budgeted outlays and represent an ever larger part of expenditures, eventually causing the government to default on the loan. This results in a decline in public and private investment, as happened in the years of Bush I. An example of interest consuming outlays was during the Bush I administration in 1992: the Department of Defense was budgeted ~$270 billion. Interest paid out that year exceeded $292 billion. A comparable situation exists today. Another issue involves "Debt vs % of GDP." The issue is distracting, in my opinion, since all debts reduce to one principle: if one does not pay off the principal of a loan one will be bankrupted. A comprehensive review of the Debt vs percent of Gross Domestic Product (GDP) is at: http://www.marktaw.com/print/culture_and_media/TheNationalDebt.html. A good chart on the Federal deficit vs percent of GDP is at: http://www.harvardmagazine.com/lib/04jf/images/budg.jpg. Links on the Public Debt are at the Federal Bureau of Public Debt site: http://www.publicdebt.treas.gov/opd/opd.htm#history.
---
A forty-year amortization table on a loan of $5 trillion (double everything for a loan of $10 trillion) at 7% interest:
| | |
| --- | --- |
| | |
| Amortization Table for a loan of $5 trillion over 40 years @ 7% interest. Double the amount for the Bureau of Budget forecast of a $10 trillion debt by year 2009. (Click on chart for larger image.) On $5 trillion the annual payment would be about $1 billion per day; $2 billion per day on $10 trillion. Compare to the actual interest paid on the US debt, i.e., year #1 @ $375,045 billion principal & interest versus the actual interest only payments in 2004 of $321,566 billion. Perhaps the principal that was not paid over the years should be collected from the Bush family and Regean estates who ripped us off so to put a stop to this kind of irresponsible financial leadership. | |
It is no wonder that foreign governments are concerned about the decline in the dollar. Americans should have studied some basic fundamentals in home financing It is no wonder that foreign governments are concerned about the decline in the dollar. Americans should have studied some basic fundamentals in home financing and not allowed their spendthrift President to get out of hand. Then again, there is hope that Americans will start to pay attention to their accounts and those they elected to manage them. Total receipts estimated in the Federal Budget for 2004 are just short of $2 trillion." Growth in receipts. – Total receipts in 2004 are estimated to be $1922.0 billion, an increase of $85.8 billion or 4.7 percent relative to 2003. Receipts are projected to grow at an average annual rate of 7.0 percent between 2004 and 2008, rising to $2,520.9 billion. This growth in receipts is largely due to assumed increases in incomes resulting from both real economic growth and inflation." [2004 FEDERAL RECEIPTS AND COLLECTIONS, p. 57]

Actual interest on the US debt since 1996 averages just short of $1 billion per day. While in the administration of Bush I, the deficit each year was essentially the same amount as the interest on the debt (they were borrowing to pay the interest on the debt), under Bush II the $400 billion + yearly deficits exceed the interest on the debt.
Mel Copeland
---
In the beginning....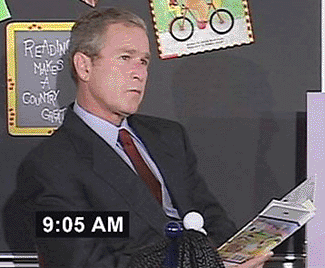 Bush taking too long to read "My Pet Goat" reader on 9/11.
Read full text.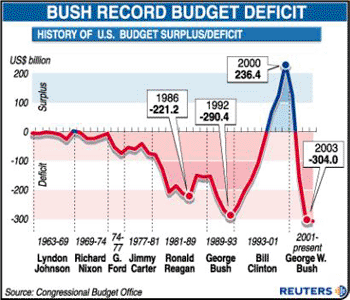 Running a government using a credit card
This year's deficit caused by Bush will be a record deficit since Richard Nixon showed a surplus (in 1969). Bush calls Democrats "tax and spend liberals" when he and his father spent other people's money to run their governments! Who is it that has to pay for the deficit run up each year by a fiscally irresponsible President ? You do. You pay in several ways, since borrowed money is a worse tax on you and the economy than a legitimate tax. The National Debt is $7.4 Trillion as of 10.27.04. That debt is financed by the bond market. While the interest rates on bonds go up and down, generally the rates are affected through the Federal Reserve and supply and demand. Most of the debt during George Bush's administration (1989-1993) was carried by the G-7 Central Banks and a few others who could take large positions in the Bond Market like George Soros. Since supply and demand affect prices of bonds, the greater the supply of bonds, as in a period of excessive government borrowing, would ordinarily depress the price of bonds. To attract buyers, the Federal Reserve must raise interest rates. So when your mortgage loan goes up, owing to an increase in interest rates, its because of the Bush Borrowing: running a government on a credit card.

Since the government runs on borrowed money, the amount of the original loan (new in 2001) grows exponentially, in a curve called a "J" curve. During George Bush's years the deficit was essentially equal to the interest accumulated each year on the debt. That interest debt is added to the original loan amount causing the debt to grow [unpaid] until an effort is made to reduce the debt, paying down both principal and interest. Fearing a crash Speaker of the House Newt Gingrich announced in May 1995 that there would no longer be any borrowing on the debt. We would "pay as we go," a concept George W. Bush recently derided with reference to Kerry's attempt to restore the years of responsible government under President Clinton. Although Clinton was initially following the Bush Borrowing program – of running the government using a credit card – he converted to the Republican plan and paying down the debt became the great cause of his administration. The response from the economy was plain: it grew, became healthy, wealthy and wise. When you have savings you feel secure. When you have no savings and have trouble finding people to loan you money you feel insecure. Clinton stopped the insecurity of the Bush administration.

In 1993 I prepared a mortgage amortization table for the then $5 Trillion debt inherited from George Bush. At 7% interest a 40 year loan of that amount would result in the payment after 20 years of $6.4 Trillion in interest and $90 million in principal. After 40 years the debt would be paid off and total interest paid would be $10 Trillion.
Who makes money from Bush Borrowing are the wealthy. [More>>]
---
Without rehashing the history of Western Civilization in one paragraph, we can ascribe Christian and Jewish sentiments to defend Israel and to view America as the anointed of God (Allah, (2) in the Koran) to perceptions of pastors who spend more time feeding on the flock than feeding them. If the flock were fed properly it would not believe that it is just to kill on behalf of God. The Christian and Jewish scriptures all agree that vengeance belongs to God (i.e., as in Psalm 94.1), that the Warrior of God is a man of peace, just and charitable. I have always believed (and I know Jesus adhered to this old teaching) that if God wants to kill someone let him kill them himself. You don't need to be his agent, in my opinion. But you can assist in bringing peace to the world.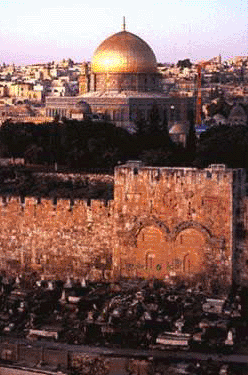 Sealed Golden Gate with the Dome of the Rock behind and a Muslim cemetery in the foreground may be the gateway to Peace in Jerusalem. It was where the priests and prophets of Israel gathered; called the Gate of Righteousness by the Prophets. As it is said: Open to me the gates of righteousness; I will go into them, and I will praise the LORD (Psalm 118.19). See Hidden Pavilions for the Biblical & traditional explanations of this concept.
There is no doubt that during the Axis Age (600 B.C.) the great sages, Lao Tzu, Confucius, Buddha and Jeremiah – later followed by Socrates – agreed that doing good and avoiding evil towards your fellow man was the answer. They all believed in the Golden Rule: Don't do to others that which you would not want done to you. Upon this one teaching all the teachings of the Bible rest.
Good news! The Koran says that everything in the Jewish Scriptures (Old Testament) and Gospel (New Testament) are true! As I pointed out many years ago in a conversation with Wm. F. Buckley Jr. in a series of books, including Philistia triumph thou because of me, there are points in the Koran upon which the Jews, Christians and Moslems can reconcile their disagreements, such as:

Koran, The Cow: And now that a Book confirming their own book has come to them from Allah, they deny it, although they know it to be the truth and have long prayed for help against the unbelievers...when it is said to them, 'Believe in what Allah has revealed,' they reply, 'We believe in what was revealed to us.' But they deny what has since been revealed, although it is the truth, corroborating their own scriptures.

Koran, The creator 36.24: Your only duty is to give warning...What we have revealed to you in the Book is the truth confirming previous scriptures.

Koran, Kneeling 45.16 We gave the Scriptures to the Israelites and bestowed on them wisdom and prophethood.

Koran, AL-AHQAF 46.12 Yet, before it the Book of Moses (Torah) was revealed, a guide and a blessing to all men. This Book confirms it.

Koran, Women 4.47 You, to whom the Scriptures were given! Believe in that which we have revealed, confirming your own scriptures...

Koran, The Cow 2:116 The Jews say the Christians are misguuided, and the Christians say it is the Jews who are misguided. Yet they both read the Scriptures. And the pagans say the same of both. Allah (5) will judge their disputes on the Day of Resurrection.

We can see, therefore, that Moslems are taught via the Koran to honor the scriptures and teachings Christians and Jews honor. Also, with respect to the Koran's teachings on Moslem behavior, it is clear that a Moslem cannot wage war against another Moslem, as is currently going on in Iraq and has been so throughout history:

Koran, Women 4.92 It is unlawful for a believer to kill another believer except by accident.

To dispel any confusion on the Koran's view of people who do not believe in the Koran (notwithstanding the verses cited above) Mohammed went a bit too far, in my opinion, when he listed the following which confute the Bible (I know on the Day of Resurrection noted above my reading will be upheld).

Koran Repentance 9.20 Those that have embraced the faith and fled their homeland and fought for Allah's cause with their wealth and their persons are held in higher regard by Allah. It is they who shall triumph. Their Lord has promised them joy and mercy, and gardens of eternal bliss where they shall dwell forever. Allah's reward is great indeed.
9.116 ...Allah has purchased of the faithful their lives and worldly goods and in return has promised them the Garden. They will figtht for His cause, slay, and be slain. Such is the true pledge which he has made them in the Torah, the Gospel, and the Koran. And who is more true to his promise than Allah? Rejoice then in the bargain you have made. That is the supreme triumph.

Koran, Women 4.91 Others you will find who seek security from you as well as from their own people. Whenever they are called back to idol-worship they plunge into it headlong. If these do not keep their distance from you, if they neither offer you peace nor cease their hostilities against you, lay hold of them and kill them wherever you find them. Over such men We give you absolute authority.
4.92 It is unlawful for a believer to kill another believer except by accident.
4.98 He that flies his homeland for the cause of Allah shall find numerous places of refuge in the land and great abundance. He that leaves his dwelling to fight for Allah and His apostle and is then overtaken by death, shall be rewarded by Allah.
4.104 Seek out your enemies relentlessly.

There are several verses that endorse Jesus – some calling him a prophet of God (as they would have to once they accept the Gospels as truth). But this one is the gem of the lot, since it acknowledges Jesus as the Messiah. The Messiah means "anointed one" and the term was created and applied only in the Bible. Christians know the term as "Christ," which is the Greek translation of the word. The fact is, based upon what we have seen in the Koran above, all Moslems must honor the teachings of Jesus the Messiah. If there is any confusion on those teachings it can be simply resolved by opening the Gospels and reading them. They all reduce down to the Golden Rule. And it is not important that you be a Christian, Jew or Moslem to practice the Golden Rule. If you practice the Golden Rule you satisfy the teachings. For if you know those teachings you know God and if you do them you are one with God. The scripture asks, can two walk together except they agree?

The gem in the Koran of Jesus the Messiah, beyond the other verses endorsing the teachings of Jesus, which is a good foundation for some kind of reconciliation between Christians and Moslems:

The Imrans, 3.45, 47 The angels said to Mary: 'Allah bids you rejoice in a Word from Him. His name is the Messiah, Jesus the son of Mary. He shall be noble in this world and in the next, and shall be favoured by Allah. He shall preach to men in his cradle and in the prime of manhood, and shall lead a righteous life."
The term Messiah first appeared in the Bible. It means Anointed One and in Greek the term is Christ. Knowing this, then, we should endeavor to find a place of agreement and learn to walk together. A good part of the Old Testament has to do with the Messiah and what is expected of him.

One cannot walk blindly through scriptures and take them for granted however. Applying them for good becomes an art. It takes practice. One cannot apply scripture, for instance, through a rush to judgment. After all is said and done, when understanding has ruled over boiling sentiments, we can point to our results: charity, justice and mercy. Unfortunately, we are a long way from achieving those things in this current age. It may be, in order to achieve a higher level, to at least remove ourselves from a state of chaos, that we need to take account of our leaders. Then we must ask ourselves how it is that we let them lead us into this chaos. This is called, confronting your own failures. Until both sides come to grips with the goodness that is in them, and do some good in order to gain in goodness, the Jihad will probably continue.

Now President George W. Bush would lead us to believe that we can kill off the Jihadists. I don't subscribe to his program and know that an invitation to reasoning together should bear more fruit. Who in the world would ever refuse this offer:

Isa. 1:18 "Come now, let us reason together," says the LORD. Though your sins are like scarlet, they shall be as white as snow; though they are red as crimson, they shall be like wool.

Mel Copeland
10.28.04

For more scriptural references on the subject, see 12.23.04 US is losing war of ideas

---
NOTES
(2) The name, Allah, in Arabic is an expression of surprise. It is not unusual for the God of the Bible to be known by many names . Jewish Midrash quotes passages in the Old Testament (Torah) that cite as many as seventy names of God (and more). But they can all be reduced down to one name.
(3) I use Edward Tripp's, The Meridian handbook of Classical Mythology (formerly titled Crowell's handbook of Classical Mythology), 1970.


---
INFORMATION ON SOME LINKS

Up-to-date information on the Presidential Race 2004: http://www.race2004.net/


Halliburton's major stock holders: http://finance.yahoo.com/q/mh?s=HAL


The Bush family and Cheney's financial holdings in Halliburton via Vanguard and other corporations: http://marc.perkel.com/archives/000067.html


Sinclair Broadcast Group advertisers. Help stop Bush and his brown-shirts by boycotting the advertisers that support Sinclair! http://www.boycottsbg.com/advertisers/default.aspx


Duty & Profit.html, a portion of the correspondence with Wm. F. Buckley Jr. from 1992-1995 on the national debt


Bushwatch: http://www.bushwatch.net/binladens.htm, Link on the Bush bin Laden wheeling and dealings


Maravot's Homepage
---
Launched: 10.25.04 / 11.02.04
Updated: 1.01.05; 1.04.05; 1.08.04; 1.12.05; 1.14.05; 1.18.05; 1.20.05; 1.26.05; 1.28.05; 1.31.05; 2.04.05; 9.26.06; 11.16.06
Copyright © 1981-2006 Maravot. All rights reserved
Copyright © 1981-2006 Mel Copeland. All rights reserved
Painting of Apple by Mel Copeland, early 70's
Background: tile from Cicero's villa (Marcus Tullius Cicero 106 B.C. - 43 B.C.)