News Headlines & Trends
---
6.15.06 'Beginning of the end' for insurgency
(AP) June 15 – Documents and computer records seized after the raid on Abu Musab al-Zarqawi's hideout have given the Iraqi government the upper hand in its fight against al-Qaida in Iraq, the national security adviser said Thursday. National Security Adviser Mouwafak al-Rubaie also estimated that a large number of US-led forces will leave Iraq by the end of this year, and a majority will be gone by the end of next year. "And maybe the last soldier will leave Iraq by mid 2008," he said.

The US says this is the new leader of al-Qaeda in Iraq. Unfortunately this image is not currently on the
Most Wanted Terrorists
site.
To read a translated transcript of a document found in al-Zarqawi's hideout click here [
(AP)Jerusalem Post
].
"We believe that this is the beginning of the end of al-Qaida in Iraq," al-Rubaie said, adding that the documents showed that al-Qaida is in "pretty bad shape," politically and in terms of training, weapons and media. "Now we have the upper hand," he declared, speaking in English and Arabic at a news conference in Baghdad. "We feel that we know their locations, the names of their leaders, their whereabouts, their movements, through the documents we found during the last few days."
Iraqi Prime Minister Nouri al-Maliki, meanwhile, pressed forward with his carrot and stick approach of cracking down on violence in Baghdad while promoting national reconciliation with those willing to cooperate with the political process as Iraqis endured a second day of checkpoints and traffic jams.
Gunmen killed an engineer and kidnapped another, and a detergent worker was shot to death as he was headed to work elsewhere in western Baghdad, police said, but no major violence was reported in the capital, a day after a major security operation was launched. Elsewhere, however, gunmen stormed a Sunni mosque near Tikrit on Thursday, killing four people and wounding 15, including a fundamentalist Sunni cleric who has spoken out against the killing of Iraqis as part of the insurgency. [More>>
Jerusalem Post
] ; See also
aljazeera.net, June 15, "'End' of al-Qaeda in Iraq"
: ...But al-Qaeda in Iraq has vowed to fight on under its new leader, Abu Hamza al-Muhajir. The US military said on Thursday it believed that his real name was Abu Ayyub al-Masri. They said he was an Egyptian, had trained in Afghanistan and formed al-Qaeda's first cell in Baghdad...
nytimes.com, June 15, "US identifies successor to Zarqawi."
]...The Americans said Mr. Masri joined the Egyptian militant group, Islamic Jihad, in 1982 and went to Afghanistan to train in the Al Farouq militant camp, where he received explosive training, in 1999 or 2000. If that timeline is accurate, it seems likely that Mr. Masri is now at least in his early 40s and that the photograph given out by the Americans is several years old.
Islamic Jihad was headed by Ayman Al-Zawahiri, a middle-class Egyptian physician who later became the deputy to Osama bin Laden in Al Qaeda. The Al Farouq camp, set up by Mr. Zawahiri and Mr. bin Laden, was one of the main Al Qaeda training camps before it was destroyed by the Americans during the war in Afghanistan in late 2001. General Caldwell said he was not sure whether Mr. Masri had developed a relationship with either Mr. Zawahiri or Mr. bin Laden. But, General Caldwell said, it was in Afghanistan that Mr. Masri developed a relationship with Mr. Zarqawi.
Mr. Masri, he said, came to Iraq in early 2003 and set up the original Al Qaeda cell in Baghdad. More recently, General Caldwell said, Mr. Masri was one of Al Qaeda in Mesopotamia's senior operational commanders, supplying Al Qaeda commanders with suicide bombers and car bombs. He was responsible for all operations in southern Iraq, General Caldwell said. Mr. Masri is believed to be currently operating in Baghdad, General Caldwell said.
---
6.15.06 Zarqawi was a registered Lucknow resident
LUCKNOW, India (PTI) June 15 – A probe has been ordered into how al-Qaeda terrorist Abu Musab Al-Zarqawi who was killed in a US air strike in Iraq last week was allegedly certified as a resident of the state capital.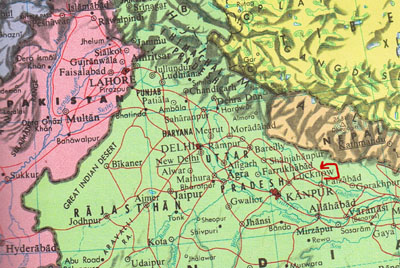 Map showing location of Lucknow, India, where Al-Zarqawi is reported to have been registered as a "resident" and eligible for unemployment doles.
Uttar Pradesh Chief Secretary N C Bajpai ordered an inquiry into how the al-Qaeda Iraq unit chief was reportedly issued a domicile certificate by the Lucknow district administration. He took serious note of reports that the terrorist was registered in the name of "Ama Zarqawi" and made eligible for unemployment doles. The reports alleged that the certificate, which is issued after due verification, was given without following the set process. Bajpai directed the principal secretary concerned and district administration to initiate necessary "disciplinary action" against those found responsible for the lapse. [
expressindia.com
;
See more details, article by Deep Singh,
hindustantimes.com, June 14, "Zarqawi dead, but 'valid for unemployment allowance'"
: To get a domicile certificate made, you need to give some proof.
But, when Abu Musab-al Zarqawi, chief of Iraq¹s al-Qaeda unit who was blown up by the US forces in Iraq recently, is certified as a resident of the city and eligible for claiming the unemployment allowance, you need no proofs to conclude that by greasing the palms of the brokers, virtually anyone stands a chance to avail the Rs 500-unemployment allowance.
On Wednesday, the officials of the district administration went into a tizzy after this correspondent got a certificate issued on Monday through a broker certifying that Zarqawi was a resident of A-1, Jal Sansthan Colony, Water Works Road, Lucknow.
...the certificate comes with an attestation by two gazetted officers, secretary, state transport Jamshed Alam Siddiqui and deputy transport commissioner Rajendra Prasad, both of whom have testified to have known Zarqawi for donkey¹s years. Besides, notary KK Jaiswal and a lawyer, PK Singh too were used for getting the affidavit cleared. What¹s more, the affidavit that also carried Zarkawi¹s photograph comes with a seal Œvalid for unemployment allowance only¹.
Of course, Zarkawi wouldn¹t have been interested in the Rs 500 unemployment allowance that the state government proposes to give to the unemployed youths on June 16. And neither has Amit Tripathi, who as HT discovered was the actual resident of A-1, Jal Sansthan Colony that is shown against Zarkawi¹s name, got anything to do with Al-Qaeda...
---
Editorial note: If the information is correct, this could be a strong resource in tracking down further movements of al-Qaeda. The basic "who, what, when, where" information would be appropriate in the follow-up investigation of this report. It should be noted that Varanasi, located nearby down the Ganges river, is a major center of worship for Hindus and a popular temple there was bombed March 2006. While Lucknow seems some distance away from al-Qaeda's strongholds along the Afghanistan-Pakistan border, the connection of Abu Musab al-Zarqawi to Lucknow in light of the Varanasi temple bombings is quite interesting indeed. See Maravot News 3.14.06, "Indian Muslim seminary [at Lucknow] issues fatwa against attacks on all religious shrines" and Maravot News 03.07.06 "Terror hits Varanasi, 12 killed" : ..(independent.co.uk story)...India was braced for violent reprisals after one of the holiest Hindu cities was targeted by a series of bomb attacks which left 20 people dead. One of the explosions in the city of Varanasi went off inside a temple when it was crowded with thousands of worshippers...

(expressindia.com story) ... authorities launched vigorous manhunt for two militants suspected to belong to a Pakistani terror outfit...Hours after the blasts, a Lashkar-e-Toiba militant, suspected to be involved in the conspiracy behind them, was killed in an encounter jointly carried out by Uttar Pradesh special task force and Jammu and Kashmir police in Gosaiganj area of Lucknow. Chief Minister Mulayam Singh Yadav, who visited the town early Wednesday morning, faced black flag demonstration by an angry crowd. He hinted at the possibility of involvement of a Pakistan-based terror outfit...

(Maravot News comment): Varanasi is to Hindus what Mecca is to Muslims or Vatican for Catholics (wikipedia.org). See also varanasicity.com for history of the city and my commentary, "Banquet of the gods," on the Hindu sacred book, Rig Veda, and its ancient links in the formation of Indo-European cultures.

Mel Copeland


---
6.15.06 Afghan bus bomb kills 10, NATO vows to fight terrorism
KANDAHAR, Afghanistan (AFP) June 15 – A bomb ripped through a bus taking workers to an airport run by the US-led coalition in southern Afghanistan on Thursday, killing 10 people. The attack was claimed by the extremist Islamic Taliban movement, which is escalating violent assaults in the south of the country as NATO forces roll out a planned deployment there. Another three Afghans working for foreign organizations were killed in separate blasts in the south as the Taliban warned that it was targeting locals working for foreign groups, especially US forces.

Seven of the people killed in the bus blast in the center of Kandahar city were employed at Kandahar Air Field, coalition spokesman Major Quentin Innes said. They were five interpreters, a cleaner and a driver, Innes said. The three other victims were bystanders. Sixteen people were wounded, he said. [More>>metimes.com]
---
6.15.06 Forty-six bombs explode in thirty minutes across Thailand
June 15 – Forty-six bombs exploded within less than half an hour, killing two people and wounding 21, across southern Thailand today. One of the homemade devices went off at government offices in Yala minutes before Deputy Prime Minister Chitchai Wannasathit was due to arrive for an official visit. The attacks are believed to have been carried out by Muslim insurgents who have mounted a long-running but largely hidden campaign for independence of the country's three most southern provinces.

The blasts went off between 8.30am and 9am local time, as people headed to work in the three Muslim-majority regions of Narathiwat, Pattani and Yala, said government officials. Both fatalities occurred in the Pattani province. Police said a local official was killed by a bomb that went off at a tea shop known to draw a morning crowd of government employees. Another eight people were injured. Many of the bombs were planted in the toilets of provincial town offices and police stations, injuring three police officers in Yala province and five marines in neighboring Narathiwat. [More>>timesonline.co.uk ; See also bangkokpost.net, June 15, "Bombs kill two, Thaksin raps police" : ...Three suspects were arrested soon after the bombings, deputy prime minister Chidchai Vanasatidya said. Intelligence sources in the south had warned authorities of the possibility of the attacks, but not enough preventative measures were taken, Prime Minister Thaksin Shinawatra said. The bombs targeted government buildings in predominately Muslim Pattani, Yala and Narathiwat provinces, where a low-level separatist insurgency has been underway for decades...
---
6.15.06 Sparrow Missile System stopped on way to China
June 15 – A New Jersey businessman has pled guilty to shipping components of a medium-range missile guidance system to China rather than smelt them down as required under a contract with the Department of Defense. Michael Dorfmann, Vice President for Purchasing at State Metal Industries, Camden, N.J., pled guilty Tuesday to shipping Sparrow Missile system parts to China after obtaining them from the Department of Defense as surplus. He faces five years of federal probation and a quarter of a million dollar fine. State Metal also pled guilty. It faces three years of corporate probation and a quarter of a million dollar fine for violating export laws. The parts never arrived in China but were seized by Customs and Border Patrol during the process of export...

(Blog) User Comments

These guys are traitors. They should face life in prison or may be even the death penalty.

Why just five years probation? Drug dealers, when caught, never see the light of day. I guess corporate goons are treated differently!! [More>>blogs.abcnews.com]
---
6.15.06 Seoul relays missile concerns to North Korea
June 15 – The Seoul government told Pyongyang it was "gravely worried" over the communist state's move to test a long-range missile, sources said yesterday. News reports from Japan said there were signs since early May that North Korea was preparing to test a multiple-stage Taepodong 2 missile. The intercontinental ballistic missile could reach as far as the United States. The South Korean government reportedly sent the warning message through an unspecified channel last month upon seizing inside information of the missile test plan, the sources said. [More>>koreaherald.co.kr]
---
6.15.06 Turkey to officially inaugurate BTC pipeline on July 13
ANKARA, June 15 – Turkey is preparing an elaborate ceremony to inaugurate the strategic Baku-Tbilisi-Ceyhan (BTC) oil pipeline on July 13, the event's organisers said Thursday. Turkish authorities have invited almost 50 heads of state or government to the party, including US President George W. Bush, Russian President Vladimir Putin and British Prime Minister Tony Blair, an official source told AFP.

The BTC has been built with strong US backing and is designed to transport crude oil from the Caspian Sea to Western markets without passing through Iran or Russia. Kazakhstan, which has large petroleum reserves, is also expected to join the project, which is led by the British oil major BP. [More>>turkishpress.com ; See related article, (via tajikistannews.net/ ,) bbc.co.uk, June 15, "Ahmadinejad calls for Asian unity" : Iran's president has told Central Asian, Russian and Chinese leaders they should co-operate to prevent what he called threats from domineering powers. Addressing the SCO group of countries, Mahmoud Ahmadinejad said it could become a strong institution if it extended ties to the political sphere. Correspondents say the speech is likely to heighten concerns that the group is emerging as an anti-US bloc...Analysts say both Russia and China have become increasingly concerned about the presence of the US in Central Asia. Last year the SCO raised the issue publicly, calling for the withdrawal of US military bases from Uzbekistan and Kyrgyzstan...]
---
6.14.06 'Europeans increasingly mistrustful of US'
Madrid, June 15 – (This story in thenews.com.pk is drawn from Pew Global Attitudes Project report, pewglobal.org, June 13, 2006, "America's image slips, but allies share US concerns over Iran, Hamas." Another take on the report is at guardian.co.uk, June 14, 2006, "Iraq war seen as biggest threat to peace." The better written Pakistani version is recorded here. The Pew report is quite extensive with lots of charts and well worth reviewing)

thenews.com.pk : The ugly American lives, at least in the hearts of many Europeans. And apparently, he¹s getting uglier. Deep disagreements over the war in Iraq have pushed America¹s image in Europe to new lows. Fewer than one in four Spaniards have something positive to say about the United States, and sentiment is falling in regional powers such as France, Germany and Russia as well, according to a survey released Tuesday.

Even in Britain, America¹s staunchest ally, 60 per cent of respondents said the war in Iraq has made the world less safe, about double the number that said it was good for security, according to the survey by the Pew Global Attitudes Project. In fact, more Britons listed the war as a threat to world peace (41 percent) than said the same thing about the hard-line government of Iran (34 percent), which has pushed to restart its nuclear program and called for the annihilation of Israel.

But by far the most striking decline in European sentiment was in Spain, where just 23 per cent of respondents had a favorable opinion of the United States, down from 41 per cent in 2005. The new figure makes America less popular in the land of bullfighting and sangria than in ultraconservative Pakistan, and in other Muslim countries such as Egypt and Indonesia. There¹s more bad news for the droves of US college students and tourists who flock here each year: Spaniards don¹t have much patience for Americans themselves, with just 37 per cent saying they have a favorable opinion of US citizens – down from 55 per cent a year ago.

And what of the No. 1 American, US President George W. Bush? Support among Spaniards has dropped to just 7 percent for the world¹s most powerful man. That is the worst in Europe, though the US leader isn¹t exactly tearing it up elsewhere. Approval for his international leadership comes in at 15 per cent in France, 21 per cent in Russia, 25 per cent in Germany and a European-best, but still-anemic 30 per cent in Britain.

Favorable opinion of the United States dropped virtually across the board in Europe with just 37 per cent of Germans, 39 per cent of French and 43 per cent of Russians giving Washington positive marks. All had higher totals a year ago. Only in Britain were feelings largely warm toward Washington, with 56 per cent voicing support for the United States, 1 percentage point better than in 2005.

In Turkey, a key Nato ally whose moderate Muslim population is often seen as a bridge between West and East, just 12 per cent held a favorable opinion of the United States, the lowest figure in the 14 foreign nations surveyed.

Support for the war on terror has also waned, with less than one in five Spaniards in favor, compared with 76 per cent who say they are opposed. The numbers are slightly better elsewhere in Europe, with Britain, France and Germany all in the 40s, but are still lower than a year ago.

The results come despite general agreements between Americans and Europeans over several of the main threats in the world today, with near unanimity among Americans and Europeans that Iran should not be allowed to develop nuclear weapons, and concern on both sides of the Atlantic over the victory of Hamas militants in Palestinian elections.

The survey results were drawn from more than 17,000 interviews conducted from March 31 to May 14 in the United States and 14 other nations. The margin of error ranged from 2-6 per cent, depending on the country. [thenews.com.pk]
---
6.14.06 Finally, the reason Bush can't find Osama bin Laden
June 14 – John in DC posted this tidbit in americablog.com : He had his name wrong all this time.

From a new 73-page "War on Terror" "briefing book" just issued by Donald Rumsfeld's office to help Republicans use the 3,000 dead from September 11 to win the congressional elections in the fall:

"The enemy¹s vision of the future would create a region-wide zone that would look like Afghanistan under the Taliban. Music would be banned, women ostracized, basic liberties banished, and soccer stadiums used for public executions. The people of the region do not want the future these extremists desire. The more we talk about this enemy, the more its bankrupt ideology will become known. Osama bin Landen and Musab al Zarqawi cannot represent the future of Islam."

Gen John Abizaid, USCENTCOM Commander, Posture Statement, March 2006.)

Editorial note: A copy of the report can be downloaded from americablog.com. The report is in Word which shows the name is not correctly spelled. The error seems symptomatic of Bush administration bungling in other spheres of governance.
Mel Copeland
---
6.14.06 Afghan forces kill 26 Taliban, four civilians die in rocket attacks
KHOST, Afghanistan, June 14 – Afghanistan: Afghan and coalition forces killed 26 Taliban on the country's border with Pakistan Wednesday while four civilians were killed in rocket attacks in the same area, a provincial governor said. The rebels were killed in an operation in southeastern Paktika province that was launched in response to attacks in the Ziruk district, governor Mohammad Akram Khapelwak told. "Twenty-six Taliban have been killed so far in the fire fight. The operation is still ongoing," he said. "It was a joint Afghan forces and coalition operation," he said.

Four civilians were killed in the same province Wednesday by three rockets that landed on homes in the Barmal district, also on the border with Pakistan, the governor said. Another 18 civilians were wounded, he said. Regional military corps commander General Sami-ul-Haq said the target might have been army units in the area but the rockets landed on civilian houses. He put the death toll at two with nine wounded. Similar attacks have been blamed on Taliban insurgents, many of whom are said to be based across the border. [More>>thenews.com.pk ; See related story, metimes.com, "Huge anti-Taliban operation underway in Afghanistan."]
---
6.14.06 Cleric linked to 2002 Bali blasts is released
JAKARTA, June 14 – A radical Islamic cleric, whom the Bush administration has portrayed as an important operative for Al Qaeda in Southeast Asia, walked out of prison on Wednesday morning, after serving just over a year for criminal conspiracy. American officials, who had long pressed Indonesia to prosecute the cleric, Abu Bakar Bashir, expressed disappointment over the release, as did officials in Australia, which lost 88 citizens in the bombings of two Bali nightclubs that killed 202 people in October 2002.

The release is also sure to raise questions about Indonesia's commitment to combating terrorism, even though the government has prosecuted and imposed harsh sentences, including death, on many of the people involved in the major terrorist attacks here in the last four years. Most of the military leaders of Jemaah Islamiyah, Mr. Bashir's organization, have been arrested or killed. [More>>nytimes.com ; See also theaustralian.news.com.au, June 14, "Anger as terror cleric is released." : The release of terrorist leader Abu Bakar Bashir from an Indonesian jail yesterday unleashed a wave of fury from the families of Bali bombing victims and calls for the Howard Government to force Jakarta to recognize Australian anger over his freedom. An unrepentant Bashir last night declared US President George W. Bush a "kaffi," [ kufr] making clear he was going to continue as a preacher of hate...
---
6.14.06 Paris court sentences "Chechen Network" terrorist group
PARIS (RIA Novosti) June 14 – A Paris court Thursday handed down sentences against a group of 27 Islamic militants suspected of planning terrorist attacks in France in support of Chechen rebels. Paris Criminal Court sentenced 25 of the group – known as the "Chechen Network" – to jail terms of between six months and 10 years, and acquitted two of the men, most of whom were Algerian or French of Arab origin. The group had been plotting attacks on Russian targets in France, as well as police stations, a large supermarket in Paris and the Eiffel Tower. It got its nickname because some members had recruited militants for terrorist attacks in Russia's North Caucasus or had undergone training in the Pankisi Gorge in Georgia. [rian.ru]
---
6.14.06 Iranian FM describes international offer as "very positive"
MADRID (AFP) June 14 – Iranian Foreign Minister Manouchehr Mottaki said on Wednesday a new international offer of incentives to encourage Teheran to stop uranium enrichment was ³very positive² and would be examined seriously. The offer of technical and commercial cooperation from the five permanent members of the United Nations Security Council plus Germany was a ³step forward², Mattaki said on his arrival in Madrid. "We are giving the package serious consideration. We will inform our colleagues in Europe and other parties of our views on the package," Mottaki told reporters ahead of talks on Iran¹s nuclear programme with his Spanish counterpart, Miguel Angel Moratinos. "We hope to create and prepare the ground for the continuation of our common efforts to reach a compromise," he said. [More>>khaleejtimes.com]
---
6.14.06 Israel army concedes old munition may be behind beach deaths
JERUSALEM (AFP) June 14 – The military conceded on Wednesday that old Israeli ordnance could have been responsible for the death of eight Palestinians at a beach picnic in the Gaza Strip, hours after absolving itself of any blame. As the dispute over the cause of the tragedy continued to rage, the Palestinians called on the United Nations to launch its own investigation. Initial declarations by the chief of staff and defense minister that Israel was not behind last week's killings were greeted with skepticism by both UN chief Kofi Annan and the US-based Human Rights Watch, whose own on-site probe concluded an Israeli shell was the probable cause of the tragedy. But the officer leading the army's inquiry acknowledged in an interview with public radio that the investigation was still not complete and unexploded Israeli ordnance, or another device, could have been the cause of the blast. [More>>metimes.com]
---
6.14.06 World's junk washes up on deserted Scots island
June 14 – It is the most remote place in Britain, a cluster of storm-lashed islands surrounded by the turbulent waters of the north Atlantic. Yet even St. Kilda, 40 miles and several hours by boat from the Western Isles of Scotland, is not immune to the rising tide of rubbish polluting the world's oceans. Discarded plastic containers that once held Brazilian mustard, Japanese detergent, Dutch yoghurt and French shower gel, as well as 149 mostly unidentified bottles were among more than 500 pieces of rubbish collected from the archipelago's only beach, Village Bay, on the main island of Hirta. Staff from the National Trust for Scotland (NTS), which manages the islands, a World Heritage site that is home to a million seabirds and just 17 humans, filled 13 bin bags from the 450-metre stretch of shingle during the two-day survey at the end of last month.

All the material is believed to have been swept on to the beach by the ocean currents – the islands are in the path of the Gulf Stream, which brings warm water from the Gulf of Mexico to the north Atlantic. Conservationists say the haul graphically illustrates the threat posed to the environment of the world's most remote and protected wildernesses from increasing consumer waste.

"The implications of this kind of discovery are horrendous," said Gill Bell, a beach campaigner for the Marine Conservation Society (MCS), which runs an annual survey of more than 300 beaches around Britain. "It demonstrates how plastic just does not degrade and can pollute the environment in this way. And unfortunately it is entirely consistent with the findings of our own survey." [More>>independent.co.uk]
---
6.14.06 Japan buys votes to take control of whaling
June 14 – Japan has succeeded in buying the votes that will give it control of the International Whaling Commission (IWC) later this week, in a major step towards bringing back commercial hunting of whales. The pro-whaling nation has gained the support of three more small countries to give it a definite majority in the IWC, and so begin in earnest its attack on the international whaling moratorium which has been in force for 20 years. Its takeover of the IWC – likely to become clear on Friday – will be a major reverse for the international environmental movement, which has long thought that the fight for one of its iconic causes - Save the Whale - had been largely won. It will be a considerable propaganda victory not only for the Japanese, but also for other nations who are determined to continue whale hunting in spite of international opinion, principally Norway and Iceland. [More>>independent.co.uk ; See related article, crisscross.com, May 24, 2006, "Research whaling fleet leaves to catch 26o whales in northwestern Pacific."]
---
6.13.06 A moon's telltale tail
June 13 – The plumes of Enceladus continue to gush icy particles into Saturn orbit, making this little moon one of a select group of geologically active bodies in the solar system.
Enceladus (505 kilometers, or 314 miles across) is seen here against the night side of Saturn. The extended exposure time used to image the plumes also makes the southern hemisphere, illuminated by ring-shine, appear bright. The image was acquired in visible light with the Cassini spacecraft narrow-angle camera on May 4, 2006 at a distance of approximately 2.1 million kilometers (1.3 million miles) from Enceladus and 2.3 million kilometers (1.5 million miles) from Saturn. [
saturn.jpl.nasa.gov
]
---
6.13.06 World stock markets battered
LONDON, June 13 – Global equity markets staggered and slumped on renewed alarm over prospects for rising inflation and interest rates in the United States ahead of a fresh batch of data. European and Asian equities took a fresh battering as nervous investors eyed key US price data, due later on Tuesday, and as the Fed warned anew of the dangers of inflation. In early afternoon European trading, London's FTSE 100 index of leading shares slumped 2.34 per cent to 5489.20 points.

In Paris, the CAC 40 index plummeted 2.43 per cent to 4608.27 points and Frankfurt's DAX 30 fell 1.94 per cent to 5290.96. The DJ Euro Stoxx 50 index of leading eurozone shares sank 2.17 per cent to 3405.35 points. In line with many global stock markets, London, Paris and Frankfurt have now erased all of their 2006 gains. The euro stood at $US1.2583.

Japanese share prices posted their biggest fall since the September 11, 2001 terrorist attacks, plunging by more than four per cent on concerns over the US economy and a scandal touching the central bank chief, dealers said. Wall Street had tumbled on Monday, extending losses from a brutal decline last week. [More>>theaustralian.news.com.au]
---
6.13.06 Blasts rock Iraq following Al Qaeda threats
KIRKUK, Iraq (AFP) June 13 – At least 32 people were killed on Tuesday in Iraq, including 18 in five car bomb attacks in the oil city of Kirkuk, after warnings by Al Qaeda of vengeance for the death of Abu Mussab Al Zarqawi. Security measures in Baghdad were being beefed up in anticipation of Prime Minister Nuri Al Maliki's long awaited new security plan for the capital, almost a week after the killing of the Al Qaeda in Iraq leader in a US airstrike. According to the defense ministry, the night curfew in the capital will begin two-and-a-half hours earlier at 8:30 pm (1630 GMT) and cars will be banned from the streets on Friday afternoon during prayer time. [More>>metimes.com ; See related article, cbsnews.com, June 13, "Bush makes surprise trip to Baghdad."]
---
6.13.06 Eleven killed in Gaza airstrike, Abbas slams 'state terrorism'
GAZA CITY, Gaza (AFP) June 13 – Palestinian Authority (PA) President Mahmoud Abbas accused Israel on Tuesday of engaging in state terrorism after nine civilians were among a group of 11 people killed in an airstrike on the Gaza Strip. The raid, the deadliest since the Islamists of Hamas won elections in January, turned the focus back on the conflict with Israel after a bout of factional violence that saw the parliament and cabinet offices set ablaze. Although two of the victims were confirmed as members of the hardline Islamic Jihad movement, the other nine were believed to be civilians and included two young brothers, four and eight, and their father. Around 42 other people, including six children, were wounded in the raid on the main north-south road in the narrow coastal territory, which came shortly before another explosion went off in the Beit Lahiya region of northern Gaza. [More>>metimes.com ; See related story, aljazeera.net, June 13, "israel to blame Hamas for beach deaths."]
---
6.12.06 Al-Qaeda names Zarqawi successor in Iraq
PARIS, June 12 – Al-Qaeda in Iraq appointed a militant named Sheikh Abu Hamza al-Muhajer to succeed Jordanian-born Abu Musab al-Zarqawi who was killed in a US air strike, in an Internet message posted Monday. "The shura (consultative) council and Al-Qaeda in the Land of Two Rivers have both agreed to appoint Sheikh Abu Hamza al-Muhajer to succeed Abu Musab al-Zarqawi in the leadership of the organisation," said the statement on Al-Hesba website, where Al-Qaeda's official statements usually appear. Its authenticity could not be independently verified.

"Sheikh Abu Hamza is a pious brother with a jihadi track record and a solid scholarly background. We ask God to bless him and to help him finish what Sheikh Abu Musab has started," the statement added. His nationality was not given but the word "muhajer" means immigrant in Arabic. [thenews.com.pk ; See other details khaleejtimes.com : ...Al Qaeda makes up about five percent of Iraq¹s Sunni Arab insurgency but its suicide bombers have been responsible for the most spectacular violence, sometimes killing over 100 people in a single attack...Earlier, a source in the prime minister¹s office said Iraq was considering inviting members of insurgent groups to national reconciliation talks. Leaders will meet to agree a definition of ³resistance² groups and then some of their members will be invited to take part in the talks on July 22. Shi¹ite Prime Minister Nuri Al Maliki has rejected the idea of dialogue with Saddam Hussein loyalists and other hardline groups, saying they have Iraqi blood on their hands.

...Al Qaeda is far more extreme than any other militant or insurgent group. It is comprised of Iraqis and Arab militants who travel to Iraq to wage what they see as a holy war against US occupation troops and anyone linked to them. The US military said US-led forces killed seven militants with links to senior Al Qaeda leaders in a raid on Monday near the area where Zarqawi was killed...]
---
6.12.06 About the popular jihadist AL-Hesba website
June 12 – Of particular interest to Maravot News and many organizations tracking jihadist / terrorist use of the internet, there has always been the nagging question, "Why is the government allowing jihadists to use the internet to post their murders and murderous plans?" The fact is many jihadist websites have been used to track down terrorists and an article by jamestown.org., June 11, 2006 explores this reality in Stephen Ulph's report, "Intelligence War breaks out on the jihadi formums." The report is well worth reading:

(jamestown.org) June 11 – A battle royal appears to have erupted on the jihadi forums related to the arrests of 40 mujahideen in Saudi Arabia, and the suspicions of the role played by the al-Hesbah forum in the arrests. On March 7, Terrorism Focus highlighted how there were murmurings of Saudi penetration of the famous al-Hesbah website in view of the swift arrest of the attackers of the Abqaiq (Buqayq) oil facility in February. The jihadi site al-Hesbah has hitherto been considered by the mujahideen to be the premier source from which many jihadi forums subsequently distribute materials. The Abqaiq arrests, however, followed by the more recent arrest of 40 mujahideen, have increased suspicions that the site is heavily penetrated by Saudi security, or that indeed it operates on its behalf (Terrorism Focus, April 4).

In mid-March, a further impetus to suspect al-Hesbah was voiced by members of the Tajdeed jihadi forum (http://www.tajdeed.org.uk), who blamed the site for the arrest of the infamous cyber-mujahid Irhabi007, also known as Younis Tsouli, by British intelligence last October. Irhabi007 had been hunted for two years as an al-Qaeda webmaster and the suspected source of many of the al-Qaeda declarations posted on the net. With his close links to al-Qaeda, his arrest is considered an important event in the struggle against jihadi sites. Members also wondered aloud how the report by the Society for Internet Research (SOFIR), analyzing the readership of the al-Hesbah site, could have been compiled without inside collaboration. Some of these suspicions focused around the fact that al-Hesbah's administrators requested that applicants for registration provide their country of origin, and rejected the applicants' use of proxies to disguise their personal details; these requests are unusual for a jihadi forum. There were also concerns that there was an unusual concentration of a single nationality—Jordanians—on the administration staff and that this surely opened up the possibility of security penetration.

The pace of events then accelerated on news that two of these, the "poet" of al-Qaeda Muhammad al-Zuhayri and Muhammad Tamallat, had been exposed as agents and hastily expelled from al-Hesbah. Almost immediately, a notice appeared on the al-Hesbah site stating that the forum was suspended. This was explained, on March 26, by an anonymous posting on Muntada al-Jihad (http://shahid.cjb.net): "The real reason was that members had discovered that it was penetrated by intelligence. As soon as postings arrived on this, the administrators closed the forum. It is clear that Muhammad al-Zuhayri, otherwise known as al-Mu'tazz bi-Tawheedih, leads a cell spying on readers and members of the forum, financed by Jordan and Saudi Arabia." The posting went on to say that three other forums, al-Buraq, al-Mohajeroon and al-Firdaws, were also under suspicion of being under the control of government intelligence agencies.

Four days later, mujahideen readers of the forums were shaken by a report by the pan-Arab al-Quds al-Arabi that notable Saudi dissident Sheikhs Saad al-Fagih and Abu Majid had added their weight to the belief of the site's penetration, and that this was indeed one of the reasons for the early capture of the militants involved in the Abqaiq attack. Al-Fagih also claimed that there were several jihadi forums penetrated by intelligence services and that via this method the Saudis had come to know that jihadi cells were planning to target members of the ruling family (al-Quds al-Arabi, March 30). The director of the Tajdeed forum, Saudi dissident Dr. Muhammad al-Mas'ari, also indicated that forum penetration was the primary reason for the arrests of the attackers of the Abqaiq facilities, pointing to the mere six hours separating their posted claim to the attack and their subsequent arrest (Terrorism Focus, April 4). [More>>jamestown.org]

Editorial note about al-hesbah.com: This link produces a page listing the "Media Members of Alhesbah Forum" including Reuters, aljazeera, msnbc, Quds Press International, ABC News, LBC, afp.com, AP Associated Press, RIA Novosti, NHKWORLD, Radio Netherlands, Ansa.it, SwissInfo, CNN, DPA Dutch Press-Agenteur Gmbh, Aljareeda, 2DF.de, vakit.com.tr, www.iraqk.com, Ashahed and several other sites in Arabic. The site contains a disclaimer at the beginning of the forum: "Disclaimers – The postings in the discussion forums do not undergo monitoring, and do not necessarily reflect Alhesbah¹s views. Alhesbah claims no responsibility or liability to third party links or images contained within users' posts."

For more information on jihadist use of the internet see Maravot News 5.25.06 "American involvement in keeping Islamic extremist websites online" and Maravot News Editiorial Note 5.24.06: "Bin Laden via As-Sahab website." We inquired with an organization tracking terrorists, globaljusticegroup.org (GJG), with regard to the As-Sahab website : "...Do you have any information on the internet site, as-sahab, that carried the latest tape of Osama bin Laden? The reference seems to refer to as-sahab.org, but I found that the domain, as-sahab.com, is owned by a Sahab Midea, 62 Zahran Street, Amman, Jordan. Do you have any information that can add "who, what, when and where" details to the [5.24.06] report I recorded at Maravot News?"

We received a response from GJG as follows: "As-Sahab is a virtual company that produces the audio and video tapes of Al Qaeda. In the past there were a number of the company's websites, which are closed as of today. As-Sahab mainly published tapes by Bin Laden and Zawahiri. As Bruce Hoffman, an expert on terror at the RAND Corp. defines, "as-Sahab is an Al Qaeda propaganda outfit and engages in psychological warfare."

It is interesting that reports say al-Qaeda uses 12-16 couriers to deliver al-Qaeda tapes which are dropped off at Aljazeera's office in Karachi, Pakistan. They say the couriers may take 6 weeks or more to deliver the tapes. The recent propaganda from Zawahiri (see bbc.co.uk, June 9, 2006, "Al-Qaeda opposes Palestinian vote" reminds us of the lag-time in delivering Al-Qaeda messages from the rugged border of Afghanistan and Pakistan, since al-Zawahiri was not aware of the death of al-Zarqawi.

If As-Sahab produces the audio and video tapes of Al-Qaeda, then one may wonder what the Karachi connection has to do with Al-Jazeera TV in Qatar and As-Sahab.org apparently based in Amman, Jordan. As a side-note, since internet services (including ISP and Domain) are often billed and paid for via credit card, we wonder whether the government has a list of the owners of jihadi sites and their banking information. Banking information, of course, reveals how they are being funded.

We argued that the way to combat terrorists is to deny them the ability to communicate their propaganda and, more importantly, deny them the use of the internet to communicate with their various murderous brigades. When their communication channels are cut off they are extremely vulnerable, since in scrambling to set up new communication channels they are more susceptible to unknowingly engage anti-terrorist agents, who include not only government but also non-government organizations tracking them down.

Mel Copeland
---
6.12.06 Hussein's witnesses admit lying in their testimony
June 12 – Four witnesses for the defense in the Saddam Hussein trial have admitted lying in their testimony, saying they had been bribed or threatened, according to statements read in court today. One of the witnesses said he agreed to testify on behalf of the defense after one of his sons was kidnapped. He said that a son of one of Mr. Hussein's co-defendants, Mohammad Azzawi Ali, told him, "You have three days to decide whether to testify or not, otherwise we'll kill your youngest son." Other witnesses told of being paid $500 and coached in their testimony. [More>>nytimes.com]
---
6.12.06 Nine killed in US raid near Baquba
June 12 – Seven people with links to senior al-Qaeda leaders were killed in an air strike in Iraq on Monday, the US military said. The raid also left two children dead, the military stated, although an Iraqi witness gave a different account, saying the nine killed were all members of one family. The US military said three people were wounded and two others were detained in the attack near the city of Baquba, where Abu Musab al-Zarqawi was killed last week.

"Coalition forces killed seven terrorists, wounded three, and detained an additional two terrorists during a raid in the vicinity of Baquba June 12," the military said in a statement. "The targeted terrorists have been linked to previous coalition operations and had ties to senior al-Qaeda leaders across Iraq. Intelligence also indicates this particular terrorist cell is involved in the facilitation of foreign fighters in the area." [More>>aljazeera.net]
---
6.12.06 Al-Zarqawi lived for 52 minutes after bombing
BAGHDAD (AP) June 12 – Abu Musab al-Zarqawi lived for 52 minutes after a US warplane bombed his hideout northeast of Baghdad, and he died of extensive internal injuries consistent with those caused by a bomb blast, the US military said Monday. Col. Steve Jones, command surgeon for Multinational Forces, said an autopsy concluded that al-Zarqawi died from serious injuries to his lungs. An FBI test positively identified al-Zarqawi¹s remains. Maj. Gen. William Caldwell, a spokesman for the US military in Baghdad, said US forces arrived about 28 minutes after a fighter jet bombed al-Zarqawi¹s hideout outside Baqouba on Wednesday. Medics secured al-Zarqawi¹s airway but his breathing was shallow and labored, and he expelled blood from his mouth. [More>>msnbc.com ; for background see Maravot News 6.10.06, "Al-Qaida in Iraq's al-Zarqawi 'terminated.'"]
---
6.12.06 Jordan MPs face military prosecutor after Zarqawi condolences
AMMAN (AFP) June 12 – Four detained Islamist MPs were referred on Monday to the military prosecutor, accused of fueling national discord after they offered condolences to the family of slain Al Qaeda strongman Abu Mussab Al Zarqawi, the government said. Islamic Action Front (IAF) deputies Mohammed Abu Fares, Jaafar Horani, Ali Abu Sukkar and Ibrahim Mashukhi were detained on Sunday and questioned by the general prosecutor who decided to refer the case to the military prosecutor, government spokesman Nasser Jawdeh told a news conference.

"They are being investigated on the accusation they have violated Article 150 of the penal law on fueling national discord," Jawdeh said. Their detention was ordered after the authorities received "eight formal complaints from relatives" of November hotel suicide bombings, claimed by Zarqawi's Al Qaeda group in Iraq, that killed 60 civilians. [More>>metimes.com]
---
6.12.06 Hindu-Muslim wedlock, up for deadlock
AHMEDABAD (PTI) June 12 – The wedding between a Hindu girl and a Muslim man in Gujarat has run into trouble after the girl claimed that she was "forced into the marriage and kept in confinement." The girl, Hetal Dave, who had married Allauddin on April 22, returned to her parents¹ house on June 7 after her parents approached the Gujarat high court, police officials probing the case said. Both of them live in a village in Sabarkantha district but got married in Ahmedabad.

"I was forced into this wedding by Allauddin. He took me to a Masjid on some pretext and forced me into marriage," Dave said. "When I protested, he threatened to kill my family members... [More>>expressindia.com]
---
6.12.06 SCO to join int'l efforts to build anti-drug belt around Afghanistan
BEIJING (Xinhua) June 12 – The Shanghai Cooperation Organization (SCO) will join international efforts to build an anti-drug belt around Afghanistan to combat drug smuggling, said a senior Chinese diplomat here Monday. Chinese Assistant Foreign Minister Li Hui made the remarks at a press briefing for the upcoming SCO summit slated for June 15 in Shanghai. "Afghanistan is a major source of drugs," Li said, adding SCO member states are major victims of drug crimes. "SCO is willing to actively join international efforts to build an anti-drug belt around Afghanistan, and conduct anti-drug cooperation with the country under the framework of SCO-Afghanistan liaison group," he said...Established in 2001, the SCO groups China, Kazakhstan, Kyrgyzstan, Russia, Tajikistan and Uzbekistan. Since 2004, the organization has accepted Mongolia, Iran, Pakistan and India as observers. [Full story>>xinhuanet.com ; See SCO website, scosummit2006.org for further information and rian.ru, June 12, "Shanghai organization unlikely to expand soon – Kyrgyz minister" : ...the participants decided it was too early to consider the expansion of the bloc and agreed to focus on the strengthening of the organization instead. The SCO was set up a decade ago to deal with Islamic extremism and other security threats in Central Asia, but has since expanded its scope to include cooperation in disaster relief and trade...]
---
6.12.06 Security forces kill 37 militants, including Taliban leader's relative
KANDAHAR, June 12 – Afghan and US-led coalition forces killed 37 suspected rebels, including a relative of Taliban leader Mullah Omar, in three separate battles across southern Afghanistan, an Afghan army general said Monday. Omar's brother-in-law, Mullah Amanullah, was killed along with 14 other insurgents in Siachave village, Uruzgan province, when troops stormed the area late Sunday after a tip from tribesmen, said army commander Gen. Rehmatullah Raufi. Amanullah, whose body was recovered from the village, was the Taliban commander in Uruzgan province's Dihrawud district and responsible for numerous rebel attacks, Raufi said. Coalition military spokesman Maj. Quentin Innis could not confirm if Amanullah had been killed. [thenews.com.pk ; See also afghanislamicpress.com, June 12, "Coalition, Afghan forces kill 12 Taliban in Kandahar" and khaleejtimes.com. With regard to reports that Al-Qaeda and the Taliban derive revenues from hashish and heroine production, see an interesting article, dailytimes.com.pk, June 12, "Taliban ban 'un-Islamic' activities" : MIRANSHAH: Local Taliban and religious leaders in North Waziristan on Sunday issued public notices warning people of ³serious repercussions² if they do not shun "un-Islamic activities" like watching movies and listening to music. The announcement comes a day after the military bombed a militant hideout, killing up to 20 militants. The Taliban warned tribesmen to avoid hashish, heroin and wine, end all smuggling, ban all "un-Islamic" video and audio cassettes, ban dish antennas in houses and bazaars, and close all gambling dens. All such places of gambling will now be used for a "noble purpose," the announcement said. The Taliban also announced a ban on interest on loans, and staged fights between birds and animals. "Any person committing these atrocities from Monday will be punished accordingly if spared by the government," said the announcement. Sources said that most local tribesmen supported the announcement, believing its implementation would bring peace to the troubled tribal agency.
---
6.12.06 Report: War on terror flawed
June 12 – The concentration on the war on terror is increasing the risk of terrorist attacks and distracting governments from greater threats, a British think tank has warned. The independent Oxford Research Group said the most likely causes of future conflicts are climate change, competition over resources, social and economic marginalization and increased militarization. "The war on terror is a dangerous diversion and prevents the international community from responding effectively to the most likely causes of future conflict," the report Global Responses to Global Threats: Sustainable Security for the 21st Century said.

The authors of the 18-month study criticized the war on terror for its high cost and suggested that it was "creating more recruits and supporters of terrorism than it defeats. There is abundant evidence that the 'war on terror' is proving deeply counterproductive, making the risk of future terrorist attacks... more not less likely," the group said. [More>>aljazeera.net]
---
6.12.06 China is arming world's worst regimes to fuel economic booms, says Amnesty
BEIJING, June 12 – China's secret arms exports to some of the world's worst trouble spots are fuelling human rights violations and helping to sustain conflicts in countries such as Sudan, Nepal and Burma, Amnesty International says. As well as big conventional weapons such as tanks warplanes, ballistic missiles, frigates and submarines, China sells small arms and security equipment to armies and police forces. Arms exports are estimated to be worth nearly £550m a year and often involve the exchange of weapons for raw materials, such as Sudanese oil, to fuel China's rapid economic growth.

"China's arms exports policy is reckless and dangerous, paying no heed to human rights," said Amnesty International's UK director, Kate Allen. China is the only big arms exporting power that has not entered into any multilateral agreement setting out criteria, including respect for human rights, to guide arms export licensing decisions, Amnesty said in the report, China: Sustaining conflict and human rights abuses. "In a bid to continue economic expansion and grab a slice of the lucrative global weapons market, China has shipped arms into conflict zones and to countries that torture and repress their people," Ms. Allen said. [More>>independent.co.uk]
LISBON, May 21 – Adam Porter reports: Labour politician and former UK environment minister Michael Meacher has slammed Prime Minister Tony Blair and US President George Bush for starting a war, he says, to secure oil interests.

Speaking on Friday on the sidelines of the fourth International Workshop on Oil and Gas Depletion in Lisbon, Portugal, Meacher, a member of the British parliament, said: "The reason they attacked Iraq is nothing to do with weapons of mass destruction, it was nothing to do with democracy in Iraq, it was nothing to do with the human rights abuses of Saddam Hussein."
..."It was principally, totally and comprehensively to do with oil," Meacher continued. "This was about assuming control over the Middle East and over Iraq, the second largest producer and also over Saudi Arabia next door.

"It was about securing as much as possible of the remaining supplies of oil and also over the Caspian basin, which of course is Afghanistan." [More>>aljazeera.net; See also gregpalast.com, article March 17, 2005, "Secret US plans for Iraq's oil."

Editorial note: For articles relating to Bush's lying to Congress and the American people with regard to his war on Iraq and other complaints that relate to his abuse of power see:

04.30.06 Powell says he urged more troops for Iraq
04.22.06 'CIA warned Bush of no WMD in Iraq'
04.07.06 Testimony adds new element to probe of CIA leak and The deception Bush can't spin
12.30.05 The future of democracy as we knew it : John Conyers on Bush crimes and Constitutional crisis
11.17.05 The man who sold the war
11.12.05 Asterisks dot White House's Iraq argument
10.16.05 Bush to Blair: First Iraq, then Saudi
10.07.05 BBC: Bush said God told him to invade Iraq
08.25.05 Bush administration hiding affects of the war: photos Washington doesn't want you to see
6.18.05 Update The Downing Street memo: the smoking gun to impeach President Bush
6.17.05 Just hearsay, or the new Watergate tapes?
6.17.05 Democrats urge inquiry on Bush, Iraq
6.17.05 Update Senator Feinstein against US becoming a 'unilateralist power'
6.19.05 Rice condemns Iran vote – 'the pot calling the kettle black'
6.21.05 British bombing raids were illegal, says Foreign Office
6.28.05 Special Orders in House of Representatives on Downing Street Memos
6.28.05 From memos, insights into ally's doubts on Iraq War
7.11.05 Report: US war has killed 39,000 Iraqis
---
08.09.05 Understanding terrorists' use of the Koran – what constitutes extremist activity
August 9 – (Maravot News, Mel Copeland) A trend in combatting terrorism has to do with what constitute's extremist activity, including teachings by immams, publication of books and retail book stores, etc. Statements like (8.09.05) Bakri Mohammed's, "...it would be 'against Islam' for him to inform the police of any terrorist attacks that he knew were being planned in Britain..." are better understood through an examination of modern scholastic trends in reinterpreting the Koran. See:
08.07.05 Inside the sect that loves terror with Editorial note: An interesting site by an Islamic scholar defines what "kuffar" (disbelievers) means. His site, renaissance.com.pk – Arguments and Rational – details the Koran's verses and traditional and modern applications of the verses dealing with disbelievers: identifying them, punishing them, preaching to them and "'displaced directives." His argument refers heavily to Old Testament verses that set the foundation for verses of the Koran involving the punishment of disbelievers...
08.07.05 UK to deport 500 Muslim extremists and article, "Diary of British jihadi unearthed in Pakistan," ...the diary wonders how Muslims can live in London, the "vital organ of the minions of the devil," now that the "kufr," or unbelievers, have transformed the world into "a battlefield for the Muslims."
---
6.17-05 Federal Debt not a concern of the press
SAN FRANCISCO, June 17, 2005 Update. While the Federal Reserve continues to increase interest rates, the Exponentially rising Federal Debt is not being reported. What is not being reported is the fact that interest rates are tied to the US National Debt. This year the deficit is expected to exceed $420 billion, and interest on the debt which exceeds $8.2 trillion, is about $1 billion per day. Because the annual deficits are financed via the bond market, and because the amount of the bonds being sold exceeds demand, it is necessary to raise interest rates to attract investors in the US bonds financing the US debt. This routine of increasing debt on an exponential scale was experienced under the administration of George H. W. Bush. I predicted increasing interest rates "to sell bonds" in my conversation with Wm. F. Buckley Jr. at that time, in 1993, and I have repeated the prediction with regard to the current Bush administration's excesses and need to sell more bonds to finance the extraordinary deficits. The rate increases will continue in order to sell the overabundant US bonds. In a few words, George Bush's debt is causing your mortgage rates to increase, and they will continue to increase until the US assumes fiscal responsibility. Click here for details on this trend.

Postscript: If the EU adopts the practice of allowing large budget deficits, the consequence places a strain on the world bond market, since that market is already flooded with US bonds to the tune of some $9 trillion. Those who are allowing budget deficits also own some of the US debt. It's not a good situation, heralding a world economic collapse. That Greenspan has not reigned in the Bush administration on the US debt is a travesty.

Rising interest rates began with a Federal Reserve declaration of the "fear of inflation": WASHINGTON, March 22 – The Federal Reserve raised new worries about inflation on Tuesday, setting off alarms in the stock and bond markets that the central bank might drive up interest rates faster than investors had been expecting. The Fed nudged up short-term interest rates for the seventh time in the last year, raising the federal funds rate on overnight loans between banks to 2.75 percent from 2.5 percent. It restated its intention to keep raising them at a "measured" pace in the months ahead.

But in a departure from previous declarations, the central bank said there were rising inflationary pressures beyond those tied directly to the recent jumps in oil prices. [More>>nytimes.com]

Mel Copeland
---
---
Launched: 10.25.04 / 11.02.04
Updated: 6.12.06; 6.13.06; 6.14.06; 6.15.06
Visitors

Copyright © 1981-2006 Maravot. All rights reserved
Copyright © 1981-2006 Mel Copeland. All rights reserved
Painting of Apple by Mel Copeland, early 70's
Background: tile from Cicero's villa (Marcus Tullius Cicero 106 B.C. - 43 B.C.)