1.01.05 TSUNAMI HELP & RESOURCES
1.27.05 TSUNAMI NEWS
1.27.05 US Navy to stay in Indonesia as long as needed
ON BOARD THE USS ABRAHAM LINCOLN (AFP) Jan. 28 – US Navy troops helping distribute relief aid for tsunami survivors in Aceh province will stay as long as Indonesians want them to, according to a leading officer. "U.S. forces will be here through the relief effort and as long as the Indonesian government needs us to stay," USS Abraham Lincoln skipper Captain Kendall Card told reporters late Wednesday.

The aircraft carrier, with more than 5,000 sailors on board, has been anchored off the provincial capital Banda Aceh providing aid and sending ashore medical teams. A fleet of Sea Hawk helicopters from the Abraham Lincoln has also been flying food, water and medical supplies into the most isolated regions of Aceh. [More>>thejakartapost.com]
---
1.26.05 US military scaling back in Indonesia
ABOARD THE USS ABRAHAM LINCOLN (AP), Jan. 26 – The US military is beginning to scale back its tsunami relief efforts in Indonesia after nearly a month of airlifting food and medicine, as other nations take over the operations, officials said on Wednesday. The aircraft carrier USS Abraham Lincoln, which was diverted to Sumatra within four days of the Dec. 26 disaster with 17 SH-60 Seahawk helicopters aboard, is preparing to sail home to Everett, Washington, the military officials said.

The United Nations, Australia and other countries already have begun flying their own helicopters with supplies from Banda Aceh,the provincial capital, to devastated and isolated villages along Sumatra's western coast. [More>>thejakartapost.com]
---
1.26.05 Government asked to allow foreign troops to stay longer in Aceh
JAKARTA (Antara), Jan. 27 – Hundreds of people hailing from Nanggroe Aceh Darussalam demonstrated in front of the United Nations representative office here on Wednesday, urging the government to allow foreign troops to conduct their humanitarian mission in the tsunami-hit province. "We want the government to allow foreign troops to stay longer in Aceh," Islamuddin, a coordinator of the demonstration, said.

Islamuddin disclosed that the foreign troops were badly needed in Aceh due to their equipment and high mobility. At the very least the foreign troops could be deployed to help clean up roads, evacuate bodies and distribute foodstuff as they have adequate equipment, especially helicopters, he said. [More>>thejakartapost.com]

---
1.26.05 Piracy stopped after tsunami
JAKARTA (Bloomberg), Jan. 27 – Attacks on shipping in the Malacca Straits, the world's busiest sea lane, stopped after the Dec. 26 tsunami that devastated Indonesia's Aceh province on Sumatra island which is adjacent to the waterway, a shipping group said... Sumatra is on the west side of the Malacca Straits, where about a fifth of the world's piracy incidents were reported last year.

"There hasn't been a single attack in any part of the Malacca Straits since the tsunami," said Noel Choong, head of the International Maritime Bureau's Kuala Lumpur-based Piracy Reporting Center. "If they were coming out of Aceh, we assume the pirates lost their boats and other assets."

Pirate attacks in the strait, where more than 50,000 vessels passed through last year, rose to a 14-year high in the first half of 2004. Most pirates come from the Indonesian side of the waterway and attacks were increasing in the two months before the tsunami, Choong said. [More>>thejakartapost.com]
---
1.27.05 OTHER NEWS
Jan. 28 – One of the two bomb-makers behind the 2002 Bali nightclub attacks was believed to have been killed yesterday in a targeted air strike.
The strike came after spies tracked him to a meeting with terrorists from the southern Philippines-based militant group Abu Sayyaf, the Philippines military said last night. Philippines officials said they were confident that Dulmatin, one of the most wanted men in Southeast Asia, was at a meeting bombed by fighter jets and attack helicopters in an Islamic stronghold 900km south of Manila.

The Australian Federal Police last night said it had received no information from the Philippines and was unable to confirm the development. If true, however, the attack has killed one of Jemmah Islamiah's most capable bomb-makers at the gathering with two acolytes and Abu Sayyaf chief, Khadaffy Janjalani, who had evaded the military for five years. The meeting was being held in a marshland hut in Mindanao Province, a notorious heartland of Islamic rebels. [More>>news.com.au]
---
1.27.05 If Pakistan and India can do it, so can Israel and Pakistan: Peres
KARACHI / ISLAMABAD, Jan. 27 – Israeli Deputy Prime Minister Shimon Peres has said that Israel and Pakistan should have "a direct, personal contact, publicly, without being ashamed about it." Answering questions put to him by The News, in what is the first ever interview by an Israeli politician to a Pakistani newspaper, Peres responded from Tel Aviv on Wednesday "there is no shame in peace; we should reach full normalization"

In response to a question as to how Israel viewed US President George W. Bushıs statement last month about General Pervez Musharraf playing "a big role" on the "important issue" of the ME peace process; and whether Israel would be willing to accept a Pakistani role, Peres was categorical: "First and prior to anything, Pakistan has to decide to have contacts with both sides-and thatıs before playing a part in the Middle East peace process; it cannot play a role without having relationships with all the entities involved." He expressed hope that 2005 gave Israel "an enormous opportunity" to "push forward" in the ME peace process. "If Pakistan wants to be a part of that, it will have to draw this conclusion: it cannot be done by remote control," he said, while talking to The News. [More>>jang.com.pk]

---
1.27.05 Sudan Air Force bombs village in Darfur
Jan. 27 – About 100 people were killed or injured when Sudanese Government airplanes bombed a village in the northern section of the country's war-scarred Darfur region. This latest attack comes as the UN's most senior humanitarian official warned the Security Council Thursday that Darfur's perilous security conditions are hampering UN aid agencies' efforts to feed and assist many of the hundreds of thousands of internally displaced persons (IDPs). UN officials in Sudan said African Union (AU) reports indicated that the Sudan air force has bombed the village of Rahad Kabolong in North Darfur state, with unconfirmed reports giving a casualty count of about 100. UN humanitarian agencies have declared the location around Rahad Kabolong to be a 'no-go' area for their staff until further notice, and the AU is investigating the bombing raid. [More>>bignewsnetwork]

---
1.27.05 US military too eager to help Iraqis vote
Jan. 27 – The top UN electoral adviser says UN officials have had to discourage an "overenthusiastic" U.S. military from helping to get out the vote in Iraq before Sunday's election. Carina Perelli, who heads the UN Electoral Assistance Division, said the US military has been extremely overenthusiastic in trying to help out with these elections. She said they should try to minimize their involvement as this is an Iraqi process, adding that Iraq's election commission had delivered the same message. Perelli added that with technical preparations completed, it is up to the Iraqi people alone to decide if the process is valid and important enough to risk their lives to vote. [CRIonline]
---
1.27.05 Explosive situation in Xinjiang – Muslim separatists?
Jan. 28 – B. Raman inquires whether the explosions reported Jan. 22 by China Daily were related to the separatist movement of the Muslim Uighurs: "The China Daily reported on January 22 that 13 persons were killed and 18 others injured in two separate explosions in China's Xinjiang Uighur Autonomous Region, coinciding with the Eid-al-Adha religious festival.

In the first incident, nine passengers were killed instantaneously and two others later died after an explosion on January 20 in a minibus carrying 18 people at the Dushanzi overpass in Kuitun, in the Yili Kazakh Autonomous Prefecture. The place where the explosion took place is about 200 kilometers from the Kazakhstan border. Most of the victims were reportedly ethnic minorities (Uighurs?) and not Han Chinese.

Liu Yaohua, head of the Public Security Department of the Xinjiang Autonomous Region, was quoted as saying that 19 people were on the bus. A man and a woman got off during the trip, while a man in his 40s, carrying a black canvas bag, got on when the bus approached the overpass. The blast took place at the right rear of the bus...the French news agency Agence France-Presse (AFP) quoted unnamed Chinese officials as saying they could not rule out the possibility that the blast is linked to the separatist movement of the Muslim Uighurs, the non-Han natives of the province, some of whom have been fighting for an independent state for the Uighurs of Xinjiang and the adjoining Central Asian Republics, to be called East Turkestan. [More>>atimes.com]
---
1.27.05 Tibetan lama dodges Chinese bullet – history behind persecution of Tibetan Lamas
Jan. 27 – Julian Gearing has written an excellent commentary on the conflict between the Chinese government and Tibet's lamas. His article focuses on Lama Tenzin Delek whose death sentence for alleged involvement in a bombing was commuted to "life imprisonment." The article is a short history of a conflict that would be of interest to scholars of Buddhism and others who are trying to sort out the criteria for terrorist activities. He begins: "A controversial Tibetan lama – to China he's a subversive and a terrorist and to many Tibetans a saint and patriot – has been spared execution, a bullet to the back of the head. A Chinese court on Wednesday commuted the death sentence of Lama Tenzin Delek to life imprisonment, according to the official Xinhua news agency.

China, not wanting a martyr on its hands, already had suspended the lama's death sentence for two years; that period expired this week, and the persisting prospect of martyrdom and the unrest it might generate in Tibet may well have contributed to the decision to commute. International outrage and appeals also may have played a part in China's decision. Still, a life sentence, even a few years in a Chinese prison, is considered by many to be, in effect, a sentence of death, or suffering and disability...Lama Tenzin Delek was little known outside of the Lithang Mountains of eastern Tibet until a death sentence for a bomb explosion in Chengdu threw him into the international limelight two years ago. The 54-year-old Tibetan lama has become the "poster boy" of Tibetan exiles and their supporters protesting human-rights abuses in Tibet; they have been demonstrating around the world through candlelight vigils and hunger strikes, demanding his release.

"...Lama Tenzin's undoing lies in his loyalty to the Dalai Lama, the man recognized by most Tibetans as their spiritual leader and the acting head of the Gelukpa Buddhist lineage. China is trying to sever the ties binding Tibetan lamas to their religious schools and also to the high lamas who lead those institutions. Tibetans claim their religion's strength lies in its lineage system – unbroken lines of reincarnated lamas passing on a system of Buddhist practice intended to help practitioners along the path to enlightenment.

"...In a taped statement made in June 2000, prior to his arrest, and smuggled out of Tibet, Lama Tenzin said that everything he did to help the community and revive his religion the authorities 'considered a crime.' Pictures and titles were out, he claimed. He said they told him, 'You cannot have photos of the 14th Dalai Lama, the young Panchen Lama, or pictures of yourself.' And they complained, 'The pictures are getting bigger, and bigger, and bigger, and you cannot do that. And you cannot have a lama's title.'

What is clear is that the Chinese authorities want to offer a tough lesson through their persecution of Lama Tenzin. Loyalty to Beijing is called for, not loyalty to the man they call a 'separatist,' the Dalai Lama. [More>>atimes.com]
---
1.27.05 World remembers Holocaust at snow-swept Auschwitz
OSWIECIM, Poland (Reuters) Jan. 27 – Dusted by falling snow and surrounded by barbed wire, world leaders mourned the victims of the Holocaust on Thursday, the 60th anniversary of the liberation of the biggest Nazi death camp at Auschwitz-Birkenau. Vowing that the World War II atrocity must never be forgotten, the leaders and survivors lit candles in the ruins of the camp, which claimed a fifth of the 6 million Jews who died in the Holocaust.

"I was here naked as a young girl. I was 16. I am Israeli, I have a country, I have a flag. I have a president," Merka Shevach, who had not been scheduled to speak, told the ceremony.

Up to 1.5 million people died in the gas chambers and crematoria of Auschwitz-Birkenau, set up by Nazi Germany in occupied Poland as its most efficient killing machine in the "Final Solution," the genocide of European Jews. Auschwitz was liberated on Jan. 27, 1945, by the advancing Soviet army whose stunned soldiers released 7,000 emaciated prisoners left behind as the Germans withdrew. [More>>reuters.com]
---
1.27.05 Bush softens pitch on ending tyranny worldwide
WASHINGTON, Jan. 27 – President George W. Bush has softened his pitch on ending tyranny and spreading freedom around the world, saying that he has only set out "a long-term goal" that will require "the commitment of generations."

The clarification of sorts over his inaugural address last week came in the wake of concerns in some world capitals that Bush II's foreign policy could assume an aggressive tenor on the issue of freedom, democracy and human rights. "Obviously we're discussing a process .Š Not every nation is going to immediately adopt America's vision of democracy, and I fully understand that. But we expect nations to adopt the values inherent in a democracy," Bush said at a White House news conference on Wednesday.

He scotched speculation of a foreign policy shift and said his pronouncement "reflects the policy of the past, but it sets a bold, new goal for the future." [More>>hindustantimes.com]
---
1.27.05 North Korea has bought N-bomb from Pakistan: report
SEOUL, Jan. 28 – North Korea appears to have bought a complete nuclear weapon from a former Soviet Union state or Pakistan, a South Korean newspaper said on Thursday quoting a source in Washington. Seoul Shinmun quoted the source as saying the United States was checking the intelligence. The purchase was apparently intended to avoid nuclear weapons testing that could be detected, the source was quoted as saying. North Korea is believed to have one or two nuclear weapons and possibly more than eight. US Congressman Curt Weldon said after a visit to the North Korea this month that a second-ranked leader of the country had told his delegation that it possessed nuclear weapons. North Korea has never officially declared that it possessed atomic weapons. [jang.com.pk]

---
1.27.05 Parts of Muslim world in deep crisis: Malaysian PM
PUTRAJAYA, Malaysia, Jan. 28 – Many parts of the Islamic world are in "deep crisis" with Muslims suffering more from militancy and terrorism than others, Malaysian Prime Minister Abdullah Ahmad Badawi said on Thursday. "There are many challenges that we need to overcome. In many parts of our world, we are in deep crisis," Abdullah told some 50 participants from 15 member countries of the Organization of the Islamic Conference (OIC).

"The OIC landscape is a distressing one. Darfur is a humanitarian disaster, two of us are occupied-Iraq completely and Palestine partially," said Abdullah, who currently chairs the OIC. "Some of the OIC countries are rich and their people affluent. But they are too few and far between. The OIC landscape is littered with nations that are poor and people that are hungry. "They are largely at the mercy of developed nations and of forces beyond their control." [More>>jang.com.pk]

---
1.27.05 CBS producer calls Beslan video 'A Piece of Hell'
MOSCOW (RIA Novosti's Larisa Sayenko) January 27 – CBS producer Jonathan Sanders says that the video shot during the hostage-taking in Beslan's school was "a piece of hell." The video tape which local residents gave him was handed to Russian investigators, Mr. Sanders told RIA Novosti on the phone on Thursday.

I paid nothing for this tape, he said. Three weeks after the tragedy I visited Beslan asking people about these events and trying to find some amateur video, he continued. At last young people gave me this tape saying, "We want the world to know the truth about us." Mr. Sanders worked in Russia in the 1990s and arrived in Beslan to make a film which was shown on CBS last Saturday. After that, in compliance with corporate ethnics rules, he was able to hand the table to the Russian parliamentary commission investigating the tragedy.
---
1.27.05 UN Security Council's Counter-Terrorist Committe meets in Khazakhstan
ALMATY – A special meeting of the UN Security Councilıs Counter-Terrorist Committee is taking place in Almaty on Wednesday. This international organ includes 15 constant members of UN Security Council. The main task of the committee is to work out coordinated line and realization of wide spectrum of political, economical and military measures on counteraction to the international terrorism. Nursultan Nazarbayev, President of Kazakhstan greeted the participants of the Counter-Terrorist Committee

The committee was created after the 9-11 events. The committee analyzes the current situation in the world on the basis of reports submitted by UN member-states. The final goal is to strengthen the interaction of these states in the fight against terrorism. The Almaty meeting is already the 4th since its foundation. The first two meetings were held two years ago in the USA, while the third one took place last year in Austria. At present, Russia is presiding over the committee, while Kazakhstan has become the hosting side. More than 50 organizations and more than 50 countries are taking part in the meeting..."Our common goal is to work out a general strategy of actions aimed at strengthening the unity of the international community, and on overcoming national, religious and ethnic contradictions in order to eliminate the sources of terrorism. Thatıs why a system of overall security, including spiritual guarantees, is needed." [More>>khabar.kz]
---
1.27.05 Pre-poll attacks kill 19 Iraqis, US Marine
BAGHDAD (Reuters) Jan. 27 – With Iraq's election only three days away, insurgents bent on wrecking the poll killed 19 Iraqis and a U.S. Marine on Thursday and bombed polling stations in the country's Sunni heartland. The flurry of attacks, including the execution of four Iraqi National Guards, came as U.S. investigators probed a helicopter crash that killed 31 U.S. troops on Wednesday, the deadliest day for American forces since the war began. President Bush has urged Iraqis to "defy the terrorists" and vote in the country's first election since an American-led invasion toppled Saddam Hussein in April 2003. [More>>reuters.com]

Update: Over 30 die in Iraq as bloody campaign rages ahead of polls
Jan. 28 – With Iraq's election only three days away, insurgents bent on wrecking the poll killed 30 Iraqis and a U.S. Marine Thursday, as a top Iraqi official accused Syria and Iran of not doing enough to stop rebels at their borders. Meanwhile, a videotape posted on an Islamist Web site showed the killing of a man described as the secretary of Iraqi Prime Minister Iyad Allawi.

As insurgents intensified their bloody campaign, the Iraqi minister of state for national security said supporters of ousted President Saddam Hussein as well as Islamic militants operated from Syria. Speaking via video link with reporters at the Pentagon, Kassim Daoud said: "Unfortunately, we have two – if I can put it in this way – naughty boys, neighbors Iran and Syria. The insurgents mainly are crossing the border from the west." [More>>dailystar.com.lb; see also: "Blast hits multiple targets in Iraq," Al-Jezeera]

---
1.27.05 US will pay the bill if Kirkuk plunges into turmoil, Turkish PM warns
ANKARA (AFP) Jan. 27 – The United States will bear the consequences of ethnic turmoil in Kirkuk if it fails to prevent the oil-rich city in northern Iraq from falling under Kurdish control, Turkish Prime Minister Recep Tayyip Erdogan warned Thursday. "Any wrong move in Kirkuk will have a negative impact on peace in Iraq in the future," Erdogan told reporters at Ankara airport before he flew out to Davos, Switzerland for the World Economic Forum.

"The United Nations, America and the other coalition forces should never allow an unfavorable structure there," he said. "If they turn a blind eye to such a mistake, they will pay the bill in the future." [More>>turkishpress.com] see separate report:
1.27.05 Kirkuk tensions could spark Iraq civil war, Turkish intervention: report
BAGHDAD (AFP) Jan. 27 – Ethnic tensions in the disputed northern Iraqi oil hub of Kirkuk are the biggest threat hanging over the country's stability and could spark a regional conflict, the International Crisis Group (ICG) said in a report received Thursday. "In northern Iraq, largely unnoticed, a conflict is brewing that, if allowed to boil over, could precipitate civil war, break-up of the country and in a worst-case scenario Turkish intervention," said the report.

The ICG, an international conflict resolution think-tank, warned that aggressive rhetoric had been festering unchecked in the ethnic tinderbox of Kirkuk since the April 2003 fall of Saddam Hussein's regime, as Kurds seek to the right the wrongs of the old regime. [More>>turkishpress.com]
1.27.05 Turkey warns Kurds about Kirkuk control
ANKARA, Turkey, Jan. 27 – Turkey's military warned Wednesday that the migration of large numbers of Kurds into the oil rich Iraqi city of Kirkuk could sway the results of the upcoming elections and possibly lead to clashes that could draw Ankara into the dispute. Kirkuk, a multi ethnic city with a Kurdish, ethnic Turkish populations, Arab, Christian - but Kurds have been the strongest group in the city since the fall of Saddam Hussein. Kirkuk is also home to 12 percent of Iraq's oil reserves, and Turkey said the resources must be shared equally by all Iraqis.

Turkey has repeatedly warned that Kurdish control of the city would make an independent Kurdish state more viable, a development that Ankara has repeatedly said it won't accept. Turkey fears that a strong Kurdish entity in northern Iraq could inspire Kurds in Turkey, where Kurdish rebels have battled the Turkish army since 1984. [More>>kurdistanobserver.com; see also, "Kurds lay out conditions for staying Iraqi," kurdistanobserver.com: "There are three red lines for us... If they are crossed, we will no longer be Iraqis," Noshirwan Mustafa, an aide of Patriotic Union of Kurdistan leader Jalal Talabani, told AFP in an interview. "If the Arabs do not accept the principle of federalism, we will no longer be Iraqis. If they insist on a theocratic regime, we will no longer be Iraqis. And Kurdish territories must be returned to Kurdistan," he said.

---
1.27.05 UN troops pull out as Cyprus peacekeeping mission downsizes
NICOSIA (AFP) Jan. 27 – Hundreds of peacekeeping troops will begin leaving Cyprus early next week as part of cuts announced by UN chief Kofi Annan after his reunification plan for the island was rejected by Greek Cypriots, a UN spokesman said Thursday. Annan said the Cyprus peacekeeping force (UNFICYP) would be reduced by a third from the current level of 1,230 but retain its original mandate of maintaining order and preventing a recurrence of fighting. [More>>turkishpress.com]
---
1.27.05 Assad warns Middle East states face break-up threat
Jan. 28 – Syrian President Bashar Assad warned the current turmoil in the Middle East is exacerbating ethnic differences which could lead to the break up of some countries in the region. Speaking to RIA Novosti news agency at the end of his four day state visit to Russia Assad said: "The events in the Middle East could lead to the break-up of several countries in the region, the rise of extremism and religious and ethnic strife."

He added: "This could produce a domino effect that could spread to your region." His comments will be seen as a barely concealed reference to Iraq and the growing sectarian tensions between the various religious and ethnic groups in the country in the wake of the US-led invasion and occupation. [More>>dailystar.com.lb]
---
1.27.05 Nepal closes Dalai Lama's office in Kathmandu
KATHMANDU (AFP) Jan. 28 – Nepal has closed two offices in Kathmandu associated with exiled Tibetan spiritual leader the Dalai Lama, Tibetan and foreign ministry sources said on Wednesday. The government has closed the office of the Dalai Lama's representative and the Tibetan Refugee Welfare Office, a Tibetan source said...the welfare office looks after more than 20,000 Tibetan refugees who left their homeland after the Dalai Lama fled Tibet in 1959. The Chinese embassy has frequently lodged strong protests with the Nepalese government for permitting the Tibetan office to operate in Nepal in the name of the Dalai Lama. [More>>hindustanitimes.com]
---
1.27.05 China questions death penalty
BEIJING, Jan. 27 – Powerful arguments over the possibility of abolishing the death penalty in China have been voiced following the academic conference "the International Symposium on the Death Penalty" held last month at Xiangtan in Hunan province. Legal experts at the conference argued that China would need to limit the use of capital punishment when it ratifies the International Covenant on Civil and Political Rights, and that abolition was the mark of a "civilized society."

Professor Qiu Xinglong, the dean of the law faculty in Xiangtan University, Hunan Province and a leading advocate for reforming the current death penalty in China, claimed that as long as the law recognized that criminals were humans, the criminals were entitled to live and the state and the law could not deprive them of their right to life. [More>>xinhuanet.com]
---
1.27.05 Coal shortage rises to be China's top concern in economy
BEIJING (Xinhuanet) Jan. 27 – Coal shortage will take the place of electricity shortage to be the most prominent challenge to China's economy this year, an official with the State Reform and Development Commission (SRDC) said here Thursday. "China faces overall power shortages of coal, oil and electricity, among which coal shortage will rise to be the first concern," said Cao Yushu, deputy secretary-general of the commission, said at a regular news conference, "To balance the demand and supply of coal will be the major task for China's economic control in 2005." China's coal production exceeded 1.9 billion tons in 2004, a 15 percent increase year-on-year. However the supply continues to fail to meet the demand. [More>>xinhuanet.com]
---
1.27.05 SBC in talks to buy AT&T – sources
WASHINGTON (Reuters) Jan. 27 – SBC Communications Inc., the No. 2 US telecommunications company, is in talks to acquire AT&T Corp. for more than $15 billion to bolster its business with large corporations, sources familiar with the talks said on Thursday. Such a deal would likely spell the end for AT&T, the once-ubiquitous "Ma Bell" whose history dates back 120 years to the invention of the telephone. With AT&T retreating from its consumer business, SBC is interested in AT&T's corporate clients and international telephone and data networks, the sources said. [More>>reuters.com]
---
1.27.05 Murder counts filed in Metrolink derailment
Jan. 27 – The man whose apparently aborted suicide attempt caused a commuter train to derail, leading to a crash that killed at least 11 people and injured nearly 200, has been charged with murder, the district attorney said today. Juan Manuel Alvarez was charged late Wednesday with 10 counts of murder under "special circumstances" and will be charged with an 11th count when he appears in court, Los Angeles County Dist. Atty. Steve Cooley said. [More>>latimes.com]
---
1.27.05 US women at greatest risk of sexual disease
LONDON (Reuters) Jan. 27 – Americans, and especially women, are three times more likely to suffer premature death and adverse health due to sexual activity than people in other rich nations, scientists said on Thursday. Researchers from the US Centres for Disease Control (CDC) found some 20 million cases of adverse health conditions and 29,745 deaths in the United States in 1998 were related to sexually transmitted diseases. "The research showed the sexual behavior attributable health burden is about three fold higher in the US than other developed countries," Dr. Shahul Ebrahim, one of the authors of the CDC study, told Reuters. [More>>expressindia.com]
---
Jan. 27 – The two-man crew aboard the International Space Station (ISS) successfully completed a five-and-a-half hour spacewalk today to set up a robotics experiment and help engineers fix a problem with the station's oxygen generator. NASA astronaut Leroy Chiao and Russian cosmonaut Salizhan Sharipov left the outpost at 2.43am EST (6.43pm AEDT), leaving only ground control teams to watch over the station.

The risky arrangement was necessary because the station's third crew member was cut to save on supplies while NASA's shuttle fleet is grounded... Chiao and Sharipov plan to take Thursday off to recover from their 20-hour day. Their next spacewalk, scheduled for March, will be devoted to preparing the station for the automated docking of Europe's first cargo ship. [More>>theaustralian.news.com.au]

---
100 minutes after lift-off, the ATV becomes a fully automatic spaceship navigating towards the International Space Station (ISS). Images from www.esa.int
1.26.05 The European Space Agency (ESA) plans to launch 8 Automated Transfer Vehicles (ATV) over the next ten years, beginning in 2005. Artist renderings of the 20.7 ton, 8.5 meter-long ATV show it three days after launch, preparing to dock with the ISS, and then docked with the ISS, used as extra cabin space.

This new vehicle, scheduled for its initial test flight in September 2004, can carry 9 tons of scientific equipment, general supplies, water, oxygen and propellant. Up to 4 tons can be propellant for the ATV's own engines to reboost the Station at regular intervals as atmospheric drag reduces the orbit. Developed under Aerospatialess prime contractorship, an ATV will be launched on average every 15 months as a means of ESA contributing to the Station's operating costs. It can remain docked for up to 6 months, during which time it will be loaded with Station waste before being undocked and flown into Earth's atmosphere to burn up. The ATV becomes an extension of the station. The ATV delivers up to 7.2 tons of equipment, fuel, food, water and air for the crew. [More>>www.esa.int]


---
1.26.05 China to build world's first wave power station
BEIJING, [World News], Jan. 26 – Chinese scientists are working on the world's first wave power station, which can meet the electricity demands of a small coastal village, the state media reported today.

A research team has recently completed a test for the most advanced wave power system, chief scientist for the Ocean Energy Division at the Chinese Academy of Sciences Guangzhou Institute of Energy Conversion, You Yage, said.

With a patented technology on energy-storage manostat, the Chinese researchers are leading the world in developing a stable electricity flow generated by waves, You said. [More>>newkerala.com]

---
1.26.05 Study finds earth temperature skyrocketing
Jan. 27 – Leigh Dayton reports: THE largest ever climate-change experiment reveals that scientists may have dramatically underestimated the threat of global warming. The study by British scientists, which is published today, found the planet's global temperature could climb by between 2C and 11C because of skyrocketing levels of greenhouse gases such as carbon dioxide. That more than doubles the current prediction of a 1.4C to 4.5C rise this century. "When we started out we didn't expect anything like this," said Oxford University's David Stainforth, chief scientist for climateprediction.net. [More>>news.com.au]

---
1.26.05 Thailand heads into the space age
Thailand is preparing to become a major regional player in space technology as it counts down to the launch of the Thailand Earth Observation Satellite (THEOS) – the first earth satellite in Asean, according to Science and Technology Minister Korn Dabbaransi. The 128 million euro (around 6.4 billion baht) THEOS will launch sometime in 2007, but in the meantime Thailand will be able to get satellite data from the SPOT 2, 4 and 5 satellites of EADS Astrium.

THEOS will be Thailand's first earth observation satellite and is a collaboration between the Thai and French governments through the Thai Geo-Informatics and Space Technology Development Agency (Gistda) and EADS Astrium of France. [More>>bangkokpost.net]

---
1.26.05 Weak US dollar threatens worldwide economic stability: UN
United Nations, Jan. 26 (PTI) The world economy grew by four per cent last year, but a rapidly falling US dollar poses a danger to economic stability worldwide, the United Nations has said.

The UN Department of Economic and Social Affairs (DESA) in a report yesterday said cyclical economic recovery reached a peak in 2004, especially for developing countries, and "the possibility of an abrupt and globally damaging correction persists, since the depreciation of the dollar alone seems unlikely to be sufficient to reduce the global imbalances to sustainable levels in an orderly fashion."

"The global imbalance is between consumption and debt in the United States and ballooning surpluses in many US trading partners. Currency changes by themselves, especially bilateral currency manipulation, will not resolve the problem," it adds. [More>>Press Trust of India]

---
1.26.05 Chinese economist: China has lost faith in stability of US dollar
DAVOS, Switzerland (AP) Jan. 27 – China has lost faith in the stability of the U.S. dollar and its first priority is to broaden the exchange rate for its currency from the dollar to a more flexible basket of currencies, a top Chinese economist said at the World Economic Forum.

At a standing-room only session focusing on the world's fastest-growing economy, Fan Gang, director of the National Economic Research Institute at the China Reform Foundation, said Wednesday that the issue for China isn't whether to devalue the yuan but "to limit it from the U.S. dollar.'' But he stressed that the Chinese government is under no pressure to revalue its currency. [More>>thestar.com.my]

---
1.26.05 Putin happy over new Indo-Russian strategic partnership
MOSCOW, Jan. 26 – (PTI) Expressing joy over India's success as a "dynamically developing mighty power," President Vladimir Putin has said he "highly valued" the Indo-Russian strategic partnership. "We earnestly feel happiness on the successes of India – a dynamically developing mighty power, which is playing a growing role in the world affairs. We highly value the relations of strategic partnership between Russia and India," Putin wrote to President A. P. J. Abdul Kalam congratulating him on the 56th Republic Day.

In a separate message to Prime Minister Manmohan Singh, the Russian President noted India's "consistent foreign policy," which is "aimed at creation of a multi-polar, democratic world-order and ensuring world peace and stability." Putin expressed confidence that "further deepening of Russia-India cooperation is in the vital interests of both the nations," the Kremlin press service said. [Press Trust of India; see also story, "UN says world economy could face abrupt, damaging correction ," bignewsnetwork]
---
1.26.05 Iran: US tops list for threatening world peace
Jan. 27 – Iranian President Mohammad Khatami says the United States is the country which most endangers global peace. Khatami, speaking to reporters after a meeting with visiting Afghanistan's President Hamid Karzai, again denied U.S. and Israeli accusations that Iran's nuclear facilities will be used to make atomic bombs. He says its nuclear ambitions do not stretch beyond generating electricity.

Khatami said negotiations with the EU haven't reached a dead end and they are talking to the Europeans and hope to reach a conclusion.
---
1.26.05 California governor threatens special election
SACRAMENTO, California (AP), Jan. 27 – Governor. Arnold Schwarzenegger accused the state Legislature's Democratic leaders Wednesday of "stalling'' on his extensive reform package and threatened to take his measures to the voters in a special election this year. He made a similar threat last year.

In an annual appearance before the Sacramento Press Club, the governor took aim at Democratic leaders whom he blames for inaction on his four proposed constitutional amendments. "There's been very little action over there in the Capitol,'' Schwarzenegger said.

"All we heard the last three weeks are a lot of excuses, a lot of complaints and a lot of finger-pointing.'' Schwarzenegger's amendments would impose across-the-board spending cuts when revenues failed to match spending; give the authority for drawing legislative districts to retired judges; restrict state pension obligations; and base teacher pay on merit rather than tenure. [More>>thestar.com.my]
---
1.26.05 Bush says Japan is good example of democracy-spreading policy
WASHINGTON, Jan. 27 – U.S. President George W. Bush said Wednesday he sees the democratic process in Japan after World War II and the close ties with Tokyo as an example of his second-term policy of spreading democratic and freedom around the world. "I bring up once again my example about working with Prime Minister Koizumi of Japan," Bush told reporters when asked about the Iraq war and his democracy-spreading inaugural speech last week. [More>>Japantoday.com]
---
1.26.05 China now Japan's top trade partner
Jan. 27 – China became Japan's biggest trading partner in 2004, replacing the United States for the first time and underlining the country's growing clout in the global economy. Finance Ministry data released Wednesday show that Japan's exports to and imports from China, including Hong Kong, amounted to 22.20 trillion yen in 2004 – the highest since records began in 1947 – outpacing the 20.48 trillion yen in trade with the US

China represented 20.1 percent of Japan's trade in 2004, compared with 18.6 percent for the US, a ministry official said. In 2003, the US had 20.5 percent and China 19.2 percent. [More>>japantimes.co.jp]
---
1.26.05 Update Impact of FY 2005 deficit: US budget deficit pegged at $368 billion in fiscal 2005 plus $80 billion more for Iraq
WASHINGTON (AFP) Jan. 25 – The US government deficit would ease to 368 billion dollars in the current fiscal year under existing laws, but the real gap may be higher when costs for Iraq are added, the Congressional Budget Office said. The deficit would be slightly lower than the record 412 billion dollar shortfall in the 2004 fiscal year that ended last September 30. But the estimate is up 20 billion dollars from the CBO's September forecast of a 348 billion dollar deficit. Moreover, the nonpartisan CBO said that its estimates "omit a significant amount of spending that will occur this year -- and conceivably for some time in the future -- for US military operations in Iraq and Afghanistan and for other efforts in the war on terrorism."..."Additional appropriations (for Iraq, Afghanistan and the war on terror) are expected to add about 30 billion dollars to the deficit this year and possibly more next year," CBO said in its report. [More>>afp.com; see separate article, "$1.3 trillion in deficits forecast over decade." latimes.com]

EDITORIAL

Impact of FY 2005 deficit: 1.26.05 Tuesday's TV evening news reported that the Bush administration asked for $80 billion for Iraq, increasing the deficit to ~$448 billion. Bush also claimed at the time that his administration will still be able to cut the deficit in half within 5 years (we assume he meant by 2009). During his reelection campaign the deficit for 2004 was $435 billion, of which $321.6 billion was interest on the National Debt. The National Debt in 2004 was estimated at $7.5 trillion. See charts, "CONCERNS." Those of you who resent high interest on credit cards may appreciate how continued borrowing – without paying off principal – increases interest payments. The Bush administration's projected National Debt for 2009 is $10.6 trillion and growing (not including the estimated $2 trillion in borrowing to trash Social Security). Let's take the projected National Debt for 2009 of $10.6 trillion, assuming he intends to cut the deficit in half by then. The deficit projected for 2009 is $633 billion ($10.564 trillion - $9.931 trillion = $633 billion). If 74% of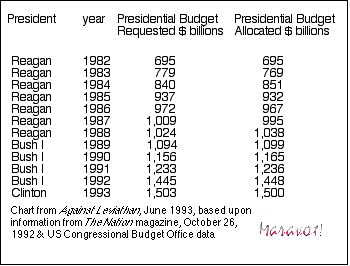 this amount is interest, then $474 billion will be interest on the National Debt for 2009. If the Bush administration in 2009 is able to cut the deficit in half that year (633 ÷ 2 = $316.5 billion) then what the Bush administration has been telling the world is that by 2009 he will return the deficit to the 2004 level ~$321 billion. That's about the same fiscally irresponsible performance of his father, who left his office with the highest deficit (by then) of any President before him, of $290 billion, against a National Debt of $4 trillion. But the real record of the Bush I administration began with Reagan in 1981 who began with a National Debt of ~900 billion and tripled it with the largest government in history (see Duty & Profit and Against Leviathan) leaving his successor, Bush I, with a National Debt of $2.6 trillion who left his office leaving a $4 trillion debt.

The chart on the Presidential Budgets and Allocations is from Against Leviathan, and the context is: "The greater part of the argument I posed to you was whether George Bush lied to you, us, and Congress and then topping it off blamed Congress for the growing debt; when in fact the record shows that Congress essentially gave the Reagan-Bush administrations every dollar they requested. Your use of George Bush's "tax-and-spend-Congress" euphemism shows the severity of his distortions.

The greater part of the argument deals with the issue focused in the Firing Line Debate, which was resolution of the Budget Deficit (as I said I heartily agreed with your side of the table!), But the debate was disoriented on the true solution of the deficit, that it (now at $327 Billion) is not composed of a $200 Billion Interest payment but a $292 Billion interest payment; the misinformation you had on the interest payment was the same I inspired from the dust-bins of President Bush's campaign. The $200 billion interest payment, "tax-and-spend-Congress," and "read-my-lips" quips fall into one bin: the one which holds distortions."

The problem with all this old stuff from 1993 is the fact that the financial irresponsibility has been repeated by Bush II who has placed this nation in even greater financial jeopardy than Wm. F. Buckley Jr. and I were discussing.
Mel Copeland
---
1.26.05 31 US troops killed in Helicopter crash in Iraq
BAGHDAD, Jan. 26 — US troops in Iraq today suffered their deadliest day yet when a military transport helicopter ferrying soldiers crashed in bad weather in the western desert, killing 30 Marines and one sailor. Five additional U.S. troops were killed in separate attacks, one west of the capital and another in the northern city of Duluiya, military officials said. [More>>latimes.com]
---
1.26.05 Paris detains 4 more Islamist suspects bound for Iraq
PARIS (AFP) Jan. 27 – Four more people were detained in Paris Wednesday by anti-terrorist agents looking into the recruitment of Islamic extremists to join the insurgency in Iraq, bringing to 11 the number of arrests this week. The four – all young men – were being held at the headquarters of the domestic intelligence service DST, along with six of the seven people detained on Monday in the 19th arrondissement of the capital. One of two women detained Monday was released Wednesday morning, police said.

The identities of the detainees were not disclosed, but officials said that eight of the nine men - all aged between 20 and 24 - were of north African origin with French nationality. The other was a French convert to Islam. [More>>dailystar.com.lb]
---
1.26.05 Maharashtra temple stampede toll rises to 340
MUMBAI (Reuters) Jan. 25 – The Mandhra Devi temple, where more than 340 devotees were trampled to death during an annual pilgrimage in Maharashtra, was closed on Wednesday even as fire brigade and police continued clearing operations. Six bus-loads of injured were rushed to hospitals in Wai, Satara and other hospitals in neighboring areas, district officials told PTI at the site adding that the exact number of injured could not be ascertained immediately. [More>>expessindia.com]
---
1.26.05 Trains crash in Los Angeles from suicide attempt
GLENDALE, Jan. 26 – A man intent on committing suicide left his car on a railroad track in Glendale today where it set off a three-train collision that killed at least 10 people and injured nearly 200, authorities said. Police arrested a man who they said would be charged with homicide in the crash that left train cars mangled and seared. Debris including seat cushions, bloody towels and luggage discarded by fleeing passengers littered the area. [More>>latimes.com]
---
1.26.05 Rice is confirmed amid criticism
WASHINGTON, Jan. 26 – The Senate confirmed President Bush's choice for secretary of state and advanced his nominee for attorney general yesterday, but in the process, Democrats registered discontent with Bush's Iraq war policies to a degree that surprised even some of their party's leaders. The Senate voted 85 to 13 to confirm Condoleezza Rice as secretary of state, providing the most negative votes cast against a nominee for that post in 180 years. Meanwhile, all eight Democrats on the Judiciary Committee voted against Bush's appointment of Alberto R. Gonzales as attorney general. [More>>washingtonpost.com]
---
1.26.05 Israel warned over impending health disaster in Gaza
JERUSALEM, Jan. 27 – The disengagement plan will cause a humanitarian disaster if Israel and the donor countries fail to make preparations for rehabilitating the Palestinians health system in the Gaza Strip, Physicians for Human Rights said in a report released Wednesday.
The organization warns that Israel must continue after the pullout to allow Palestinians to leave Gaza for life-saving treatments either in Israel or abroad. At the same time, the organization says, Israel is obliged to plan and implement the rehabilitation of the Palestinian health system, which has been in dire straits in recent years. [More>>haaretzdaily.com]
---
1.26.05 Pakistan says not seeking arms race with India
BRUSSELS (Reuters) Jan. 26 – Pakistan is not seeking to start an arms race with India, Pakistani Prime Minister Shaukat Aziz said on Wednesday, but added there could be no full peace between the states without a solution on Kashmir. The South Asian nuclear-armed neighbors have come a long way in patching up relations since going to the brink of a fourth war in 2002, but the issue of the disputed Kashmir region remains. "Pakistan does not want to enter into an arms race with any country, including India, whether nuclear or conventional," Aziz told the Belgian Royal Institute for International Relations. [More>>expressindia.com; see story, "PM warns India against arms race," jang.com.pk]
---
1.26.05 UN envoy warns Maoists of being brought to trial
KATHMANDU, Jan. 26 (IANS) A top UN official visiting Nepal to assess the human rights situation has warned the Maoist insurgents that one day they would have to face trial in court for their acts of violence. UN Human Rights Commissioner Louise Arbour Wednesday warned the guerrillas that this was the "era of accountability".

Many military and political leaders accused of committing crimes against humanity have been brought to trial than in the past 10 years, she said. "And even more will be brought to account in the next 10 years. "I would warn the (Maoist) leaders ... not to believe that they can operate outside of the law," she said.

"In every part of the world political and military leaders, who thought themselves immune from prosecution, are now answering before the law for the gross human rights abuses they perpetrated." [More>>Indo-Asian News Service]

---