1.01.05 TSUNAMI HELP & RESOURCES
1.16.05 - 1.14.05 TSUNAMI NEWS
1.16.05 Toll rises as search goes on
BANDA ACEH (AFP), Jan. 17 – More bodies were pulled from the rubble in Indonesia yesterday, pushing the tsunami death toll up by almost 5000 as aid workers continued to find terrified survivors. The number of dead in Indonesia stood at 114,978, with the toll expected to rise higher still as the full extent of the disaster was slowly being grasped three weeks after the waves struck. With relief teams fanning across the ravaged west coast of badly hit Aceh province, where most of those newly listed as dead were found, thousands of survivors were still cowering on hillsides too scared to return to the shores. [More>>theaustralian.news.com.au]
---
1.16.05 Sri Lankan government will receive assistance from 48 countries
COLOMBO, Jan. 16 – The Sri Lankan government will receive assistance from 48 countries in its efforts to rebuild after the December 26 tsunamis. The assurance came when representatives from these countries met at a conference in Geneva, where Sri Lankašs Finance and Planning Minister Dr. Sarath Amunugama spoke on the urgent need for recovery. [More>>colombopage.com]
---
1.16.05 Foreign forces can stay in Indonesia past deadline
JAKARTA (AFP), Jan. 16 – Foreign forces including a huge U.S. navy tsunami relief mission will be able to stay Indonesia longer than a three month limit provided they scale back their presence, the Indonesian government said on Sunday. Minister of Defense Juwono Sudarsono said a statement by Vice President Yusuf Kalla for overseas troops to quit "the sooner the better" was "not a deadline for involvement of foreign militarypersonnel." [More>>thejakartapost.com]
---
1.16.05 After tsunami, Andamans hit by looting
HUT BAY, India (Reuters), Jan. 16 – Standing amid broken concrete slabs and twisted tin roofs, B. Appa Rao says the tsunami may have wrecked his house in Andaman and Nicobar islands, but that isn't the only reason for his misery.

"My family was looking for our belongings in the debris the day after the wave. We found our steel cupboard, which contained 30,000 rupees and my sister-in-law's jewellery, smashed with an axe and everything taken," he said in Hut Bay, once an idyllic town of 7,000 people but now mostly rubble. Rao and his family are among many in the remote islands who survived the killer waves, but then fell victim to an unexpected phenomenon: looting. Police say there have been scattered reports of looting after the tsunami and some looters have been arrested. [More>>expressindia.com]

---
1.14.05 Thailand missing person list on bangkokpost.co.th
The Bangkok Post has posted a site where you can search the names of a missing persons list or post a name. For missing persons list click here: http://scoop.bangkokpost.co.th/tsunami/list.php. Among those posted on the list so far are the following Americans: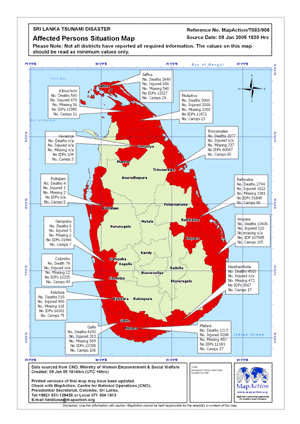 Map of affected persons in Sri Lanka. Click on map for Sri Lanka government situation reports & maps.
Gadberry, James William; Nelson, Peter; Rosenthal, Jeffrey; Ross, Alan Lauder; Shiu, Reggie; Terry, Richard; Terry, Suporn. Lists of the dead are posted there, as well as other contact information.
---
1.14.05 795 villages in Aceh totally devastated
BANDA ACEH, Aceh (Antara), Jan. 15 – Up to 795 of the 5,871 villages in parts of the Aceh were totally devastated by tidal waves during the Dec. 26 earthquake and tsunami. Data at the National Team for the Aceh Disaster showed on Friday that most buildings in residential areas and business districts were swept away. [More>>thejakartapost.com]
---
1.14.05 Indonesia wants permanent ceasefire with rebels
BANDA ACEH, Aceh (Agencies), Jan. 15 – Indonesia wants a lasting truce with separatists in tsunami-ravaged Aceh province, Vice President Jusuf Kalla said on Friday, as both sides expressed a willingness for talks to end the 28-year rebellion. [More>>thejakartapost.com]

---
1.14.05 Indonesia aid vessel hits shipwreck
JAKARTA (Reuters): A vessel carrying Indonesian aid workers and relief supplies for the tsunami-battered province of Aceh hit a shipwreck on Friday but all 30 people on board swam ashore safely, Indonesia's Red Cross said...Most of the cargo -- mainly medicine -- was thrown into the sea and the ship was stuck on the wreck of the semi-submerged vessel, which was partly sunk by the Dec. 26 tsunami...[More>>thejakartapost.com]
---
1.14.05 Japan to offer satellite info on tsunami
Japan will provide tsunami information obtained via a weather satellite for coastal areas along the Indian Ocean until an international early warning system for tsunami is established, in response to the devastating Dec. 26 earthquake and tsunami. The policy was included in a draft of a statement to be made by Prime Minister Junichiro Koizumi at the U.N. World Conference on Disaster Reduction, which is to begin Tuesday in Kobe. [More>>Daily Yomiuri]
---
1.14.05 Victims need help but of the right kind
Jane Ng of The Straits Times reports that volunteers arriving in the tsunami-stricken areas may find themselves having nothing to do: hey had 700 volunteers signed up and ready to go to Sri Lanka to help tsunami victims. But first, the YMCA decided to send an eight-man team there to check the state of devastation and the needs of those affected. What they saw told them that perhaps it might be best to wait, and reassess how to help...Said YMCA team leader Chiang See Poh, 58, a businessman: 'We saw groups of volunteers - Koreans, Australians and so on - sweeping rubble from a hospital which will never be used again.

'They were doing it because they might as well, since they were there, when the easier alternative would have been to bulldoze the place and rebuild.' [More>>asianewsnet.net]

---
1.16.05 - 1.14.05 OTHER NEWS
In a 35-minute interview aboard Air Force One on January 15, President Bush said that his reelection was a ratification of his approach toward Iraq and that there was no reason to hold any administration officials accountable for mistakes or misjudgments in prewar planning or managing the violent aftermath. "We had an accountability moment, and that's called the 2004 elections," Bush said in an interview with The Washington Post. "The American people listened to different assessments made about what was taking place in Iraq, and they looked at the two candidates, and chose me." [More>>Washington Post]

The conversation aboard Air Force One can be taken as a challenge of sorts to those who believe that the invasion of Iraq was an error and certain conduct of George W. Bush is liable to War Crimes adjudication. He and Secretary of Defense Rumsfeld have both been charged with War Crimes.

The Nuremberg Trials demonstrated that no leader can hide behind his nation in the commission of War Crimes. George W. Bush is doing that, however. Whether he is able to get away with it and create continuing affronts towards international laws and norms has yet to be determined. His statement should be a foundation relating to the trial of Abu Ghraib soldiers accused of prisoner abuse. To review articles dealing with the subject click on News Trends and Concerns above.
Mel Copeland
---
1.16.05 Polish military deny damaging Babylon
WARSAW (Reuters), Jan. 16 – Poland's Defence Ministry has denied charges that Polish troops in Iraq had damaged the site of ancient Babylon, one of the world's most famous archaeological treasures, while using it as a military base. "Neither Polish troops, nor any other troops under Polish command, ever carried out any projects violating historical monuments or causing their devastation," Defence Ministry spokesman Colonel Piotr Pertek said on Sunday.

"Our soldiers never engaged in any efforts to strengthen the security of Camp Babylon without consulting Iraq's monument preservation authorities." The statement followed a British Museum report alleging that U.S. and Polish troops had caused "substantial damage" to the ancient city during their combined 21-month occupation of the site...The British Museum report said U.S. and Polish military vehicles had crushed 2,600-year-old pavements in the city, a cradle of civilisation. Archaeological fragments had been used to fill sand bags, and people had apparently tried to gouge out the decorated bricks forming the famous dragons of the Ishtar Gate.

U.S. BASE ROUND STONEHENGE?

"This is tantamount to establishing a military camp around the Great Pyramid in Egypt or around Stonehenge in Britain," John Curtis, keeper of the museum's Ancient and Near East Department, said in the report. [More>>Reuters.com; report found through Archeology & Prehistory news ; see also previous article, "US-led troops trash Ancient site of Babylon."
---
1.16.05 Abu Ghraib abuse leader gets 10-year sentence
FORT HOOD, Texas (Reuters), Jan. 16 – A military jury sentenced Spc. Charles Graner to 10 years in prison on Saturday for his leading role in the 2003 Abu Ghraib torture of Iraqi prisoners, five years less than the maximum sentence possible. The sentencing at a central Texas military base came a day after a jury found Graner guilty on 10 counts related to the abuses, many of which were documented in photographs that included naked prisoners stacked into a pyramid and being forced to masturbate.

Graner showed no reaction when the sentence was read and appeared calm before he was taken off to prison. Asked if he regretted abusing prisoners, Graner paused, then said: "Maybe you missed that there's a war on. Bad things happen in war." [More>>Reuters.com]

In a separate article by Jonathan Peterson, Times Staff Writer higher officials are unlikely to be tried: The jail term meted out to Army Spc. Charles A. Graner Jr. for abuses at Abu Ghraib prison may prove to be the stiffest criminal punishment that emerges from the entire scandal, according to experts on military justice. To some, the low-level Army reservist may look like the fall guy in a debacle that embarrassed the United States throughout the world and tainted the image of American forces in Iraq. Yet analysts said that for now, at least, it was doubtful that higher-level officials would be found guilty...[More>>latimes.com]
---
1.16.05 Social Security agency is enlisted to push its own revision
WASHINGTON, Jan. 15 - Over the objections of many of its own employees, the Social Security Administration is gearing up for a major effort to publicize the financial problems of Social Security and to convince the public that private accounts are needed as part of any solution. [More>>nytimes.com]

The President's attempt to revise Social Security, calling it a crisis, is a continuation of his method of ruling through fear. The fact is he has put this nation in a severe financial situation, having run an administration founded on the policy of borrowing. The National Debt will be $10 Trillion by 2009 and will increase more in all probability. His tactics of borrowing – convincing others to believe that there is no adverse affect from such fiscally irresponsible governing – are not being properly questioned. When Bush placed scare tactics in the past they had dire consequences. He broke the Kerry campaign by scaring people with regard to the possibility that Kerry's election would place America in jeopardy. He scared the nation into believing that Sadaam Hussein was an immediate threat.

One thing to watch for with regard to the President's actions regarding Social Security is an attempt to steal Social Security funds to reduce the deficit. It was done before by President Clinton and was possibly a routine established by George H. W. Bush (See Duty & Profit, a conversation with Wm. F. Buckley Jr. published Nov. 19. 1994)

George W. Bush is in trouble with regard to the National Debt he raised (See Trends and Concerns or chart below).
Mel Copeland
---
1.16.05 Iraq voting day security plan unveiled; 18 bodies discovered
Iraq's interim government unveiled a security plan for election day, as the discovery of 18 executed Iraqis on roadsides across the country underscored the insurgency's ability to plunge the vote into chaos. Meanwhile, a US soldier was killed Saturday, while five Iraqi soldiers and a policeman were gunned down in a string of ambushes across northern Iraq.

Thirteen corpses were discovered near Latifiyah, a rebel stronghold south of Baghdad, which the US-led multinational forces swept less than two months ago, witnesses said. [More>>asianewsnet.net]
---
1.16.05 End of China arms embargo worries US
The White House is waging a quiet but intense campaign to stop the European Union from lifting its 15-year-old arms embargo against China. The Bush administration is deeply skeptical of EU assurances that a revised code of conduct on arms exports, coupled with a new toolbox of measures to exchange information on weapons sales, means arms controls on China would remain as tight as under the embargo imposed after the 1989 Tiananmen Square massacre, the Daily Telegraph reported.

Much of the U.S. effort is focused on Britain, whose decision to join France and Germany in lifting the embargo has surprised and disappointed the White House. Besides Washington's concerns, Tokyo has expressed worries about the prospect of European military technology going to China. [More>>bignewsnetwork.com]

---
1.16.05 China's population hits 1.3 billion
The population of the Chinese Mainland reached 1.3 billion on Thursday, which has been successfully delayed by four years because of the countries' family planning policies. [More>>CRIonline]
---
1.16.05 Massive international human smuggling racket busted
Sarath Malalasekera reports that Prostitutes from over five nations were arrested in Colombo. Those arrested yesterday in a suburb south of Colombo were four Iranians and a Uzbekistan woman. Earlier a number of prostitutes from Thailand, Cambodia, Malaysia, Singapore, Russia, the Ukraine and other Balkan states had been arrested and deported in a two way traffic operation carried on by local criminals in collaboration with their foreign counterparts.

Police investigations also revealed that a large number of Sri Lankans were paying enormous sums of money to human smugglers to slip into the Europe without and with forged visas. This led to the international civil aviation organization imposing massive fines on airlines including some very popular ones for carrying the errant passengers. The modus operandi was for the human smugglers to spirit their cargo across the borders of the East European countries into France, Italy, Poland, Germany and Denmark. [More>>dailynews.lk]
---
1.16.05 80 Afghans released from US custody in Afghanistan
KABUL, Jan. 16 – Eighty Afghan detainees were released from US custody at Bagram air base near Kabul on Sunday ahead of the Muslim festival of Eid as part of an attempt to bring moderate Taliban supporters in from the cold, sources said.

The 80 prisoners, dressed in blue and grey shalwar kameez and unlaced blue sports shoes, arrived at the Supreme Court in two buses Sunday afternoon from the US detention facility at Bagram and were released after a hearing. Chief Justice Fazel Hadi Shinwari told the court the prisoners had been held at Bagram, contradicting earlier reports that they had been released from Guantanamo Bay in Cuba. [More>>jang.com.pk]
---
1.16.05 Saudi scholars condemn violence
Jan. 16 – About 40 Islamic scholars in Saudi Arabia have condemned those who incite the violence that has plagued their country in the past 20 months. The group said the violence was against Islamic law and went on to specifically mention attacks on Saudi Arabia's oil infrastructure. "We reaffirm that such acts are prohibited, and we condemn those who praise these acts and incite [extremists] to target the nation's oil interests and vital installations," a group of academics and public figures from across Saudi Arabia said in a statement on Sunday. The declaration came a month after Saudi-born fighter Usama bin Ladin, in an audiotape posted on a website, called on his followers to strike oil facilities in the Gulf and Iraq and warned Saudi leaders they risked a popular uprising. [More>>Al-Jazeera]
---
1.16.05 Japan asks Israel to end arms sales to east Asia
(AP) Jan. 16 – The Japanese foreign minister on Sunday asked Israel to end weapons sales to Japan's neighbors, but said Japan wants to expand defense cooperation with Israel. Foreign Minister Nobutaka Machimura is in the region for talks with both the Israelis and the Palestinians. Machimura said Japan wanted to play a greater role in the Middle East peace process.

Speaking at a news conference, Machimura said that in talks with his Foreign Minister Silvan Shalom, he passed the request to end arms sales to east Asian countries. Machimura said his government had recently made similar requests to Russia and the European Union. He did not specify which countries Japan was concerned about. [More>>haaretzdaily.com]
---
1.16.05 Japan oil firms eye natural gas development in East China Sea
TOKYO, Jan. 16 – Japan Petroleum Exploration Co. and Teikoku Oil Co. are in talks with the government on their planned project to drill for natural gas in the East China Sea, near the disputed areas between Japan and China, government sources said Sunday. [More>>japantoday.com]
---
1.16.05 Mass grave found in Iraq
Sometimes news gets overlooked because of major events like the tsunami, but the other accounts still need to be reported. An account posted in dawn.com reports an event that occurred Dec. 29:

SULEIMANIYAH, Dec. 29 – Labourers digging the foundations for a new hospital in Kurdish northern Iraq uncovered a mass grave on Wednesday containing an estimated 60 bodies, local officials said.

The bodies are believed to be the remains of Kurds killed following the 1991 Gulf War by toppled dictator Saddam Hussein's forces trying to put down a rebellion, Kurdish regional human rights minister Salah Rashid said. The burial site was found in the Dabashan district of Suleimaniyah, Rashid said, adding: "They found the remains of six bodies and we think the grave contains about 60 bodies." The interim Iraqi government has appealed for foreign help in identifying the hundreds of thousands of bodies discovered since last year's US-led overthrow of Saddam.

A total of 259 mass graves have been found since Saddam was toppled, containing the bodies of 300,000 people believed to have been killed under his regime, although some estimates say the total number slain could reach one million.

Saddam, currently in a US detention centre, faces seven charges of crimes against humanity including a 1987-1988 offensive that saw Kurdish villages razed and the gassing of the village of Halabja that left 5,000 people dead. Another grave containing about 500 bodies, including those of women and children, was found near Suleimaniyah earlier this month. [dawn.com]
---
George W. Bush's troops in Iraq continue to follow the legacy of an administration that has embarrassed the United States government, people and tradition in its contempt for international law, international norms, and international historical sites. Now they are trampling on the faithfully restored ruins of Babylon. History-buffs could be appalled at such contempt. The article posted in the Guardian is about a complaint by the British Museum: U.S.-led troops using the ancient Iraqi city of Babylon as a base have caused widespread damage and contamination, according to a report by the British Museum. The report, quoted by the Guardian newspaper on Saturday, said military vehicles had crushed a 2,600-year-old brick pavement and that there were archaeological fragments scattered across the site, including broken bricks stamped by King Nebuchadnezzar. The dragons at the Ishtar Gate were marred by cracks and gaps where someone tried to remove their decorative bricks, the paper said. [More>>theiowachannel.com]
---
1.14.05 Japan wants to help finance Russian Siberian-Pacific Pipeline
MOSCOW (RIA Novosti),, Jan. 14 – Russian Energy Minister Viktor Khristenko told reporters Friday, following his talks with Japanese Foreign Minsiter Nobutaka Machimura, that Japan wanted to participate in the financing of the Eastern oil pipeline project. Khristenko however failed to specify the amount of Japanese investment in the construction project. [More>>rian.ru]
---
1.14.05 North Korea ready to rejoin six-way talks
Jan. 14 – North Korea is ready to rejoin the six-nation talks on its nuclear ambitions, according to a U.S. Congressional delegation which arrived in Seoul yesterday after a four-day trip to the communist country. Pennsylvanian Republican Curt Weldon, who headed the six-member delegation said they met with several top Pyongyang officials who all agreed that the nuclear issue needs to be resolved peacefully. "Our unanimous impression is that DPRK is ready to rejoin the six-party process," Weldon told reporters in a news conference at the Foreign Ministry yesterday. [More>>koreaherald.co.kr]
---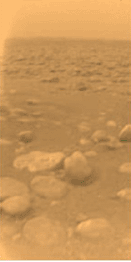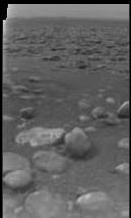 Huygen's photo of Titan after the probe descended through the atmosphere of Titan. It shows the surface of Titan with ice blocks strewn around. Photo from link below.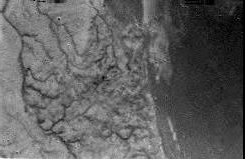 Huygen's photo of Titan at an altitude of 8 kilometers. It shows what could be the landing site, with shorelines and boundaries between raised ground and flooded plains. Photo from http://saturn.jpl.nasa.gov/home/index.cfm
PASADENA, Calif. (Reuters) - The world got its first look at the surface of the Saturnian moon Titan on Friday when pictures from the European space probe Huygens showed a possibly rocky surface with "drainage channels" for liquids. The first picture from a height of about 10 miles, as Huygens descended before landing on the surface, showed what scientists said appeared to be a shoreline. They speculated the channels might feed into canyons on the surface. [More>>Reuters.com; see also bbc.co.uk]
1.15.05 Update: The color image of the rocks on Titan was just released. The colored view includes processing to add reflection spectra data and gives a better indication of the actual color of the surface. The rocks in the center are about 6 inches wide by 1.5 inches high. The surface is darker than originally expected, consisting of a mixture of water and hydrocarbon ice. There is also evidence of erosion at the base of these objects, indicating possible fluvial activity. The image was taken with the Descent Imager/Spectral Radiometer, one of two NASA instruments on the probe. [http://saturn.jpl.nasa.gov/]

Other images are now on the Cassini-Huygens web site. To listen to alien sounds recorded by the Huygen by the European Space Agency (ESA), go to: http://www.esa.int. It's well worth the trip.
---
1.14.05 Boing to close 717 airplane production line in Long Beach
In a fatal blow to California's last major commercial aircraft plant, Boeing Co. today said it will shut down its 717 airplane production line in Long Beach next year and take a $340-million charge against profits after sales of the passenger jet failed to meet expectations. [More>>latimes.com]
---
A government-sponsored project to develop a multilingual audio-text translation system is likely to be completed during fiscal 2005, raising expectations of the ability to communicate in four languages using cell phones or personal digital assistants, government sources said Thursday. The system would consist of a database of 500,000 phrases, or 5 million words, in Japanese, Chinese, English, and Korean, which would be accessed via cell phones or PDAs. [More>>Daily Yomiuri]
---
1.14.05 Ancient seal corroborates Bisitun Inscription text
LONDON (IranMania), Jan. 14 – An ancient seal has been discovered by chance which confirms the information recorded in the text of the Bisitun Inscription in Kermanshah Province, an expert of the Hamedan Cultural Heritage and Tourism Department announced on Wednesday.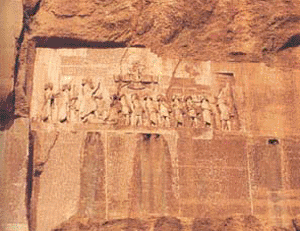 Bisitun Inscription of Darius I (522-486 B.C.); see www.zyworld.com for article on the translation of cuniform using this script.
Fariba Sharifian explained that the Iranian police recently confiscated the seal from smugglers in the town of Asadabad in Hamedan Province, adding, "It is not clear when and where the seal was unearthed, but the information and reliefs carved on it narrate significant and interesting material." The seal is made of green jasper, she said.
A cuneiform inscription in ancient Persian on one side of the cylindrical seal reads "Dadar Shish, Satrap of Bactria." Dadar Shish was an ancient Iranian proper name which meant brave. It is said that the English word "dare" is derived from this word. [More>>iranmania.com; see more details at mehrnews.ir]
---
1.14.05 Ruins of 9th - 12th century city found in Iran
LONDON (IranMania) – Jan. 14 Archaeologists recently discovered the ruins of a once prosperous Islamic city near the town of Anbarabad in southern Kerman Province, the director of the archaeological team working on the Halil-Rud riverbank announced, according to MNA. ŗThe size of the city and the artworks discovered here show the city was economically and industrially developed,˛ added Davud Abyan.

The archaeological team discovered many ornaments made of gold and decorative stones as well as various beautiful dishes, which were produced between the 9th and 12th centuries C.E., indicating that the inhabitants of the city had been very wealthy, he said. Several pottery works bearing Chinese inscriptions dating back to the Tang era, (618–907 C.E.) and the Sung era (960–1279 C.E.) have also been found in the city. The archaeologists had earlier unearthed the city of Decius in a region near the newly discovered city. [Iranmania.com]


---
1.14.05 Sharon suspends contacts with Palestinian Authority
JERUSALEM (CNN), Jan. 14 – Israeli Prime Minister Ariel Sharon ordered the suspension of all contacts with the Palestinian Authority on Friday, following an attack by Palestinian gunmen that killed six Israelis civilians, Israeli officials said. "The prime minister has ordered suspension of all contacts with Palestinian Authority representatives and the closure of all Gaza terminals until real steps are taken against terrorist acts," said the official. [More>>cnn.com]
See also haaretzdaily.com article: ... Palestinian Cabinet Minister Saeb Erekat confirmed this, but added that the criticism of Abbas was unfair as he has not yet been sworn in as the Palestinian Authority chairman. "Sharon's bureau called me this afternoon saying that they were suspending all contact with the Palestinian side," Erekat said. He said the best way to re-launch the peace process was not by suspending the negotiations but by renewing them. [More>>haaretzdaily.com ]
See also Jerusalem Post article: "Abbas: Violence impedes peace process": The terror attack at the Karni crossing and Israeli military operations both "do not benefit the peace process," Palestinian Authority Chairman Mahmoud Abbas said on Friday. The chairman-elect condemned the attack but also included Israel in criticism of violence in the region. "This attack, as well as Israel's military incursions which killed nine Palestinians this week, do not advance the peace process," Army Radio quoted Abbas, who spoke to journalists in Ramallah Friday. [More>>Jerusalem Post]
---
1.14.05 Bush confesses that words can have consequences
WASHINGTON (AP), Jan. 14 – President Bush says he now sees that tough talk can have an "unintended consequence." During a round-table interview with reporters from 14 newspapers, the president, who not long ago declined to identify any mistakes he'd made during his first term, expressed misgivings for two of his most famous expressions: "Bring 'em on," in reference to Iraqis attacking U.S. troops, and his vow to get Osama bin Laden "dead or alive." "Sometimes, words have consequences you don't intend them to mean," Bush said Thursday. [More>>cnn.com; see also "Bush regrets gung-ho language that hurt US" expressindia.com]
---
1.14.05 Prisoners from Iraq's Abu Ghraib escape
BAGHDAD, Iraq (CNN) , Jan. 14 – Iraqi police searched Friday for 28 prisoners from Abu Ghraib who escaped from their custody while being transported to another facility in Baghdad, police and U.S. military spokesmen said. Two police officers may have been involved in Thursday night's escape, Iraqi officials said. [More>>cnn.com]
---
1.14.05 New plan under study for rest of oil fields in southern Iran
TEHRAN (MNA) – After the first master development plan (MDP) of eight oil fields located in southern part of Iran was completed, officials have started studying another MDP for expansion of other fields located in the region, said Bahman Samimi, manager of oil engineering department in Oil Engineering and Development Company (OEDC). The first MDP would be implemented by year-end (March 21, 2005), he added.

He said that a consortium was in charge of implementation of the first MDP including Paravar Co. and British GCA for the development of Mansouri oil field, Channel Consulting Co. and Hydro Search Co. for Parsi oil field, Iran Shareh Jarf and British ECL for Marun, Naftcav Co. and Canadian Technica for Sadgan and Paznan oilfields, Kish Oil Co. and two Canadian companies for Rageh Sefid and Kerenj oil fields, and Tehran Energy Co. and a French company for Gachsaran oil field. [More>>mehrnews.ir]

In a separate article: The Thirteenth International Oil, Gas, and Petrochemical Seminar will be held in Tehran on January 24-26, sponsored by the National Iranian Oil Co. (NIOC) and Research Center of Oil Industry. [More>>mehrnews.ir]
---
1.14.05 Russia denies sales of missiles to Syria
MOSCOW (Prensa Latina) Jan. 14 – Russian Defense Minister Serguei Ivanov denied alleged statements on sales of tactic missiles to Syria at his present visit to the US. News broadcast from Channel One in Moscow quoted local media claims that the sales involved Iskander-E high missiles, but Ivanov rebuked that such information generally precede visits by top ranking officials like Syrian President Bashar al-Asad on Jan. 24-27.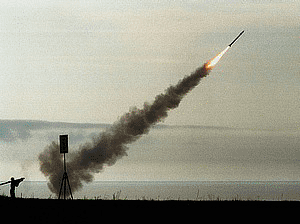 Russian Iskander-E tactical missile system
(Photo ITAR-TASS via Kommersant)
He added that the SS-X-26 missiles, under NATO classification, are not listed on the protocols and treaties limiting arms proliferation, and denied the existence of any such agreement with Syria.The Russian daily Kommersant also said that Damascus will buy the Iskander-E (50-280 km range) whose August 2004 successful test was reported to Syria signaling short-term acquisitions by the later, plus S-300 PMU-2 "Favorit" and Tor-M1 anti-air systems. [More>>jang.com.pk]

In a separate article by kommersant, "A deal without rules," is critical of the sale: Yesterday for the first time, Israel officially acknowledged the existence of a problem with the delivery of Russian arms to Syria. Israeli Foreign Minister Silvan Shalom has made a request to Russia to call off an impending deal to sell missile systems to Damascus. The United States reacted more harshly to reports of the planned contract...On January 12, Kommersant reported that Russian-Israeli relations were in a deep crisis owing to Russia's plans to sell a consignment of the latest weapons to Syria. [More>>kommersant.com]
---
1.14.05 Congressman Frank Pallone: F-16 sales to Pakistan to be used against India
NEW JERSEY, Jan. 14 – Pakistani newspaper /www.jang.com.pk reports: The Association of Pakistani Professionals (AOPP) has taken strong notice of the irresponsible statement by Congressman Frank Pallone in New Delhi where he issued a statement, saying that the F16šs would be used against India.

The recent complaint by the congressman regarding the sale of F-16 jets to Pakistan is typical [of] distortions that are regularly circulated by New Delhi friends in Washington, DC. The Indian Air Force is equipped with large numbers of fighter jets that are more capable than the F-16, specifically the Russian SU-30 MKI. Furthermore India has imported hundreds of other highly advanced military aircraft, such as the Russian Mig-29 and SU-27, French Mirage 2000, British Jaguars and Sea Harriers, that are at least as capable as the F-16. India also has on order the sophisticated Phalcon AWACS from Israel that uses American technology, recently signed a contract to import 66 British Hawk fighter-bombers and is now eyeing American weapons such as the Patriot missile system. [More>>jang.com.pk]
---
1.14.05 China, US optimistic about future trade relations
BEIJING, Jan. 14 – Chinese Minister of Commerce Bo Xilai and US Secretary of Commerce Donald Evans agreed here this week that they are optimistic about a healthy growth trade relations between the two countries. Secretary Evans arrived Tuesday in Beijing for Thursday's annual roundtable conference on intellectual property rights between China and the United States. He was later met by Chinese Premier Wen Jiabao. Bo and Evans met Wednesday and exchanged views on key issues about China-US economic relations and trade, including market economy status, textile exports, protection of intellectual property rights, direct selling legislation, express mail service, wholesale and retailing services, trade deficit and anti-dumping issues. [More>>xinhuanet]
---
1.14.05 China decides to resume issuance of IPO's
BEIJING, Jan. 14 – China announced Friday that it will resume issuing initial public offerings (IPOs), which it suspended four months ago, according to China Securities Regulatory Commission. Huadian Power International Co. will be the first company on the Chinese mainland to go public in 2005, an official with the commission said. Huadian Power is controled by China Huadian Group Corp., a state-owned energy giant with assets totaling 89 billion yuan (10.8 billion US dollars) at the end of 2003. [More>>xinhuanet]
---
1.14.05 India lags China in manufacturing: Tata
NEW DELHI, (Press Trust of India), Jan. 14 – Listing Toyota, Intel, Sony, LG and Samsung among his admired companies, Tata group chief Ratan Tata has regretted that India is not world class in manufacturing and has lost the "chance to be the factory of the world." "That opportunity appears to have gone to China, and since then, to some other Asian countries," he said in a hard-hitting interview to Businessworld while blaming the prolonged protected environment for production of goods that were not up to consumers' aspirations. [More>>hindustantimes.com]
---
1.14.05 Nigerian baby born with four legs
LAGOS, Jan. 14 – A Nigerian woman has given birth to a baby with many abnormalities in the form of two male organs, no anus and four legs and the family appeals for financial assistance for an orthopedic operation, state media reported Friday. The yet to be named baby was born to a family of peasant farmer, Malam Haruna Hassan, in the capital Abuja and is receiving treatment at a specialist hospital, the News Agency of Nigeria reported.

The mother, who wanted not to be named, said that she had serious pains throughout the period of the pregnancy and that all efforts to reduce or eliminate the pains did not yield any result. Abdulraman Bukar, a medical director, was quoted as saying that lack of prenatal and antenatal care on the part of the mother might have led to the baby having deformities. [More>>xinhuanet]
---