12.31.04 TSUNAMI HELP & RESOURCES
Aid workers are arriving in South Asian countries devestated by the tsunami. The global death toll has now reached 135,000 [CNN News via bignewsnetwork]. The tsunami global death toll passed 125,000. Australia reports about 1,250 Australians remain missing in the tsunami affected nations. Australia today pledged another $25 million in aid, taking the total financial assistance to $60 million. People are warned that bodies of the dead will be hard to identify, if found. Decomposition 6 days in the heat and being disfigured by the water leaves only ante-mortem identification material, such as dental records, DNA, fingerprints and identifying marks. [news.com.au]. The death toll in Sri Lanka has passed 28,000 (nearing 29,000 according to the Press Trust of India Dec. 31) and torrential rains now hamper relief efforts. There are also fears of floating land mines in the north. The mutual interest in getting relief to the north is helping the reconciliation of Tamil rebels and the Sri Lankan government. [lankapage.com]. The Asian Development Bank (ADB) said Friday it was making US $325 million immediately available to countries ravaged by a massive earthquake and tidal waves [More>>thejakartapost.com]. The US five-ship battle group led by the Nimits-class aircraft carrier USS Abraham Lincoln will arrive in Sumatra and take a position off the province of Aceh Friday. [More>>thejakartapost.com]. The US has increased its aid to the South Asian nations from $35 million to $135 million [More>>www.cnn.com; from Reuters]. India accounts for 10,000 dead; the Union Health Ministry ruled out outbreak of epidemic in the affected areas though there could be some cases of gastroenteritis and diarrhoea. The situation in the Andaman and Nicobar Islands (see earlier story regarding their special situation) is still being reviewed. [Press Trust of India]. Nearly 28,000 more bodies have been uncovered in Aceh Province, Sumatra, bringing the Indonesian toll to 80,000; and the Health Minister Siti Fadilah said today that the toll could reach more than 100,00 [More>>nytimes.com].

Animals escape the disaster: We have heard the ongoing reports that questioned why bodies of animals are not being found in the tsunami affected areas. In Sri Lanka's natioanl wildlife reserve, the Yala National Park, which is 3km (2 miles) inland, it appears all of the animals escaped from the disaster. Not even the body of a hare has been found reported H.D. Ratnayake, deputy director of Sri Lanka's Wildlife Department, said on Wednesday. [More>>www.cnn.com]
People frantic for family news: A Jan. 01, 2005 report says Sri Lankan workers in South Korea are frantic for family news from home [koreaherald], and this may be representative of the situation of many families around the globe, waiting for news of their friends and loved ones. I have noticed that major media have not reported help and resources links on the internet. And when they do give a nominal reference, they re-publish the same list reported days earlier on the internet. There seems to be an attitude of hogging information between the major resources and no attempt to consolidate useful links, and often the major networks are at least two days behind certain stories. A few networks, such CBS Evening News, published – two days after the information was available on the internet – the story on the Pacific tsunami warning system, called DART, and showed a portion of the satellite view of Sri Lanka being hit by the tsunami. Major networks need to change their reporting habits and use and acknowledge internet resources of information. What is a tradition of sharing on the internet is not apparently appreciated or understood, by major media.
Mel Copeland
---
12.31.04 Major problems in getting aid to devastated regions
"We are facing a huge uphill battle. We know more needs to be done and more needs to be done now," Oliver Hall, the team leader for the UN's Disaster Assessment and Coordination Team, told AFP. Hall said that although many supplies from around the world had reached Indonesia, getting them to Banda Aceh and then out to the provinces was proving a major problem. [More>>asianewsnet.net ] Providing relief to isolated island communities, such as those in the Maldives, is particularly tough, said Jamie McGoldrick, an official of the UN Office for the Coordination of Humanitarian Affairs in Geneva.

"How do you get to some of these islands which have been swamped? Their harbours are clogged up because of the silting and the change in the shoreline," McGoldrick said. "Or else the jetties and harbours that were there to receive goods coming from Male, the capital, are now destroyed, washed away." [More>>hindustantimes.com]
---
12.31.04 Tsunami-shocked fishermen want to move away from sea
Battered badly, fisher folk, the worst affected in Sunday's tsunami, are seeking housing sites that are away from the coastal belt of India. "We never wanted to move because sea and fishermen are inseparable. But now we are forced to do it because our life is more precious," said Subramaniyam, a native of Kalapet near Pondicherry. Five thousand families have made similar demands. [More>>asiannewsnet.net]
---
12.31.04 Indonesian military continues attacks on Aceh rebels despite cease fire
The Indonesian military is continuing to launch raids against separatist rebels in tsunami-devastated Aceh, despite having earlier called a cease fire to help aid efforts. "Our security operations continue, the only difference is that it may be less in scale and intensity," Lieutenant Colonel Nachrowi, of the military headquarters' general information department, told AFP. [More>>www.asianewsnet.net]
---
12.31.04 East Siberia-Pacific oil pipeline will be laid
MOSCOW, Dec. 31 – Federal Prime Minister Mikhail Fradkov signed a decree on a unified petroleum mainline network to be designed and laid from Taishet in East Siberia's Irkutsk Region to Perevozochnaya Bay in the Russian Far East, reports the government press service. Named "East Siberia-Pacific", the net will have an annual lump throughput of up to 80 million tons. [More>>rian.ru]
---
12.31.04 President Pervez Musharraf continues as army chief
WASHINGTON, Dec. 30: US Secretary of State Colin Powell said on Thursday that President Pervez Musharraf exercised the option the Pakistani parliament had given him when he decided to retain both the posts of the head of state and the army chief. Asked for the US reaction to General Musharraf's decision, Mr. Powell said: "This is a judgment for the Pakistani people to make. The parliament provided for means for him to do this. [More>>dawn.com] But the opposition are protesting. Pakistan's opposition Friday geared up for a "black day" of protests after President Pervez Musharraf broke his promise to quit as army chief and accused his detractors of threatening democracy. [More>>jang.com.pk]
---
12.31.04 Buenos Aires nightclub fire kills 175
BUENOS AIRES, Argentina, Dec. 31 – A fire tore through a Buenos Aires nightclub packed with young New Year's revelers and killed at least 175 people as a stampeding crowd was trapped by locked exit doors, officials said Friday. At least 714 people were injured in the Thursday night blaze...Four of the club's six doors were tied shut with wire or padlocks, according to Interior Minister Anibal Fernandez. [More>>Reuters.com]
---
12.31.04 Super 3G Cell Phone standards being set by 26 nations
TOKYO, Dec. 31 – Twenty-six Asian, U.S. and European cell phone service companies and data communications equipment manufacturers have agreed to work on a unified standard for next-generation cellphone technology, the Nihon Keizai Shimbun reported Friday. The new technology, Super 3G, could be available as early as 2009 and capable of almost instantaneously transmitting high-resolution video. The 26 companies include NTT DoCoMo Inc, Vodafone Group PLC, Cingular Wireless LLC, China Mobile Communications Corp, NEC Corp, Alcatel and Siemens AG. (Kyodo News) [japantoday.com].
---
12.30.04 Space travel makes one kinder
MISSION CONTROL CENTRE, KOROLEV, MOSCOW REGION, Dec. 30 – "Space tourism makes one better and kinder, so its progress is welcome," the International Space Station crew – Russia's Salizhan Sharipov and Leroy Chiao of the USA – said in a linkup with the Mission Control Centre. "It's sure an expensive pleasure to make a space outing, but it's worth the money. It is extremely interesting. Whoever makes a space flight once thirsts for another and yet another," remarked Sharipov, ISS engineer. "We are enthusiastic about ever new space tourists – the experience thoroughly changes one. It makes one kinder," he added. [More>>RIA Novosti]
---
12.30.04 Kazakh opposition under threat
A government prosecutor in Kazakhstan has begun action to have the central Asian country's main opposition party shut down. Accusing the Democratic Choice of Kazakhstan (DCK) of breeching national security, the law suit filed on Thursday said the party was also "fomenting social unrest". The case has been filed at a court in Kazakhstan's southern commercial capital Almaty, but the prosecutor was not available for comment. However, DCK said the move to shut it down was in revenge for criticism of this year's parliamentary elections. [More>>Al-Jezeera]
---
12.30.04 First snow ever in desert emirate of Dubai
(AFP) Dec. 31 – Snow has fallen over the United Arab Emirates for the first time ever, leaving a white blanket over the mountains of Ras al-Khaimah as the desert country experienced a cold spell and above-average rainfall. The snow fell over the Al-Jees mountain range in Ras al-Khaimah, the most northerly member of the UAE federation, Dubai airport's meteorology department reported. [More>>news.com.au via bignewsnetwork; See also Al-Jezeera]
---
12.30.04 Canada finds suspected new case of Mad Cow disease
OTTAWA -- Canada has found what may be a second case of mad cow disease, officials said Thursday, just a day after the United States said it planned to reopen its border to Canadian beef. The border was closed 19 months ago when a cow in northern Alberta tested positive for mad cow disease, or bovine spongiform encephalopathy (BSE). The U.S. Department of Agriculture said Wednesday the border could be opened in March. The Canadian Food Inspection Agency released few details on the new suspect case, except to identify it as a 10-year-old dairy cow. [More>>Washingtonpost.com]
---
12.30.04 Hacker hits Nike website, wishing Happy New Year
BEIJING, Dec. 30 – Nike (China)'s offcial website was hijacked yesterday by a naughty Hacker who signed as Danny and wished a happy New Year. The hacked website was restored and returned normalcy at 11pm. [More>>xinhuanet.com]
---
12.30.04 Iraq says senior Zarqawi aide captured in Baghdad
BAGHDAD, Dec 30 – U.S.-led forces in Iraq have captured a senior member of the al Qaeda-linked network led by Jordanian militant Abu Musab al-Zarqawi in a raid in Baghdad, the Iraqi government said today. It said Fadil Hussain Ahmed al-Kurdi was captured along with two other suspected insurgents. [Reuters (Posted @ 14:45 PST) via dawn.com]

In a separate story, a Yemeni considered to be closely linked to terror chief Osama bin Laden was one of seven militants killed in Wednesday¹s shootout with Saudi security forces in Riyadh, sources reported. [More>>jang.com.pk]
---
12.30.04 China may aquire one-fifth stake in Russian oil company Yukos
MOSCOW (Reuters) – China emerged on Thursday as a dark horse contender for the assets of stricken Russian oil major YUKOS as the company's state-driven break-up took yet another abrupt twist. Amid intense speculation over who will become the ultimate owner of YUKOS's million-barrel-a-day oil unit, Yuganskneftegaz, Russian Energy Minister Viktor Khristenko said top Chinese oil company CNPC may end up with a one-fifth stake. [More>>nytimes]
---
12.30.04 Korea's current-account surplus to top $28 billion in 2004
Record exports will lead to Korea's second-highest current-account surplus of more than $28 billion this year, the Bank of Korea forecast yesterday. [More>>koreaherald.co.kr]
---
12.30.04 Japan backs Bush's four-nation tsunami aid initiative
TOKYO, Dec. 30 – Foreign Minister Nobutaka Machimura on Thursday supported U.S. President George W. Bush's initiative involving Japan, Australia and India aimed at helping victims of the massive earthquake and tsunamis in Asia. Bush said Wednesday the United States will create a "core group" with Japan, Australia and India to help coordinate disaster relief. [Japan Today]
---
12.30.04 Kyoto University team develops stem cells without using embryos
A team of Kyoto University scientists extracted stem cells that would grow into sperm from a mouse immediately after it was born. One month later, the scientists found some of the cells were shaped like ES cells. They separated the cells that looked like ES cells from others and cultivated them under the same conditions as ES cells. As a result, the cells multiplied without differentiating. The team, led by Prof. Takashi Shinohara, published its results in Wednesday's issue of U.S. science magazine Cell. [Full story>>Daily Yomiuri]
---
12.30.04 East Siberia oil pipeline endorsed
Japan and Russia are planning a 4,200 km Pacific route pipeline connecting Taishet in Eastern Siberia with Perevoznaya Port facing the Sea of Japan...The Russian government has acknowledged the merit of the Pacific route, because it can increase exports to South Korea, Southeastern Asia and the Pacific coast of the United States, as well as Japan, sources said. [More>>Daily Yomiuri]
---
12.30.04 Woman and children saved by huge snake the size of a telephone pole
JAKARTA, Dec. 31 – Riza, a 26-year-old clothes vendor, said that at about 8 a.m. she was enjoying the holiday in bed when suddenly she saw walls of water, mud, rocks and branches rushing into the neighborhood. People were screaming and running...As she struggled for her own life and that of the twins, she said a large snake as long as a telephone pole approached her. She and the nine-year-olds rested on the reptile, which was drifting along with the current. "Thank God, we landed on higher ground where the water level was only about a meter deep..." [More>>thejakartapost.com]
---
12.30.04 Tsunami death toll passes 125,000
BANDA ACEH, Dec. 31 – Tomi Soetjipto and Dean Yates report: The death toll from the tsunami, triggered by a magnitude 9.0 earthquake off Indonesia, stood at 125,282 people, government and health officials said. Indonesia, Sri Lanka and India were the hardest hit...Sri Lanka, severely afflicted, raised its toll today by just under 3000 people to 27,268...Holiday-makers were among those caught by surprise. Nearly 5000 foreigners - half from Sweden and Germany - are missing, many of them in Thailand, where 710 foreigners have been confirmed dead...Authorities warned of many deaths from dysentery, cholera and typhoid fever caused by contaminated food and water, and malaria and dengue fever carried by mosquitoes..."There's no information. Just what you hear on the street. Coordination is very bad," said Zulkarnaen, 36, from Aceh's main city Banda Aceh.

Hungry crowds jostling for aid biscuits besieged people delivering them in the town, so some drivers dared not stop. "Some cars come by and throw food like that. The fastest get the food, the strong one wins. The elderly and the injured don't get anything. We feel like dogs," said Usman, 43. In flattened Meulaboh town, the force of the waves pushed water up to the foot of tree-clad mountains two kilometres inland. Officials fear a third of its 120,000 residents have perished. [Full storynews.com.au] Press Trust of India reports death toll at 120,000 [More>>via Hindustanitimes.com] The Guardian Unlimited reports 5:15pm ET: "The death toll from the Indian Ocean disaster rose dramatically today to 123,000 after Indonesia said almost 80,000 had died in that country alone." [More>>guardian.co.uk]
---
12.30.04 World Bank Offers $250 Million in Tsunami Aid -UN
UNITED NATIONS (Reuters), Dec. 30 – The World Bank on Thursday offered $250 million for tsunami relief, bringing total aid contributions from around the world to nearly $500 million, the United Nations said. World Bank President James Wolfensohn announced release of the funds by telephone during a meeting at U.N. headquarters convened to plan the next steps in the unprecedented global relief effort, U.N. chief spokesman Fred Eckhard said. [More>>Reuters]
---
12.30.04 Exon Mobil Donates $5 million in aid to tsunami victims; Bill Gates gives $3 million
Dec. 31 – Exxon Mobil Corporation and its employees announced Thursday they are contributing $5 million to assist disaster relief efforts in South Asia. The Texas-based oil company will also match employee and retiree contributions around the world, officials said. [More>>bignewsnetwork.com] In another story Bill Gates is reported to have donated $3 million.
---
12.30.04 Indonesian death toll from tsunami & quake up to 52,000; more quakes cause fears of another tsunami
JAKARTA (AFP), Dec. 30 – The Indonesian death toll from devastating earthquakes and tsunamis earlier this week is now above 52,000, an official at the Ministry of Health said on Thursday. The UN believes that the toll will reach 80,000. [More>>thejakartapost.com] The latest quake measuring 5.2 on the Richter scale shook sea northwest of the main Sumatra island city of Medan shortly after 4:00 am (2100 GMT Wednesday), after two quakes measuring 5.1 and 5.2 the previous evening. "This is not big enough to cause tidal waves," said Fauzi of the Indonesian Meteorology and Geophysics Agency (BMG). "...At least 45,000 of them in Aceh on Sumatra's northern tip." [More>>thejakartapost.com]
---
12.30.04 Fresh water running dry
Freshwater shortages caused by sea water contamination of underground and surface sources threaten more suffering in tidal wave-hit areas. Natural Resources and Environment Ministry permanent secretary Petipong Pungbun na Ayutthaya said staff were inspecting damage caused by Sunday's tidal waves and trying to quickly repair vital water systems. "Salty water, mud and sand are covering every square inch of these areas. Recovering the freshwater sources, vegetation, soil and the fragile terrestrial ecosystem from the salty mud covering it all is a vital task," said Mr Petipong. [More>>bangkokpost.net]
---
12.30.04 Most of the 6,000 missing in Thailand believed dead
BANGKOK, Dec 30 – Most of the 6,000 people missing in Thailand following the Tsunami disaster are probably dead, Thai Prime Minister Thaksin Shinawatra today said as thousands of rescue workers scoured remote southern islands for bodies and survivors...Most of the deaths are foreigners.[More>>Press Trust of India]
---
12.30.04 France pledges to help Sri Lanka install Tsunami Early Warning System
President Chandrika Bandaranaike Kumaratunga of Sri Lanka received Michel Barnier, the External Affairs Minister of France Wednesday. Barnier said "that France will assist Sri Lanka in disaster preparedness and management and assured Sri Lanka will in future benefit from the 'early warning system' set up by the EU." [More>>dailynews.lk]
---
12.30.04 Tsunami death toll up to 22,800 in Sri Lanka
COLOMBO, Sri Lanka, Dec. 30 – As rescue workers continued the grim task of burying bodies, the toll in the Tsunami catastrophe rose to 22,800 in Sri Lanka while an estimated 4,059 people were still missing, officials said today. The number of people injured in the deadly tidal wave attack were 8,815 while some 600,810 have been rendered homeless, the Disaster Management Unit (DMU) officials at the President's office said. The DMU said 93,407 people were staying at 793 relief camps operating in schools, halls, temples and churches all over the country. [More>>Press Trust of India]
---
12.30.04 Tsunami wiped out 25 villages in Sri Lanka
About 25 coastal villages in Mullaitivu district have been completely wiped out by the killer waves that struck the nation last Sunday. [More>>dailynews.lk]
---
12.30.04 Tsunami carries surfer to a highway in Sri Lanka
COLOMBO, Sri Lanka, Dec. 30 – A British tourist in Sri Lanka was surfing when the tsunami hit. The surfer, Gary Wolf, was not aware what was happening and his ride ended up on a highway. "Suddenly I saw that the rocks near the shore had simply disappeared," he recounted. [Full story>>haaretz.com]
---
12.30.04 – TSUNAMI HELP & RESOURCES
12.30.04 Tsunami donor conference likely for next week: Powell
WASHINGTON, Dec. 30 – An international donor's conference to help victims of the Asian tsunami disaster is being organized, likely for next week, US Secretary of State Colin Powell said Thursday in an interview with a foreign news agency. [jang.com.pk]
12.30.04 Hotline numbers posted by CNN News
HOTLINE NUMBERS
India: +91 11 2309 3054
Thailand: +66 2643 5262 and 2643 5000;
Phuket enquiries call +66 076 240 729; +66 076 216 118; +66 076 223 141
Sri Lanka: residents: +94 11 536 1938; tourists: +94 11 243 7061
Maldives: +44 20 7224 2149
Seychelles: +248 321 676
Hong Kong residents: +852 2829 3010
12.30.04 cyberjournalist.net list of cyber-journalists and blogs postings
This is a list of blogs that show some current, continuing activity of postings on the tsunami.
http://tsunamihelp.blogspot.com/
http://sumankumar.com/
http://worldchanging.com/
http://www.petalingstreet.org/
http://jogalong.blogspot.com/ (Penang)
http://www.2bangkok.com/quakes.shtml
http://www.thiswayplease.com
http://blog.ceneus.com/
http://www.hitme.at/muringwien/
http://www.livejournal.com
12.30.04 Command-post.org list of organizations offering tsunami relief
One of the most extensive lists with direct links is at: command-post.org. Lists of victims may be accessed from the site, including Tsunami Missing People: http://tsunamimissing.blogspot.com/. A list posted by Mathew Gow at www.phuketgazette.net lists the following websites if you are looking for a friend or relative:

www.hospital.morph.go.th/takuapah – appears to be a bad link
www.disaster.co.th – appears to be a bad link
www.vachiraphuket.go.th
www.phukethospital.com – appears to be a bad link
www.phuketcity.com
www.antalys.net/missingpeople
12.29.04 Associated Press list of organizations offering tsunami relief
This list appears to be the same list as on Netscape Online.
12.29.04 Netscape Online list of organizations offering tsunami relief
Posted at Netscape Dec. 28 – "..aid agencies are accepting contributions for assistance that they or their affiliates are providing for those affected by the earthquake and tidal waves in Asia. U.S. organizations are members of InterAction, a coalition of relief, development and refugee assistance agencies." [news.channels.netscape.ca/news]
12.29.04 "Find Information about Tsunami Affected People in Sri Lanka"
Dec. 28 – If you are looking for a missing person in Sri Lanka, fill out the form at http://www.findthem.lk/dataentry.htm.

12.29.04 Red Cross contact site for tsunami survivors
Reuters, Dec. 30 – A Red Cross Web site to aid contact between survivors of the Indian Ocean tsunami disaster and their families in the region and across the world went into service on Wednesday: http://www.icrc.org/home.nsf/home/webfamilylinks. [More>>thejakartapost.com]
12.28.04 BBC News Missing Persons Message Board
A message board that people can use to report missing persons from the Dec. 26 Sumatra tsunami, and locate them, is at: http://news.bbc.co.uk/2/hi/talking_point/4130565.stm
---
12.29.04 American victims of the tsunami in Thailand receive foul treatment by American Embassy
A report filed Dec. 29, 4:29pm EST by CNN tells the harrowing story of Faye Wachs who was diving with her husband, Eugene Kim, off Ko Phi Phi island in Thailand when the tsunami struck. Having lost everything, including their passports, Wachs and her husband tried to get new passports from the American consulate who was temporarily in the VIP lounge. It took the couple three hours to locate the US officials, and then the officials demanded money from them for the passport. The sea, of course, had their money, but that didn't seem to hinder the US officials from badgering them for money. They fortunately had their ATM cards, which were accepted, and they then helped other abused Americans purchase their passports. Wachs said she was impressed by the efforts of the Thai government and the International Committee for the Red Cross. [Full story, cnn.com]
---
12.29.04 Tsunami death toll expected to exceed 80,000 in Sumatra alone
BANDA ACEH, Aceh (Reuters), Dec. 30 – The death toll in Indonesia's Aceh province from a quake and tsunami that struck on Sunday might reach between 50,000 and 80,000, a UN official said on Wednesday. [More>>thejakartapost.com] CNN reports 80,000 reported dead so far. [More>>cnn.com]
---
12.29.04 Report on the lack of an Asian tsunami warning system
The nations effected by the Sumatra Tsunami discuss their lack of a warning system and the need to set up one [Full story, cnn.com]
---
12.28.04 Tsunami watch in the Pacific
The tsunami that struck Sumatra did not have a monitoring system in place like that provided by the US government for its Pacific coast. The Pacific ocean off the western United States is monitored by buoys that can be checked out by anyone.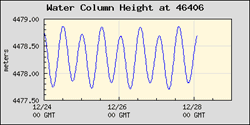 DART program, National Buoy Data Center, http://www.ndbc.noaa.gov/dart.shtml. Buoy and chart are from location 8.490 S 125.017 W (8°29' 26" S 125°1' 21" W), 6:45pm 12.27.04 San Francisco time. Click on chart to check out its current Water Column Height (Station 46406 - D125).
The buoy in the South Pacific (Station 46406 - D125), 6:45pm San Francisco time, 12.27.04, has a Water Column Height ~4,479 meters (max.). It is showing a consistent wave pattern – no evidence of a tsunami. One can check out the status of the seas at http://www.ndbc.noaa.gov/dart.shtml by clicking on the red dot marking each buoy.
HONOLULU, Hawaii (DPA), Dec. 29 – Waves unleashed by a devastating 9.0-magnitude undersea earthquake in the Indian Ocean have increased sea levels in Pacific Ocean ports, the Pacific Tsunami Warning Center in Honolulu said in an advisory Monday. The tsunami, which struck on Sunday morning with a devastating effect on Sri Lanka, India, Thailand and Indonesia, produced "minor sea level fluctuations at many places in the Pacific," the center said.

The fluctuations ranged from 6 centimeters in Hilo, Hawaii, to 65 centimeters in Jackson Bay, New Zealand. In the southern California port city of San Diego, sea level was 22 centimeters higher than normal. The center also said sea level at Manzanillo, Mexico, was up 2.6 metres, but it attributed the rise to "local resonances" in addition to the earthquake. The waves causing the sea level increases "leaked" into the Pacific Ocean "probably from south of the Australian continent," the center said. [More>>thejakartapost.com; see also National Oceanic and Atmospheric Administration (NOAA), Pacific Tsunami Warning Center]. NOAA reported (Dec. 27, 2004) sea level states, noted above, as follows:

Some energy from yesterday's tsunami in the Indian Ocean has leaked into the Pacific Basin...probably from south of the Australian continent. This energy has produced minor sea level fluctuations at many places in the Pacific. For example:

50 CM CREST-TO-TROUGH AT CALLAO CHILE
19 CM CREST-TO-TROUGH AT IQUIQUE CHILE
13 CM CREST-TO-TROUGH AT PAGO PAGO AMERICAN SAMOA
11 CM CREST-TO-TROUGH AT SUVA FIJI
50 CM CREST-TO-TROUGH AT WAITANGI CHATHAM IS NEW ZEALAND
65 CM CREST-TO-TROUGH AT JACKSON BAY NEW ZEALAND
18 CM CREST-TO-TROUGH AT PORT VILA VANUATU
06 CM CREST-TO-TROUGH AT HILO HAWAII USA
22 CM CREST-TO-TROUGH AT SAN DIEGO CALIFORNIA USA

However...At Manzanillo, Mexico sea level fluctuations were as much as 2.6 meters crest-to-trough probably due to focusing of energy by the east Pacific rise as well as local resonances.

An article by Thomas H. Maugh II, Elizabeth Shogren and Rosie Mestel, Times Staff Writers reports why the Pacific Tsunami Warning Center was not able to warn Southeast Asian countries of the wave: "In Ewa Beach, Hawaii, where the U.S. government's Pacific Tsunami Warning Center is located, the local time was 2:58 p.m. Christmas Day when the massive earthquake began registering on seismic instruments. Within an hour, the NOAA issued an alert to nations that take part in the Pacific Ocean tsunami warning system that there was 'the possibility of a tsunami near the epicenter' of the earthquake.

Indonesia and Australia, both part of the Pacific network, were among the countries that received the warning that a wave could strike near the epicenter. India, Sri Lanka and the Maldives, located across the Indian Ocean from the earthquake, did not receive the warning because they were not part of the Pacific system, said Douglas L. Johnson, director of the National Weather Service, which handles tsunami warnings.

"We don't have contacts in our address book for anybody in that part of the world," said Charles McCreery, director of the Pacific Tsunami Warning Center. [More>>latimes.com]

The US Geological Survey initial analysis of the event, with charts, links, etc., is at:
http://earthquake.usgs.gov/eqinthenews/2004/usslav/

To view Sri Lanka as it is being hit by the 12.26.04 tsunami, click here, globalsecurity.com.
---
12.28.04 1:10 PST Update on Massive 9.0 Richter Scale earthquake in Sumatra
BANDA ACEH, Indonesia (AP) , Dec 28, 3:48 PM EST – Andi Djatmiko reports: Mourners in Sri Lanka used their bare hands to dig graves Tuesday while hungry islanders in Indonesia turned to looting in the aftermath of Asia's devastating tsunamis. Thousands more bodies were found in Indonesia, dramatically increasing the death toll across 11 nations to more than 52,000.

Indonesia's Health Ministry said in a statement that more than 27,000 people were confirmed killed in parts of Sumatra island, the territory closest to the epicenter of Sunday's earthquake, which sent a giant tsunami rolling across the Indian Ocean. But the ministry said it had not yet counted deaths along the inundated and shattered towns of Sumatra's western coast, which soldiers and rescue workers were unable so far to reach - including the district of Meulaboh, where earlier the head of another agency estimated that 10,000 people were killed. When those regions are included in the ministry count, the death toll could rise dramatically yet again. [More>>Associated Press, hosted.ap.org]

Earlier reports: The death toll from the Tsunami has doubled, affecting 11 nations. The tidal wave death toll in Sri Lanka (Ceylon) is reported at 10,000. Manjula Fernando and Uditha Kumarasinghe report Sri Lankan Military Spokesman Brig. Daya Ratnayake told Reuters that the death toll stood at 10,029. According to the international news agency Reuters, 10,029 people were killed and 800,000 affected in Sri Lanka by the Tsunami tidal waves which struck a wave of destruction from west of the Indonesian island of Sumathra, North towards Madras and then to the Maldives.

Reports stated that a wall of water as high as 35 feet triggered by the underground earthquake swept into Indonesia and across the ocean to Sri Lanka, Thailand and India.

US scientists measured the earthquake at a magnitude of 9.0 on the Richter scale making it the most powerful in 40 years in Sri Lanka and the deadliest since 1990. Meanwhile Tamil Net said that the death toll in the North East region alone could be more than 6000. [More>>Sri Lanka Daily News]
---
BANDA ACEH, Aceh, Sumatra (AFP), Dec. 29 – Indonesia reports a death toll of about 21,000. The rotting corpses of quake victims piled up Tuesday on Indonesia's Sumatra island where at least 21,000 were dead and more lives were threatened by the possibility of disease outbreaks. There were apocalyptic scenes in the provincial capital of Banda Aceh where the stench of death hung over the rubble of demolished houses as survivors from Sunday's earthquake and tsunami struggled to dig graves in tropical heat.

From the obliterated western shoreline of Sumatra's Aceh province there was only eerie silence pierced by an SOS call from what remained of the main town where police said looting had broken out as starvation loomed. Purnomo Sidik, the head of the disaster relief center at the ministry of social services, said on late Tuesday the toll had jumped four-fold to more than 21,000 as the dead were counted in Banda Aceh and the western town of Meulaboh. [More>>thejakartapost.com]

---
Thailand reports that the confirmed death toll from Sunday's tidal waves rose to 918. However, Thailand's Prime Minister Thaksin Shinawatra expected the death toll to climb further. He estimated the number of dead could rise past 2,000 judging from the vast number still missing... Presumed among the dead is the king's grandson, Khun Poom Jensen, the only son of Princess Ubolratana, who went missing when a gigantic wave hit his resort hotel at Khao Lak in Phangnga's Takua Pa district on Sunday. Rescue workers have still to find thousands of missing people that may be buried under the mud on the muddy beaches of the Khao Lak-Lam Ru National Park, one of the hardest-hit areas.

"This resort town used to come alive during this time of year. But all the buildings and people were gone in the blink of an eye, swallowed by the huge tidal waves,'' said Tanaphon Sangkhum, 30, a local resident volunteering to search for the dead." It is the worst catastrophe of my life," he said.

His team found more than 50 corpses in the first three hours of digging when it started its mission, most were Thai and foreign tourists on vacation at the national park. He believed the number of deaths would soar into the thousands in that area alone.There were no official figures for dead tourists but foreign governments have confirmed at least 49 of their nationals were killed on Sunday: Australia (2 dead), Austria (4 dead, 20 missing), Belgium (2 dead, 30 missing), Britain (8 dead), Canada (2 dead), Chile (1 dead), Denmark (3 dead, 5 missing), Finland (1 dead), France (3 dead), Italy (9 dead), Japan (19 missing), the Netherlands (19 missing), Norway (8 dead), Russia (4 missing), South Africa (2 dead), Sweden (7 dead), Taiwan (7 dead, 35 fishing vessels missing). [More>>bangkokpost.net]

---
Somalia suffered the worst damage in Africa. "The death toll is 38," an official of the regional Puntland government told Reuters in Mogadishu without elaborating. "We have received the first field reports coming in OCHA field officers, aid agencies and the local administration in Puntland. Local reports, as yet unverified, have given a very provisional figure of 62 deaths, mostly in fishing villages and settlements along the coasts," he told Reuters. [Reuters via banadir.com (Somalia)]
---
The tsunami killed 7,500 in India, possibly 9,500. The Press Trust of India reports that Tamil Nadu and the Andamans, the worst hit in India accounted for 4,500 and 3,000 deaths respectively in the devastation caused by the monstrous tidal waves triggered by the earthquake off the Sumatra coast in the northern tip of Indonesia on Sunday. In Kerala 148 people lost their lives while 96 died in Andhra Pradesh as the tidal waves ravaged the coastal parts of India, Sri Lanka, Indonesia, Thailand, Malaysia and the Maldives washing away entire villages and causing huge destruction. [More>>Press Trust of India].

---
The Hindustani Times reports 9,500 dead in India: Survivors in seven countries on the shores of the Indian Ocean scrabbled frantically through debris and devastation for their loved ones on Tuesday as the death toll climbed inexorably towards 40,000.

The scale of the destruction caused by Sunday's monster tsunami left governments helpless and groping for succour. On coastline after coastline, the sea disgorged the dead and rescuers fought through a morass of wreckage, mud and body parts. The United Nations said the disaster was unique in encompassing such a large area and so many countries. Aid agencies struggled to cope with the enormity of the disaster. The International Red Cross said it may have to treble its appeal for funds.

"The enormity of the disaster is unbelievable," said Bekele Geleta, head of the International Federation of Red Cross and Red Crescent Societies (IFRC) in Southeast Asia. The United Nations said hundreds of relief planes packed with emergency goods would arrive in the region from about two dozen countries within the next 48 hours. Authorities waited in trepidation for the outbreak of diseases caused by polluted drinking water and the sheer scale of thousands of putrefying bodies. [hindustanitimes.com]
Pakistan's jang.com.pk reports The confirmed death toll from the massive earthquake and tidal waves that devastated much of Asia's coastline passed 60,000 Tuesday, with officials warning the figure was likely to rise steeply. In Indonesia, the government's disaster relief centre said at least 27,174 were killed after the country took the full force of the huge earthquake and tidal waves that swallowed entire coastal villages. In Sri Lanka 17,800 people, including at least 70 foreigners, were killed in Sunday's disaster.
More than 8,500 people were reported killed in India with many more victims expected, officials said. Among them were about 4,000 in the Andaman and Nicobar Islands, close to the epicentre of the quake, where thousands were missing after five villages were swept away, an official said. More than 1,500 people were killed, among them more than 700 foreign tourists, in southern Thailand, officials said. In Myanmar at least 90 people were killed, according to the UN, while in Malaysia 65 people, including many elderly and children, were dead, officials said.

At least 55 people including two British holidaymakers were killed in the tourist paradise of Maldives while another 69 were missing, officials said. In Bangladesh a father and child were killed after a tourist boat capsized from large waves, local officials said. Fatalities also occurred on the east coast of Africa where 100 fishermen were declared dead in Somalia and 10 in Tanzania.[More>>jang.com.pk]
---
12.27.04 Massive 9.0 Richter Scale earthquake in Sumatra
Dec. 27 Update – Tsunami toll 25,000; 7,000 in India. Rescuers piled up bodies along southern Asian coastlines devastated by tidal waves that obliterated seaside towns and killed about 25,000 people in nine countries, and officials indicated on Monday that the death toll could climb far higher. Hundreds of children were buried in mass graves in India, and morgues and hospitals struggled to cope with the catastrophe. Somalia, some 4,800 km away, reported hundreds of deaths.

The death toll rose sharply a day after the magnitude 9.0 quake struck deep beneath the Indian Ocean off the coast of Indonesia. Walls of water sped away from the quake's epicenter at more than 800 kmph before crashing into the region's shorelines, sweeping people and fishing villages out to sea. [More>>hindustantimes.com]

Port Blair, Dec. 27 (PTI) The scale of tragedy in the far-flung Andaman and Nicobar islands also came to light today with 2,000 more deaths reported, taking the overall figure to over 3,000. An earlier report said: "It is now confirmed that more than 3,000 persons have been killed in Sunday morning's disaster," IGP Andaman and Nicobar S. B. Deol said adding "another 2,000 people are missing and are believed to have died." He also apprehended the casualty figure might go up as the extent of damage in a number of inhabited islands in the Nancowry group near the Great Nicobar island were yet to be ascertained...According to him the worst hit were the Car Nicobar and Nancowry islands and the majority of those missing were from Nancowry, located very near to the epicenter of the earthquake and bore the brunt of the Tsunami. The islands, with a combined population of 37,000, have been completely washed away. [More>>Press Trust of India]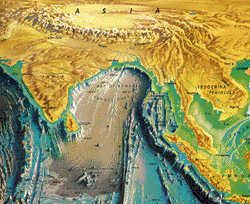 Indian Ocean relief @ andaman.org (World Atlas of the Oceans" by Dr. M. Leier, Firefly Books, 2001, Copyright RM Buch und Medienvertrieb, Hamburg, Germany) Click on map for larger view. Map shows undersea of quake area.
The Andaman islands are important from the standpoint of Anthropological research which places their original Negrito population in a unique place. According to a book by George H.J. Weber, The Andaman Association, the population may reflect one of the early populations that moved out of Africa. His site, www.andaman.org, provides a detailed account of these people and, for Anthropology buffs, is quite informative, good reading. The Andaman islands may have at one time been connected to Sumatra.

Dec. 25 – Tsunamis slammed into the shores opposite the center of a 8.9 magnitude earthquake that is reported to have taken 10,000+ lives in South and East Asia, 3,200 in India alone – 1,725 people losing their lives in the state and Andaman and Nicobar, closest to the Sumatra coast. The epicentre of the 8.9 magnitude quake on the Richter Scale, was also equally badly hit accounting for 1,000 deaths and suffering extensive damage. About 5,500 people, including 3,000 in Sri Lanka alone, perished as the tidal waves battered the coasts of Sri Lanka, Indonesia, Thailand, Malaysia and the Maldives [More>>Press Trust of India]. 99 dead 1,300 injured in South Thailand. [More>>inq7.net]

The largest quake in 40 years left a trail of death and destruction in South and South East Asia killing over 6,500 people. Over 5,500 people, including 3,000 in Sri Lanka alone, lost their lives as the 8.9 magnitude undersea earthquake with epicenter off the Sumatra coast hit the region at around 0628 IST battering the coasts of Sri Lanka, Indonesia, Thailand, Malaysia and Maldives. Earlier, at least 3,000 people were killed in Sri Lanka, 408 in Indonesia, 300 in Thailand and 25 in Malaysia as tsunami waves lashed the coastal regions in these nations. [More>>hindustantimes via Press Trust of India]

In India – Over eighteen hundred people have been killed in tidal waves in Tamil Nadu, Andhra Pradesh and Andamand and Nicobar Islands (Tamil Nadu at 800, Andhra Pradesh at 200, Kerala 40 and Andaman and Nicobar Island at 14 [More>>Press Trust of India]). Tamil Nadu was the "worst affected" with possibly over 1500 people killed, Home Minister Shivraj Patil said on Sunday in New Delhi after a meeting of the Crisis Management Group (CMG). In Andhra Pradesh, over 200 people were feared killed, he said. [More>>hindustanitimes via Press Trust of India]
According to the IMGB, the center of the quake was in Molabo, Aceh, the country's westernmost province, at 3.6 degrees of North latitude and 96.28 degrees of east longitude [More>>Xinhuanet]
---