1.01.05 TSUNAMI HELP & RESOURCES
1.13.05 TSUNAMI NEWS
1.13.05 ADB says Sri Lanka and the Maldives worst affected by the tsunami
COLOMBO, Jan. 13 – The Asian Development Bank (ADB) says Sri Lanka and the Maldives will be the two economies worst affected by the tsunamis. "Sri Lanka and the Maldives will be adversely affected because of their small geographical size, fiscal deficits and dependence on hard-hit industries such as tourism and fisheries," the ADB said. [More>>colombopage.com]
---
1.13.05 Sri Lanka relief website launched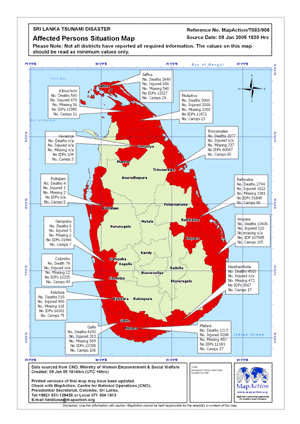 Map of affected persons in Sri Lanka. Click on map for Sri Lanka government situation reports & maps.
Sri Lanka's Ministry of Relief, Rehabilitation and Reconciliation has launched its new website www.mrrr.lk with a special focus on tsunami relief operations. The site will supplement the Centre for National Operations (CNO) website www.cnosrilanka.org which coordinates all relief activities related to the Tsunami rehabilitation. [More>>dailynews.lk]. For situation reports and maps go to: http://www.cnosrilanka.org./situationreport.html. Map below is by http://www.mapaction.org/.
---
1.13.05 Relief aid for media personnel
The International Federation of Journalists (IFJ) has offered help for journalists, media workers and provincial correspondents affected by the December 26 Tsunami disaster.

Trade Unions affiliated to the International Federation Journalists (IFJ) are collecting data of Media personnel affected by the Tsunami.

To make this venture a success, the Federation of Media Employees Trade Unions requests personnel in the relevant field who were affected to submit relevant information such as the nature of disaster certified by a responsible head of the institution, including his name and contact details.

Please send the relevant details via post, fax or E-mail to the following: General Secretary, Federation of Media Employees Trade Union, Lake House Trade Union Office, Lake House, Colombo 10. Fax: 2472407 E-mail:lheu@itcom.lk , fmetu@sltnet.lk [From dailynews.lk]
---
1.13.05 Aceh rebels call for ceasefire talks
JAKARTA (Agencies), Jan. 14 – Indonesian Vice President Yusuf Kalla on Thursday welcomed a call for ceasefire talks from the exiled leaders of the separatist rebel movement in the tsunami-hit province of Aceh. "Of course, we welcome these efforts. Indonesia will also make similar efforts towards that," said Jusuf Kalla, speaking at the vice presidential palace. [More>>thejakartapost.com]
---
1.13.05 US, UN want Jakarta to clarify aid restrictions
BANDA ACEH, Aceh (Reuters), Jan. 14 – Leaders in the international tsunami aid effort expressed concern about how curbs on the movement of workers and a deadline for foreign troops to leave would affect relief in Indonesia's worst-hit Aceh province. On Wednesday, rich creditor nations meeting in Paris agreed to freeze debt repayments for all affected nations, freeing badly-needed funds for rehabilitation. [More>>thejakartapost.com]
---
1.13.05 India's tsunami toll crosses 16,380
PORT BLAIR (AFP), Jan. 13 – The number of people dead and missing in India after last month's tsunami disaster crossed 16,380 on Thursday as an extra 345 were confirmed dead in the Andaman and Nicobar Islands, officials said. The Andaman and Nicobar archipelago now accounted for 1,837 of the confirmed dead from 10,672 for the whole of India, officials said. The number of missing in the Andamans rose by 83 to 5,625, with another 86 people missing on the mainland, officials said.

Final confirmation was awaited before all the missing could be listed as presumed dead, with the search for survivors continuing on the islands. Some 4,400 of the missing disappeared on the Andaman's Katchal Island, close to the epicenter of the December 26 earthquake off Indonesia. [More>>hindustantimes.com]
---
1.13.05 Asian tsunami death toll rises over 163,000
JAKARTA, Jan. 13 – The death toll from the earthquake and tsunami disaster in Indian Ocean nations passed 163,338 Thursday with the release of updated figures from the Indonesia social affairs ministry. [jang.com.pk]
---
1.13.05 OTHER NEWS
1.13.05 Cave diver dies in rescue attempt in world's third-deepest lake cave
JOHANNESBURG, Jan. 14 – Rochelle Mutton reports an unusual incident involving an Australian cave diver, Dave Shaw, who drowned in an attempt to rescue another cave diver's body. Shaw had discovered the decade-old skeleton of diver Deon Dreyer on an earlier dive, while setting a world record for re-breather deep diving in South Africa's Boesmansgat Cave in October. The cave is 271m-deep. He vowed to repeat the feat and return the remains to the dead man's grieving parents. After recovering the remains Shaw's lines apparently became fouled and he ran out of air. Four days later Shaw's body emerged floating against the cave roof in about 20m of water. Hanging below Shaw's body were the skeletal remains of diver Deon Dreyer, which Shaw had cut free from dive equipment and put in a bag before losing consciousness. Shaw's recovered video camera showed him getting his head lamp and the bag of Dreyer's remains tangled in the cave line at the bottom of the lake. [More>>theaustralian.news.com.au via news.com.au]
---
Violations of human rights by the US are undermining international law and eroding its role on the world stage, a leading campaign group says. Human Rights Watch says the US can no longer claim to defend human rights abroad if it practises abuses itself. It urges the creation of an independent US commission to examine prisoner abuse at Iraq's US-run Abu Ghraib jail. Washington is currently investigating alleged abuses at that facility and at its jail in Guantanamo Bay, Cuba. HRW says the US can no longer claim the moral high ground and lead by example. [More>>bbc.co.uk]

---
1.13.05 White House fought new curbs on interrogations, officials say
WASHINGTON, Jan. 12 – At the urging of the White House, Congressional leaders scrapped a legislative measure last month that would have imposed new restrictions on the use of extreme interrogation measures by American intelligence officers, Congressional officials say. The defeat of the proposal affects one of the most obscure arenas of the war on terrorism, involving the Central Intelligence Agency's secret detention and interrogation of top terror leaders like Khalid Sheikh Mohammed, the mastermind of the Sept. 11 attacks, and about three dozen other senior members of Al Qaeda and its offshoots.

The Senate had approved the new restrictions, by a 96-to-2 vote, as part of the intelligence reform legislation. They would have explicitly extended to intelligence officers a prohibition against torture or inhumane treatment, and would have required the C.I.A. as well as the Pentagon to report to Congress about the methods they were using. [More>>nytimes.com; see also washingtonpost.com]
---
1.13.05 A wide variety of protests planned for inauguration
WASHINGTON, Jan. 13 – Protesters unveiled more specifics about their plans yesterday for a spirited day of demonstrations to counter President Bush's second inauguration next Thursday, as one group said it was considering a lawsuit to gain more access to the parade route..."This is a people's uprising," said Shahid Buttar, 30, a Washington lawyer involved in the D.C. Cluster Spokescouncil, a coordinating body for about 50 local and out-of-town protest groups. [More>>washingtonpost.com]
---
Following the filing of a petition by Palestinian villagers, the High Court of Justice on Thursday evening ordered a halt to construction of large sections of the West Bank separation fence between Jerusalem and Maccabim. Residents of the Palestinian village of Beit Sourik located northwest of Jerusalem petitioned the High Court on Thursday against the altered route of the West Bank separation fence in their area claiming it does not conform with court-ordered adjustments. [More>>haaretzdaily.com]
---
PARIS (AFP), Jan. 13 – Threatened with kidnap or death, European journalists are reducing coverage of the Iraqi election process to a strict minimum. Both the French and the Italian governments have formally advised journalists not to travel to the violence-wracked country because of the serious risks and critical security situation. The warnings followed the disappearance of Florence Aubenas, 43, a senior correspondent for the French daily Liberation, who has not been seen since she left her hotel with her interpreter on Wednesday last week. As a result, several French news outlets that had been planning to cover the elections scheduled for Jan. 30 said they were now thinking again. [More>>thedailystar.com]
---
Britain's Prince Harry today ruled out visiting Auschwitz as atonement for wearing a Nazi uniform at a party just two weeks before the 60th anniversary of the death camp's liberation. Jewish groups had demanded the 20-year-old grandson of Queen Elizabeth make the symbolic gesture as a way of apologising for wearing a swastika armband and an army shirt with Nazi regalia at a costume party on Saturday. [More>>theaustralian.news.com.au]

Foreign Minister Silvan Shalom, responding Thursday to British Prince Harry's wearing a Nazi uniform to a party just two weeks before the 60th anniversary of the death camp's liberation, said the use of Nazi symbols was intolerable. [More>>haaretzdaily.com]

---
1.13.05 Turkish PM wants to meet UN chief over Cyprus 'at first opportunity'
ANKARA (AFP), Jan. 13 – Turkish Prime Minister Recep Tayyip Erdogan has said he wants to meet with UN Secretary-General Kofi Annan in the shortest possible time to discuss ways of resolving the Cyprus conflict. "We want to meet with him at first opportunity," Erdogan was quoting as saying late Wednesday by Anatolia news agency.

Cyprus' division between its Greek and Turkish communities remains a major obstacle for Turkey's bid to join the European Union, with Ankara refusing to endorse the internationally-recognized Greek Cypriot government of the island, which became an EU member in May. Ankara sees the settlement of the 30-year conflict as a way out of the diplomatic conundrum it faces.

A reunification plan drawn up by Annan failed last April when the Greek Cypriots voted it down, even though the Turkish Cypriots gave it overwhelming support. [More>>turkishpress.com]
---
Russian President Vladimir Putin and Turkish Prime Minister Recep Erdogan celebrated Tuesday booming trade relations between the two cold war foes during Kremlin talks focused on energy and military affairs. Putin, who invited Erdogan for a private dinner at his lavish suburban Moscow estate Monday evening, told the Turkish prime minister that economic ties were growing by the best possible scenario as old tension wanes. [More>>thedailystar.com.lb]
---
BAGHDAD (CNN), Jan. 13 – Gunmen killed the director of a Baghdad election center Thursday, another in a series of attacks targeting election officials and candidates as the vote set for January 30 approaches. Baghdad police, who reported the slaying, did not release the director's name. He was in charge of an election center in the al-Khadoumiyah neighborhood in the northern part of Baghdad. [More>>cnn.com]
---
BAGHDAD (Reuters), Jan. 13 – Two aides to Iraq's top Shi'ite leader Ayatollah Ali al-Sistani have been killed in separate attacks apparently aimed at inflaming sectarian conflict among Iraqis already divided on whether Jan. 30 polls should go ahead.

A Sistani representative said on Thursday gunmen killed cleric Mahmoud al-Madaen along with his son and four bodyguards. Madaen, Sistani's representative in the ancient town of Salman Pak south of Baghdad, was killed on Wednesday. Another aide, Halim al-Mohaqeq, a cleric working in Sistani's office in Najaf, was also found dead on Wednesday. [More>>reuters.com] See also bbc.co.uk and nytimes.com stories]
---
WASHINGTON (AFP), Jan. 13 – The United States confirmed Thursday that it had been informed nearly two years ago of a major scheme to smuggle Iraqi oil outside UN constraints, but insisted it took prompt action. The State Department was responding to reports by a British and Italian newspaper that the boldest effort to circumvent the UN "oil-for-food" program was carried out with Washington's knowledge. Spokesman Richard Boucher said the US mission to the United Nations was told about the scheme in February 2003 and promptly conveyed the information to the State Department. [More>>turkishpress.com]
---
1.13.05 New FBI software may be unusable
WASHINGTON, Jan. 13 — A new FBI computer program designed to help agents share information to ward off terrorist attacks may have to be scrapped, the agency has concluded, forcing a further delay in a four-year, half-billion-dollar overhaul of its antiquated computer system. The bureau is so convinced that the software, known as Virtual Case File, will not work as planned that it has taken steps to begin soliciting proposals from outside contractors for new software, officials said. [More>>latimes.com]
---
Mainland China has included Taiwan in its plans for highway construction, with Zhang Chunxian, communications minister, on Thursday even raising the possibility of building the world's longest undersea tunnel to link the highway networks of the Cold War rivals. Mr Zhang's thoughts of a tunnel under the Taiwan Strait are likely to remain no more than a political pipe dream for the foreseeable future, since Beijing and Taipei are bitter rivals that have not been on speaking terms for years. [More>>Financial Times via tajikistannews.net]
---
1.13.05 Acehnese rebels come out of hiding
MONTASIK, Jan. 14 – Acehnese rebels fighting for an independent homeland have descended from the isolation of northern Sumatra's mountains to restock and regroup after the tsunami that killed 100,000 on the Indonesian island.

A small band of fighters of the Free Aceh Movement (GAM), which declares itself "the only legitimate government of Aceh", said yesterday they had emerged from their hideouts shortly after the December 26 disaster struck, confident the Indonesian military forces ranged against them were either dead or had been redirected to the relief effort.

They claimed to be just one of several such groups "protecting" Acehnese villages closer to the coastal fringe and gathering supplies to take back to their mountain camps. Like the others, this group, led by 24-year-old Mukhlis Abei, of the Montasik region east of the Acehnese capital, Banda Aceh, will return to its eyrie when it hears of renewed military operations against it. [More>>news.com.au]
---
1.13.05 'Defense minister of Korea stresses Japan's transparent role in region
Japan's overhaul of its defense guidelines to play a more expanded global role and the North Korean nuclear standoff topped the agenda of talks yesterday between South Korean and Japanese defense chiefs, officials said.

In an annual meeting held here, South Korean Defense Minister Yoon Kwang-ung asked Japan's Defense Agency Director General Yoshinori Ono to implement Japan's new defense policy in a "transparent and prudent" manner, Major General Han Min-koo, an official at the international affairs bureau, told reporters.

In December, Japan revised its defense guidelines to enable it to take part in more international peacekeeping missions. The move raised concerns about a possible rebirth of Japanese military expansionism in a number of neighboring countries, including Korea, which was under Japanese colonial rule from 1910 to 1945. [More>>koreaherald.co.kr]
Related to this issue is an article, "Japan, U.S. plan to revise security pact," that addresses an anticipated meeting between the US and Japan regarding the US military pullout from Japan. [More>>Daily Yomiuri]

The Bush administration strategy in Iraq has placed a burden on world-wide defense strategy (or lack thereof). Because of the extraordinary US debt and drain from the war in Iraq, troop reductions in Korea and Japan have been implemented. This involves the possible move of the US Pacific Command to Guam, leaving Japan in the lurch, wondering how and through whom peace in Asia will be maintained. For history on this go to Maravot News Trends & Concerns.
---
1.13.05 Vietnam's FM hails Iran's nuclear stance
LONDON, Jan. 14 – Vietnamese Minister of Foreign Affairs Nguyen Dy Nien hailed the wise stance Iran has adopted on its nuclear capability. In a meeting with visiting Iranian Minister of Commerce Mohammad Shariatmadari, he underlined the importance to Iran's economic development in recent years, saying that Iran has taken a wise decision in its cooperation with the European Union (EU) and the UN nuclear watchdog, IRNA reported. [More>>iranmania.com]
---
1.13.05 'Nuke talks may resume after lineup of US team'
President Roh Moo-hyun of South Korea said yesterday that suspended six-party talks on Pyongyang's nuclear ambition may resume once the second Bush administration completes its diplomatic lineup. He reaffirmed his readiness to meet North Korean leader Kim Jong-il at any time and any place, though he sees only slim chances of holding a second inter-Korean summit soon. [More.>koreaherald.co.kr]
---
1.13.05 Canada and China to boost ties
China believes Canadian Prime Minister Paul Martin's visit to China Thursday will further promote ties between the two countries. [More>>CRIonline]
---
1.12.05 TSUNAMI NEWS
1.12.05 More than 6,000 people still missing in Sri Lanka
COLOMBO, Jan. 12 – The number of persons reported missing in Sri Lanka increased from 5,903 to 6,088, the Sri Lankan government announced today. The death toll has risen to 30,882. [More>>colombopage.com]

---
1.12.05 United Nations to audit dollar donations delivered to tsunami-hit Sri Lanka
COLOMBO, Jan. 12 – The United Nations has decided to monitor all aid money from foreign donors to Sri Lanka to ensure that the money finds its way to those in need. The United States firm PricewaterhouseCoopers has voluntarily agreed to audit the massive aid deliveries to tsunami-hit Sri Lanka. [More>>colombopage.com]
---
1.12.05 Several villages in Sri Lanka extinct; people in crisis
The villages of Komari, Umiriya, Vinayagpuram, Tampatti, Sinnamuhathuwaram, The Fishermen's Colony at Thambiluvil, Tirukovil and Gurukula-Puram Tambiluvil were completely destroyed by the South Asian tsunami. Now the people are in a crisis, lacking toilet facilities, pure drinking water and medical facilities. [More>>dailynews.lk]
---
1.12.05 2,000 victims to be exhumed for new round of DNA checks
At least 2,000 unidentified bodies of tsunami victims will be exhumed for a new round of DNA collection and examination to ensure the international standard is met, said Justice Minister Pongthep Thepkanchana yesterday. The re-examination would be carried out on the bodies kept at Wat Yanyao in Phangnga only, he said. This is because a team of forensic experts led by Khunying Pornthip Rojanasunant, deputy chief of the ministry's Central Institute of Forensic Science, was working there. All the DNA samples taken would be sent for testing in China, he said. [More>>bangkokpost.net]
---
1.12.05 Indonesian Government requires foreign aid workers and journalists to report movements
CANBERRA (AP), Jan. 13 – Australia's prime minister on Wednesday supported the Indonesian government's demand that foreign aid workers and journalists report their movements outside tsunami-battered Aceh's provincial capital. [More>>thejakartapost.com]
---
1.12.05 Foreign troops told to leave Aceh by the end of March
JAKARTA (Antara) Jan. 13 – Foreign troops helping with aid relief efforts in Indonesia's tsunami-stricken Aceh province should leave by the end of March, Vice President Jusuf Kalla said on Wednesday. Forces from Australia, the United States, Singapore, Malaysia, Germany, China, Spain, Pakistan, Japan and Switzerland have scrambled to help with relief efforts in Aceh, on the northern tip of Sumatra island, following the Dec. 26 disaster. More than 106,500 people were killed in Indonesia...[More>>the jakartapost.com; see also thestar.com.my]
---
1.12.05 OTHER NEWS
1.12.05 Tokyo highest-risk city for natural disasters
The Munich Re Group, an internationally acclaimed reinsurance company syndicate, presented its report at an international convention of insurance firms in March 2003. The report was presented by the Japanese Cabinet Office in its 2004 white paper on disaster preparedness. The report rated the Tokyo-Yokohama urban area the most vulnerable megacity in the world, four times riskier than San Francisco and seven times riskier than Los Angeles, behind which came Osaka, Kobe and Kyoto. [More>>Daily Yomiuri]

In a separate report, while Tokyo is rated the most vulnerable city in the world to disasters, San Francisco, Los Angeles and Miami follow in the list of world urban areas that could suffer catastrophic losses: losses in lives and property from earthquakes, flooding, tsunamis or terrorism. Megacities, with 10 million or more inhabitants, "are exposed to all the classic risks, but their exposure and vulnerability are disproportionate," Munich Re, the world's largest reinsurance company, wrote in a special study published Tuesday. [More.>japantoday.com]
The Metropolitan Seoul area, including the port city of Incheon, was given a risk index of 15, a measure that shows the loss potential in a disaster. The population of 20 million is most vulnerable to tropical storms and flooding, while contributing over 50 percent of national GDP. It was jointly ranked at 14th with Beijing. The study found Seoul has a low risk of earthquakes, winter storms and thunderstorms, while it has an almost zero risk of volcanic eruption, tsunamis and storm surge. [More>>the Korea Herald]
---
1.12.05 Discovery in China: mammals fed on dinosaurs in the Mesozoic
Jan. 13 – (AFP) Two remarkable finds in a fossil treasure trove in northeastern China may smash perceptions about early mammals, according to a study published tomorrow in the British weekly journal Nature. The conventional view is that in the long reign of the dinosaurs, mammals were small creatures no bigger than rats and weighed a kilo or two at most.

They probably scurried around in the undergrowth in mortal fear of the dinosaurs, tucking into nocturnal insects for their food...The first fossil, the size of a large cat and dubbed Repenomamus robustus, was found to have the remains of a young parrot-faced dinosaur, a psittacosaur, in its stomach. This is the first direct evidence that early mammals ate small vertebrates.

The other find is arguably even more impressive - a relative of R. robustus called Repenomamus gigantus: a dog-sized mammal more than a metre long and probably weighing 14 to 15 kilos. "A full-grown Repenomamus gigantus ... could hold its own against small dinosaurs," says the American Museum of Natural History, whose curator of palaeontology, Meng Jin, led the Chinese-US expedition. The creatures had large incisors, for grabbing and ripping prey, but their molars were flat and blunt, which suggests that the food was swallowed without much chewing. That implies that chewing among mammals evolved later. [More>>news.com.au]
---
1.12.05 Four more La Conchita bodies found; death toll hits 10
Rescuers pulled the bodies of a mother and her three children out of the mud in La Conchita today, raising the death toll to 10, as Gov. Arnold Schwarzenegger toured the devastated hamlet in Ventura County...The landslide struck shortly after 1 p.m. Monday, as a fourth day of steady rain unmoored a huge section of the hillside that rises steeply behind the town, which is wedged between the hill and Highway 101, with the ocean just beyond. It was the second time in a decade that a major landslide had flattened portions of La Conchita, but Monday's slide was far worse than the last one in 1995. [More>>latimes.com]
---
1.12.05 Hurricane force storms take 5 lives in Britain
Jan. 12 – At least five people are thought to have died in the hurricane-strength storms that hit Scotland, Northern Ireland and parts of northern England, it emerged today. Police in the Western Isles are reported to have recovered a body from a car in the sea off the island of Benbecula, and to have spotted the body of a man in the water nearby. A search was ongoing for four people missing from the village of Creagorry on the island and police could not rule out the possibility that more bodies might be found.

The strongest winds of the storms that began to batter the country last night were recorded in the Western Isles, with gusts of 124mph in North Rona and 105mph on Barra, an island just south of Benbecula. [More>>guardian.co.uk]

---
1.12.05 Protesters plan "die in" during Bush inaguration
WASHINGTON (Reuters) Jan. 12 – Protesters will march through Washington, stage a "die in" across from the White House and turn their backs on President Bush's limousine during his inaugural celebration next week, organizers said on Wednesday. As U.S. authorities prepared unprecedented security for the Jan. 20 event, organizers said thousands of protesters will stage a noisy counterpoint to the lavish $40 million celebration. [More>>Reuters]
---
1.12.05 US wraps up search for banned weapons in Iraq
WASHINGTON (Reuters), Jan. 12 – The U.S. force that scoured Iraq for weapons of mass destruction -- cited by President Bush as justification for war -- has abandoned its long and fruitless hunt to assist in counter-insurgency efforts, U.S. officials said on Wednesday. The 1,700-strong Iraq Survey Group, responsible for the hunt, last month wrapped up physical searches for weapons of mass destruction, and its mission has been refocused on gathering information to help U.S. forces in Iraq win a bloody guerrilla war, officials said. [More>>Reuters].

Television reports Wednesday reflected many of the US Congress outraged over the Bush administration's false pretense initiating the Iraqi war.
---
1.12.05 US trade deficits hit records; swells to $60.3 billion
The nation's trade deficit in November swelled to a record $60.3 billion as U.S. exports fell from the previous month and imports, notably petroleum products, surged way beyond forecasts, the government said today. [More>>latimes.com; see also Reuters]
---
1.12.05 Samsung makes motion-sensitive cell phone
Samsung Electronics Co. has developed a mobile phone that recognizes a continuous movement and carries out the corresponding function, the company said in a statement.

With the "3-dimensional movement recognition phone," a user can end an advertising phone call or delete a spam text message by shaking the device twice up and down. Writing a number in the air with the phone will trigger a hot key and result in the automatic dialing of the appropriate number stored in memory. Samsung said an "accelerometer" is built in to calculate and plot movements in three dimensional space and then carry out commands according to the calculations.

Samsung plans to start mass producing the movement-controlled phone, model, SCH-S310, during the first quarter. [More>>koreaherald.co.kr]
---
1.12.05 Canada finds third case of mad cow disease
Jan. 13 – Canadian officials said Tuesday they had detected a third case of mad cow disease, this time in a cow born after the introduction of preventive measures. The Canadian Food Inspection Agency said in a statement no part of the infected animal – an Alberta beef cow just under 7 years old – entered the human or animal food supply. [More>>bignewsnetwork.com]
---
1.12.05 EU arms ban on China may be lifted soon: Britain
LONDON, Jan. 13 (AFP) – A 15-year-long European Union embargo on selling armaments to China is likely to be lifted in the next six months, British Foreign Secretary Jack Straw said on Wednesday. He said he expected the ban, imposed in the wake of the 1989 Tiananmen Square massacre, to be lifted during Luxembourg's current tenure at the rotating presidency of the EU, which runs until the end of June. [More>>hindustantimes.com]
---
1.12.05 America –except California –is not a good place for Indian retirees
ANAND, India, Jan. 12 – Flying to the US for good and living the rest of onešs life in style is probably the most cherished dream of many Indian citizens. But there are some like senior citizen Harikrishna Majmundar, an immigrant himself, who would do anything to convince you not to do so. [More>>expressindia.com]
---
1.12.05 Musharraf seek US help in resolving Kashmir
ISLAMABAD, Jan. 12 – Despite the US making it clear that it would not mediate on Kashmir, Pakistan President Pervez Musharraf has sought Washington's help in resolving the issue, saying that the positive trend of improvement in Indo-Pakistan ties cannot be permanent without its resolution.

Musharraf, in a meeting with the visiting four-member delegation of US Senators yesterday, called on Washington to help resolve the Kashmir issue which, he said, was the "root cause" for tension in South Asia, official media reported. [More>>Press Trust International ; see also dawn.com]
---
1.12.05 Six held in Iraqi governor's assasination attempt
BAGHDAD, Jan. 12 – US troops have arrested six suspects in the assassination of Baghdad's provincial governor, the highest-ranking official hit so far in attacks to sabotage a Jan. 30 election, the U.S. military said on Wednesday. [jang.com.pk]
---
1.12.05 Fallujah residents may never return
Many residents who fled Iraq's shattered city of Fallujah will not return until after the 30 January election, if at all, due to uncertain security and the lack of schools and hospitals, the UN has said.

About 85,000 residents have entered the city, heavily damaged in a month-long US assault that began in November, to inspect their houses, but only 10 percent of those have decided to stay, the UN's refugee agency UNHCR told a news briefing on Tuesday. "Until the elections take place and until they see what happens, they won't go back because they're scared," spokeswoman Marie-Helene Verney of the UN High Commissioner for Refugees (UNHCR) told reporters. "It's still pretty recent." Fallujah was estimated to have had a population of around 250,000 before the offensive and heavy bombardment...[More>>Al-Jazeera]
---
1.12.05 Russian deputy FM explains to Israel Russia's planned sales of missiles to Syria
Russia's Deputy Foreign Minister Alexander Saltanov visited Israel on Wednesday and discussed with government officials a recent crisis between Moscow and Jerusalem over reported Russian plans to sell Syria missiles capable of striking targets within Israel.
The details of the crisis were reported Wednesday in the Moscow daily Kommersant.

Saltanov, who arrived in Israel on Tuesday, met with Foreign Minister Silvan Shalom, Vice Premier Shimon Peres and senior Foreign Ministry officials. According to the report, the Iskander-E missile has a target radius capable of reaching nearly all of Israel, including the nuclear reactor site outside Dimona. Only the southern Negev and Eilat would be out of range. [More>>haaretzdaily.com]

See also a separate report: Israel is trying to halt an arms deal in which Russia would supply advanced missiles to Syria, Israeli officials said Wednesday. [Jerusalem Post]
---