1.01.05 TSUNAMI HELP & RESOURCES
1.11.05 Accused Australian terrorist Mamdouh Habib to be released
ACCUSED Australian terrorist Mamdouh Habib will be released from Guantanamo Bay detention centre within days and return to Australia a free man after being held for three years without being charged.

Philip Ruddock said the US would not be charging Australian Mamdouh Habib with terror offences / AAP
Attorney-General Philip Ruddock made the dramatic announcement last night after receiving advice from the US that Habib could not be prosecuted, despite the grave allegations against him. Mr. Ruddock said in Sydney that Australian counter-terrorism laws could not be used to prosecute Habib, despite the Government's conviction that he had trained with al-Qaeda and had prior knowledge of the September 11 attacks....It is believed that four British citizens held in Guantanamo Bay are also scheduled to be released. [More>>news.com.au; for the British detainees see guardian.co.uk]

---
1.11.05 Fierce storms hit northern Europe and west coast of US
El Niño may be back, putting California through 2 weeks of heavy storms. Los Angeles county is up 467% over last year's rainfall; San Francisco is up 176%, and high tides make things worse in the Bay Area. Monday a mud slide in La Conchita, a community south of Santa Barbara, California wiped out an estimated 12 homes, killing as of Tuesday morning 3, injure 10, with as many as 22 people being unaccounted for. [More>>cnn.com via bignewsnetwork]; For more on the mudslide see latimes.com]

Last week Rian.ru reported that Russia was experiencing the highest temperatures since 1932, attributed to the warm winds passing over northern Europe. More than 150,000 Swedes were without power Tuesday and police said another person was reported killed in fierce storms that struck northern Europe over the weekend, bringing the death toll to 17. The country's National Board of Forestry said the hurricane-strength winds felled more than 50 million cubic meters (1.7 billion cubic feet) of trees, or about two years worth of lumber. Four people were killed in Denmark by flying debris or falling trees.

Another 10,000 homes in northeastern England were without running water Tuesday because of the weekend storms that caused flooding. [For storms in Europe>>(AFP) thestar.com.my]

Brush fires in South Australia have taken eight lives. It is Australia's worst firestorm in 21 years, since 1983's Ash Wednesday fires which claimed 28 lives in south Australia and 47 in Victoria. [More>>news.com.au]. Some people fleeing the fires jumped into the sea. [More>cnn.com]
Jan. 12 – Firefighters are waiting for reinforcements today after battling through the night with an out-of-control fire in Victoria's west. The fire has burned through more than 8000ha of grassland north of Balmoral, in the state's far west, claiming a house, a car and a hay shed on one property at nearby Telangetuk East and killing about 2000 head of sheep in the region. [More>>news.com.au]
---
1.11.05 Yeltsin killed man in 'drunken hit and run', biographer claims
Andrew Osborn in Moscow reports: Boris Yeltsin, Russia's first democratically elected leader, has been accused of killing a man in a drunken hit-and-run accident when in power and of ordering his aides to cover it up. The incident, which is alleged to have taken place in the early 1990s, is detailed in an updated biography of Russia's first post-Soviet president written by his former top aide and senior bodyguard, Alexander Korzhakov. Mr. Korzhakov's book, Boris Yeltsin: From Dawn to Dusk, was published in 1997 but a new chapter containing the damaging new allegations has been added recently. [More>>independent.co.uk]

---
1.11.05 Who owns your e-mails?
Police sergeant John Ellsworth has sparked a privacy debate in the US that has prompted many to reconsider who can access their E-mail. Mr. Ellsworth is locked in a legal fight with Yahoo! after his son, L/Cpl Justin Ellsworth, a US marine serving in Falluja, was killed by a roadside bomb.

L/Cpl Ellsworth was 20 when he died at the beginning of November, less than two months after arriving in Iraq. During that short spell of duty, the young soldier had spent much of his spare time E-mailing his folks back home through Yahoo! webmail. "He was keeping a journal of sorts to put together for future history," John Ellsworth told BBC News. "He wanted to make sure that his generation, as well as following generations, have actual words from somebody who was there." But Mr. Ellsworth Snr was shocked when Yahoo! turned down a request to release his dead son's E-mails, on the basis of privacy...Other big players in the webmail market, such as AOL and Hotmail, have procedures for transferring E-mail accounts of the deceased to next of kin. Yahoo! UK, meanwhile, has less strict privacy terms than its US counterpart...Solicitor and technology expert Leigh Ellis, of Kaltons Technology Specialists, says in English law at least, the copyright vesting in E-mails, like other possessions, is included in the estate of the deceased. In which case the copyright as property, would pass to the executor. [More>>bbc.co.uk]

---
1.11.05 Disaster relief only lasts as long as media coverage
A report by Ginger Thompson and Nazila Fathi reminds us how quickly promised relief to victims of disaster fade. Hurricane Mitch swept away a community in Honduras six years ago and, say the reporters, Nahum Cáceres said since his community was devastated a dozen international aid organizations have come and gone since then. Thompson and Fathi say, "But all too often when disaster strikes - from here in Honduras to Iran, where the ancient city of Bam was shattered by an earthquake a year ago, to Mozambique, which endured floods in 2000 - that mission seems to last only as long as the media attention. After the last bodies are counted and public focus shifts, governments stop sending money, pledges are withdrawn, many private relief organizations pack their bags and the poor are left to finish reconstruction projects in the face of the same entrenched systems of corruption and neglect." [More>>nytimes.com]
---
1.11.05 Blast in Saddam's hometown kills six
A day after Baghdad's deputy police chief was assasinated when more than a dozen people were also killed Monday, SIX Iraqi police have been killed in a car bomb blast in ousted dictator Saddam Hussein's hometown of Tikrit, northern Iraq. [More>>news.com.au]
---
1.11.05 EU, US avert clash over Airbus-Boeing
BRUSSELS, Jan. 11 – The United States and the European Union averted a legal clash over rivals Airbus and Boeing Tuesday, agreeing to talks on eliminating billions of dollars in subsidies to the world's top two plane makers.

European Trade Commissioner Peter Mandelson said the two sides had agreed to negotiate for three months to patch up their dispute, putting on hold any prospect of litigation at the World Trade Organization (WTO). The agreement also freezes development and production aid for the aircraft manufacturing giants for three months, after which Brussels and Washington hope to have agreed new rules on what can be legally accepted as subsidies. [More>>Reuters.com; see also Associated Press]
---
1.11.05 China becomes No 3 trading nation
BEIJING, Jan. 12 – China has become the world's third-largest trading nation, following the United States and Germany, as its foreign trade value hit a record high of US$1 trillion in the first 11 months of 2004, and the whole year's figure was expected to reach US$1.1 trillion. Simultaneously, Shanghai reportedly has overtaken Rotterdam as the No 1 port in terms of cargo throughput, handling 382 million metric tons last year. [ More>>atimes.com]
---
1.11.05 Halliburton wins Iran gas contract despite sanctions
TEHRAN, Jan. 11 (AFP) – Iran said Monday that U.S. oil giant Halliburton had won a major contract to drill for gas, despite U.S. sanctions against foreign investment in the country's energy industry. "Halliburton and Oriental Kish [an Iranian company] are the final winners of the tender for drilling South Pars phases 9 and 10," Pars Oil and Gas Company managing director Akbar Torkan said, according to state television. An unidentified Pars company board member said the deal for the gas fields in the Gulf off the south coast of Iran was worth about $310 million. [More>>dailystar.com.lb]
---
1.11.05 Prime Minister Ariel Sharon calls Abbas, both leaders agree to meet in coming weeks
Prime Minister Ariel Sharon called the newly-elected Palestinian Authority chairman, Mahmoud Abbas, on Tuesday to congratulate him on his election victory at the start of the week. According to Army Radio, the two leaders committed themselves to maintaining contact and agreed that they would meet in the coming weeks. [More>>haaretzdaily.com; see also Jerusalem Post]. Abbas offers hand of peace. [More>>Al-Jezeera]
---
1.11.05 India and Iran close oil deal
In its $40 billion deal with the National Iranian Oil Co (NIOC), India committed to import natural gas from Iran over a 25-year period and to develop two Iranian oil fields and a gas field. Iran will sell the liquefied natural gas (LNG) to India at a price linked to Brent crude oil. [More>>atimes.com]
---
1.11.05 Wearable PC's may be new trend
Korea's Electronics and Telecommunications Research Institute, backed by the Ministry of Information and Communication, has been developing personal computer products that can deliver high-speed network capability and are smaller than conventional laptops, a concept dubbed as "wearable PC."The device will provide bassic computer functions, an internet connection, and function as a digital music player. [More>>koreaherald.co.kr]
---
1.11.05 International Space Station (ISS) orbit to be raised in height
The height of the ISS orbit gets closer to Earth by 100-150 meters every day. To compensate for the gravitational pull to Earth, the station is "pushed" 4-5 kilometers in a single operation. However, the November 17,2004 "push" failed to achieve its objective, so Saturday January 15 the ISS will be pushed up 8 1/2 kilometers. [More>>rian.ru]
---
1.11.05 Turkey supports Russia becoming a member of the World Trade Organization
MOSCOW, Jan. 11 (RIA Novosti) – Turkey shall fully support Russia in joining the World Trade Organization (WTO), Turkish Prime Minister Recep Erdogan told a meeting with Turkish businessmen, which he has attended together with the Russian president [More>>rian.ru]

---
1.11.05 TSUNAMI NEWS
1.11.05 Indonesia restricts aid workers in Aceh because of militant threats
BANDA ACEH, Indonesia (Reuters), Jan. 11 – Indonesia told aid workers helping tsunami victims in its worst-hit region, Aceh, on Tuesday not to venture beyond two large cities on Sumatra island because of what it said were militant threats. Indonesia's head of relief operations said agencies would need permission to work outside the provincial capital, Banda Aceh, and the ravaged west coast town of Meulaboh. [More>>Reuters.com]
---
1.11.05 Miami Beach bans 10-year-old from raising money for tsunami relief
TALLAHASSEE, Fla. (AP), Jan. 11 – A 10-year-old girl who wanted to open a lemonade stand to raise money for tsunami victims saw her plan hit a brick wall, thanks to government regulations. All 10-year-old Carolyn Lipsick wanted to do was help kids hurt by the tsunami, because, she says, "you can't just think of yourself, you have to think of other people." When her mom called the city of Miami Beach to find out what to do about getting a license, the answer wasn't promising: There is a roadside-vendor ban in Miami Beach. [More>>Associated Press]
---
1.11.05 Endangered Sentinel Islands' aborigines resist tsunami aid
Maravot News (See Maravot News Trends) first reported the problem of the Andaman Islands and the hostile aborigines in their Sentinel Islands. It is not unexpected that the surviving aborigines would be unreceptive to rescue helicopters. Spengler's article on the reception 40 survivors out of a possible 100 inhabitants of the Sentinel Islands is worth reading for anthropology buffs who are concerned about the gradual extinction of the world's last stone-age people, who have declined in population from an estimated 10,000 in the 18th century. [Spengler's article>>atimes.com]
---
1.11.05 India approaches World Bank for tsunami help
NEW DELHI, Jan. 11 – The Indian government has approached the World Bank and Asian Development Bank (ADB) for financial assistance in rebuilding areas devastated by tsunami of December 26, which killed thousands of people and damaged property worth about 1.5 billion dollars. [More>>Press Trust of India via expressindia.com]
---
1.11.05 Sri Lankan government needs $15.6 billion from donor countries
COLOMBO, Sri Lanka, Jan. 11 – The Sri Lankan government appealed to nations to provide $15.6 billion in aid, needed to rebuild the tsunami-affected parts of the country. [More>>colombopage.com]
---
1.11.05 Tamil Tigers' political chief miffed that Annan prevent from rebel-held area
S.P. Thamilselvan, the chief of the Tamil Tigers rebels in northern Sri Lanka said to the AFP, the rift between the two sides had been widened by the government's barring of UN Secretary General Kofi Annan from rebel-held areas in the northeast and the unfair distribution of international relief at the expense of the Tamil minority. [More>>via Yahoo News]
---
1.11.05 Death toll in Indonesia rises to 105,262
JAKARTA (AFP): The death toll from the earthquake and tsunami in Indonesia rose to 105,262 while the number of people listed as missing stood at 10,046, the social affairs ministry said on Tuesday. The new figure marked an increase of 1,207 on the previous toll of 104,055 from the Dec. 26 disaster. [More>>thejakartapost.com]

---
1.11.05 US ship brings 100 marines, helicopters to Sri Lanka
Although the US was scheduled to land 1,500 US marines in Sri Lanka, the Amphibious vessel USS Duluth brought about 100 marines and three helicopters to the southern coast of Sri Lanka for relief work before heading on to Iraq, a US official said yesterday. [More>>dailynews.lk]
---
1.11.05 Illegal aliens in Thailand receive cold shoulder
While foreign tourists and Thais who survived the monster waves have been provided with shelter, basic facilities and financial assistance, hundreds of Burmese workers that are still alive and kicking are being treated as if they don't even exist. Illegal Burmese immigrants were caught up by the tsunami but have no rights as aliens. [More>>bangkokpost.net]
---
1.08.05 TSUNAMI NEWS
1.08.05 US to remain in Sri Lanka a long time says Powell
COLOMBO, Sri Lanka, Jan. 8 – Refusing to give a time frame, United States Secretary of State Colin Powell yesterday said prior to his departure from Sri Lanka that the US Marines who are landing here soon may spend a long period in Sri Lanka to carry out the relief and rebuilding process. ³We will be here for a long period of time by the simple fact that our Embassies are here, our USAID missions are here and the US military forces are here in the region. I can't tell you how long they will stay,² Mr. Powell said. [More>>lankapage.com]
---
1.08.05 Annan, Wolfensohn to tour tsunami-hit areas
Jan. 8 – UN Secretary General Kofi Annan arrived in Colombo yesterday evening for a tour of areas battered by the December 26 tsunamis. Annan, who arrived from Indonesia, was met at the Bandaranaike International Airport by Finance Minister Dr Sarath Amunugama. Annan was accompanied by the Administrator of UNDP and Chef de Cabinet Mark Malloch Brown who, as Chair of the UN Development Group, will be coordinating the regional recovery effort with the World Bank and the Asian Development Bank. [More>>dailynews.lk]

---
1.08.05 Billionaire asks Bush to send $40 million cost of inagural party to tsunami victims
A Dallas billionaire solicited to help pay for Bush's inauguration suggested that President George W. Bush cancel his inaugural balls and donate the $40 million saved to tsunami victims. Mark Cuban, the owner of the Dallas Mavericks basketball team, put the proposal on his web site December 31, and it has generated controversy – and support – on the Internet. Cuban believes that it would be "A great way to demonstrate that first step would be to have the inauguration, but cancel the parties and request the uncommitted donations be donated to the relief effort," he said in an email to ANN. [More>>asiannewsnet.net]
---
1.08.05 Death toll in Asian quake disaster tops 156,000

JAKARTA, Jan. 8 – The number of people killed when an earthquake and tsunamis devastated Indian Ocean coastlines on December 26 stood at just over 156,000 Saturday after Indonesia reduced its number of deaths by almost 3,000. The Indonesian government revised down the nation's death toll to 104,055 from a figure of 107,039 given earlier in the day, the social affairs ministry said.

An official with the ministry's relief coordination center, Wawan Setiawan, blamed the mistake on overlapping tallies from different districts, but said the latest tally had been thoroughly checked for its accuracy.

In Sri Lanka, 30,680 were confirmed killed, the government said. Another 4,883 people were still missing, while the number of people displaced by the catastrophe was around 578,224, according to government figures.

In neighbouring India, the official toll passed 10,000 with the number of missing at 5,624, most of them presumed dead.

The death toll in Thailand climbed above 5,300, but the number of missing kept dropping as authorities double-checked initial reports, the interior ministry said.

Fourteen more people were confirmed dead Saturday, bringing the death toll to 5,305. The list of missing dropped by more than 70, as authorities revised their figures to 3,498 missing. [More>>jang.com.pk]
---
1.08.05 India's tsunami toll rises to 15,636

New Delhi, January 8: India revised its toll from the December 26 tsunami to 15,636 people dead or missing. The number of confirmed deaths rose to 10,012, while 5,624 people were reported missing, most of whom, officials say, are presumed to have died. The home ministry said the damage caused by the tsunami was estimated to be $1.6 billion. [expressindia.com]
---
1.08.05 Indonesia tsunami toll rises to 104,055

JAKARTA (Reuters), Jan. 9 – Indonesia reported nearly 3,000 new deaths on Saturday from the Dec. 26 earthquake and tsunami which struck the country's Sumatra island, bringing the toll of confirmed dead to 104,055. [More>>thejakartapost.com]
---
1.08.05 Aceh needs water, medicine, helpers: Aid worker
JAKARTA (Bloomberg), Jan. 9 – Indonesia's tsunami-ravaged province of Aceh needs more volunteers and additional supplies of clean water and medicine as outbreaks of pneumonia, typhoid and diarrhea rise among refugees, aid workers said. Jose Rizal, a doctor with the Jakarta-based Medical Emergency Rescue Committee, said the Indonesian province that suffered the highest death toll in the Dec. 26 tsunami is short of people to help recover and bury bodies, and to tend sick and injured survivors. "We need a lot of clean water and equipment," Rizal said in a telephone interview. "Right now we're seeing growing cases of upper respiratory infection, diarrhea, typhoid, skin diseases, pneumonia. We need a speedy distribution of medicine. [More>>thejakartapost.com]
---
1.08.05 Aftershocks continue to rattle devastated Aceh
JAKARTA (AP), Jan. 9 – A string of aftershocks rocked Indonesia's devastated Aceh province on Friday and Saturday, the country's Geophysics Agency said. Muslih, the agency's spokesman, said at least 14 aftershocks under the Indian Ocean had rattled the province on the northern tip of Sumatra island since Friday morning. The first and strongest one was of magnitude 5.4 which struck at 8:59 a.m. (0159 GMT) Friday. [More>>thejakartapost.com]
---
1.08.05 Selective DNA testing by foreign teams irks Thai goverment
PHUKET, Thailand, Jan. 8 – The Thai Government yesterday lambasted foreign forensic teams for discriminating against non-Caucasian corpses when collecting samples for DNA analysis to facilitate the identification process. Thai Interior Minister Dr Bhokin Bhalakula said the foreign forensic teams were picking and choosing Caucasian corpses first, adding that DNA samples of the 4,000 unidentified bodies should be taken in a systematic manner and not on a selective basis. ³We will not allow this to go on. Every corpse must be treated equally regardless of race or nationality,² he said. [More>>thestar.com.my]
---
1.08.05 Tag problems delay naming of the dead
The immense challenge of identifying the remains of Britons missing in Thailand has been compounded by problems of tagging that will require hundreds of bodybags to be unzipped and the remains resampled, the Guardian has learned.

Half the corpses at Thailand's biggest morgue may have been affected because the ink on identification labels has run as a result of disinfectant and fluids running out of the decomposing bodies. "We can't read the tags because they have dissolved so we'll have to do them again," said Thailand's forensic chief, Porntip Rajanasunan. "A lot of people are unhappy about that, but we have to get this right. We must respect the dead and ensure everyone returns to the right home." [More>>guardian.co.uk]
---
1.08.05 Tsunami's affects on coastlines
Emma Ross (AP) writes an interesting article on the affects of the tsunami, why some coastlines were impacted and others were not. Experts report from their surveys that the coastlines have remained largely unchanged. However, the Andaman and Nicobar islands did experience what appears to be a permanent change: "Experts say nearly all the rest of the region is too far from the epicenter for the physical geography to have been affected. Those areas look different now because of flooding from the tsunami, but the water will recede.

One exception may be the Andaman and Nicobar islands. Experts say it's possible that the Indian archipelago, some of it about 150 kilometers (90 miles) off northwestern Sumatra and in the general location of strong aftershocks, may have been changed for good.

Local Coast Guard Commander Anil Pokhariyal said his aerial survey of the islands indicated that one may have been cut in two and another divided into three since the disaster. A third island, Sentinelese, appears to be reshaped, he said, "A long stretch of coral reef, which used to be under the sea, has now emerged overland," he said. "The island appears to have tilted - one side submerged and the other emerging above water." [More>>gadsdentimes.com via tajikistannnews.net]
---
1.08.05 OTHER NEWS
1.08.05 Guam-based attack submarine runs aground
WASHINGTON, Jan. 8 – Donna Miles, American Forces Press Service, reports that a US Navy submarine ran aground in the Pacific. About 20 crew members are injured, one critically, after the Los Angeles-class submarine USS San Francisco ran around Jan. 7 about 350 miles southeast of Guam.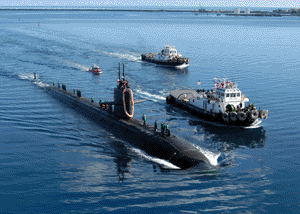 US Pacific Fleet file photo of USS San Francisco
The Guam-based attack submarine, with 137 crew members aboard, ran aground about 4 p.m. Hawaii Standard Time while conducting submerged operations, according to Alyssa Batarla, a spokesperson for U.S. Pacific Fleet Public Affairs at Pearl Harbor, Hawaii.

The vessel was en route to Brisbane, Australia, for a routine port visit when the incident occurred, Batarla reported.

Initial reports indicate that the submarine's hull is intact, and there are no reports of damage to the reactor plant, she said. Military and Coast Guard aircraft were en route to the site to monitor the situation and provide assistance.

The vessel is currently on the surface in the western Pacific, returning under its own power to Guam. It is expected to arrive at its home port Jan. 10, Batarla said.

USS San Francisco is one of three nuclear-powered submarines homeported in Guam, Batarla said. [www.dod.mil]


---
1.08.05 Jordanian terrorist Abu Musab Al-Zarkawi believed captured
According to Israelnn.com, Kurdish sources are reporting that Iraqi security forces have captured the Jordanian terrorist Abu Musab Al-Zarkawi. Zarkawi is thought to be the leader of much of the anti-American, Islamist insurgency in Iraq and a local commander for Al-Qaeda. While official Iraqi sources have yet to confirm or deny these reports, media outlets throughout the Middle East are repeating the Kurdish reports. [kurdistanobserver.com; see also Israelnn.com]
---
1.08.05 Senator Feinstein comments on the fight to stop Bush cuts in Medicaid
The following comment received via E-mail from Senator Feinstein relates to my concerns E-mailed to her, of Bush administration cuts in state aid to offset interest obligations on the US debt:
Jan. 3, 2005

Dear Mr. Copeland:

Thank you for contacting my office with your concerns about cuts to public health care programs in the President's Fiscal Year 2005 Budget and their impact on California. I appreciate hearing your thoughts on this important issue and I welcome the opportunity to respond.

I strongly believe that funding for public health programs is important for individuals who are elderly, disabled or surviving on low incomes and rely on public health coverage to receive the care they need. I have consistently supported federal funding for state fiscal relief and I would like you to know that I co-sponsored the Baucus Amendment, which prevented $11 billion in cuts to the Medicaid program from being included in this year's Budget Resolution. The Baucus Amendment passed in the Senate by a vote of 53 to 43.

Please know that I have carefully noted your comments and your concern and I will keep them in mind as the Senate continues to address Medicare and Medicaid funding.

Again, thank you for writing. I value your thoughts on important issues that personally affect you and I hope that you will continue to contact me with your concerns. If you have any further comments, please call my Washington, D.C. office at (202) 224-3841.

Sincerely yours,

Dianne Feinstein
United States Senator
---
1.08.05 Cloned cows with human genes born
Two cloned cows containing a human gene, which is an important component in breast milk, were born in east China's Shandong Province. The cows, which have the lactoferrin gene, were born in an animal research base for gene transfer. Experts say the cloned cows will be able to yield nourishing milk because of the gene transfer of human milk. They say cloned cattle with the human gene is valuable for scientific purposes and business. Only a few countries can do this cloning, including Britain and Argentina. [CRI online]
---
1.08.05 Kerry hopeful that strained US-Syrian ties can be improved
DAMASCUS, Syria, Jan. 8 – United States Senator John Kerry said Saturday after talks with Syria's president he is hopeful that strained U.S.-Syrian relations can be improved, while President Bashar Assad assured him that he is interested in dialogue with Washington. The former Democratic presidential candidate, who arrived in Damascus Friday, met for two hours with Assad before meeting separately with Foreign Minister Farouk al-Sharaa. In both meetings, the talks centered on the situation in Iraq and how to prevent militants from moving from Syria to Iraq. [More>>haaretzdaily.com; see also Jerusalem Post]
---
1.08.05 Iraq Blast Kills 14, Locals Blame U.S. Air Strike
AAYTHA, Iraq (Reuters), Jan. 8 – Furious residents of a northern Iraqi village said on Saturday a U.S. air strike had flattened a villa and killed 14 civilians inside, in an attack likely to stir anti-U.S. anger ahead of a Jan. 30 election.

The American military, which has seen its effort to win Iraqi hearts and minds undermined by public anger over civilian casualties, said it was investigating the incident in Aaytha, southeast of the city of Mosul, but had no immediate confirmation on whether U.S. forces were behind the attack.

A suicide bomb killed four people near a checkpoint south of Baghdad, while militants abducted three senior Iraqi officials, the latest attacks in a guerrilla campaign to sow chaos ahead of the elections. [More>>Reuters.com]

---
1.08.05 Riots erupt in Gilgit, Pakistan, 15 killed
GILGIT, Jan. 8 – Curfew has been imposed in Gilgit city after 15 people including the Director of Health Services Northern areas, guard and a driver of a prominent Shia leader, Agha Syed Zia ud Din Rizvi ,and a terrorist were shot dead and eight people critically injured in several firing incidents here Saturday...Several government offices building including civil secretariat, PWD headquarters and planning and development were set on fire...The man who was killed seemed to be a terrorist and he does not hail from Gilgit, home secretary stated. [More>>jang.com.pk; see also Al-Jezeera]
---
1.08.05 Town divided over civil rights slayings
PHILADELPHIA, Miss. (AP), Jan. 8 – The arrest of former Ku Klux Klan leader Edgar Ray Killen Thursday in one of the most horrific crimes of the civil rights era was for some a satisfying culmination of a long-delayed hunt for justice. But others here would rather forget the crime, along with the stain of violent racism it left on the town. [More>>Associated Press]

---
1.08.05 25-hour gunbattle ends in Srinagar; 2 militants killed
SRINAGAR, Kashmir, Jan. 8 – Security forces today killed two militants holed up in the Income Tax Building in the heart of the city here after nearly 25 hours of gunbattle that also left five people including four security personnel dead. The ultras of al-Mansoorian outfit were killed after security forces launched room-by-room sanitisation excercise to push them to one side of the building in the Barbarshah locality here, Deputy Inspector General of Police H K Lohia said. [More>Press Trust of India; see also dawn.com]
---
1.08.05 Gunmen abduct four Iraqi officials
BAGHDAD, Iraq (CNN), Jan. 8 – Gunmen abducted four public officials from Salah Ad Din province Friday night, according to a 1st Infantry Division spokesman. The public officials were in two vehicles, coming from the southern city of Najaf, when gunmen attempted to stop them, Maj. Neal O'Brien said. One of the cars escaped. Only three officials have been identified. They are Khataan Hamada, Salah Ad Din Provincial Council chairman; Ali Ghalib, assistant governor for technical affairs; and Amar Aaiash, dean of the Tikrit University College of Law. [More>>cnn.com via bignewsnetwork]
---
1.08.05 Sixteen Islamic militants arrested in Manilla; five detained
MANILLA, Jan. 8 – Police on Saturday filed charges of illegal possession of explosives and firearms against five of the 16 people who were arrested on Friday during a raid of an Islamic office in Manila that yielded improvised explosives and guns. The rest of the people nabbed inside the Islamic Information Center at the third floor of the Agoncillo Building at the corner of Taft Avenue and Pedro Gil Street were released around 1 a.m. for further investigation. Charges before the Manila Prosecutors Office were Afgani Alonto, Ahmad Ricalde, Yusof Anor, Alih Nadia Hasshim and Mamar Adam Magilay. [More>>inq7.net]