---
Update, 6.10.06 6.08.06 Al-Qaida in Iraq's al-Zarqawi 'terminated'
BAGHDAD, June 8 – Abu Musab al-Zarqawi, the al-Qaida leader in Iraq who waged a bloody campaign of suicide bombings and beheadings, was killed overnight by F-16 jets dropping two 500-pound bombs, U.S. and Iraqi officials said Thursday. It was a long-sought victory in the war in Iraq.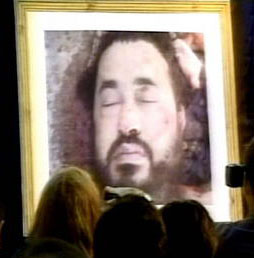 Image taken from June 8 TV footage shows what the US military in Iraq said is a picture of a dead Abu Mussab Al Zarqawi. He died 10 minutes after the operation. (Reuters, via
metimes.com
)
Al-Zarqawi and seven aides, including spiritual adviser Sheik Abdul Rahman, were killed inside a building in a remote area 30 miles northeast of Baghdad, officials said.
US military spokesman Maj. Gen. William Caldwell showed what he said was a picture of al-Zarqawi after he was killed, and a videotape of an attack in which he said F-16 fighter jets dropped two 500-pound bombs on the site. "We had absolutely no doubt whatsoever that Zarqawi was in the house," Caldwell said. The spokesman said US and Iraqi intelligence found al-Zarqawi by following his spiritual adviser.
"Through a painstaking intelligence effort, we were able to start tracking him, monitor his movements and establish when he was doing his linkup with al-Zarqawi," he said. Caldwell also said US and Iraqi troops carried out 17 raids around Baghdad following al-Zarqawi's killing. Earlier Thursday, Prime Minister Nouri al-Maliki had called a press conference to announce that "al-Zarqawi was terminated." At the White House, President Bush hailed the killing as "a severe blow to al-Qaida and it is a significant victory in the war on terror." [More>>
msnbc.msn
; See also
theaustralian.news.com.au, June 8, "Monster betrayed by closest allies."


Update 6.10.06,
nytimes.com, 6.10.06, "At Zarqawi site, all that is left are questions"
: ...the bodies of the six people, including a child, who American officers say died in the strike, were gone. The most useful bits of intelligence had been carted away. The crater, once a gaping cavern, had been reduced by bulldozer to a mere ditch.
Still, given the extraordinary destruction evident at the house, a number of questions lingered, including how anyone could have survived such an attack, even for a few minutes, as American and Iraqi officials say Mr. Zarqawi did. It seemed puzzling, too, surveying the destruction, how Mr. Zarqawi's head and upper body, shown on television screens across the world, could have remained largely intact...
washingtonpost.com, 6.10.06., "Death could shake Al-Qaeda in Iraq and around the world.'"
---
6.10.06 'Limited' cases of human transmission of bird flu
JAKARTA, June 10 – A minister said Friday human-to-human transmission of bird flu probably occurred in the country's seven cluster cases, but ruled out a pandemic of H5N1 across the archipelago. "Limited human-to-human transmission may have occurred in small clusters in the country. It has not only happened in several regions in Indonesia but also in Azerbaijan and other places in the world," Coordinating Minister for the People's Welfare Aburizal Bakrie said after a meeting with agencies involved in curbing the spread of the disease. Other health officials, contacted separately, were cautious about whether intrahuman transmission had occurred. [More>>thejakartapost.com ; See related bird flu story, xinhuanet.com, 6.09.06, "New bird flu case in Xinjiang under control: ministry."]
---
6.08.06 Baghdad blasts kill 19 people
June 8 – Nineteen people have been killed and more than 40 wounded in two bombings in eastern Baghdad, according to police. The first blast hit a police patrol in the New Baghdad area on Thursday. Two policemen and four civilians were killed in the attack. An hour later, shortly after Nuri al-Maliki, the prime minister of Iraq, announced that Abu Musab al-Zarqawi had been killed, a bomb exploded at the entrance to a busy fruit market in the same area. Thirteen people were killed and several shops were severely damaged. [More>>aljazeera.net]
---
6.07.06 Somali Islamists declare war on 'infidels,' warlords set for battle
MOGADISHU (AFP) June 7 – Islamists holding much of the lawless Somali capital declared war on "infidels" on Wednesday as a battered US-backed warlord alliance that they have been fighting girded for new clashes. With the two sides locked in a tense standoff outside the alliance's last remaining stronghold north of the city, and holdout warlords refusing to accept Islamic control of Mogadishu, elders frantically appealed for peace. Yet Muslim militia and the Alliance for the Restoration of Peace and Counter-Terrorism (ARPCT) showed no signs of backing down from positions that led to four months of battles in the capital, leaving hundreds dead.

Mogadishu's most senior Muslim cleric, Sheikh Nur Barud, called on Somalis to crush secular resistance to the imposition of Sharia law and to reject warlord efforts to garner support by appealing to clan and tribal loyalties. "All Somalis must defend the Islamic courts because this is not inter-clan fighting, but war with the infidels," he said in a speech aired by local radio stations. "This fighting is between those who support Islam, and godless invaders and those who support them," Barud said. He referred to the ARPCT and the United States, which has provided cash and intelligence support to the warlords to track down extremists, including alleged Al Qaeda members, whom Mogadishu's 11 Islamic courts are suspected of harboring. [More>>metimes.com]
---
6.07.06 Europe 'colluded with web of CIA rendition flights'
June 7 – Europe's top human rights body said today that it had uncovered a "spider's web" of secret flights used by the CIA to ferry terror suspects between Europe, the Middle East and North Africa. A report for the Council of Europe after a seven-month investigation into allegations of CIA-run secret prisons named 14 European states, including Britain, accused of colluding with the CIA "rendition" programme. It said that several countries participated actively, while others turned a blind eye.

Dick Marty, the Swiss senator who led the investigation, offered no clear proof to substantiate the allegations of secret detention centres in Europe used to extract confessions or information from suspects. But he said that CIA planes carrying terror suspects stopped in Romania and Poland, where such centres might have existed. Unveiling the report in Paris today, he said: "Even if proof, in the classical meaning of the term, is not as yet available, a number of coherent and converging elements indicate that such secret detention centres did indeed exist in Europe."

...Mr. Marty said that a total of 14 of the 46 Council of Europe member states were implicated in the practice of extraordinary rendition, seven of which – including Britain – could be held responsible for "violations of the rights of specific persons." Britain was also named alongside Poland, Romania, Germany, Turkey, Spain, Cyprus, Ireland, Portugal, Greece and Italy in a list of countries accused of collusion – "active or passive" – with the CIA rendition programme. But Tony Blair dismissed the report in the Commons today, telling MPs that it added "absolutely nothing new whatever" to what was known about the rendition programme. He added: "We have kept Parliament informed of all the (rendition) requests we are aware of – four in 1998, two of which were granted, two declined." [Full story>>timesonline.co.uk]
---
6.06.06 'Bike bomb' kills three Afghans, suicide blast hurts three US troops
KABUL, June 6 – Three people were killed in eastern Afghanistan on Tuesday when a motorbike being rigged up as a bomb exploded, an official said, while three US soldiers were hurt in the latest in a string of suicide blasts. Explosives were being attached to the motorbike in a madrassa, or religious school, in central Ghazni province so that the vehicle could be used to carry out a bombing, possibly a suicide attack, provincial governor Shir Alam said. Eight other students were wounded in the blast, including the one working on the bike, he said, adding that a man was arrested. In Khost province further to the east three US soldiers were wounded when a suicide car bomb struck a convoy of coalition troops. [More>>metimes.com]
---
6.05.06 Afghan police kill 7 comrades, defect to Taleban
KANDAHAR (Reuters) June 5 – Five Afghan police shot dead seven fellow officers as they slept, before defecting to join Taleban guerrillas fighting in southern Afghanistan, a provincial official said on Monday. Sunday nightıs incident outside Qalat, the provincial capital of southern province of Zabul, comes amid the bloodiest period in an insurgency raging since US-backed forces toppled the militantsı government in 2001...More than 400 people, most of them militants, dozens of Afghan security forces, and at least 17 civilians and four foreign troops were killed in the fighting last month. [Full story>>khaleejtimes.com ; See another article, turkishpress.com, June 6, "Three killed in Afghan suicide blast, 18 Taliban killed in clash."]
---
6.05.06 Islamists claim Mogadishu victory
June 5 – An Islamist militia says it has seized Somalia's capital, Mogadishu, after weeks of fighting against an alliance of warlords allegedly backed by the US. The warlords have controlled the capital since they toppled Somalia's last effective government 15 years ago. Talks are taking place with fighters still loyal to the warlords, Union of Islamic Courts officials said. Interim Prime Minister Ali Mohammed Ghedi says his government wants to begin dialogue with the group. Earlier, Mr. Ghedi sacked four powerful Mogadishu-based warlords who had been serving as ministers. Nine of the 11 Mogadishu-based warlords have now left the city, reports the BBC's Mohammed Olad Hassan. [More>>bbc.co.uk]
---
6.05.06 Gunmen kidnap 50 in Baghdad
June 5 – Men in police uniforms have abducted up to 50 employees of transport companies in Baghdad. An interior ministry official said they grabbed people working in the area, where several travel agencies are based and buses pick up passengers travelling mostly to Jordan, Syria and Lebanon. The victims, including two Syrians, were herded into about a dozen vehicles, according to witnesses. It was not known who was behind the attack. Police said the attackers carried out what appeared to be a coordinated operation.

The head of the police commandos in Baghdad, Major-General Rashid Fulayah, contradicted early reports that the operation was officially sanctioned. "The ministry of interior has nothing to do with this arrest and especially not the commando forces and the forces of public order brigades who are not authorized to do such operations," he said. One witness, Hamza Ali, said the uniformed men were armed with rifles and grenades. He said they drove up in 10 pick-up trucks. "It took them about five minutes to take people away," he said. [More>>aljazeera.net ; see other details, metimes.com, June 5, "At least 50 snatched in Baghdad as 11 students gunned down": ...The confusion over whether the raid was officially sanctioned or a criminal operation is a reflection of the widespread suspicion people in Baghdad have of security forces, some of whom are believed to be infiltrated by militias. A number of other violent operations have been carried out by people in uniforms, which can be easily purchased in the city's markets. Prime Minister Nuri Al Maliki has vowed that the restoration of security to the dangerous city was one of his government's top priorities, though his efforts have been hampered by the inability of his fractious government coalition to agree on a new interior minister. In separate violence at least 26 people died in Iraq on Monday, including 15 in Baghdad alone, while more than 80 people died in the previous two days around the country...
---
6.05.06 WHO confirms another bird flu death in Indonesia
JAKARTA (Reuters) June 5 – The World Health Organisation (WHO) has confirmed an Indonesian teenager who died last week was infected with bird flu, a Health Ministry official said on Monday, taking the country's total of deaths from the virus to 37. Nyoman Kandun, a director general at the ministry, said the 15-year-old boy from Tasikmalaya in West Java had had contact with poultry. Indonesia has seen a steady rise in the number of human infections and deaths since its first known outbreak of H5N1 in poultry in late 2003. It has infected 48 Indonesians so far. [More>>thestar.com.my]
---
6.04.06 Da Vinci Code movie banned in Islamic countries
June 4 – The Da Vinci Code is being banned in Islamic countries and regions. June 4, news.com.au, "Pakistan bans Da Vinci Code," says: Information Minister Mohammad Ali Durrani said today Prime Minister Shaukat Aziz had ordered the ban because of widespread resentment among Muslims as well as Christians, who make up 2.5 per cent of the population. Based on the best-selling novel by Dan Brown about a conspiracy by the Catholic Church to hide the supposed marriage of Jesus Christ and Mary Magdalene, the film has sparked furious protests around the world. "Islam teaches us to respect all the Prophets of Allah Almighty, and degradation of any Prophet is tantamount to defamation of the rest," Minister for Culture GG Jamal told state-run media...

June 4, expressindia.com, "Da Vinci Code withdrawn in Goa," says: Bowing to threats from some quarters to 'forcibly' stop the screening of the controversial film The Da Vinci Code, a multiplex in Goa on Sunday withdrew the movie prompting Christian groups to stop their agitation against it...

May 31, metimes.com, "Egypt bans 'The Da Vinci Code,'" says: On May 19 The Da Vinci Code, with all its controversy, was released to theaters worldwide. Middle Eastern countries, however, have been quick to pull the plug on the film. In Egypt, the film based on Dan Brown's international best seller did not make it to its planned release on May 23, as censors did not give the go ahead. Many in the country speculate that the reason behind this decision is that the government does not want to upset the Coptic population following incidents of sectarian strife and violence over the past year...
---
6.04.06 Gunmen shoot dead Iraqi motorists
June 4 – At least 20 people have been killed by gunmen in Iraq, who pulled them out of their cars and shot them "execution-style", police say. Children, students and elderly men were among those shot dead in the volatile Diyala province, north of Baghdad. In Basra, at least nine people were killed in clashes between police and Sunni worshippers at a mosque. The violence comes as a parliamentary session, which was due to vote on three crucial cabinet posts, was postponed. Deputy parliamentary speaker Khaled al-Attiya announced an indefinite delay amid speculation there was still no agreement on the interior, defence and national security posts. [More>>bbc.co.uk]
---
6.04.06 Widening tropics 'will drive deserts into Europe'
June 4 – The world's tropical zones are growing, threatening to drive the world's great deserts into southern Europe and other heavily populated areas, alarming new research suggests. The study – based on satellite measurements over the past quarter of a century – shows that the tropics have widened by 140 miles since 1979. Scientists suspect that global warming is to blame. Up to now the most startling evidence that the world is heating up has come from the poles where ice sheets have disintegrated, sea ice shrunk, and glaciers started racing towards the sea. But new research published in the journal Science suggests that equally dramatic changes are under way in the hottest parts of the planet.

"t's a big deal," says Professor Thomas Reicher of the University of Utah, one of the authors of the study. "The movement has taken place over both hemispheres, indicating that the tropics have been widening. This may be a totally new aspect of climate change."

...the areas just outside the tropics, at around 30 degrees north and south – running through China, North India, the Middle East, North Africa, Florida and the US Gulf Coast, and through Australia, Southern Africa and Argentina – are warming particularly fast. [Full story>>independent.co.uk]
---
6.03.06 Initial response to Marine raid draws scrutiny
WASHINGTON, June 3 – Marine commanders in Iraq learned within two days of the killings in Haditha last November that Iraqi civilians had died from gunfire, not a roadside bomb as initially reported, but the officers involved saw no reason to investigate further, according to a senior Marine officer. The commanders have told investigators they had not viewed as unusual, in a combat environment, the discrepancies that emerged almost immediately in accounts about how the two dozen Iraqis died, and that they had no information at the time suggesting that any civilians had been killed deliberately.

But the handling of the matter by the senior Marine commanders in Haditha, and whether officers and enlisted personnel tried to cover up what happened or missed signs suggesting that the civilian killings were not accidental, has become a major element of the investigation by an Army general into the entire episode.

Officials have said that the investigation, while not yet complete, is likely to conclude that a small group of marines carried out the unprovoked killings of two dozen civilians in the hours after a makeshift bomb killed a marine. A senior Marine general familiar with the investigation, which is being led by Maj. Gen. Eldon A. Bargewell of the Army, said in an interview that it had not yet established how high up the chain of command culpability for the killings extended. But he said there were strong suspicions that some officers knew that the Marine squad's version of events had enough holes and discrepancies that it should have been looked into more deeply. [More>>nytimes.com]
---
6.03.06 Afghan, coalition troops retake "lost" district, 15 Taleban killed
KABUL (AFP) June 3 – Afghan and coalition forces have killed at least 15 Taleban fighters and driven the insurgents into the mountains after an combined air and ground assault to retake control of a southern district, officials said on Saturday. Coalition aircraft dropped troops into the remote Chora district in Uruzgan province late Friday and pushed Taleban fighters back into nearby mountains, the ministry said in a statement. "At least 15 Taleban bodies were found," it added. The troops met "limited resistance" from rebels as they fled, the US-led coalition said in a statement. [More>>khaleejtimes.com ; See also aljazeera.net, June 3, "Heavy losses for Taliban claimed."]
---
6.03.06 Five dead as Syrian forces battle militants in Damascus
June 3 – Four gunmen and a guard were killed in Damascus on Friday when security forces foiled an attack near the premises of state-run television in the capital, the official Syrian Arab News Agency (SANA) said. Two militants and two members of the security forces were wounded during the shootout, SANA said. Authorities arrested four other militants. The clashes, which took place close to Umayyad Square in the heart of the Syrian capital, were the first of their kind next to a public building in Damascus since the standoff between the authorities and the banned Muslim Brotherhood in the 1980s.

"Special security forces thwarted a terrorist operation early today that targeted uninhabited buildings behind the building of [state] radio and television," SANA said. "Four members of the terrorist group were killed in the clashes, two were wounded and four captured. A security guard was killed in the exchanges and two others were wounded."

The abandoned buildings targeted by the militants are close to an office of Syrian customs just behind Umayyad Square, which houses several public buildings including the national library and national opera. Syrian Army headquarters are also in the vicinity. State television said initial interrogations of the captured suspects suggested they were recent converts to Islamic militancy. [More>>dailystar.com.lb]
---
6.03.06 Zarqawi tape rails against Shia
June 3 – Abu Musab al-Zarqawi, al-Qaeda's leader in Iraq, has called on fellow Sunnis to reject any reconciliation with Shia, according to an audio tape posted on the internet. The tape, posted on Thursday in a website often used by Iraqi insurgent groups, could not be authenticated. [More>>aljazeera.net]

Editorial note: For Maravot News records relating to the curious phenomena of terrorists use of the internet – using an "often used website" click here: 05.23.06 Architect of New War on the West and Bin Laden via As-Sahab website . The internet service providers for the internet are not that many, and the fact that terrorists can run their sites under US and British purview is remarkable.
Mel Copeland
---
6.03.06 Iran says breakthrough possible, welcomes unconditional talks
(AP) June 3 – Iran said Saturday that a breakthrough in negotiations over its contentious nuclear program was possible and welcomed unconditional talks with all parties, including the United States. Iran's state-run television said President Mahmoud Ahmadinejad told United Nations Secretary General Kofi Annan that a settlement over the Islamic republic's nuclear program was possible, provided the International Atomic Energy Agency - the UN's nuclear watchdog - preserved Tehran's minimum right to atomic energy. "A breakthrough to overcome world problems, including Iran's nuclear case, would be the equal implementation of the law for all," the television quoted Ahmadinejad as telling Annan during a telephone conversation. Ahmadinejad's comment alluded to the fact that Iran is a signatory of the IAEA treaty that allows member states to pursue civilian nuclear activities. [More>>haaretz.com]
---
6.03.06 One Russian embassy official killed, four kidnapped in Baghdad
MOSCOW (RIA Novosti) June 3 – The Russian embassy in Baghdad confirmed media reports Saturday that one of its officials had been killed and four abducted in the Iraqi capital. "A group of unidentified gunmen attacked the [Russian] embassy's vehicle at 1:45 p.m. Moscow time [9:45 a.m. GMT] in Baghdad's eastern Mansour district," embassy spokesman Igor Markov told RIA Novosti on the phone. Markov said one embassy employee had been killed and four kidnapped, but did not specify whether these people were diplomats. Earlier, the reports were confirmed by Russian Consul Alexander Potapov. [More>>rian.ru ; See more details, nytimes.com]
---
6.03.06 Police look for chemical bomb after terror suspect is shot in dawn raid
June 3 – A 23-year-old man is recovering after being shot in a massive police raid to thwart a suspected chemical attack in Britain. In the biggest anti-terror operation mounted in the capital this year, 250 officers, some wearing protective biochemical suits, swooped on a family home in Forest Gate, east London, yesterday.

The man, Abdul Kahar, was shot in the shoulder during the early morning raid and taken to a nearby hospital where he was put under armed guard. He was later arrested on terrorism charges. The shooting was immediately referred to the Independent Police Complaints Commission, which will shortly report on the death of Jean Charles de Menezes, the Brazilian man mistaken by armed police for a suicide bomber. A second suspect, Abdul Koyar, 20, was also arrested under the Terrorism Act after the raid. The two men are brothers who live with their parents.

Forensic experts will spend several days examining the terraced house looking for evidence of chemicals that could be used in a poison gas attack. Suggestions it was being used as a bomb-making factory were swiftly discounted, and there was no early sign last night of incriminating material being discovered. The decision to raid the property was taken after an MI5 surveillance operation, lasting several months, which security sources said was aimed at thwarting a terrorist attack in Britain, but was not related to the bombings on 7 July last year. [More>>independent.co.uk]
---
6.03.06 Massive terror attack averted: RCMP
June 3 – A terror attack potentially three times more devastating than the Oklahoma City bombing has been averted, the RCMP alleged Saturday. A counterterrorism sweep Friday resulted in the largest arrest ever made by the nation's anti-terrorism forces and raised, for the first time, the spectre of homegrown terrorists striking Canadians from within our borders.

RCMP Assistant Commissioner Mike McDonell announced the arrest of 12 Ontario men who were to appear in court later Saturday in Brampton, west of Toronto. The men ranged in age from 19 to 43, and are residents of Toronto, Mississauga and Kingston. Five youths who cannot be identified under the Youth Criminal Justice Act have also been arrested and charged.

Commissioner McDonell alleged that the suspects were part of a homegrown terror cell intent on launching attacks against targets in Southern Ontario. "This group presented a real and serious threat. They had the capacity and intent to carry out a terrorist attack," said RCMP Asst. Commissioner McDonell.

Media reports Saturday alleged that the suspects engaged in terror training camps north of Toronto. It was further alleged that the group was plotting to attack targets in Toronto, including the headquarters of the Canadian Security Intelligence Service. The RCMP says the sweep began Friday night in co-operation with an Integrated National Security Enforcement Team, or INSET. These arrests are the largest ever made since the inception of INSET. [More>>theglobeandmail.com]
---
6.03.06 Iraq rejects US probe clearing troops of killings
BAGHDAD (Reuters) June 3 – Iraq vowed on Saturday to press on with its own probe into the deaths of civilians in a US raid on the town of Ishaqi, rejecting the US militaryıs exoneration of its forces. Adnan Al Kazimi, an aide to Prime Minister Nuri Al Maliki, said the government would also demand an apology from the United States and compensation for the victims in several cases, including the alleged massacre in the town of Haditha last year.

"We have from more than one source that the Ishaqi killings were carried out under questionable circumstances. More than one child was killed. This report was not fair for the Iraqi people and the children who were killed," he told Reuters. The US military had issued a statement about Ishaqi saying allegations that US troops "executed a family ... and then hid the alleged crimes by directing an air strike, are absolutely false." [More>>khaleejtimes.com ; See also metimes.com, June 3, "Pressure mounts on US forces in Iraq over civilian deaths."]
---
6.03.06 Iraqi police find 8 servered heads near Baqouba
BAGHDAD, June 3 – Iraqi police on Saturday found eight severed heads north of Baghdad with a note indicating at least one of the men were killed in retaliation for the slaying of four Shiite doctors, authorities said. Notes found with the heads near a highway in the Hadid village near the volatile city of Baqouba, 60 kilometers (35 miles) northeast of Baghdad, said one of those killed was Abdul Aziz al-Sheik Hamad and accused him of killing four Shiite doctors and a former governor during the administrator of former Prime Minister Ayad Allawi. The heads were transferred in fruit boxes to the morgue in Baqouba. [thenews.com.pk]
---
6.03.06 Peretz orders probe of IDF killing of Egyptian troops
June 3 – Defense Minister Amir Perez on Friday instructed security forces to coordinate a joint probe with their Egyptian counterparts into the killing of two armed men on the Israel-Egypt border earlier in the day. Egyptian police identified the two men killed after attacking Israel Defense Forces troops as Egyptian security personnel. A third armed man, also a security officer, fled back into Egypt after the attack on the IDF ambush. The reason for their infiltration into Israel was not immediately clear, said Essam el-Sheik, the head of Egyptian police in the border area.

IDF sources told Haaretz they were familiar with the Egyptian claim, but could not confirm it at this point. The gunmen opened fire at an Armor Corps ambush near Mount Sagi in the Negev and then stormed the soldiers' position. The soldiers returned fire and killed two of the men. None of the troops were wounded, but one soldier dislocated his shoulder. The gunmen, who wore fatigues, left behind AK-47 assault rifles and a radio transmitter. [More>>haaretz.com]
---
6.03.06 US, ex-nuclear scientist in spy probe reach deal
WASHINGTON (Reuters) June 3 – A former nuclear scientist once suspected of spying will get $1,645,000 in a settlement reached on Friday of his lawsuit accusing US government officials of disclosing personal information about him and the probe. As part of a settlement filed in federal court, the US government agreed to pay the scientist, Wen Ho Lee, $895,000 to cover his legal fees and costs "in full and complete satisfaction of all claims in this action." In addition to the money paid by the government, the news organizations of five reporters who had been held in contempt for refusing to disclose their sources for stories about Lee agreed to pay him $750,000, Lee's lawyer said.

Both Lee and the government said the settlement agreement should not be viewed as an admission by the US government that the allegations asserted by Lee were true.

Lee was suspected of spying for China while he worked for the Los Alamos National Laboratory in New Mexico. Lee was fired in 1999. The government's case against him later collapsed, and Lee eventually pleaded guilty to one lesser charge. Lee's lawsuit accused US government officials from the Department of Energy, the Department of Justice, and the FBI of violating the Privacy Act by improperly disclosing the information. [More>>thestaar.com.my]
---
6.03.06 Rumsfeld says Asia must include US in regional arrangements
SINGAPORE, June 3 – U Secretary of Defense Donald Rumsfeld on Saturday urged Asian countries to include the United States in any new multilateral cooperation in Asia as he pledged U.S. commitment to maintaining the security of a region still plagued by the North Korean nuclear threat and concerns over China's growing military spending. "Now we see an expanding network of security cooperation in this region both bilaterally between nations and multilaterally among nations, with the United States as a partner. This is a welcome shift," Rumsfeld said in a speech at an Asian security meeting in Singapore. "The United States is, and always will be a Pacific nation...we must and we will lean forward and stay engaged in this part of the world." He also urged China and Japan to ease frictions in their disputes over the historical interpretation of World War II. [More>>crisscross.com]
---
6.03.06 Dark soya sauce healthier than red wine – study
SINGAPORE (Reuters) June 3 – Dark soya sauce, widely used in east Asia, may prove to be more effective than red wine and vitamin C in combating human cell damage, researchers in Singapore said. Scientists found that the sauce – derived from fermented soya beans – contains antioxidant properties about 10 times more effective than red wine and 150 times more potent than vitamin C, Singaporean Strait Times reported on Saturday. Antioxidants – found in red wine, fruits and vegetables – counter the effects of free radicals, unstable atoms which attack human cells and tissues.

Free radicals have been linked to the aging process as well as a range of ailments including Parkinson's disease, cancer and heart disease. The National University of Singapore study also found that the sauce improved blood flow by as much as 50 percent in the hours after consumption. [More>>thestar.com.my]
---
6.03.06 Local test shows girl died from bird flu at Jakarta hospital
June 3 – Laboratory tests conducted by the Health Ministry confirmed Friday that a seven-year-old girl who died late Thursday night in Jakarta contracted avian influenza. In Bandung, a nurse who treated confirmed bird flu patients has been quarantined after showing symptoms of the disease. If she is confirmed for H5N1, it would raise the worrisome possibility of human-to-human transmission of the virus. [More>>thejakartapost.com]
---
6.03.06 Passengers' fury as 200 are struck down on 'virus' cruise ship
June 3 – A cruise ship had to return to the UK prematurely after hundreds of passengers were struck down by a virus. More than 2,000 Britons finally disembarked from the Sea Princess after it docked in the port of Southampton yesterday morning. The vessel, which is part of the Princess Cruises fleet, left Southampton for a seven-night European tour last Saturday. But it was forced to turn back and return to England a day earlier than planned after about 200 passengers became ill. They are thought to have contracted the highly contagious norovirus.

Passengers who were affected by the virus suffered vomiting and diarrhoea after contracting the virus, which thrives in semi-closed environments. Some on board complained of being forced to stay in their cabins for much of the trip to try to prevent the virus from spreading, and said the crew did not have the capacity to cope with the outbreak. [More>>independent.co.uk]
---
5.30.06 Key terror suspect arrested
BAGHDAD (AFP) May 30 – The Iraqi Government said today it had captured a key terror suspect who allegedly confessed to hundreds of beheadings. Ahmed Hussein Dabash Samir al-Batawi was arrested by a terrorist combat unit in Baghdad yesterday, according to the prime minister's office. The unit also seized documents, mobile phones and computers that contained the names and addresses of other wanted terrorists and information on Islamic extremist groups, the Government said in a statement. "Al-Batawi is considered at the top of the terrorist list," the statement said. He had "committed the ugliest crimes against innocent civilians especially in Hurriyah neighborhood that witnessed many massacres." The Government said al-Batawi confessed under questioning that he beheaded hundreds of Iraqis in Baghdad and other Iraqi provinces. [theaustralian.news.com.au ; See also, thestar.com.my, May 29, "Iraqi army says captures aide of Zarqawi."]
---
5.30.06 Paris youths clash with police in worst violence since autumn
May 30 – Police sent reinforcements to the troubled northern Paris suburbs today after a night of rioting revived fear of a return of the violence that raged through Franceıs immigrant housing estates last autumn. In another sign of Franceıs continuing racial tension the Government also ordered a high-level police inquiry into an anti-Semitic black extremist group which staged an aggressive march through the historic Jewish quarter of the capital at the weekend. Seven policemen were injured in the four hours of fighting last night in the town of Montfermeil which involved some 400 local officers and national riot police. In the fiercest clashes since last autumn, police fired rubber bullets and stun grenades against youths, many masked and wielding baseball bats.

About 100 youths hurled projectiles and petrol bombs at police and public buildings and attempted to storm the home of Xavier Lemoine, the conservative mayor of the town. The violence was sparked by the arrest of a suspect in the beating of a bus driver earlier this month. The Montfermeil violence spread into the edge of neighboring Clichy-sous-Bois, the flashpoint for last yearıs riots. Two youths were electrocuted there in October while hiding from police in an electricity substation. [More>>timesonline.co.uk ; See also liberation.fr, May 30, "Quatre heures d'affrontements entre jeunes et policiers à Montfermeil."]
---
5.30.06 US sending more troops into Iraq – other recent developments
BAGHDAD (CBS/AP) May 30 – US military commanders are moving about 1,500 troops from a reserve force in Kuwait into the volatile Anbar province in western Iraq to help local authorities establish order there.

The move, announced Tuesday by military commanders, comes as Iraqi officials continue to struggle to set up their government, amid new spikes in violence. The 1st Armored Division has had a brigade stationed in Kuwait for several months serving as a reserve force that could be called upon to augment the troops in Iraq. One of the brigade's battalions was sent to the Baghdad area in March to bolster security until a new national government was seated.

The deployment comes at a time when the Bush administration is under heavy election-year pressure to begin drawing down the roughly 130,000 American troops in Iraq. [More>>cbsnews.com ; See also dailystar.com.lb, May 30, "String of attacks across Iraq leave at least 60 dead."]
---
5.30.06 Race to help Indonesia survivors as quake toll tops 5,400
BANTUL, Indonesia (AFP) May 30 – Desperate Indonesian quake survivors were still waiting for aid despite pledges help would come fast, as the rising activity of a nearby volcano fuelled fears of an eruption. The death toll from Saturday's quake in Central Java province rose past 5,400, but the most urgent task was to get help to 200,000 rain-soaked victims, many of whom huddled under makeshift tents for a third night. Hopes appeared all but lost of finding any more survivors in the ruins after Saturday's 6.3-magnitude temblor.

President Susilo Bambang Yudhoyono visited survivors camping out near the damaged Prambanan Hindu temple complex and pledged that food and medical aid would reach them soon.

"We are giving priority to the victims – those who are injured, the sick, those who need surgery and also refugees who lost their homes and other belongings," he told reporters at the compound, a UNESCO heritage site. "We are prioritizing the medical treatments to save as many lives as possible," the president added later as he toured a makeshift camp in hard-hit Klaten district east of ancient Yogyakarta city. The Indonesian army deployed at least 2,000 soldiers to assist with relief efforts, Army Chief General Joko Santoso said. [More>>turkishpress.com ; See also timesonline.co.uk, May 30, "Injured have to wait days at hospitals with five for each bed"]
---
5.30.06 Iraq's hostages by the numbers
May 30 – More than 400 foreign hostages have been kidnapped in Iraq since April 2004 and up to 30 Iraqis are abducted daily, according to the US embassy in Baghdad. The embassy's Hostage Working Group (HWG) said in a document obtained by Aljazeera.net that: "More than 439 foreign nationals have been kidnapped ... over three every week." It said that 17 were women.

Sixty-five per cent of hostages were released, 18% killed and 17% of cases remained unsolved. Those who regained their freedom were ransomed or rescued. Some also escaped or were freed by their kidnappers, the document said. People from more than 60 nationalities have been captured, with Turks, Jordanians, Americans, Lebanese and Egyptians topping the list. [More>>aljazeera.net]
---
5.30.06 Terror group busted
KOTA KINABALU, Malaysia, May 30 – A new terrorist group suspected of planning attacks on several neighboring countries has been uncovered following the arrest of 12 men. The recent capture of members of the Indonesian radical group, Darul Islam, was the Malaysian policeıs biggest success against terrorism since their crackdown five years ago on Kumpulan Militan Malaysia (KMM) which had links with the Jemaah Islamiah terror network. The Darul Islam group, comprising mainly Indonesians, had at least two locals. The 12 detained were nabbed off the coasts of Sandakan and Tawau following months of police surveillance. The police had learnt that several members of the group would be in ³transit² in Malaysia while on their way to neighboring countries, sources said.

"It was hard work. The Malaysian police had been tracking their movements over the last six months. Then they moved in to smash the militant group before it could carry out its plans. Itıs certainly one of the biggest anti-terrorist successes," a source revealed. The source said police seized several firearms and documents, including bomb-making instructions downloaded from the Internet. [More>>thestar.com.my ; See also aljazeera.net.]
---
5.30.06 European court bars passing passenger data to US
PARIS, May 30 – The European Union's highest court ruled today that an agreement providing for the transfer of extensive personal data on air passengers to the authorities in the United States was illegal. The decision forces the two sides back to the negotiating table at a time when privacy safeguards are increasingly being debated. The European Court of Justice, in Luxembourg, overruled a May 2004 decision by the European Commission and the European Council, which represents national governments. The agreement, which took 18 months to negotiate and was set to last through the end of next year, gives American counterterrorism authorities access to 34 different types of information about passengers on all flights that originate from the 25 member states. [More>>nytimes.com]
---
5.30.06 Tense calm in Afghan capital after riots
KABUL (AFP) May 30 – Armored vehicles and soldiers patrolled the streets of Kabul on Tuesday as the Afghan capital began assessing the damage and cleaning up after a day of rioting that left at least 14 people dead. Parliament met in a secret special session to discuss security in the volatile nation in light of Monday's events, in which scores of buildings were torched, looted and damaged. Police and soldiers were on alert for more demonstrations but reported no disturbances during a six-hour overnight curfew. The streets were emptier than usual as some residents appeared to be waiting before venturing out. The city's large expatriate community, many employed in the aid groups that set up here after the fall of the Taliban government in 2001, were taking particular care after some offices of foreign-based groups were attacked. [More>>metimes.com]
---
5.30.06 Losing battle: AIDS virus spreading says UN
JAKARTA, Indonesia (AP) May 30 – The world continues to lose an ugly battle to HIV/AIDS that shows no sign of letting up after 25 million people have died a quarter-century into the epidemic, the head of the U.N.'s HIV/AIDS joint program said. "I think we will see a further globalization of the epidemic spreading to every single corner of the planet," UNAIDS head Peter Piot told The Associated Press in a telephone interview from Geneva.

UNAIDS on Tuesday was scheduled to launch a 630-page report that takes stock of where the world currently stands with nearly 40 million people living with HIV/AIDS. It documents countries' progress and failures, and projects what must happen to keep some regions from experiencing disaster. The report was set to be released a day ahead of a High Level Meeting on AIDS in New York, a week prior to the 25th anniversary of the first documented AIDS cases on June 5, 1981. [More>>abcnews.go.com]
---
5.30.06 Yangtze river 'cancerous' with pollution
May 30 – China's longest river is "cancerous" with pollution and rapidly dying, threatening drinking water supplies in 186 cities along its banks, including Shanghai, experts warned on Monday. Chinese environmental experts fear worsening pollution could kill the Yangtze river within five years, Xinhua news agency said, calling for an urgent clean-up. "Many officials think the pollution is nothing for the Yangtze," Xinhua quoted Yuan Aiguo, a professor with the China University of Geosciences, as saying. "But the pollution is actually very serious," it added, warning that experts considered it "cancerous." [more>>chinadaily.com.cn ; See another article, thenews.com.pk, May 30, "Contaminated water affectees in Faisalabad, Pakistan, reaches over 28,000."]
---
5.30.06 Taleban kill 3 Afghan women aid workers: official
KABUL, May 30 – Taleban guerrillas on Tuesday shot dead three Afghan women working for a Western aid agency in northern Afghanistan, a provincial official said. The women, who worked for German-funded Action Aid, were victims of a drive-by shooting while travelling in a car to the northeast of Shiberghan, the capital of Jowzjan, a province where the Taleban are present but less active. Their driver was also killed. "Apart from the three women, the driver of the car also lost his life in the attack by Taleban fighters who were riding motorcycles," provincial governor, Juman Khan Hamdard, told media. [thenews.com.pk]
---
5.30.06 In the village of nowhere, a fate soon sealed
NUAMAN, West Bank – For generations, first in caves hollowed from hillsides, then shepherds' tents and simple stone houses, the Shawarwa and Darawi families thrived here amid pine windbreaks, olive orchards and flocks of sheep. On a hill of their own, they worked, married and raised children.

Jamal Darawi was born here in a weathered house in June 1967, the same month Israel triumphed in the Middle East war. In the conflict, Israel's army seized East Jerusalem and the West Bank from Jordan. Soon, the Israeli government drew a larger municipal boundary around Jerusalem, annexing the lands to the Jewish state, including Darawi's home. But Israel did not take the people of Nuaman. An Israeli military census right after the war registered families here as West Bank residents, even though their village fell inside Jerusalem's new borders. As a result, the Israeli government has never offered them the right to live in the city, apply for Israeli citizenship or vote in Jerusalem, rights given to Palestinians in other annexed neighborhoods. For many, it was a distant problem, and as the years passed on Nuaman's single street, the residents did little about it. But now their lives in the village are threatened. Israel's separation barrier is rising along the eastern edge of the village, sealing them inside the Jewish state. [More>>washingtonpost.com]
Copyright © 1981-2006 Maravot. All rights reserved
Copyright © 1981-2006 Mel Copeland. All rights reserved
Painting of Apple by Mel Copeland, early 70's
Background: tile from Cicero's villa (Marcus Tullius Cicero 106 B.C. - 43 B.C.)