---
5.27.06 Quake kills 3,000 people
May 27, 16:12 GMT – More than 3,000 people have been killed and hundreds more injured after an earthquake shook the area around Indonesia's ancient royal city and tourist centre Yogyakarta. The city, on Indonesia's main island of Java, is near Mount Merapi, a volcano that has put people on alert for a major eruption this month. A vulcanologist in Yogyakarta said the quake was not caused by the volcano, but the tremor's impact could increase Merapi's activity. A government official said that 3,002 people had been killed.

The British Government immediately offered help. Search and rescue teams and coordinating experts were put on stand-by. The epicenter of the quake – which measured 6.2 on the Richter Scale – was offshore but it did not cause a tsunami. Yogyakarta is about 16 miles north of the Indian Ocean coast and 275 miles east of Jakarta. Witnesses said hundreds of houses have collapsed in the quake. Office and government buildings are also in ruins. Hospital patients were moved outside due to fears of aftershocks. A witness in Yogyakarta said many people there had fled their homes, while thousands of others from areas near the city were trying to get into it to take refuge. [More>>sky.com ; See related story, khaleejtimes.com (AFP) May 27, "Killer quakes of the past 100 years."]
---
5.27.06 Iranian foreign minister rejects US offer for talks on Iraq
(AP) May 27– Iran's foreign minister has rejected a US offer of direct talks on Iraq, as Tehran hardened its position against international pressure to stop uranium enrichment. Foreign Minister Manouchehr Mottaki said Friday that Iran changed its mind about holding talks with Washington on Iraq because the Americans raised "other issues." He did not elaborate, but the sides have been sparring over Iran's nuclear program and Tehran reportedly wants to talk directly to the US on that subject as well. Mottaki got a boost from his Iraqi counterpart, who said Iran has the right to peaceful nuclear research – a stance that runs counter to US efforts to force Tehran to stop all nuclear activities amid fears it is seeking to develop atomic weapons. [More>>haaretz.com ; See related story, turkishpress.com (AFP) May 27, "Iran says ready to retaliate against any US strike."]
---
5.27.06 Iraq violence leaves 15 dead
May 27 – At least 15 people have been killed in a series of attacks in Iraq, with the restive city of Baquba, where seven died, bearing the brunt of the violence. The US military said a marine was killed "in enemy action" in the western province of Al-Anbar on Friday, bringing the number of US military dead since the March 2003 invasion to 2,465.

In Baquba, gunmen on Saturday shot at the convoy of Kahtan al-Bawi, chief office administrator for the police and brother of city chief of police Gassan al-Bawi, killing him and two other officers. Five workers were killed when insurgents opened fire on their car workshop in Baquba, north of Baghdad, according to police. Nearby, gunmen killed a former Baath-era police officer and a relative as they travelled in their car while three police officers were wounded in a roadside bombing west of the city. [More>>aljazeera.net]
---
5.27.06 Insurgents step up violence in Afghanistan
KANDAHAR, May 27 – More than 20 people have been killed in fresh clashes in Afghanistan, and a human rights group reported yesterday that about 34 civilians died earlier this week in a US air strike on a southern village - double the official toll. A Taliban ambush on a police patrol in the Ghazni province left 10 militants and one policeman dead, said the local police chief, Abdul Rahman Sarjang.Another 13 insurgents and two police died on Wednesday in a battle in the Helmand province's Sangin district, said the local administrator Ghulam Muhiddin. [More>>independent.co.uk]
---
5.26.06 Bush, Blair concede missteps on Iraq
May 26 – President Bush and British Prime Minister Tony Blair last night acknowledged a series of errors in managing the occupation of Iraq that have made the conflict more difficult and more damaging to the U.S. image abroad, even as they insisted that enough progress has been made that other nations should support the nascent Iraqi government.

In a joint news conference, Bush said he had used inappropriate "tough talk" – such as saying "bring 'em on" in reference to insurgents – that he said "sent the wrong signal to people." He also said the "biggest mistake" for the United States was the Abu Ghraib prison scandal, in which guards photographed themselves sexually tormenting Iraqi prisoners, spawning revulsion worldwide. "We've been paying for that for a long period of time," he said. [More>>washingtonpost.com ; See also independent.co.uk]
---
5.26.06 Iraq respects Iran's right to nuclear program
BAGHDAD (AFP) May 26 – Iraqi Foreign Minister Hoshyar Zebari said on Friday that his country respected the right of Iran to develop nuclear technology but expressed concern over mounting tension in the region. "We respect the right of the Islamic Republic to acquire scientific knowledge (in this area), in respect of international law, and we have confidence in the wisdom of the Iranian leaders to find a solution to this problem," said Zebari following discussions with his Iranian counterpart. But he added: "We do not want any of our neighbors and of any friendly country possessing weapons of mass destruction. We confirm our respect for the right of Iran and all countries who (want nuclear power) with guarantees and promises to prevent an arms race in the region and deal transparently with the IAEA." [More>>khaleejtimes.com]
---
5.26.06 Explosives seized in Karachi raid
May 26 – A large quantity of explosives have been seized by Pakistani police during a dawn raid in Karachi, reports say. Two men were arrested during the operation on suspicion of supplying bomb-making material. The suspects were detained during a search of a property in a residential district in the southern city, following a tip-off to authorities. City police chief Niaz Siddiqui did not specify to whom the men were suspected of supplying the material. Mr. Siddiqui said 425kg material including 100kg of sulphur and 325kg of sodium nitrate was recovered. [More>>bbc.co.uk]
---
5.25.06 American involvement in keeping Islamic extremist websites online
May 25 – Haganah.org.il posted this on their site today, confirming many of our independent research and monitoring of trends at Maravot News (See 5. 24.06 update, 5.23.06 "'Bin Laden' denies Moussaoui role" and 5.23.06 "Architect of New War on the West." )

Haganah.org.il – Note: We are speaking here about US companies, not the government of the United States, though it is likely that at least some of the companies involved are providing services to various sites as a result of pressure from government agents. Recently we were asked to fact-check a statement that "70% of Islamic extremist websites are hosted in the United States". The statement is a bit of an over-simplification, but it is not far off the mark.

There are four classes of service providers without whose assistance the typical web site would cease to operate or would otherwise be largely unavailable.

We classify these service providers as follows:

Domain name registrars: they make a name like al-thabaat.com available to a browser and point the browser to a physical address (i.e. IP address) on the Internet.

Datacenters/Network access providers: they provide the IP address and make it possible for traffic to flow to and from the website

Web hosts: they provide the web site operator with space on a web server to use to run their site.

DNS providers: they allow the web site operator to control which physical address their domain name points users to at any given time (it's a good way for the bad guys to keep their sites online because it allows them to move the site more quickly).

At the moment there are 215 sites in our database with the status of ''active.' 162 of those sites receive vital services from at least one American company.

That's 75%. [More>>haganah.org.il]
---
5.25.06 Kazakhstan oil piped into China
ALATAW PASS, Xinjiang, May 25 – Crude oil from Kazakhstan poured into China Thursday morning through a newly completed petroleum pipeline linking the two countries. This is the first time for imported oil to be directly pipelined into China. Brownish oil sprang into a petroleum hub in Alataw Pass, northwest China's Xinjiang Uygur Autonomous Region, at 3:10 a.m. Thursday, about 30 hours after Kazakhstan began pumping oil into the 960-km pipeline, customs officers at the Alataw Pass told Xinhua.

Technicians with the Sino-Kazakh Oil Pipeline Co. Ltd. opened the valve on the China-Kazakhstan border at 7:32 p.m. Tuesday after instructions were received from their Kazak counterparts in Atasu, who started to pump oil into the pipeline at 8:22 p.m. the same day. Industry insiders say construction of the oil pipeline is a win-win strategy for both countries as it enhances China's oil supply and proves an ideal outlet for Kazakhstan's oil export. [More>>chinadaily.com.cn]
---
5.25.06 Russia's Putin objects to Cheney's criticism
SOCHI, Russia (AP) May 25 – President Vladimir Putin said Thursday that Russia wants good relations with the United States but he objected vigorously to U.S. Vice President Dick Cheney's recent criticism of democratic backtracking. "We see how the United States defends its interests, we see what methods and means they use for this," Putin said at a press conference following the Russia-European Union summit, responding to a reporter's request for his reaction to Cheney. In a speech earlier this month in neighboring Lithuania, Cheney accused Putin's Kremlin of rolling back democracy and strong-arming its ex-Soviet neighbors. [More>>msnbc.msn]
---
5.25.06 Pentagon paper shows 'Cold-War mentality'
May 25 – Beijing strongly resents, and firmly disagrees with, the latest Pentagon report that claims China is rapidly extending its military reach and potentially poses a threat to other countries in the region. The report, which exaggerates China's military strength and expenditure out of ulterior motives, is based on "Cold-War mentality," Foreign Ministry spokesman Liu Jianchao said yesterday. By spreading the "China threat" theory, the report has seriously violated principles governing international relations and intervened in China's internal affairs, he said. He noted that China is a peace-loving country and adopts a national defence policy of a defensive nature. "It is universally recognized that China is an important force in promoting peace in the Asia Pacific and the world at large," Liu said. [More>>chinadaily.com.cn ; See also aljazeera.net, May 25, "China says US is scaremongering."]
---
5.25.06 Fierce fighting engulfs Mogadishu, death toll soars
MMOGADISHU (AFP) May 25 – Heavily armed gunmen fought pitched battles in the streets of the lawless Somali capital on Thursday, rocking the city with a fresh surge in the deadliest violence that it has seen in years. Islamic militia and fighters loyal to a US-backed warlord alliance pounded southern and northern Mogadishu with heavy machine gun, rocket, artillery and mortar fire, sending the death toll soaring and hundreds fleeing for safety.

At least 20 people were killed and 55 wounded in four residential districts where the fighting was most intense, according to witnesses and hospital sources who stressed that the death toll could be far higher. "We have heard of many deaths in many parts of Mogadishu but we can't confirm any toll," a medical officer said at the city's main Keysaney hospital, where three injured people had succumbed to their wounds by midday. [More>>metimes.com]
---
5.25.06 Bin Laden on the move; new sightings in Pakistan
May 24 – Pakistani government sources tell ABC News they have "credible reports" that Osama bin Laden and his entourage have moved down from high mountainous peaks along the Afghan border to a valley area 40 miles inside the Pakistan border. The officials say the reports put bin Laden around Kohistan's Kumrat Valley. Officials said the reports were validated by the release of bin Laden's audio tape yesterday, which appears to have been recorded only two weeks earlier. Such a quick turn-around suggests, say the officials, that bin Laden is much closer to civilization than he had been previously. [More>>abc.news.com]
---
5.25.06 Kuwaiti women launch historic election bid
KUWAIT CITY (AFP) May 25 – Five Kuwaiti women made history on Thursday by becoming the first females to register as candidates for parliamentary elections, ending a 44-year-old ban on their political participation. "It's a historic day. It's a dream come true and the actual beginning of Kuwaiti women's participation in public life," leading women's rights activist Rula Dashti said after filing her papers at the election department. Registration opened on Thursday for the June 29 election in the oil-rich Gulf emirate that was called on Sunday in a bid to end a deep political crisis over an electoral reform bill.

"Today, we strengthen the role of women's participation in the political life," said Dashti, a holder of a doctorate in economics from the prestigious Johns Hopkins University in the United States and chairwoman of the Kuwaiti Economic Society. She said that she would focus her campaign on economic reforms, unemployment and combating corruption. Kuwaiti women, deprived of a political role since parliament was established in 1962, won the right to vote and run for public office in May last year in an historic vote by the assembly. [More>>metimes.com]
---
5.24.06 New bird flu outbreak found in far-west China
(Reuters) May 24 – China said on Wednesday it had confirmed an outbreak of H5N1 bird flu among wild birds in remote far-western Qinghai province and in Tibet. About 400 wild birds had been found dead "recently", Xinhua news agency said, quoting the Agriculture Ministry. An outbreak of the H5N1 strain at Qinghai Lake last May killed thousands of birds and that particular strain has since been found in Europe, Africa and the Middle East. "It is not unusual as it happened last year, but you need to be very careful to make sure people do not get infected," Roy Wadia, spokesman for the World Health Organisation in China, told Reuters by telephone.

The governments of Qinghai and Tibet had disinfected the region where the birds were found, Xinhua said, adding no domestic poultry had been affected. China has reported at least 18 human infections of the H5N1 strain, 12 of which have been fatal. It has reported almost 40 outbreaks of bird flu in poultry across a dozen provinces over the past year. [More>>chinadaily.com.cn ; See related story, timesonline.co.uk, May 24, "Health chiefs fear worst over family killed by bird flu." : World health chiefs said today that they were increasingly concerned about the bird flu deaths of six Indonesians from one family, raising fears of the first human-to-human transmission of the deadly H5N1 virus...
---
5.24.06 Saddam nephew arrested
BAGHDAD (AFP) May 24 – A nephew of deposed Iraqi leader Saddam Hussein has been arrested in Beirut on suspicion of crimes against the Iraqi people, the Iraqi Government said today. "The criminal Bashar Sabawi was arrested in Beirut in cooperation with Interpol," a government statement said without giving the date of the arrest.

Bashar's father Sabawi testified this week in the trial of his brother Barzan and half-brother Saddam. Sabawi himself was arrested on the Syrian border in February 2005 on charges of funding the insurgency. "Bashar is at the top of a list of those wanted for their crimes against the Iraqi people during and after the fall of the dictator," the government statement said. "This is also a message to terrorists inside and outside Iraq and a victory for our intelligence services," it added. Bashar's brother Ayman, also accused of being involved in the insurgency, was arrested exactly a year ago, on May 2005 during an operation in Saddam's hometown of Tikrit. [theaustralian.news.com.au]
---
5.24.06 Ballistic missiles in E. Europe threaten Russia – chief of staff
MOSCOW (RIA Novosti) May 24 – The deployment of ballistic missiles in eastern Europe poses a threat to Russia, the chief of the country's General Staff said Wednesday. General Yury Baluyevsky said U.S. plans to deploy ballistic missiles in eastern Europe, possibly in Poland and Romania, as part of its missile shield presented a certain danger to Russia. "The very fact of the deployment of the first-line missile defenses in this region is unequivocally intended to neutralize Russia's strategic potential," he said. Baluyevsky said Russia did not need a new round of the arms race, adding that President Vladimir Putin had also addressed this issue in his May 10 state of the nation address.

"In the next five years, we must significantly increase the procurement of modern aircraft, submarines and strategic missiles for the Armed Forces," Putin said. He said current research was focused on the development of unique high-precision weapons and warheads "whose trajectory could not be predicted by a potential enemy." The new weaponry will allow the country to maintain the strategic balance of forces in the world, Putin said. [rian.ru] ; See also independent.co.uk, May 24, "Moscow angered by US plan for 'star wars' bases in Europe to counter threat of Iran."]
---
5.24.06 Iran requests direct talks on nuclear program
TEHRAN, May 24 – Iran has followed President Mahmoud Ahmadinejad's recent letter to President Bush with explicit requests for direct talks on its nuclear program, according to US officials, Iranian analysts and foreign diplomats. The eagerness for talks demonstrates a profound change in Iran's political orthodoxy, emphatically erasing a taboo against contact with Washington that has both defined and confined Tehran's public foreign policy for more than a quarter-century, they said. Though the Tehran government in the past has routinely jailed its citizens on charges of contact with the country it calls the "Great Satan," Ahmadinejad's May 8 letter was implicitly endorsed by Iran's supreme leader, Ayatollah Ali Khamenei, and lavished with praise by perhaps the most conservative ayatollah in the theocratic government.

"You know, two months ago nobody would believe that Mr. Khamenei and Mr. Ahmadinejad together would be trying to get George W. Bush to begin negotiations," said Saeed Laylaz, a former government official and prominent analyst in Tehran. "This is a sign of changing strategy. They realize the situation is dangerous and they should not waste time, that they should reach out." [More>>washiingtonpost.com]
---
5.24.06 Iran to launch a new suicide bombers garrison on Thursday
TEHRAN, May 24 – Iran will launch a new suicide-bombers garrison on Thursday, according to the head of a group affiliated to the Islamic Revolutionary Guards Corps. Mohammad-Ali Samadi, spokesman for the Headquarters to Commemorate the Martyrs of the Global Islamic Movement, a government-orchestrated campaign to recruit suicide bombers, told the state-run news agency Mehr on Tuesday that the group planned to officially announce the existence of the new garrison in a ceremony in Tehranıs largest cemetery on Thursday afternoon.

The new garrison will be named after Nader Mahdavi, an IRGC naval commander who died in a suicide attack on an American naval vessel in 1987, Samadi said. The report said that more that 55,000 "volunteers for martyrdom-seeking operations" had been registered so far by the organisation, which also calls itself "Esteshıhadioun," or martyrdom-seekers. In February, the group launched a new recruitment drive for suicide bombers in Tehran to fight against "Global Blasphemy." [More>>iranfocus.com]
---
5.24.06 Iran summons Canadian ambassador over dress code remarks
TEHRAN, May 24 – On Wednesday, the Iranian Foreign Ministry summoned Canadaıs ambassador to Tehran to protest the Canadian prime ministerıs recent remarks about false reports that Iran planned to force a dress code on non-Muslims.

"Canadians have used a bad approach. We summoned the Canadian ambassador and objected to the Canadian prime ministerıs remarks," Foreign Ministry spokesman Hamid-Reza Asefi told reporters on the sidelines of a Majlis open session. He also urged Canadian officials to think twice before making comments on important issues based on lies or misinformation. An inaccurate report appeared Friday in Canada's National Post newspaper, alleging that Iran had approved a law to force non-Muslims to wear colored badges in public so they could be identified. [mehrnews.ir ; See previous record, Maravot News 5.19.06 "New Iranian law to require Jews to wear yellow band."]
---
5.24.06 Sixty killed as US defends Afghan strike
May 24 – The recent death toll in Afghanistan continued to rise as 60 Taliban rebels were killed while the US defended the airstrike that a human rights group says killed more than 30 civilians. Four Afghan soldiers and a policeman were also killed along with the 60 suspected Taliban in a major clash near Tirin Kot, the capital of the southern Uruzgan province on Wednesday. General Rahmatullah Raufi, who commands Afghan forces in the south, said: "We launched a massive search and clean-up operation after the attack in which our troops spotted and killed 60 Taliban." [More.>aljazeera.net]
---
5.24.06 Bush open to Israeli plan to set border
WASHINGTON (AFP) May 24 – Israeli Prime Minister Ehud Olmert prepared to address a joint session of the US Congress on Wednesday after winning qualified support from President George W. Bush for his scheme to set Israel's final borders unilaterally if necessary. Bush and Olmert also agreed on Tuesday at their first summit on the need to thwart Iran's suspected nuclear weapons program, as the US president reaffirmed Washington's pledge to defend Israel against any attack by Tehran.

"I would call them bold ideas," Bush said of Olmert's plan to withdraw most Israeli settlements in the West Bank ahead of fixing Israel's borders by 2010 with or without the Palestinians. "The prime minister's ideas could be an important step toward the peace we both support." [More>>metimes.com]
---
5. 24.06 update, 5.23.06 'Bin Laden' denies Moussaoui role
May 24 – An audio recording supposedly of Osama Bin Laden denies Zacarias Moussaoui, the only person convicted over the 9/11 attacks, was involved in the operation. The message said to be from the al-Qaeda leader came from a five-minute audio file on an Islamist website. The man said he had personally assigned 19 attackers and "brother Zacarias" was not one of them. Earlier this month, a US court jailed Moussaoui for life without parole for his role in the attacks.

"I am the one in charge of the 19 brothers and I never assigned brother Zacarias to be with them in that mission," the voice said, in a reference to the 19 hijackers of 11 September 2001. "Since Zacarias Moussaoui was still learning how to fly, he wasn't No 20 in the group, as your government claimed," he said.

Moussaoui confessed because of pressure caused by over four years in prison, he said. The man also said that none of the Guantanamo Bay detainees were connected to the attacks. [More>>bbc.co.uk via msnbc.com ; 5.24.06 update, nation.com.pk, " Moussaoui not part of 9/11 attacks: bin Laden" contains this "new" information which is in an AFP report (Khaleejtimes) : ..."His confession that he was assigned to participate in those raids is a false confession," said the recording on the As-Sahab Internet site, frequently used by Al-Qaeda...; See also thenews.com.pk, May 24, "Bin Laden audiotape authentic: CIA."]

Editorial note: Bin Laden via As-Sahab website: Maravot News searched all the reports, many out of Dubai, Cairo and a bbc report out of Bulgaria to locate information relating to the website used for this report. While as-sahab is noted as the source of bin Laden's latest message, the connection of as-sahab can be linked to as-sahab.org which is linked to tajjdeed.org.uk, Saudi dissident Muhammad al-Mas'ari's site.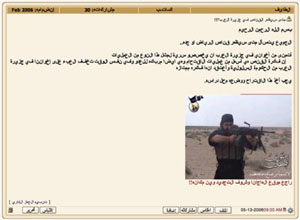 Posting at tajdeed.org.uk from
haganah.org.il
, May 20, 2006 posting with caption, "Time to use snipers to decapitate the Saudi Monarchy? This brother posting at tajdeed.org.uk seems to think so."
All reports of bin Laden's message of May 23 referred to "a website often used by al-Qaeda" but neglected to note the
As-Sahab
reference. Information on the domain name, as-sahab.org, produced the following information which ties into Malaysian sources where other jihadi sites seem to be routed. The following partial extract on the domain of as-sahab.org is from Network Solutions "Who is".
As-sahab.org
Domain I

D:D116089492-LROR
Domain Name:AS-SAHAB.ORG
Created On:09-Feb-2006 19:45:31 UTC
Last Updated On:11-Apr-2006 04:01:43 UTC
Expiration Date:09-Feb-2007 19:45:31 UTC
Sponsoring Registrar:CSL Computer Service Langenbach GmbH (R25-LROR)
Status:CLIENT DELETE PROHIBITED
Status:CLIENT TRANSFER PROHIBITED
Status:CLIENT UPDATE PROHIBITED
Registrant ID:CORG-146896
Registrant Name:gohl juwb
Registrant Organization:al-taw7eed
...Name Server:A.NS.JOKER.COM
Name Server:B.NS.JOKER.COM
Name Server:C.NS.JOKER.COM

...IP Address: 202.190.200.48 (ARIN & RIPE IP search)
IP Location: MY(MALAYSIA)-WILAYAH PERSEKUTUAN-KUALA LUMPUR
Record Type: Domain Name
Server Type: Other
Web Site Status: Active
DMOZ no listings
Y! Directory: see listings
Meta Keywords: As-Sahab Media, Al-Sahab Media, AL Sahab, sahab, jehad media, iraq, afghanistan, Iraq, Afghanistan, Usama, Osama, Usamah, usama, usamah, osama, al-Zawahiri, Ayman, Usama bin Ladin, Osama bin Laden, Ayman Azzwahery, Azzwahery, al-Zawahry, Ayman Azoahery, a
Secure: No
E-commerce: No
Traffic Ranking: Not available
Data as of: 14-Jun-2005

Registrant Organization:al-taw7eed

A website, haganah.org.il, tracks terrorists use of the web. With regard to arresting the practice of terrorists, haganah.org.il says:

May 20, 2006, haganah.org.il,

Send your complaints to 71 Hayarkon Street

You know, it's that big ugly building beside Mike's Place – the American embassy.

Below you will find the information about the websites of Palestinian Islamic Jihad, which are all back online now, and still mostly in the United States.

As our encounter with US company Network Solutions indicated, someone in the US government apparently thinks keeping Palestinian terrorist websites online is a good idea.

This is not a new situation. Elements of the US government have been trying to keep the websites of Palestinian terrorist organizations online consistently over the last four years. In the end, the public pressure builds up, the agency in question walks away denying any involvement, and the hapless cooperating service providers are left to suffer the bad publicity...
---
5.23.06 Egypt says Sinai militant trained in Palestinian territories
May 23 – A man named by the Egyptian authorities as a member of a group behind bomb attacks in the Sinai peninsula received weapons and bomb-making training in the Palestinian territories, the Egyptian Interior Ministry said Tuesday. An Interior Ministry statement said Yousri Mohareb and his two brothers, part of the group the authorities have blamed for a series of attacks on tourist resorts since 2004, had communicated with Palestinian religious fundamentalists.

The last attack, in the resort of Dahab in April, killed 20 people. Mohareb had said he received congratulations from "Palestinian elements" for the Dahab bombings. The statement said a Palestinian had helped Mohareb enter the territories. It did not say whether the Palestinian was in police custody.

"The Palestinian Majid al-Deiri had... facilitated the entrance of Yousri Mohareb to the Palestinian territories, his training in bomb-making techniques and use of weapons," it said. Mohareb was in touch with another Palestinian, Tamer al-Nuseirat, who had said he was willing to take part in attacks in Egypt, the statement said. It did not say whether Nuseirat was in custody.

Nasr Khamis el-Milahi, named by the authorities as leader of the group, had sought to send other militants for training in the Gaza Strip, the statement said. It did not say whether they had actually gone there. Police killed Milahi this month. His group, named by the authorities as Tawhid wal Jihad (One God and Jihad), had used explosives from land mines left in the Sinai desert for their bombs, the statement said. [More>>haaretz.com]
---
5.23.06 At least 22 dead in Iraq drive-by shootings, bombings
BAGHDAD (AFP) May 23 – At least 22 people were killed on Tuesday in attacks including a car bombing on a busy Baghdad street, marring the first week of Iraq's new cabinet that has set restoring security as top priority. The car bomb in the southeastern district of Baghdad Jadeeda targeting a police patrol killed five people and wounded seven, an interior ministry official said. The neighborhood has been hit repeatedly over the past three days.

In the main northern city of Mosul, a family of blacksmiths was targeted when gunmen drove up next to their car and opened fire, killing four and wounding one, police said. Also in Mosul, a former official of the Baath party that ruled Iraq under Saddam Hussein was killed in a drive-by shooting outside his home.

Three day laborers on their way to work were also killed when gunmen in a car raked their mini-bus with bullets on the road from Baquba to Khalis, northeast of the capital, police said. East of Baquba, in Balad Ruz, a bomb near the courthouse killed a 10-year-old boy and wounded two others.

In the northern oil centre of Kirkuk, a member of President Jalal Talabani's Patriotic Union of Kurdistan party working for the city education department was gunned down as he drove away from his home in the northern, oil-rich city. In west Baghdad, gunmen opened fire on three elderly men, one of whom was blind and another disabled, killing them all. [More (the list of killings continues) >> metimes.com ; See also turkishpress.com, May 23, UN report: Iraq violence kills 2,500, displaces 85,000 in two months."]
---
5.23.06 Wave of insurgent attacks kills 20 more in Afghanistan
KABUL (AFP) May 23 – Fresh insurgent attacks across Afghanistan claimed nearly 20 more lives, officials said, adding to the death toll of around 300 killed in some of the heaviest fighting since the fall of the Taliban. Three policemen and 12 Taliban were killed when a convoy carrying a deputy provincial governor and a police chief came under attack in the south while three health workers and their driver died in a roadside bombing near the capital Kabul. In total more than 20 insurgency-linked attacks were reported in at least 12 provinces over the past two days. Many were outside the insurgency-hit south and southeast, the traditional hotspots for Taliban-linked violence. [More>>turkishpress.com]
---
5.23.06 UN sees more Myanmar refugees fleeing to Thailand
GENEVA (Reuters) May 23 – About 400 refugees from Myanmar crossed into Thailand last week and many more could follow as the military targets the Karen ethnic minority, the United Nations refugee agency said on Tuesday. The UN High Commissioner for Refugees (UNHCR) said 2,000 Myanmar refugees that have fled the former Burma in the past three months had stretched Thai camps close to their limits. Spokeswoman Jennifer Pagonis said hundreds more members of the Karen group, a mainly Christian minority making up about 10 percent of the population of Myanmar, could flee the country if conditions don't soon improve. "UNHCR is expecting more refugees to seek safety in Thailand in the coming weeks," she told a UN news conference.

With some government-run camps already past their capacity, some refugees have been sleeping under plastic sheeting that is unlikely to withstand the area's heavy rains, Pagonis said. She said the Thai government had agreed to build new shelter to house additional refugees arriving from Myanmar, a country also bordering India, China and Laos that has been under military rule of one form or another since 1962. United Nations rights investigators last week told Myanmar's junta to halt abuses against ethnic Karen civilians, reported to include killings, rapes and torture by soldiers. [More>>thestar.com.my] ; See also independent.co.uk, May 23, "Smuggled pictures of refugees expose extent of human rights abuses in Burma."]
---
5.23.06 Architect of New War on the West
MADRID, May 23 – From secret hideouts in South Asia, the Spanish-Syrian al-Qaeda strategist published thousands of pages of Internet tracts on how small teams of Islamic extremists could wage a decentralized global war against the United States and its allies. With the Afghanistan base lost, he argued, radicals would need to shift their approach and work primarily on their own, though sometimes with guidance from roving operatives acting on behalf of the broader movement. Last October, the writing career of Mustafa Setmariam Nasar came to an abrupt end when Pakistani agents seized him in a friend's house in the border city of Quetta and turned him over to US intelligence operatives, according to two senior Pakistani intelligence officials.

With Spanish, British and Syrian interrogators lining up with requests to question him, he has turned out to be a prize catch, a man who is not a bombmaker or operational planner but one of the jihad movement's prime theorists for the post-Sept. 11, 2001, world.

Counterterrorism officials and analysts see Nasar's theories in action in major terrorist attacks in Casablanca in 2003, Madrid in 2004 and London in 2005. In each case, the perpetrators organized themselves into local, self-sustaining cells that acted on their own but also likely accepted guidance from visiting emissaries of the global movement. Nasar's masterwork, a 1,600-page volume titled "The Call for a Global Islamic Resistance," has been circulating on Web sites for 18 months. The treatise, written under the pen name Abu Musab al-Suri, draws heavily on lessons from past conflicts.

Nasar, 47, outlines a strategy for a truly global conflict on as many fronts as possible and in the form of resistance by small cells or individuals, rather than traditional guerrilla warfare. To avoid penetration and defeat by security services, he says, organizational links should be kept to an absolute minimum. [More>>washingtonpost.com]

Editorial note: Despite the world's awareness of the use of media by terrorists to promote their cause there has been little done in the way of arresting the terrorists. Maravot News reported on the small number of Internet Service Providers in the Middle East that could be regular hosts of terrorist websites. We concluded that tracking down terrorist internet sites and arresting them should not have been too much of a problem for the authorities. One of the concerns expressed by Maravot News is the fact that an essential tactic in fighting any enemy is to break the enemy's communication channels. We pointed out that al-jazeera is one such communication channel that should be aiding in tracking down terrorists rather than assisting them in getting their message out, more particularly being the propaganda agency of Osama bin Laden.

Because of the relative paucity of Middle East Internet Service Providers (ISPs) Maravot News also noted that ISPs in Britain and the US are frequently chosen as hosts / providers for Middle Eastern websites. Because of the few Middle Eastern ISPs and the fact that the rest of the ISPs are mostly in Britain and the US, one should be surprised that the internet terrorists would find it so easy to set up and run their websites. We explained, for instance, that all website domain names are listed and controlled by a centralized agency / service and in order to establish a domain one must reveal personal information: Who owns the site, the owner's address and contact information.

Earlier articles Maravot News recorded on the subject are:

09.10.05 Stripped of havens, Al-Qaeda turns to 'media jihad'

08.14.05 Saudi exile runs urban warfare website in UK

08.09.05 The Web as a weapon

08.05.05 Destroying the ability of terrorists to communicate: From 'The Art of War'
Mel Copeland
---
5.23.06 Israel arrests Hamas chief as Olmert prepares to meet Bush
May 23 – Israeli troops captured the West Bank commander of the military wing of Hamas in an early morning raid on Ramallah today. Ibrahim Hamed, 41, who Israel holds responsible for a series of suicide bombs that have killed more than 60 Israelis, was forced to surrender after troops, police and special forces surrounded a building near his home in the West Bank capital. An eyewitness said that the troops opened fire towards the building that was 200 metres from his house and called for his surrender.

"Security forces arrested senior Hamas terrorist Ibrahim Hamed, who masterminded some of the most deadly terror attacks against Israel in recent years," the Israeli army announced. Hamed has been on Israelıs "most wanted" list for the last eight years. The leader of Ezzedin al-Qassam Brigades hails from the West Bank village of Silwad and has successfully evaded capture or assassination by Israeli security forces by constantly keeping on the move. [More>>timesonline.co.uk]
---
5.23.06 Terror suspect apologizes for his role in the 2005 Bali bombings
DENPASAR, Indonesia (AP) May 24 – An Islamic militant told a court Tuesday he regretted his role in the 2005 Bali bombings that left 20 people dead. Abdul Aziz, 30, is one of four suspects facing trial in the suicide bombings on three crowded restaurants, which were blamed on the al-Qaeda-linked Jamaah Islamiyah terror network. He was charged with sheltering Noordin Top, the alleged masterminded of the attack, and of setting up a website that called on Muslims to wage war against "infidels." The site also gave step-by-step instructions on how to kill foreigners in the Indonesian capital of Jakarta.

"I'm really sorry," Aziz said after a judge at the Denpasar District Court decided the trial should go ahead. "I want to apologize especially to the Balinese people."

Jamaah Islamiyah has been blamed for at least four attacks in Indonesia in recent years that have together killed more than 240 people, many of them foreign tourists. If found guilty, Aziz and the other defendants – Mohammad Cholily, Dwi Widianto and Anif Solchanudin – could face the death penalty. [More>>thejakartapost.com]
---
5.23.06 Jordan TV airs al-Qaeda confession
May 23 – A suspected member of Al-Qaeda in Iraq confessed on Jordanian television Tuesday to murdering a Jordanian driver in Iraq and abducting two Moroccan embassy employees. The man, who identified himself as Iraqi national Ziad Khalaf al-Karbuli, said during the 15-minute tape that he shot to death Khalid Dassuki "with my personal revolver" in September in Iraq. "I fired two shots at his head," al-Karbuli said.

He also claimed responsibility for the abduction of the two Moroccans in October and said they were handed over to Al-Qaeda in Iraq, the group run by Jordanian-born fugitive Abu Musab al-Zarqawi. State television, quoting a security source, identified al-Karbuli as a customs employee on the Iraqi border and said he was arrested in a joint operation by the intelligence forces and army special forces after drawing him out of Iraq. [More>>aljazeera.net]
---
5.23.06 Doublespeak undermines war on terrorism: Amnesty
LONDON (Reuters) May 23 – Doublespeak by nations like the United States and Britain has undermined their own war on terrorism and increased human rights violations from Colombia to North Korea, Amnesty International said on Tuesday. Accusations that the United States – with the complicity of some European nations – while banning torture at home had been flying prisoners around the world for interrogation by countries with no such qualms had dented their moral authority, it said.

"Duplicity and doublespeak have become the hallmark of the war on terror," the human rights watchdogıs secretary general Irene Khan told a news conference to publish its annual report. "There is evidence of widespread torture in US detention centres," she said. "The United States outsources torture to countries like Morocco, Jordan and Syria."

She said that at least seven European countries had sanctioned or turned a blind eye to the use of their airspace for so-called extraordinary rendition flights carrying prisoners for interrogation outside the United States. "Powerful governments are playing a dangerous game with human rights," Khan said. "The scorecard of prolonged conflicts and mounting human rights abuses is there for all to see."

"Nothing can justify torture or ill-treatment ... You cannot extinguish a fire with petrol."

Despite international protests, the US jail at Guantanamo Bay in Cuba remained full of prisoners who had not been charged or tried, and many European governments had tried to wriggle out of their legal human rights obligations, Amnesty said. At the same time, powerful forces had paralyzed the United Nations just when it could have acted decisively in regions like Sudanıs crisis-torn Darfur, Amnesty said. "As a result, the world has paid a heavy price in terms of erosion of fundamental principles and in the enormous damage done to the lives and livelihoods of ordinary people," Khan said. [More>>khaleejtimes.com]
---
5.23.06 Tests on two dead Iranians show H5N1 bird flu
TEHRAN (Reuters) May 23 – Tests in Iran on the bodies of a brother and sister who died after falling ill with pneumonia-like symptoms showed they had the deadly H5N1 strain of bird flu, an Iranian medical official said on Monday. The two – a 41-year-old man and 26-year-old woman – were among five members of the same family who became sick after returning from a trip to the town of Marivan, close to their home in the northwestern city of Kermanshah. The three surviving relatives were in hospital and one of them remained dangerously ill, the official, who spoke on condition of anonymity, told Reuters. It was not clear when the brother and sister died. [More>>thestar.com.my ; See related story, thejakartapost.com, May 24, Another man dies in Sumatra village."]
---
5.23.06 Turkish pipeline damaged in Kurdish rebel bomb attack
ANKARA May 23 – Armed Kurdish rebels blew up part of a natural gas pipeline in eastern Turkey early Tuesday, disrupting the flow of gas, a local official said. The blast occurred around 03:00 a.m. (0000 GMT) on rural ground near the remote town of Dogubayazit near the border with Greece, Rauf Ulusoy, the town's governor said. The explosion partly damaged the pipeline, and a team from the state-run gas company BOTAS were on site to repair the damage and prevent leaks, he added. Rebels from the outlawed Kurdistan Workers' Party (PKK) often carry out attacks against gas and oil pipelines as part of a long-running armed campaign against the Turkish state. [thenews.com.pk]
Copyright © 1981-2006 Maravot. All rights reserved
Copyright © 1981-2006 Mel Copeland. All rights reserved
Painting of Apple by Mel Copeland, early 70's
Background: tile from Cicero's villa (Marcus Tullius Cicero 106 B.C. - 43 B.C.)