---
7.17.06 Today's headlines on the Middle East War
July 17 – There are many points of view on the ongoing war in the Middle East. The media, of course, report the news from their point of view and leaders' attitudes towards the war are, of course, from their point of view. An insight into President Bush's point of view in the Israeli war against Hezbollah in Lebanon was reflected in several headlines around the world. TV news broadcasts were featuring the plight of ~25,000 Americans stranded in Lebanon while other nations were being evacuated. We begin with Bush's expletive:

timesonline.co.uk, July 17 article, "Mic picks up Bush: 'get Hebollah to stop this s***'" : President Bush was in no mood for diplomatic niceties at the G8 summit, judging by remarks made to Tony Blair as the leaders of the world's most powerful industrial democracies sat down to lunch today. Unaware that a microphone at the summit was switched on, Mr Bush, chomping a piece of bread, used the opportunity to suggest a way out of the latest criss in the Middle East. "See, the irony is what they really need to do is to get Syria to get Hezbollah to stop doing this s***," he said...

haaretz.com, July 17, "At least 21 killed Monday in more than 60 IAF strikes on Lebanon" : Israel Air Force jets attacked Beirut on Monday, bombing the port and a gas tank in a northern neighborhood and shelling the southern suburbs, witnesses and Lebanese media said. At least 21 people had been killed by noon Monday, the sixth day of violence, in more than 60 strikes. Raids also destroyed two army posts on the northern Lebanese coast, killing at least six Lebanese soldiers, and damaged the homes of Hezbollah officials in eastern Lebanon, killing 11.

Four more people died in strikes south of Beirut. Several thunderous blasts echoed over the capital and black smoke rose from a blazing fuel storage depot in the Christian suburb of Dora. Civilian installations, petrol stations and factories elsewhere were also hit, security sources said. According to reports, a large fire broke out in the port, and two people were killed when missiles hit a parking area for trucks next to the harbor, Lebanese media reported...

dailystar.com.lb, July 17, "Death toll hits 141 as Jewish state targets residential areas" : BEIRUT: Israel's attacks on Lebanon intensified over the weekend with the Israeli military bombing Beirut's southern suburbs, in addition to targeting villages and infrastructure throughout the country. At least 39 people were killed and 105 wounded in Israel's offensive on Sunday. Five straight days of Israeli bombardments and air strikes have claimed a total of 141 lives, with the vast majority of those killed civilians and children. The Canadian government confirmed Sunday that eight of those killed earlier in the day held Canadian citizenship.

Shortly before The Daily Star went to press, at least 20 missiles struck the main fuel tank at Rafik Hariri International Airport and an adjacent tunnel. The attack was the fifth on the airport. Also Sunday, the power plant in Jiyye was struck for the third time. In the most shocking attack of the day, Israeli warplanes raided a building in the Southern port town of Tyre that housed the Civil Defense. The attack killed more than 20 civilians and wounded at least 50, including foreign relief workers.

Israel's attacks have targeted vital infrastructure, forcing the closure of the country's only international airport and slicing through dozens of bridges, harbors, roads and the main highways leading into Syria. Earlier Sunday, Hizbullah launched rockets into Haifa, Israel's third largest city, killing eight and wounding 20 in retaliation for Israel's furious bombardment of southern Beirut. Following the attack on the northern Israeli city, Israeli Premier Ehud Olmert warned of "far-reaching consequences."

...Israel's military urged residents to flee villages in Southern Lebanon, warning of air and artillery attacks. Internal Security Minister Avi Dichter said the move was aimed at forcing an exodus of "tens of thousands of civilians" in order to put pressure on Hizbullah...

nytimes.com, July 17, "2 leaders urge peacekeeping force for south of Lebanon" : STRELNA, Russia, July 17— British Prime Minister Tony Blair and United Nations Secretary General called today for an international "stabilization force" to quell the fighting between Israel and the Hezbollah militia, while President Bush pungently suggested that Mr. Annan should focus on reining in Hezbollah...

washingtonpost.com, July 17, "US works to evacuate its citizens" : The US government is preparing to evacuate hundreds, if not thousands, of Americans from Lebanon in light of the escalating violence between Israel and Hezbollah, senior officials in the Defense and State departments said yesterday. In a telephone news conference, Assistant Secretary of State for Consular Affairs Maura Harty urged Americans "to stay in place" at the moment and register with the State Department rather than risk traveling on roads that are "fraught with danger."

"We're trying very hard to keep the best possible records that we can so that when we have our plan in place we will be able to execute it," Harty said, adding that "we can't help people if we don't know where they are." A Marine Corps helicopter evacuated about 20 Americans to Cyprus yesterday..

cnn.com, July 17, "US, European nations begin evacuations" : BEIRUT, Lebanon – A US military helicopter was scheduled to remove another few dozen US citizens from Beirut on Monday as fighting between Israel and Hezbollah militants continues, State Department officials said. European nations were also taking actions to evacuate their citizens. On Sunday, 21 Americans were flown to Cyprus, a State Department official said. Those to be evacuated are priority cases, the official said, including people who are ill, some elderly and some unaccompanied children.

Officials estimate that about 15 percent of the roughly 25,000 Americans in Lebanon will evacuate.. A bus filled with German tourists left a hotel in Beirut on Monday, hoping to make it to the Syrian border. British Prime Minister Tony Blair said two ships were on the way to Lebanon to evacuate British citizens. A British helicopter with 40 people on board left Lebanon Monday en route to Cyprus, according to George Stylianou, a spokesman for the British Embassy...
---
7.17.06 President Hu urges efforts to ensure global energy security
ST. PETERSBURG, Russia (Xinhua) July 17 – The international community should take joint efforts to ensure global energy security, Chinese President Hu Jintao said here on Monday. "To ensure global energy security, we need to develop and implement a new energy security concept that calls for mutually beneficial cooperation, diversified forms of development and common energy security through coordination," Hu said in a written speech to the outreach session of the G8 summit. While global energy security is crucial to the economic growth and people's livelihood of all countries, the world peace and stability, and common development, "few countries can achieve energy security without joining in international cooperation," he stressed. [More>>xinhuanet.com]
---
7.17.06 Four 'Al-Qaeda fighters' killed in Afghanistan
KABUL (AFP) July 17 – The US-led coalition in Afghanistan said that it killed four suspected Al Qaeda fighters in a raid on Monday while a suicide attack in the troubled south destroyed a justice headquarters and killed three people. Three other alleged members of Osama Bin Laden's terror network were arrested in a raid in the eastern province of Khost about 15 kilometers (nine miles) from the Pakistan border, the coalition said. It said that it was not sure if the man that the raid was targeting, whose name and nationality were not revealed, was among those killed or captured.

"Coalition forces killed four suspected Al Qaeda terrorists, detained three suspected Al Qaeda terrorists," a coalition statement said without giving details. "The purpose of this operation was to capture or kill an Al Qaeda operational leader, who is a significant threat to Afghan and coalition forces in Khost province," it said. Provincial governor Sarajuding Patan said that the four were an Afghan mullah and three Arabs. The three arrested men were brothers of the mullah, he said. [More>>metimes.com]
---
7.17.06 Forty-one killed in Iraq market attack
(AP) July 17 – Dozens of heavily armed attackers raided an open air market today in a tense town south of Baghdad, killing at least 41 people and wounding about 90, Iraqi and US officials said. Most of the victims were believed to be Shiites. The attack in Mahmoudiya began around 9 am with a brief mortar barrage, followed by an armed assault by dozens of gunmen. They killed three Iraqi soldiers at a checkpoint, then stormed the market firing automatic weapons and rocket propelled grenades, according to police Capt. Rashid al-Samaraie. Iraqi troops arrested two suspects in a nearby house and seized weapons, including a sack of grenades, the US military said. In Baghdad, Shiite lawmakers from two parties, including one led by radical cleric Muqtada al-Sadr stormed out of a parliament session to protest the Mahmoudiya killings. [More>>independent.co.uk ; See also aljazeera.net, July 17, "iraq market attack kills 55."]
---
7.17.06 Eight dead, 40 missing in tsunami
JAKARTA (AFP) July 17 – Eight people were killed, 40 were missing and another 40 were injured after a tsunami smashed into the south of Indonesia's Java island following a strong undersea earthquake, the Indonesian Red Cross said. "So far at least eight people have died and 40 others are seriously injured," Putu Suryawan of the Red Cross disaster relief division said, adding the figures were gathered from three southern coastal areas. Witnesses said up to 20 were dead. Mr. Suryawan said residents had reported about 40 more people, who were building a dam when the tsunami struck, were missing. Three Red Cross ambulances and 15 volunteers had left for the disaster zone. [More>>theaustralian.news.com ; See related stories thejakartapost.com, July 17, "Nine people dead in West Java's southern coast after tsunami" : BANDUNG (Antara): Nine people are reportedly dead in West Java province Monday after an earthquake-triggered tsunami swept the province's southern coast. Five people were found dead in Cipatujah beach in Tasikmalaya regency while another four were found in Pangandaran seaside resort, Ciamis regency. The Meteorology and Geophysics Agency office in Bandung said the 6.8-magnitude was centered some 33 kilometers below the Indian Ocean.

The US Geology Survey, however, recorded the quake at 7.2 on the Richter scale, with the epicenter below the Indian Ocean, some 240 kilometers south of the beach, according to AP. President Susilo Bambang Yudhoyono earlier told reporters at least five people were killed in the tsunami. Hardi, a Pangalengan resident, said the wave was coming at a speed of 40 kilometers per hour and smashed hundreds of houses and hotels located some 100 meters from the popular beach...

turkishpress.com, July 17, "Tidal surges reach Australian territories after Indonesian quake."
---
7.16.06 Eight people killed as Hezbollah rockets slam into Haifa – Nasrallah says more rockets coming
July 16 – At least eight people were killed Sunday morning as rockets fired by Hezbollah guerillas in Lebanon struck the northern port city of Haifa. Hezbollah leader Sheikh Hassan Nasrallah on Sunday said the Israel Defense Forces offensive on Lebanon had not depleted its large stockpile of rockets, and warned that the Islamic group could strike almost anywhere in Israel. "We will continue. We still have a lot more and we are just at the beginning," Nasrallah said in a taped televised address on Al-Manar. "We promise them surprises in (any) confrontation." Nasrallah threatened "direct confrontation" if IDF ground forces entered Lebanon, adding that his guerrillas have "complete strength and power" despite Israel's five-day bombardment.

"As long as the enemy pursues its aggression without limits and red lines we will pursue the confrontation without limits and without red lines," Nasrallah said. "The enemy doesn't know our capabilities or what we have." The Hezbollah leader said the IDF's offensive in south Lebanon "relied on false information," adding that "all the targets hit in south Lebanon were civilian. There were no bases or Katyushas there." He urged Arabs and Muslims worldwide to support his guerrillas, saying his group was fighting Israel on behalf of them.
"Today, especially in this sensitive moment and after several military achievements and surprises, Hezbollah is not fighting a battle for Hezbollah or even for Lebanon. We are now fighting a battle for the (Islamic) nation," he said. "The peoples of the Arab and Islamic world have a historic opportunity to score a defeat against the Zionist enemy ... We are providing the example," he added. [More>>haaretz.com ; See also khaleejtimes.comn (AFP) July 16, "Hezbollah rockets kill 8 in Israel as Lebanon reels."]
---
7.16.06 Britain sends aircraft carrier to Beirut
July 16 – The aircraft carrier HMS Illustrious was being prepared last night to sail to the coast of Lebanon to rescue British people stranded by Israeli airstrikes. Des Browne, the defence secretary, ordered preparations for an urgent evacuation. An estimated 10,000 British citizens and up to 15,000 dual nationals are in Lebanon, which has been bombarded for four days in an escalating crisis triggered by the abduction of two Israeli soldiers. Illustrious was being readied for the mission in Gibraltar and will be joined by HMS Bulwark, an amphibious assault warship. [More>>timesonline.co.uk]
---
7.16.06 Thirty-seven Taliban killed in southern Afghanistan attacks
KANDAHAR, July 16 – At least 37 Taliban rebels have been killed in fighting with Afghan and US-led coalition troops in southern Afghanistan, an official said Sunday, taking the death toll to almost 100 in three days. "Twenty seven Taliban were killed during a joint Afghan and coalition operation in Sangin district of Helmand province," said Mohammad Nabi Mullahkhil, the police chief in Helmand. All of the deaths occurred on Saturday after 60 rebels were reported killed on Thursday and Friday. [thenews.com.pk] ; See also

aljazeera.net, July 16, "35 Taliban killed in raids" : ...Nabi Mullahkhail, Helmand's police chief, said: "Twenty-seven Taliban were killed in one of the attacks in which coalition and Afghan forces took part and eight other Taliban died in another raid." He said that one of those killed was a local Taliban commander. There were no reports of casualties among coalition or Afghan troops. Another 10 Taliban fighters were killed on Saturday in an early morning air assault in Sangin. The coalition said they had taken control of Sangin, an opium-growing district, from the Taliban in the offensive. A coalition soldier died of wounds suffered during a fire fight on Sunday in the southern province of Zabul, the US military has said...

independent.co.uk, July 16, "British-led forces kill 40 Taliban in attack on insurgent HQ."
---
7.16.06 Taliban gets smart in Afghanistan's propaganda war
KABUL, Afghanistan (AFP) July 16 – The calls come through nearly every two hours, always from a satellite phone and usually with some new claim of an attack that the reporter must check with the US-led coalition force in Afghanistan. Sometimes they turn out to be false. Many times, they are true but exaggerated. "I get between six to 10 calls a day from one or the other of the two Taliban spokesmen," said one journalist based in the southern city of Kandahar, a focus of the movement's insurgency launched after it was ousted in 2001. "It is mainly them who tell us first of incidents," he adds. This increasingly sophisticated propaganda strategy used by the Taliban marks a remarkable departure from one of the pillars of the movement when it ruled most of Afghanistan from 1996 until 2001.

Under the Pakistan-backed regime, movies, videos, television or photographs of any living creature, even animals, were taboo, as they were seen as idolatrous. But today the religious students not only watch such material, they produce and distribute it for free – usually high-quality video CDs of rousing speeches and Taliban attacks and what they call sacrifice for a "holy cause." More than a dozen VCDs obtained by AFP in the past 10 months all carry the logos of one of three studios – Omat (Nation) productions, Manbaul-Jihad (Source of Jihad) or Abdullah videos. These shadowy outfits produce videos for the Taliban – and probably also for Al Qaeda – in the Arabic, Urdu and Pashto languages that are aimed at potential sympathizers in southern Afghanistan and the adjoining Pakistan tribal belt, and Arab extremists. [More>>metimes.com]
---
7.16.06 Update, 7.15.05 Gunmen abduct 50 people, Iraqi Olympic chief
BAGHDAD (Reuters) July 15 – Gunmen wearing camouflage uniforms abducted the head of Iraq¹s national Olympic committee and 50 other people including bodyguards and committee staff as they met in Baghdad on Saturday, police sources said. Police said the body of one of the guards was found dumped in a street in Karrada in central Baghdad shortly afterwards, not far from the conference centre where the officials had been meeting. The guard had been shot in the head.

Police and Interior Ministry sources said the well-known Olympic Committee chief Ahmed al-Hadjiya and about 20 bodyguards had been taken, along with other committee officials and the convention center's guards. Iraqiya state television said those abducted also included Faleh Francis, a well-known doctor who was the physician of the national soccer team for many years. [More>>khaleejtimes.com ; update nytimes.com, 7.16.06, "6 of more than 30 Iraqi hostages freed unharmed."]
---
7.15.06 Rebels killed in Afghanistan
July 15 – Afghan and coalition forces say they have killed nearly 60 rebels in major clashes with insurgents in southern Afghanistan over the past two days. The clashes come amid stepped up US-led military efforts to crush armed extremists, primarily the Taliban, behind an insurgency in Afghanistan. Afghan army and coalition forces attacked around 40 rebels on Thursday and Friday in the southern Uruzgan province "in an effort to disrupt and deny enemy operations in those areas," a coalition statement said. "Patrol reports and debriefings concluded that an estimated 31 enemy extremists were killed during engagements in Chora, Kala Kala, and Khorma villages," it said. Another 10 were killed on Saturday in an early morning air assault on "several known extremist targets" in Sangin, in the southern Helmand province, one of the areas worst hit by a Taliban insurgency and where more than 2,300 British troops are based. [More>>aljazeera.net]
---
7.15.06 Six hurt as rockets land in Tiberias, 35 km from Lebanon
July 15 – Three Katyusha rockets landed Saturday in the city of Tiberias, located 35 kilometers from the Lebanese border. A residential building suffered a direct hit, sustaining damage. The owners of the residence were abroad. Two rockets landed adjacent to a stadium in Tiberias and near the town's Club Hotel. Six people were lightly injured from rocket shrapnel.

Authorities have asked that bathers on the coast of the Sea of Galilee evacuate the area for fear of further Katyusha attacks. Early Saturday evening, a second barrage of Katyusha rockets struck Tiberias. Magen David Adom rescue services received a report that one of the rockets directly struck a house in the city. Additional rockets landed near Tiberias – in Kfar Hitim, Evron, and Abu Snan. One person suffered from shock. Rockets also landed Carmiel, Hatzor Haglilit, Peki'in, Safed, Nahariya, and Moshav Ben-Ami, in the western Galilee. [More>>haaretz.com ; See related stories, metimes.com (AFP) July 15, "One dead after Hezbullah hits Israeli warship." and nytimes.com, July 15, "Israeli bombs fall near Syria as ripples grow."]
---
7.15.06 Arab FMs hold emergency summit
CAIRO (AP) July 15 – Foreign ministers of 18 Arab countries held an emergency summit in Cairo Saturday over Israel's expanding assault on Lebanon, but squabbles over the legitimacy of Hezbullah's attacks on Israel – including the capture of two Israeli soldiers that sparked the 4-day battle - appeared likely to keep participants from reaching a consensus, delegates said.

The Saudi foreign minister appeared to be leading a camp of ministers criticizing the guerrilla group's actions, calling them "unexpected, inappropriate and irresponsible acts. These acts will pull the whole region back to years ago, and we cannot simply accept them," Saudi al-Faisal told his counterparts. Supporting his stance were representatives of Egypt, Jordan, Kuwait, Iraq, the Palestinian Authority, the United Arab Emirates and Bahrain, delegates said on condition of anonymity because of the sensitivity of the talks. [More>>Jerusalem Post]
---
7.15.06 Russia rules out 'crusades' on Iran
ST. PETERSBURG, Russia (AFP) July 15 – Russian President Vladimir Putin called for a common strategy to resolve the Iranian nuclear standoff but stressed that Moscow would not take part in any "crusades."

"We're not going to take part in any crusades, any holy unions... but our common aim is to make the world a safer place," Mr. Putin said after meeting US counterpart George W. Bush ahead of the G8 summit in Saint Petersburg. "We are going to come up with common approaches to this common problem," Mr. Putin said at a press conference, insisting on the need for diplomacy on Iran and Tehran's right to develop nuclear energy. [More>>theaustralian.news.com.au]
---
7.15.06 Russia sees 'real' threat of wider conflict in Middle East
ST. PETERSBURG, Russia, July 15 – Russian Defence Minister Sergei Ivanov warned Saturday of a "real threat" that the Middle East crisis could drag other countries in the region into the conflict. "There is a real threat of the involvement of other states in this conflict," he told reporters here just ahead of a G8 summit of world leaders likely to be dominated by Israel's military offensives in Lebanon and Gaza. On the one hand, the capture of prisoners and shelling the territory of another state is absolutely unacceptable," Ivanov said, referring to the Shiite Hezbollah militia in Lebanon. "On the other hand, the use of military force on such a scale and against such targets I think is also unacceptable, or at least disproportionate," he added, referring this time to Israel. [More>>turkishpress.com]
---
7.15.06 China confirms natural gas discovery in South China Sea
BEIJING (Xinhua) July 15 – China's Ministry of Land and Resources has confirmed the discovery of huge natural gas reserves in South China Sea. In a circular released on Thursday, the ministry announced the discovery of natural gas reserves exceeding 100 billion cubic meters in a prospect well named LW3-1-1. It may be the largest offshore natural gas discovery ever made in China, said the ministry. The discovery is also one of the several great oil and gas discoveries ever made in the first six months of 2006 around the world, said Ian Cross, vice president of International Petroleum Information, IHS, a famous global technological information provider.

Located at the Pearl River Mouth Basin 250 kilometers from Hong Kong, LW3-1-1, drilled at a depth of 1,480 meters, is China's first deepwater well with a drilling depth of more than 1,000 meters. The "important" discovery showed the huge potential reserves of oil and gas in South China Sea, the ministry said. [More>>xinhuanet.com]
---
7.14.06 IDF officer: Army to bombard Hezbollah HQ in Beirut
July 14 – The Israel Defense Forces is planning to bomb Hezbollah headquarters in a densely populated area of south Beirut on Friday, a senior General Staff official told Haaretz. The IDF said it has dropped leaflets warning civilians of the impending attack and that many of them have left the Shi'ite Dahiya quarter of south Beirut, where thousands of people live in multi-story residential buildings.

"We will atack more significant targets than we have attacked until now," the officer said. "If we had chosen to bomb earlier, it would have ended with hundreds of civilians killed, and we took ethical considerations into account. On the other hand, we will not adopt a naive approach, and the model of terrorists hiding behind civilians will not be accepted." He said any civilian who chooses to remain in the area is putting his life in danger.

Hezbollah head Sheikh Hassan Nasrallah has his office and residence in south Beirut. Hezbollah's Shura Council, its decision-making body, and the TV station are also located in that area, a section heavily guarded by Hezbollah. The IDF announcement came shortly after Israeli aircraft bombed the Beirut international airport for the second day in a row, as Hezbollah continued to fire rockets on northern Israel.

Hezbollah official Ghaleb Abu Zaineb reiterated Friday the militant group's commitment to attacking Haifa if Israel attacks Beirut. "We are committed to what we say, but we will decide the manner and timing of our response," said Abu Zaineb, a member of the Hezbollah political bureau. "The enemy must expect an attack on Haifa at any time." [More>>haaretz.com]
---
7.14.06 Israel pounds Lebanon as world scrambles to avoid war
BEIRUT, Lebanon (AFP) July 14 – Israel pounded Lebanon for the third straight day on Friday, targeting Hezbullah's power base and the airport in relentless attacks that have killed about 60 people and left world powers scrambling to avert all-out war in the region. Lebanon is virtually cut off from the outside world after Israel imposed an air and sea blockade on its northern neighbor, forced the closure of Beirut international airport, and bombed the main highway to neighboring Syria. "War Comes Back to Lebanon," was the stark headline in the English-language Daily Star newspaper. The international community was struggling to contain the conflict, issuing urgent appeals for restraint and sending envoys to the region to avoid another full-scale war in the turbulent Middle East. [More>>metimes.com]
---
7.14.06 Residential building in Safed, Israel sustains direct hit
July 14 – A Katyusha rocket landed in Yesud Hama'ala on Israel's northern border on Friday afternoon. MDA reported several people were wounded in the attack. Thirteen people were wounded in the latest bombardment of rockets on Safed and Nahariya on Friday afternoon. A rocket landing in Safed hit a residential building. Two of the wounded in Safed sustained moderate wounds, the other eight were lightly wounded. The wounded in Nahariya were all reported to be in light condition. Rockets also reportedly landed near Hatzor, Bar'am, Mahanayim, Horfesh, though no one was reported wounded. Nahariya also sustained another barrage of five Katyusha just an hour earlier, causing a brush fire in an open area. Western Galilee fire fighters were working to control the flames. [More>>Jereusalem Post]
---
7.14.06 Saudi Arabia harshly criticizes Hezbollah for escalating Mideast crisis
RIYADH, Saudi Arabia (AP) July 14 – In a significant move, Saudi Arabia, the Arab world¹s political heavyweight and economic powerhouse, accused Hezbollah guerrillas – without naming them – of "uncalculated adventures" that could precipitate a new Middle East crisis. A Saudi official quoted by the state Saudi Press Agency said the Lebanese Hezbollah¹s brazen capture of two Israeli soldiers was not legitimate. The kingdom "clearly announces that there has to be a differentiation between legitimate resistance (to Israel) and uncalculated adventures."

Israel has intensified its attacks on Lebanon, striking bridges, airports and the main highway leading to Syria to put pressure on the government and force Hezbollah to free the two Israeli soldiers it captured Wednesday. The Saudi official said Hezbollah¹s actions could lead to "an extremely serious situation, which could subject all Arab nations and its achievements to destruction. The kingdom sees that it is time for those elements to alone shoulder the full responsibility for this irresponsible behavior and that the burden of ending the crisis falls on them alone." [More>>khaleejtimes.com ; See related story, Jerusalem Post (AP) July 14, "Syria calls for Hizbullah cease fire" : In a significant move, the Syrian ambassador to London, in an interview with the BBC, called on Hizbullah to stop firing missiles at Israe. "Syria is not interested in joining the battle," the ambassador said. He also asked Hizbullah to come to an arrangement that would include exchanging prisoners.

Saudi Arabia, the Arab world's political heavyweight and economic powerhouse, also caught international attention by accusing Hizbullah guerrillas – without naming them – of "uncalculated adventures" that could precipitate a new Middle East crisis. A Saudi official quoted by the state Saudi Press Agency said the Lebanese Hizbullah's brazen capture of two Israeli soldiers was not legitimate...
---
7.14.06 US Senate to vote on Stem Cell Research bill, but Bush vowed to veto it
July 14 – Bob Fertik, of DefCon, an advocacy group for stem cell research, believes that a vote scheduled in the US Senate Tuesday, July 18, 2006, will be passed, but in spite of that the president will ignore the desire of the Senate and veto the bill. He says: "The health of people you love may depend on a crucial Senate vote next Tuesday. This vote on stem cell legislation could enable scientists to find a cure for Alzheimer's, juvenile diabetes, Parkinson's, and other crippling and deadly diseases.

"Despite fierce opposition from the religious right, it looks like the Senate, including many Republicans, will support this historic legislation. But President Bush has promised to veto this bipartisan Stem Cell Research Enhancement Act, caving in to the demands of the religious right rather than meeting the needs of the American people he was elected to serve."

Fertik says, "72% of Americans support the bill and the search for cures" and "the more senators support the stem cell bill on Tuesday, the better our chances of overriding the President's expected veto."
---
7.14.06 Attack on Pakistani Shiite leader
KARACHI, Pakistan (Reuters) July 14 – A suspected suicide bomber blew himself up outside a key Shiite leader's house in the southern Pakistani city of Karachi Friday, injuring the cleric and killing a male relative, police said. The religious leader targeted in the attack, Hassan Turabi, escaped a similar assassination attempt in April. "There was a huge bomb blast outside our home and a cousin of mine has died while my father is being treated in hospital," his son, Murtaza Turabi, said.

The attacker was a suicide bomber and police found his head lying near the scene, said senior Karachi police investigator Manzoor Mughal, also confirming that one person had died. "A man in a car hit Turabi's car while he was about to sit in the car. The head of a suspected suicide bomber is lying there. Another person, Turabi's nephew, was killed," Mughal said.

Relief workers have transported the lower part of the body of the suspected bomber and body of another man who died in the blast, said Anwar Kazmi, a spokesman for the private Edhi Ambulance Service. Four injured people have also been shifted to a nearby hospital, he said. Eyewitnesses said a hand grenade was also found at the scene. "The bomber seems to be aged in his early 20s without a beard," said resident Ali Abbas Naqvi, who saw the remains of the body before it was taken away.

Turabi is the president of the main Shiite political party, Islami Tehrik, in southern Sindh province. His party is a member of the country's main alliance of religious parties, the Muttahida Majlis-e-Amal. He escaped without injury on April 6 when a bomb hidden under a fruit cart exploded yards away, again as he climbed into his car outside his home. Two bodyguards and a passerby were injured in that incident. [More>>theaustralian.news.com.au ; See updated report, thenews.com.pk, July 14, "Allama Hussan Turabi, his nephew martyred in suicide attack" : KARACHI: Central MMA leader Allama Hussan Turabi and his nephew Ali were martyred whereas his son and two guards were wounded in a suicide bomb attack at Abul Hassan Isphahani Road at Gulshan-e-Iqbal Town on Friday...
---
7.14.06 Delhi blasts mastermind behind Mumbai blasts
MUMBAI, India (Xinhua) July 14 – The mastermind behind the pre-Diwali blasts in Delhi in October last year is suspected to be the brain behind Tuesday's serial explosions in Mumbai's suburban trains, police sources said Thursday. Rahil, a Lashkar-e-Toiba (LeT) operative who is suspected to have planned and executed the pre-Diwali Delhi blasts that killed over 60 persons in October last year, is thought to be the key person involved in planning Tuesday's blasts, they said. Mumbai police has shortlisted Rahil and his associate Imtiaz along with one Zaibuddin Ansari as the prime suspects on the basis of information gathered from independent sources and intelligence agencies, police sources said.

While intelligence agencies who have been tracking Rahil and Imtiaz for a long time now, traced him last in Bangladesh, Ansari, who is wanted in connection with the Aurangabad arms and explosives case, is also suspected to have fled to Bangladesh. The police suspect that since Rahil, Imtiaz and Ansari have affiliation with banned LeT, they could have jointly planned and executed the blasts in Mumbai, according to Press Trust of India Thursday. Since Ansari's links with outlawed Students Islamic Movement of India have already been established by the ATS, it is suspected that the blasts were jointly executed by a LeT module with the help of SIMI, sources said. Inputs from intelligence agencies have also revealed names of two more persons Faiyyaz Khan and Bashiruddin Siddiqui, who is stated to be resident of neighboring Thane district, but no further clues about their involvement in Tuesday's blasts. [xinhuanet.com ; See related story, expressindia.com (PTI) July 14, "Forensic tests rule out use of RDX, undertainty grips 'LeT involvement'" : Mumbai, July 14: Forensic examinations have confirmed that the explosive used in Tuesday's serial blasts in the city's suburban trains was not the deadly RDX and it could have been dynamite or ammonium nitrate. The revelation may change the focus of the probe on the alleged role of Laskhar-e-Toiba (LeT) in the blasts, police said.

Laboratory tests performed on nearly a dozen samples collected from seven blast sites have confirmed that the explosive used was not RDX, a top Mumbai police official told PTI, but refused to reveal the nature of the explosive. Intelligence sources, however, said that it could be plain dynamite, which was commonly used in India for blasting rocks and in mines...
---
7.14.06 Two Palestinians die as 1,000 wait at shut Egypt-Gaza border crossing
RAFAH, Egypt, July 14 – As the Israeli military forces on Friday kept up their attacks on Lebanon and Gaza, two Palestinians died while waiting to be allowed through a closed border crossing between Egypt and Gaza. Nearly 1,000 Palestinians are stranded at the Rafah crossing, which has been sealed by Israel. They are growing increasingly desperate. Just outside the big, dusty grates that mark the entrance to the no-man's land between the two countries, some 500 refugees sit in make-shift tents awaiting word from the Israelis about when they can go home. On Friday morning, 24-year-old Palestinian Maher Wadi died there. As his body was allowed through the crossing and into Gaza for burial, Farouk Salam looked to the sky, muttering, "where is the justice?" [More>>metimes.com]
---
7.14.06 Leaders inaugurate strategic BTC oil pipeline
CEYHAN, Turkey (AFP) July 13 – The leaders of Azerbaijan, Georgia and Turkey have formally inaugurated the Baku-Tbilisi-Ceyhan (BTC) pipeline, a major US-backed project conceived 12 years ago to supply oil to Western markets that bypasses Russia and Iran. The four-billion-dollar (3.145-billion-euro) conduit will bring oil from the Caspian Sea fields, the world's third largest reserve, to Turkey's Mediterranean port of Ceyhan, from where tankers will transport the crude to energy-hungry Western markets.

The pipeline is seen as a project of geostrategic significance, loosening Russia's long-standing grip over oil exports from former Soviet republics, bypassing US foe Iran and easing Western reliance on Middle East crude supplies. [More>>turkishpress.com]
---
7.14.06 Bush snubs Putin by meeting opposition groups first
July 14 – President Bush reinforced his concerns about his Russian counterpart's record on democracy today when he went straight to meetings with local activists on his arrival in St. Petersburg for this weekend's G8 summit. Mr. Bush was due to meet Vladimir Putin later but first held discussions with representatives from non-governmental organizations who say the Kremlin has tried to curtail their activities. Some of the groups blame Mr. Putin for an erosion of civil liberties and claim this is proof that the country is not fit to be a member of the G8.

The US President, who warned Mr. Putin yesterday that he intended to raise the issue of freedoms in Russia during the summit, said that he had spent a lot of time listening to the groups' concerns. After the meetings he said: "The foreign policy of my administration is that we will work with Russia to solve common problems and at the same time be in a position where you can have private exchange of ideas." Mr. Putin has agreed to put internal democracy on the agenda at the G8 but the Kremlin is clearly unhappy with the west's attempts to interfere in its affairs. [More>>timesonline.co.uk]
---
7.14.06 Cheney, Rove and Libby sued over CIA leak
July 14 – Former US ambassador Joseph C. Wilson IV and his wife, former CIA agent Valerie Plame, said today Vice President Dick Cheney and other Bush administration officials knowingly lied and abused their power to "exact personal revenge" against the couple for criticizing Bush's rationale for going to war. Plame, at a joint news conference with her husband at the National Press Club in Washington, said she would "much rather" be a CIA operative than a plaintiff in a lawsuit. Plame's identity as a classified CIA operative was allegedly leaked to the press by top officials of the Bush administration and yesterday she and her husband filed a civil lawsuit in US District Court accusing Cheney, presidential adviser Karl Rove and former top Cheney aide I. Lewis "Scooter" Libby with violating their constitutional rights and invading their privacy. [More>>washhingtonpost.com]
---
7.13.06 Israeli jets bomb Palestinian foregin ministry
GAZA CITY, Gaza (AFP) July 13 – Israeli jets bombed the Palestinian foreign ministry in Gaza on Thursday, causing heavy damage and wounding 10 children, ratcheting up the pressure on the Hamas government over an abducted soldier. Warplanes fired two missiles into the building, targeting foreign minister Mahmoud Al Zahar's offices and causing serious damage to the recently renovated five-storey building, the neighboring finance ministry, and 15 other houses. The attack came just hours before Israel bombed Beirut's international airport and killed at least 40 Lebanese, opening a new front in the Middle East crisis after Hizbullah captured another two soldiers on its northern border. [More>>metimes.com]
---
7.13.06 Israeli reprisals bash Lebanon, 47 civilians killed
BEIRUT, Lebanon (Reuters) July 13 – Israel struck Beirut airport and blockaded Lebanese ports on Thursday, intensifying reprisals that have killed 47 civilians since Lebanese Hizbollah fighters seized two Israeli soldiers and killed eight a day earlier. Hizbollah retaliated for Israeli "massacres" by firing 60 rockets at Nahariya in northern Israel. A civilian was killed and 27 were wounded, including children, Israeli medics said. The violence was the worst between Israel and Lebanon since 1996 when Israeli troops still occupied part of the south. It coincided with a major Israeli offensive into the Gaza Strip to retrieve a captured soldier and halt Palestinian rocket fire.

Despite the flare-up in Lebanon, Israel signalled no let-up in its Gaza assault, mounting an air strike that destroyed the office of Palestinian Foreign Minister Mahmoud al-Zahar. At least 24 Palestinians were killed in Gaza on Wednesday. Israeli aircraft bombed runways at Beirut's Rafik al-Hariri International Airport, forcing flights to divert to Cyprus. An Israeli military spokesman announced a naval blockade of Lebanese ports, saying they were used to transfer "terrorists and weapons to the terror organizations operating in Lebanon". Dawn air strikes in south Lebanon earlier killed at least 44 civilians, including more than 15 children, and wounded 100 people, security sources said. Ten members of a family were killed in Dweir village and seven family members died in Baflay. [More>>thestar.com.my ; See also

theaustralian.news.com.au, July 13, "Israel has right to defense: Bush" : US President George W. Bush has blamed Hezbollah and Hamas for escalating Middle East violence but warned Israel against undermining Lebanon's fragile democracy. Breaking his silence on the fiercest Israel-Lebanon clashes in a decade, Mr. Bush insisted that Israel "has the right to defend herself" but urged restraint after its forces pounded Palestinian and Lebanese targets. "My biggest concern is whether or not actions taken will weaken the Siniora government," he said, referring to Lebanese Prime Minister Fuad Siniora. "Democracy in Lebanon is an important part of laying a foundation for peace in that region. We have worked really hard to get Syria out of Lebanon."...

dailystar.com.lb, July 13, "Lebanon under attack – Tourists flee Lebanon, Hisbollah continues military strikes..." : Thousands of tourists, mostly Gulf Arab nationals, fled by road to Syria Thursday after Israeli air attacks closed Beirut international airport. Meanwhile Hizbollah continued with military retaliations in southern Lebanon wounding eleven Israelis when Katyusha-style rockets fired from by Hezbollah militants Lebanon exploded in the town of Safed in northern Israel. The Lebanese government is demanding a ³comprehensive ceasefire² and end to Israeli assault on Lebanon.

Greece joined the growing international condemnation of Israeli attack on Lebanon expressing "serious concern" over Israeli attacks in Lebanon, and urged neighboring countries to show restraint. While a government spokesman in Greece urged the militant group Hezbollah to release Israeli soldiers held hostage...

haaretz.com, July 13, "One killed, dozens hurt as Katyushas fall in north.." : Hezbollah: We'll strike Haifa if IAF attacks Beirut. One person was killed and dozens were wounded Thursday when Katyusha rockets fired by Hezbollah guerillas rained down across northern Israel. In Nahariya, a woman died when a rocket struck her home. Another 29 people were hurt, including a number of children. Most of the casualties were lightly wounded; one person sustained serious wounds.

At least 11 people were wounded Thursday afternoon when a fresh barrage of Katyusha rockets fired from Lebanon struck the northern town of Safed. Of the wounded, one person was seriously hurt, another sustained moderate wounds, two people were lightly hurt and seven were treated for shock. Rockets also fell in the town of Carmiel, but there were no injuries. In the nearby village of Majdal Qrum, one person was moderately hurt by a rocket. A resident of the northern town of Zirit was also lightly wounded by a Katyusha on Thursday morning.

Meanwhile, Israel threatened Thursday to strike at Hezbollah offices in a residential area of Beirut in response to Katyusha strikes on population centers inside Israel. In response, Hezbollah said that it would target the major northern port city of Haifa...

bbc.co.uk, July 13, "Lebanon seeks Israeli ceasefire" : Lebanese ministers have called for a ceasefire with Israel, saying that all means should be used to end "open aggression" against their country. International calls for restraint are growing, with Russia, France and the EU saying Israel's response to the capture of two soldiers was disproportionate. Meanwhile Israeli jets bombed the main Lebanese army air base in Bekaa Valley...

---
7.13.06 Government told to get serious about stopping sharia inroads in society
JAKARTA, July 13 – Scholars and politicians are urging a cohesive and systematic approach to combat the sharia-style ordinances they fear will undermine the country's political, economic and social spheres. Politician Eva Kusuma Sundari warned there was a highly systematic, coordinated movement behind the enforcement of a crop of sharia-inspired bylaws and it was able to infiltrate the grassroots. "It still needs to be confirmed, but in politics, there are no coincidences," the legislator from the Indonesian Democratic Party of Struggle (PDI-P) said during a discussion Wednesday. "There have been different groups with the same method, the same argument and the same agenda – that is to back the fundamentalist movement. These groups defended radical groups who have committed destruction, and backed sharia-inspired bylaws." The divisiveness of the religiously charged issue also has been apparent among legislators.

... Several regions continue to impose bylaws with a focus on morality and, inevitably in a patriarchal society, the conduct of women. The bylaws include a prohibition against women going out alone at night, or risk arrest for soliciting, and the obligation for women civil servants to wear Muslim attire. Eva believed gender-biased bylaws would worsen poverty in the country, because international data showed a strong correlation between a low gender development index and the incidence of poverty. In Cianjur, West Java, she said, home industries were on the brink of bankruptcy due to sharia-inspired bylaws and increasing unemployment of women. [Full story>>thejakartapost.com]
---
7.13.06 Iranian president for talks with Europe, warns US
TEHRAN (RIA Novosti) July 13 – Iran's president said Thursday that Tehran is ready to hold talks with European negotiators but the United States should refrain from raising tensions around the country's controversial nuclear program. "Iran is in favor of talks with Europe in an atmosphere of the law and justice to ease tensions around the Iranian nuclear program," Mahmoud Ahmadinejad said. He added that the Islamic Republic took a positive view on the proposals from Iran-6 negotiators, but said the United States was trying to make a problem out of this issue. "We can resolve this problem with Europe, but we need time for talks to accomplish this goal," the president said.

Ahmadinejad said that in efforts to resolve the nuclear problem, Iran had always abided by its obligations within the International Atomic Energy Agency, the UN's nuclear watchdog, and international nonproliferation regulations. "But if the United States makes problems without any reason and continues with its poisonous propaganda, Iran will review its policy in this sphere," the president said. [rian.ru ; See also khaleejtimes.com, July 13, "Iran threatens to quit nuclear treaty." and nytimes.com, July 13, "Bush says Iran still has time despite UN referral" : President Bush said today that the time has passed for Iran to respond to a package of incentives to stop uranium enrichment, but that there could still be opportunities for negotiations even though the case is now being referred to the United Nations Security Council. "Their deadline passed," said Mr. Bush during a news conference in Germany, where he met Chancellor Angela Merkel. "That¹s why we¹re going to the U.N. Security Council." He added later about the Iranians: "They can show up any time and say, 'Wait a minute, now we¹d like to go back and negotiate.' We¹re not precluding any further negotiations with the Iranians."
---
7.13.06 Taliban storm Afghan district, 19 killed
KANDAHAR, Afghanistan (AFP) July 13 – Scores of Taliban insurgents attacked a southern district headquarters but 19 of them died when they were driven back by Afghan and coalition forces, officials said, as a bomb exploded in a city in the north on Thursday. Police in Kabul said meanwhile that they arrested a man planting a bomb near the information ministry on Thursday, just a week after a series of small bomb blasts struck the capital.

Afghanistan is embroiled in some of the worst unrest in years with a Taliban insurgency emboldened and security forces conducting a major anti-rebel drive. A large group of Taliban attacked the headquarters of Nawzad district in the southern province of Helmand on Wednesday, sparking hours of fighting in which US-led coalition warplanes were called in, provincial spokesman Muhaidin Khan said. "In the fighting seven Taliban were killed and two police were wounded yesterday," Khan said. "After the Taliban retreated, coalition forces bombed an escaping vehicle carrying 12 Taliban who were all killed." [More>>metimes.com]
---
7.13.06 'Al-Qaeda' praises Mumbai blast
MUMBAI (AP) July 13 – Mumbai police detained about 350 people in connection with the Mumbai train bombings, as the government vowed on Thursday to wipe out terrorism and catch those behind the carnage that left 200 people dead. The detentions came as a man claiming to represent al-Qaeda reportedly claimed that the terror network had set up a wing in Kashmir. There was no way to immediately verify the claim, which if true would be the first time Osama bin Laden's network has claimed to have spread to Indian territory. The government also issued a statement after a Cabinet meeting, saying it is committed to combating terrorism in the wake of the eight explosions on Tuesday in Mumbai¹s local train network. At least 200 people were killed and more than 700 injured...Kashmir's Current News Service reported that it received a telephone call from a man, who identified himself as Abu al-Hadeed, an Arabic name. The man, however, spoke in Urdu, the language of most Muslims in the Indian subcontinent...[Full story>>expressindia.com]
---
7.13.06 Muslims and Hindus unite in backlash against terrorists who bombed Mumbai
July 13 – The message was scrawled in chalk on a brick wall in a slum outside Bandra station, just 50 metres from where the first bomb went off in a packed commuter train on Tuesday. "We condemn the ones who did a terrorist bomb here," it said in English. "The culprits should be hanged to death." It was a message from the wrong side of the tracks. As the death toll from the Mumbai bombings was confirmed at more than 200 yesterday, suspicions about who was responsible centred on Islamic militants. The simple message chalked on the wall was the heartfelt response from a dirt-poor Muslim suburb of Mumbai where the people had watched in horror as the bomb went off and immediately rushed to help the injured.

The Mumbai bombings were more than just an attack on the India's financial capital. It is no coincidence that India has already started referring to the attacks as 7/11. Mumbai is India's New York, a city that, more than any other, defines the Indian dream. Every day, hundreds of migrants from the villages and rural hinterland arrive in Mumbai, hoping to make it big. The city has communities from every corner of India; every caste, every ethnic group, every religion is represented.

But it is also a city that has been riven by the Hindu-Muslim tensions that have haunted India over the past 15 years, with a history of riots, and bombings blamed on Muslim extremists. Whoever was behind the bombings appears to be trying to exploit those tensions. But this time, there have been extraordinary scenes as Mumbai's Muslims have come out in defiance to defend the unity of the city. Muslims queued for hours to give blood for Hindus injured in the bombings. Even the leaders of the hardline Hindu nationalist Shiv Sena, a party rarely given to praising Muslims, said they were "overwhelmed" by the reaction. "Hindus and Muslims walked hand in hand yesterday," said Manohar Kargaonkar, a party official. [More>>independent.co.uk]
---
7.12.06 Mumbai blasts death toll reaches 200
MUMBAI (PTI) July 12 – Mumbai was resiliently back on its feet on Wednesday even as the full extent of the havoc caused by yesterday's terror attack unfolded to reveal a death toll of 200 while the police claimed to have found "some leads" in their investigations.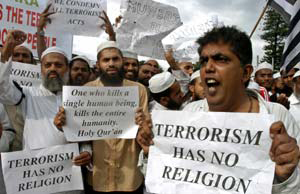 Members from various Muslim organisations hold placards and shout slogans to condemn Tuesday's Mumbai bomb blasts in the southern Indian city of Bangalore on Wednesday. (Reuters via
khaleejtimes.com
)
The night after the worst terror attack in the country in 13 years, which also left over 700 people injured, the financial capital bounced back to normal with train services plying as usual and colleges and schools remaining open. unfazed by the death and destruction, suburban trains were packed with commuters as thousands of people made their way to offices and workspot.
Mumbai and the rest of Maharashtra remained on red alert and tight security prevailed in airport and railway stations, offices and commercial establishments including banks and the Sensex ignored terror attacks to notch more than 300 points to surge near the 11,000 mark. [More>>
expressindia.com
]
Copyright © 1981-2006 Maravot. All rights reserved
Copyright © 1981-2006 Mel Copeland. All rights reserved
Painting of Apple by Mel Copeland, early 70's
Background: tile from Cicero's villa (Marcus Tullius Cicero 106 B.C. - 43 B.C.)