---
7.12.05 Mumbai blasts death toll reaches 200
MUMBAI (PTI) July 12 – Mumbai was resiliently back on its feet on Wednesday even as the full extent of the havoc caused by yesterday's terror attack unfolded to reveal a death toll of 200 while the police claimed to have found "some leads" in their investigations.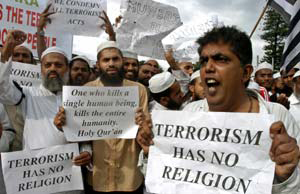 Members from various Muslim organisations hold placards and shout slogans to condemn Tuesday's Mumbai bomb blasts in the southern Indian city of Bangalore on Wednesday. (Reuters via
khaleejtimes.com
)
The night after the worst terror attack in the country in 13 years, which also left over 700 people injured, the financial capital bounced back to normal with train services plying as usual and colleges and schools remaining open. unfazed by the death and destruction, suburban trains were packed with commuters as thousands of people made their way to offices and workspot.
Mumbai and the rest of Maharashtra remained on red alert and tight security prevailed in airport and railway stations, offices and commercial establishments including banks and the Sensex ignored terror attacks to notch more than 300 points to surge near the 11,000 mark. [More>>
expressindia.com
]
---
7.12.05 Israel troops enter Lebanon as Hezbollah boasts soldiers capture
(AFP) July 12 – Lebanon's Hezbollah militia has captured two Israeli soldiers prompting the first Israeli ground operation into Lebanon since its 2000 pullout. The seizure of the two soldiers, which Israel described as a "strong possibility" threatened to open up a new front in the troubled region after the capture of another Israeli soldier in Gaza two weeks ago plunged the region into chaos.

"In order to fulfil a promise to free the prisoners and detainees, the Islamic Resistance captured at 9:05 am (0605 GMT) two Israeli soldiers at the borders with occupied Palestine," a Hezbollah statement said Wednesday, referring to its military wing. "There is a strong possibility that two soldiers were abducted by Hezbollah," an Israeli army spokesman said moments later. Prime Minister Ehud Olmert vowed that those who "try to shake Israel's determination" will "pay heavily" for their actions as Israeli troops rolled across the international border for the first time in six years. [More>>turkishpress.com ; See also metimes (AFP) July 12, "Israel bombards Lebanon after Hizbullah seizes two soldiers" : AITA SHAAB, Lebanon – Israel bombarded Lebanon from the land, sea, and air to retrieve two soldiers snatched by Hizbullah on Wednesday, the first such major offensive against its neighbor since a 2000 pullout...

haaretz.com, July 12, Analysis: Israel prepares for widespread military escalation" : On the 18th day since the abduction of Corporal Gilad Shalit, the picture has become all the more complex. From limited fighting on a single front (the Gaza Strip), the Israel Defense Forces is now approaching what might evolve into a near outright war on two fronts. This is the most complex crisis Israel has faced since Operation Defensive Shield in 2002, when Israel successfully curbed Hezbollah's bid to spark a confrontation on the northern border in response to the IDF occupation of West Bank cities. The winning formula for resolving the crisis consisted of military actions combined with diplomatic pressure. In some respects, however, the situation now is even more complicated than in 2002, because terror groups are holding three soldiers captive: Gilad Shalit in the Gaza Strip, and two other soldiers who were captured Wednesday morning on the northern border.

The attack on Israel's northern border was an impressive military achievement for Hezbollah and a ringing failure for the IDF. Despite Israel's intelligence analyses and despite wide operational deployment, Hezbollah has succeeded in carrying out what it has been threatening to do for more than two years – and it couldn't have happened at a more sensitive time.

Israel has until now responded with restraint by bombarding bridges in central Lebanon and attacking Hezbollah positions along the border. But considering the nature of the military high command's current evaluation of the situation, it is clear that the IDF is interested in inflicting a much sharper blow on Lebanon...
---
7.12.05 Iraq finds bodies of 20 kidnapped bus drivers
BAGHDAD (Reuters) July 12 – Iraqi security forces said they had found the bodies of 20 bus drivers who had been kidnapped north of Baghdad earlier on Wednesday. Police had put the number of bus drivers kidnapped in Miqdadiya, 100 km (60 miles) northeast of the capital at 12, but Major General Ahmed al-Awad said 20 bodies had been found after gunmen snatched a group of drivers from a station. Awad told state television that security forces released three kidnap victims during a search operation. [More>>khaleejtimes.com ; See related stories, thenews.com.pk, July 12, "Over 34 killed in Iraq violence." and timesonline.co.uk, July 12, "Takeover by militants in west Baghdad 'is thwarted.']
---
7.12.05 One thousand terror suspects in US custody
WASHINGTON (Xinhua) July 11 – About 1,000 terror suspects are in US custody worldwide, a Pentagon legal advisor disclosed Tuesday. According to the transcript of a testimony before the Senate Judiciary Committee, Daniel Del'Orto, the Pentagon's principal deputy general counsel, told the committee that "I would say it's probably in the order of about 1,000 (detainees)." Among that total, some 450 prisoners are being held in the US naval base at Guantanamo Bay, Cuba, he said. In other words, the rest must be jailed in secret prisons elsewhere in the world, probably run by the Central Intelligence Agency (CIA). [More>>xinhuanet.com]
---
7.12.05 EU warns Turkey over free speech
July 12 – The European Commission has told Turkey to reform its penal code after a court upheld a suspended jail sentence against a writer for insulting "Turkishness." The European Union's enlargement commissioner, Olli Rehn, said the court's verdict against Hrant Dink, a Turkish-Armenian journalist, showed that Turkey still fell short of the standards required for EU membership.

"I am disappointed by this judgment which limits the exercise of freedom of expression in Turkey," said Rehn in a statement on Wednesday. Dink, editor-in-chief of the bilingual Turkish and Armenian weekly Agos, was first given a six-month suspended prison sentence last year. Turkey's highest court rejected his appeal and upheld the sentence on Tuesday. He was found guity under Article 301 of the Turkish penal code which makes it a crime for writers and scholars to "insult Turkish identity." [More>>aljazeera.net]
---
7.11.05 Series of blasts rock Mumbain railway stations, 40 killed
MUMBAI, India, July 11 – At least 40 people were killed in a series of seven synchronised blasts in first class compartments of suburban trains and on platforms during the peak hour traffic here this evening. Eyewitnesses confirmed several causalities in the explosions that took place in a span of 30 minutes at suburban Matunga Road, Khar, Jogeshwari, Borivali and Bhayender railway stations. At Matunga station, the blast was so powerful that it not only ripped through the first class coach but also blew off a portion of the platform shed. Bodies were seen scattered on the tracks while many injured, some of them profusely bleeding, were attended to by fellow travellers on the platform before being rushed to nearby hospitals. Police suspect that it is a pre-planned subversive plot similar to the explosions that had rocked Mumbai in 1993 and 2002 and 2003. [More>>expressindia.com ; See also timesonline.co.uk, July 11, "More than 100 killed in Bombay train explosions" and related story, expressindia.com, July 11, "Five tourists killed in Srinagar attacks."]
---
7.11.05 Air raids kill 60 civilians in Afghanistan
KABUL (Xinhua) July 11 – Air raids conducted by the US-led coalition forces in the southern Uruzgan province of Afghanistan have left at least 60 civilians dead, a lawmaker from the restive province said Tuesday. "The aircraft pounded three villages namely Deh Jauze, Sarosah and Kakrak, 12 km away from Trinkot, the provincial capital of Uruzgan, Monday morning which lasted from 1:00 a.m. to 4:00 a.m.," Abdul Khaliq told Xinhua. About 30 more civilians were wounded in the air strikes, he added. On the other hand, the US military rejected the claim as baseless. "No, there was no civilian injured, and we have no report to support the claim," spokesperson of the coalition Tamara Lawrence told Xinhua. The US military in a press released issued on Monday said that the coalition attacks had left more than 40 extremists dead in villages 10 km away from Trinkot. More than 1,000 people mostly Taliban-linked militants have been killed in the ongoing insurgency since the beginning of this year. [More>>xinhuanet.com ; See another story, independent.co.uk, July 11, "Taliban use beheadings and beatings to keep Afghanistan's schools closed."]
---
7.11.05 At least 140 killed in Mogadishu battle – hospital
MOGADISHU (Reuters) July 11 – At least 140 people were killed in two days of fighting in the Somali capital which ended after one of the city's last holdout warlords surrendered to Islamist militias, a hospital official said on Tuesday. "Approximately 140 people have died and 150 were injured. It was a very heavy exchange with most of the people dying outside hospital," Ali Moallim, a senior administrator at Mogadishu's Madina hospital, told Reuters.

Moallim said casualties from the two days of fighting, which started on Sunday and ended late on Monday when militia loyal to warlord Abdi Awale Qaybdiid began surrendering, would probably rise as many had not yet been taken to hospital. The fighting pitted Islamist militias who control most of Mogadishu against gunmen backing Qaybdiid, a member of a routed alliance of US-backed warlords, and those of Hussein Aideed, a warlord and deputy prime minister in the interim government. [thestar.com.my]
---
7.11.05 At least 34 killed in Iraq despite PM's plea
BAGHDAD (AFP) July 11 – At least 34 people were killed across Iraq in bombings, shootings, and gunbattles on Tuesday, including 10 Shias gunned down in an apparent sectarian attack in Baghdad. The raging violence that came despite Prime Minister Nuri Al Maliki's call for national unity renewed fears of a full-fledged civil war and prompted lawmakers to demand an explanation from the security ministers for the deteriorating situation. In Tuesday's deadliest attack 10 Shias carrying a coffin in a minibus were ambushed and shot dead by gunmen on a highway near Baghdad's restive Sunni neighborhood of Dura, a defense ministry official said. They were heading to the Shia holy city of Najaf to bury the corpse, the official said. The attack came less than two hours after the lifting of a curfew imposed on Dura on Monday.

The US military, meanwhile, condemned an Internet video posted by Al Qaeda's Iraq branch showing the mutilated bodies of two American soldiers that it claims to have killed last month. Al Qaeda said that it killed the two soldiers – Kristian Menchaca and Thomas Tucker – to avenge the rape and murder of an Iraqi girl by soldiers of the same unit to which the two soldiers belonged. [More>>metimes.com]
---
7.11.05 In big shift, US to follow Geneva treaty for detainees
WASHINGTON, July 11 – In a sweeping change of policy, the Pentagon has decided that it will treat all detainees in compliance with the minimum standards spelled out in the Geneva conventions, a senior defense official said today. The new policy comes on the heels of a Supreme Court ruling last month invalidating a system of military tribunals the Pentagon had created to try suspected terrorists, and just before Congress takes up the question of a replacement system in a Senate Judiciary Committee hearing today.

As part of its decision, the court found that a key provision of the Geneva conventions, known as Common Article 3, did apply to terror suspects, contradicting the position taken by the Bush administration. The Pentagon memo allowing detainees the protections of Article 3 was first reported today by The Financial Times. [More>>nytimes.com]
---
7.11.05 Kyrgyzstan moves to expel 2 US diplomats
BISHKEK, Kyrgyzstan, July 11 – Kyrgyzstan's Foreign Ministry has decided to expel two US diplomats from this central Asian state for "inappropriate" contacts with non-government organizations, an official said Tuesday. "A decision has been taken, but the diplomats remain in the country" for now, said Tursunbek Akun, head of the official Human Rights Commission. The US Embassy confirmed the expulsion decision. [thenews.com.pk]
---
7.10.05 Chechen PM hails terrorist No. 1 Basayev's killing
GROZNY (RIA Novosti) July 10 – Chechnya's prime minister said Monday the killing of Russia's terrorist No.1 Shamil Basayev was an absolute success for Russia's security agencies. Basayev, who claimed responsibility for the 2004 Beslan school massacre and other atrocities, and a number of militants were killed in a special operation in the southern Russian republic of Ingushetia last night. "I have always said we should search for Basayev outside the republic as there was no place for him in Chechnya. This is linked not only with activities of the federal and the republic's law enforcement agencies who were hunting for him 24 hours a day but also with Chechens' resolute rejection of Wahhabism and terror," Ramzan Kadyrov said. He said he was convinced other notorious warlords, including Doku Umarov, would be eliminated soon, adding that relevant operations would be conducted both in Chechnya and neighboring regions. [More>>rian.ru ; See also turkishpress.com, July 10, "Chechen warlord Basayev killed: reports."]
---
7.10.05 UAE approves anti-slavery bill
July 10 – Slavery and people-trafficking in the United Arab Emirates can be punished by life imprisonment, according to a bill approved by a government panel. The bill widens the definition of offences and increases the prison term to life for crimes against women, children or the disabled, or where the perpetrator is a guardian of the victim. "In the proposed law, human trafficking is defined to include all forms of sexual exploitation, involuntary servitude, enslaving, slave trading and all similar practices," state media quoted a government official as saying on Monday. The bill will be sent to the cabinet for endorsement.

The UAE, along with Qatar and Kuwait, were elevated last month from the lowest ranks of human trafficking offenders in the US state department's 2006 Trafficking in Persons report. The three Gulf Arab countries were raised from Tier 3 countries - the poorest rating - to the Tier 2 Watch List in the report to the US congress on June 5. Saudi Arabia is the only remaining Gulf Arab country in Tier 3, for governments deemed to not be making significant efforts to address the issue. [More>>aljazeera.net]
---
7.10.05 Satellite launch ends in disaster
BANGALORE, India (Reuters) July 10 – India's attempts to launch its heaviest satellite failed today when the rocket carrying it went into a tail-spin about a minute after blast off and disintegrated, a space official said. "We can not comment now on what went wrong," an official at the Indian Space Research Organisation, who did not wish to be named, said. Indian television channels showed the rocket bursting into flames after veering off its trajectory. The launch took place from the Sriharikota launch site off the country's southeastern coast in the Bay of Bengal.

The telecommunications satellite weighing 2.2 tonnes would have been the heaviest-ever launched by India from its own soil. Scientists had said it would put India in an exclusive club in the international space launch market. Yesterday, the test-firing of India's longest-range nuclear-capable missile also failed, when the Agni III plunged into the sea after being in the air for only five minutes instead of the expected 15. [theaustralian.news.com ; See also expressindia.com, July 10, "INSAT 4C launch unsuccessful."]
---
7.09.05 Rampage through Sunni Baghdad neighborhood kills 42
BAGHDAD (AFP) July 9 – Roving bands of masked gunmen went on the rampage Sunday in a predominantly Sunni Baghdad neighborhood, killing at least 42 Sunni Arabs in a gruesome sectarian attack despite a massive security crackdown. Witnesses said gunmen were killing people after setting up fake checkpoints in the neighborhood of Jihad and also raiding peopleıs homes. "They also went into certain Sunni houses and killed everyone inside," a witness who declined to be named told AFP.

Sheikh Mahmud Al Sudani, the imam of a Shiite mosque that was bombed in the neighborhood the night before, told AFP the attacks were carried out by relatives of Shiites who had been killed in the neighborhood over recent months. "For the past five months Shiites have been killed and evicted from the neighborhood," said Sudani, a follower of radical Shiite cleric Moqtada Al Sadr. "The hair that broke the camelıs back was the attack on the mosque yesterday (Saturday)," he said. [More>>khaleejtimes.com]
---
7.09.05 Poll: Majority of Palestinians back kidnappings, Qassam fire
July 9 – A sizable majority of Palestinians support the continued kidnappings of Israelis as well as persistent Qassam rocket fire as a means to pressure Israel to release Palestinian prisoners, according to a new poll commissioned by the Jerusalem Media and Communication Center, the results of which were released Sunday.

Of the 1,197 respondents from the West Bank and the Gaza Strip, 66.8 percent expressed support for further kidnappings of Israeli civilians while 77.2 percent backed the Kerem Shalom tunnel operation and subsequent kidnapping of Israel Defense Forces Corporal Gilad Shalit. Nonetheless, just 47.7 percent of those polled said they believed the Shalit affair would end positively for the Palestinian side. The poll also showed that 60 percent of the public supports the continued Qassam rocket fire into Israel as opposed to 36 percent who oppose. Public support for Hamas marked a slight improvement compared to last month - 33.1 percent compared to 30.8 percent one month ago - while support for Fatah weakened a bit from 33.2 percent last month to 32.2 percent today. [haaretz.com]
---
7.09.05 Fighting in Mogadishu kills 20
July 9 – At least 20 people have been killed in fighting in Somalia's capital, witnesses tell Aljazeera's correspondent in Mogadishu. The toll looked set to rise further in the most serious flare-up since Islamists took over the Somali capital from US-backed regional commanders a month ago. Fighting inside the city subsided on Sunday, but clashes have erupted on a road on the outskirts of the war-torn nation's capital. Battles broke out early on Sunday between militiamen of the Islamic courts group, which controls most of the city, and force loyal to former police chief Abdi Qaidid near Banader hospital. The Islamic courts militiamen have surrounded the area for two weeks and closed off roads. The militia had told Qaidid's group give up its arms, but the demand was rejected. [More>>aljazeera.net]
---
7.08.05 Russia bans 'extremism'
July 8 – Russia's lower house of parliament passed an anti-extremism law that human rights defenders say could be used to hobble opposition parties and the media. The State Duma, dominated by the pro-Kremlin United Russia party, passed the new law by 338 votes to 99 against, with one abstention, easily clearing the 226-vote hurdle. President Vladimir Putin, who is to host the Group of Eight (G8) summit in Saint Petersburg next weekend, must now add his signature for the law to go into effect.

The law expands the definition of extremism to include slander against public officials, including accusations against a public official of having committed serious or extremist crimes. Hindering the work of the authorities, electoral commissions or officials will also be considered extremist, as will involvement in riots, hooliganism or vandalism for ideological, religious, political or ethnic motives. Public justification of terrorism will also be considered extremism. [More>>theaustralian.news.com.au]
---
7.08.05 Agent who led Bin Laden hunt criticizes CIA
July 8 – The man who led America's hunt for Osama bin Laden has said the CIA was wrong to disband the only unit devoted entirely to the terrorist leader's pursuit - just at a time when al-Qaeda is reasserting its influence over global jihad. Shutting down the Bin Laden unit squandered 10 years of expertise in the war on terror, said Michael Scheuer, who founded the unit in 1995 and arguably knows more about Bin Laden than any other western intelligence official. He believes the unit was dismantled because of bureaucratic jealousies within the CIA, and that the closure delivers a further setback to a pursuit that has been squeezed for resources for the past two years.

"What it robs you of is a critical mass of officers who have been working on this together for a decade," he told the Guardian. "We had a breed of specialists rare in an intelligence community that prides itself on generalists. It provided a base from which to build a cadre of people specializing in attacking Sunni extremist operations, who sacrificed promotions and other emoluments in their employment in the clandestine service, where specialists were looked on as nerds."

..."Bin Laden has always said the main activity of al-Qaeda is the instigation ... of Muslims to jihad," Mr. Scheuer said. "All of the people who have been picked up have said they were inspired by Bin Laden, that they trained in their own countries and used information picked up on the internet. So the fire that Bin Laden was trying to set is what we are beginning to see around the world and, unfortunately, nowhere more than in the west."

...The Bush administration continues to claim success in the fight against al-Qaeda, noting that it has killed off two-thirds of its known leadership at the time of the September 11 2001 terror attacks. But as Mr. Scheuer notes, al-Qaeda seems to have no difficulty in replacing its senior leaders. A decade after he first began keeping tabs on Bin Laden, he continues to be surprised by al-Qaeda's resilience...[Full story>>guardian.co.uk]
---
7.08.05 Canada to fund global anti-terror finance tracking group HQ
(AP) July 8 – An international organization that tracks funding to terrorist groups will be headquartered in Canada, the country's finance minister announced Friday. Finance Minister Jim Flaherty said Toronto will house the headquarters of the Egmont Group – an organization which represents more than 100 financial investigation units. The government will contribute C $5 million (US $4.5 million) over the next five years to help establish the group, which will analyze, investigate and prosecute terrorist financing and share financial intelligence on money laundering. [More>>haaretz.com]
---
7.08.05 Pakistan SBP new program to stop terrorist money transfers
KARACHI, July 8 – The State Bank of Pakistan (SBP) on Saturday directed all the banks and financial institutions to immediately inform the central bank about any suspicious act of transfer of money for terrorist activities or crimes. According to the SBP circular, all the banks and financial institutions must provide all the details including titles, numbers and the amount transferred if such doubtful transactions were performed. It was also learnt that the SBP has also amended its various laws to stop money laundering, under which all the necessary documents must be submitted to the banks before opening any new proprietorship accounts. The banks will now verify the computerize identity card from NADRA to detect any fake identity. [thenews.com.pk]
---
7.08.05 Iran says "terrorists" should not be let into Iraq
TEHRAN (Reuters) July 8 – Iran, accused by the United States of stirring up an Iraqi insurgency, said on Saturday ²terrorist² groups should be stopped from entering Iraq because they created an excuse for foreign troops to stay. Iranian President Mahmoud Ahmadinejad also said in a speech to a meeting of ministers from Baghdadıs neighbours that surrounding states were committed to ensuring stability in Iraq. "It is necessary to stop the crossing of terrorist groups into Iraq who aim at creating insecurity, hatred and differences, and pave the way for the presence of foreign forces in Iraq," Ahmadinejad told the foreign ministers in Teheran. He did not say from where or how the groups were entering Iraq. [More>>khaleejtimes.com]
---
7.08.05 Military pounds Taliban den in Afghanistan, five rebels killed
KANDAHAR (AFP) July 8 – Afghan and coalition forces have pounded a Taliban stronghold in southern Afghanistan, killing five rebels and leaving an Afghan and three foreign soldiers wounded, the coalition said. The air and ground assault was launched in the early morning in the Panjwayi area in Kandahar province which has been the focus of intense military action in recent months, and continued more than 12 hours later. [More>>turkishpress.com]
---
7.08.05 American attacks on Mehdi Army cause uproar among Shia
July 8 – US forces in Iraq have launched a series of bloody attacks on Shia militia forces in and around Baghdad, killing or wounding 30 fighters and provoking widespread anger in the Shia community. Iraqi government security forces, backed by the US troops and aircraft, moved into the vast Shia slum of al-Sadr City in eastern Baghdad at 3.15am yesterday in an attempt to arrest a commander of the Mehdi Army, the main Shia militia, called Abu Diraa. Iraqi police said nine people were killed including a woman. An Iraqi officer said the Americans had provided lists of people to be arrested in al-Sadr City.

The US army in Iraq is evidently starting a new confrontation with the Mehdi Army of Muqtada al-Sadr, which now controls much of Baghdad. Its militiamen have grown in number over the last year as Shia civilians look for protection against Sunni assassins and death squads. "Muqtada is taking over the city," said one Shia yesterday.

At one spot on the Tigris river in al-Qadamiyah in northern Baghdad some 10 to 12 headless bodies, most of which were later identified as Shia, are being washed up every day, said a local source. "In once case, a newly married husband and wife had been tied together before being killed," he said. "In another case a man's head had been cut off and the head of a dog loosely sewn on to his neck." Much of Baghdad, particularly mixed Sunni-Shia districts, are now embroiled in a sectarian civil war. The Shia allege that the US is reaching out to Sunni insurgents who formerly attacked American troops but are now killing Shia. [More>>independent.co.uk]
---
7.08.05 Surprising jump in tax revenues curbs US deficit
WASHINGTON, July 8 – An unexpectedly steep rise in tax revenues from corporations and the wealthy is driving down the budget deficit this year, even though spending has climbed sharply because of the war in Iraq and the cost of hurricane relief. On Tuesday, White House officials are expected to announce that the tax receipts will be about $250 billion above last year's levels and that the deficit will be about $100 billion less than what they projected six months ago. The rising tide in tax payments has been building for months, but the increased scale is surprising even seasoned budget analysts and making it easier for both the administration and Congress to finesse the big run-up in spending over the past year.

Tax revenues are climbing twice as fast as the administration predicted in February, so fast that the budget deficit could actually decline this year. The main reason is a big spike in corporate tax receipts, which have nearly tripled since 2003, as well as what appears to be a big rise in individual taxes on stock market profits and executive bonuses.

...Congressional analysts say that the surprise windfall could shrink the deficit this year to $300 billion, from $318 billion in 2005 and an all-time high of $412 billion in 2004. [Full story>>nytimes.com]

Editorial note: According to Fed.Gov-Debt 2006 the deficit for 2004 was $445 billion; 2005 was $331 billion and the projected deficit for 2006 was $261 billion. All information produced by the Bush administration demands close scrutiny. See Federal Debt tracking info and links in the Maravot News side bar. This is a typical "I've got good news and bad news to tell you" story, but the news, in this case, is worse than the original good and bad news you were provided by the Bush administration. It also questions the veracity of those supplying the information.
Mel Copeland
---
7.07.05 Mogadishu's rulers to kill people who don't pray
MOGADISHU (UPI) July 7 – Mogadishu's new rulers, the Union of Islamic Courts, have promised to implement Islamic Sharia law and vowed to kill anyone failing to perform daily Salaad prayers. Mogadishu's Shabelle Media Network Radio reported on Wednesday that the Union of Islamic Courts intended to implement Sharia law throughout the country and particularly in Mogadishu, which they captured last month. One of the Union of Islamic Courts' founders is Sheikh Abdullah Ali. Ali said during a speech at the opening ceremony of an Islamic Sharia law court in Mogadishu's Gubta neighborhood that "when people accept practicing Islamic Sharia law everybody will enjoy life based on peace and prosperity."

Ali also promised that the Union of Islamic Courts will kill anybody that fails to practice Salaad, commenting, "He who does not perform prayer will be considered as infidel and our Sharia law orders that person to be killed. The Sharia law orders the killing of any Muslim person when he fails to perform prayer." [metimes.com]
---
7.07.05 Decree issued to release women from Pakistan jails
ISLAMABAD, July 7 – Following years of demands by civil society organisations and human rights groups, Pakistanıs President General Pervez Musharraf on Friday issued a decree that will allow hundreds of women held for minor offenses to be freed from jails. Constitutionally known as "ordinance," the decree amends the existing criminal law to allow some 1,300 women incarcerated for adultery or minor crimes to walk out of prisons. State-run Pakistan Television (PTV) quoted President Musharraf as telling a womenıs delegation in Islamabad on Friday that his government was determined to ensure gender equality and to provide relief and comfort to women...According to the independent Human Rights Commission of Pakistan, over 200 women were raped in Pakistan last year but none of the accused could be punished because of the existing complicated law. [Full story>>khaleejtimes.com ; See also tnenews.com.pk, July 7, " 1300 women prisoners being freed under amended women rights law."]
---
7.07.05 'Leading militant captured' after Sadr City battle
(AP) July 7 – Iraqi forces backed by US aircraft battled militants in a Shia stronghold of eastern Baghdad early today, killing or wounding more than 30 fighters and capturing an extremist leader who was the target of the raid, Iraqi and US officials said. In another operation, Iraqi troops backed by US soldiers arrested a top regional commander of a Shia militia near Hillah, a US statement said. The moves appeared part of a crackdown on sectarian militias blamed for the escalation in Shiite-Sunni violence that has led to fears of civil war. The US military said the raid in eastern Baghdad was launched to apprehend "an insurgent leader responsible for numerous deaths of Iraqi citizens."

Iraqi troops came under fire from a rooftop, triggering a 43-minute gun battle after which the insurgent leader was arrested, the US said. There were no US or Iraqi casualties, the Americans said. US officials did not identify the insurgent but residents of the Shiite slum Sadr City said he was Abu Diraa, a commander in the Mahdi militia of radical cleric Muqtada al-Sadr. The US statement said the insurgent was involved "in the transfer of weapons from Syria into Iraq" in an effort to break away "from his current insurgent organisation." [More>>independent.co.uk ; See related story, aljazeera.net, July 6, "Zarqawi successor "in Egypt jail."]
---
7.07.05 String of attacks on Iraqi mosques kill at least eight
BAGHDAD (AFP) July 7 – At least eight Iraqis were killed and several wounded in a series of attacks on mosques in Baghdad and surrounding areas on Friday, one day after an attack near a Shia shrine, security sources said. Two civilians were killed and three wounded when a car bomb exploded near the Fakhri Shanshal Sunni mosque in Baghdad's western Jihad neighborhood.

In a separate attack, a mortar round exploded in front of the sprawling Al Nidaa Sunni mosque in the capital's northern Al Qahira neighborhood killing at least three and wounding seven as the faithful assembled for the traditional weekly prayers. In Baquba, north of Baghdad, a roadside bomb exploded as worshippers came out of the Sunni Ahmed Ibn Hanbal mosque in the city center killing one person and wounding four. Earlier, two Iraqis were killed and four policemen wounded in clashes between police and rebels when insurgents attacked the Shia Salman Pak mosque southeast of Baghdad, the US military said.

The policemen repelled an assault by an unknown number of "terrorists at the Salman Pak mosque" the military said. It said the main police station near the mosque in the Salman Pak hotel was also hit. "The terrorists conducted coordinated attacks on the sites with rocket propelled grenades and mortars," the military said, adding "during the attack, two local nationals were killed and four national policemen were injured." It said five of the alleged "terrorists were captured and detained for questioning." The mosque attacks come a day after a bomb exploded next to the revered Shia shrine of Maytham Al Tammar in Kufa, south of Baghdad, killing 12 Shias most of them Iranian pilgrims. [metimes.com]
---
7.07.05 Bomber's video shows hand of al-Qaeda
July 7 – A video by Shahzad Tanweer, right-hand man to the lead London suicide bomber, Mohammad Sidique Khan, has lent weight to the theory that al-Qaeda was behind the bombings. Tanweer's last testament, like Khan's in September, features a statement from Ayman al-Zawahiri, al-Qaeda second-in-command, bears the stamp of S. video production company, and includes a contribution by the American Adam Gadahn, believed to be running the group's propaganda operation. But it is also possible al-Qaeda has appropriated Tanweer's video as a publicity stunt. Though it probably helped train the London bombers, no evidence points to a controlling al-Qaeda mastermind behind the attacks.

Tanweer vows that the attacks will continue until troops are pulled out of Iraq and Afghanistan and "you stop your support" for America and Israel. "What you have witnessed now is only the beginning," he says. The recording, released to the Arab television station al-Jazeera to coincide with the anniversary of the bombings, provides an insight into Tanweer's indoctrination by Khan, the primary-school mentor who attracted him and others to a youth club at the Hardy Street mosque in Leeds and, amid the boxing and pool sessions, plied them with stories about abuse of Muslims. [More>>independent.co.uk]
---
7.07.05 Top IDF officials: Gaza raid won't halt rocket fire
July 7 – The Israel Defense Forces has killed about 40 Palestinian militants in the Gaza Strip in an effort to show the Palestinians there is a high price to pay for firing rockets and kidnapping an Israeli soldier, IDF Chief of Staff Dan Halutz told troops during a visit to an army base near Gaza on Friday. "The terrorists have paid a high price until now," he said as Israeli air strikes and shelling and Palestinian rocket fire continued Friday. "We will continue to operate to the extent necessary."

The Israel Air Force renewed air strikes at armed Palestinians in northern Gaza on Friday morning, hours after the heaviest day of fighting in the Gaza Strip in the past four years. An IDF soldier and at least 26 Palestinians have been killed since Thursday. The clashes are part of an IDF operation aimed at securing the release of Corporal Gilad Shalit, who was abducted by Palestinians on June 25, and putting a halt to Palestinian rocket attacks on the Negev. Halutz said the army would not commit to winding up the northern Gaza campaign within a set amount of time, but would make that decision based on circumstances. [More>>haaretz.com ; See related story, guardian.co.uk, July 7, "EU condemns Israeli Gaza incursions."]
---
7.07.05 Federation Council backs Putin's right to anti-terror ops abroad
MOSCOW (RIA Novosti) July 7 – Russia's upper house of parliament passed Friday a resolution giving the country's president the right to use the armed forces and secret services abroad to fight international terrorism. In line with the document, the armed forces and secret services can act abroad to stop terrorist activity in order to protect citizens' rights and freedoms, Russia's sovereignty, independence and territorial integrity. Russia's lower house of parliament passed the draft law Wednesday. With 226 votes necessary to pass the bill, 429 State Duma deputies backed the initiative, after which President Vladimir Putin submitted it to the Federation Council.

Putin asked parliament for broader anti-terrorist powers in the wake of the killings of five Russian diplomats in Iraq, allegedly by an al-Qaeda-linked group. One was shot on June 3 and the other four were abducted in the attack and later executed.

Last week, Putin ordered the secret services to hunt down and eliminate the killers, and offered a $10 million reward for information leading to their capture. President Vladimir Putin said Thursday that using special services overseas to combat terrorism was not a breach of international law. "I see no violations here. Under Article 51 of the UN Charter, states can individually or jointly rebuff an aggression. It does not say that this aggression should come from one state against the other," Putin said during a Web cast. [rian.ru]
---
7.07.05 NY plot is uncovered in early stage
July 7 – Authorities in Lebanon have arrested a man in connection with a plot to blow up part of the New York transportation system, officials said today. Senator Charles E. Schumer of New York Representative Peter T. King of Long Island confirmed a report in The Daily News today, which said that the man arrested in Lebanon and an unknown number of other people had discussed exploding a bomb to disrupt the system. The News said the plot focused on the Holland Tunnel, and said the plotters hoped that a bomb detonated under the Hudson River would crack the tunnel and flood Lower Manhattan.

But a law enforcement official said today that the tunnel was not the target of the plot, and Mr. King said in an interview that he "would agree" with that assessment. In a televised interview, Mr. Schumer referred to the Lincoln Tunnel, rather than the Holland. Mr. King and Mr. Schumer both said that the plot had been caught in its early stages. Mr. King said that he had been informed on an investigation by the Federal Bureau of Investigation and the New York City Police Department nine months ago.

The Associated Press reported that two federal officials confirmed that Lebanese officials had arrested one man, Amir Andalousli, at the request of the United States. The News article said that other suspects were being sought, although it was unclear whether any were in the United States. Mr. King declined to give details, but said the investigation involved "monitoring worldwide." In a televised interview on CNN, Mr. Schumer said the plot had not gotten beyond the talking stage...Mr. Schumer said the arrest in Lebanon was the result of intercepted Internet conversations. "They were caught by people talking" he said. "In this case, intelligence did its job." [Full story>>nytimes.com]
---
7.07.05 Spain suffers first bird flu case
July 7 – Spain has confirmed its first case of the lethal H5N1 strain of bird flu. The virus was detected in a great crested grebe that was found dead in the northern province of Alava, the agriculture ministry said. The Spanish authorities said there was no reason for alarm, and that the case should not affect poultry consumption. H5N1 has spread to birds in many European countries. The virus has killed more than 130 people since 2003 - mostly in East Asia. [More>>bbc.co.uk]
---
7.07.05 Turkey can play role in Iran controversy, El Baradei
ANKARA, July 6 – Turkey can play an important role in a resolution to Iran`s nuclear program controversy, said International Atomic Energy Agency (IAEA) DG Mohamed El Baradei on Thursday. In an exclusive interview with Turkish private NTV channel, El Baradei underlined that Turkey is Iran`s neighbor, and a Muslim country.

"You have close historical relations with the Middle East and Iran, and you also have close relations with the West and the USA. You are a NATO member. You can understand the position of these countries and have an important role in bringing them to the negotiation table," he stressed. Pointing out that solution of this controversy can contribute to settlement of Iraq, Afghanistan, Syria, Lebanon and Palestine issues, Baradei said, "we should also discuss international community's concerns over terrorism and human rights with Iran. If we can do this in an early stage and if Turkey can help the parties get closer to a compromise, this will be in the best interests of not only Turkey but also the entire world." [More>>turkishpress.com ; See related story, thenews.com.pk, July 7, "Turkey ready for new contact with Hamas leader."]
---
7.07.05 Iran to host Iraq security talks
(AFP) July 7 – Iran will host a regional conference on Iraq security this weekend, when the Islamic republic is likely to call for a withdrawal of foreign troops from it's neighbor. Officials from Iraq's neighbors, Saudi Arabia, Iran, Syria, Jordan, Kuwait, Turkey, Egypt, and the Arab League, and the Organisation of the Islamic Conference (OIC) will attend the meeting. Manouchehr Mottaki, Iran's foreign minister, said in June when announcing plans for the event that "the co-operation of these countries on Iraq and security issues will be on the agenda. "A clear message will be sent from this meeting in that these countries support the implementation of security in Iraq."

The last such meeting took place in April 2005 in Istanbul with little effect, and a previous meeting in Tehran in November 2004 also failed to yield any significant results. Majority Shia Iran has seen a reversal of its relations with Baghdad since the US invasion, enjoying close links with a government dominated by Shia and Kurdish figures who in the past had sought refuge in Iran. But the two sides, as well as Iraq's neighbors as a whole, remain divided over the source of the violence. [aljazeera.net]
Copyright © 1981-2006 Maravot. All rights reserved
Copyright © 1981-2006 Mel Copeland. All rights reserved
Painting of Apple by Mel Copeland, early 70's
Background: tile from Cicero's villa (Marcus Tullius Cicero 106 B.C. - 43 B.C.)