---
7.05.06 Planes fly near North Korean missile landing area: report
TOKYO, July 5 – About a dozen passenger planes were flying in the area and at about the same time that North Korea's missiles splashed down in the Sea of Japan, a press report said Wednesday. The planes were flying from European countries to Japan about the same time that six missiles, test fired from North Korea, splashed down, a Japanese news agency quoted the Japanese Defence Agency as saying. North Korea fired six missiles into the northern Sea of Japan near Russia's far eastern maritime province for about five hours until 8:30 am (2330 GMT Tuesday), the agency said...Most Japan-bound planes from Europe pass over a point called IGROD in the Sea of Japan. Five of the six missiles landed some 200-400 kilometers (125-250 miles) northwest of the point. The other missile, believed to be a long-range Taepodong-2, splashed down some 100 kilometers (60 miles) north of the point. [Full story>>thenews.com.pk ; See also foxnews.com, July 5, UN Security Council meets after North Korea launches 7th missile."]
---
7.04.06 Shuttle lifts off on 4th July
CAPE CANAVERAL, Fla. (AP) July 4 — After two weather delays and last-minute foam trouble, Discovery and a crew of seven bl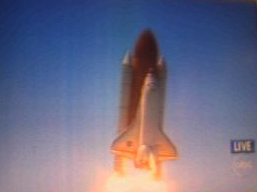 asted off Tuesday on the first shuttle launch in a year, flying over objections from those within NASA who argued for more fuel-tank repairs. The majestic shot NASA's first on Independence Day was only the second shuttle flight since the Columbia was brought down 3 1/2 years ago by a chunk of insulation foam breaking off the fuel tank. [More>>abcnews.go.com]
---
7.04.06 Stolen lives – identity thief finds easy money hard to resist
July 4 – By the time of Shiva Brent Sharma's third arrest for identity theft, at the age of 20, he had taken in well over $150,000 in cash and merchandise in his brief career. After a certain point, investigators stopped counting. The biggest money was coming in at the end, postal inspectors said, after Mr. Sharma had figured out how to buy access to stolen credit card accounts online, change the cardholder information and reliably wire money to himself — sometimes using false identities for which he had created pristine driver's licenses. But Mr. Sharma, now 22, says he never really kept track of his earnings.

...The Secret Service and the Federal Bureau of Investigation have invested millions of dollars in monitoring Internet sites where thousands of users from around the world congregate to swap tips about identity theft and to buy and sell personal data. Mr. Sharma frequented such sites from their earliest days, and the techniques he learned there have become textbook-variety scams.

...Mr. Sharma got started with phishing — sending e-mail meant to dupe recipients into revealing their personal or financial data, which can then be exploited. He told investigators that he paid $60 to someone he had met on Carderplanet to buy a program designed to harvest AOL e-mail addresses. "I pretty much stuck with AOL because I knew AOL is most likely people new to the Internet," Mr. Sharma explained, "people who don't use the Internet for much but chat rooms."

He managed to gather about 100,000 addresses, and crafted an e-mail message that told recipients, "We regret to inform you, but due to a recent system flush, the billing information for your account was deleted." Recipients were instructed to follow a link to a Web page to remedy the situation. The Web page, which mimicked AOL's look and feel, including a bogus AOL Web address, had form fields requesting everything from name and address to mother's maiden name, Social Security number, date of birth, credit card number, expiration date and bank. The "submit" button sent the data to Mr. Sharma's e-mail account. He then went shopping. [Full story>>nytimes.com]
---
7.03.06 Ba'asyir says Indonesian holy warriors should go to Israel
JAKARTA (AP) July 3 – A reputed leader of an al-Qaeda-linked terror group said Monday that Indonesia should send Islamic holy warriors to Israel to punish it for unleashing airstrikes in Palestinian territories. "Israel is the enemy of Allah," militant cleric Abu Bakar Ba'asyir told hundreds of members of the Muslim-based Crescent Star Party in the capital Jakarta. "That is why Indonesia should send holy warriors there."

Ba'asyir, who recently completed a 26-month jail term for conspiracy in the 2002 Bali bombings that left 202 dead, spoke as Israel massed tanks and troops along Gaza's northern border. That followed a weekend of escalating violence in Palestinian territories, triggered by the capture of an Israeli soldier. While supporting Israel unconditionally, the United States and Australia allege that Ba'asyir is a key leader in the al-Qaeda-linked militant group Jamaah Islamiyah, blamed for a string of bloody bombings across Indonesia since 2000. His release from prison last month raised concerns that he would energize Indonesia's small, Islamic radical fringe by making impassioned speeches at rallies and mosques. [thejakartapost.com]
---
7.03.06 Iraqi Shias divided over peace plan
BAGHDAD (AFP) July 3 – Iraq's dominant Shia leaders appeared divided on Monday over Prime Minister Nuri Al Maliki's much-touted national reconciliation plan that aims to curb violence by offering amnesty to rebels. Abdel Aziz Al Hakim, the powerful head of parliament's largest bloc, said that he favored extending an amnesty to insurgents who may have killed US troops – an idea strongly opposed by Maliki. "Yes they should be covered regardless of their religious or ethnic affiliations," Hakim said when asked if he would support extending the reconciliation and amnesty plan to those who may have attacked or killed US-led troops.

On the ground the US military reported that two of its servicemen had been killed in attacks, while nine Iraqis lost their lives in bomb and mortar attacks. Hakim's comments came a day after the Iraqi government issued a new list of 41 "most wanted" including exiled members of the family of ousted dictator Saddam Hussein. [More>>metimes.com ; See related story, aljazeera.net, July 3, "Several dead in Mosul attack." and wn.com, July 3, "Shiite insurgent group makes Iraq debut."]
---
7.03.06 Taliban killed in convoy ambush
July 3 – Up to 20 suspected Taliban have been killed after ambushing a military convoy in southern Afghanistan, the multinational force in the country said. Thirty men, firing guns and mortars, attacked the convoy on Sunday in the Sangin district of the southern Helmand province. The patrol had found a weapons cache in the area. Earlier Afghan police reported 11 gunmen had been killed in the firefight. "The coalition attacked the engaging enemy element as well as a second group attempting to reinforce the original group," said a military statement. The military said two soldiers were wounded and airlifted to a medical facility, where they were in stable condition.

Four British troops have been killed in Sangin during the past week. Also in Helmand province, Afghan police killed seven gunmen who attacked a police checkpoint in the Nawzad district, the interior ministry said. The police suffered no casualties, it said. [More>>aljazeera.net]
---
7.03.06 Qinghai-Tibet passenger train arrives in Lhasa
LHASA, Tibet (Xinhua) July 2 – A train carrying about 600 passengers from Golmud, northwest China's Qinghai Province, arrived at the Lhasa Railway Station at 00:31 a.m. on Sunday, marking the end of a maiden train run on Qinghai-Tibet Railway which was op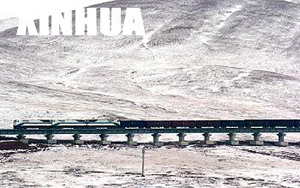 ened Saturday morning. The train, coded "Qing 1," left Golmud at 11:05 a.m. on Saturday and ran across the Qinghai-Tibet Plateau, dubbed the "roof of the world," before arriving in Lhasa, capital of the Tibet Autonomous Region. Those on board the maiden train included role models of builders of the railway, representatives from the government, journalists from official media including the Xinhua News Agency and the China Central Television. Yu Hong, a 38-year old official with the State Council, told Xinhua that passengers on the train not only enjoyed the beautiful landscape during the trip, but also got moved by the warmheartedness of Tibetans. "A lot of local ethnic farmers and herdsmen waved their hands to greet us while waiting along the railway to watch the train passing by," Yu said.

Chen Shouzhong, a railway worker from Sichuan Province, said that he had some headache but got recovered soon after treatment of altitude sickness on the train. "The railway will promote link between people in Tibet and other parts of China," he said...The Qinghai-Tibet Railway stretches 1,956 kilometers from Xining to Lhasa. Some 960 kilometers of its tracks are located 4,000 meters above sea level and the highest point is 5,072 meters, at least 200 meters higher than the Peruvian railway in the Andes, which was formerly the world's most elevated track. [Full story>>xinuanet.com ; See also khaleejtimes.com (Reuters) July 3, "Altitude sickness sets in as Tibet train reaches peak," and chinaview.com special report, July 2, "Qinghai-Tibet Railway."]
---
7.03.06 MI5 conducts secret inquiry into 8,000 al-Qa'ida 'sympahizers'
July 3 – Up to 8,000 suspected al-Qaeda sympathizers are being investigated by MI5 and the police in an operation to identify future terrorists, The Independent has learned. The huge covert inquiry, known as project Rich Picture, is aimed at finding people who are being groomed for terrorism, and at identifying the Islamist extremists carrying out the recruitment. The nationwide investigation follows intelligence suggesting there is a very small, but significant number of British-born and Britain-based Muslims, who are prepared to carry out bombings and other terrorist attacks in this country.

Undercover officers are gathering information from all over the country, including at colleges, mosques and internet websites where extremists may try to "groom" or radicalize those sympathetic to the aims of al-Qaeda. Of the estimated 1.6 million Muslims living in Britain, counter-terrorist sources have disclosed that they believe up to 0.5 per cent – about 8,000 – support al-Qaeda's aims, and have links to Islamist extremists. These are the people being investigated. [More>>independent.co.uk ; See related story, bbc.co.uk, July 3, "Al-Qaeda 'bid to infiltrate MI5' : Al-Qaeda sympathisers have been trying to infiltrate the British security service MI5, the BBC has learned. Whitehall officials confirmed what some had long suspected, says BBC security correspondent Frank Gardner. But those with al-Qaeda sympathies had been weeded out during a six- to eight- month vetting process, officials added.

Meanwhile anti-terrorism police probing the 7 July London bombings say people who knew the attacks were being planned could face prosecution. Officers at a Scotland Yard briefing also said they continued to be very concerned by the intelligence picture, with 70 investigations continuing. Some of the intelligence received was described as "very sinister"...
---
7.03.06 Ex-Guantanamo prisoners go on trial in France
PARIS (Reuters) July 3 – Six Frenchmen who were released from the U.S. naval base in Guantanamo Bay over the past two years will stand trial in France on Monday over "associating with criminals in relation to a terrorist organisation." The six men, aged between 24 and 38, were captured during the U.S.-led war in Afghanistan late in 2001 and held by American forces on suspicion of fighting for the ousted Taliban regime. Some of them returned to France in July 2004 and some in March 2005.

The French trial comes amid a heated debate on the Guantanamo camp in Cuba after the US Supreme Court last week struck down as illegal the military tribunal system set up by the United States to try Guantanamo prisoners. The Frenchmen have said they suffered psychological and physical torture in Guantanamo and were deprived of water and food.

The men are judged for their trips to Afghanistan between 2000 and 2001, where prosecutors say five of them participated in al-Qaeda training camps. The sixth man, Imad Kanouni, received fundamentalist religious training there. Prosecutors have highlighted that the father and brother of one of the accused, Mourad Benchellali, were convicted last month of planning attacks in France in 2002. [More>>thestar.com.my ; See also liberation.fr, July 3, "Les Français de Guantanamo en procès."]
---
7.03.06 Minister Ramon: IDF operations in Gaza will be 'far far worse' if Shalit harmed
July 3 – Justice Minister Haim Ramon on Monday warned of a harsh military response in the Gaza Strip if an abducted Israeli is harmed by his Palestinian captors. Ramon made the threat after the militants holding Israel Defense Forces Corporal Gilad Shalit implied the soldier would be killed if Israel does not begin releasing Palestinian soldiers by Tuesday morning.

"If God forbid, they should hurt the soldier, our operations will be far far worse," Ramon told Channel 2 TV. Prime Minister Ehud Olmert's bureau said Monday that Israel rejected an ultimatum issued earlier in the day by Palestinian militants holding Shalit, saying that Israel would not give in to blackmail. The three militant groups behind the kidnapping said they were giving Israel until 6 A.M. Tuesday to agree to release 1,000 Palestinian prisoners or "pay the consequences." [More>>haaretz.com]
---
7.03.06 Veterans for Peace draft "Declaration of Impeachment" using "Declaration of Independence"
July 3 – David Swanson of afterdowningstreet.org, and allied organizations supporting the impeachment of President George W. Bush and Vice-president Dick Cheney, urge the reading of a slightly revised version of the hallowed "Declaration of Independence" which listed the grievances of the American colonies against King George III. By changing a few words, from "king" to "president" and "Bush administration" the new document protesting the excesses of "King George" brings home the scope of the Bush administration's excesses. The "Declaration of Impeachment" can be read at afterdowniingstreet.org, July 3, "On the Fourth, read the Declaration of Impeachment." For comparison purposes open the "Declaration of Independence" at ushistory.org and an article by americanrevolution.com: "Insane George III."

The association of the two "King Georges" with regard to the abuse of the rights of man was central to my 1993 argument against the administration of George H. W. Bush, in "Against Leviathan." which complains about excessive "Bush borrowing" and under a heading, "Colonized again – my God its Leviathan!" said:

"... Furthermore, if you were to compare the complaints sketched herein you'd conclude that they are graver by far than those listed by Jefferson in our venerated if not holy Declaration of Independence against King George!"
The argument was part of a 2 1/2 year correspondence with Wm. F. Buckley Jr., including other documents, "Duty and Profit," "Immoral Coercion," etc.

Mel Copeland
---
7.03.06 Bin Laden warns Iraqi Shia of revenge
July 1 – Osama bin Laden, al-Qaeda's leader, has purportedly issued an internet message warning Iraqi Shia of retaliation if they continued to attack Sunnis. "It is not possible that many of the people of the south (Shia) violate, alongside America and its allies, [the Sunni cities of] Ramadi, Falluja, Mosul ... that their areas would be safe from retaliation and harm," said the speaker on the audiotape posted on the net. In what would be his second message in two days if confirmed, bin Laden said the Islamic community was depending on Islamist fighters in Iraq as well as Somalia.

"Your Muslim nation is looking for you and praying for your victory. You are their hope after God. You are God's trusted soldiers who will liberate the ummah (the Muslim nation) from the serfdom of the crusaders in our countries." The al-Qaeda leader also said his group reserved the right to fight the United States and warned Washington and the international community against sending forces to Somalia. "We will fight its (US) soldiers on the land of Somalia ... and we reserve the right to punish it on its land and anywhere possible." [More>>aljazeera.net ; See previous message and Maravot News comment on al-Qaeda publicist, As-Sahab, 6.29.06 Bin Laden hails slain Zarqawi as 'lion']
---
7.01.06 Baghdad market blast kills scores
July 1 – A huge explosion has ripped though a busy Baghdad market, killing at least 66 people, officials say. About 100 others were injured in the car bomb attack in Sadr City, a Shia area frequently targeted by insurgents. The explosion left a scene of carnage and devastation, with the dead and injured lying amid the wreckage of cars, shops and market stalls. The new government has been battling to improve Baghdad security, and last weekend unveiled a national unity plan. But the attack was the worst incident in the capital for weeks. Reports say the car bomb was detonated as a police patrol passed, causing both police and civilian casualties. The bomb was clearly aimed at causing the maximum possible casualties, says the BBC's Jim Muir in Baghdad. It was detonated at one of the busiest times of the day in a popular market in a densely-populated area.

Markets – including others in Sadr City – have frequently been targeted by insurgents, causing huge loss of civilian life. In a separate incident on Saturday, a female Sunni MP and at least seven of her bodyguards were kidnapped, parliamentary sources said. Taiseer Najah al-Mashhadani is a member of the Iraqi Accordance Front, the largest parliamentary grouping of the Sunni community. [More>>bbc.co.uk ; See related stories, aljazeera.net, July 1, "Group claims deadly Baghdad attack." and haaretz.com, July 1, "US offers $5 M bounty for information on Al-Qaeda's Masri."]
---
6.30.06 Seventeen Taliban killed; guard kidnapped
KANDAHAR (AFP) June 30 – Seventeen Taliban rebels were killed and 14 were arrested in southern Afghanistan, while militants kidnapped an Afghan security worker, police and officials said today. Fourteen Taliban militants were killed when Afghan and US-led coalition forces destroyed their hideouts in the mountainous eastern province of Nuristan today, the US military said in a statement. "A coalition patrol tracked a band of 14 extremists travelling with AK-47s and rocket propelled grenades," the statement said.

"The extremists were observed hiding and then coalition forces attacked them ... Afghan National Army and coalition forces seized the compound and identified 14 dead enemy combatants," it added...Separately, the guard employed by USPI, a US private security firm, was abducted today in the southern province of Ghazni which has seen frequent Taliban attacks, provincial police chief Tafsir Khan said. During a hunt for the kidnappers police detained six men for suspected involvement in the kidnapping, Khan said, adding that there was no news on the fate of the security worker. [Full story>>theaustralian.news.com.au]
---
6.29.06 Bin Laden hails slain Zarqawi as 'lion'
CAIRO (AP) June 29 – Osama bin Laden praised slain al-Qaida in Iraq leader Abu Musab al-Zarqawi as the "lion of holy war" in a new videotape posted on the Internet on Friday.
The 19-minute message shows an old still photo of bin Laden in a split-screen next to images of al-Zarqawi taken from a previous video. A voice resembling bin Laden's narrates a tribute to the Jordanian-born militant, who was killed in a June 7, airstrike northeast of Baghdad.
"Our Islamic nation was surprised to find its knight, the lion of jihad (holy war), the man of determination and will, Abu Musab al-Zarqawi, killed in a shameful American raid," bin Laden said.
It was the fourth message put out this year by al-Qaida leader bin Laden. All have featured his voice in audiotapes. New video images of him have not appeared since October 2004.
The authenticity of the video could not be immediately confirmed. It bore the logo of As-Sahab, the al-Qaida production branch that releases all its messages, and was posted on an Islamic Web forum where militants often post messages. Typically, the CIA does a technical analysis to determine whether the speaker is who the tape claims and the National Counterterrorism Center analyzes the message's contents. In the tape, bin Laden's voice sounded breathy and fatigued at times.
"Even if we lost one of our greatest knights and and princes, we are happy that we have found a symbol for our great Islamic nations, one that the mujahedeen will remember and praise in poetry and in stories secretly and aloud," bin Laden said. [More>>Detroit Free Press
ap.org
via msnbc.com]
---
6.29.06 Supreme Court blocks trials at Guantanamo
WASHINGTON (AP) June 29 – The Supreme Court ruled Thursday that President Bush overstepped his authority in ordering military war crimes trials for Guantanamo Bay detainees. The ruling, a rebuke to the administration and its aggressive anti-terror policies, was written by Justice John Paul Stevens, who said the proposed trials were illegal under US law and international Geneva conventions.

The case focused on Salim Ahmed Hamdan, a Yemeni who worked as a bodyguard and driver for Osama bin Laden. Hamdan, 36, has spent four years in the U.S. prison in Cuba. He faces a single count of conspiring against US citizens from 1996 to November 2001. Two years ago, the court rejected Bush's claim to have the authority to seize and detain terrorism suspects and indefinitely deny them access to courts or lawyers. In this follow-up case, the justices focused solely on the issue of trials for some of the men.

The vote was split 5-3, with moderate Justice Anthony M. Kennedy joining the court's liberal members in ruling against the Bush administration. Chief Justice John Roberts, named to the lead the court last September by Bush, was sidelined in the case because as an appeals court judge he had backed the government over Hamdan. Thursday's ruling overturned that decision. [More>>nytimes.com ; See also washingtonpost.com, June 29, "Supreme Court rejects Guantanamo War Crimes trials" : The Supreme Court today delivered a stunning rebuke to the Bush administration over its plans to try Guantanamo detainees before military commissions, ruling that the commissions are unconstitutional.

In a 5-3 decision, the court said the trials were not authorized under U.S. law or the Geneva Conventions. Justice John Paul Stevens wrote the opinion in the case, called Hamdan v. Rumsfeld. Chief Justice John G. Roberts Jr. recused himself from the case. The ruling, which overturned a federal appeals court decision in which Roberts had participated, represented a defeat for President Bush, who had ordered military trials for detainees at the Guantanamo Bay naval base. About 450 detainees captured in the war on terrorism are currently held at the U.S. naval base in Cuba...
---
6.29.06 Hamas ministers arrested as hostage crisis escalates
June 29 – Israeli troops have arrested 64 Hamas officials including nine Cabinet ministers as the Middle East crisis sparked by the kidnapping of an Israeli soldier continued to escalate. As Israeli artillery battered northern Gaza today, jets dropped leaflets on militant strongholds warning families to stay indoors ahead of an expected land incursion. Israel is now preparing a massive ground offensive in Gaza. In response, the armed Palestinian group holding the kidnapped soldier, Corporal Gilad Shalit, threatened to kill him if Israel continues to escalate violence. [More>>timesonline.co.uk ; See also xinhuanet.com, June 29, "New violence between Israel, Palestine." The site contains a record (links to stories) of xinhuanet.com reports on the issue.]
---
6.29.06 Officials capture suicide bombers
KANDAHAR (AAP) June 29 – Afghan officials said Thursday they had captured two Pakistani nationals who were part of a 20-member team that entered southern Afghanistan to carry out suicide attacks. Two other men from the same group were killed Wednesday when they detonated a car bomb near a US-led coalition convoy in southern Zabul province, while 16 other Pakistani nationals were still at large, a police official said. Ghulam Rasoul Aka, police chief of Zabul's Sari Safa district where the Pakistani pair were seized, said his information was based on the confession of the detained men.

No civilians were killed in Wednesday's attack, later claimed by the Taliban militia who have waged an insurgency against government and coalition targets since their ouster by a US-led invasion in late 2001. Iraq-style suicide car bombings are on the rise in Afghanistan, particularly since early this year. Kabul has repeatedly accused Islamabad of failing to crack down on militants infiltrating Afghanistan from the Pakistani side of the border. Islamabad strongly denies the charges. US Secretary of State Condoleezza Rice tried to mediate between the two Islamic republics when she visited the region earlier this week. [theaustralian.news.com.au ;
---
6.29.06 India space agency set to launch heaviest satellite
SRIHARIKOTA, India (Reuters) June 29 – India¹s space agency is set to launch its heaviest satellite, a move that will catapult the country into the multi-billion dollar launch market. The new communications satellite weighs 2.2 tonnes and is due to lift off in mid-July from Sriharikota, India¹s space port on the southeastern coast. India has launched similar class of satellites using Ariane rockets from Kourou in French Guyana.

"There is no doubt about our launch capabilities," said M. Annamalai, director of the Sriharikota space port, late on Wednesday. "We have had 11 consecutive successful rocket launches and we are now entering a new phase of launching heavier satellites." He said India aimed to get a slice of the estimated $2 billion global satellite launch market, adding launches from India would be 30-35 percent cheaper than other countries. "It is going to be busy time from next year. We are planning four launches yearly," Annamalai said. The scientist said the 2.2 tonne satellite launch would be followed by launches of three other satellites, including an Indonesian-built mini-satellite. [More>>khaleejtimes.com]
---
6.29.06 'Playboy' editor, model named suspects
JAKARTA (AP) June 29 – Playboy magazine's editor-in-chief and first centerfold model in Indonesia were formally named by police as suspects in an indecency case against the publication. Indonesian authorities said they were investigating model Kartika Gunawan, a woman who posed in lingerie in a premiere edition in April, and Erwin Arnada. They could be prosecuted and if found guilty imprisoned for two years and eight months. Under Indonesian law, declaring someone a suspect is a formal step in a police investigation, indicating there is enough initial evidence to build a case for trial.

As a professional model, Kartika believed she was dealing with a legal magazine that publishes images within limits set by the government, the lawyer said. The magazine's Indonesia launch caused a stir in the predominantly Muslim nation of 220 million, prompting the publisher to relocate its offices from the capital Jakarta to the more liberal resort island of Bali. A second edition was released in June. [More>>thejakartapost.com]
---
6.28.06 NASA's Cassini spacecraft marks mission halfway point
June 27 – As the Cassini spacecraft reaches the halfway mark in its four-year tour of the Saturn system, discoveries made during the first half of the mission have scientists revved up to find out what's in store for the second act. Cassini has been orbiting Saturn since June 30, 2004, studying the planet, its rings and moons.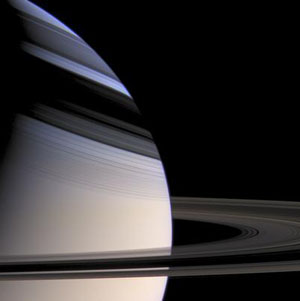 Few sights in the solar system are more strikingly beautiful than softly hued Saturn embraced by the shadows of its stately rings. (saturn.jpl.nasa.gov)
"The spacecraft has spent a considerable amount of time studying the moon Titan during 15 separate flybys so far. In the second half of its prime mission, ending June 2008, Cassini will swing by Titan 30 more times," said Robert T. Mitchell, Cassini program manager at NASA's Jet Propulsion Laboratory, Pasadena, Calif. "The past two years have been just like a warm-up. We especially focused on Titan because we thought it could tell us something about the early Earth," said Dr. Toby Owen, Cassini interdisciplinary scientist at the University of Hawaii at Manoa.
Owen added, "Examining this world frozen in time, we find evidence that Earth may have begun with the same methane-ammonia atmosphere that marked the birth of Titan. Because of our world's closeness to the Sun, Earth has oceans of liquid water, which Titan lacks. The resulting chemistry in Earth's warm environment ultimately led to the origin of life, whereas on Titan we find only a frozen echo of early Earth: methane, nitrogen, and a suite of small organic molecules. Our planet's carefully balanced, warm global climate is the underlying reason that we are investigating Titan, instead of Titanians investigating Earth." Cassini's tour of the Saturnian system is about to take on a new pace. "This summer we will begin our express-ticket ride. [More>>
saturn.jpl.nasa.gov
]
---
6.28.06 Putin orders hunt for killers of Russian envoys in Iraq
Moscow (AP) June 27 – President Vladimir Putin has ordered Russian special services to hunt down the killers of four Russian hostages in Iraq, news agencies reported Wednesday. "The president has ordered the special forces to take all necessary measures to find and destroy the criminals who killed Russian diplomats in Iraq," news agencies said, citing the Kremlin press service. The order follows Monday¹s confirmation by the Foreign Ministry that four Russians working at the embassy in Iraq had been killed; they were seized in early . Earlier Wednesday, the lower house of the Russian parliament passed a statement decrying the murders and saying that ³occupying² countries are losing control in Iraq. Russia has strongly opposed the U.S.-led military campaign in Iraq. [More>>msnbc.msn.com ; See also aljazeera.net and:

rian.ru, June 28, "Putin orders secret service to eliminate diplomats' killers." : ..."I would also like to recall the opinion that Defense Minister Sergei Ivanov voiced several months ago on the possibility of delivering preventive strikes against [overseas] terrorist bases that threaten Russia's security," he told a news conference in the French city of Strasbourg, where he is currently on a visit...

xinuanet.com, June 27, "Putin calls for update of world security structure." : ... "I am confident that we have reached a turning point, when the updating of the whole structure of global security is necessary," Putin said in his speech to Russian ambassadors who were called back from around the world. Reports said the meeting was taking place to assess Russia's place in the world and to set the country's new foreign policy goals. "If we let the inertness of former approaches carry us away, the world will be once again doomed to ineffective confrontation," Putin said.

He urged diplomats to "overcome these dangerous tendencies and develop new ideas and approaches." The president also emphasized a need to assess the foreign policy of any country on the basis of principles of international law and universal standards. "We are not dividing countries of the world into those which we shall cooperate with and those which we shall confront," he said.

"Our competitors on economic markets, for example, are at the same time our key partners in solving major international problems, but not all were ready to see Russia get stronger so quickly," said the president. He told the top diplomats that Moscow would not join any ultimatums undermining the authority of the UN Security Council. "We do not want to join any kind of ultimatums, which simply deadlock the situation and jeopardize the authority of the UN Security Council," the president said. Russia "is proposing concrete decisions in the domain of nonproliferation, for instance, the idea of setting up international uranium enrichment centers," he said, clearly referring to the Iranian nuclear issue...

khaleejtimes.com, June 28, "Russia to build "nuclear Gazprom' for world market" : MOSCOW (Reuters) – Russia will merge its civilian nuclear companies into one state company – along the lines of gas giant Gazprom – to help it compete on the world nuclear market, the country¹s nuclear chief said on Wednesday. President Vladimir Putin this month approved a revamp of the nuclear industry which nuclear officials say is aimed at boosting nuclear energy production and increasing the global clout of Russia¹s major nuclear companies. Under the plan, a single state company called Atomprom will be created on the base of the many smaller, sometimes overlapping, state-controlled companies in the sector...
---
6.28.06 Israel threatens to kill exiled Hamas leaders
JERUSALEM, June 28 – Israel threatened to kill exiled Syrian-based leaders of the ruling Palestinian Hamas movement Wednesday, blaming them for the kidnapping of a soldier by militants in the Gaza Strip. "Hamas's and Islamic Jihad's leaders and general headquarters are in Damascus in locations the Syrians know perfectly well," Israeli Public Security Minister Avi Dichter told public radio. "We have transmitted clarifications and warnings through diplomatic channels to the Syrians on this matter, but they have chosen to disregard them. This therefore gives Israel full permission to attack these assassins," he said.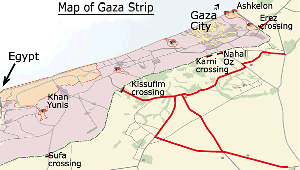 Map from haaretz.com. Among many issues involved with the Gaza Strip one must keep in mind that the small strip of land (about 5 km wide at the Kissufim Crossing) has 1,428,757 people. Its border with Egypt is 11 km and 55 km with Israel. It is in area slightly larger than Washington DC (
cia.gov
). Washington DC has a population of 550, 521(US 2005 Census). Imagine living in such an area hemmed in by the sea and a great
barrier wall
.
"For years, Israel has held Syria responsible for some of the terrorist actions perpetrated on Israeli territory," added Dichter, a former chief of Israel's domestic security agency Shin Beth.
A number of Israeli officials have said Hamas political leader Khaled Meshaal, who is exiled in Syria, was in their sights over the kidnapping of the soldier in an attack near the Gaza border on Sunday. Israel compared the 50-year-old Meshaal to Al-Qaeda leader Osama bin Laden, and called for international pressure on Syria to expel him. Meshaal is one of Israel's most wanted men and famously survived a bungled assassination attempt by Mossad agents who tried to poison him in 1997 in Jordan. A close aide to Meshaal told media in Amman that the Hamas supremo spurned the volley of Israeli threats. [More>>
thenews.com.pk
;
See also
haaretz.com, June 28, "PM: Israel won't balk at 'extreme action' to rescue IDF soldier"
: Israel Defense Forces tanks and troops rolled into southern Gaza before dawn Wednesday, encountering little resistance from Palestinians, in a bid to pressure Palestinian militants into releasing an IDF soldier seized Sunday in an attack on a military position near the Gaza border.
Speaking after the launch of the operation, Prime Minister Ehud Olmert warned that Israel would not balk at "extreme action" to retrieve Corporal Gilad Shalit. But, the prime minister maintained, Israel has no plans to reoccupy the Strip, from which it withdrew in 2005, after 38 years of occupation. "All the military activity that started overnight will continue in the coming days," Olmert said. "We do not intend to reoccupy Gaza. We do not intend to stay there. We have one objective, and that is to bring Gilat home," he said...
---
6.28.06 Pollution, logging 'creating toxic RI'
JAKARTA, Indonesia, June 28 – Rivers awash in chemical pollutants and untreated sewage, denuded forests and smog-choked cities are putting the Indonesian public at risk in an increasingly toxic environment, a new government report says. The 295-page State of the Environment Report 2005, released Tuesday by the Office of the State Minister for the Environment, listed 65 environmental watershed areas in critical condition – up from only 22 in 1992 – amid the sustained exploitation of the environment.

"The country's environmental degradation is getting worse. This clearly explains the cause of the series of disasters that all of us have faced," said State Minister for the Environment Rachmat Witoelar in a speech at the report's launching. The report, published annually since 2001, evaluates the quality of the country's air, atmosphere, water, coastal and marine, biodiversity, waste, hazardous compounds and toxic waste, as well as providing analysis of the overall environmental situation and its impact on public health. Deforestation is exacting a particularly high toll, the report noted, with over 31,000 hectares of protected forests set to be turned into mining areas after six of 13 mining companies with presidential permits filed requests to exploit minerals in the conservation areas. Such forest conversion practices along with rampant illegal logging increased the deforestation rate to 3.5 million hectares in 2005. [More>>thejakartapost.com]
---
6.28.06 Iraq: Samarra shrine bomber caught
June 28 – Authorities in Iraq say they have captured an al-Qaeda fighter wanted for February's bombing of a Shia shrine which led to sectarian violence in the country. Mouwafak al-Rubaie, Iraq's national security adviser, on Wednesday identified the arrested man as Yusri Fakhir Muhammad Ali, a Tunisian also known as Abu Qudama. Al-Rubaie said the man was seriously wounded in a clash with security forces north of Baghdad a few days ago in which 15 other foreign fighters were killed. Abu Qudama has reportedly confessed to the bombing. The national security adviser said Abu Qudama entered Iraq in November 2003. He was part of a group including two other Iraqis and four Saudis who carried out the attack on the Askariya shrine, along with the group's leader, Haitham al-Badri, the al-Qaeda leader in Salah al-Din province who al-Rubaie said masterminded the bombing. [More>>aljazeera.net]
---
6.28.06 Two suicide bombers killed in attack on US convoy in Afghanistan
KANDAHAR, Afghanistan (AFP) June 28 – Two suicide bombers killed themselves in southern Afghanistan on Wednesday when they detonated a car bomb near a US convoy, without causing any other casualties, police said. The Taliban movement waging an insurgency against the government claimed responsibility for the failed attack in Zabul province that follows two other suicide blasts in the past two days. The Zabul police chief said that the men detonated the car bomb "seconds ahead" of the arrival of a US military convoy. However, police in the capital said that the intended target was not clear. [More>>metimes.com] ; See also independent.co.uk, June 28, "Two British marines killed in Afghanistan grenade attack."]
---
6.27.06 Israel gears up for Gaza blitz over kidnapped soldier
TEL AVIV, June 27 – Thousands of Israeli troops massed on the Gaza border Tuesday, poised for an offensive to free a kidnapped soldier likely to trigger a sharp escalation in the Middle East conflict. "If we start with kidnappings, Israel has no problem entering the Gaza Strip and kidnapping half the Palestinian government," an Israeli minister said. The 19-year-old Israeli corporal, who also holds French nationality, was snatched on Sunday in a raid on an army post on the Gaza Strip border in which two other Israeli servicemen and two Palestinian fighters were killed.

Thousands of Israeli troops massed on the Gaza border, poised for an offensive to free a kidnapped soldier after Prime Minister Ehud Olmert has warned that a "large-scale military operation is approaching. Scores of Israeli tanks and armored vehicles lined up in farmland in the south near the Kerem Shalom crossing between the Gaza Strip and Jewish state. Army radio reported deployments of two infantry regiments and two armored battalions, which would put the concentration of troops at around 5,000. "If we start with kidnappings, Israel has no problem entering the Gaza Strip and kidnapping half the Palestinian government," Israeli minister Benjamin Ben-Eliezer told army radio on day three of the hostage crisis. [thenews.com.pk ; See also haaretz.com, June 27, "IDF believes captured soldier being held in southern Gaza."]
---
6.27.06 Hamas 'implicitly accepts Israel'
June 27 – Palestinian militant group Hamas has agreed to a document backing a two-state solution to the conflict with Israel, officials say. The initiative, devised by Palestinian prisoners held in Israeli jails, implicitly recognizes the Jewish state. Hamas's charter currently calls for Israel's destruction by force and rules out peace negotiations with it. The deal comes amid heightened tension with Israel following the capture of an Israeli soldier by militants on Sunday. Israeli tanks and troops have massed on the border and Israeli Prime Minister Ehud Olmert has warned that a large scale military operation is rapidly approaching. [More>>bbc.co.uk ; See another story, sky.com, June 27 16:43, "Reports of blast in Gaza Strip.']
---
6.27.06 Sunni group endorses Iraq reform plan
June 27 – One of Iraq's largest Sunni Arab groups has endorsed the prime minister's national reconciliation plan, and the government announced new benefits paving the way for freed detainees to return to their normal lives. The political measures came a day after bombs killed at least 40 people at markets in two Iraqi cities, while key politicians said seven Sunni Arab groups opposed to the government offered them conditional truce.

A car bomber also struck a busy gas station in the northern city of Kirkuk on Tuesday, killing at least three people and wounding 17, police Colonel Adel Abdullah said. Fifteen cars were charred by the flames. A US marine and a soldier were killed in separate attacks on Tuesday west and south of Baghdad, while another US soldier died the day before in Anbar province, the military said. [More>>aljazeera.net ; See also turkishpress.com, June 26, "Bombings and kidnappings beseige Iraq after Maliki peace plan." : At least 57 people were killed in attacks and 10 students were kidnapped from their hostel in Baghdad, one day after the prime minister unveiled a peace plan aimed at easing the violence. Moscow meanwhile confirmed the killing of four of its Baghdad embassy employees following an Internet statement by their kidnappers, an Al-Qaeda-led insurgent grouping, that they had been executed. Sectarian violence reared its head again in Iraq when at least 25 people were killed and scores wounded in two separate bombings targeting the country's majority Shiite community...
---
6.27.06 Russia will not join ultimatums over nuclear issue: Putin
MOSCOW (AFP) June 27 – Russia will not join any ultimatums over the problem of nuclear proliferation, President Vladimir Putin said on Tuesday in a thinly veiled reference to US-led pressure on Iran. "We do not intend to join any sort of ultimatum, which only pushes the situation into a dead end, striking a blow against the authority of the UN Security Council," Putin told Russian diplomats in Moscow in the presence of journalists. "I am convinced that dialogue and not isolation of one or another state is what leads to resolution of crises," Putin said. [More>>khaleejtimes.com ; See also nytimes.com (Reuters) June 27, "Iran's supreme leader sees no benefit in US talks."]
---
6.27.06 Unidentified floating object near International Space Station
MOSCOW, June 27 – An unknown floating object close to the International Space Station ISS has concerned ground control, according to reports from the US Space Agency NASA on Tuesday. The object is approximately 2.8 kilometres away from the International Space Station, said the Russian flight control centre in Moscow, citing a NASA source. The situation is quite serious, but does not yet require a dodge manoeuvre, said Russian flight trajectory expert Alexander Kireyev.

"The object has no number in the list of space debris," Kireyev said, according to reports from the Russian Itar-Tass agency. "It is however probably an old piece of space exploration equipment." If the object gets any closer to the ISS, astronauts Jeff Williams and Pavel Vinogradov would have to take the precaution of moving to the rescue space shuttle Soyuz TM. A dodge manoeuvre could cause difficulties for the docking of the US space ship "Discovery," due to be launched on July 1. [khaleejtimes.com]
---
6.27.06 Glaciers are melting at their fastest rate for 5,000 years
June 27 – Mountain glaciers are melting faster now than at any time in the past 5,000 years because of an unprecedented period of global warming, a study has found. Ice cores taken from mountains as far apart as the Andes in South America and the Himalayas in Asia have revealed how climate change is leading to a full-scale retreat of the world's tropical glaciers. Scientists have warned that human activities over the past 100 years may have nudged the global climate beyond a critical threshold which could see most of the highest ice caps disappearing within the near future. Melting glaciers in South America and Asia not only contribute to rising sea levels, they are also vital sources of freshwater for many millions of people who live within their range at lower altitudes, the scientists said.

The scientists, led by Lonnie Thompson of Ohio State University, present three lines of evidence pointing to a dramatic melting of glaciers in both the Andes and the Himalayas: a change in the chemical isotopes of the ice cores, the widespread retreat of glaciers and the uncovering of frozen plants that had been buried for thousands of years. [More>>independent.co.uk]
---
6.27.06 Virus hackers held in UK and Finland
June 27 – Three men suspected of bombarding business computers with e-mail viruses were arrested today following an investigation into internet fraud involving police in Britain and Finland. The trio – a 63-year-old from England, a 28-year-old from Scotland and a 19-year-old from Finland – are accused of creating trojan viruses attached to spam emails which opened a back door allowing access to commercial information on infected PCs.

It is believed that once activated, the virus – known variously as Ryknos, Breplibot or Stinkx – would infect linked machines, creating a zombie network (or botnet) of compromised computers under the gang's control

...According to the CNet website, the Breplibot virus was accompanied by an email specifically tailored to trick business users into executing the attachment.

It read: "Hello, Your photograph was forwarded to us as part of an article we are publishing for our December edition of Total Business Monthly. Can you check over the format and get back to us with your approval or any changes? If the picture is not to your liking then please send a preferred one. We have attached the photo with the article here. Kind regards, Jamie Andrews." [Full story>>timesonline.co.uk]
---
6.27.06 Chameleon-like snake found in W. Kalimantan, Indonesia
June 27 – Scientists have discovered a snake with the ability to spontaneously change color in West Kalimantan province, the World Wide Fund for Nature (WWF) said Monday. The snake, given the scientific name Enhydris Gyii but known locally as the Kapuas-Mud Snake, was found by a German researcher with the collaboration of two American scientists, who spent a year to verify it as a new-found species, the WWF announced Monday.

A WWF consultant and reptile expert at the Zoologisches Forschungsmuseum Alexander Koenig in Bonn, Germany, Dr. Mark Auliya, collected two specimens of the half-meter-long poisonous snake in the wetlands and swampy forests around the Kapuas River in Betung Kerihun National Park. "I put the reddish-brown snake in a dark bucket. When I retrieved it a few minutes later, it was almost entirely white," he said, adding that he believed this newly discovered snake might only occur in the Kapuas River drainage system. [More>>thejakartapost.com]
Copyright © 1981-2006 Maravot. All rights reserved
Copyright © 1981-2006 Mel Copeland. All rights reserved
Painting of Apple by Mel Copeland, early 70's
Background: tile from Cicero's villa (Marcus Tullius Cicero 106 B.C. - 43 B.C.)