---
6.24.06 Miami terror cell: How big was the threat?
June 24 – The alleged terrorism plot broken up in Miami is sending out shock waves as people realize terror threats can come from within the United States as well as abroad. But critics are raising questions about how serious the threat actually was. The seven men, members of a religious sect called the Sea of David, allegedly took photos of their targets but had virtually no money. And thus far, no explosives or weapons have been found. Officials say the men planned to take down some of the country's biggest buildings, including Chicago's Sears Tower and FBI buildings in Miami, New York, Los Angeles, Chicago and Washington D.C., and "kill all the devils" they could.

Authorities say the group included leader Narseal Batiste, as well as Lyglenson Lemorin, Stanley Grant Phanor, Patrick Abraham (also known as Brother Pat), Naudimar Herrera, Rotschild Augustine (also known as Brother Rot) and Burson Augustin (also known as Brother B). Five of the men were arrested in Miami, one was arrested in Atlanta, and one was already in jail.

...According to the indictment, Batiste met a person disguised as an al Qaeda member several times last December. He asked for boots, uniforms, machine guns, radios, vehicles and $50,000 in cash to help him build an " 'Islamic Army' to wage jihad."

"They conspired to murder countless Americans for attacks that would be, in their words, just as good or greater than 9/11," said John Pistole, the deputy director of the FBI.

Sting Operation

On March 16, the men allegedly entered a warehouse outside of Miami. The FBI watched every move. Surveillance cameras took pictures which the FBI claims show each of the suspects pledging allegiance to al Qaeda. But authorities say they were caught because an FBI informant infiltrated the alleged cell and pretended to be a member of al Qaeda. "An individual they thought was a member of al Qaeda was present at their meeting," Attorney General Alberto Gonzales said. "In actuality, he was working with the South Florida Joint Terrorism Task Force." [Full story>>abcnews.go.com]
---
6.24.06 Terror leader in our sights before 7/ 7, says US police
June 24 – Police in New York have confirmed that more than two years before the July 7 bombings in London they had carried out an investigation into the activities of a British-born extremist who went on to lead the attacks. Mohammad Sidique Khan was implicated in a plot to blow up synagogues on the American East Coast in March 2003 and US officials who took part in the inquiry into his activities insist that British intelligence was aware of the operation.

MI5 has always denied knowing that the Yorkshire-born teaching assistant was a potential danger when Khanıs name was reportedly placed on a US "No-Fly" list in 2003 and he was prevented from visiting New York. Senior British security officials say, however, that Khan had never been under surveillance from any Western intelligence agency before the London attacks.

When a new book by the US author Ron Suskind, serialized in The Times last week, disclosed that the CIA was aware of Khan after he made two trips to America in 2002 to contact local Islamic extremists, British security sources questioned whether US intelligence might have confused two men with the family name of Khan. Police and FBI agents who worked on this operation emphatically deny any confusion...[More>>timesonline.co.uk]
---
6.24.06 Coalition, Afghan troops kill over 80 insurgents
KABUL, June 24 – Afghan and coalition forces killed about 82 militants in multiple assaults across southern Afghanistan, the military said on Saturday. On Friday, troops fought more than 40 extremists during a five-hour gun battle after receiving enemy fire near the village of Mirabad, northeast of the capital in southern Uruzgan province, the military said in a statement. Most of the militants, who were firing from hidden positions in an orchard, ridgeline and compound near Mirabad, were believed killed, the coalition said. No coalition or civilian injuries were reported.

In a separate assault, Afghan and coalition forces battled a large group of militants in the Zharie district of Kandahar province, killing about 25 during the three hours of fighting. Late Friday, the coalition reported that another 17 insurgents had been killed when an enemy bunker had been destroyed in Uruzgan province on Wednesday. [More>>thenews.com.pk]
---
6.24.06 Saudi Arabia detains 43 suspected militants
RIYADH (AFP) June 24 – Saudi audi security forces have detained 43 suspected Islamist militants, including two Somalis, an Ethiopian and an Iraqi, the interior ministry said on Saturday after a deadly gunbattle in the capital. The ministry said the arrests had been made in different parts of the oil-rich kingdom since May 9. Two arrests followed a firefight in Riyadh Friday in which six suspected Al Qaeda militants and a policeman were killed. Security forces, tracking down members of the "deviant group," rounded up 27 suspects, including two Somalis and an Ethiopian, in Riyadh, the Muslim holy city of Mecca, the oil-rich Eastern Province and the northern frontier region between May 9 and 23, a ministry spokesman said.

Saudi authorities refer to suspected Al Qaeda militants who launched a wave of attacks in May 2003 as the "deviant group." Four suspects wanted on security charges, including an Iraqi, were arrested on May 17 during a raid on a desert camp in Hafr al-Baten, in the northeast of the Gulf country, the spokesman said. [More>>khaleejtimes.com]
---
6.24.06 Zawahiri hails Zarqawi in new video
June 24 – Al-Qaeda's deputy leader, Ayman al-Zawahiri, has hailed the leader of al-Qaeda in Iraq, Abu Musab al-Zarqawi, as a soldier, an Islamic cleric and a prince of martyrs.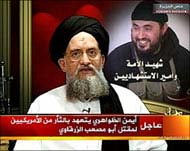 al-Zawahiri, in aljazeera broadcast. Note the professional graphics – not likely to have been produced atop a remote mountaintop in Afghanistan.
The videotaped statement, broadcast by Aljazeera on Friday, was the first acknowledgment by al-Qaeda's central leadership of the death of al-Zarqawi, who was killed in a US air strike northeast of Baghdad on June 7. The broadcast showed al-Zawahri, wearing a white robe and black turban, with a picture of a smiling al-Zarqawi over his left shoulder. In the tape, al-Zawahiri said al-Zarqawi was "a soldier, a hero, an iman [Islamic cleric] and the prince of martyrs."
Al-Zawahiri addressed George Bush directly in the broadcast, and vowed to avenge al-Zarqawi's death. "Yes O Bush, none of us is killed without us avenging him, with the help of God," said al-Zawahiri. "You are not facing individuals but the whole of the Muslim nation. America will not dream in security until security has become a reality in Palestine and the other Muslim countries."
Among other things, Al-Zawahiri criticized Turkey for being a secular country which welcomed US bases and recognized Israel. He also attacked Nuri al-Maliki, the Iraqi prime minister, and Zalmay Khalilzad, the US ambassador to Iraq, saying al-Maliki "trades with Islam" for power and describing Khalilzad as "the Afghan apostate." Al-Zawahiri did not mention the new leader of al-Qaeda in Iraq, which the group has declared to be Abu Hamza al-Muhajer. The omission of any reference to the successor might mean the tape was recorded before the successor was chosen, or it might indicate that al-Zawahiri does not endorse the new leader. [More>>
aljazeera.net
; See Maravot News editorial note on
As-Sahab
, al-Qaeda's production agency who is believed to have an office in Kirachi, Pakistan.]
---
6.23.06 Information from US companies helped Israel locate terror cells
June 23 – WASHINGTON, June 23 – From the spring of 2003 until autumn 2004, the Shin Bet security service tracked down Palestinian terror cells in the West Bank thanks to information from the Western Union money transfer service, which was passed on by the FBI. This fact was disclosed in a book published this week about America's war on terror after September 11, 2001. In "The One Percent Doctrine," author Ron Suskind connects the transfer of intelligence from the FBI to the Shin Bet with several targeted assassinations carried out by Israel during this period.

Suskind, who is considered a reliable journalist, describes how major private companies cooperated with government agencies such as the FBI, the CIA, the National Security Agency and the Treasury to monitor communications and financial transfers after September 11, in operations of questionable legality. The FBI's most important connection during this period was with First Data, an Omaha-based electronic fund transfer company with a global reach. The company offered to assist the U.S. government in the war against terror.

FBI Financial Crimes Section chief Dennis Lormel and his colleagues at other intelligence agencies eventually realized that the information supplied by the company could be used not only to locate and freeze the assets of terror groups, but also to track them in real time - in other words, to follow the money trail directly to the sources and destinations of the funds. First Data subsidiary Western Union, with branches throughout the Arab world and a high volume of money transfers, was in a perfect position to help. American intelligence agents and company officials cooperated in tracking the data trail and in monitoring security cameras installed in Western Union branches in order to see who was picking up the funds.


...In early April, 2003, an Islamic Jihad activist went to a Western Union office in Lebanon and ordered a money transfer to Hebron. The Justice Department authorized Western Union to release this information to the FBI and the CIA, and eventually to the Shin Bet. According to Suskind, all this took just minutes, enabling Israeli intelligence to track the person who collected the transfer in Hebron and to uncover the terror cell. According to the book, this method was used successfully many times over the next year and a half, until autumn 2004, when Palestinian operatives realized that their Western Union transfers were being used to trap them. [Full story>>haaretz.com]
---
6.23.06 Bank data is sifted by US in secret to block terror
WASHINGTON, June 23 – Under a secret Bush administration program initiated weeks after the Sept. 11 attacks, counterterrorism officials have gained access to financial records from a vast international database and examined banking transactions involving thousands of Americans and others in the United States, according to government and industry officials. The program is limited, government officials say, to tracing transactions of people suspected of having ties to Al Qaeda by reviewing records from the nerve center of the global banking industry, a Belgian cooperative that routes about $6 trillion daily between banks, brokerages, stock exchanges and other institutions. The records mostly involve wire transfers and other methods of moving money overseas and into and out of the United States. Most routine financial transactions confined to this country are not in the database.

Viewed by the Bush administration as a vital tool, the program has played a hidden role in domestic and foreign terrorism investigations since 2001 and helped in the capture of the most wanted Qaeda figure in Southeast Asia, the officials said.

The program, run out of the Central Intelligence Agency and overseen by the Treasury Department, "has provided us with a unique and powerful window into the operations of terrorist networks and is, without doubt, a legal and proper use of our authorities," Stuart Levey, an under secretary at the Treasury Department, said in an interview on Thursday.

The program is grounded in part on the president's emergency economic powers, Mr. Levey said, and multiple safeguards have been imposed to protect against any unwarranted searches of Americans' records. [More>>nytimes.com]
---
6.23.06 Karzai wants rethink on terror war as al-Qaeda urges uprising
June 23 – Al-Qaeda's ideological leader urged Afghans yesterday to rise up against the British and US troops in Afghanistan as the coalition announced the deaths of four US soldiers. The appearance of Ayman al-Zawahiri, Osama bin Ladenıs deputy, on a three-minute video provoked a stinging response from Hamid Karzai, the Afghan President, who criticized both foreign militants in Afghanistan and the Westıs strategy in the War on Terror. The broadcast came amid the bloodiest period since the fall of the Taleban in 2001. About 600 people have been killed since May and more than 1,000 have died so far this year.

"We canıt tolerate it for ever," Mr. Karzai said. "We want an end to this."

He blamed the bloodshed on "foreign factors," an echo of repeated complaints from Afghan officials that Pakistan is not doing enough to rein in Taleban and al-Qaeda militants whom they accuse of launching attacks from across the border. The President also appeared to lay some blame for the escalation of violence with the conduct of the broader fight against extremism and urged a ³thorough look² at the way the War on Terror is being pursued.

"That means the world should go where terrorism is nourished, where it is provided money and ideology . . . this war of terrorism should not be limited to Afghanistan." He added: "I strongly believe and Iıve conveyed my belief to the international community that we must engage strategically in disarming the terrorists by stopping their sources of money, training, equipment and motivation." [More>>timesonline.co.uk; See also independent.co.uk, June 23, "Karzai questions Nato campaign as Taliban takes to hi-tech propaganda."]

Editorial note: The al-Qaeda news agency, As-Sahab, is discusssed in more detail – with Whois information – at Maravot News 5.27.06, "Editorial note: "Bin Laden via As-Sahab website." See also siteinstitute.org, June 21, "Al-Qaeda's al-Sahab Productions releases new Zawahiri video in response to Kabul riots" and other stories siteinstitute.org is tracking relative to As-Sahab' productions.
---
6.23.06 Sunni mosque bombed as sudden curfew imposed in Baghdad
BAGHDAD (AFP) June 23 – At least 22 people were killed in two bombings in Iraq on Friday, including one targeting a Sunni mosque on the day of Muslim prayers, as authorities imposed a sudden curfew in Baghdad. At least 12 people were killed and 20 others wounded when the bomb went off outside the Hibhib Al Kabir mosque in the village of Hibhib, north of Baghdad, as worshipers were leaving Friday prayers, police said. The bomb was planted close to the rear door of the mosque, police said, adding that the front gate of the shrine was closed for security reasons.

Hibhib, close to the restive city of Baquba, hit world headlines after US forces killed Al Qaeda in Iraq leader Abu Mussab Al Zarqawi in the village on June 7. Baquba and its surroundings have seen widespread violence in the past few months given the city's mixed ethnic background, with US forces also carrying out extensive raids in the area since Zarqawi's killing. In the second major attack, in the country's south, at least 10 people were killed in a suicide car bombing in Basra, Iraq's second largest city.

Basra police said that 18 others were wounded when the car exploded near a service station in the center of Basra city at about 12:00 noon (0800 GMT). In Baghdad authorities imposed a sudden curfew from 2:00 pm Friday to 6:00 am Saturday to thwart any attacks on the Muslim day of prayers, state television reported. [More>>metimes.com ; See related story, turkishpress.com, June 23, "Five kidnapped Iraqis found dead as US accuses Iran."]
---
6.23.06 Policemen, 6 militants killed in Saudi shootout
RIYADH (Reuters) June 23 – Six suspected Al Qaeda-linked militants and a policeman were killed in a shootout in the Saudi capital Riyadh on Friday, after police surrounded their house to prevent an imminent attack, Saudi officials and media said. Police cordoned off the upscale residential district where the shootout occurred. A seventh militant was wounded and arrested. Saudi state television showed police removing several vehicles from the scene, some of them damaged in the clash, as officers carried away what appeared to be bags of evidence. Saudi-owned Al Arabiya television quoted security sources as saying the militants were on the verge of launching unspecified attacks. An Interior Ministry statement said the seven were linked to the "deviant group" – a label used by authorities to describe supporters of Saudi-born Osama bin Ladenıs Al Qaeda network. [More>>khaleejtimes.com]
---
6.23.06 Talks 'hopeless' and Azerbaijan ready for war with Armenia: president
BAKU, Azerbaijan (AFP) June 23 – International mediation over the disputed Nagorno Karabakh enclave is "hopeless," oil-rich Azerbaijan's President Ilham Aliyev said, vowing to retake it by "peaceful means or by war," in a speech to the military. Aliyev, who's country fought its neighbor and fellow former Soviet republic Armenia over control of the majority-Armenian enclave in Azerbaijani territory from 1988 to 1994, also said he would use oil revenues to beef up the military.

Oil will bring Azerbaijan 140 billion dollars over the next two decades, Aliyev said Fridy and "there is no doubt we will use this money to strengthen the army so that it can return our lands at any moment." The president said international efforts to mediate the conflict were "hopeless" and Azerbaijan was willing only to negotiate the restoration of its full control over Karabakh. [More>>turkishpress.com]
---
6.21.06 Pyongyang wants dialogue with US
June 21 – North Korea yesterday made it clear that the motive behind its missile diplomacy is to draw the United States into dialogue. Han Song-ryol, deputy chief of North Korea's mission to the United Nations, said "Pyongyang understands Washington's concerns and is willing to solve this situation through discussions," Yonhap News agency quoted him as saying. Han also denied that the missile test violates a self-imposed moratorium that was extended in 2004. "Some say our missile test launch is a violation of the moratorium, but this is not the case," Han was quoted as saying. He stressed that North Korea possesses the sovereign rights to develop, deploy, test fire and export missiles.

North Korea imposed its own moratorium in 1999 during less intense relations with the Clinton administration. During a 2002 summit with Japan, North Korean leader Kim Jong-Il signed an agreement to extend the moratorium to 2003. In the following year, Pyongyang extended the moratorium. [More>>koreaherald.co.kr]
---
6.21.06 Iran won't sell cheap gas to India, Pakistan

TEHRAN, June 21 – Iran will not sell its gas at knockdown rates to India and Pakistan, a senior oil official said on Wednesday amid a pricing dispute in talks over a planned pipeline. "The price suggested by India and Pakistan is almost half of the price we offered," deputy oil minister Mohammad-Hadi Nejad-Hosseinian said on state radio. "If the two governments intend to subsidies their domestic gas, there is no reason for Iran to pay this subsidy," he added.

The Iran-Pakistan-India gas project envisages a pipeline of about 2,600 kilometres (1,600 miles) that would help meet South Asia's growing energy needs. Quoted by the local news agency, Iranian oil ministry's Nejad-Hosseinian said Iran was not desperate to sell its gas to India and Pakistan. "The tripartite Peace Pipeline agreement is not an absolute obligation," he said. He also warned India and Pakistan that if the nuclear issue is resolved, other countries "will be the first customers of our gas and will pay even better prices." [thenews.com.pk]
---
6.21.06 Group linked to al-Qaida says to kill Russian hostages
CAIRO (Xinhua) June 21 – A group linked to the al-Qaida terror network in Iraq threatened on Wednesday to execute four Russian Embassy staff it had kidnapped in Baghdad earlier this month, according to an Internet statement. "The Russian government has failed to do what we have demanded within 48 hours... so the Islamic court of the Mujahideen Shura Council ruled to execute the hostages," said the statement posted on a Web site frequently used by Islamist militants. The Mujahedeen Shura Council is believed to be an umbrella grouping several insurgent groups in Iraq including the al-Qaida group. The authenticity of the statement cannot be verified.

On Monday, the group claimed responsibility in another Internet statement for kidnapping four Russian Embassy employees and killing a fifth in west of Baghdad earlier this month. The group also slammed the presence of Russian diplomats in Baghdad, which it said was to support "the crusaders' project led by America" and to "provide international backing and legitimacy to the exhausted Iraqi government." It also demanded the Russian government to "withdraw immediately from Chechnya" where Muslim rebels are fighting Moscow's rule and "release all our brothers and sisters detained in Russian prisons" within 48 hours, warning Moscow to "take the consequences" if it fails to do so. The statement, however, did not elaborate what the consequences would be. On June 3, four Russian Embassy employees were kidnapped by unidentified gunmen in Baghdad and a fifth died of his wounds sustained from the militants' gunfire. [xinhuanet.com ; See related story, rian.ru, June 21, "Russia's Lavrov says receives info on abducted diplomats in Iraq."]
---
6.21.06 Saddam lawyer executed by gunmen in Baghdad
BAGHDAD (AFP) June 21 – A lawyer for ousted Iraqi dictator Saddam Hussein was found shot in the head on Wednesday after being kidnapped from his Baghdad home, the third defense attorney to be slain. Separately, an Iraqi insurgent coalition linked to Al Qaeda threatened to kill four Russian diplomats that it abducted earlier this month. Khamis Al Obeidi was snatched from his home in the predominantly Sunni Arab district of Adhamiyha at about 7:00 am (0300 GMT) by about 20 men, a security official and his wife said. His body was found a few hours later dumped at a nearby roundabout. The killing underscored the continuing lawlessness engulfing Baghdad despite a massive security clampdown launched in the capital a week ago. [More>>metimes.com]
---
6.21.06 British suicide bomber 'in link to New York mosque'
June 21 – An American al-Qaeda operative who was a close associate of the leader of the July 7 bombers was recruited at a New York mosque that British militants helped to run. British radicals regularly travelled to the Masjid Fatima Islamic Centre, in Queens, to organize sending American volunteers to jihadi training camps in Pakistan. Investigators reportedly found that Mohammad Sidique Khan had made calls to the mosque last year in the months before he led the terrorist attack on London that killed 52 innocent people. New York police have confirmed that they are still trying to trace the real identities of British Muslims who have been making trips since before September 11, 2001.

A new book, The One Percent Doctrine, by Ron Suskind, claims that FBI and CIA agents discovered that Khan had made trips to the US and was in contact with American Muslim extremists on the East Coast.

Mohammad Junaid Babar, one recruit from the Masjid Fatima Islamic Centre, has told US intelligence officials that he met Khan in a jihadi training camp in Pakistan in July 2003. He claims that the pair became friends as they studied how to assemble explosive devices. [More>>timesonline.co.uk]
---
6.21.06 Terrorist "Irhabi 007" arrested 15 months after tips given to authorities
June 21 – A story published in hamiltonspectator.com details how a key cyber-terrorist — who published and promoted al-Qaeda in Iraq and supplied bomb making instructions through the internet — was tracked down. His name is Younis Tsouli, a cyber-extremist who inspired the 17 people arrested in the Toronto area. His internet name, "Irhabi," means "terrorist" in Arabic. The story of his capture does not speak well for government authorities who are purportedly tracking cyber-terrorists, and while the details of tracking down Tsouli are fascinating, the real story appears to be about the incompetence of US and British authorities in following up concrete information – like a key cyber-terrorist's home address – and finally finding and arresting the terrorist through serendipity.

...By the end of 2005, Irhabi 007 had a whole army of cyber-terrorism trackers on his tail. Few were as persistent as Aaron Weisburd, director of Internet Haganah, dedicated to making online life miserable for cyber-jihadis. In 2004, Weisburd turned Irhabi into his service provider and got him cut off. An incensed Irhabi posted Weisburd's home address in Illinois on the Internet and took part in chat room discussions on slicing Weisburd like a salami. "I get to keep a finger or an ear," Irhabi wrote, "a little souvenir."

Weisburd reported the threat to the FBI, and stepped up his efforts. "I take all threats seriously," he said in an e-mail exchange with the Toronto Star. "And like any American 'good ole boy' I have more than one loaded gun nearby."

In July that year, Irhabi made his first mistake, leaving his IP address – which can be used to track a user's location – on a site he was setting up to post a threat against Italy. Weisburd examined another Irhabi web page and found a second IP address. He then posted a message on the Haganah site warning that Irhabi's files were infected. Irhabi responded by posting a graphic to prove they were not. His IP number was blotted out, but not well enough. Weisburd's associate made it out.

The three IP addresses all pointed to London's Ealing area – the place where Tsouli would be arrested 15 months later. Weisburd passed the information onto US and British police but heard nothing back.

In September 2005, a month before Tsouli's arrest, a frustrated Weisburd posted this message on his site: "Irhabi 007 is in Ealing. Or at least that's where the bastard was when we located him (a year and a half ago)." Since Tsouli's arrest, Weisburd says police have asked him to resubmit the information he passed on months before. [Full story>>hamiltonspectator.com; Weisburd's site a is haganah.org]
---
6.21.06 Alarm over Afghan guidelines for journalists
KABUL (AFP) June 21 – Journalists and legislators in Afghanistan have been outraged by the intelligence service©–s new media guidelines that bar interviews with Taleban leaders and criticism of foreign troops. The 24-point list was delivered to editors of newspapers and television stations in Kabul in a document that bears only the name the "Islamic Republic of Afghanistan" and carries no signature or official stamp.

...The list indicates no penalties and President Hamid Karzai©–s office said the government had merely "requested the local media organizations in Afghanistan to refrain from glorifying terrorism, or giving terrorists a platform." But media and rights watchdogs say the notice, which calls the media a "bridge" between the government and people, is a clear attempt to intimidate editors into self-censorship...Lawmaker Shukria Barikzai, a former editor of a women©–s magazine, said the restrictions violated the constitution, which says the media can publish on subjects without state permission although they are regulated by law. [Full story>>khaleejtimes.com]
---
6.20.06 The ugly truth about everyday life in Baghdad (by the US ambassador)
CONFIDENTIAL MEMO
FROM: US Ambassador Zalmay Khalizad, Baghdad
TO: Condoleezza Rice, Secretary of State
SUBJECT: SNAPSHOTS FROM THE OFFICE
SENSITIVE

June 20 – 1. Iraqi staff in the Public Affairs sector have complained that Islamist and Militia groups have been negatively affecting daily routine. Harassment over proper dress and habits is increasingly persuasive. They also report power cuts and fuel prices have diminished their quality of life.

Women's Rights

2. Two of our three female employees report stepped up harassment beginning in mid-May. One, a Shia who favors Western clothing, was advised by an unknown woman in her Baghdad neighborhood to wear a veil and not to drive her own car. She said some groups are pushing women to cover even their face, a step not taken in Iran even at its most conservative.

3. Another, a Sunni, said people in her neighborhood are harassing women and telling them to cover up and stop using cell phones. She said the taxi driver who brings her every day to the green zone has told her he cannot let her ride unless she wears a headcover. A female in the PAS cultural section is now wearing a full abaya after receiving direct threats.

4. The women say they cannot identify the groups pressuring them. The cautions come from other women, sometimes from men who could be Sunni or Shia, but appear conservative. Some ministries, notably the Sadrist controlled Ministry of Transportation, have been forcing females to wear the hijab at work...

Power Cuts and Fuel Shortages a Drain on Society

7. Temperatures in Baghdad have already reached 115 degrees. Employees all confirm that, by the last week of May, they were getting one hour of power for every six hours without. By early June, the situation had improved slightly. In Hal al-Shaab, power has recently improved from one in six to one in three hours. Other staff report similar variances. Central Baghdad neighborhood Bab al-Nu'atham has had no city power for over a month. Areas near hospitals, political party headquarters and the green zone have the best supply. One staff member reported a friend lives in a building that houses the new minister; within 24 hours of his appointment, her building had city power 24 hours a day...

... 15. We have begun shredding documents that show local staff surnames. In March, a few members approached us to ask what provisions would we make for them if we evacuate...[Full story>>independent.co.uk]
---
6.20.06 Bodies of missing US soldiers recovered
BAGHDAD (AP) June 20 – The bodies of two US soldiers reported captured last week have been recovered, and an Iraqi defense ministry official said Tuesday the men were "killed in a barbaric way." The US military said the remains were believed to be those of Pfc. Kristian Menchaca, 23, of Houston, and Pfc. Thomas L. Tucker, 25, of Madras, Ore. Maj. Gen. William Caldwell said US forces part of a search involving some 8,000 American and Iraqi troops found the bodies late Monday near Youssifiyah, where they disappeared Friday. The bodies were recovered early Tuesday. [More>>abcnews.go.com]
---
6.20.06 Another top al-Qaeda man killed
BAGHDAD (Reuters) June 21 – A US air strike on a fleeing vehicle killed a senior al-Qaeda in Iraq leader on Friday in the same area where two American soldiers went missing a few hours later, a US military spokesman said. US forces had been on the trail of Mansur al-Mashhadani, identified as the top al-Qaeda religious leader in the country, before he was killed in the Yusufiya area just south of Baghdad, said Major General William Caldwell.

Mashhadani was one of the top five al-Qaeda in Iraq leaders and close to its mastermind Abu Musab al-Zarqawi, who was also killed by a US air strike on June 7. "He was a right-hand man to Zarqawi," Gen. Caldwell said. US forces had spotted Mashhadani and two other militants in a car in the Yusufiya area south of Baghdad. His vehicle was destroyed from the air as he tried to get away. [More>>theaustralian.news.com.au]
---
6.20.06 French Islamic leader arrested in terrorist funds probe
PARIS, June 20 – The leader of a national Islamic group in France has been arrested on suspicion of money laundering activities linked to extremist Muslims, police said Tuesday. Dhaou Meskine, the secretary general of the Council of Imams of France, was apprehended Monday with 20 members of his family and aides as part of a swoop ordered by Paris prosecutors. Many of the arrests took place in the northwest Seine-Maritime region, where Meskine and his family have bought property with the aim of building a leisure park, officers said.

Meskine, of Tunisian background, is an imam, or Islamic religious leader, who helped start inter-religious dialogue in France between Christians, Jews and Muslims. Interior Minister Nicolas Sarkozy consulted him several times in his dealings with France's Muslim community, which is western Europe's largest with an estimated five million members. In 2001, Meskine founded France's first private Muslim high school, which is located in the northern Paris suburb of Aubervilliers. [thenews.com.pk]
---
6.20.06 Thirteen Iraqis killed in alleged US fire on poultry farm
BAQUBA, Iraq (AFP) June 20 – Thirteen Iraqis working in poultry farms in a village near the restive city of Baquba were killed during overnight US raids in the area, Iraqi police and a rights organization said on Tuesday. The US military also said that it was pressing ahead with murder charges against three of its soldiers for killing three Iraqi detainees, while Japan for its part ordered its 600 troops to leave Iraq.

The workers had been sleeping in the fields of Bushaheen village in an area known as Salam (peace), some 90 kilometers (55 miles) northeast of Baghdad, said an Iraqi police officer who spoke on condition of anonymity. He said that in addition to the 13 killed, four others were wounded and 10 people arrested.

The report was backed up by Hadi Al Azzawi from a human rights organization in the restive city of Baquba, while the main hospital in the city said that it had received 13 bodies. Hussam Shamel, a farmer in the area, said that two of his brothers were killed, while his father and another brother were arrested by US forces. A US military spokesman in Baghdad acknowledged that there was an incident in the area but refused to give details, saying that the raids were part of an ongoing campaign against militants of the Al Qaeda terror network in Iraq. [More>>metimes.com]
---
6.20.06 Romanian soldier, Turk among 24 killed in Afghanistan
KANDAHAR, Afghanistan (AFP) June 20 – A Romanian soldier has died in a bomb blast in southern Afghanistan while a Turkish civilian and three guards were gunned down. Authorities said they had also killed 19 rebels. The killings were the latest in a spiral of violence linked to a determined Taliban insurgency which coalition and Afghan troops are hoping to dent with a major new operation launched a month ago. The Romanian soldier died when his armored vehicle struck a bomb Tuesday about 10 kilometres (six miles) from the main US base in the south at Kandahar airfield, a coalition spokeswoman said. The soldier was the third Romanian to die in action in Afghanistan, where the country has nearly 500 troops. Another four soldiers were hurt, one of them seriously, coalition and Romanian officials said. Thirty-seven coalition soldiers have now been killed in action in Afghanistan this year, around half of them Americans.

About 150 kilometres (90 miles) to the west, a Turkish trucker was killed in an ambush Monday along with three guards, police and the Turkish embassy announced. More than a dozen gunmen attacked a convoy of a Turkish road construction company called Kolin in the western province of Farah with rocket-propelled grenades and small arms fire, they said. The ambush was on a stretch of road that sees regular attacks, with three Afghans working for foreign groups killed in the area last Thursday, the same day seven people working for the coalition in Kandahar city were killed by a bomb planted on a bus. [More>>turkishpress.com]
---
6.20.06 US sanctions target Belarus president
June 20 – The United States has imposed financial sanctions on Alexander Lukashenko, the president of Belarus, in response to what it called a fraudulent presidential election in March. On Monday, President George Bush issued an executive order banning US companies from engaging in transactions with Lukashenko and other top Belarusian government officials. Tony Snow, a White House spokesman, said: "These persons will not be able to access any assets that they might have in the United States, and US financial institutions, wherever located, will not be able to provide any financial services to them." The move comes a month after the US imposed travel restrictions on Lukashenko. The Belarusian president was re-elected in an election denounced by Western governments as rigged. [More>>aljazeera.net ; See also kyivpost.com]
---
6.20.06 Safavian found guilty in lobbyist trial
WASHINGTON (AP) June 20 – A jury found former Bush administration official David Safavian guilty Tuesday of covering up his dealings with Republican influence-peddler Jack Abramoff. Safavian was convicted on four of five felony counts of lying and obstruction. He had resigned from his White House post last year as the federal government's chief procurement officer.

The trial consumed eight days of testimony about Safavian's assistance to Abramoff regarding government-owned real estate and a weeklong golfing excursion the lobbyist organized to the famed St. Andrews golf course in Scotland and London. Safavian went on the trans-Atlantic trip while he was chief of staff at the General Services Administration, and other participants were Rep. Bob Ney, R-Ohio, two Ney aides and Christian Coalition founder Ralph Reed. [More>>abcnews.go.com]
---
6.20.06 Indonesian teenager dies of bir flu – WHO
JAKARTA (Reuters) June 20 – The World Health Organization has confirmed an Indonesian teenager who died last week was infected with bird flu, a health ministry official said on Tuesday, taking the country's confirmed bird flu deaths to 39. The head of Indonesia's bird flu information centre, Runizar Ruesin, said the 14-year-old boy was from south of Jakarta, but did not give details...The country of 220 million has an estimated 1.2 billion chickens, some 30 percent of them in the yards of homes in both rural and urban areas. The bird flu virus is endemic in poultry in nearly all of the 33 provinces in Indonesia, a country of 17,000 islands sprawling across some 5,000 kilometres. The head of Indonesia's bird flu task force, in the ministry of agriculture, said on Tuesday she hoped Indonesia would be free of the virus in 2008. [Full story>>thestar.com.my]
---
6.20.06 Russia, Italy agree energy access exchange
MOSCOW (RIA Novosti) June 20 – Russian companies will receive access to Italy's energy market in exchange for Italian companies obtaining access to Russian oil and gas deposits, Italian Prime Minister Romano Prodi said Tuesday. Russian leader Vladimir Putin said: "It is extremely important to hear [proposals] on Russian energy companies' access to the Italian market in exchange for our willingness to give Italian companies access to oil and gas production on Russian territory." Putin said Russia was ready to grant access to its mineral resources to any countries that were prepared to engage in equal partnership, such as Germany and its energy corporation BASF. [More>>rian.ru]
---
6.19.06 Qaeda group claims it has 2 US troops
BAGHDAD, June 19 – An Islamic militant group that says it represents Al Qaeda claimed it had kidnapped the two American soldiers who disappeared in an attack Friday night, but offered no proof. American military officials remained skeptical of the claim. In an unusually brief posting on an Internet site, the Mujahedeen Shura, or Council of Holy Warriors, an organization that says it oversees Al Qaeda in Mesopotamia and a number of other militant groups, said it would provide more details "in the coming days."

The group offered neither photos nor video images, nor did it say where or how the soldiers had been taken, and it was not clear whether the claim was true. Militant groups often make false and conflicting claims on websites. The Reuters news agency cited an unnamed American official in the Pentagon as saying that the American command in Iraq is not giving the claim much credence. "We are aware of and monitoring both the claim and the web sites," said Lt. Col. Martin-Hing, a spokeswoman for the military. "We are still not ruling anything out in our search for our soldiers."

In a separate posting, the militant group claimed it had kidnapped four Russian Embassy employees who were seized in the wealthy Mansour neighborhood in early June. The group gave the Russian government 48 hours to withdraw from Chechnya, a rebellious Muslim republic within Russia, and to release Muslim detainees from Russian prisons. The American military identified the missing Americans today as Pfc. Kristian Menchaca, 23, of Houston, and Pfc. Thomas L. Tucker, 25, of Madras, Ore. It said in a statement that 8,000 American and Iraqi troops were combing the area southwest of Baghdad to find them. [More>>nytimes.com]
---
6.19.06 Bin Laden's deputy 'plotted gas attack' on New York subway
June 19 – An Al-Qaeda cell in the United States came within 45 days of launching a cyanide attack on the New York subway system that could have killed as many people as the attacks of 11 September 2001, according to a new book given broad credence by American police and intelligence officials.

The attack was called off by Osama bin Laden's deputy, Ayman al-Zawahiri, for reasons that remain unclear, and the man masterminding the operation from Saudi Arabia – codename Swift Sword – was later killed in a shootout with Saudi security forces. The book, The One Percent Doctrine: Deep Inside America's Pursuit of Its Enemies Since 9/11, carries unusual authority since it was written by Ron Suskind, one of America's most respected and best-informed investigative reporters. Chillingly, it suggests that Al-Qaeda has cracked the long-standing problem of how to deliver poison gases like cyanide for maximum destructive effect, and offers no reassurance that the cell that was ready to attack New York in 2003 has been disbanded or left the country.

In late 2002, a joint US-Saudi counter-terrorism operation uncovered the existence of a device nicknamed the mubtakkar – Arabic for "invention." The mubtakkar contains two chambers keeping the ingredients for hydrogen cyanide both stable and separate until the attackers are ready to break the seal between the chambers and initiate the attack – possibly by remote control. The mubtakkar is small enough to be transportable in a backpack or small bag. The detonation of several of them in different cars of the same subway train at rush hour could conceivably cause hundreds or even thousands of casualties, according to Suskind's sources. [More>>independent.co.uk]
---
6.19.06 How the superjet designed to unite Europe is now tearing it apart
June 19 – A year ago the Airbus A380 Superjumbo soared into the skies above Toulouse on its maiden flight. Down below, Tony Blair, President Chirac, Gerhard Schröder, then the German Chancellor, and thousands of onlookers hailed the world©–s biggest passenger jet as an emblem of European integration. But today the A380 has become a symbol of all that is wrong with Europe — incompetence, misplaced ambition, greed and bickering.

Far from uniting Europe, it is driving a wedge between France and Germany, with Berlin complaining of the French penchant for state intervention and cronyism, and Paris denouncing Germans©– stiffling desire for concensus. With executives and industrialists facing a series of investigations into the events that made them richer — and ordinary shareholders poorer — the aircraft has also propelled its manufacturer into the greatest crisis of its history. [More>>timesonline.co.uk]
---
6.19.06 Iran prepares nuclear counter proposal
TEHRAN (AFP) June 19 – Iran said on Monday that it was preparing a counter-offer as officials rejected a key stipulation in a proposal by world powers for the Islamic republic to halt uranium enrichment ahead of nuclear talks. A day after other regime officials implicitly rejected the international incentives offer - which hinges on Tehran's suspension of sensitive nuclear fuel cycle work - by refusing any preconditions, President Mahmoud Ahmadinejad weighed in with a similar statement. "The Islamic Republic of Iran has always favored a just and equal dialogue with no preconditions," state television quoted Ahmadinejad as saying in a meeting with Iran's top officials and supreme leader Ayatollah Ali Khamenei. [More>>metimes.com ; See also haaretz.com, June 19, "Bush says Iran faces sanctions if it rejects nuclear offer."]
---
6.19.06 Iranian economists lash out at Ahmadinejad's policies
TEHRAN (AFP) Junes 16 – A group of 50 prominent Iranian economists wrote an open letter to President Mahmoud Ahmadinejad Thursday, criticizing his government policies for promoting skyrocketing inflation. Iran's Central Bank has put the inflation rate of last Iranian fiscal year (ended March 20) at 12.1 percent, while the unofficial sources estimate that the figure is close to double that rate. Ahmadinejad's policies are "lacking scientific and expertise basis, with such haste as to cause persistent inflation," leading university academics wrote in a letter printed in Iranian press. The experts also criticized a governmental order to cut bank interest rates regardless of its consequences.

...During his electoral campaign in June, Ahmadinejad vowed to reduce poverty, stop corruption and share oil wealth more fairly, bringing "oil money to [Iranian] tables," a promise he less than one year later denied having made. Instead, Ahmadinejad's first annual budget sought more control over the spending of oil revenues that are supposed to be saved in the country's Oil Stabilization Fund for rainy days and to support private sector. [Full story>>dailystar.com.lb]
---
6.19.06 Self-styled 'Al Qaeda member' in custody
DUBAI, June 19 – A detainee at the Muraqqabat Police Station claims he is a member of Al Qaeda and was arrested at the Dubai International Airport on arrival from Ethiopia to allegedly hold secret meetings with German Intelligence. Dr. Mohammed Omar, who claimed to be a member of Al Qaeda responsible for hiring of people for the Al Qaeda organisation in the Middle East, said he visited the UAE several times before, entering the country by using different passports.

Speaking to Khaleej Times from the detention cell, Ethiopian national and permanent resident of the US, Dr. Omar said that he was arrested upon landing here by an Emirates Airlines flight. However, a lawyer he met felt the man might be telling a lot of lies. "During an earlier visit to the UAE," claims Dr. Omar, "I met two German nationals named Peter and Reyes at Grand Hyatt Hotel in Dubai. This time they had also promised to meet me and agreed to pay me $170 million if I gave them information on Al Qaeda's plans to attack Munich, Germany during the World Cup," he alleged. [More>>khaleejtimes.com]
---
6.19.06 Baghdad hit by more bombings as Al-Qaeda threatens revenge
BAGHDAD (AFP) June 17 – At least 23 people were killed in Baghdad on Saturday in a string of bombings that ripped through the massive security crackdown in the capital, as Al Qaeda threatened to avenge the killing of Abu Mussab Al Zarqawi. The latest wave of attacks in Baghdad came a day after a suicide bomber carrying explosives in his shoes blew himself up in the Shia Baratha mosque, killing 11 people and wounding 25. [More>>metimes.com]
---
6.19.06 China, India to reopen border trade at Tibetan mountain pass
LHASA (Xinhua) June 18 – China and India agreed on Sunday to reopen border trade at the Nathu La Pass on July 6 after 44 years' closure. Officials from both sides ended the discussion on the issue in Lhasa, capital of Tibet Autonomous Region, and signed on the agreed minutes on Sunday. The Natu La Pass is 4,545 meters above sea level. It is 460 kilometers away from Lhasa and 550 kilometers from the Indian coastal city of Calcutta. The pass used to be an important trade passage between China and India. The reopening of the pass is expected to give a major boost to bilateral trade between the two most populous countries. Trade in this area accounted for 80 percent of the total border trade volume between China and India in the early 1900s. Trading through the pass was suspended in 1962 after border conflicts. [More>>xinhuanet.com]
Copyright © 1981-2006 Maravot. All rights reserved
Copyright © 1981-2006 Mel Copeland. All rights reserved
Painting of Apple by Mel Copeland, early 70's
Background: tile from Cicero's villa (Marcus Tullius Cicero 106 B.C. - 43 B.C.)