---
8.07.06 'Forty killed' in Israeli strike as diplomats try to break deadlock
August 7 – The Prime Minister of Lebanon wept today as he told Arab League ministers that an Israeli air strike had just killed 40 civilians in the border village of Houla. "One hour ago there was a horrible massacre in the village of Houla, a deliberate massacre, in which there were more than 40 martyrs," said Fouad Siniora at the emergency meeting of Egyptian, Syrian and Jordanian foreign ministers in Beirut. Mr. Siniora called for help to seek "an immediate and unconditional ceasefire" and wiped away tears as pleaded for his country not to become an "arena for conflicts and confrontations whatever the justification." [More>>timesonline.co.uk ; See also independent.co.uk, August 7, "While the UN fiddles...the Middle East burns." and nytimes.com, August 7, "Death toll was incorrect, Lebanon's leader says."]
---
8.07.06 In Afghanistan, a crackdown on imported pleasures
KABUL, August 7 – Behind an unmarked door on a quiet residential street, half a dozen young Chinese women in miniskirts shimmy to disco tapes or sit entwined with beefy European men. Next to the fully stocked bar, a plastic Christmas tree pulses with tiny lights. Behind a desk in a spartan government office, a bearded official says he is swamped with job applicants for a proposed department to promote virtue and discourage vice, which would send out religious monitors to uncover and correct un-Islamic behavior in the populace. Both scenes coexist in a confused, newly democratic Muslim society grappling with a five-year influx of foreign troops and visitors, who have provided aid and protection but have also brought alcohol, prostitution and other tempting taboos to the deeply traditional and long-isolated country.

In recent weeks, the Western-backed government of President Hamid Karzai has moved aggressively to crack down on what Afghans call imported vices. He is acting partly in response to pressure from domestic religious leaders and partly to upstage Islamic Taliban insurgents who are stepping up attacks across the south. [More>>washingtonpost.com ; See also August 4, "Hundreds of S. Koreans begin to leave Afghanistan" ]
---
8.07.06 Pakistan floods kill 120, one million homeless in India
ISLAMABAD (Reuters) August 7 – Flash floods triggered by torrential rains have killed at least 120 people in Pakistanıs North West Frontier province, and forced hundreds of thousands out of their homes in neighboring India, officials said on Monday. The floods played havoc in five districts of Pakistanıs NWFP, including two which were badly hit by a devastating earthquake last year, submerging hundreds of villages and causing extensive property dama. "The situation is worse than last year, as the rains triggered more flash floods this time in our five districts," NWFP Information Minister Asif Iqbal Khan told Reuters.

...In neighboring India...Authorities say at least one million people have been displaced and rescuers were using boats to reach those stranded in the three districts of the state. In the western states of Maharashtra and Gujarat, heavy showers in the last two days have killed at least 21 people, damaged crops and disrupted life in the financial capital Mumbai. Millions waded to work in Mumbai [Bombay] through muddy water waist deep in places. [Full story>>khaleejtimes.com]
---
8.06.06 Bashir calls for jihad against Israel
JAKARTA (AFP) August 6 – Thousands of Indonesians held street rallies today to condemn Israel's offensive in the Middle East as hardline cleric Abu Bakar Bashir called for a "jihad" force to battle the Jewish state. In Jakarta, the capital of the world's most populous Muslim nation, more than 3000 people protested outside the UN mission over its failure to halt the violence.

"So far, there are no signs that the United Nations is acting justly as an international institution," Muslim leader Dien Syamsuddin told the crowd. We press the Indonesian Government to mobilise solidarity among peace-loving nations in the world to pressure the United Nations to halt the Israeli aggression. If the United Nations does nothing because it is influenced by the superpower, America, we call on the government of Indonesia to initiate a vote of non-confidence against the United Nations," said Mr Syamsuddin, who is a deputy chairman of Muhammadiyah, Indonesia's second largest Islamic movement.

The demonstrators had gathered earlier for an inter-religious rally and later marched to the US embassy. The heads of various religions – Islam, Roman Catholicism, Protestants and Buddhists – led the protest. "Give a Chance to Peace and Save Children, No War," some of the banners read. The crowd dubbed Israel "the aggressor" and the US "terrorist."

...Bashir was sentenced to 30 months for his role in a "sinister conspiracy" that led to the 2002 Bali bombings, which left 202 people dead, including 88 Australians. He was released from prison in June. Yesterday a group called the Asian Muslim Youth Movement said it was prepared to send hardliners to attack Jewish interests in countries that back Israel. [Full story>>theaustralian.news.com.au ; See Maravot News editorial note, August 5, "Bush's war booty: more blood than oil."
---
8.06.06 Israel says catches Hezbollah man over abduction
JERUSALEM (Reuters) August 6 – The Israeli army said on Sunday it had captured one of the Hezbollah guerrillas who took part in the abduction of two Israeli soldiers on July 12. The seizure of the soldiers in a cross-border raid sparked Israel's war against the guerrilla group in Lebanon. "We can confirm that one of the Hezbollah (fighters) we have captured and interrogated was involved in the kidnapping of our soldiers," an army spokeswoman said. She declined to give any details of the capture. Israeli commandos have carried out at least two helicopter-borne raids deep into Lebanon. Israel said it seized several Hezbollah members in one raid, on the town of Baalbek last week. Hezbollah denied those seized belonged to the group. [thestar.com.my]
---
8.06.06 At least 11 dead, 13 hurt, in massive Hezbollah rocket barrage across north
August 6 – At least 11 people were killed Sunday afternoon and 13 wounded, four of them seriously, in a direct hit on an open area in the northern community of Kfar Giladi, as Hezbollah renewed its rocket fire against Israel with what was described as an enormous barrage. The condition of two of the victims suffering from serious wounds deteriorated after arriving at the Rambam Medical Center in Haifa. Following the attack Hezbollah continued shelling that same area for a prolonged period, but no additional casualties were reported. [More>>haaretz.com ; See also aljazeera.net, August 6, "Hezbollah in deadly rocket attack."]
---
8.06.06 Afghan raids 'kill 17 militants'
August 6 – Seventeen Taleban militants have been killed by Afghan security forces in the southern Helmand province, police say. A police spokesman said Afghan police killed three of the militants in a gunfight on Saturday in the Garmser district of Helmand. Police, Afghan and Nato soldiers then raided the area, killing 14 others. Militants have recently stepped up their insurgency against the government and foreign forces, particularly in south and east Afghanistan. In a separate incident on Sunday, a car bomb struck a US military convoy in neighboring Kandahar, injuring one US soldier. [More>>bbc.co.uk]
---
8.06.06 Iran's plot to mine uranium in Africa
August 6 – Iran is seeking to import large consignments of bomb-making uranium from the African mining area that produced the Hiroshima bomb, an investigation has revealed. A United Nations report, dated July 18, said there was "no doubt" that a huge shipment of smuggled uranium 238, uncovered by customs officials in Tanzania, was transported from the Lubumbashi mines in the Congo. Tanzanian customs officials told The Sunday Times it was destined for the Iranian port of Bandar Abbas, and was stopped on October 22 last year during a routine check.

The disclosure will heighten western fears about the extent of Iranıs presumed nuclear weapons programme and the strategic implications of Iranıs continuing support for Hezbollah during the war with Israel. It has also emerged that terror cells backed by Iran may be prepared to mount attacks against nuclear power plants in Britain. Intelligence circulating in Whitehall suggests that sleeper cells linked to Tehran have been conducting reconnaissance at some nuclear sites in preparation for a possible attack. [More>>timesonline.co.uk]
---
8.05.06 New book assails 9/11 investigation– panel considered Pentagon probe
WASHINGTON (AP) August 4 – The Sept. 11 commission was so frustrated with repeated misstatements by the Pentagon and FAA about their response to the 2001 terror attacks that it considered an investigation into possible deception, the panelıs chairmen say in a new book. Republican Thomas Kean and Democrat Lee Hamilton also say in "Without Precedent" that their panel was too soft in questioning former New York Mayor Rudy Giuliani – and that the 20-month investigation may have suffered for it.

The book, a behind-the-scenes look at the investigation, recounts obstacles the authors say were thrown up by the Bush administration, internal disputes over President Bushıs use of the attacks as a reason for invading Iraq, and the way the final report avoided questioning whether US policy in the Middle East may have contributed to the attacks...³Fog of war could explain why some people were confused on the day of 9/11, but it could not explain why all of the after-action reports, accident investigations and public testimony by FAA and NORAD officials advanced an account of 9/11 that was untrue,² the book states. [Full story>>msnbc.msn.com]
---
8.05.06 Baghdad's chaos raises questions on US plan
BAGHDAD, August 5 – Over the past year, as American commanders pushed Iraqi forces to take over responsibility for this violent capital, Baghdad became a markedly more dangerous place. Now the Americans are being forced to call in more of their own troops to bring the city under control. The failure of the Iraqis to halt the slide into chaos in Baghdad undercuts the central premise of the American project here: that Iraqi forces can be trained and equipped to secure their own country, allowing the Americans to go home. A review of previously unreleased statistics on American and Iraqi patrols suggests that as Americans handed over responsibilities to the Iraqis, violence in Baghdad increased. [More>>nytimes.com]
---
8.05.06 Hezbollah to stop fighting if Israel does
BEIRUT (AFP) August 6 – A Hezbollah cabinet minister said Saturday his group's guerrillas would accept a ceasefire only once Israel halts attacks and pulls out of southern Lebanon. "We are in a defence situation. When the Israeli aggression ceases, very simply, we will stop (fighting) on condition that no Israeli soldier remains inside Lebanese land," Energy Minister Mohamad Fneish said. "We will not accept that they stay" inside Lebanese territory, he told reporters before attending a cabinet meeting. Fneish was reacting to news from French President Jacques Chirac's office which said earlier Saturday that France and the United States had agreed on a draft UN resolution on the Middle East conflict. [theaustralian.news.com.au]
---
8.05.06 Leave or be bombed, Israel tells Lebanese city
BEIRUT (Reuters) August 5 – Israel said on Saturday it planned to bomb "Hezbollah rocket launching sites" in Sidon and warned the inhabitants of south Lebanon's biggest city to leave. The Israeli army announced its intentions as a senior US official was meeting Lebanese leaders on a possible deal to end Israel's 25-day-old war with Hezbollah guerrillas in Lebanon. US Assistant Secretary of State David Welch said after meeting Prime Minister Fouad Siniora that the solution lay in a "lasting political framework backed by an international force." An Israeli army spokesman said leaflets dropped on Sidon, whose normal population of 100,000 has been swollen by refugees from war zones further south, had warned all residents to leave. [More>>thestar.com.my ; See related story, turkishpress.com, August 5, "Israel commandos target Hezbollah leaders in Tyre."]
---
8.05.06 Arab world unified in supporting Lebanon: AL chief
CAIRO (Xinhua) August 5 – Arab League (AL) Secretary General Amr Moussa said on Saturday that the entire Arab world was now moving in one direction in support of Lebanon against the Israeli aggression, Egypt's official MENA news agency reported. Moussa made the remarks in Cairo during an interview with the BBC earlier in the day, said the report. The AL chief is expected to visit Saudi Arabia, Syria and Lebanon soon. Moussa said that his regional tour, which has taken him to Jordan on a two-day visit, was aimed to consult with Arab countries over the Lebanon crisis and show support for the Lebanese people's steadfastness in defiance of Israel's military offensive. [More>>xinhuanet.com]
---
8.05.06 Taller mountains blamed on Global Warming, too
August 4 – The mountains in Europe are growing taller and melting glaciers are partly responsible, scientists say. Heavy glaciers cause the Earth's crust to flex inward slightly. When glaciers disappear, the crust springs back and the overlaying mountains are thrust skyward, albeit slowly. The European Alps have been growing since the end of the last little Ice Age in 1850 when glaciers began shrinking as temperatures warmed, but the rate of uplift has accelerated in recent decades because global warming has sped up the rate of glacier melt, the researchers say...This is happening in the Alps. As the glaciers melt and the mountains are freed of their heavy burdens, the surface of the Earth springs back very slowly. This effect is well studied and it occurs in North America, too. [Full story>>livescience.com via msnbc.msn.com]
---
8.04.06 Iran to supply Hezbollah with missiles
LONDON (AFP) August 5 – Iran will supply Hezbollah with surface-to-air missile systems in the coming months, boosting the guerrillas' defences against Israeli aircraft, according to a report by specialist magazine Jane's Defence Weekly on Friday, citing unnamed Western diplomatic sources. In a meeting, held late last month, the Lebanese Shiite Muslim militia called on Tehran to "accelerate and extend the scope of weapon shipments from Iran to the Islamic Resistance, particularly advanced missiles against ground and air targets."

Hezbollah's representatives pressed for "an array of more advanced weaponry, including more advanced SAM (surface-to-air missile) systems," Jane's said. "Iranian authorities conveyed a message to the Hezbollah leadership that their forces would continue to receive a steady supply of weapons systems," it added.

"The details coming from the meeting reveal that they are about ensuring a constant supply of weapons to support Islamic Resistance operations against Israel," said Robin Hughes, the magazine's Middle East Editor. "We are told the latest meeting was attended by senior representatives of the Islamic Revolutionary Guards Corps' Qods force which is responsible for training and logistic support for Iranian-backed insurgent groups."

According to Jane's Defence Weekly, Iranian authorities have supplied the militia with Iranian-made Noor radar-guided anti-ship cruise missiles and Chinese QW-1 (Vanguard) shoulder-launched SAMs. Russian-made SAMs will reportedly be supplied at a later date.

Hezbollah has been locked in a more than three-week long deadly conflict against Israel since it kidnapped two Israeli soldiers and killed eight others on July 12. Israel has carried out a widespread bombing campaign of southern Lebanon, where Hezbollah is based, and Hezbollah has fired rockets into northern Israel. A Hezbollah anti-ship missile also damaged an Israeli corvette off the Lebanese coast in the early days of the conflict, killing four sailors. Israel said the missile was Iranian-built but Tehran denied involvement. [theaustralian.news.com.au ; See related story, haaretz.com, August 4, "Iranian official admits Tehran supplied missiles to Hezbollah."]
---
8.04.06 Israeli air raid kills 33 civilians in Lebanon
BEIRUT (Reuters) August 4 – An Israeli air strike killed at least 33 farm workers in northeastern Lebanon on Friday and Hezbollah fired scores of rockets into Israel in a worsening conflict that world powers have failed to halt. Most of the dead and 20 wounded were taken to nearby Syria after the raid near Qaa in the Bekaa Valley. At least three rockets hit a farm where workers, mostly Syrian Kurds, were loading plums and peaches on to trucks, local officials said. It was the second deadliest strike in Lebanon after an air raid killed up to 54 civilians in the village of Qana on Sunday. Israeli aircraft also destroyed four bridges on the main coastal highway north of Beirut, disrupting efforts to aid civilians displaced or trapped by the conflict in Lebanon.

With no action to end the 24-day-old war emerging from the United Nations, fierce fighting raged in the south as Israeli troops tried to expand seven small border enclaves they control. Hezbollah guerrillas fired more than 100 rockets into northern Israel, killing three people and wounding several, medics said. Rockets killed eight Israelis on Thursday. [More>>thestar.com.my ; See also Jerusalem Post, July 4, "Report: IAF raids kill 57 in S. Lebanon" and :

abcnews.go.com, August 4, "Israel warplanes destroy Lebanon bridges" Israeli warplanes destroyed four key bridges on Lebanon's last untouched highway Friday, severing the country's final major connection to Syria and deepening its isolation. Aircraft hunting weapons caches also hit dozens of farm workers loading vegetables near the Lebanon-Syria border, killing 28 as Hezbollah launched a fresh barrage of rockets at northern Israel...

haaretz.com, August 4, "Three killed, one critically hurt in Katyusha attacks" : Three people were killed and 29 wounded, including one critically and three seriously, as Hezbollah fired more than 200 Katyusha rockets into northern Israel on Friday afternoon...
---
8.04.06 Hundred thousand Iraqi shiites demonstrate for Lebanon
BAGHDAD (AFP) August 4 – More than 100,000 white-clad Shiites marched through Baghdad in a noisy rally in support of Lebanon's Hezbollah militia, as US commanders warned of a slide towards civil war. The street leading from the office of radical Shiite cleric Moqtada al-Sadr's movement in the Sadr City district was filled with demonstrators bearing yellow Hezbollah flags and portraits of the Shiite group's leader, Hassan Nasrallah.

"This million-man demonstration is to support the resistance in Lebanon," said cleric Hazem al-Aariji in Friday prayers before the march. "For 22 days the Israelis could not invade Lebanon ... Hezbollah has terrified the Israelis because they do not fear death," he declared Friday. Elsewhere in the country, 23 people died, mostly in the northern province of Nineveh where insurgent bombers and gunmen killed 19, mostly police officers, in two incidents. [More>>turkishpress.com]
---
8.04.06 NATO escapes two bombs in Afghanistan, 25 Taleban killed
KANDAHAR, Afghanistan (AFP) August 4 – Two bombs exploded Friday near NATO patrols in an area of southern Afghanistan that saw a series of bloody attacks a day earlier, while security forces said they had killed 25 rebels. The violence further highlighted the dangers facing a NATO force that took command of the countryıs volatile south on Monday and which has lost seven soldiers in rebel attacks since then. However Afghanistanıs US-backed President Hamid Karzai assured his countrymen that a plan was in place to secure war-weary Afghanistan. The early morning bombs exploded in restive Kandahar province as NATO-led International Security Assistance Force (ISAF) patrols passed, but caused no damage or casualties to the force, a spokesman said.

...Separately, the US-led coalition that handed over control of the south to NATO this week said its forces and Afghan troops had killed 25 Taleban "extremists" on Thursday in Helmand province, neighboring Kandahar. The rebels were killed after they attacked the security force with small-arms and rocket-propelled grenades during a coalition ²cordon and search² mission in a village, it said in a statement. [Full story>>khaleejtimes.com]
---
8.04.06 Hundreds of S. Koreans begin to leave Afghanistan
KABUL (AFP) August 4 – About 400 South Korean Christians were flown out of Afghanistan's capital Friday following orders to leave after their presence caused security fears in the Islamic country. The Afghan government put on special flights to take them from Kabul to the northern city of Mazar-I-Sharif and western Herat from where they would leave the country by land - the same way that they entered, a South Korean official said.

"We flew some 400 people either to Mazar or Herat ... we have some left because some of the planes were too small," he said on condition of anonymity. The remainder of 600 due to depart Friday would likely leave Saturday. Hundreds more were expected to follow, including some who had flown in from Almaty, Dubai, and New Delhi and would be sent back the way that they came. The government ordered them out amid fears for their safety, with some Muslim clerics already complaining that they were preaching Christianity – which is illegal in this conservative country where religion is highly sensitive. [More>>metimes.com; See also koreaherald.co.kr, August 4, "Christians protest over Afghan rally" : Hundreds of Korean Christians denied entry into Afghanistan plan to take legal action against the Seoul government, the Foreign Ministry said yesterday. They were trying to enter Afghanistan from New Delhi International Airport in India, to attend a peace rally despite warnings of attacks in the Islamic country. The event was canceled Thursday.

The group said it will also file a complaint to the Afghan Embassy in Seoul, saying they were refused entry although the embassy had issued them travel visas. "There are 300 Koreans waiting in India after being turned down from going to Afghanistan," a ministry official said. "We were told that some of them are planning to take legal proceedings against the Foreign Ministry and to complain to the Afghan Embassy."...

---
Editorial note: Islamic democracy. The underlying story on Islamic democracies is that in spite of George W. Bush's mission of spreading democracy – specifically in Iraq and Afghanistan – the Afghan view of democracy does not provide for "freedom of worship." This freedom was perhaps the main foundation in America's experiment in democracy. Also, in the American view of democracy there can be no state-sponsored religion, as is the case in Afghanistan.

In Iraq the same criteria apply and we may wonder whether the best success we can expect there is the foundation of a government that is like that in Lebanon – a government unable to govern and control terrorist activities. Indonesia is facing similar problems, where the government is dealing with the spread of Sharia (Islamic) law, which often conflicts with the Indonesian Republic's Laws. See:

thejakartapost.com, August 2, "Women, the poor singled out by Aceh sharia enforcers: ICG" : Women and the poor are experiencing unfair treatment due to overzealous enforcement of sharia bylaws in Nanggroe Aceh Darusssalam, an influential think tank said. The Brussels-based International Crisis Group (ICG) said in a report made available to The Jakarta Post on Monday that haphazardly recruited, poorly disciplined and inadequately supervised sharia police were practicing a form of moral vigilantism that singled out women and the poor. In the 25-page report, the ICG recorded numerous instances in which the two groups were targets in anti-vice raids under the bylaws, known as qanun.

"Women complain that they are disproportionately the targets of sharia police raids, with far more operations against them for not wearing headscarves, or jilbab, than against men for not attending Friday prayer," the report said...

thejakartapost.com, August 5, " Scholars call into question survey linking Islam and violence" : Muslim scholars are questioning a recent survey that suggested there is a relationship between Islam and violence in Indonesia, saying the survey was not based on a true understanding of Islamic doctrines and of economic and cultural factors in the country.

According to the survey of 1,200 Muslims in 30 of Indonesia's 33 provinces, 0.1 percent of respondents admitted involvement in demolishing or burning churches constructed without official permits. Another 1.3 percent said they had committed "intimidation" of those they considered to have blasphemed Islam.

The survey, conducted by the Center for Islamic and Social Studies (PPIM), was carried out from 2001 to this year. It also found 43.5 percent of respondents said they were ready to "wage war" on threatening non-Muslim groups. PPIM researcher Jajat Burhanudin attributed these hostile tendencies to a simplistic understanding of Islamic teachings...

Maravot News has been following the trend towards democracy in Islamic nations. The main part of this trend includes Women's Rights. President Ahmadinejad of Iran recently stirred up Islamists by suggesting that women could attend football (soccer) games, an act contrary to Islamic tradition. Saudi Arabia is reknown for its failure to provide basic human rights, including the "slavery" of children from India and, as recently recorded, "temporary marriages" which are popular in Indonesia. Apparently Saudi men find a way to participate in extra-marital love affairs by engaging in "temporary marriage" contracts. Today, the following story appeared with regard to a Saudi woman being arrested for demonstrating on behalf of women's rights on a causeway linking Saudi Arabia with Bahrain:

aljazeera.net, August 4, " Saudi activist held over solo protest" : A Saudi rights activist said on Friday that she was detained for several hours by police after carrying out a one-woman protest for women's rights on a causeway linking Saudi Arabia to Bahrain. Wajiha al-Huweidar, 45, said she was arrested after walking across the causeway carrying a placard urging King Abdullah, ruler of Saudi Arabia, to grant more rights to women in the conservative kingdom. "A year after his [King Abdullah's] enthronement and after promising us more rights, the picture on women's rights remains very opaque," Huweidar, an educational analyst and writer, told Reuters news agency. "I'm not alone in this - a lot of women in the country aspire for more rights."

Al-Huweidar, who lives in the eastern Saudi city of Dhahran but commutes to work in Bahrain, said she was interrogated for several hours by police and asked to bring along a male guardian because the authorities "don't recognise that a woman can take responsibility for her actions." She said her brother later signed a pledge agreeing that she would not repeat her actions.

One can search the Maravot News archives to find many issues involving the abuse of women by sharia courts. One court in India required a married woman who had been raped by her father-in-law to divorce the husband and marry the man that raped her! Islam and democracy have much work ahead, in terms of reconciliation, before them [See sandesh.org for a June 30, 2005 article on the subject: "The rights, issues and the reality of Muslim Women."].

The US has its own problems of reconciling George W. Bush's view of democracy at home, from accusations of stealing elections to lying to Congress in committing his attack on Iraq. His method of governance has a greater resemblance to that of tyrants in the past than that of historical presidents. The main trend we have seen in the Bush administration's works is incompetence. Hillary Clinton expressed this concern in a Congressional hearing August 3, and subsequently asked for the resignation of Secretary of Defense Ronald Rumsfeld. See, for instance:
theage.com.au, August 5, "Hillary tells Rumsfeld to resign" : New York Democratic senator Hillary Clinton has called on US Defence Secretary Donald Rumsfeld to resign, after accusing him of "presiding over a failed policy in Iraq."

"I just don't understand why we can't get new leadership that would give us a fighting chance to turn the situation around before it's too late," Senator Clinton, a possible 2008 Democratic presidential candidate, said. "I think the President should choose to accept Secretary Rumsfeld's resignation." At a Senate Armed Services Committee hearing on Thursday, Senator Clinton ripped into Mr. Rumsfeld for his handling of the Iraq and Afghanistan wars. "We hear a lot of happy talk and rosy scenarios, but because of the Administration's strategic blunders and, frankly, the record of incompetence in executing, you are presiding over a failed policy," she said. "Given your track record, Secretary Rumsfeld, why should we believe your assurances now?" Mr. Rumsfeld seemed briefly stunned by the intensity of her attack, exclaiming: "My goodness," before launching into a point-by-point defence...


In connection with the complaints against the Bush administration, today afterdowningstreet.org published Conyer's Report Newly Updated: "Constitution in Crisis." The site contains links by which the 350 page report may be downloaded. The contents include: The Constitution in Crisis; The Downing Street Minutes and Deception, Manipulation, Torture, Retribution, and Coverups in the Iraq War, and Illegal Domestic Surveillance.
Understanding the confusing views of democracy
.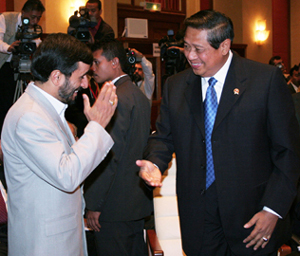 WORLD DIVIDED: President Susilo Bambang Yudhoyono (right) greets Iranian President Mahmoud Ahmadinejad on Thursday before the opening of the Organization of Islamic Conference meeting in Putrajaya, Malaysia. (JP/Abror Rizki)
thejakartapost.com
The democracy founded by America, like all governments, is susceptible to compromise. When Bush launched his war through illegal means, lying to Congress with regard to the reason for going to war, it brought to mind antics by tyrants of the past. Bush declared "Mission Success" aboard an aircraft carrier about a week after his blitzkrieg on Iraq. This propaganda initiated by him – as with that of other regimes – has come back to haunt him. But worse than that, the Bush administration changed its reasons for attacking Iraq to that of a higher ideal, of "spreading democracy midst the Middle East." This higher ideal of democracy seems to be coming back to haunt him and us as well, since we are discovering that democracy under Islamic governments does not include basic freedoms we Americans take for granted every day, such as equality before the law, of religion, sex and race. And worse, Islamic culture is split into hostile regimes that believe in murdering those with opposing views. We see this at work in Iraq in the race among Shiites and Sunnis to purge each other.
Today the president of Iran is attending an Islamic conference in Malaysia. Maravot News has reported on radical Islamists from Malaysia and Indonesia sending forth
'suicide bombers'
to all the nations that have been cooperating with America and Israel.
In view of today's story in
Iranfocus.com "Radical Islamists attack British embassy in Iran capital"
and yesterday's story of Ahmadinejad repeating his position,
calling for the destruction of Israel
, we find it difficult to agree with Bush's method of spreading democracy (through military might). What he has done through his crusade is to intensify the international Islamic terrorist coalitions against America. Where America used to enjoy the respect of the world for its fairness and ideals of justice, it now faces complaints of War Crimes, placing it in the same context as Hitler's Nazi Germany – which also began its crusade in spreading democracy: to Poland, Austria and Czechoslovakia, to free Germans from the yoke of the countries where they were living. The Nazi freedom campaign was a ruse and after their blitzkriegs they switched their campaign to the heinous solution of ridding the world of Jews.
Who are against Israel
– What is fearful now is Ahmadinejad is spreading the same views Hitler espoused. And on the other side of the coin is George W. Bush who fantasized atop the aircraft carrier
Lincoln on May 2, 2003
, like a new Caesar, that he had defeated Saddam Hussein, saying "Mission Accomplished." Saddam, who had formerly been supported by the US in his war against Iran, had turned against the US. Saddam's reasons for turning against America are the same as those being expressed by other Middle East leaders: for supporting Israel. We may recall in the first Iraq War that as Saddam was launching SCUD missiles against Israel he expressed the view that "Israel claims all the lands to the Euphrates River," that Israel is a threat to her neighbors all the way from the Nile River to the Euphrates. The concern refers to a promise in the Old Testament where Abraham and all of his children were promised the land from the "river of Egypt" (Identified by Israel as the wadi presently running on its southern border) and the Euphrates. Saddam expressed a common concern and misconception in the Middle East as to the mission of Israel, which has been fermenting ever since the 1973
Yom Kippur Wa
r.
Arabs don't want Israel in their midst. The only nations to have accepted Israel are Egypt and the Hashemite Kingdom of Jordan. And though we may hope for a peaceful settlement, where Israel and its neighbors can live peacefully together, the ongoing conflict with the Palestinians has only served to intensify hatred against Israel and those who support Israel. Ultimately we have to find a peaceful settlement between Israel and its Arab neighbors. Attacking Iraq did not help that venture and only reinforced those who were against the US and Israel in their resolve.

Bush attacked Iraq without defining his mission or understanding what he was attacking
. By the results we can see that he had no concept of installing a government in Iraq to replace that which he deposed. Where there is an absence of power there is always chaos. The three-year results suggest, in fact, that Bush's planning was on the level of that practiced by the hordes who raped and pillaged cities in ancient times. And where Bush speaks of having brought democracy to Iraq the world speaks of Iraq's civil war. Where Bush speaks of "Mission Success" we can see that the issues Saddam Hussein had with America – of fighting those who support Israel – are now being echoed among leaders throughout the Islamic World.
When the United Nations created Israel in May 1948 it made deals with the surrounding "freed" colonies of the former Ottoman Empire. This included Saudi Arabia, Jordan, Syria and Iraq. In simple terms, in exchange for restoring Jews to the land of Israel, each of those nations was given self-rule. The UN created the map we see today, as modified by the tribalism and conflicting forces there seeking power today. Each has its own interests and each is willing to kill for those interests. It's not the same sense of democracy we Americans understand.
Bush's War booty: More blood than oil
– The world has suspected ever since Bush invaded Iraq that he and his avaricious friends were after the oil and war profiteering opportunities. He and his cronies have certainly profited from the war. The oil booty is another matter, at the moment, since Iraq is producing less oil now than when it was under US embargo under Saddam Hussein. The net issue from the Bush venture for oil is that more blood has flown in Iraq than oil.
America must ask, "What have we created?" We are responsible for the actions of our leaders. We are responsible for the international conflict Bush created.
Resistance fighters versus terrorists.
Iran has today acknowledged supplying Hezbollah with missiles and today's reports say they intend to continue to do so. Support for Hezbollah is now becoming the new cause in the Middle East, eclipsing for the moment the cause of supporting (the democratically elected) terrorist group, Hamas, in Gaza. Hezbollah began the present episode in sympathy (we presume) for the Palestinian crisis, in Gaza, by kidnapping two Israeli soldiers. Israel responded by attacking Hezbollah to recover its kidnapped soldiers. That action has been viewed as "overkill" by the Islamic sympathizers, while they defer to Hezbollah acts of righteousness, as a "resistance movement" against Israel. We find, in fact, that in the Islamic World, there is a disconnect with regard to the differentiation between "resistance activities" and "terrorist activities." If they conclude that Israel (Jewry) is the enemy any actions against Israel would be justified under the criteria of "resistance." Islamists tend to parrot the views of Osama bin Laden, who justifies the murder of anyone who is an infidel or assisting an infidel. This includes the justification of murder of women and children. The bin Laden deviates have been reviving a practice described by Marco Polo (1254-1324) and other Crusade era historians, such as
Joinville & Villechardouin
.
In those times there was a suicide sect run by the Old Man of the Mountains who were called the "Assassins" and celebrated murder in the act of martyrdom, believing that martyrs were instantly received in Paradise served by virgins and unending banquets.
Islamists have concluded that the highest level of resistance would be through martyrdom, preferably now as a suicide bomber. The rewards of a suicide bomber / martyr are immediate admission to Paradise, served by seven virgins (we presume the women suicide bombers operate under a similar promise).
There was no military resolution of the Crusades in the Medieval era, but the Old Man of the Mountain was killed, according to Marco Polo, and his sect disbanded. Unfortunately, through his bungling, Bush seems to have resurrected the Old Man of the Mountain and his murderous sect. And unfortunately there is no current consensus among the Islamic communities on how to differentiate between a resistance fighter and a terrorist. The president of Iraq, in his recent visit to the US, was criticized by Congress, in fact, for not addressing Hezbollah as terrorists.
The Bush democracy of Iraq does not have much going for it, as a democracy. We can ponder on the statement made by one of our greater allies in the Middle East, Turkey, where Turkish Foreign Minister & Deputy Prime Minister Abdullah Gul said the
"Tragedy in Lebanon unfortunately raises questions about US legacy of leadership."
The weight of Bush's incompetence in Iraq is tipping the scales of humanity ever more against America.
While Malaysia has offered to send troops in support of a UN mission to Lebanon, we may wonder at Ahmadinejad's conversations in the Organization of Islamic Conference today and the grim actions that may result from them.
Mel Copeland
---
8.03.06 Candle in the dark
August 3 – Saturn's rings cut across an eerie scene that is ruled by Titan's luminous crescent and globe-encircling haze, broken by the small moon Enceladus, whose icy jets are dimly visible at its south pole. North is up.
The scattered light around planet-sized Titan (5,150 kilometers, or 3,200 miles across) makes the moon's solid surface visible in silhouette. Enceladus (505 kilometers, or 314 miles across) enjoys far clearer skies than its giant sibling moon.
This view shows the unlit side of Saturn's rings. [
saturn.jpl.nasa.gov
]
---
8.03.06
European Space Agency (ESA) records unusual movie of Venus
August 1 – This false-colour movie was built with ultraviolet images taken by the Venus Monitoring Camera (VMC) on board ESA's Venus Express spacecraft on 22 May 2006. The spacecraft was flying over the northern hemisphere approaching the planet, over distances ranging between about 39 100 and 22 600 kilometres from the surface.

The images were taken at 365 nanometres, starting respectively 03:30 and 01:45 hours before reaching the pericentre (point of closest approach of the spacecraft to Venus). The complex atmosphere that surrounds the planet is clearly visible. [esa.int]
---
8.03.06 Ahmadinejad's call to destroy Israel draws French condemnation
August 3 – Iranian President Mahmoud Ahmadinejad said Thursday the solution to the Middle East crisis was to destroy Israel, Iranian state media reported. In a speech during an emergency meeting of Muslim leaders in Malaysia, Ahmadinejad also called for an immediate cease-fire to end the fighting between Israel and the Iranian-back group Hezbollah. "Although the main solution is for the elimination of the Zionist regime, at this stage an immediate cease-fire must be implemented," Ahmadinejad said, according to state-run television in a report posted on its Web site.

France's foreign minister condemned Ahmadinehjad's comments Thursday, saying Iran is ruining its chances to play a positive and stabilizing role in the Middle East. "I totally condemn these words," Philippe Douste-Blazy said on France-Inter radio, saying they were "absolutely unacceptable on anyone's part, especially from a head of state." The crisis had presented an opportunity for Iran to "show that it can play a positive and stabilizing role in the region," Douste-Blazy said, adding that Ahmadinejad's statement "confirmed that this is not the case." [More>>haaretz.com]
---
8.03.06 Iran collaborating with Pyongyang on missiles, think tank reports
August 3 – North Korea has been constructing new underground missile bases and silos along its east coast in recent years to deploy intermediate-range rockets targeting Japan and U.S. military facilities on the archipelago, a state-run think tank said yesterday. It also said North Korea has been working closely with Iran to develop its long-range ballistic missiles, possibly using Chinese technology, and is building bases to prepare for their deployment. "The new bases clustered along the east coast, in particular, are short- and medium-range missile bases aiming at Japan and US military installations in Japan," said a report written by Yun Deok-min, a security expert at the state-funded Institute of Foreign Affairs and National Security.

The new bases can deploy about 200 Rodong missiles with a range of up to 2,200 kilometers and 50 SSN-6 missiles with a range of 2,500-4,000 kilometers, the report said. "Combined with its nuclear weapons, North Korea's ballistic missiles provide it with a powerful deterrent," it said. "The North has made an all-out effort to bolster asymmetrical strengths at a time when millions of its people have died of hunger."

The report also said North Korea built two underground missile bases in a mountainside in the central part of its land border with China. The bases "are located in positions that make them impossible to be attacked unless strikes come across the Chinese border, as they are positioned near the Sino-North Korea border and are in the mountainside," it said. [More>>koreaherald.co.kr]
---
8.03.06 Muslim group 'sending suicide bombers'
(AAP) August 4 – Suicide bombers from South-East Asia are being sent to attack Jewish interests in countries who are in support of Israel, including possibly Australia, a Muslim group claims. The world wide campaign is reportedly being funded by two unnamed Australian-Indonesian businessmen. The Asian Muslim Youth Movement (AMYM) claims it has thousands of jihadists who are prepared to join the fight against Israel.

The Australian newspaper today reports that about 200 of these supporters will be immediately sent to attack Jewish targets in countries like Britain and the US. AMYM leader Suaib Bidu said his group would also be closely monitoring Australia's reaction towards Israel's current military occupation in southern Lebanon. "We have a lot of support, including in Australia, from people who don't believe Israel's attack (on Hezbollah) is just," he said.

Terrorism experts have warned the AMYM was possible of organizing such an attack. [theaustralian.news.com.au ; See also counterterrorismblog.org, July 24, (by Zachary Abuza) "Update on Southeast Asian militants heading to Lebanon" : On 20 July, I posted on Suab Didu, the head of the radical Islamic Youth Movement of Indonesia, who announced the formation of a new regional organization, the "Palestine Jihad Bombing Troops" that was dispatching some 217 Southeast Asians to "help our brothers in Palestine and Lebanon." Yesterday Suaib Didu, commented in the press, "It's all true. Militants from Malaysia and Thailand departed yesterday. Indonesians will leave soon." A quasi-official from the Philippine Moro Islamic Liberation Front denied that any members of the MILF were among the 57 Filipinos that Didu claimed were being sent to the region.

In other news, another militant organization, the Islamic Defender's Front (FPI)ıs spokesman, Yusuf al Qardawi, announced that 90 members of his group were leaving for Lebanon and "are ready to die as martyrs." The FPI threatened to recruit large numbers of jihadis to fight the Americans in Iraq in 2003, though few actually went. The FPI's leader, Habib Rizieq, was quickly detained by US forces and sent back to Indonesia, though the government did nothing to punish him. The veracity of these claims is uncertain.
---
8.03.06 Seven killed in Hezbollah blitz
August 3 – At least seven people have been killed and many injured during a series of rocket attacks on northern Israel by Hezbollah fighters. Over 100 rockets landed inside northern Israel within the space of one hour on Thursday afternoon, Israeli officials said. In Maalot, three Israeli Arabs were killed when a rocket landed near their car. Three people were also killed during rocket attacks on the town of Acre. It was not clear where the seventh person died.

Israel, meanwhile, continued its airstrikes on Lebanon, bombing the capital Beirut and killing at least four people in the south. The attacks came as Fuad Siniora, the Lebanese prime minister, said that more than 900 people had been killed and 3000 injured in attacks on the south of the country since the crisis began. [More>>aljazeera.net ; See related story, timesonline.co.uk, August 3, "israel makes progress in carving out a security zone."]
---
8.03.06 Canadian soldier, 10 Taliban killed in Afghanistan
KANDAHAR (AFP) August 3 – A Canadian soldier was killed in southern Afghanistan Thursday, the fourth NATO fatality since the alliance took command of the area this week, while police said that 10 Taliban died in a raid. The soldier was killed and another Canadian was injured when an improvised bomb of the sort often used by the Taliban struck their vehicle before dawn on a main road in southern Kandahar province, a statement said. Three more Canadian troops from the NATO-led International Security Assistance Force (ISAF) were injured by a second roadside bomb blast hours later in the same area, the statement added. [More>>metimes.com ; See also washingtonpost.com, August 3, "Four NATO soldiers killed in Afghanistan."]
---
8.03.06 Tragedy in Lebanon unfortunately raises questions about US legacy of leadership: Gul
WASHINGTON, August 3 – "The grave tragedy that has been unfolding before our eyes in Lebanon, and the inability of the international community to bring it to an end after three weeks of suffering, unfortunately raise questions about the United States and its proud legacy of leadership for freedom and justice,'' indicated Turkish Foreign Minister & Deputy Prime Minister Abdullah Gul in his article published in Washington Post newspaper on Thursday.

"After all, my generation grew up with an image of the United States as standing for the revered values of democracy. It is sad that this image of a 'kinder, gentler nation' is being tarnished as millions around the world watch in complete horror as events unfold in Lebanon," Gul wrote. He stated, "Today live images of the carnage and destruction are broadcast directly into our households. Each time a bomb wreaks havoc on the streets of Beirut, it hits the consciences of people everywhere. Throughout the world, the same question is being asked: Why has the sole superpower, which alone has the capability to stop this tragedy, turned a blind eye to the images of human suffering and a deaf ear to the cries for mercy?" [More>>turkishpress.com]
---
8.03.06 UK ambassador warns of civil war in Iraq
August 3 – Britain's outgoing ambassador in Baghdad has warned that civil war is the most likely outcome in Iraq, according to a report. In a confidential memo to ministers, William Patey also predicted the break-up of Iraq along ethnic lines. The assessment was contained in Mr. Patey's final telegram from Baghdad before he left the Iraqi capital last week - details of which were obtained by the BBC.

The diplomatic cable was sent to the Prime Minister, Foreign Secretary, Defence Secretary, Leader of the House of Commons, and senior military commanders in both Iraq and the UK. Mr. Patey wrote: "The prospect of a low intensity civil war and a de facto division of Iraq is probably more likely at this stage than a successful and substantial transition to a stable democracy." He went on: "Even the lowered expectation of President Bush for Iraq – a government that can sustain itself, defend itself and govern itself and is an ally in the war on terror – must remain in doubt." [More>>independent.co.uk ; See related story, nytimes.com, August 3, "US generals see growing threat of civil war in Iraq."]
---
8.03.06 Move to reduce US dependence on foreign oil
August 3 – Senator Evan Bayh has introduced the Vehicle and Fuel Choices for American Security Act to increase the use of alternative fuels and cut our dependence on foreign oil. Bob Fertik, of democrats.com, says, "Despite the widening war in the Mideast – and the heat wave at home – Senate Republicans want to go home without acting on this urgent bill!" Senator Evan Bayh introduces his bill with the following:
Did you know that right now, the US is more dependent on oil from unstable Middle Eastern countries than we were on September 11, 2001? And as if putting our national security on the line weren't enough, our economic security is at risk with record gas prices on the rise again. We need a solution to this problem. That is why I have introduced the Vehicle and Fuel Choices for American Security Act – which will reduce our oil consumption by 2.5 million barrels a day – an amount equal to 100 percent of what we currently import from the Middle East. [A petition in support of the bill is at allamericapac.com]
---
8.03.06 General Motors to set up second plant in India
MUMBAI (Reuters) August 3 – General Motors Corp is building a second plant in India as it steps up the pace to grab 10 per cent of the country's fast-expanding market for passenger vehicles by 2010. State and company officials are slated to sign a formal agreement on Thursday evening, according to a media invitation. The factory, to be located in Maharashtra, would have a capacity of more than 100,000 units and would require an investment of about 20-22 billion rupees ($428-$471 million), industry sources estimate.

...India's passenger vehicle market is forecast to nearly double to 2 million units by 2010. Small cars, which make up more than two-thirds of the market, is now dominated by Suzuki Motor's Indian arm, Maruti Udyog Ltd, and South Korea's Hyundai Motor Co. India's third-biggest car maker, Tata Motors Ltd, last month said it would build cars, engines and transmissions in a joint venture with Italy's Fiat. [Full story>>expressindia.com]
Copyright © 1981-2006 Maravot. All rights reserved
Copyright © 1981-2006 Mel Copeland. All rights reserved
Painting of Apple by Mel Copeland, early 70's
Background: tile from Cicero's villa (Marcus Tullius Cicero 106 B.C. - 43 B.C.)