---
8.02.06 One killed, eight wounded in attacks throughout North
August 2 – A 52-year-old man was killed while riding his bicycle in Kibbutz Sa'ar, near Nahariya, when a Hizbullah-fired rocket scored a direct hit on a house on Wednesday afternoon.Bringing another city under Hezbollah's sights, A Khabar-1 rocket landed near Beit She'an Wednesday. Israel, which claims the rocket is Iranian-made, confirmed the hit and said at least seven people were wounded. Beit Shean is about 70 kilometers (42 miles) south of the Lebanese border and marks the farthest town to date to come under fire.

The death marked the first fatality since rockets began raining down all over the North on Wednesday morning after a relative lull in rocket attacks for two days. At least eight people were wounded by shrapne – one in serious condition – in the morning's attacks, and 20 people were treated for shock. More than 190 rockets have fallen on northern cities so far. A barrage of at least six rockets reportedly fell in Haifa late Wednesday afternoon. No casualties or damage were reported. [More>>Jerusalem Post ; See related stories, khaleejtimes.com (AFP) August 2, "Conflict in Lebanon escalates after Israeli commando raid." and timesonline.co.uk, August 2, "Battle rages at five spots in southern Lebanon."]
---
8.02.06 Isreali 'hackers' target Hezbollah TV
(AFP) August 2 – A series of pictures and statements, apparently from Israeli-backed hackers, have appeared on Lebanon's Hezbollah-run television station, some showing pictures of corpses and others labelling the group's leader, Hassan Nasrallah, as a liar. One of the images shown on al-Manar television portrayed the body of a fighter lying face-down, wearing khaki trousers with a text in Arabic beneath: "This is the photograph of a body of a member of Hezbollah's special forces."

"Nasrallah lies: it is not us that is hiding our losses," continued the text, which appeared during the evening news and stayed on screen for several minutes. A photograph of Nasrallah himself also appeared with the legend: "member of Hezbollah: watch out." Another photograph of corpses was framed by the words: "there are a large number of corpses like this on the ground and Nasrallah is hiding this truth." Israel also recently hacked into FM radio stations and instead of normal programmes a two-minute recording was repeatedly broadcast.

"Hassan sent men to fight the Israeli army, an army of steel, without preparing them. Stop listening to patriotic hymns for a moment, reflect and bring your feet back to the ground," said the Arabic message. Israel has reportedly used a variety of technological weapons to add a psychological dimension to its war in Lebanon. Lebanese mobile phone users have also received text and voice messages saying the Israeli offensive was aimed against Hezbollah and not the Lebanese people. [aljazeera.net ; See related story, metimes.com (AFP) August 2, "Blogworld goes into hyperdrive over Lebanon conflict."] : Israeli army can strike at will...
---
8.02.06 Eighteen Taliban, one cop killed in Afghan clashes
KANDAHAR, Afghanistan, August 2 – Eighteen Taliban militants and one policeman have been killed as Afghan forces and coalition aircraft raided an insurgent hideout in the south, police said on Wednesday. The fighting took place late Tuesday near the Helmand province town of Garmser, where Afghan forces have been hunting insurgents following last month's brief takeover of the town by the Taliban. Local police chief said Afghan forces, backed by coalition aircraft, attacked a Taliban position in the village of Habibullah, near Garmser. Police found the bodies of 18 insurgents, believed to have been killed in coalition air strikes, and four Taliban were wounded. An Afghan policeman was also killed during the battle, he added. Police also confiscated eight AK47s, four rocket-propelled grenades and four motorcycles, he said. [thenews.com.pk]
---
8.02.06 Wave of counterfeits sweeps France as forgers crack the euro code
August 2 – After initial discouragement, counterfeiters have cracked the code of the euro and continental countries - especially France - face a rising tide of fake bank notes and coins. In the first half of this year, 300,000 dud euro notes were withdrawn from circulation. About 30 per cent of them, 90,000 notes, were discovered in France. Most – 80 percent – were printed in other countries. After the introduction of the euro in 12 countries on 1 January 2002, police detected a fall in the amount of counterfeit notes and coins in circulation in euroland. The notes were claimed to be the most advanced in the world, incorporating anti-faking devices from holograms to special inks.

Now Europe's counterfeiters – and some elsewhere in the world, including Colombia – appear to have overcome the problems. A determined faker can buy a machine which reproduces the holograms in euro notes for €50,000 (£34,000) – which would be covered by a print run of a few minutes. The amount of counterfeit currency found in the 12 euroland countries is 600,000 notes a year - about the same as before the single currency was introduced. There has been an even sharper rise in recent months of fake euro coins. [More>>independent.co.uk]
---
8.02.06 Much undone in rebuilding Iraq, audit says
NASIRIYAH, Iraq, August 2 – A flailing Iraq reconstruction effort that has been dominated for more than three years by U.S. dollars and companies is being transferred to Iraqis, leaving them the challenge of completing a long list of projects left unfinished by the Americans. While the handover is occurring gradually, it comes as U.S. money dwindles and American officials face a Sept. 30 deadline for choosing which projects to fund with the remaining $2 billion of the $21 billion rebuilding program.

More than 500 planned projects have not been started, and the United States lacks a coherent plan for transferring authority to Iraqi control, a report released Tuesday concludes. In some cases, Iraqis are having to take over projects from American construction firms that were removed from jobs because of poor performance. For example, in Nasiriyah, about 300 miles southeast of Baghdad, the Iraqi firm Al-Basheer Co. was recently given a prison-construction contract that a huge American conglomerate, Parsons Global Services Inc., lost. Parsons was six months overdue with the project and had completed only a third of the job. [More>>washingtonpost.com]
---
8.01.06 Bomb attacks on Iraqi forces kill 43
BAGHDAD (Reuters) August 1 – Bombs killed at least 43 people on Tuesday, including 23 Iraqi soldiers, in the latest blow to the new government's efforts to inspire confidence in the country's security forces. A roadside bomb attack on a bus filled with soldiers on a road between Tikrit and Baiji, north of Baghdad, killed at least 23, the army said. A source at the joint Iraqi-US military coordination centre in Tikrit said the toll could rise. "The bodies are being removed from the bus," he said. In Baghdad, a suicide bomber in a car targeted soldiers collecting their salaries from a bank, killing at least 10 people, including an elderly woman. The attack took place at the same spot in the district of Karrada where a car bomb and mortars killed at least 27 people last week. [More>>thestar.com.my; See another Reuters story, khaleejtimes.com, August 1, "Soldiers targeted by bombers as 50 die in Iraq." and related story, washingtonpost.com, August 1, "Hill democrats unite to urge Bush to begin Iraq pullout."]
---
8.01.06 Six foreigners arrested for engaging in 'short-term marriages'
BANGOR, West Java, Indonesia, August 1 – Police in Bogor have arrested six tourists from Saudi Arabia and six Indonesian women for engaging in the practice of "short-term marriages." Bogor Police chief Sr. Comr. Sukrawardi Dahlan said Tuesday residents of Cisarua district in Bogor, West Java, had complained about the practice of such short-term relationships between foreigners and local women. "They have violated Indonesian marital regulations," he was quoted by Antara news agency as saying. He did not go into detail on the violation. He said the police would begin cracking down on the practice. [More>>thejakartapost.com ; See related story, nytimes.com, August 1, "Indonesian province embraces Islamic law."]
---
8.01.06 Israel sends troops after Hezbollah
(Reuters) August 1– Israel thrust into southern Lebanon today and pounded towns and villages in two other areas, meeting fierce resistance from Hezbollah guerrillas who reportedly killed three soldiers. Three weeks after the war erupted when Hezbollah snatched two Israeli soldiers in a cross-border raid, a senior Israeli cabinet member said the army needed up to two more weeks to finish its offensive. European Union president Finland, echoing the growing international calls for a ceasefire, said Israel's plans to sweep further into Lebanon were unacceptable and would only fuel more Arab support for Hezbollah fighters.

Israel wants to push Hezbollah back and stop it blasting rockets over the border. However an Israeli cabinet minister said there was no way its forces could destroy all the missiles, comments appeared aimed at lowering Israeli public expectations. Artillery shells rained down on the border area around Aita al-Shaab, where Hezbollah said it had destroyed a tank in battles with Israeli troops. Al Arabiya television said three Israeli soldiers died in the those clashes, which would be the first casualties since Israel lost nine soldiers on July 26. Hezbollah said it had inflicted 20 Israeli casualties in Aita al-Shaab. The Israeli army said 20 Hezbollah fighters were killed in south Lebanon in the last 48 hours. Hezbollah denied suffering any serious casualties. [More>>theaustralian.news.com.au ; See related stories, dailystar.com.lb, August 1, "Israel engaged in four incursions over Lebanon border." and metimes.com (AFP) August 1, "Assad orders Syrian troops on high alert."]
---
8.01.06 FBI satellites spot terror camps
WASHINGTON (PTI) August 1 – Pakistan's claims that it does not have terrorist training camps in its territory is being strongly contested by FBI which has told a US court that satellite pictures pointed towards such a camp. In the trial of 23-year-old Pakistani American Hamid Hayat, who has been accused of terrorism-related charges, Defence Intelligence Agency's expert Eric Benn has stated that there was as much of a seventy per cent 'probability' that the satellite images pointed to a militant training camp in near Balakot in northeast Pakistan. Much to Pakistan's embarrassment, Benn told the district court in California that although he did not 'detect any formal weapons training, including firing ranges, targets, rocket launchers or explosives testing, it did not mean they were not taking place. The structures and trail in the remote terrain fit the 'signature' of 'militant training,' as opposed to regular training of Pakistani armed forces, he said. [More>>expressindia.com]
---
8.01.06 Nato soldiers killed in Afghanistan
August 1 – Afghan fighters have attacked a patrol of Nato-led soldiers in southern Afghanistan, killing three of them and seriously wounding another. A spokesman for the Nato-led International Security Assistance Force (ISAF) confirmed that the three killed were British. Insurgents, armed with rocket-propelled grenade launchers, ambushed an ISAF vehicle north of Helmand province on Tuesday morning. Britain has nearly 4,000 soldiers deployed in Helmand. The confirmation of the latest death takes to nine the number of British soldiers killed in Afghanistan this year. The attack came a day after Nato took command of the south from the US-led coalition, with a mission to stabilize the region. [More>>aljazeera.net]
---
8.01.06 Iran irate over nuclear deadline
TEHRAN (AFP) August 1 – Iran reacted angrily to a UN Security Council resolution ordering the Islamic to freeze sensitive nuclear work by the end of the month. UN Resolution 1696, which dangles the threat of sanctions unless Iran halts uranium enrichment and other work that could help build a nuclear bomb, was welcomed by the United States and its allies but decried as "destructive and totally unwarranted" by Iran's UN ambassador.

"I would suggest to you that this approach will not lead to any productive outcome. It can only exacerbate the situation," Javad Zarif told the Security Council. "The Americans must be sure that Iran will not take part in a game which it will lose," Kazem Jalali, spokesman for the Iranian parliament's foreign affairs commission, was also quoted as saying by the ISNA news agency. "If there were to be a loser, it would be those who have shifted the Iranian nuclear issue away from dialogue," he warned. The Security Council gave Tehran an August 31 deadline to comply, and said that International Atomic Energy Agency (IAEA) chief Mohammed ElBaradei should then report back on what Iran has done to fall into line. [More>>turkishpress.com]
---
8.01.06 Castro hands power to brother temporarily
HAVANA, Cuba, August 1 – Fidel Castro has temporarily handed over power to his brother Raul due to intestinal surgery, Cuban television reported, the first time the communist leader has ceded control of the island nation in 47 years. Castro's secretary, Carlos Valenciaga, read a letter Monday night that he said was from the president announcing the news. In it, the Cuban leader said that stress had forced him into surgery and that he would be in bed for several weeks after the operation. Castro, who has led Cuba since the 1959 revolution, turns 80 on August 13.

Raul Castro, 75, is the first vice president of the country and designated successor to his brother. He also assumes control over the armed forces and leadership of the Communist Party, according to the statement. The news sparked celebration across the Straits of Florida in Miami, home to Cuban-American exiles for more than four decades since Fidel Castro's rise to power. [More>>cnn.com]
---
7.30.06 Olmert, Halutz and Peretz apologize for Qana deaths
July 30 – Prime Minister Ehud Olmert told US Secretary of State Condoleezza Rice that he needed 10 days to two weeks to finish the offensive in Lebanon, a senior Israeli government official reported Sunday. Olmert met with Rice on Saturday night to discuss the 19-day-old offensive in southern Lebanon. Their meeting came before the IAF strike in Qana early Sunday.

Following the strike, Olmert and Rice scheduled a new meeting on Sunday evening. Earlier, Olmert expressed deep regret for the harm inflicted on the civilians in Qana Sunday morning when at least 57 civilians – 37 of whom were children – were killed as the IAF fired missiles at a building in the southern Lebanese town.

"I express deep regret, along with all of Israel and the IDF, for the civilian deaths in Qana," said Olmert. "Nothing could be further from our intentions and our interests than harming civilians – everyone understands that. When we do harm civilians, the whole world recognizes that it is an exceptional case that does not characterize us."

"In contrast," Olmert said, "Hezbollah has launched rockets with the aim of murdering innocent civilians in northern Israel." The prime minister vowed that the fight against Hezbollah would continue despite the Qana tragedy. "Hezbollah, like other Islamic terror movements, threatens all civilization. When we decided to respond, we knew that we would need to be strong in the face of difficult situations," said Olmert. Olmert said that the area was a focal point for the firing of Katyusha rockets on Kiryat Shmona and Afula. He said that from the outset of the conflict, "hundreds of rockets have been fired from the Qana area." [More>>Jerusalem Post] ; See related stories, khaleejtimes.com, July 30, "UN condemns Qana killings, Beirut offices attacked." and thestar.com.my, July 30, "Lebanese crowd breaks into UN HQ in Beirut" : BEIRUT (Reuters) – Lebanese protesters broke into the UN headquarters in Beirut on Sunday, smashing windows and ransacking offices, after an Israeli air strike killed 54 people in south Lebanon. Several thousand people massed outside the building in downtown Beirut chanting "Death to Israel, death to America. We sacrifice our blood and souls for Lebanon."...
---
7.30.06 New maximum-security jail to open at Guantanamo Bay
July 30 – The controversy over the US-run detention centre at Guantanamo Bay is to erupt anew with confirmation by the Pentagon that a new, permanent prison will open in the Cuban enclave in the next few weeks. Camp 6, a state-of-the-art maximum-security jail built by a Halliburton subsidiary, will be able to hold 200 prisoners. Commander Robert Durand, a spokesman for Joint Task Force Guantanamo, said the $30m, two-storey block was due to open at the end of September. He added: "Camp 6 is designed to improve the quality of life for the detainees and provide greater protection for the people working in the facility."

This development will refuel the controversy about the jail, which still holds 450 prisoners from President George Bush's "war on terror." Campaigners pointed to Mr. Bush's claim earlier this summer that he would "like to close" Guantanamo. Just weeks after he made his comments in June, the Supreme Court ruled that the administration's system for trying prisoners using military tribunals breached United States and international law. [More>>independent.co.uk]
---
7.30.06 Blair courts US stem-cell scientists
July 30 – Tony Blair has launched a drive to attract American bioscience companies to Britain in an attempt to capitalize on restrictions imposed by President George Bush on US government funding for stem-cell research. Blair is to use his trip to America to propose a joint UK-California conference in London to highlight the opportunities Britain can offer stem-cell scientists. Today, the prime minister is due to meet executives from the biggest biotech companies in California specializing in stem-cell research and to highlight Britainıs favorable regulatory regime and government incentives available to investors.

Many medical experts consider stem-cell research vital for the future of medicine. The cells have the potential to develop into any cell in the body but are often harvested from human embryos, which has led pro-life campaigners and church groups to condemn the science. Although the state of California has spent some £2 billion on stem-cell research, earlier this month Bush vetoed any expansion of federal funding of the science. The decision, taken on moral grounds, was welcomed by pro-life supporters but condemned by many scientists. [More>>timesonline.co.uk]
---
7.30.06 Britain's teeming sea
July 30 – Warmer sea temperatures are attracting a record number and range of exotic sea life to Britain's coastline. Global warming and hotter summers mean some unusual species are appearing in Britain's traditionally colder waters, according to leading scientists. Dr. Simon Vauxhall, a lecturer in oceanography at the University of Southampton, said: "We are seeing a pattern of the typical fish species, such as cod and haddock, exiting the warmer waters and being replaced by more unusual species. This is occurring for two reasons; one, generally ocean temperatures have been rising. This is largely down to the effect of global warming. Second, this summer has been just a particularly warm summer in itself. The warm surface water heated by the sun attracts these new species."

Reported sightings of a great white shark and rare mako sharks are one indicator that Britain's coastal wildlife is becoming more varied. A BBC1 documentary, "Sharks – Great Whites in Great Britain?", to be broadcast tonight, will examine evidence that the man-eaters are prowling British waters. [More>>independent.co.uk ; See related story, sfgate.com [SF Chronicle], July 30, " Is the recent heat wave a clue to global warming?" : Northern California, withering under last week's punishing heat, wasn't the only hot spot in the world this year -- thermometers have spiked throughout much of the United States, Canada and Europe, and scientists are predicting more intense, longer and more frequent heat waves in the future.

While leading climate scientists have been reluctant to link regional heat waves with rising temperatures in the world's atmosphere and oceans, they say the recent weather patterns are consistent with computer projections for global warming. In the United States, the first six months of 2006 were the hottest recorded in more than a century, according to the National Oceanic and Atmospheric Administration's National Climatic Data Center. Canada reported the hottest winter and spring since it started keeping track about a half-century ago, while England, Germany and France are sweltering, and the Netherlands is recording the hottest month since temperatures were first measured 300 years ago...
---
7.30.06 Audit finds US hid cost of Iraq projects
BAGHDAD, July 30 – The State Department agency in charge of $1.4 billion in reconstruction money in Iraq used an accounting shell game to hide ballooning cost overruns on its projects there and knowingly withheld information on schedule delays from Congress, a federal audit released late Friday has found. The agency hid construction overruns by listing them as overhead or administrative costs, according to the audit, written by the Special Inspector General for Iraq Reconstruction, an independent office that reports to Congress, the Pentagon and the State Department. Called the United States Agency for International Development, or A.I.D., the agency administers foreign aid projects around the world. It has been working in Iraq on reconstruction since shortly after the 2003 invasion.

The report by the inspector generalıs office does not give a full accounting of all projects financed by the agencyıs $1.4 billion budget, but cites several examples. The findings appeared in an audit of a childrenıs hospital in Basra, but they referred to the wider reconstruction activities of the development agency in Iraq. American and Iraqi officials reported this week that the State Department planned to drop Bechtel, its contractor on that project, as signs of budget and scheduling problems began to surface. [More>>nytimes.com]
---
7.30.06 Chavez pledges unreserved solidarity with Iran
TEHRAN (Xinhua) July 29 – Visiting Venezuelan President Hugo Chavez said on Saturday that Venezuela would stand alongside Iran under any circumstances. "Venezuela will stand alongside Iran at any time, under any circumstances," Chavez told reporters following a welcome ceremony hosted by his Iranian counterpart Mahmoud Ahmadinejad. "History has shown that as long as we stay united, we can remain resistant and defeat imperialism," he added. The Venezuelan president arrived here Saturday afternoon for a two-day visit, heading a high-ranking political and economic delegation. It is his fifth visit to the Islamic republic during his presidency. [More>>xinhuanet.com]
---
7.30.06 Iraqi Shia leader rejects role for US reinforcements
NAJAF, Iraq (AFP) July 28 – One of Iraq's most influential Shia leaders rejected Friday the use of US forces to stabilize Iraq's security situation, as the Pentagon announced an increase in troops numbers. Abdel Aziz Hakim told a rally in the holy city of Najaf that Iraqis should handle their own security, despite the mounting death toll in Baghdad, which is in the grip of a dirty war between rival Sunni and Shia death squads. The Pentagon announced that 3,500 US combat troops who had been due to return home after a 12-month tour will be held back in Iraq for 120 days to help the US-led coalition restore order to the war-torn capital.

During a visit to Washington this week, Iraq's embattled Prime Minister Nuri Al Maliki thanked the United States for its support. Currently 7,200 US troops are working with 43,000 Iraqi forces but have failed to stem the tide of violence in the capital, with another 4,000 US troops being sent to reinforce them. But Hakim, whose party the Supreme Council for the Islamic Revolution in Iraq (SCIRI) is one of the largest in Maliki's coalition government, told a chanting crowd of thousands that Iraqis should take matters into their own hands. "We must activate the project of popular committees to secure the neighborhoods," he said, echoing calls from other Shia leaders for local militias to protect neighborhoods from Iraq's roving death squads. [More>>metimes.com]
---
7.26.06 Russia rebuffs US call to rethink $1 billion Venezuela arms dealS call to rethink $1 billion Venezuela arms deal
RYAZAN REGION, Russia (RIA Novosti) July 26 – Russia's defense minister ruled out Wednesday reconsidering $1 billion in co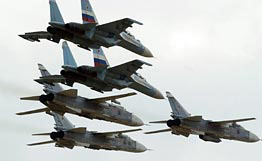 ntracts on supplies of military planes and helicopters to Venezuela. Tom Casey, a deputy spokesman for the US State Department, said Tuesday that President George Bush's administration wanted Russia to review the deals. He said the weapons purchases Venezuela planned exceeded the country's demands and did not contribute to regional stability.

But Sergei Ivanov, who is also a deputy prime minister of Russia, said, "Reviewing the contract is absolutely out of the question. In my opinion, the 24 planes and the number of helicopters recorded in the contract are not excessive for the defense of a small country such as Venezuela." [More>>rian.ru]
---
7.26.06 Thirty soldiers hurt in heavy clashes around Bint Jbail
July 26 – Some 30 Israel Defense Forces soldiers were wounded Wednesday in fierce gun battles with Hezbollah in the southern Lebanese town of Bint Jbail. The IDF later successfully retrieved its wounded, even as the heavy clashes continued. The troops became involved in close-quarter fighting with Hezbollah guerillas in the early hours of Wednesday, despite taking control of the town a day earlier. The fighting has been going on since. [More>>haaretz.com; See related story, nytimes.com, July 26, "Israel suffers bloodiest day of fight with Hezbollah" : AVIVIM, Israel, July 26 — Israel suffered its worst casualties in southern Lebanon today since the current conflict with Hezbollah started, when at least eight soldiers were killed and many were wounded in ground battles, according to unofficial reports from military officers, who were not yet authorized to speak publicly about casualties and had not yet received a full account of the dayıs toll...
---
7.26.06 Chirac backs peacekeepers for Lebanon, rebukes Iran and Syria
PARIS (AFP) July 26 – French President Jacques Chirac backed an international peacekeeping force for Lebanon on Wednesday and took a swipe at Iran and Syria, which he accused of stirring unrest in the Middle East. In an interview with Le Monde newspaper, he detailed his strategy to bring an end to the Israel-Lebanon conflict, but key elements showed a split between the French and US positions.

Chirac dismissed the idea of using NATO forces as international peacekeepers in the area and proposed sending a multinational force to patrol both the Israeli-Lebanese and Syrian-Lebanese borders. "For France, NATO has no place in setting up such a force," he said, adding that NATO was perceived "whether we like it or not, as the armed wing of the West in the region." He also said a political agreement between Israel and Lebanon had to be achieved before international troops could be committed to the region. [More>>khaleejtimes.com ; See related story, turkishpress.com, July 26, "Rome talks split over Lebanon ceasefire."]
---
7.26.06 Al Qaeda organized deadly attack on US consulate: suspect
ISLAMABAD (AFP) July 26 – An Uzbek national arrested in Pakistan has told interrogators that Al-Qaeda organized this yearıs deadly suicide attack on the US consulate in Karachi, a security official said Wednesday. Five people including an American diplomat were killed in the suicide bombing outside the US mission on March 2, the eve of a visit to Islamabad by US President George W. Bush.

The security official said the Uzbek Al-Qaeda suspect was picked up a few weeks ago in Wana, the main town in the restive South Waziristan tribal region bordering Afghanistan. The suspect has revealed the attack was planned by an Al-Qaeda unit and executed by local militants, the official said, speaking on condition of anonymity. "He said he brought the plan to Karachi from Wana and handed it over to local militants for execution," the official said. "The whole plan to bomb the consulate before President Bushıs arrival was conceived by Al-Qaeda in the tribal territory of Waziristan," he said. "We are very close to resolving the case and we believe that most of those who planned the attack were Uzbeks." [More>>khaleejtimes.com]
---
7.26.06 Iraq soldiers' families score victory in legal battle
July 26 – Tony Blair will have to disclose detailed evidence on his reasons for invading Iraq after the families of British soldiers killed there won a dramatic legal victory today. In what the familiesı lawyers described as "a stunning victory," the Court of Appeal ruled that they were entitled to seek a judicial review of the Governmentıs refusal to hold an inquiry into why Britain entered the conflict. The three appeal judges headed by the Master of the Rolls, Sir Anthony Clarke, concluded that there was "force" in the argument that the circumstances leading up to the invasion were insufficiently clear as to warrant investigation, as did the lawfulness of the invasion itself and whether it caused the menıs deaths. The applicants are relatives of four servicemen who died in military action between 2003 and 2005 who are seeking to force a full public inquiry into why Britain entered the conflict. [More>>timesonline.co.uk]
---
7.25.06 Sen. Specter preparing bill to sue Bush
WASHINGTON (AP) July 25 – A powerful Republican committee chairman who has led the fight against President Bushıs signing statements said Monday he would have a bill ready by the end of the week allowing Congress to sue him in federal court. "We will submit legislation to the United States Senate which will...authorize the Congress to undertake judicial review of those signing statements with the view to having the presidentıs acts declared unconstitutional," Judiciary Committee Chairman Arlen Specter, R-Pa., said on the Senate floor.

Specterıs announcement came the same day that an American Bar Association task force concluded that by attaching conditions to legislation, the president has sidestepped his constitutional duty to either sign a bill, veto it, or take no action. Practice 'harming the separation of powers'

Bush has issued at least 750 signing statements during his presidency, reserving the right to revise, interpret or disregard laws on national security and constitutional grounds. "That non-veto hamstrings Congress because Congress cannot respond to a signing statement," said ABA president Michael Greco. The practice, he added "is harming the separation of powers." Bush has challenged about 750 statutes passed by Congress, according to numbers compiled by Specterıs committee. The ABA estimated Bush has issued signing statements on more than 800 statutes, more than all other presidents combined. [More>>msnbc.msn.com]
---
July 24 – The Cassini spacecraft, using its radar system, has discovered very strong evidence for hydrocarbon lakes on Titan. Dark patches, which resemble terrestrial lakes, seem to be sprinkled all over the high latitudes surrounding Titan's north pole.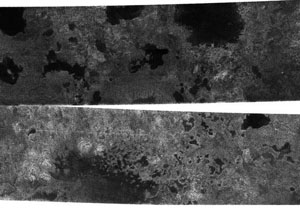 Scientists have speculated that liquid methane or ethane might form lakes on Titan, particularly near the somewhat colder polar regions. In the images, a variety of dark patches, some with channels leading in or out of them, appear. The channels have a shape that strongly implies they were carved by liquid. Some of the dark patches and connecting channels are completely black, that is, they reflect back essentially no radar signal, and hence must be extremely smooth. In some cases rims can be seen around the dark patches, suggesting deposits that might form as liquid evaporates. The abundant methane in Titan's atmosphere is stable as a liquid under Titan conditions, as is its abundant chemical product, ethane, but liquid water is not. For all these reasons, scientists interpret the dark areas as lakes of liquid methane or ethane, making Titan the only body in the solar system besides Earth known to possess lakes. Because such lakes may wax and wane over time, and winds may alter the roughness of their surfaces. Repeat coverage of these areas should test whether indeed these are bodies of liquid. [More>>jpl.nasa.gov]
---
7.25.06 "I've lost count of the people I know who have been killed'
July 25 – Ali al-Hamdani, who is half Shia and half Sunni and works for The Times in Baghdad, describes life in the western district of Jihad where sectarian warfare rages The anxiety starts the moment you wake. The drone of the generator (if you are lucky enough to have one) reminds you that youıll have to spend hours searching for petrol on the lawless streets — the normal electricity supply functions less than four hours a day. Distant bomb blasts raise the familiar questions: how will I get to work? Which roads are open, and which have been closed by fighting?

There used to be a morning postal service, but I have not received a letter since before the war. All my communications now are through e-mail or telephone — many of them to friends overseas.

Three dozen of my medical class of 2003 have gone, many to Syria because Jordan is overflowing with exiles, others to the Gulf or London. In the past two weeks, five of my neighbours have also fled, abandoning their houses. Like most Baghdadis, Iıve lost count of the people I know who have been killed or wounded. My local grocer vanished two weeks ago when a suicide bomber walked into the café where he was eating. They found only his shoes and phone. I now have to venture further afield to shop for my mother and sisters, a dangerous chore in a city where death squads drive past shops and gun down storekeepers and customers alike. [More>>timesonline.co.uk ; See related stories:

independent.co.uk, July 25, "There is no civil war in Iraq, says Maliki" : The Iraqi Prime Minister, Nouri al-Maliki, claimed in London yesterday that Iraq was not sliding into a civil war, contradicting senior Iraqi officials in Baghdad who say a brutal sectarian war has already begun. He admitted that 100 Iraqi civilians were being killed every day, though the real figure is probably much higher after a series of tit-for-tat massacres this month...

washingtonpost.com, July 25, "Bush has confidence in Iraqi PM" : WASHINGTON – President Bush and Iraqi Prime Minister Nouri al-Maliki worked to find common ground on Tuesday, with the White House saying the president retains confidence in the Shiite politician despite his failure to improve security in Iraq's bloody capital. Al-Maliki and Bush met in the Oval Office, with efforts to improve security in Baghdad high on the agenda. With the violence in Baghdad continuing to rage, Bush administration officials said the US and Iraq were moving thousands of troops into the city from other parts of the country.

Al-Maliki's 6-week-old plan, which Bush praised on his surprise visit to the city on June 13, clearly is not working, and the two leaders likely would discuss a substitute strategy, White House press secretary Tony Snow said. "I think that's under consideration," Snow said...


Maravot News, 7.23.06, independent.co.uk article, "America's domestic policy vs America's foreign policy."
---
7.25.06 Olmert: No halt to Lebanon offensive
July 25 – The Israeli prime minister has said Israel is determined to continue its military campaign in Lebanon, as he met with US secretary of state Condoleezza Rice to discuss the conflict. Ehud Olmert said there would be no stopping in the two-week offensive and that "severe measures" would be taken against Hezbollah.

Speaking in Jerusalem ahead of the meeting he said, "Israel is determined to continue on in the fight against Hezbollah. We will ... stop them. We are using the basic elementary right of self-defence." Rice said a ceasefire was needed in the region, but not at any price. "A durable solution will be one that strengthens the forces of peace and democracy in the region," Rice said before the talks. "It is time for a new Middle East. It is time to say to those who do not want a new Middle East that we will prevail," she added. [More>>aljazeera.net ; See related story, nytimes.com, July 25, "In Beirut, an abyss between elegance and chaos" : BEIRUT – The Paul Restaurant is still serving elegant lunches of prosciutto and chèvre. At the Printania, an elegant hotel on a hill east of the capital, stylish guests sip Arabic coffee near a glass display case of éclairs and chilled chocolate mousse. Some miles away, in the southern suburbs, the destruction from Israeli airstrikes is more earthquake than war zone. Streets have entirely disappeared. Rubble from bombed buildings in some areas is piled several stories high. City blocks, or what is left of them, are ghostly.

In the days since Israeli planes began to bomb Lebanon, this seaside capital has been almost physically split in two, with its largely Shiite flank mutilated by Israeli airstrikes and most of the rest of the city remaining relatively unscathed, if quieter and emptier than usual...
---
7.25.06 Coalition soldier, seven rebels killed in Afghanistan
KABUL (AFP) July 25 – A coalition soldier has been killed in eastern Afghanistan while troops from the US-led force shot dead seven rebels, the coalition said, reporting the latest Taliban-linked attacks. In the capital Kabul a suspected bomb exploded underneath a taxi on a road frequently used by US-led coalition troops, killing the cab driver and wounding four civilians on Tuesday. The foreign soldier, whose nationality was not released, was killed on Monday in a district of Kunar province on the border with Pakistan where Taliban insurgents are very active. [More>>turkishpress.com]
---
7.25.06 Thailand confirms bird flu outbreak
BANGKOK (Reuters) July 25 – Thailand has been struck by its first outbreak of the H5N1 avian influenza virus in eight months, the Government said today. "Laboratory test results have confirmed that 31 chicken samples collected from Pichit province had the H5N1 virus," government spokesman Surapon Suebwonglee said. The northern province is one of seven "red zone" provinces where surveillance was stepped up this month. All chickens in the affected area had been culled and there were no reports of humans infected by the virus, which has killed at least 132 people since late 2003, 14 of them in Thailand. [More>>theaustralian.news.com.au]
---
7.25.06 Indonesia, Malaysia step up measures to contain spread of haze
KUALA LUMPUR, Malaysia (Bloomberg) July 25 – Malaysia and Indonesia are stepping up measures to fight forest fires to minimize the spread of a smoke haze that's threatening air quality in the two countries and in neighboring Southeast Asian nations. Malaysia will revoke the trading license of any plantation company found guilty of burning trees to clear land, Plantation Industries and Commodities Minister Peter Chin Fah Kui was quoted as saying by his aide Teh Song Chuan on July 21.

The haze, which Malaysia's government said pushed air quality into the "unhealthy" range last week, occurs almost every year as farmers on the islands of Kalimantan (Borneo) and Sumatra clear land by lighting fires. Smoke from the fires choked much of Southeast Asia in 1997 and 1998, causing economic losses of almost $9 billion as travelers shunned the region and health-care costs increased. [More>>thejakartapost.com ; See related story, crisscross.com, July 25, "Only 5% of world's tropical forests under 'sustainable management."]
---
7.25.06 US to reduce military presence in Central Asia: official
ALMA ATA (Xinhua) July 24 – The United States will reduce its military presence in the Central Asian region as the cooperation between the two sides in various fields such as politics, economics and culture is being strengthened continuously, a visiting senior U.S. general said on Monday. The United States has no intention to set up permanent military bases in the Central Asian region, Gen. John P. Abizaid, head of the U.S. Central Command, told reporters after talks with senior officials in the Kazakh capital, Astana. "Over time, I would imagine that the level of cooperation would go up, but the level of presence will go down," Abizaid said

The United States dramatically expanded ties with Central Asia nations after the Sept. 11 terrorist attacks, setting up bases in Uzbekistan and Kyrgyzstan to support anti-terrorism and peacekeeping operations in Afghanistan. Last year, however, Uzbekistan evicted U.S. troops stationed in a military base in the country over tough Western criticism about Uzbekistan's crackdown on protests in the province of Andijan, where human rights and opposition groups said hundreds of people have died. US officials recently reached a new rent deal with Kyrgyzstan over the base there, where some 1,000 troops are based. [xinhuanet.com]
---
7.25.06 Iranian president to meet with Tajik, Afghan counterparts
DUSHANBE, Tajikistan (RIA Novosti) July 25 – Iranian President Mahmoud Ahmadinejad on Tuesday arrived in Tajikistan for talks with the leadership of the post-Soviet Central Asian nation as well as with his Afghan counterpart. Ahmadinejad will have a scheduled meeting with Tajik President Emomali Rakhmonov. Afghanistan's Hamid Karzai will join the two men Wednesday. The trilateral talks are expected to produce a joint communique and a number of cooperation agreements in areas such as energy, transport, commerce and tourism. Originally, they were to have taken place in the Iranian capital of Tehran in January this year, but Karzai was unable to attend.

While in Tajikistan, Ahmadinejad will attend a ribbon-cutting ceremony for a tunnel built by an Iranian construction firm and with Iranian investment. The hard-line Iranian leader has come to Tajikistan from neighboring Turkmenistan. His trip to the Central Asian republics comes amid growing international tension over Tehran's controversial nuclear program and apparently aims to improve ties with neighboring states in the face of possible UN economic sanctions. [rian.ru ; See related story, bakutoday.net, July 24, "Iranian leader looks to Central Asia energy links on Turkmenistan visit" : Iranian President Mahmoud Ahmadinejad is to discuss energy links with his Turkmen counterpart Saparmurat Niyazov on a visit aimed at boosting Tehran's influence in Central Asia. The two neighboring states will try to set boundaries in the Caspian Sea "to develop its hydrocarbon resources and opportunities for supplying natural gas to Europe," Turkmen state media said Monday, quoting an official statement. An overall border agreement has eluded the five Caspian states since the 1991 break-up of the Soviet Union, slowing development of the area's vast energy resources. Azerbaijan, Kazakhstan and Russia have reached separate border accords...

---
7.25.06 'F-16s+N-reactor to Pak=disaster'
wASHINGTON (PTI) July 25 – A prominent American lawmaker asked Bush administration to scrap the sale of F-16s to Pakistan, saying the acquisition of the US-made fighter jets plus the plutonium reactor reportedly being built by Islamabad equals a Œcatastrophe. "In a 'dear colleagueı' letter written in the wake of reports about the plutonium reactor, Gary Ackerman, the cochair of the Congressional Caucus on India and Indian Americans said, 'at any time this news would be unwelcome.'

Pointing to the Washington Post piece on Tuesday about the dramatic expansion in Pakistan's nuclear weapons programme, Ackerman said the import of the story is 'ruly alarmingı' in the context of a pending sale by US of F-16 fighter-bombers. "Despite assurances by the Bush administration that these aircraft will not be misused, or their technology transferred to other countries like China, once these planes have been delivered to Pakistan, there is, in fact, absolutely nothing we can do to prevent misuse," the New York Democrat said in his letter. [More>>expressindia.com]
---
7.25.06 Musharraf warns India against any military action
KARACHI (DPA) July 25 – President Pervez Musharraf on Tuesday reiterated Pakistanıs continuing cooperation in the war against terrorism but warned against any offensive action. "Nobody dare take punitive action against Pakistan or cast an evil eye on it," Musharraf told a business gathering in this port city. Musharrafıs remarks came amid suggestions by some Indian political parties of punitive retaliation for the July 11 serial blasts in Mumbai that killed over 200 people.

"Nobody should be under any illusion, power guarantees peace and we will look after our security," Musharraf said, in reference to Pakistanıs nuclear capability. He also cited Lebanon as an example of vulnerability to superior firepower. "Lebanon is facing (the wrath of Israel) just because it lacks power so we must ensure our security," he said. [More>>khaleejtimes.com]
---
7.25.06 SE Asian nations condemn Israel
KUALA LUMPUR, Malaysia, July 25 – Malaysian Prime Minister Abdullah Ahmad Badawi led Southeast Asian countries in a chorus of condemnation against Israel's "excessive" military operations in Lebanon. Abdullah, the chairman of the Association of Southeast Asian Nations (ASEAN), called for an immediate ceasefire in the Middle East, warning that the situation threatened international peace and security. His comments came shortly before US Secretary of State Condoleezza Rice, who is currently holding crisis talks in the Middle East, was due to attend a regional security forum here. "We should not tolerate Israel's excessive military reprisals against Lebanon," Abdullah said as he opened the bloc's annual meeting of foreign ministers in Kuala Lumpur. [More>>bakutoday.net via tajikistannews.net; See related stories:

thenews.com.pk, July 25, "Saudi king warns of Mideast war if peace moves fail" : RIYADH: Saudi King Abdullah appealed to the world Tuesday to stop Israeli attacks on Lebanon, saying that if peace moves fail, the Middle East could be engulfed in war. In a statement read out on state television, the king said: "if the option of peace fails as a result of Israeli arrogance, then the only option remaining will be war, and God alone knows what the region would witness in a conflict that would spare no one."

khaleejtimes.com (AFP) Jully 25, "World powers converge on Rome for Middle East crisis talks" : ROME - World powers converged on Tuesday for a Middle East crisis conference in Rome, struggling to halt the bloodshed in Lebanon and Israel but split over ceasefire calls. US Secretary of State Condeleezza Rice, who was expected in Rome later in the day, has resisted calling for an immediate ceasefire, saying the priority is carving out a lasting resolution. "It is time for a new Middle East," Rice said in Jerusalem before the start of talks with Israeli Prime Minister Ehud Olmert, part of a regional tour that included a surprise visit to bomb-battered Beirut...
---
7.25.06 Teen girl killed, at least 16 wounded as Hezbollah rockets slam into northern cities
July 25 – A 15-year-old girl was killed and over a dozen people were wounded Tuesday as Hezbollah gunners renewed their bombardment of villages and cities across northern Israel, launching an estimated total of 55 rockets. In Maghar, a 15-year-old girl was killed when a rocket directly struck a residential home in a Muslim neighborhood in the Galilee village. Magen David Adom medical crews reported that the girl's 30-year-old brother was seriously hurt and her 12-year-old sister was moderately wounded. Two more rockets landed in the village, lightly wounding two people; 20 more people suffered from shock. Close to noon Tuesday, Hezbollah also fired 16 rockets at Haifa and the surrounding suburbs. The attacks wounded 11 people and sent an additional 17 into shock. [More>>haaretz.com ; See also dailystar.com.lb, July 25, "Hezbollah fighters defend key southern town" : Israeli soldiers and paratroopers advanced on the Southern Lebanese town of Bint Jbeil Monday but were repelled by Hezbollah fighters, as the death toll rose to over 370 Monday with the deaths of at least seven more civilians and three Hezbollah fighters. The political adviser to the UN peacekeeping force in the South, Milos Strugar, said Monday that the Israeli Army was "a few kilometers [inside] the UN-demarcated Blue Line," in the area of Maroun al-Ras.

Speaking to local satellite television station LBCI, Strugar said the Israeli Army was "reinforcing" its presence near Maroun al-Ras, but said he could not predict whether Israel intended to invade Bint Jbeil. In a statement, Hezbollah said it had shot down an Israeli helicopter and hit five tanks, inflicting casualties in fierce battles that erupted as Israeli forces pushed north. Arab television channels said four Israeli soldiers had been killed. The Israeli military said two airmen died in the helicopter crash, which it attributed to a mechanical problem...
Copyright © 1981-2006 Maravot. All rights reserved
Copyright © 1981-2006 Mel Copeland. All rights reserved
Painting of Apple by Mel Copeland, early 70's
Background: tile from Cicero's villa (Marcus Tullius Cicero 106 B.C. - 43 B.C.)