---
7.23.06 Car bombs in Baghdad, Kirkuk kill dozens
BAGHDAD (AP) July 23 – Bombs exploded Sunday in Baghdad and the northern oil center of Kirkuk, killing more than 60 people and dramatically escalating tension as the prime minister left for Washington for talks on reversing the country's slide toward civil war. The blasts occurred as Iraqi forces and the U.S.-led coalition mounted a major crackdown on the country's most feared Shiite militia, the Mahdi Army, blamed by Sunnis for many of the sectarian kidnappings and killings that threaten to tear the country apart.

Elsewhere in Baghdad, Saddam Hussein was hospitalized Sunday on the 17th day of a hunger strike, the chief prosecutor in his trial said. Jaafar al-Moussawi said he visited the prison Sunday where Saddam and the seven other codefendants are held and was told that the ex-president's health "is unstable because of the hunger strike." [More>>abcnews.go.com]
---
7.23.06 US plan seeks to wedge Syria from Iran
WASHINGTON, July 23 – As Secretary of State Condoleezza Rice heads to Israel on Sunday, Bush administration officials say they recognize Syria is central to any plans to resolve the crisis in the Middle East, and they are seeking ways to peel Syria away from its alliance of convenience with Iran. In interviews, senior administration officials said they had no plans right now to resume direct talks with the Syrian government. President Bush recalled his ambassador to Syria, Margaret Scobey, after the assassination of Rafik Hariri, a former Lebanese prime minister, in February 2005. Since then, America¹s contacts with Damascus have been few, and the administration has imposed an array of sanctions on Syria¹s government and banks, and frozen the assets of Syrian officials implicated in Mr. Hariri¹s killing.

But officials said this week that they were at the beginning stages of a plan to encourage Saudi Arabia and Egypt to make the case to the Syrians that they must turn against Hezbollah. With the crisis at such a pivotal stage, officials who are involved in the delicate negotiations to end it agreed to speak about their expectations only if they were not quoted by name. [More>>nytimes.com]
---
7.23.06 Pak-based terrorists, real culprits: Patil
PUNE, India (PTI) July 23 – The interrogation of three suspects arrested in connection with the July 11 blasts in Mumbai has confirmed that Pakistan-based terrorist groups were behind the attacks, Deputy Chief Minister RR Patil said in Pune on Saturday. The three men have revealed the role played by terrorist groups in Pakistan and others based in neighboring countries in the blasts, Patil told reporters but refused to give details. The Anti-Terrorist Squad arrested Kamal Ansari and Khalid Aziz Sheikh from Bihar and Mumtaz Ahmed alias Magbul Ahmed Choudhury from Navi Mumbai on Friday. [More>>expressindia.com]
---
7.23.06 Peretz: Israel supports deployment of multi-national force in Lebanon
July 23 – Defense Minister Amir Peretz said Sunday that Israel would agree to the deployment of a multi-national force in Lebanon, and suggested that NATO troops be deployed to lead such a force. "Israel's goal is to see the Lebanese army deployed along the border with Israel, but we understand that we are talking about a weak army and that in the midterm period Israel will have to accept a multinational force," he said, according to his office. Meanwhile, Prime Minister Ehud Olmert asked Vice Premier Shimon Peres to set out on an urgent tour of the United States and European countries, to put forward Israel's stance in the conflict. [More>>haaretz.com]
---
7.23.06 Israel and Hezbollah trade fire as Syria issues warning
TYRE, Lebanon (AFP) July 23 – Israeli jets have blitzed Lebanon and Hezbollah fired off more deadly rockets in a new bout of tit-for-tat attacks as the conflict continued to spiral despite international efforts for a ceasefire. As a host of top European diplomats descended on the region, Syria fueled fears the fighting could spread, issuing a stark warning that it would intervene if Israel invaded Lebanon. US Secretary of State Condoleezza Rice is also heading to the Middle East with Washington increasingly estranged from European and Arab allies over a conflict that has killed close to 400 people and triggered a major humanitarian crisis.

At least five people were killed in air strikes across southern and eastern Lebanon Sunday as Israel kept up its punishing war on Hezbollah following the seizure of a strategic border village by Israeli ground forces on Saturday. In a wave of pre-dawn raids, fighter-bombers for the first time struck directly inside the main southern city of Sidon, where tens of thousands of Lebanese have sought refuge from the relentless Israeli offensive. [More>>turkishpress.com ; See also dailystar.com.lb (AFP) July 23, "Hezbollah confirms Israel occupying border village." and Jerusalem Post, July 23, "Report: Hezbollah willing to talk." : Hezbollah agreed to allow the Lebanese government to begin negotiations regarding kidnapped IDF soldiers, speaker of the Lebanese Parliament Nabih Berri revealed on Sunday. Berri stressed that prior to any talks on a prisoner swap, a cease-fire must be in place. Earlier, Lebanese Foreign Minister Fawzi Salloukh told a French news agency that the soldiers, Ehud Goldwasser and Eldad Regev, were in "good physical condition."]
---
7.23.06 Israel 'breaking humanitarian law'
July 23 – A senior United Nations official has accused Israel of breaking humanitarian law as he toured ruins in Beirut left by devastating Israeli air raids on residential areas. Jan Egeland, the UN emergency relief coordinator, spoke during a visit to the Haret Hreik district of Beirut where Israeli air raids had struck just hours before, destroying a headquarters of Hezbollah. "It is horrific. I did not know it was block after block of houses...It makes it a violation of humanitarian law," Egeland told journalists. He said it was hard to distinguish between military and civilian targets in the predominantly Shia Muslim neighborhood.

Egeland said that the violence and destruction had to end. "It is costing too many lives and it will not lead to a solution in the south," he said. The UN official was in the region ahead of international appeal for aid for Lebanon. "It will be a large appeal. It's got to be more than $100 million," he said. [More>>aljazeera.net]
---
7.23.06 "Ministry of vice' fills Afghan women with fear
July 23 – Afghanistan's notorious Department for the Promotion of Virtue and Prevention of Vice, which was set up by the Taliban to enforce bans on women doing anything from working to wearing nail varnish or laughing out loud, is to be re-created by the government in Kabul. The decision has provoked an outcry among women and human rights activists who fear a return to the days when religious police patrolled the streets, beating or arresting any woman who was not properly covered by a burqa or accompanied by a male relative.

"This is a very bad idea at a bad time," said Sam Zia-Zarifi, the Asia research director of Human Rights Watch. "We¹re close to the edge in Afghanistan. It really could all go wrong and it is alarming that the United Nations and western governments are not speaking out on this issue." President Hamid Karzai¹s cabinet has approved the proposal to re-establish the department, and the measure will go to Afghanistan¹s parliament when it reconvenes later this summer. The conservative complexion of the assembly makes it likely to be passed. [More>>timesonline.co.uk]
---
7.23.06 Iran's Ahmadinejad tells Israel to 'pack up' and leave
TEHRAN, July 23 – Iranian President Mahmoud Ahmadinejad called Sunday for Israel to "pack up" and move somewhere outside the Middle East, sources reported. "I advise them to pack up and move out of the region before being caught in the fire they have started in Lebanon," said Ahmadinejad, who has repeatedly called for the Jewish state to be relocated elsewhere on the planet. Iran refuses to recognize Israel and opposes any two-state solution to the Israeli-Palestinian conflict. [More>>thenews.com.pk ; See related story, rian.ru, July 23, "Iran prepared for nuclear talks without preconditions."]
---
7.23.06 India-Iran gas pipeline deal in trouble: Iranian foreign minister
NEW DELHI, July 23 – An ambitious deal to build a gas pipeline between India and Iran through Pakistan has run into trouble, Iran¹s foreign minister was quoted as saying on Sunday. Oil ministers from the three countries are set to meet in Teheran early next month over a pricing dispute and ways to build the 2,775-kilometer (1,735-mile) line across rugged terrain and heavily militarized frontiers...Iran wants the gas price linked to international oil prices, and is offering India gas at US $7.20 per million British thermal units, with a 3 percent annual increase, an Indian official said earlier this month. But India says it¹s only ready to pay up to US $4.25 per million Btu for the desperately needed gas, the official said. The US $8 billion pipeline was scheduled to be running by 2011. [Full story>>khaleejtimes.com]
---
7.23.06 Venezuela leader hails cooperation prospects with Russia
MEXICO CITY (RIA Novosti) July 21 – Venezuela's president praised Friday prospects of cooperation with Russia, mainly in the energy sphere. Hugo Chavez told the national radio that Russia, which possessed high technologies and a vast experience in natural gas production and transportation, had been invited to join the construction of the world's longest gas pipeline across South America. Chavez, who is due to visit Russia July 25-27, also said Venezuela was interested in military and technical cooperation with Russia.

Russian Defense Minister Sergei Ivanov said earlier on Friday that Russia had signed a contract on supplies of military planes and helicopters to Venezuela worth over $1 billion. Venezuela's radio reported that bilateral trade stood at $60 million in 2003 and had grown by 400% in the following years with no account for military and technical contracts. [rian.ru]
---
7.22.06 America's domestic policy vs America's foreign policy
BAGHDAD, July 22 (extract of article by Patrick Cocburn, independent.co.uk) – ...invoking the sanctity of human life, George Bush wielded the presidential veto for the first time in his presidency to halt US embryonic stem cell research in its tracks..and talked of preventing the "taking of innocent human life." How hollow that sounds to Iraqis. More people are dying here – probably more than 150 a day – in the escalating sectarian civil war between Shia and Sunni Muslims and the continuing war with US troops than in the bombardment of Lebanon.

In a desperate effort to stem the butchery, the government yesterday imposed an all-day curfew on Baghdad, but tens of thousands of its people have already run for their lives. In some parts of the city, dead bodies are left to rot in the baking summer heat because nobody dares to remove them. I drove through empty streets in the heart of the city yesterday, taking a zigzag course to avoid police checkpoints that we thought might be doubling as death squads. Few shops were open. Those still doing business are frantically trying to sell their stock. A sign above one shop read: "Italian furniture: 75 per cent reductions."

Iraqis are terrified in a way that I have never seen before, since I first visited Baghdad in 1978. Sectarian massacres happen almost daily. The UN says 6,000 civilians were slaughtered in May and June, but this month has been far worse. In many districts it has become difficult to buy bread because Sunni assassins have killed all the bakers who are traditionally Shia.

Baghdad is now breaking up into a dozen different hostile cities, Sunni or Shia, heavily armed and living in terror of the other side. On 9 July, Shia gunmen from the black-clad Mehdi Army entered the largely Sunni al-Jihad district in west Baghdad and killed 40 Sunni after dragging them from their cars or stopping them at false checkpoints. Within hours the Sunni militias struck back with car bombs killing more than 60 Shia.

...It seems unlikely that Baghdad will ever come together again. Sunni are frightened of being caught in a Shia district, and vice versa. Many now carry two sets of identity documents, one Sunni and one Shia. Checkpoints manned by the Mehdi Army know this and sometimes ask people claiming to be Shia questions about Shia theology. One Shia who passed this test was still killed because he was driving a car with number plates from Anbar, a Sunni province.

Where are the Americans in all this?

...I never expected the occupation of Iraq by the US and Britain to end happily. But I did not foresee the present catastrophe. Baghdad has survived the Iran-Iraq war, the 1991 Gulf War, UN sanctions, more bombing and, finally, a savage guerrilla war. Now the city is finally splitting apart, and – most surprising of all – this disaster scarcely gets a mention on the news as the world watches the destruction of Beirut so many miles away. [Full story>>independent.co.uk]
---
7.21.06 Army set to call up thousands of reservists; IAF planes pound Lebanon's main road link to Syria
July 20 – GOC Northern Command Major General Udi Adam said Friday that Israel is at war and that human life is important, but now is not the time to count the dead. The Northern Command believes that the fighting in the north will continue for several more weeks, with additional casualties and fatalities. "We must change our way of thinking. Human life is important, but we are at war, and it costs human lives. We won't count the dead at present, only at the end. We'll cry for the dead and will encourage the fighters. There are more places like Meron A-Ras, and unfortunately we'll have to reach them."

Adam refused to disclose details on the number of ground forces operating in southern Lebanon. According to Adam, the operation includes "many" soldiers, but is not a "massive" incursion. Adam said that 20 Hezbollah fighters have been killed in south Lebanon during clashes in recent days. Four Israel Defense Forces soldiers were killed in the clashes Thursday.

According to Adam, soldiers in the village of Meron A-Ras found a stockpile of Katyusha rockets in a mosque, as well as weapons used by the militants. He said that rockets were fired from the vicinity of Meron A-Ras at Safed and Tiberias, and that the IDF ground operation in the area may have been one of the factors for fewer Katyusha rockets fired at Israel on Thursday.

...On Friday, Israel Air Force warplanes resumed strikes on Lebanon, pounding the country's main road link to Syria with missiles and setting passenger buses on fire, Lebanese police said. Israel warned hundreds of thousands of people to flee the south "immediately," preparing for a likely ground invasion to set up a deep buffer zone in southern Lebanon. Up in the mountains of central Lebanon on the Beirut-Damascus highway Friday, IAF warplanes fired four missiles on a bridge linking two steep mountain peaks. Part of the bridge collapsed. It has been hit several times since the fighting began. The passenger buses were in the Bekaa Valley, about 15 kilometers from the Syrian border, on the road linking Beirut and the Syrian capital of Damascus. The strike set three buses on fire at Taanayel, but there were no casualties, police said. [Full story>>haaretz.com ; See related story, aljazeera.net, July 21, "Israel calls up army reservists"]

Editorial note: Part of the war against terrorists involves disrupting their communications, many of which are through the internet. Many non-government operations are tracking internet terrorists.
One organization, haganah.org, recently posted "The web sites of Hezbollah." Their July 21 posting begins: The big news today is the return to the internet of the web site of Hizballah's al-Manar TV, still hosted in India. So much for Indian calls for no compromise in the war on terrorism...
The information provided in hagana.org's list includes the many changes in the Hezbollah sites, as well as ownership information through "Whois" searches on domain names. Such searches provide addresses and other information on those who set up and run terrorist sites. No doubt such agencies as Network Solutions – who issue and control domain names – can even provide credit card information on those who set up and own the sites, since domain names are usually paid for in advance through credit card transactions. As indicated in earlier editorials by Maravot News most of the Internet Service Providers (ISPs) who host such web sites are located in the US and Britain, but many now are being routed through Malaysia and South Asia.

Also, though one may see links on web sites that are written in Arabic, the actual link is in English. While the internet may be carrying information in many languages, the basic traffic directing operations (links) are in English. Also, there are software programs that allow one to "ping" a site or a posting to determine how many servers the site passes through. In simple terms when a terrorist is on the internet he can be "pinged," an operation like tapping a phone call. The information held by domain registries is thus worth tracking, as demonstrated by haganah.org and others, and penetrating terrorist forums breaks up their ability to communicate.

Mel Copeland
---
7.21.06 Hezbollah "heroes" hailed in Iran for their "great job"
TEHRAN (AFP) July 21 – Top Iranian cleric Akbar Hashemi Rafsanjani on Friday hailed Lebanon¹s Hezbollah as ³heroes², but rejected mounting allegations that Iran and Syria were behind the Shiite movement¹s conflict with Israel. "The Hezbollah forces have done a great job and have resisted well. They and their leader, our dear brother Hassan Nasrallah, are heroes," the influential cleric and former president said in his Friday prayer sermon in Tehran.

Iran has been accused of financing Hezbollah, although the Islamic regime insists it only gives "moral" support to its fellow hardline Shiites. "It is misleading to say that Iran and Syria are carrying this out," Rafsanjani said of Hezbollah¹s fight against the Jewish state. "These are careless statements."

Israel launched its offensive against Lebanon on July 12 after Hezbollah seized two Israeli soldiers. "Destroying a country is not proportionate to capturing two hostages," Rafsanjani said, attributing the ongoing Israeli assault against Lebanon as "part of an evil US plot for the Greater Middle East." [More>>khaleejtimes.com]
---
7.21.06 US troops kill five, including child, in Iraq raid
BAQUBA, Iraq (AFP) July 21 – US troops in Iraq killed two suspected insurgents, two women, and a child when they called in air support during a raid on an alleged hideout north of Baghdad on Friday, a military statement said. A further 23 people, including several more women and children, were wounded in the assault, which the US said targeted "terrorists associated with senior Al Qaeda in Iraq network members." An Iraqi police officer had earlier said that US troops killed six people in the raid northwest of Baquba, and an AFP photographer saw six bodies in the city's hospital following the operation. "As the troops began to secure the area, they received small arms fire from the rooftop of one of the initial target buildings," the US statement said, adding that soldiers had shouted warnings before calling in air support. [More>>metimes.com]
---
7.20.06 Baghda's morgues received 33,728 corpses since 2003
BAGHDAD, July 20 – Baghdad¹s central morgue has received a total of 33,728 corpses – most of whom unidentified – since 2003, as a result of Iraq¹s deteriorating security conditions, an Iraqi Ministry of Health official said on Thursday. Sabah Al Husseini said that in 2003 Baghdad¹s central morgue received a total of 6,012 bodies, 8,053 bodies were received in 2004, and a total of 10,105 corpses were received in 2005, while a total of 9,558 bodies were received during the first half of 2006.

Al Husseini added that morgues are being overloaded with corpses beyond their maximum storage capacity, and thus bodies are being buried before the conclusion of the legally specified storage periods. Assassinations, car bombings, and other acts of violence have resulted in a situation whereby 30-40 corpses are being transferred to Baghdad¹s central morgue each day, al-Husseini said, adding that the bodies arrived from nearly every Iraqi city. [khaleejtimes.com ; See related story, nytimes.com, July 20, "Relentless sectarian violence forces Iraqis to flee."]
---
7.20.06 Have spies been helping the enemy find its targets?
BEIRUT, July 20 – This article offers a different perspective on Hezbollah – Maravot News.

Over 20 people have been arrested by the Lebanese security forces for spying for Israel and pinpointing targets for its warplanes in the southern suburbs, local and international outlets said Wednesday. Reports emerged early Wednesday, picked up from an article by a German news agency quoting an anonymous Lebanese security source as saying that a 26-member network was caught giving signals and information to Israel. According to Al-Arabiyya television, the spies had been signaling to the Israelis and informing them where to target, adding that several of the suspects had confessed. But acting Interior Minister Ahmad Fatfat denied any knowledge of the reports, telling The Daily Star he had "not heard of the arrest of these people by the Lebanese security forces."

A Hezbullah spokesperson said the group hadn't heard of the news yet, despite the fact that the media reports said the spies were caught in Beirut's southern suburbs, a key stronghold for Hezbullah. Israeli warplanes and warships have been relentlessly bombarding the southern suburbs for the past week.

Earlier last month the Lebanese Army's intelligence agency uncovered an Israeli spy cell in Lebanon which had managed to carry out several assassinations across the country. Mahmoud Rafeh, the reported leader of the Mossad-linked terrorist network, confessed to carrying out assassinations and spying for Israel. Judicial sources told The Daily Star Rafeh admitted receiving a list of names of Lebanese and Palestinian political figures to be assassinated on orders from Israel. [More>>dailystar.com.lb]
---
7.20.06 Israel battles guerrillas as humanitarian disaster looms
BEIRUT (AFP) July 20 – Israeli troops battled Lebanese guerrillas and warplanes bombed a suspected Hezbollah bunker on Thursday as Lebanon issued a desperate plea for international help after the bloodiest day of the conflict. With no signs of a ceasefire in sight, alarm bells were being sounded about the risk of a humanitarian catastrophe as Israel pressed on with its relentless campaign to crush the Shia Muslim Hezbollah. At least 72 people were killed in Lebanon on Wednesday, the highest single-day toll since the offensive was launched nine days ago, sending thousands of Lebanese streaming from their homes to find safe havens.

Thousands of foreigners, mainly Westerners, were also being evacuated by sea from Beirut to the neighboring Mediterranean island of Cyprus, fleeing an offensive that has now killed 327 people in Lebanon and displaced an estimated half-a-million others. As Israeli warplanes swung into action over south Beirut, dropping 20 tons of bombs on a suspected Hezbollah leadership bunker, ground troops were locked in fierce fighting with guerrillas after launching a new cross-border raid. Israel, which appeared to have eased back from its usual wave of bombing raids against targets across the country, said that five soldiers had been wounded and claimed that Hezbollah had lost two fighters, but this was not confirmed. [More>>metimes.com ; See related article, bbc.co.uk, July 20, "Annan demands Lebanon ceasefire." : Hostilities between Israel and Hezbollah militants in Lebanon must stop immediately, UN Secretary General Kofi Annan has said. He told the UN Security Council it was "imperative" to establish safe aid corridors in the country, amid growing fears of a humanitarian catastrophe. Mr. Annan's call for a ceasefire followed a similar demand by the EU, which pledged 10m euros (£6.8m) in aid...]
---
7.20.06 Ethiopia sends troops into Somalia
July 20 – Ethiopia is tracking movements of Islamist militias in Somalia and has said it will "crush" any attack on the country's interim government. Berhan Hailu, the Ethiopian minister of information, told Reuters in Addis Ababa: "We will use all means at our disposal to crush the Islamist group if they attempt to attack Baidoa, the seat of the transitional federal government." Ethiopia was prompted to deploy its troops as Islamist militias moved towards Baidoa on Wednesday, causing fears of further conflict. "Ethiopia is closely monitoring the jihadist Islamist group which has now returned to Mogadishu after a warning from Ethiopia not to attack Baidoa, the seat of the transitional government," Hailu said. [More>>aljazeera.net]
---
7.20.06 Kyrgystan risks becoming narcotics transit-state – drugs tsar
BISHKEK, Kyrgystan (RIA Novosti) July 20 – Kyrgyzstan's drug control chief issued a stark warning Thursday that the Central Asian country could be becoming a transit-country for narcotics as up to five metric tons a year cross its borders. Police say one of the largest drug trafficking routes in the region passes from Afghanistan, the world's biggest opium producer, through Kyrgyzstan and then on to Russia and western Europe.

"Between three and five tons of opiates a year may be transshipped across Kyrgyzstan," Zhenish Zhakypov said. He said that despite a recent crackdown on drug trafficking, the illegal flow of heroin through the former Soviet republic – which borders on China, Kazakhstan, Tajikistan and Uzbekistan – had shown no signs of abating because of the republic's porous borders. "In effect, this country has turned into a drug transit state," he said. [rian.ru]
---
7.19.06 Sunda Straits hit by 6.2 magnitude quake
JAKARTA (Bloomberg) July 19 – Indonesia was hit by an earthquake measuring 6.2 in magnitude, striking the Sunda Straits separating the country's Sumatra island from Java island, the Indonesian Meteorology and Geophysics Agency said. The temblor, which swayed buildings in the capital Jakarta, is the second major quake in three days.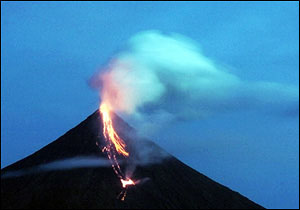 Mayon volcano as seen from Legazpi city about 340 kilometers southeast of Manila, Philippines as it continues its eruption for the fifth straight day at dawn Wednesday, July 19. Image: info.inq7.net
On July 17, a 7.7-magnitude quake triggered a tsunami that killed at least 450 people, wounded 717 and left 110 people missing, according to figures from the Health Ministry...There were no immediate reports of damage. The most destructive tsunami in the Sunda Straits occurred on August 26, 1883, when Krakatoa volcano erupted. The eruption was heard 4,600 kilometers away and the ensuing 40-meter-high tsunami killed 36,000 people. [Full story>>
thejakartapost.com
]
Note
Krakatoa
has reemerged from the sea and is active, building a dome and Mayon Volcano in the Phillipines has been active for the past five days.
inq7.net,July 17, "Farmers to be 'forcibly' evicted from Mayon danger zone,"
reports: ...Rescue officials on Wednesday warned farmers to leave the fertile slopes of the volcano as it spewed lava for a fifth straight day amid fears of a major eruption.
The farmers work on the lower slopes of the cone-shaped, 2,462-meter (8,077-foot) central Philippines mountain thought at risk of an explosive eruption and whose lava flow has lengthened to about three kilometers (1.8 miles)...
See also
quakeinfo.ucsd.edu
. Jakarta was shaken July 19 and a 5.1 magnitude quake shook the border area between Pakistan and Iran, according to
thestar.com.my, July 19
.
---
7.19.06 Europe gasps as heatwave temperatures soar
PARIS (AFP) July 19 – Much of western Europe sweltered under tropical temperatures, as a heatwave claimed its seventh victim since the start of the week. Authorities in the eastern French town of Macon said a 53 year-old road-labourer died overnight of "malign hyperthermia" after working outside in temperatures of 33 degrees Centigrade (91.4 Fahrenheit).

Two elderly people died Tuesday in southwestern France as a result of the heat, and in the Netherlands two people died on the opening day of an annual walking event at Nijmegen. In Spain a man who died of heat exhaustion in the northwest region of Galicia was the second to succumb after a man died in Murcia in the southeast on Sunday. Forecasters in Britain said temperatures would peak Wednesday, reaching 39 degrees Centigrade in parts of the southeast. Belgium, Germany and Scandinavian countries were also experiencing unusually hot weather...The heatwave recalled the summer of 2003, when some 30,000 mainly elderly people died across Europe as a result of dehydration and heat-stroke, but medical authorities in France and elsewhere said lessons had been learned and a repeat was unlikely...[Full story>>turkishpress.com ; See also timesonline.co.uk, July 19, "England sizzles in the hottest July day ever."]
---
7.19.06 Hamas PM slams Israel for 'reshaping' Middle East
GAZA CITY, July 19 – Palestinian prime minister Ismail Haniya, head of the Hamas-led government, on Wednesday slammed Israel for trying to "completely reshape" the Middle East through its Gaza and Lebanon offensives. "What Israel is doing is seeking to completely reshape the region according to the American and Israeli vision," Haniya said in a speech to parliament. "This situation reinforces our convictions that what Israel is doing in Gaza goes beyond the problem of the Israeli soldier and in Lebanon, beyond the problem of the prisoner soldiers," he added.

Israeli Foreign Minister Tzipi Livni told a joint news conference with EU foreign policy chief Javier Solana that the Jewish state intended to change the "political reality" of the region. "Israel and the international community have a common good to promote a process that will bring about a long-term and fundamental change in the political reality of the region and will eliminate the threat of terrorism. Israel is fighting to eliminate the axis of terror and hate: Hezbollah, Hamas, Iran and Syria," she said. [More>>thenews.com.pk]
---
7.19.06 Massive wave of Katyusha rockets strikes northern Israel
July 19 – A Hezbollah rocket attack on the northern town of Nazareth killed three Israelis on Wednesday afternoon, bringing to 16 the death toll from rocket strikes since the crisis in Lebanon began a week ago. Another 12 people sustained light wounds in the attack, and were evacuated to the Italian Hospital in the town.

...A massive wave of rockets battered northern Israel at around 3 P.M. Wednesday, with reports of strikes in Haifa, Carmiel, Tiberias and communities in the Galilee. Some 70 Katyushas were fired at Israel within the space of an hour. There were no reports of injuries in the strike, although houses in Carmiel and Tiberias sustained direct hits. One person was treated for shock in Tiberias. Rockets also struck Kiryat Shmona, Rosh Pina, Dishon, Moshav Sde Eliezer, Hatzor Haglilit, Amuka and the Jezreel Valley. There were no injuries in those strikes. Earlier Wednesday, two rockets hit Haifa and others fell in the Western Galilee and the Hula Valley. [Full story>>haaretz.com]
---
7.19.06 Isreli jets hit central Beirut
July 19 – Israeli jets have hit central Beirut for the first time and dozens more people have been killed in continuing air attacks across south Lebanon, raising the toll there to about 295 people. A truck in al-Ashrafiya district in central Beirut was struck by fire from an Israeli warship on Wednesday, the first time that central Beirut city had been hit. Aljazeera's correspondent, Katia Nasir, reported that air raids had killed more than 55 people and destroyed much in the south during the day. The fighting has killed about 295 people in Lebanon and 25 Israelis, mostly civilians. In al-Srifa, at least 15 houses were completely demolished, the head of al-Srifa town municipality told Aljazeera. News reports said at least 12 villagers, including several children, were killed and 30 wounded. [More>>aljazeera.net ; See also metimes.com (AFP) July 19, "55 killed in Lebanon blitz as foreigners flee."]
---
7.19.06 Hundreds of Iranian troops fighting in Lebanon
July 19 – Ira Stoll, staff Reporter to the New York Sun, reports: Hundreds of Iranian Revolutionary Guard personnel are on the ground in Lebanon fighting Israel, security sources say. " have no doubt whatsoever that they are there and operating some of the equipment," an Arab diplomatic source told The New York Sun yesterday. Another foreign source, based in Washington, said the Islamic Revolutionary Guard Corps contingent in Lebanon is based in Beirut and in the Bekaa Valley. He said the troops usually number a few dozen, but that the size of the force increased in connection with the hostilities that have broken out between Israel and Iran's proxy, Hezbollah, over the past week.

The sources said the Iranians had directly operated a radar-guided C–802 missile that Iran acquired from Communist China and that hit an Israeli navy missile boat off the coast of Lebanon on Friday, killing four Israeli seamen. "This was a direct message to the Israelis that we are fighting the Iranians here," the Arab diplomatic source said.

The Iranian Revolutionary Guard's mission in Lebanon includes keeping custody of Zalzal missiles and drones, or unmanned aerial vehicles. A report by an Israel-based research group, the Intelligence & Terrorism Information Center, identifies the units of Iran's Revolutionary Guard "deployed and active in Lebanon" as the "Al-Quds Force." The Lebanon-based Iranian force "provides military guidance and support for terrorist attacks against Israel," the report says. [More>>iranfocus.com]

---
7.19.06 About 20 Sunnis are kidnapped in Baghdad
BAGHDAD, July 19 – An average of more than 100 civilians a day were killed in Iraq last month, the United Nations reported Tuesday, registering what appears to be the highest official monthly tally of violent deaths since the fall of Baghdad. The death toll, drawn from Iraqi government agencies, was the most precise measurement of civilian deaths provided by any government organization since the invasion. It represented a substantial increase over the figures in daily news media reports. Contributing to the trend cited by the United Nations, a suicide car bomber killed at least 53 people and wounded at least 105 in the holy Shiite city of Kufa on Tuesday after he lured a throng of day laborers to his van with the offer of work. [More>>nytimes.com] ; See related articles, independent.co.uk, July 19, "Civil war spreads across Iraq as bomb at Shia mosque kills 59.' and abcnews.go.com, July 19, "Civilian toll in Iraq spiked to nearly 6,000 in May and June, UN says."]
---
7.18.06 Cassini's unusual views from the Saturn ring plane
July 18 – Cassini is capturing unusual views as it orbits Saturn's ring plane. It currently is following Mimas into the unlit side of the ring plane. Before it entered the dark side it captured this view of Mimas with Enceladus in the background. This view captures objects be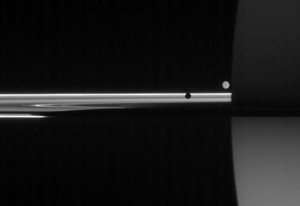 ing lit from many sources of light:
(JPL) The unlit side of the rings glows with scattered sunlight as two moons circle giant Saturn. The light reaching Cassini in this view has traveled many paths before being captured.

At left, Mimas (397 kilometers, or 247 miles across) presents its dark side. Enceladus (505 kilometers, or 314 miles across), on the far side of the rings, is lit by "Saturnshine," or reflected sunlight coming from the planet. Saturn, in turn, is faintly lit in the south by light reflecting off the rings. Saturn's shadow darkens the rings, tapering off toward the left side of this view. [More>>saturn.jpl.nasa.gov]
---
7.18.06 IDF: One week to remove threat in North
July 18 – Forty to fifty percent of Hezbullah's military capability has been destroyed in the six days of the IDF counter-attack following last Wednesday's Hezbullah raid in northern Israel, The Jerusalem Post has learned. The IDF, it is understood, believes it needs another week or so minimum to achieve its military goals in terms of alleviating Hezbullah's capacity to threaten Israel. The IDF further believes, it is understood, that it will be given at least that long to continue its actions, in light of the G8 nations' essential support for Israel and those nations' branding Hezbullah and Hamas as being responsible for the current escalation. Operations in Lebanon, the Post has learned, are costing Israel NIS 50-100 million a day.

Only Tuesday afternoon, IAF aircraft attacked two weapons-filled trucks parked on the coastal road in the town of Byblos, north of Beirut. They also hit two similar trucks on the narrow mountain road between Beirut and Syria, which has become the main route to Damascus since the air attacks made the highway unusable. The IAF has recently begun targeting vehicles in Lebanon it suspects of transporting missiles for Hezbullah. [More>>Jerusalem Post]
---
7.18.06 Newly founded 'Army of Suicide Bombers' marches in Gaza
July 18 – About 100 veiled and heavily armed Palestinian women marched through the streets of Gaza City Tuesday. The militant women belong to a unit recently founded by the Popular Resistance Committees. The 'Army of Suicidal Bombers,' as it is dubbed, consists entirely of women. A message released by the PRC states that the objective of the new unit is to protect "Palestinian land." The procession was led by the mother of Abu Yusuf Al-Kuka – a PRC founder assassinated by Israel two months ago. She was carrying an RPG missile launcher on her shoulder. A spokeswoman for the unit said that the ASB was founded in order "to aid the men in their war against the enemy." The militant women burned Israeli, US, British, and EU flags. [More>>haaretz.com]
---
7.18.06 Iran's Hezbollah says ready to attack US, Israel
TEHRAN (Reuters) July 18 – Iran's Hezbollah, which claims links to the Lebanese group of the same name, said on Tuesday it stood ready to attack Israeli and US interests worldwide. "We have 2,000 volunteers who have registered since last year," said Iranian Hezbollah's spokesman Mojtaba Bigdeli, speaking by telephone from the central seminary city of Qom. "They have been trained and they can become fully armed. We are ready to dispatch them to every corner of the world to jeopardize Israel and America's interests. We are only waiting for the Supreme Leader's green light to take action. If America wants to ignite World War Three ... we welcome it," he said.

Iranian religious organizations have made great public show of recruiting volunteers for "martyrdom-seeking operations" in recent years, usually threatening US interests in case of any attack against the Islamic Republic's nuclear programme. But there is no record of an Iranian volunteer from these recruitment campaigns taking part in an attack. Iran's Hezbollah (Party of God) says it is spiritually bound to Shi'ite Muslim guerrillas in Lebanon but its command structure and funding are unclear.

Despite Iranian Hezbollah's insistence that it takes orders from Supreme Leader Ayatollah Khamenei, government ministries say Hezbollah does not implement official policy. Iran's government has said it hopes for a diplomatic solution to the Israeli offensive in Lebanon. While Iran did fund and support Lebanese Hezbollah during the 1980s, Tehran says it has not contributed troops or weapons in the latest violence. Israel says Iranian armaments have been fired against it. [iranfocus.com] ; See also related article, metimes.com, (AFP) July 18, "Iran slams Israel as 'filthy tumor.'" : TEHRAN – An Iranian leader, whose country is accused by Israel of helping arm Lebanon's Hezbullah guerrilla movement, on Tuesday branded the Jewish state a "filthy tumor in the body of the Islamic world." The fresh verbal attack came as Israel called for Iran and Syria to be stopped from arming Hezbullah. Tehran acknowledges its support for Hezbullah but denies that it arms the movement. "The time has come for you to flee occupied Palestine. You should go back to your homes," the president of Iran's hardline-controlled parliament, Gholam Ali Hadad-Adel, told a rally in central Tehran's Palestine square.

Iran views Israel as a "fake" state populated by immigrants who should return to Europe or elsewhere. "The Americans should know that as long as this filthy tumor lies in the body of the Islamic world, Muslims will not stop hating America," Hadad-Adel told thousands of regime supporters. "Either stop this support or do not expect any peace with the Islamic world" ...Iranian President Mahmoud Ahmadinejad also said that Israel's ongoing assault against Lebanon was part of Western conspiracy to dominate the Middle East, and repeated his doubts over whether the Holocaust ever took place...]
---
7.18.06 Lashkar-e-Qahar threatens blasts in Delhi, Mumbai
MUMBAI (AP) July 18 – Lashkar-e-Qahar, the terrorist group that claimed responsibility for the Mumbai train bombings, warned on Tuesday that it was planning attacks against government and historic sites in India in an e-mail to a national TV channel. Lashkar-e-Qahar said in the e-mail that 16 people took part in the July 11 attacks in Mumbai, and that one of them was killed.

"But all the remaining 15 mujahideens are totally safe, and celebrating the success of this mission and also preparing for the next mission," the e-mail said. "We also request all the Muslim brothers and sisters not to go near the main historical, governmental and the monumental places of India (especially in Delhi and Mumbai) in future. Otherwise, they get hurt too," the e-mail said. The train bombings killed 207 people and injured hundreds more. Investigators believe the group may be a front for Lashkar-e-Toiba. [expressindia.com ; See also aljazeera.net, July 18, "Mumbai remembers terror victims" : ...Lashkar-e-Qahhar, or the Army of Terror, was unknown until it claimed responsibility for the March 7 bombings in the Hindu holy city of Varanasi that killed at least 20 people. Investigators believe the group may be a front for Lashkar-e-Tayyaba, a group based in Pakistan that has been fighting Indian rule in Jammu and Kashmir state.

Some experts have raised doubts about the credibility of the group's claim. "We are surprised, why some media groups and peoples are disclaiming our responsibility?" the email said. "Very soon, we will send you an audio/video tape regarding Mumbai blasts," it said. The email was signed by a man calling himself Abu Mahaz, who identified himself as Lashkar's spokesman and the head of its "media group."]
---
7.18.06 Indonesia tsunami toll crosses 340, hundreds missing
PANGANDARAN, Indonesia (Reuters) July 18 – The death toll from a tsunami that smashed into fishing villages and resorts on Indonesia's Java island has crossed 340, and over 200 more people are missing, officials said on Tuesday. At least four non-Indonesians were among the dead and 54,000 people were displaced, they said. At least four non-Indonesians were among the dead and 54,000 people were displaced, they said. No warnings had been reported ahead of the waves, which struck on Monday afternoon, despite regional efforts to establish early warning systems after the 2004 Indian Ocean tsunami that left 230,000 killed or missing, including 170,000 in Indonesia.

But many residents and tourists on the southern Java coast recognized the signs and fled to higher ground as the sea receded before huge waves came crashing ashore. "When the waves came, I heard people screaming and then I heard something like a plane about to crash nearby and I just ran," Uli Sutarli, a plantation worker who was on hard-hit Pangandaran beach, told Reuters. The waves flung cars, motorbikes and boats into hotels and storefronts, flattened homes and restaurants, and flooded rice fields up to 500 metres (550 yards) from the sea along a stretch of the densely populated coastline. [More>>thestar.com.my]
---
7.18.06 Suicide bomber kills 59
KUFA, Iraq (Reuters) July 18 – A suicide pulled his van into a busy market, lured labourers with job offers and blew himself up, killing scores in one of the worst attacks in Iraq since the new government was installed in April. The blast in the Shiite city of Kufa killed 59 people and sparked clashes between police and angry protesters, dealing a fresh blow to Prime Minister Nuri al-Maliki's efforts to promote national reconciliation and avoid a slide towards civil war.

Maliki, a Shiite who has offered dialogue with some Sunni insurgents, pledged to "hunt down and punish" those responsible. The largest political party of the minority Sunni community urged Iraqis to "recover their senses before Iraq descends into the abyss." Hospital sources said 132 were wounded. Police at the scene were pelted with rocks by angry crowds, many of whom demanded that militias loyal to radical Shiite cleric Moqtada al-Sadr take over security in Kufa, near the holy city of Najaf, 160 km south of Baghdad.

The explosion, some 50-100m from the gold-domed Shiite shrine of Kufa, tore through the van shortly after it had pulled out of the busy market with a group of labourers. "A man driving a Kia van with an Iraqi accent came and said: 'I need labourers.' After the labourers got on and packed the vehicle he exploded the car," said witness Nasir Faisal. [More>>theaustralian.news.com.au]
---
7.18.06 No more half soultions
July 16 – Mohammed, a blogger in Iraq, sees similarity between the chaos in Lebanon and Israel and that of Iraq. He anticipates an expansion of the war through the Middle East because of the tendency of leaders to accept "half solutions." He begins:

Copyright © 1981-2006 Maravot. All rights reserved
Copyright © 1981-2006 Mel Copeland. All rights reserved
Painting of Apple by Mel Copeland, early 70's
Background: tile from Cicero's villa (Marcus Tullius Cicero 106 B.C. - 43 B.C.)