---
8.20.06 Malaysia frees Islamic militant suspects held without trial, rights activist says
KUALA LUMPUR (AP) August 20 – Malaysia last week freed three suspected Islamic militants imprisoned without trial for more than four years, a human rights activist said Sunday. The authorities had also earlier deported four Indonesian detainees to their home country where they were then released, said Chang Lih Kang, a spokesman for Malaysia's leading human rights group, Suaram. Officials at the Internal Security Ministry could not be reached Sunday for confirmation of the report.

All seven men had been detained since 2002, after being arrested during a crackdown on members of the al-Qaeda-linked Southeast Asian terror group Jamaah Islamiyah and its affiliate, Kumpulan Militan Malaysia...More than 100 people, including about 60 suspected Islamic militants, are being held in the Kamunting camp. Several terror suspects were released in previous years after security officials said they had repented following intensive rehabilitation...He identified the four Indonesians as Muhamad Faiq Hafidh, Ferry Muchlis Halim, Agung Biyadi Bunyamin and Fadhu Ahmad. [Full story>>thejakartapost.com]
---
8.20.06 Lebanon truce put to test as Annan blames Israel
BEIRUT (AFP) August 20 – A fragile truce to end a month-long war in Lebanon was facing its biggest test Sunday after an Israeli commando raid against Hezbollah which UN chief Kofi Annan charged was a violation of the ceasefire deal. Israel insisted it would continue to act to prevent alleged cross-border arms smuggling to Hezbollah and Syria, while Lebanon warned it could stop its historic troop deployment in the south of the country.

At dawn on Saturday Israel airlifted troops into a Hezbollah stronghold in the Baalbek region in eastern Lebanon and clashed with Shiite Muslim fighters, in the first serious violence since the UN-brokered ceasefire came into effect almost a week ago. Annan voiced his concern at the raid, which has underscored the fragility of the truce accord as the United Nations scrambles to put together a beefed-up peacekeeping force in war-battered south Lebanon.

"The Secretary-General is deeply concerned about a violation by the Israeli side of the cessation of hostilities as laid out in Security Council resolution 1701," a statement issued by Annan's spokesman said. "The Secretary-General further calls on all parties to respect strictly the arms embargo, exercise maximum restraint, avoid provocative actions and display responsibility in implementing resolution 1701." And a visiting UN envoy in Lebanon warned that such incidents threatened to spark war again and scare off states which may help boost a UN peacekeeping force. [More>>dailystar.com.lb ; See related story, Jerusalem Post, August 20, "Beirut warns groups to keep cease-fire": Lebanon's defense minister said Sunday any group breaking the cease-fire in southern Lebanon would be "decisively dealt with" and would be considered a traitor. Defense Minister Elias Murr's comments apparently were to air concerns that factions other than Hizbullah, which he said is committed to the cease-fire, may attempt to draw Israeli retaliation by firing on the Jewish state...
---
8.20.06 Insurgents ambush Shiites on pilgrimage
BAGHDAD (AFP) August 20 – Gunmen ambushed Shiite pilgrims as they marched through Baghdad on Sunday, killing 20 and wounding 300, a year after a stampede claimed nearly 1,000 lives on the deadliest day in post-war Iraq. Bursts of gunfire and explosions rocked the Iraqi capital as hundreds of thousands of Shiites headed to the mausoleum of Imam Musa Kadhim, whose death 12 centuries ago is marked by major Shiite pilgrimage every year.

Government spokesmen said security forces had the event under control, but a senior health ministry official said that 20 pilgrims were killed when suspected Sunni extremists fired into crowds. Armed Shiites from the Mehdi Army militia, followers of radical cleric Moqtada Al Sadr, could be seen escorting sections of the crowd, fuelling fears that the festival could stir Iraq's sectarian conflict. The attacks were a reminder of last year's gruesome tragedy when at least 965 Shiite pilgrims were killed in a bridge stampede triggered by a mortar attack and rumors of a suicide bomber in the midst of pilgrims. [More>>metimes.com]
---
8.20.06 Seventy-one Taliban killed in Afghanistan
KANDAHAR, Afghanistan, August 20 – Seventy-one Taliban rebels have been confirmed killed in a major clash in southern Afghanistan. Taliban were killed in clashes involving police and NATO-led forces in southern Afghanistan, a district governor and a military official said Sunday. Scores of Taliban fighters attacked a bazaar in the Panjwayi district of southern Kandahar province late Saturday, they said. After the fighting, 64 Taliban bodies were found in the town and seven elsewhere, the governor said. Four Afghan policemen were also killed in clashes. [thenews.com.pk] ; See related stories, turkishpress.com, August 20, "Around 90 killed in bloody Afghan weekend." and independent.co.uk, August 20, Taliban's terror tactics reconquer Afghanistan" : "If we die, we are martyrs – if we live, we are victors," say the Taliban in the Panjwai district of Kandahar province. They have taken control of the area in less than two weeks. For, with ever accelerating speed, the Taliban are reconquering south-west Afghanistan from the government, American and Nato forces sent to fight them.

It took Besmillah, a villager from Panjwai, three hours to get from his home to Kandahar, a journey that usually takes an hour. "There were bodies on the road," he says, "at least 40 bodies – of Afghan soldiers – lying in a place called Yakh Chah [Ice Well], halfway between Shykh Kalandar and the municipality of Panjwai. The Taliban have a madrasa in Shykh Kalandar and they were attacking the municipality from there at first. But now they have taken the whole district. I saw two cars on fire. I had to go through the fields and take side roads to make it to Kandahar..."
---
8.20.06 Terrorism fears mount in Germany after train bomb plot
August 20 German politicians and security officials warned of a growing terrorism threat over the weekend as police arrested a Lebanese student suspected of planting a bomb on a train last month that failed to detonate. A German court on Sunday issued an arrest warrant for Youssef Mohammed, a 21-year-old Lebanese student nabbed in Kiel by police in a swoop on Saturday. He stands accused of membership in a terrorist organization and of attempted murder. Mohammed is suspected of planting one of two crude bombs in two abandoned suitcases that were discovered on July 31 on separate trains in the western German cities of Dortmund and Koblenz. Police say they were set to go off 10 minutes before the trains arrived in the two cities. The explosives failed to detonate, but if they had, police say they would have killed a "high number" of people. It has now emerged that Mohammed along with an accomplice, who are believed to be part of a wider Islamic network, had come close to exploding the two makeshift train bombs last month.

"The situation is very serious,"German Interior Minister Wolfgang Schäuble said in an interview with German public television. "The danger has never been as high."

Broader terrorist network behind the attacks?

German Federal prosecutor Monika Harms said Youssef Mohammed's fingerprints and DNA matched that taken from one of two abandoned suitcases that were discovered on July 3. The two men were captured on security cameras in the Cologne train station, dragging suitcases which contained the explosive devices onto the trains. Harms said the logistical sophistication of the plot suggested the suspect was part of a broader terrorist organization.[More>>dw-world.de; See background story, spiegel.de, August 18, "German investigators pursue suspect in foiled train attack."]
---
8.20.06 Katrina: disaster profiteers pocket millions in deals
WASHINGTON, August 20 – 'Downright criminal.' That's the verdict of a report into New Orleans' reconstruction, and the huge contracts handed to non-local firms. A year after Hurricane Katrina, the reconstruction of the devastated Gulf coast is being severely hampered by waste and inefficiency overseen by "disaster profiteers" who are making million of dollars, according to a watchdog group. The group claims the inefficiency – along with the companies' political connections – follows a pattern similar to what happened in Afghanistan and Iraq.

With much of New Orleans still in ruins and its population half of what it was before the hurricane, a new report claims millions of dollars has been squandered by wasteful processes that have seen 90 per cent of the first wave of reconstruction contracts awarded to firms outside Louisiana, Mississippi and Alabama. Local firms have been frozen out while immigrant workers have been exploited and often unpaid.

"One year after the disaster, the slow-motion rebuilding of the region looks identical to what has happened in Afghanistan and Iraq," said Pratap Chatterjee, the director of Corpwatch. "The process of getting Katrina-stricken areas back on their feet is needlessly behind schedule, in part, due to the shunning of local business people in favour of politically connected corporations from elsewhere in the US that have used their clout to win lucrative no-bid contracts with little or no accountability." [More>>independent.co.uk ; See also wwltv, August 19, "Who's to blame for state of New Orleans?" : NEW ORLEANS — In many ways, New Orleans is a huge crime scene, with bodies and victims and fingerprints - many, many sets of fingerprints. But who did it? Who is responsible for this mess, for a barely functioning city with large swathes still uninhabited – or uninhabitable – a year after Hurricane Katrina? An anonymous critic, posting his verdict at the edge of the French Quarter, blames the Army Corps of Engineers and its failure to build levees that could keep the floodwaters out: "Hold the Corps Accountable," demands the sign.

Others curse the Federal Emergency Management Agency – for its failure to rescue New Orleans as the waters rose, or in the months after. In ravaged Lakeview, a makeshift gallows bears a sign that reads: "Last Resort Shelter. Reserved for Looters/FEMA Reps/Adjusters." But the roll of those accused of failing New Orleans is a long one: State and local officials who had no good plan for the disaster, and now preside over a languid recovery. A president who at first seemed remote from the cataclysm, and then made promises that have not been fully realized.

So many did not live up their responsibilities, says G. Paul Kemp, a Louisiana State University engineer and member of Team Louisiana, a group of forensic engineers examining how the flooding occurred. Every time anyone points that out, "people say, 'Oh, we don't want to play the blame game. We've got to get things moving.'" But things are moving agonizingly slow. Piles of debris and wrecked cars are everywhere, and astonishingly, searchers were still finding bodies in ruined homes just weeks ago...

---
8.20.06 Ten show of signs of bird flu in W. Java
August 20 – A young boy with symptoms of bird flu was rushed to Garut hospital in West Java on Saturday, raising the official number of people suspected of having bird flu from Cikelet village to 10 and pushing health authorities to widen an investigation into a potential bird flu cluster. The new patient, a five-year-old boy identified as R, is a resident of Rancamareme hamlet and the brother of a young girl also identified as R, who died two weeks ago after showing bird flu symptoms. No blood test was conducted on the girl to confirm that she had died of the disease.

Head of the West Java Health Office, Yudi Prayudha, said there were a total of 10 patients from five hamlets in Cikelet and Cigadog villages, located some 130 kilometers south of Garut city who had shown symptoms of bird flu... The rising number of people with bird flu symptoms from the village has raised fears of a new cluster of the disease in the province, which ranks first in the country with bird flu. [Full story>>thejakartapost.com]
---
8.18.06 Update 8.17.06 Bush is crap, says Prescott
August 17 – John Prescott has given vent to his private feelings about the Bush presidency, summing up George Bush's administration in a single word: crap. The Deputy Prime Minister's condemnation of President Bush and his approach to the Middle East could cause a diplomatic row but it will please Labour MPs who are furious about Tony Blair's backing of the United States over the bombing of Lebanon. [More>>independent.co.uk ; August 18 update, independent.co.uk, "Labour agrees: Bush Is crap" : The Independent asked a group of Labour MPs what they though of John Prescott's outburst.

Ian Davidson Glasgow South West MP

"I think that John Prescott is to be commended for the quality of his political analysis. His comment on American policy is brief and accurate. Britain has got to ensure that it is no longer seen as simply being the glove puppet of the United States."

Glenda Jackson Hampstead and Highgate MP

"I entirely endorse his view. This is why Parliament should be recalled. This government is failing miserably as far as our approach towards the Middle East is concerned. We are simply... bag carriers for Bush and all his policies have been a disaster"...

---
Editorial note: "Failed policies and incompetence" seem to be a rising charge against the Bush administration, in addition to his changing list of reasons [lies] for waging war in Iraq. The Bush administration's latest reason for their continuing war in Iraq now includes the recognition that Iraq is a key supplier of oil that must be kept in American control and if the US leaves Iraq will become a hotbed for terrorists. See August 18 article, "Early pullout from Iraq will create 'terrorist state' : Bush."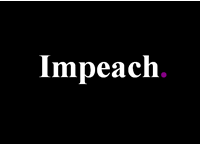 The front page organizations advocating the impeachment of Bush and Cheney will be using on websites and blogs September 1, 2006. Click on the image for information.
The invasion of Iraq to disarm Saddam Hussein's "Weapons of Mass Destruction" is the most infamous lie. Associated with this claim was another that Saddam Hussein was connected to Al Qaeda. At the same time Bush shifted the war effort against Osama bin Laden and his terrorist al-Qaeda organization from Afghanistan to Iraq, allowing al-Qaeda to grow stronger and, through the invasion of Iraq, adopt the cause of "defending Iraq" against "the Bush Crusaders." A month after the invasion in 2003 Bush naively claimed "Mission Accomplished" on the aircraft carrier "Lincoln."
In 2005 the reason for waging war in Iraq turned to "spreading democracy in the Middle East," with Iraq being the kingpin of the venture. Seeing the failures of democracy in Lebanon and Palestine which democratically installed governments the US had deemed "terrorists" (Hezbollah and Hamas), the administration has contrived the concept that if we leave Iraq it may elect a government hostile to the US, which will breed terrorists and endanger our supply of oil. There are more substantial facts, however, that point to Bush's Crusade as the cause against which terrorists have rallied, spreading from Afghanistan to their training ground in Iraq and throughout the world.
Capitalizing on the "fear of terrorism and 9/11" is a signature of the Bush administration. The argument that only Bush would save us from terrorists began in his campaign against John Kerry and continues to be used. The tactic was also used by Hitler who used fear and intimidation to centralize power. Bush's appropriation of powers not vested in the Presidential Office is another issue fueling the cause of impeachment.
There is a rising tide to impeach Bush and Cheney, with the latest event, "Camp Democracy," being scheduled for September 6 in the mall of Washington D.C. Preceding the tent city of Camp Democracy organizers of the event are calling for a nationwide protest on September 1, 2006. They "encourage you to hold a vigil for impeachment on Friday evening, Sept. 1st, preceded or followed by a meeting to discuss and plan for Camp Democracy." They have also organized internet protests on websites and blogs, asking those who participate to place in front of their lead page the "Impeach" image. [More>>
afterdowningstreet.org
]
Mel Copeland
---
8.18.06 Israel to Moscow: Hezbollah used Russian-made missiles against IDF
(AP) August 18 – Israel has complained to Russia that Russian-made anti-tank missiles have reached Hezbollah guerrillas who used them against Israel Defense Forces troops in south Lebanon, government officials said Friday. An Israeli delegation traveled to Moscow earlier this week to deliver the complaint, said Asaf Shariv, a senior adviser to Prime Minister Ehud Olmert. The anti-tank missiles proved to be one of Hezbollah's most effective weapons in combat with Israeli soldiers in Lebanon. Such missiles killed at least 50 of the 118 soldiers who died in the 34-day war that ended this week.

Another government official, speaking on condition of anonymity because he was not authorized to discuss the matter with the media, said the delegation was "senior," but refused to say who they would be meeting with in Russia. Israel does not accuse Russia of directly arming Hezbollah, but complains that Russia sold the weapons to Iran and Syria, known supporters of Hezbollah, who then passed them on to the guerrilla group. [More>>haaretz.com]
---
8.18.06 Hezbollah hands out compensation
BEIRUT (AP) August 18 – At a school in south Beirut's Bourj el-Barajneh neighborhood, Hezbollah on Friday started handing out one hundred dollar bills to residents who lost their homes in the Israel-Hezbollah conflict – US $12,000 to each claimant. Applicants who had signed up for the aid earlier in the week showed up at the school, showed identification papers and only had to sign a receipt. Hezbollah workers handed residents stacks of bills from a suitcase.

Hezbollah leader Sheik Hassan Nasrallah, in a television speech on Monday shortly after the cease-fire with Israel took hold, pledged to help rebuild Lebanon and said the organization would provide money for civilians who had lost their homes to pay rent and buy furniture. Nasrallah did not say where the money would come from, but Iran historically has been the group's primary source of finance and weapons. The Iranians were widely believed to have opened their treasury for the rebuilding program. Nasrallah, and the government's Higher Relief Council which deals with catastrophic events, said 15,000 housing units were hit during the war. [More>>Jerusalem Post]
---
8.18.06 After Lebanon war, unexploded bombs continue to sow death
TEBNIN (AFP) August 18 – Kneeling in the rubble, the deminer gently handled a tiny metallic tube, trying to defuse one of the thousands of bomblets littering southern Lebanon. These deadly leftovers of weeks of fighting between Israel and Hezbollah guerrillas continue to kill and maim nearly a week after both sides silenced their guns, creating what one munitions expert called a "humanitarian catastrophe" as thousands displaced by the war return home. "This has the potential to be a huge humanitarian issue," said Marc Garlasco, senior military analyst at Human Rights Watch.

"People are coming back to their homes, they're hugging and kissing and glad just to have survived and then there are bombs going off," he said. Just hours after the announcement of a cessation of fighting on Monday, one civilian was killed and six others wounded when Israeli cluster bombs exploded in the southern village of Ansar. [More>>dailystar.com.lb]
---
8.18.06 Airline plot police uncover 'suitcase bomb-making kit'
August 18 – Police investigating the alleged terrorist plot to blow up transatlantic flights found a suitcase yesterday containing items which could be used to make a bomb. The BBC reported that the discovery was made during a search in King's Wood, High Wycombe, Buckinghamshire. The corporation reported a police source as saying the suitcase contained "everything you would need to make an improvised device."

Scotland Yard last night refused to comment on the report, although in a separate development, MI5 and the police have privately conceded the alleged plot will prove to have links with the July 7 suicide bombers. Britain's intelligence agencies are investigating connections between the 23 men and women being questioned over the alleged airliner plan and previous terror attacks. No direct links have yet been uncovered, but security and police sources say it is only a matter of time before they are established. Counter-terrorism sources argue that connections between various groups are inevitable because of the nature of the loose-knit network of alleged al-Qaeda activists. [More>>independent.co.uk]
---
8.18.06 Pakistan gives US forces location of Al Qaeda plot suspect
ISLAMABAD (AFP) August 18 – Pakistan has informed US-led coalition forces that an Al Qaeda kingpin linked to an alleged plot to blow up airliners is based in eastern Afghanistan, senior security officials said on Friday. The Pakistani officials said the unnamed Al Qaeda member of Middle Eastern origin was based in Afghanistanıs volatile eastern province of Kunar, which borders Pakistanıs militant-infested northwestern tribal areas.

The information came from the interrogation of Rashid Rauf, a Briton whose arrest by Pakistani agents in early August allegedly led to the uncovering of the conspiracy to bomb US-bound planes, they said. The officials, speaking on condition of anonymity, did not identify the militant but said he was on the level below the terror networkıs chief Osama bin Laden and deputy Ayman Al Zawahiri. "His area of operations is in Kunar," one of the senior officials told AFP. [More>>khaleejtimes.ae]
---
8.18.06 Lebanon to receive 'urgent' assistance with oil spill
PIRAEUS, Greece (AFP) August 18 – International experts Thursday promised Lebanon immediate help in cleaning up a massive Mediterranean oil spill caused by Israeli bombing of a power plant, but said that the scale of the environmental threat remained unknown. Senior officials from the United Nations, the European Union, and regional states meeting in the Greek port city of Piraeus unveiled a plan to clean up oil-clogged parts of the Lebanese coastline – an operation slated to cost over €50 million ($64 million).

...UNEP estimates that between 10,000 and 15,000 tons of fuel oil leaked from an electric plant bombed by Israel last month, polluting some 150 kilometers (93 miles) of the Lebanese coast and spreading north into Syrian waters. If all the oil from the damaged facility, 30 miles south of Beirut, were to seep into the sea, the environmental fallout could rival the 1989 Exxon Valdez spill that devastated Alaska's Prince William Sound, officials have said...[Full story>>metimes.com]
---
8.18.06 Vehicles banned from Baghdad during pilgrimage
BAGHDAD, August 18 – Iraqi authorities will impose a complete ban on vehicles in Baghdad for two days ahead of a major Shiite pilgrimage, national police chief Major General Adnan Thabit said Friday. The ban begins at 9:00pm (1700 GMT) on Friday. One year ago almost 1,000 pilgrims were killed in a stampede on one of Baghdad`s bridges. Thabit told AFP a security operation had been put in place to prevent any repetition of the tragedy. [turkishpress.com]
---
8.17.06 Rice: No expectation UN force is going to physically disarm Hezbollah in south Lebanon
August 17 – US Secretary of State Condoleezza Rice was quoted in an American newspaper Thursday as saying that the UN force expected to deploy in south Lebanon will not be tasked with forcibly disarming Hezbollah. "I don't think there is an expectation that this [UN] force is going to physically disarm Hezbollah," Rice told USA Today. "I think it's a little bit of a misreading about how you disarm a militia. You have to have a plan, first of all, for the disarmament of the militia, and then the hope is that some people lay down their arms voluntarily."

If Hezbollah resists international demands to disarm, Rice said, "one would have to assume that there will be others who are willing to call Hezbollah what we are willing to call it, which is a terrorist organization." Rice did say the UN force in Lebanon will help enforce an arms embargo and prevent Hezbollah's rearmament. "[The force] is backed up by an international arms embargo for the first time, which means that those states that now supply Hezbollah are in violation of a UN Security Council resolution and that should help the forces as well. And then ultimately, it's going to have to help the Lebanese at various entry points to help enforce that embargo," Rice said. [More>>haaretz.com]
---
8.17.06 Early pullout from Iraq will create "terrorist state" : Bush
WASHINGTON (Xinhua) August 16 – US President George W. Bush on Wednesday rejected calls from Democrats for an early withdrawal of American troops from Iraq, saying such a pullout would "create a terrorist state in the heart of the Middle East."

"Leaving before we complete our mission would create a terrorist state in the heart of the Middle East, a country with huge oil reserves," Bush said in Lancaster, Pennsylvania. [More>>xinhuanet.com]
---
8.17.06 Lebanese army crosses key river
August 17 – Lebanese troops have crossed the strategically important Litani river, moving into some areas of southern Lebanon for the first time in decades. The troops were warmly welcomed in southern villages, many of which were badly damaged in more than a month of conflict between Hezbollah and Israel. France is to send 200 extra troops to bolster the UN force in the south. Israel says it has passed control of half of its positions there to the UN, which is set to enforce the ceasefire. Israel, Hezbollah and the Lebanese government have all pledged to uphold a UN Security Council ceasefire resolution requiring the withdrawal from southern Lebanon of Israeli troops and Hezbollah fighters. An expanded international force is to work alongside the Lebanese army in the south. But despite France's initial commitment, Paris is still debating whether to send significant numbers of troops, and, along with other likely UN contributors, wants its role in the region clearly defined. [More>>bbc.co.uk ; See also lefigaro.fr, August 17, "Liban : les contours de la force multinationale peinent à se dessiner" : A quelques heures dıune réunion de lıOnu sur le déploiement de la future force multinationale au Liban, les éventuels contributeurs hésitent et réclament plus de garanties sur la sécurité, à commencer par la France. Qui participera à la future Finul élargie ? Jeudi soir, 49 pays se réunissent au siège de lıOnu, à New York, pour préciser les conditions du déploiement dıune force multinationale au Liban. Mais à quelques heures de la réunion, le doute plane toujours sur lıidentité des futurs pays contributeurs et sur lıampleur de leur implication...
---
8.17.06 Al-Hariri: Syria worse than Israel
August 17 – The leader of Lebanon's largest parliamentary bloc has said the Syrian president's attack on Lebanese politicians is worse than the destruction wreaked by Israel. Saad al-Hariri, the head of the al-Mustaqbal or Future, bloc and son of the slain former prime minister, Rafiq al-Hariri, said on Thursday that Bashar al-Assad had disdained Arab kindness towards Syria and his speech on Tuesday was like a "heavy strike" against Lebanon.

Al-Hariri was responding to a speech on Tuesday by al-Assad in which he accused Lebanon's anti-Syrian groups of allying themselves with Israel, which bombarded Lebanon for 34 days. Al-Assad had also accused the anti-Syrian bloc of wanting to sow discord in Lebanon by demanding that Hezbollah, the Syrian-backed Shia resistance group, disarm. "Lebanon's wound [inflicted by Israel] is deep and painful, but today it has faced a deeper one from a friend [Syria]," he said. [More>>aljazeera.net ; See earlier story, August 16, "Assad cheers Hezbollah victory, takes swipe at March 14 forces."
---
8.17.06 At least 18 killed in Iraq violence
BAGHDAD (AFP) August 17 – At least 18 people were killed around Iraq Thursday, including seven by a car bomb in Baghdad's most populous Shiite district of Sadr City, security officials said. Prime Minister Nuri Al Maliki said that the car bomb killed "seven people when an Opel car was detonated." Medics and an interior ministry official said that another 26 people were wounded. The official said that the bomb went off in the district's Rashaad market.

Sadr City has been repeatedly targeted by Sunni militants since sectarian tensions with the newly empowered Shiite majority erupted into an explosion of tit-for-tat violence following the bombing of a Shiite shrine in February. Another six people were killed in a string of shootings in and around Baquba, north of the capital, police said. Three of the dead were brothers, who owned an agricultural equipment shop, while another was a salesman. The four were shot in the center of Baquba market. [More>>metimes.com ; See related story, nytimes.com, August 16, "Bombs aimed at G.I.'s in Iraq are increasing."]
---
8.17.06 Federal judge orders halt to warrantless wiretapping
DETROIT (AP) August 17 – A federal judge ruled Thursday that the government's warrantless wiretapping program is unconstitutional and ordered an immediate halt to it. US District Judge Anna Diggs Taylor in Detroit became the first judge to strike down the National Security Agency's program, which she says violates the rights to free speech and privacy as well as the separation of powers enshrined in the Constitution. "Plaintiffs have prevailed, and the public interest is clear, in this matter. It is the upholding of our Constitution," Taylor wrote in her 43-page opinion.

The American Civil Liberties Union filed the lawsuit on behalf of journalists, scholars and lawyers who say the program has made it difficult for them to do their jobs. They believe many of their overseas contacts are likely targets of the program, which involves secretly listening to conversations between people in the US and people in other countries. The government argued that the program is well within the president's authority, but said proving that would require revealing state secrets. [More>>nytimes.com]
---
8.17.06 Afghan spy chief urges Pakistan action on enemies
KABUL (Reuters) August 17 – Pakistan is the main source of Afghanistanıs insecurity, the countryıs intelligence chief said on Thursday, adding that there could be no peace here if the war against Islamic militants was not shifted to include Pakistan. In the strongest comments by an Afghan official yet, director-general of intelligence Amruallah Saleh said enemy training sites and organizational and financial resources all lay inside Pakistan.

"Pakistan has not given up its interference and aggression," Saleh told parliamentıs lower house, which is considering his renomination as intelligence chief. Saleh conceded there were shortcomings in the Afghan government, but said the source of insecurity lay on the other side of the Durand Line dividing Afghanistan from Pakistan. "As long as the war against terrorism is not extended openly and seriously from Afghanistan, we cannot restore full security in our country," he said.

"The enemyıs organization set-up, the enemyıs financial resources, the enemyıs training sites and all it has, lie on the other side of the Durand Line where our arms canıt reach." Fighting in Afghanistan is at its worst since a US-led coalition drove the hardline Islamist Taleban from power in 2001. Most of the increase has been in the south and east, the Talebanıs heartland bordering Pakistan. [More>>khaleejtimes.ae]
---
8.17.06 Man says he drugged, had sex with Ramsey
BANGKOK (AP) August 17 – The American suspect in the killing of JonBenet Ramsey told investigators that he drugged and had sex with the 6-year-old beauty queen before accidentally killing her, a senior Thai police officer said Thursday. An autopsy on Ramsey said a blood screening showed no drugs or alcohol in her body but said she had vaginal abrasions.

Lt. Gen. Suwat Tumrongsiskul, head of Thailand's immigration police, said by telephone that he was not present for the questioning, which was conducted by US law enforcement officials. But, according to what the general said he was told of the questioning, the suspect, John Mark Karr, "said he drugged the child." Suwat did not say who briefed him on the questioning.

Karr claimed he had sex with Ramsey, who was still alive, Suwat said. Karr said he then realized he had "accidentally" killed her, according to the general. A spokesman for the US Embassy said it had no information about Karr's alleged actions or what he said to questioners. US and Colorado law enforcement officials were unavailable for comment. [abcnews.go.com ; See also cnn.com, August 17, "Suspect in JonBenet Ramsey case working as teacher."]
---
8.16.06 Iraq troops fight militias, car bomb hits capital
KARBALA, Iraq (AFP) August 16 – Iraqi security forces fought with Shiite militias in several southern cities Wednesday as the embattled government tried once more to impose its authority on the divided country. Government troops regained control of the holy city of Karbala after killing 10 members of a Shiite cleric's private army, arresting 281 more, and imposing a strict curfew on the town. But soldiers clashed with militia fighters elsewhere, including in Iraq's second city of Basra, where masked gunmen fired rocket-propelled grenades at the governor's headquarters, a witness said.

At the same time, deadly violence continued in the capital, where a car bomb killed eight people and wounded another 28 near the main bus station. Checkpoints were thrown up around Karbala, with only local people allowed in or out, after local cleric Ayatollah Mahmoud Al Hasani's armed supporters killed at least six soldiers and civilians in clashes Tuesday.

"On Tuesday, August 15, a group of gunmen attacked a police station and government offices in Karbala with the aim of destabilizing it," Prime Minister Nuri Al Maliki said, in a statement issued as head of Iraq's armed forces. "The 4th Corps managed to kill 10 of them and arrest 281 others before calming the situation ... The situation is now under control," he added. [More>>metimes.com]
---
8.16.06 Al Qaeda No. 3 UK plot mastermind
ISLAMABAD, August 15 – 'Al-Qaedaıs No. 3' was the mastermind behind the plot to blow up transatlantic flights, an intelligence source said, here on Tuesday. "It is not Osama bin Laden and itıs not Aiman Al Zawahiri, but someone close to the rank of Abu Faraj Al-Libbi," the source said. It is an Afghanistan-based Al Qaeda connection, the source said requesting he not be named. "It is the top hierarchy," he said. Abu Faraj Al-Libbi, a third-tier Al Qaeda operative was believed involved in an attempt to assassinate President Gen. Pervez Musharraf and was arrested from Mardan in May 2005. Seventeen people had died in the attempt in Rawalpindi in December 2005.

The intelligence soured said the plot to blow up US-bound planes was similar in pattern to the one hatched to kill President Musharraf. "There was a mastermind, there was a planner and there were the executioners." The source said that Al Qaedaıs link to the London airline bombing plot was established.

Stressing the importance of Rashid Raufıs arrest, the source said that without his capture the plot would not have been foiled. "Without arresting Rashid Rauf, it would not have been possible to foil the plot," he said. He acknowledged that there had been some hype about the bombing plots but said the plotters were in the planning stage and were procuring chemicals and equipment. They were not in the execution stage, he said. The source said that the Mirpur-born man with dual (Pakistani-British) nationality had gone to the UK in 1981 when he was less than one year old. He returned to Pakistan in 2002 and had since been living here. [More>>dawn.com via xinhuanet.com]
---
8.16.06 54,700 dead or missing in N. Korea floods: aid group
SEOUL, August 16 – About 54,700 people are dead or missing and 2.5 million others are homeless after devastating floods in North Korea last month, an independent South Korean humanitarian group said Wednesday. "The number of victims, either dead or missing, totaled 54,700. There were some 2.5 million people left homeless," Good Friends, a long-term aid partner for North Korea, said in a statement. [turkishpress.com]
---
8.16.06 Leanese army readies to move south
August 16 – Lebanon as the United Nations plans to send an initial force of 3,500 troops to the region to enforce the truce between Israel and Hezbollah. The Lebanese army will begin moving 15,000 troops south of the Litani River on Thursday in line with a UN resolution to end the fighting, a senior Lebanese political source said on Wednesday. "As we speak, the army is readying the force," the source said, adding that Lebanese units would stay out of areas occupied by Israeli troops until UN peacekeepers move in.

In New York, the UN has pressed ahead with plans to send troops from France, Turkey, Malaysia and Germany to southern Lebanon. Hedi Annabi, an assistant secretary-general for peacekeeping, told reporters on Tuesday: "It is our hope that there can be a deployment of up to 3,500 troops within 10 days to two weeks." [More>>aljazeera.net ; See related story, haaretz.com, August 16, "Hallutz: Deploy Lebanon army to south or IDF will halt pullout."]
---
8.16.06 Assad cheers Hezbollah victory, takes swipe at March 14 forces
August 16 – Syrian President Bashar Assad said Tuesday Hezbollah's "victory" in the recent war with Israel had destroyed US plans to reshape the Middle East, adding it was an honor for his country to support the Lebanese group. German Foreign Minister Frank-Walter Steinmeier described Assad's speech as a "negative contribution" and canceled a trip to Syria planned for later in the day. Assad also aimed sharp criticism at Israel and said peace in the region would remain elusive for the foreseeable future.

"Their 'New Middle East,' based on subjugation and humiliation, and denial of rights and identity, has turned into an illusion," Assad said in reference to Washington's goal of helping to shape what it calls a new, democratic Middle East. "It is evident that after six years of this [US] administration that there is no peace and there will be none in the foreseeable future," he told the Syrian Journalists Union in his first major public comments since the war.

Assad said Israel must return Arab land it has occupied since 1967, or face more insecurity.

"The Israeli leadership ... is in front of an historic crossroads. Either it moves toward peace and gives back rights or it faces constant instability until an [Arab] generation comes and puts an end to the issue." He said that in the absence of peace negotiations resistance against Israel was legitimate. "Resistance is aimed at achieving peace, not war," he argued.

Israeli Defense Minister Amir Peretz said a resumption of talks with Syria was still possible. "Every war creates an opportunity for a new political process. and I am sure that our enemies understand today they cannot defeat us by force," he said. "We must hold a dialogue with Lebanon, and we should create the conditions for dialogue also with Syria." [More>>dailystar.com.lb]
---
8.16.06 New bout of violence kills 25 in Afghanistan
KABUL, August 16 – A district police chief and five cops were shot dead by suspected Taliban militants in the western Farah province on Tuesday. The newly appointed Gulistan district police chief Nisar Ahmad was on his way to Farah City, capital of the province with the same name, when his car was ambushed by a group of Taliban. The officer and five constables died on the spot while four other policemen suffered injuries, said the press office at the Interior Ministry in Kabul. The injured were rushed to hospital and their condition is out of danger. Claiming responsibility for the ambush, Taliban spokesman Qari Yousaf Ahmadi said eight cops had been killed in the attack.

A day earlier, 11 Taliban fighters and a policeman were killed in a clash in the Kajaki district of the Helmand province. Deputy provincial governor Amir Muhammad Akhunzada said fighting erupted around 10am in Gul Qala area of Kajaki district when Taliban attacked a police patrol. The clash left 11 fighters dead while three others were arrested. Akhunzada said one policeman was also killed in the firefight. He claimed six rockets, two AK-47 assault rifles and several landmines and ammunitions were also found on the site.

In the neighbouring Paktia province, two ANA soldiers were wounded in a landmine explosion. The soldiers were conducting anti-insurgent operation in the eastern parts of Gardez. Also on Tuesday, Helmand police said they killed three Taliban fighters and arrested another in a clash. Provincial police chief Nabi Jan Malakhail said police had received a tip-off that a group of Taliban was planning to attack headquarters of the Garmsir district. Mulakhel said police personnel were deployed at strategic locations. The Taliban were ambushed as they approached the district last night. He said three Taliban were killed while one was arrested by police in injured condition. The US-led coalition forces said they had killed one suspected al-Qaeda member and detained 13 others in an early morning raid in the Yaqoobi district of the southeastern Khost province on Tuesday. [More>>frontierpost.com.pk]
---
8.16.06 Net users' growth: India on top
NEW DELHI (PTI) August 16 – People in India are taking onto the world wide web in a big way outpacing anyone else across the globe – including big brothers like the US, China, Japan and Germany in terms of the online population. The total online population in India, measured in terms of people aged over 15 years accessing Internet, rose 7.8 per cent to 18.02 million in June, from 16.71 million three months ago in March, a latest survey from US-based technology research firm Comscore Networks reveals.

The growth in the country's online population outscores the rise of 2.7 per cent in the world's overall online audience size, which rose to 713 million in June, from 694 million in March this year. India has also become the ninth biggest country in terms of the total online population from its 10th position three months ago, while the US has retained its top slot with 153 million of web users. [More>>expressindia.com]
---
8.16.06 Russia regrets fisherman's death, but blames Japan, crew
MOSCOW (RIA Novosti) August 16 – Russia's Foreign Ministry expressed deep regret over the death of a Japanese fisherman Wednesday, but said Japanese authorities and the fishermen themselves were responsible for the incident. A row broke out between Moscow and Tokyo after Russia shot dead a Japanese crew member on a fishing vessel allegedly poaching in Russian territorial waters. "The Russian Foreign Ministry deeply regrets the death of one of the crew members," the ministry said in a statement.

Japan said a Russian patrol boat opened fire on the vessel at about 2:25 a.m. Moscow time (10:25 p.m. GMT), killing one man aboard. Russian officials said the vessel was suspected of illegally fishing for valuable crab in Russian territorial waters, and that border guards had fired warning shots only after it refused to stop. "Obviously, the responsibility totally rests with the direct culprits, and also with those representatives of the Japanese authorities who turn a blind eye to poaching in Russian territorial waters by Japanese fishermen," the statement said. Crab fishing in the area, which is administered by Russia but claimed by Japan, is illegal, although it is unclear whether the vessel was fishing at the time of the incident.

..."The violators tried to escape, engaging in dangerous maneuvers and trying to ram the patrol boat when officers tried to board the [fishing] vessel for inspection," it said. Tatyana Kutuzova, an aide to the regional prosecutor on the island of Sakhalin, said earlier Wednesday that the Japanese vessel had entered Russian waters without identification markings, and that 30 kilograms of crab and 10 kilos of octopus was found on board. Russian diplomatic officials confirmed earlier reports that the crewmen had been throwing the catch overboard as they fled the coastal patrol.

...Relations between Russia and Japan have long been strained over the Kuril Islands. Japan maintains that their seizure by the Soviet Union at the end of WWII was illegal, and the dispute has until now kept the two countries from signing a formal peace treaty. It is the third such incident for the Kisshin Maru 31. It was involved in confrontations with the Russian coast guard in 1988 and 1994. A total of 30 fishing boats and 210 Japanese crew members were seized by Russia in the disputed waters between 1994 and 2005. Seven fishermen were injured when Russian patrolmen fired on them. [Full story>>rian.ru; See also a Japanese report, crisscross.com, August 16, "Japanese fisherman shot dead on boat by Russian border patrol."]
---
8.16.06 Terrorists, be afraid of www
August 16 – Alice Miles comments: The web and al-Qaeda may be the same age, but the power of one will eventually beat the other. The World Wide Web had its 15th birthday this month. It is no coincidence that over the same period of time, radical Islamist terrorism has emerged as Western democracyıs deadly new threat. Al-Qaeda and the web are the same age. Before the web, terrorism remained local. It had to. There were limited physical and secure ways of reaching sympathizers farther afield, of channelling money, of propagandizing and recruiting internationally. Before the early 1990s, and al-Qaedaıs move to Sudan, Osama bin Ladenıs operations were local, and limited.

Today the Islamist terror network operates internationally through a series of dedicated and sometimes restricted websites; doubtless it uses the web to channel money around the world as well. It was on a supposedly ³restricted² website used by extremists that Ayman al-Zawahiri, the deputy head of al-Qaeda, gave warning last month of two large-scale attacks being planned this autumn. Militant websites host announcements from al-Qaeda leaders; the last testaments of suicide bombers; even the beheading of Western hostages.

...The world wide web might have propelled old enemies forwards, but it holds the key to defeating them as well. In areas of the world where Islamist terrorism recruits, internet access does not stretch beyond a sophisticated elite. According to the broadband consultancy Point Topic, there are 14,600 broadband lines in Pakistan — thatıs one for every 10,000 people; in the UK we have 11 million, or one for every five of us. Saudi Arabia has 12,000; the United States, more than 48 million. Throughout the Muslim world, internet usage is strictly limited. Even Egypt has only 110,000 lines among its 72 million citizens...[Full story>>timesonline.co.uk ; See related story, haganah.org, August 14, "Hezbollah in Latin America: In Venezuela and online."]

Copyright © 1981-2006 Maravot. All rights reserved
Copyright © 1981-2006 Mel Copeland. All rights reserved
Painting of Apple by Mel Copeland, early 70's
Background: tile from Cicero's villa (Marcus Tullius Cicero 106 B.C. - 43 B.C.)