---
8.13.06 Charity funds sent to PoK for UK plot
LONDON (PTI) August 14 – Certain UK-based Muslim charities had transferred "huge sums" to banks in Pakistan Occupied Kashmir (PoK) to pay for the airline bombing plot, and some of the terror suspects visited al-Qaeda camps posing as quake relief workers, reported The Mail on Sunday. Key members of the terror gang travelled to Pakistan¹s lawless border region with Afghanistan as well to learn bomb-making techniques, the report said, adding that security services and Pakistani intelligence were trying to piece together exact movements. [expressindia.com]
---
8.13.06 Britain's Al-Qaeda leader seized
August 13 – Security sources believe that a man arrested in last week¹s anti- terror raids in Britain is Al-Qaeda¹s leader in this country. Home Office officials say that one of those arrested is suspected not only of masterminding the foiled plot to bring down up to nine transatlantic airliners, but also of involvement in other planned atrocities over the past few years. They believe that he was instrumental in sending the ringleader of at least one previous British terror plot for training at a camp in Pakistan last year. He is described by counter-terrorist officials at MI5 as the senior figure in a British terror network involving Kashmiri, north African and Iraqi cells. [More>>timesonline.co.uk ; See also independent.co.uk, August 13, "Target Britain: Wave of attacks planned, say investigators."]
---
8.13.06 Syria still transferring supply of rockets, missiles to Hezbollah
August 13 – Syria continues its efforts to transfer large quantities of war materiel, including rockets, to Lebanon, in an effort to assist Hezbollah in its war against Israel, a senior Israel Defense Forces source told Haaretz on Saturday. According to the IDF source, the air force has succeeded in partially stemming the arms transfers, but intelligence shows that supply convoys have managed to cross into Lebanon from Syria. Senior Syrian army and intelligence officers are involved in the arms smuggling, according to the senior IDF source, who says it is unlikely this continues without the explicit support of the regime in Damascus. [More>>haaretz.com ; See related story, Jerusalem Post, August 13, "Lebanese Cabinet meeting indefinitely postponed."]
---
8.13.06 Me siento muy feliz (I feel very happy)
August 13 – Photos of Castro in hospital wearing a red, white and blue suit reading newspaper with his photo appeared today with the caption: Al arribar a sus 80 años de edad, el Comandante en Jefe Fidel Castro envía mensaje alentador sobre su estado de salud, que ha mejorado considerablemente. Asegura que el país marcha perfectamente bien (When arriving at the age of 80 the Commander-in-Cheif Fidel Castro encouraging that his state of health has improved considerably). [More>> juventuderebelde.cu]
---
8.12.06 Nasrallah: Hezbollah will abide by UN-backed cease-fire
August 12 – Hezbollah Leader Sheikh Hassan Nasrallah said on Saturday that if a UN-endorsed agreement were reached that would end the hostilities, then his organization would abide by it. In a televised speech on Hezbollah-run al-Manar television, he said that he would allow for the deployment of the Lebanese army, augmented by UNIFIL forces, to deploy in southern Lebanon. Still, he said he had some reservations against the resolution, but noted he would bring those up at the Lebanese cabinet meeting that would be convened on Saturday evening. His strongest reservation was against the arms embargo that the cease-fire agreement called for.

Cease-fire analysis: Not so bad in theory

He expressed the hope that the end of the war was near, but warned that the end would not arrive for another few days. Nasrallah noted that the Israeli military activity continued, under American approval, in order to gain territorial accomplishments before the cease-fire would go into effect. The Lebanese leader said that Hezbollah would not cease its actions against "the Zionist enemy." We will continue to "fulfill our national and jihadic obligations." He promised that his organization would continue to fight until the Israeli troops left Israel. Still, he claimed that Hezbollah activities came in response to the Israeli offensive, and so, if the IDF ceased its military activity, then Hezbollah would also. [More>>Jerusalem Post ; See also haaretz.com, August 12, "Official: Aim is to hand over 'cleaner' S. Lebanon to Lebanese army." : A UN-brokered cease-fire would go into effect on Monday morning at 7 A.M., a senior Israeli government official said Saturday afternoon. By then, IDF forces are expected to reach the Litani River, some 30 kilometers inside Lebanon, with the purpose of cutting off Hezbollah forces further south, toward the border with Israel. In the event that the fighting resumes, IDF forces will then be in a position to move more effectively against Hezbollah militants.

Prime Minister Ehud Olmert's office, meanwhile, said late Friday that the expanded incursion into Lebanon would continue "for the time being," despite Israel's agreement to a cease-fire resolution drafted by the United Nations Security Council. The cabinet is expected to vote Sunday on the resolution...
---
8.12.06 Al Qaeda active in India-controlled Kashmir: security agencies
NEW DELHI (Xinhua) August 12 – Security agencies in India-controlled Kashmir said they have found the existence of Al Qaeda militants, suspected to be mainly from Afghanistan or other countries, in the forests of Bandipore in the region. "We are convinced that the global terror network has firmly established itself in Kashmir," Indo-Asian News Service on Saturday quoted an Indian intelligence agency official on condition of anonymity as saying. "That Bandipore in north Kashmir has become home to some Al Qaeda militants that was first known in an intercepted militant's conversation. The inputs have been verified and found to be correct," the official said.

Two days after the July 11 Mumbai blasts, a caller identifying himself as Abu Hadeed and a spokesperson of Al Qaeda in Kashmir, had told a Srinagar-based local news agency, Current News Service, that the chief of the group in the region was Abu Abdul Rehman Ansari. Though the caller, who had made the call from a local phone booth in Malaratha in downtown Srinagar, has not been traced so far, the probe agencies have concluded that it was the handiwork of Al Qaeda. "We are still trying to trace the caller to know more (about the group)," the official said. The security agencies are engaged in tracing out more about the global terror network and its intrusion into India-controlled Kashmir, he said. [xinhuanet.com]
---
8.12.06 US army says 26 insurgents killed in Iraq's Ramadi
BAGHDAD (AFP) August 12 – The US military said Saturday 26 insurgents were killed in Iraq¹s restive Al-Anbar province following a series of attacks on US bases in the area a day earlier. On Friday, marines and soldiers in Ramadi "were attacked at multiple locations with rocket-propelled grenades, medium machine-gun fire and small arms fire from buildings targeting outposts in the northwest portion of the city," it said. The attacks came "from non-combatant and protected locations, such as homes and mosques," the statement said.

During these attacks, coalition forces positively identified gunmen, dressed in civilian attire, and defended themselves, 'killing" 26 anti-Iraqi forces. "No soldier or civilian casualties resulted from the clashes," the military said. Ramadi is the capital of the western province and is a Sunni Arab stronghold where US-led forces come under regular attack. [khaleejtimes.com ; See related story, aljazeera.net, August 12, "US detains scores in Baghdad sweep."]
---
8.12.06 Airline plot had support in Pakistan, officials say
August 12 – US and European officials described Pakistan yesterday as the hub of a plot to down transatlantic flights, saying the young British men allegedly behind the planned attacks drew financial and logistical support from sponsors operating in Karachi and Lahore. At least 17 suspects in British custody for the aviation plot have family ties to Pakistan, and several had traveled there in recent months to seek instructions and confer with unknown conspirators, intelligence officials said yesterday, discussing several elements of the investigation on the condition of anonymity. Pakistan's government, portraying itself as a reliable ally against terrorism, said it had made at least seven arrests connected to the plot but insisted that the conspiracy was centered in neighboring Afghanistan. Two of the men in custody there were British citizens... "The Pakistan connection is the big focus now," said one intelligence source. "Everything is coming out of there." [Full story>>washingtonpost.com]
---
8.12.06 British planes plot: members of outlawed organizations nabbed
LAHORE, August 12 – On suspicion of involvement in disruptive plot of British planes, some members of the outlawed organizations have been arrested and shifted to an undisclosed place where they are being interrogated. An important person in Punjab, on the condition of anonymity, told Geo News that the banned organizations¹ members were being raided on suspicion of their implication in mass disruptive plot in London. He said that some agencies of the federal government are carrying out the operation; however, the Punjab government was helping it. He said important maps and heavy ammunitions were recovered from the alleged terrorists arrested from Faisalabad, Kahina and Muredke and on their tip-off, raids were being carried out at different places in Punjab. [thenews.com.pk]
---
8.12.06 Airline terror plotters 'linked to 7/7 bombers'
August 12 – The capture of a British national in Pakistan was the trigger for the arrests of 24 men suspected of plotting to blow up transatlantic airliners. Government sources indicated to The Times that the apprehension of Rashid Rauf was the key event that forced British police to raid addresses in London, Birmingham and High Wycombe. One of those arrested in Birmingham was Rauf¹s brother, Tayib, 21. Police brought the raids forward because they were concerned that the alleged plotters would realize they were under surveillance once they lost contact with a central figure in their plans, and either go into hiding or carry out an attack.

In a separate development, Scotland Yard is investigating possible links between the men arrested on Thursday and other British terrorists, including the July 7 bombers. They are concerned that some of those now in custody visited Pakistan last year at the same time as two of the London bombers. Pakistani intelligence sources are examining whether any of those arrested on Thursday attended the same madrassa, or religious school, as the 7/7 bombers. Searches after Thursday¹s arrests had uncovered material which could be used in bomb making, The Times was told by security sources last night.

Rashid Rauf left Britain in 2002 after the murder of his uncle Mohammed Saeed, 54, who was stabbed to death in Birmingham in April of that year. Pakistani officials said that Rauf had forged links with militant groups and received explosives training at an al-Qaeda camp. The Foreign Ministry said: "A key person arrested is British national Rashid Rauf." West Midlands Police said that the home of the Rauf family, at St. Margaret¹s Road in Ward End, Birmingham, had been searched in 2002 in connection with the Saeed murder inquiry. Rashid Rauf has not been arrested or charged with his uncle¹s murder.

The Pakistani authorities have made several more arrests which they said were directly connected to the airline plot. They said that one was a British national. Another of those detained is understood to be Matiur Rehman, 29, previously identified by Pakistani intelligence as a senior al-Qaeda operative and linked to an assassination attempt on President Musharraf. The Pakistani Foreign Ministry added: "There are indications of an Afghanistan-based al-Qaeda connection." [More>>timesonline.co.uk]
---
8.12.06 Tracing terror plots, British watch, then pounce
WASHINGTON, August 12 – The disclosure that British officials conducted months of surveillance before arresting 24 terrorism suspects this week highlighted what many terrorism specialists said was a central difference between American and British law enforcement agencies. The British, they say, are more willing to wait and watch. Although details of the British investigation remain secret, Bush administration officials say Britain¹s domestic intelligence agency, MI5, was for at least several months aware of a plot to set off explosions on airliners flying to the United States from Britain, as well as the identity of the people who would carry it out.

British officials suggested that the arrests were held off to gather as much information as possible about the plot and the reach of the network behind it. Although it is not clear how close the plotters were to acting, or how capable they were of carrying out the attacks, intelligence and law enforcement officials have described the planning as well advanced.

...Andrew C. McCarthy, a former terrorism prosecutor at the Justice Department, said he believed that British authorities were willing to allow terrorist plots to progress further because, if an attack appeared imminent, they could immediately round up the suspects, even without formal criminal charges. "They have this fail safe," he said. "They can arrest people without charging them with a crime, which would make a big difference in how long you¹d be willing to let things run." He said F.B.I. agents, who are required to bring a criminal charges if they wanted to arrest a suspect, had a justifiable fear that they might be unable to short-circuit an attack at the last minute...[Full story>>nytimes.com]
---
8.12.06 Bush links Hezbollah and 'plot'
August 12 – US President George W. Bush says Hezbollah and alleged UK air plot suspects share a "totalitarian ideology" they are seeking to spread. Linking their actions with insurgents in Iraq and Afghanistan, he said they all wanted to "establish safe havens from which to attack free nations." Mr. Bush said the UK terror plot was a "reminder that terrorists are still plotting attacks to kill our people." He made the comments in his weekly radio address to the American people. "The terrorists attempt to bring down airplanes full of innocent men, women, and children," Mr. Bush said. "They kill civilians and American servicemen in Iraq and Afghanistan, and they deliberately hide behind civilians in Lebanon. They are seeking to spread their totalitarian ideology." [More>>bbc.co.uk]
---
8.12.06 Suspects' money trail may not lead to wealth of information
August 12 – The order to freeze the bank accounts of 19 suspects in the alleged airline bomb plot was issued fast but may have a limited impact if the sums are small, said financial crime experts yesterday. Financial authorities and banks might find it increasingly hard to track terrorist financing because plots involving British citizens might involve neither international transfers nor unusually large transactions, said people familiar with the banking industry. The Bank of England's order, which was issued at the Treasury's request, takes to 85 the number of people whose assets are frozen under a special measure introduced shortly after the September 11 2001 terrorist attacks on the US.

David Leppan, the chief executive of World-Check, which provides intelligence on high-risk clients to the financial sector and governments, said banks would pay close attention to the order but might not be able to freeze much if the suspects had been planning to use "small amounts of money to carry out attacks to massive effect. Looking for terrorist financing is an extremely difficult task," he said. "[Often] We have only been able to identify individuals because of their associations, not because of financial transactions," he added. [More>>ft.com ; See also counterterrorismblog.org , August 12, "Counterterrrorism Blog posts on terrorist financing methods & our continuing vulnerabilities" : The focus in the UK-US airline terror plot is now on the financing of the plot; Dennis Lormel and I were quoted in a Dow Jones MarketWatch story on that issue. A Financial Times story points out the difficulties in tracking terrorists' funds: "A greater problem for the authorities is the sheer lack of contact some terrorist suspects have with western banks, instead choosing to employ networks such as the Hawala system used by foreign workers around the world. The difficulties in following the money become even greater when nothing in the suspects' financial behavior marks them out from millions of other account holders." Here are selected posts by Counterterrorism Blog Contributing Experts this year (in chronological order) on terrorist financing methods and vulnerabilities which still need to be shut down...]


---
8.11.06 American companies continue to be the primary providers of internet service to Hezbollah : Report
August 11 – Haganah.org reports: "...Despite the fact that Hezbollah is a designated Terrorist entity in the United States, American companies have been, and continue to be, the primary providers of service to Hezbollah. We now know of 40 domains of Hezbollah, based largely on a list provided by Hassan Nasrollah on a previous incarnation of his own web site. Of those 40 domains, 23 are now or have been provided DNS services by Alabanza Inc. of Baltimore, Maryland. No other provider comes close. Alabanza's domain name registration business, Bulkregister, is Hezbollah's registrar of choice. See our report regarding the registrars of Hezbollah's domains..."[More>>haganah.org]
---
8.11.06 Officials: Plot suspects met alleged al Qaeda bomber
August 11 – Two of the suspects held in connection with the plot to down jetliners with explosives had contact with a Pakistani suspected of being an al Qaeda operative, U.S. and British officials said Friday.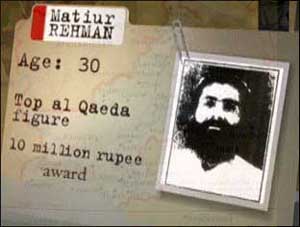 The officials allege that Matiur Rehman, described as an explosives expert in Pakistan who is now at large, met two of the British suspects in Pakistan. But officials, who say the plot displays signs of al Qaeda participation but who are still investigating that angle, do not know whether Rehman was involved in the plot. After the two people returned to Britain, they received a wire transfer of money from Pakistan, the officials said. [More>>cnn.com]
---
8.11.06 Day of terror strikes was planned for August 16
August 11 – Terrorists were planning to unleash a series of deadly mid-air explosions on flights between London and America on August 16, it has been revealed today. Members of the terror group, who were arrested in a series of raids by anti-terror police yesterday, were due to mount a dry run today to check if they could smuggle components for liquid explosives through Britain's airports. United Airline tickets dated next Wednesday were found by police at the home of one of the raided addresses. [dailymail.co.uk via counterterrorismblog.org]
---
8.11.06 Heavy clashes between IDF troops, Hezbollah in Rashaf
August 11 – Violent clashes continued in southern Lebanon on Friday between IDF troops and Hezbollah gunmen. An elite IDF reserve unit was embroiled in fierce gun battles with Hezbollah on Friday afternoon in the eastern sector village of Rashaf. Four soldiers were lightly wounded in the fighting. Meanwhile, IDF forces killed several Hezbollah gunmen and discovered a weapons cache near the village of Rajamin in the western sector. Earlier Friday, it was released for publication that an IDF reserve officer was killed and 19 others were wounded - nine of them seriously - during heavy clashes between the IDF and Hezbollah operatives in southern Lebanon on Thursday. [More>>Jerusalem Post ; See related story, aljazeera.net, August 11, "Diplomacy intensifies as Beirut hit."]
---
8.11.06 No end in sight to Sidoardjo mudflow
SIDOARJO, Indonesia, August 11 – Hot mud that has been flowing from a gas well in Sidoarjo, East Java, since May 29 breached a dam Thursday morning, forcing thousands of more people from their homes. Later in the day Vice President Jusuf Kalla led an emergency meeting to discuss the continuing environmental and human disaster. The dam, which was built to contain the mud and keep it from nearby villages, was breached for a second time at around 9 a.m. This comes days after the local turnpike operator declared the toll road linking East Java towns to the provincial capital Surabaya had to be closed for a third time because of the mud. The operator said the turnpike would be closed indefinitely.

Some 20 train departures were canceled and two main roads were blocked as residents used all manner of vehicles, including tractors and bulldozers, to flee villages in Porong district. An estimated 12,000 people have now been forced from their homes by the mud flow. The company that drilled the well for its gas operations, Lapindo Brantas Inc., continues to publish advertorials in newspapers claiming it is doing all it can to stem the flow of mud. Schools and homes have been inundated up to their roofs. Residents were sent into a panic Thursday when, as one villager described, the mud flow "all of a sudden rushed toward us."... To date, the mud has covered some 210 hectares of land in Sidoarjo. [Full story>>thejakartapost.com]
---
8.11.06 Britain releases frozen account holders names
LONDON, August 11 – 9 people early on Friday, naming them as people arrested Thursday in connection with an alleged terror plot to bomb British passenger jets. "On the advice of the police and security services, the Treasury has instructed the Bank of England to issue notices to effect a freeze of the assets of a number of individuals arrested in yesterday's operations," a Treasury statement said. The 19 men named by the Bank of England were Ahmed Abdula Ali, Cossor Ali, Khuram Shazad Ali, Nabeel Hussain, Tanvir Hussain, Umair Hussain, Umar Islam, Wassem Kayani, Abdullah Assan Khan, Arafat Waheed Khan, Adam Osman Khatib, Muneem Abdul Patel, Tayib Rauf, Usman Muhammed Saddique, Assad Sarwar, Ibrahim Savant, Asmin Amin Tariq, Mohammed Shamin Uddin, and Waheed Zaman. [thenews.com.pk ; See more details, washingtonpost.com, August 11, "Names of 19 terror suspects."]
---
8.11.06 US issues terror warning in India
NEW DELHI (AP) August 11 – The US Embassy in India's capital warned Friday that foreign militants, possibly al-Qaeda members, may be planning to carry out bombings in two major Indian cities in the coming days. An e-mail sent to American citizens registered with the embassy said New Delhi, the capital, and Bombay, the country's financial and entertainment hub, were the targets of the alleged plot, and that the attacks were believed to be planned around India's Independence Day, which falls on Aug. 15. The embassy confirmed that it had sent the e-mail, and the chief secretary of India's Maharshtra state, where Bombay is located, confirmed that authorities had intelligence about a possible terror plot.

... Press Trust of India reported Friday that police in New Delhi had arrested two members of a Pakistani Islamic militant group suspected in a string of bombings in India, including last month's attacks on Bombay's commuter trains, which killed 207 people. The news agency said the arresting officers believed they had foiled a terror plot by the Pakistan-based group Lashkar-e-Tayyaba, which is believed to have ties to al-Qaeda.

One of the two alleged Lashkar-e-Tayyaba militants arrested is Pakistani, and both were arrested late Thursday with 4.4 pounds of a powerful explosive known as RDX, and a huge quantity of other ammunition, PTI reported. They were nabbed at New Delhi's train station. The Pakistani was identified only as Anaz, a native of Islamabad, and the other man as Abrar Ahmed, from the northern Indian state of Uttar Pradesh, PTI said. [Full story>>nytimes.com ;
---
8.10.06 Britain freezes assets of 19 terror suspects
LONDON, August 11 – The Bank of England froze the assets of 19 people early on Friday, naming them as people arrested Thursday in connection with an alleged terror plot to bomb British passenger jets. British police have arrested 24 British nationals involved in a terrorist plot to simultaneously blow up several aircraft heading to the United States, using explosives smuggled in carry-on luggage. According to An American television, 22 of the arrested people are Pakistani descent, while the two of Iranian and Bangladeshi. All of them are between the ages of 17 and 35. British police is conducting raids to arrest the remaining five suspects believed to be a part of the conspiracy.

British Home Secretary John Reid said 24 people had been arrested in London, its suburbs and Birmingham following a lengthy investigation, including the alleged "main players" in the plot. Searches continued in a number of locations. The suspects were "homegrown," though it was not immediately clear if they were all British citizens, said a police official who spoke on condition of anonymity because of the sensitivity of the case. Police were working closely with the South Asian community, the official said. [thenews.com.pk ; See also bbc.co.uk]
---
8.10.06 Pakistan helps UK foil planes' bombing
ISLAMABAD, Pakistan, August 11 – The lead that enabled the British security agencies in foiling a terror plot for blowing US-bound airliners was squeezed out of three suspects held in Karachi Tuesday morning, The Nation has learnt. "These three terror suspects were held after the interception of a communication regarding the deadly plot to explode several mid-flights," highly placed security sources revealed on condition of anonymity. The information was immediately passed on to MI5 which thwarted the terror plan to simultaneously blow up several flights destined to US by using explosives concealed in carry-on luggage, the sources added.

Claiming the credit for foiling what could have been a huge disaster, the sources said seven more persons were also held on Thursday from two different cities after receiving some counter information from MI5 following the arrests in the suburbs of London.
Interior Minister Aftab Ahmed Khan Sherpao when contacted confirmed the arrests, however, he refused to disclose the identity of held suspects, owing to sensitivity of the probe.

It was a joint coordinated operation between US, UK and Pakistani intelligence agencies, which averted the disaster, Sherpao said.
Pakistan helped the British security agencies to foil a plot aimed at blowing the several aircraft flying between Britain and United States, Foreign Office spokesperson, Tasneem Aslam, stated after the arrests. She said Pakistan has also made some arrests in coordination with detentions made in Britain to foil a bombing plot. [More>>nation.com.pk]
---
8.10.06 Red alert after police 'foil air terror plot'
August 10 – A terrorist plot to blow up aircraft in mid-flight has been thwarted, Scotland Yard said. Hand luggage has been banned at UK airports and MI5 has raised the threat level to "critical." A statement on the MI5 website said: "This means that an attack is expected imminently and indicates an extremely high level of threat to the UK."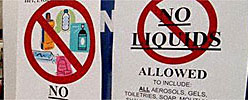 Sign in airport. No liquids allowed in carry-on luggage. [Image from independent.co.uk]
Sources say that liquid chemical devices were suspected. It is believed that the aim was to smuggle the devices on board the aircraft in hand luggage and that the attacks would have been targeted at flights from the UK to the USA. In Washington, counter-terrorism officials said United, American, Continental airlines were targeted. Senior sources in London said that the terrorists were believed to have been planning to blow up as many as nine aircraft. The sources could not give an accurate estimate about when exactly the simultaneous attacks were planned for, but said there were "operational reasons" which meant action was required last night. Scotland Yard has arrested 21 people in London, the Thames Valley area and Birmingham.
Deputy Commissioner Paul Stephenson said that the plot was intended to bring down a number of aircraft through mid-flight explosions. He said: "This was intended to be mass murder on an unimaginable scale." Searches were on-going at a number of addresses, he added. Sources said detectives had found "a number of things that are causing interest."
It is believed the covert investigation has been going on for several months and it is understood that officers made the arrests overnight not because they feared an attack was likely to happen today but for other intelligence reasons which meant they had to act quickly. The head of Scotland Yard's anti-terrorist branch, Peter Clarke, said the plot has "a global dimension." The investigation had involved an "unprecedented" level of surveillance and had involved police forces in the UK and internationally. [More>>
independent.co.uk
; See related stories,
nytimes.com, August 10, "Plot echoes one planned by 9/11 mastermind in '94"
: JAKARTA, Aug. 10 — The plot to blow up several airliners over the Atlantic, uncovered by British authorities, bears a striking resemblance to a plot hatched by Al Qaeda operatives 12 years ago to simultaneously blow up airliners over the Pacific. That plot was hatched in Manila by Khalid Sheikh Mohammed, who was starting his climb to be a top lieutenant to Osama bin Laden, and by Ramzi Yousef, who was the mastermind of the first bomb attack on the World Trade Center in 1993. It was financed by bin Laden.
Mr. Mohammed gave the operation the codename "Bojinka," which was widely reported to have been adopted from Serbo-Croatian, and to mean "big bang." But Mr. Mohammed has told Central Intelligence Agency interrogators that it was just a "nonsense word" he chose after hearing it on the front lines in Afghanistan, where he was fighting with Muslim rebels against Russia, according to "The 9/11 Commission Report." Mr. Mohammed was seized in Pakistan in 2003, and is now being held by the C.I.A. at an undisclosed location...
cnn.com, August 10, "US: Airline terror plot 'close to execution.'"



---
8.10.06 San Francisco puts impeachment on the November Ballot
SAN FRANCISCO, Ca., August 10 – Four City San Francisco Supervisors have put their pens to a document that will allow the city's 421,000 registered voters an up or down vote on the merits of impeaching both President George W. Bush and Vice President Richard B. Cheney this November 7th. The San Francisco Impeachment Ballot Initiative, like the Berkeley Impeachment Ballot Initiative approved on June 27th, 2006, was drafted in close coordination with Constitution Summer, a nonpartisan, national coalition of students at the nation's law schools and universities. Champaign-Urbana, Illinois quietly approved the first municipal presidential impeachment initiative in American history on April 11th, 2006.

News of the San Francisco decision was withheld until today because Supervisor Chris Daly, who drafted the measure, was on vacation. In addition to Supervisor Daly, Supervisors Ross Mirkarimi, Tom Ammiano, and Jake McGoldrick signed the measure. Constitution Summer helped Supervisor Daly's office select constitutionally grounded language based on the Articles of Impeachment Against George W. Bush, which was drawn up by the attorneys at the Center for Constitutional Rights. These articles include: the Bush Administration's felonious disregard for the Foreign Intelligence Surveillance Act of 1978, which governs electronic surveillance in the United States; the initiation of an illegal war of aggression based on fraudulent claims; extraordinary rendition, indefinite detention, and torture; and an unconstitutional arrogation of power to the executive branch. In addition to these Articles, Supervisor Daly added the Bush Administration's failure to adequately respond to the Hurricane Katrina disaster as a failure to faithfully execute the laws of the United States.

The Articles of Impeachment included in the San Francisco initiative, and with exception of the Katrina response issue, the rationale behind them, are available in a book entitled The Articles of Impeachment Against George W. Bush, published by Melville House Publishing. Melville House recently organized a series of national impeachment teach-ins based on the book, the largest of which was cosponsored and organized by Constitution Summer. [More>> constitutionsummer.org ; Constitution Summer originated at UC Berkeley, Yale Law School, Stanford Law School, Columbia Law School, Georgetown Law School, Boalt Law School, George Washington University Law School, UCLA, UC Santa Cruz, UC Santa Barbara, UC San Diego, the University of Michigan, and the University of Maryland, and it continues to grow.]
---
8.10.06 Suicide bomber kills 33 near Iraqi Shiite shrine
NAJAF, Iraq (AFP) August 10 – A suicide bomber has detonated his explosive vest in a market in the ancient Iraqi city of Najaf, killing at least 33 people a short distance from Shiite Islam's holiest shrine. The blast was triggered Thursday at the entrance to a market in the old city, 150 metres (yards) from the Imam Ali mausoleum and close to the offices of Iraq's most revered Shiite cleric, Grand Ayatollah Ali al-Sistani, police said. "The total casualties are 33 killed and 94 wounded, including four Iranian visitors. One of them is in serious condition," said Doctor Munther al-Athari, head of the Najaf health directorate.

The attack came as the health ministry said the Baghdad morgue had handled 1,850 corpses last month, most of them murder victims. It was the latest in a series of bombings and shooting attacks that have poisoned relations between Iraq's majority Shiite community and the once-dominant minority Sunnis. [More>>turkishpress.com]
---
8.10.06 Turkey builds up forces near border with Iraq: report
ANKARA (Xinhua) August 10 – Turkey has been building up forces near the border with Iraq as of Wednesday, the Daily News reported on Thursday. The move came days after Washington hinted that it was no longer concerned over earlier warnings by Ankara that it might opt for military action inside northern Iraq to fight the outlawed Kurdish Workers' Party (PKK) there. Hundreds of tanks and military vehicles arrived in the southeastern town of Yuksekova in Hakkari province last week, the Dogan News Agency reported on Wednesday. Commando units from divisions based in the central provinces of Kayseri and Isparta and the northwestern province of Tekirdag have been sent to several towns in Hakkari and deployed near the border, the agency said. [More>>xinhuanet.com]
---
8.10.06 Hezbollah rockets kill boy, mother in western Galilee village
August 10 – Hezbollah gunners renewed their attacks on northern Israel on Thursday morning, killing a five-year-old Fathi Assadi and his mother Miriam, 26, in the western Galilee village of Dir al-Assad. Eleven other people were wounded in the attack, including Faris, the three-year-old brother of the boy who was killed, who sustained serious injuries. The dead woman's mother-in-law was also seriously hurt. One other person was moderately hurt and eight suffered light wounds.

Village residents wounded in the attack were evacuated to hospital in Nahariya. By mid-afternoon, Hezbollah fired some 110 rockets at cities and towns across northern Israel including Kiryat Shmona, Nahariya, Carmiel and Safed. Four impacts were also identified on the Golan Heights. Hezbollah scored direct hits on homes in Carmiel and Safed, where one person suffered from shock. Fires caused by the rocket hits raged in forests in the Golan Heights and the central Galilee. [More>>haaretz.com]
---
8.10.06 Hezbollah denies Iranian fighter report
August 10 – Hezbollah has denied that Iranian fighters were among its forces battling Israeli troops who have begun to advance deeper into southern Lebanon. Israel's Channel 10 television reported on Wednesday that members of Iran's Revolutionary Guard force had been found among dead Hezbollah members killed by Israeli forces in the south of Lebanon. Citing diplomatic sources, the report said the Iranians were identified by documents found on their bodies, but gave no further details on how many were discovered or when. [More>>aljazeera.net]
---
8.09.06 Suspected kidnappers of US reporter in Baghdad, arrested
BAGHDAD (AFP) August 9 – US forces in Iraq have arrested four men they suspect of involvement in the kidnapping of American reporter Jill Carroll and raided three houses where they think she was held, a spokesman said Wednesday. US-led coalition forces spokesman Major General William Caldwell said the four captives included a member of the Mujahideen Shura, an umbrella body of Sunni insurgent groups in Iraq which is led by the Al-Qaeda Islamist network.

Carroll, a 28-year-old freelance reporter working with the US daily Christian Science Monitor, was kidnapped in Baghdad in January by a gang who shot her driver dead while she was on way to meet a Sunni politician. She appeared on televised videos pleading for her life and was later freed following the intervention of senior Sunni politicians. The suspects were picked up in a recent series of raids in western Iraq, starting with a house in Habbaniyah, 13 kilometres (seven miles) west of Fallujah in Anbar province, which had been spotted by a young US military officer. [More>>khaleejtimes.com]
---
8.09.06 40,000 soldiers await word to enter southern Lebanon
August 9 – Tens of thousands of IDF troops amassed along the northern border Wednesday evening in preparation for Israel's largest and deepest ground incursion into southern Lebanon since the beginning of Operation Change of Direction last month. The security cabinet on Wednesday approved a plan presented by IDF Chief of General Staff Lt.-Gen. Dan Halutz, under which military forces by the thousands will head up to the Litani river over 20 kilometers from Israel and beyond in an effort to prevent the incessant Katyusha rocket attacks on northern Israel.

Some 7,000 IDF troops were operating in southern Lebanon Wednesday, clashing with Hezbollah guerrillas in several villages while holding and maintaining position along a 10-kilometer-deep security zone the IDF had created. An additional 40,000 IDF troops and reservists were waiting along the northern border in preparation for the major push to the Litani. [More>>Jerusalem Post]
---
8.09.06 Exile sets up Saudi opposition group in France
PARIS, August 9 – The son of the last ruler of part of present-day Saudi Arabia has said he was setting up an opposition party in Paris to seek democratic rule in the oil-rich kingdom.

"We announce the birth of the 'Saudi Democratic Opposition Front' which will struggle by peaceful means for the establishment of democracy in the country," said Prince Talal Mohammed Al Rashid, son of the last ruler of the independent Rashidi emirate which reigned in the northwestern region of Hail from 1835 to 1921. "The Al Saud [family ruling Saudi Arabia] must either respect liberties and introduce democracy or give up the power they usurped," Prince Talal, who has been living in exile in France since 1980, said Tuesday.

Talal, son of Mohammed II Bin Talal Al Rashid, said his opposition group would launch a satellite television channel within three months which will broadcast from a European country to "call on Saudis to rise up against the tyrants and usurpers plundering public funds." The Rashidi emirs, who were ousted by the Saud family during its struggle to unite Saudi Arabia, are a branch of the Shammar tribal confederation. Prince Talal, who has retained his title, said that the confederation was backing his new movement. He said his group, with "some 2,000 active members, mostly in Saudi Arabia," would coordinate its activities with other opponents of the Saudi government at home and abroad, chiefly the London-based Movement for Islamic Reform in Arabia (MIRA) which calls for a regime change in the kingdom. [More>>metimes.com]

---
8.09.06 Fifteen Taliban killed in attack
(AFP) August 9 – US-led soldiers and warplanes killed 15 Taliban militants who attacked a coalition compound with rockets and rifles in mountainous eastern Afghanistan, the coalition said. Two US soldiers and an Afghani policeman were wounded in yesterday¹s battle in the remote province of Nuristan which borders Pakistan, it said in a statement. It said 30 insurgents had attacked a provincial reconstruction team base in Nuristan's Kamdesh district and coalition forces responded with small arms and mortar fire. "Coalition soldiers killed 15 extremists" during the firefight, the statement said, adding that the base was undamaged. [More>>theaustralian.news.com ; See related story, xinhuanet.com, August 9, "Taliban-linked militants hang 70-year-old woman in S. Afghanistan" : KABUL – Taliban-linked militants have hanged two persons including an aged lady for alleged espionage to Americans in the troubled Helmand province in south Afghanistan, Deputy provincial governor Hajji Mullah Amir Akhundzada said Wednesday. "The anti-government Taliban insurgents hanged a 70-year-old woman and her 13-year-old grandson on charge of spying for the American forces in Tigh village of Musa Qala district on Tuesday morning," Akhundzada told Xinhua. He also termed the incident as a heinous crime and condemned it...
---
8.09.06 Bird flu toll climbs to 45 in Indonesia
August 9 – With two more people succumbing to bird flu within hours of each other Tuesday, health experts warn the human toll will continue to climb unless there is an intensified campaign to eradicate H5N1 in poultry. Health Ministry officials said Tuesday that local tests had confirmed that two teenagers died of the virus, bringing the country's death toll to a world record of 45.

A 16-year-old female died of bird flu Tuesday after being treated in a hospital in Karawaci, Tangerang, where bird flu is considered endemic in poultry and has already killed several people, the ministry's director general for communicable diseases, I Nyoman Kandun, The Jakarta Post. He said she was admitted on Aug. 4, but died before she could be transferred to the capital for specialized treatment. Local tests also confirmed that a 16-year-old resident of Bekasi, outside of Jakarta, who died late Monday had H5N1. He was suspected of coming into contact with sick chickens near his home. [More>>thejakartapost.com]
---
8.09.06 Male circumcision 'lowers risk of HIV infection by 60%'
August 9 – It used to be called the unkindest cut. But now the head of the one of the world's largest Aids charities believes we are on the brink of a revolution in attitudes to circumcision. Richard Feachem, executive director of the Global Fund to Fight Aids, Tuberculosis and Malaria, said research revealing the protective effect of circumcision against HIV was set to change parental expectations and medical practice across the world. Instead of viewing the operation as an assault on the male sex, it was increasingly being seen as a lifesaving procedure which every parent would want for their sons.

Removing the foreskin is thought to harden the glans (head) of the penis, making it less permeable to viruses. Research conducted in 2005 showed the transmission of HIV from women to men during sex was reduced by 60 per cent if the men were circumcised. A study published last month calculated that if all men in sub-Saharan Africa were circumcised, it would prevent almost six million new cases of HIV infection and save three million lives over the next 20 years. Dr. Feachem said the finding was one of the most significant in the battle against Aids and offered real hope of slowing the spread of the virus. The issue is to be debated at the World Aids Congress, which opens in Toronto next week. [More>>independent.co.uk]
---
8.08.06 Opportunity approaches the Bowl of Beagle Crater
August 7 – NASA's Mars Exploration Rover Opportunity acquired this false-color image of the rim of the 35-meter (115-foot) dia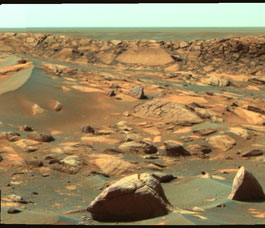 meter Beagle Crater on Martian day, or sol, 894 (July 30, 2006) using the panoramic camera's 753-nanometer, 535-nanometer, and 432-nanometer filters. At the time the rover was about 25 meters (82 feet) from Beagle Crater, looking east-southeast. The image reveals ejecta blocks near the rover, the largest of which is about 50 centimeters (20 inches) across. The image also shows a portion of the eastern interior rim of Beagle Crater, which appears composed of jumbled, angular blocks of brighter and darker outcrop rocks. The rover will drive to the rim of Beagle and acquire an extensive color panorama of the crater rim and interior in the coming sols. [marsrovers.jpl.nasa.gov]
---
8.08.06 US troops assault journalists in Kirkuk
August 8 – Several journalists in Kirkuk have accused American and Iraqi security forces of assaulting them and their crews as they tried to report on the worsening security situation in the northern city. In at least six separate incidents since June, Iraqi reporters said they had been physically beaten, had their equipment confiscated and been falsely accused of "terrorism."

Senior US and Iraqi military officials admit such attacks have occurred and a series of investigations are underway. Saman Fakhri of the Iranian-owned Al-Alam satellite television station said the assaults were intended to stop journalists reporting properly on rising levels of violence in Kirkuk. "Things are getting worse and in response the security forces are directing an increasing amount of their energy and anger against the press," he told Aljazeera.net. "We're under attack from all sides: the Iraqi Police, the Iraqi Army, the Emergency Services, Coalition Forces and the political parties are subjecting us to physical and verbal abuse."

American and Iraqi authorities in Kirkuk are keen to present the city as peaceful and united, in contrast to its reputation as a battleground between separatist Kurds, Turkomen and Arabs. But since the killing of al-Qaeda- in-Iraq leader Abu Musab al-Zarqawi, Kirkuk has seen a surge in car bombings that have left scores – mainly civilians – dead.

...Colonel David Gray, commander of the 101st Airborne brigade stationed in Kirkuk, said he was aware of "a few" assaults on journalists and expected compensation would be paid to at least one Associated Press reporter who had cameras deliberately smashed by American forces at the scene of a bombing. He insisted his troops respected press freedom and that there was no policy of interference. However Colonel Gray he said insurgents were trying to manipulate the media.

"A free and open press is a fundamental principle of democracy, but there needs to be a balance," he said. "We have to be honest that the enemy we are fighting is very skilful at using propaganda so there is a concern among police and soldiers that there may be people filming who are not accredited journalists, but in fact bad guys trying to get propaganda material." [Full story>>aljazeera.net]
---
8.08.06 Israeli minister says Russian weapons arming "terrorists"
MOSCOW (AFP) August 8 – Israeli Internal Security Minister Avi Dichter said in an interview published Tuesday that ³all the terrorists surrounding Israel² are using Russian weapons. "All the terrorists surrounding Israel are using Russian and Soviet-made arms: Kalashnikov assault rifles and Katyusha rockets," Dichter told the Russian daily Vremya Novostei. "We don¹t have information about direct contacts between Hezbollah combatants and Russia, but we know quite well about Hezbollah¹s direct contacts with Syria and Iran," Dichter said.

Russian sales of anti-aircraft missiles to Syria and Iran have been heavily criticized by the United States and Israel. Last week, the US government imposed sanctions on Russian jetmaker Sukhoi and arms export monopoly Rosoboronexport, citing their weapons sales to Iran. President Vladimir Putin defended the sale of anti-aircraft missiles to Syria in 2004, saying they posed no threat to Israel. [khaleejtimes.com]
---
8.08.06 Lebanese vow never again to be burned by US
BEIRUT, August 8 – As smoke continues to billow from an 11-storey building that was blasted by an Israeli airstrike into a heap of rubble burying four inhabitants, a woman looks over and yells: "Look what [George W.] Bush has done to my home." Ash covers the ground for many blocks, leaving no mistake warplanes have revisited Beirut for the fourth straight night as part of attacks on Lebanon now into their fourth week.

"How can the capture of two soldiers justify complete destruction of the country?" asks Pierre Dacceche, a Lebanese MP. "This is the only Arab democracy in the region and we are being destroyed by Israel." Dacceche wonders why there has been no real response from the West as the war enters its fourth week. "All the principles we learned in school are American principles and we had once believed in them," he mused, adding "but now I think it is difficult for the Lebanese people to continue to believe in Western justice."

According to the Lebanese government, over 600 people have lost their lives in what the people here refer to as the sixth war with Israel. The small nation now supports Hezbollah wholeheartedly. When children are asked what they want to be when they grow up, the answer is near unanimous: "I want to be a Hezbollah fighter and fight against Israel." [More>>metimes.com]
---
8.08.06 Roadside bombs kill 19 people in Baghdad
BAGHDAD (Reuters) August 8 – Four separate roadside bomb attacks killed at least 19 people in Baghdad on Tuesday, police sources said, as US troops made new efforts to try to rid the capital of powerful militias and defeat insurgents. The deadliest bombing killed at least 10 people and wounded 69 in the al-Shorja market in central Baghdad. Earlier, two blasts targeting police and another aimed at one of Baghdad's busiest bus stations killed nine people, the police sources said. Eight people were wounded in those attacks. The United States has boosted its troop levels in the Iraqi capital to try to stop insurgent and sectarian violence, which has raised fears of full-blown civil war, from escalating. But the campaign is likely to hit political mine fields. [More>>thestar.com.my]
---
8.08.06 PM mulls Lebanon deployment plan
August 8 – Prime Minister Ehud Olmert termed the Lebanese decision to move its army southward an "interesting" one that needs to be considered carefully. At a press conference after a meeting with President Moshe Katsav, Olmert said that since the beginning of the military operation Israel has said its goals were the implementation of UN Security Council Resolution 1559, which calls for the deployment of the Lebanese army on the border with Israel, and the dismantling of Hezbollah.

Olmert said Israel must carefully weigh to what extent this deployment is practical. There is some concern in Jerusalem that the Lebanese announcement is a ploy to get the IDF to withdraw, while forestalling the deployment of a significant multinational force that would keep Hezbollah from redeploying in the south. The US State Department said the Lebanese decision was significant. Spokesman Sean McCormack said deployment of the troops is a necessary step for peace. However, McCormack also said discussion and actual implementation of the idea needs to take place in the context of discussions at the United Nations on an overall approach to the conflict in Lebanon. [More>>Jerusalem Post]
Copyright © 1981-2006 Maravot. All rights reserved
Copyright © 1981-2006 Mel Copeland. All rights reserved
Painting of Apple by Mel Copeland, early 70's
Background: tile from Cicero's villa (Marcus Tullius Cicero 106 B.C. - 43 B.C.)