1.01.05 TSUNAMI HELP & RESOURCES
1.28.05 - 1.30.05 TSUNAMI NEWS
1.30.05 US moves from military relief to civilian rebuilding efforts in Sri Lanka
COLOMBO (AFP) Jan. 29 – The United States is ending its tsunami military relief efforts in Sri Lanka and Maldives and moving its support into civilian-driven reconstruction programmes, US officials said. By February 15, all US military personnel and equipment sent to Sri Lanka in the immediate aftermath of the December 26 tsunami will have left, said commander of the operation Brigadier General Frank Panter.[lankapage.com]
---
1.30.05 France recommends that tsunami warning center be located on Reunion island
Jan. 31 - France will seek Australian support to base the main UN-sponsored tsunami warning centre on the Indian Ocean island of Reunion when Australian Foreign Minister Alexander Downer visits this week. The development comes after representatives of 57 countries at a meeting hosted by Thailand on Saturday were unable to agree on a single regional tsunami alert centre, opting for a series of smaller regional warning centres.

French sources told The Australian that Reunion, south of Madagascar, already hosts a seismic and meteorological research centre, making it an ideal location. The centre would be modelled on the Pacific Ocean tsunami warning centre based in Hawaii, which issues alerts to 26 nations. The bid, backed by French President Jacques Chirac, is likely to be raised by Foreign Minister Michel Barnier in his talks with Mr Downer, who leaves today on a five-day mission to Britain, France, Belgium and Luxembourg. [More>>news.com.au]
---
1.30.05 US hospital ship 'Mercy" sails on mission to aid Indonesian tsunami victims
SINGAPORE (AFP), Jan. 31 – A hulking US Navy hospital ship, the USNS Mercy, will sail this week from Singapore to the Indonesian province of Aceh to help boost medical relief efforts for victims of the tsunami disaster. The whitewashed 1,000-bed floating hospital, the length of three soccer fields, arrived here on Saturday after a 24-day journey from its home port of San Diego, California and was scheduled to depart Tuesday for Aceh.

As the US military prepares to scale down its relief efforts in Indonesia, the arrival of the hospital ship – staffed by both Navy and civilian medical personnel – signals a shift in focus to the longer-term medical needs of the people uprooted from their homes.

More than 283,000 people were killed by the Dec. 26 tsunamis, over 230,000 of them in Aceh. Millions more were left homeless when the giant waves smashed into Indian Ocean coastlines. [More>>thejakartapost.com]

---
1.30.05 Series of aftershocks jolt Andaman and Nicobar islands
[India News]: Port Blair, Jan. 30 – A series of aftershocks jolted the Andaman and Nicobar Islands since last night, including five in Camorta island alone, Meteorological Department said today. Five moderate temblors with intensity ranging between 5.0 and 5.3 on the Richter scale rattled the Andaman islands this morning. The quakes, epicentered in the East of Andaman, were recorded at 05:38, 06:04, 07:56, 08:05 and 08:44 hours. Tremors measuring 5.0, 5.3 and 5.1 on the Richter scale were felt off the East coast of Car Nicobar at 05:38, 06:04 and 07:56 hours, the Met. department said. [More>>newkerala.com]
---
1.28.05 Latest government figures on Sri Lanka
Jan. 28 – According to latest government figures, 30,957 people died in Sri Lanka, 5,637 are still missing and 396,295 still homeless from last month's tsunami. [lankapage.com]
---
1.28.05 Interpol experts to assist identification of dead foreigners
A team of experts from the Interpol of Lyon in France in Sri Lanka will assist the foreign disaster victims identification team to identify specially the foreign nationals who died following the tsunami tidal waves. The Interpol experts will obtain orders from the Magistrates' Courts to exhume bodies buried in mass burial grounds in the affected areas to conduct anti-mortem examination before the post-mortem examination on foreign bodies. The Interpol experts' team has set up an efficient database to assist these teams in the analysis of DNA profile, anti-mortem and post-mortem data. [More>>dailynews.lk]
---
1.28.05 Desalination to rehabilitate agricultural lands in Sri Lanka
The Agriculture, Lands and Irrigation Ministry has formulated plans to remove the salinity of soil in cultivated lands in the tsunami stricken areas. Following research by soil scientists, engineers and agriculturists, the Ministry has commenced a program to 'wash' the fields damaged by seawater with freshwater, a Ministry spokesman told the Daily News yesterday. "If washing the affected paddy lands with freshwater is not sufficient, steps will be taken to use dolomite and gypsum to remove the salinity in such paddy lands," he said. According to information by the Ministry has received, salinity has affected the soil of over 4,000 acres of cultivated lands in tsunami stricken areas. [More>>dailynews.lk]
---
1.28.05 - 1.30.05 OTHER NEWS
Jan. 30 – [a summary of the Al-Jezeera report] ...Commission spokesman Farid Ayar indicated that around eight million people may have voted, or about 60 percent of registered voters. That would still be more than many had expected. A high turnout, especially in Sunni areas, would enhance the legitimacy of a 275-member parliament, which will choose Iraq's leaders and write a new constitution.

The Election Commission says its figure was a 'rough' estimate. It could also help deflect criticism from Sunni Muslim groups that boycotted the polls. Leading candidates said reports from their monitors across the country showed more than two-thirds of registered Iraqis voted, despite suicide bombs and attacks by fighters opposed to the presence of foreign troops in Iraq. Planning Minister Mahdi al-Hafidh said monitors for his secular Independent Democrats list had noted a high turnout early in the day.

"Our monitors observed a 72 percent turnout. Iraqis are looking at these elections as an issue of dignity," he said...Speaking to Aljazeera from the Iraqi city of Mosul, Mustafa Ibrahim, an independent Iraqi journalist, said the turnout in Mosul had been "fair" despite some problems. "There was a fair attendance compared to the expectations of many in the city.

"In general, the election held in Mosul was a surprise to all as the number of voters was more than expected when considering the daily messages and posters threatening voters with death if they go to polling stations," he added.

...Heavily-fortified polling centres were deserted and streets empty as Iraqis in the Sunni Muslim city of Samarra stayed home on Sunday, too frightened or angry to vote in the election. "Nobody came. People were too afraid," said Madafar Zeki, in charge of a polling centre in Samarra. According to preliminary figures provided by a joint US and Iraqi task force that safeguarded the vote, fewer than 1400 people cast ballots in the city of 200,000. [More>>Al-Jazeera]

---
BAGHDAD, Iraq (AP) Jan. 30 – Iraqis defied violence and calls for a boycott to cast ballots in Iraq's first free election in a half-century Sunday. Insurgents seeking to wreck the vote struck polling stations with a string of suicide bombings and mortar volleys, killing at least 44 people, including nine suicide bombers.

Women in black abayas whispered prayers at the sound of a nearby explosion as they waited to vote at one Baghdad polling station. But the mood for many was upbeat: Civilians and policemen danced with joy at one of the five polling stations where photographers were allowed, and some streets were packed with voters walking shoulder-to-shoulder to vote. The elderly made their way, hobbling on canes or riding wheelchairs; one elderly woman was pushed along on a wooden cart, another man carried a disabled 80-year-old on his back.

"This is democracy," said Karfia Abbasi, holding up a thumb stained with purple ink to prove she had voted.

Officials said turnout among the 14 million eligible voters appeared higher than the 57 percent that had been predicted, although it would be some time before any turnout figure was confirmed. [More>>Associated Press]
---
1.30.05 Bush calls Iraqi election 'a resounding success'
WASHINGTON (Reuters) Jan. 30 – President Bush called Sunday's landmark Iraqi election a "resounding success" and said Iraqis have rejected the anti-democratic ideology of terrorists. "By participating in free elections, the Iraqi people have firmly rejected the anti-democratic ideology of the terrorists. They have refused to be intimidated by thugs and assassins," he said in televised comments from the White House after the polls closed. While acknowledging "terrorists and insurgents will continue to wage their war against democracy," Bush promised that the United States will continue to "support the Iraqi people in their fight against them."

Although participation estimates varied, Secretary of State Condoleezza Rice said Iraqis defied expectations to turn out in large numbers. At least 35 people were killed in militant attacks throughout the day. [More>>reuters.com]
---
1.30.05World leaders hail Iraq vote as key to restoring sovereignty
PARIS (AFP) Jan. 30 – Messages of support poured in from around the world as Iraqis voted in a landmark election hailed by both supporters and opponents of the US-led war as a key step towards restoring Iraqi sovereignty.

President George W. Bush called the vote a resounding success. "There's more distance to travel on the road to democracy, yet Iraqis are proving they are equal to the challenge," Bush said in remarks at the White House 22 months after US-led forces invaded Iraq to oust Saddam Hussein.

...British Prime Minister Tony Blair, Bush's closest ally in Iraq, said the election was "a blow right to the heart of the global terrorism that threatens destruction not just in Iraq but in Britain and virtually every major country around the world."
He said the "force of freedom had been felt throughout the country." "Our thoughts and prayers are with the families of those who lost their lives earlier today," Blair said in a reference to violence in which at least 37 people were killed and dozens wounded as suicide bombers and insurgents hit voting centres.

...UN Secretary General Kofi Annan praised the Iraqis who turned out despite the simmering insurgent violence, in which at least 37 people were killed after the voting got under way. "The Iraqis who turned out today are courageous, they know that they are voting for the future of their country," Annan said during an African Union summit in Nigeria.

In Berlin, the German government hailed the election as "an important step on the path to construction of democratic structures." The active participation especially in Kurd and Shiite regions, despite the hostile environment, should be "analyzed as an expression of the firm determination of the majority of Iraqis to take the fate and the future of their country in their own hands," said a government spokesman.

...In Iraq's Shiite neighbor Iran, parliamentary deputy Alaeddin Boroujerdi hailed the vote as a "great step for Iraqis towards an independent and popular regime."

But former Iranian president Akbar Hasemi Rafsanjani warned that Washington may not accept Iraq becoming a country that is "free and independent and that does not stand next to America and Israel." [More>>turkishpress.com]
---
1.30.05 British military plane crashes in Iraq
BAGHDAD, Iraq (AP) Jan. 30 – A British C-130 military transport plane crashed Sunday north of Baghdad, the British Defense Ministry said. A U.S. military official said the plane's wreckage was scattered over a large area but had no immediate word on casualties. The crash occurred at around 5:25 p.m. about 20 miles northwest of Baghdad, said a ministry spokesman. He had no further details. C-130s can carry well over 100 people, though the number on the flight was not announced. [More>>Associated Press]
---
1.30.05 Kuwait City gun battle
Jan. 31 – A policeman, a wanted militant and a Bahraini civilian were killed in a gun battle today near Kuwait City in the third deadly clash in the Gulf emirate this month, as the government vowed to crush terror. "The government reaffirms its determination to crush this deviant group and deter all those who attempt to disrupt the security and stability of our beloved homeland," a cabinet statement said after the fire fight. [More>>theaustralian.news.com.au]
---
1.30.05 Three arrested in Lahore for suspected links with Al-Qaeda
LAHORE, Jan. 30 – Intelligence agencies arrested three people in a raid at Lahore on suspected links with Al-Qaeda. According to sources, the detainees are alleged that they have worked for Al-Qaeda and they have been shifted to an undisclosed location while investigations are underway. Police and related agencies however have refrained from giving further details. [jang.com.pk]
---
1.30.05 Indian leader escapes bid on life
NEW DELHI (AFP) Jan. 29 – A top Hindu nationalist leader on Saturday escaped an attack by Maoist rebels who bombed his helicopter during election campaigning in eastern state of Bihar, a report said. M. Venkaiah Naidu, former president of the main opposition Bharatiya Janata Party, was flying over Maoist-infested Gaya district when his helicopter ran out of fuel and had to make an emergency landing, the Press Trust of India reported. After the aircraft landed safely and Naidu and the other occupants left the spot, Maoist rebels set the helicopter ablaze with a petrol bomb, the report said.

Elections are due in Bihar on Feb. 3, 15 and 23. Most parts of southern Bihar, where Gaya is located, have for decades been hotbeds of a raging Maoist insurgency. The two main groups active in the region - the Maoist Communist Centre and the People's War Group - have called on votes to boycott the polls, saying elections are no solution to the problems of the rural poor. [dawn.com]
---
1.30.05 Bomb explodes in Spanish seaside town
Jan. 31 – A bomb exploded in a hotel in the seaside town of Denia in south-east Spain today, injuring two people, local police said. A local police spokesman said the blast followed a call to a Basque newspaper. [theaustralian.news.com.au; see more details, "The attack in Denia in the Mediterranean province of Alicante came two days ahead of a debate by Spain's parliament on giving the Basque country yet greater autonomy to satisfy separatist ambitions..." [turkishpress.com]
---
1.30.05 Artic zone to melt by 2060: study
LONDON (IANS) Jan. 30 – Dangerous levels of climate change could come about in just over 20 years and the earth could warm by two degrees Celsius between 2026 and 2060, a new study has revealed. According to a study by the World Wildlife Fund (WWF), temperatures at the Arctic could rise by three times the projected figure for the rest of the world, leading to a loss of summer sea ice and tundra vegetation. This would lead to polar bears and other animals dying out, reported news portal Free Internet Press.

This would also mean a fundamental change in the lifestyles of the Inuit and other Arctic residents, according to the paper "Arctic Climate Change with a two degree Celsius global warming" submitted to the WWF by Mark New from Oxford University.

"A very robust result from global climate models is that warming due to greenhouse gases will reduce the amount of snow and ice cover in the Arctic, which will, in turn, produce an additional warming as more solar radiation is absorbed by the ground and the ocean," New said. Ice and snow reflect more solar radiation than unfrozen surfaces.

According to WWF, perennial ice or summer sea ice is currently melting at a rate of 9.6 percent a decade and will disappear completely by the end of the century if this continues. [More>>Indo-Asian News Service]
---
1.30.05 Lybia auctions off oil fields
Jan. 31 – Australia's second-largest producer of gas and oil, Woodside Petroleum, won four out of eight bids for exploration licences granted by Libya in more than four decades. Woodside, one of 63 companies that qualified to participate in the auction of drilling rights, bid for eight permits but said yesterday it was pleased to have won its four preferred permits. "Woodside's blocks include frontier offshore acreage that is under-explored, with no activity in the past 15 years due to Libya's isolation from the west," the company said.

"Woodside believes that its offshore blocks cover an extension of Libya's onshore Sirte Basin, which produces about 90 percent of Libya's oil and gas." The proven oil reserves of Libya are 36 billion barrels, enough to meet world demand for 440 days. Last year, Libya said reserves might surpass 100 billion barrels if the nation was fully explored.

Woodside owns 55 percent and is operator of the venture that won the four permits, which cover 37,300 square kilometers. The US-based Occidental Petroleum Corp. owns 35 percent of the venture and Liwa 10 percent. Occidental Petroleum also picked up five licences of its own right.

Other winners included Chevron Texaco, Amerada Hess, India Ltd. and India Corp., Verenex Energy of Canada, Algeria's Sonatrach, and Medco Energy International of Indonesia.

Libya is seeking massive investment to boost its oil sector, the development of which was stunted under international sanctions imposed following the bombing of a Pan Am passenger jet over Lockerbie, Scotland in 1988. [More>>news.com.au]

---
1.30.05 Car smasher dumps Honda, buys Toyota
Jan. 31 – A woman who smashed up her Honda CRV last week in protest at the car's frequent breakdowns has bought a new car – a Toyota Wish. Duanpen Silaket gained public attention when she took a sledgehammer to her brand new CRV, which she said Honda Automobile (Thailand) would not replace despite many defects. Honda later agreed to refund her 1.24 million baht and take back the car. [More>>bangkokpost.net]
---
1.30.05 80% of Japanese regional banks consider IC cards
TOKYO (Kyodo News) Jan. 30 – More than 80% of regional Japanese banks are considering switching from magnetic cash cards to ones embedded with IC chips in order to make counterfeiting more difficult, according to a Kyodo News survey. The survey shows 14 of the 112 responding regional banks have suffered damage from bank card counterfeiting. [japantoday.com]
---
1.30.05 China and Venezuela sign a series of cooperation agreements
Jan. 30 – China and Venezuela have signed a series of cooperation agreements on economy, agriculture, oil, and telecommunication during Chinese Vice President Zeng Qinghong's visit. The two sides also issued a joint press release. Venezuela reiterates it will firmly stick to the "one China" policy and support China's stance on the Taiwan issue.

Earlier, at a meeting with Venezuelan President Hugo Chavez, Zeng Qinghong said China and Venezuela should work together to enhance communication, maintain exchange of high-level visits and deepen mutually beneficial economic and trade cooperation. [More>>CRIonline; see also chinadaily.com]
---
1.30.05 Glowing corals may be lifesavers
Jan. 31 – John Roach writes: Proteins that give coral reefs a mysterious glow are illuminating medical and environmental research. Fluorescent protein molecules absorb light of one color and emit light of a different color. Understanding of the proteins' role may help preserve human lives as well as the coral reefs themselves.

"Corals are some of the most endangered organisms on the Earth. There are thousands of different kinds of coral, and many are headed for near extinction," says Vincent Pieribone, an associate professor of cellular and molecular physiology and neurobiology at Yale University School of Medicine in New Haven, Connecticut.

In the lab, fluorescent proteins are used to monitor and study biological processes associated with Aids, Alzheimer's disease, cancer and other diseases. Researchers can attach the fluorescent molecules to a protein inside a dividing cancer cell or a spreading virus – and then, by shining a light of the appropriate color, watch as a cell divides or a virus spreads. One day, the glowing proteins may illuminate intricacies of the human nervous system. "Our big goal is to put [the proteins] in the brains of organisms and actually look at what the brain is doing," Pieribone says. [More>>bangkokpost.net]
---
Jan. 29 – (Xinhua) Civil aviation sectors across the Taiwan Straits broke a half-century isolation Saturday with a smooth exchange of non-stop, round-trip charter flights linking multiple metropolises in the Chinese mainland and Taiwan.

Air China charter flight CA1087, which departed from the Beijing Capital Airport at 8 a.m. Saturday for Taipei, was the first mainland jet to take off. Some 88 passengers aboard the plane were all Taiwan businesspeople and their families home bound for traditional family reunion during the upcoming Spring Festival, or the Chinese lunar new year. [More>>chinadaily.com.cn]
---
1.30.05 Beijing considers talking with Taiwan's Chen Shui-bian
Jan. 29 – A top State leader said on Friday the mainland is ready to talk with Taiwan "president" Chen Shui-bian as long as he agrees that the two sides of the Straits belong to the one and same China. Jia Qinglin, chairman of the National Committee of the Chinese People's Political Consultative Conference, China's top political advisory body, delivered the message a day before a historic non-stop cross-Straits charter flight programme was put into place. It was the first time that Beijing has categorically shown its willingness to deal with Chen, who was once branded as one of the diehard separatists and a man without political credit. [More>>chinadaily.com]
---
BAGHDAD, Jan. 28 – Five American soldiers were killed in Baghdad in three separate incidents today, the military said, as pre-election violence also took the lives of four Iraqi policemen and a minibus driver. American officials also reported that an Army OH-58 Kiowa helicopter crashed in southwest Baghdad today, but they had no immediate information on the cause or the fate of the crew, which typically consists of two members, although the aircraft can carry additional crew members or passengers. [More>>nytimes.com]

---
1.28.05 UN Security Council Counter-Terrorism committe in Almaty, Kazakhstan
ALMATY, Kazakhstan, Jan. 28 – During two days politicians, diplomats, economists and representatives of 36 different international and regional organizations discussed how to struggle against terrorism. The meeting consisted of 4 sessions. The participants discussed counteraction to financial terrorism and international legal instruments. A special theme was security of air and sea ports. The main task for the states that fight against terrorism is to deepen contacts and make improvements in receiving information about his sphere. [More>>khabar.kz]
---
1.28.05 Judge: Jackson accuser to testify in open court

SANTA MARIA, Calif., Jan. 28 – The judge in the Michael Jackson child molestation trial today ruled that members of the press and the public will be allowed in the courtroom when the 15-year-old accuser and his brother testify against the entertainer. Earlier in the day in a separate ruling, the court decided to admit as evidence a controversial 2003 television documentary, which triggered widespread concerns about Michael Jackson's relationships with children. [More>>latimes.com]

---
1.28.05 Japan nervous of Chinese military action, relations chill
While most of the world is focused on military conflict in Iraq and Afghanistan, and potential military action in Iran, two major powers in the Asia Pacific region are unnerving each other. Who would ever have thought Japan and China could go to war in the next few years? It is highly unlikely, but possible. Relations between the two have been chilling for some time. Part of the problem is a group of islands in the southwest of Japan, including Chinaša Diaoyu Island. [More>>bignewsnetwork.com via tajikistannews.net]
---
1.28.05 Iraq sets dusk-to-dawn curfew before vote

YOUSSIFIYAH, Iraq (AP) Jan. 28, 8:18 EST – Just ahead of the first free balloting in Iraq in half a century, the nation battened down for the vote, imposing a 7 p.m.-6 a.m. curfew on Friday and closing Baghdad International Airport. Five U.S. soldiers were killed in the capital and insurgents blasted polling stations across the country. The curfew will remain in effect through Monday and the nation's borders will be sealed for the election period. Medical teams are on alert and nationwide restrictions on traffic will be imposed from Saturday to Monday to try and deter car bombs. [More>>Associated Press; see also, "Iraq sealed off as insurgents keep up election battle,": BAGHDAD (AFP) – Iraq sealed its frontiers and imposed other draconian security measures to counter insurgents whose deadly campaign of intimidation threatens the country's historic election. After another day of attacks which cost the lives of at least five US soldiers and 12 Iraqis, security forces battled into the night against rebels in Baghdad. [More>>turkishpress.com; another story, "Security tightened ahead of Iraq vote,": Draconian security measures have been imposed in Iraq amid continuing unrest in the run-up to elections on Sunday. Fifteen people, including five US soldiers, were killed on Friday by a car bomb and in attacks on voting stations and security forces across the country. [More>>Al-Jezeera]

---
1.28.05 How to assess Iraqi election results
(AP) Jan. 28 – Because there will be no exit polls nor complete election results released Sunday night, it could be difficult to assess and understand the results of Iraq's historic elections. President Bush has said the fact that Iraqis are voting at all signifies a successful election. Some outside experts believe that turnout may be a key barometer of whether Iraqis accept the results or reject them through continued violence.

A look at some factors:

Who will compile, assess and announce the election results?:

– The Independent Electoral Commission of Iraq, assisted by U.N. advisers, will announce partial results election night. Complete results could take as long as 10 days to compile, however. What the commission says about both turnout and results probably will be the most credible information about the vote. [More>>theledger.com via topix.net]

---
1.28.05 Kurds to demand key government post
Jan. 29 – Kurdish leaders from rival factions in northern Iraq have united in hopes of winning a large bloc of seats in Sunday's National Assembly vote and say they will insist that either the presidency or the prime minister's job goes to a Kurd. The two top positions in Iraq's interim government are currently held by a Shiite Muslim and a Sunni Arab, the country's two largest communities. [More>>Jerusalem Post]

---
1.28.05 Excited over Iraqi election
Mohammed writes in a blog Jan. 28 – "Go Iraq...go!

"Less than 48 hours [are] left before the people of Iraq experience free decision making for the first time in their country's modern history. It's a moment of pure freedom but still surrounded by lots of dangers just like any beautiful rose surrounded by spikes There is fear from the enemies of freedom who have their weapons already prepared to intimidate us and stop us from choosing our future. But at the same time we're full of hope as we know that we've put our feet on the right track and even if we make a bad choice once, we know that we will have the chance to reevaluate the situation again.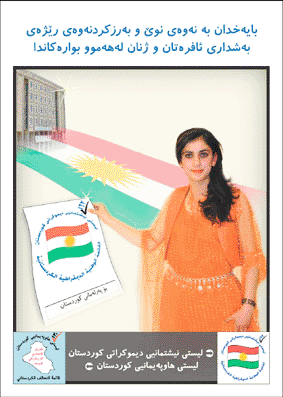 One of several images from Kurds of Iraq on celebrating the election. Kurdo's comment on this poster is: "This poster says, 'Each young man will get married to a girl like this.' (Joke) No, it says 'Giving more attention to youth and increasing women's participation in the society.'

"My comments: Just 2 weeks ago your security forces fired on a peaceful student's demo in Sulaimani. Is that how you give them attention ?!"

View images at kurdo.blogspot.com.
"No more tyrants ruling the country for decades.

"We're standing before a historic moment and I won't be exaggerating if I said that it's an important moment for the whole world; we're standing before a crossroads and everyone should watch and learn from the rebirth of Iraq.

"Regardless of the winners in these elections, those who opposed the elections and resisted the change will have to deal with the new reality.

"In 48 hours from now, the dying dictatorships and their filthy tools, the terrorists, will find themselves facing an elected legitimate government in Iraq.

"The tyrants' nightmare is becoming reality, now they will have to deal with the scariest word in their dictionaries; THE PEOPLE'S CHOICE.

"The terrorists have challenged the bravery of the Iraqi people but they messed with the wrong people. The people have accepted the challenge; democracy and elections are not a luxury for Iraqis, it's an issue of life or death. And the terror brutal campaign has only made the people more determined to go on with the change.

"The results of some recent polls that have shown how determined Iraqis are to hold the elections might have surprised you, but they weren't a surprise for us; we're not the kind of people that kneel to terror and the sights of blood and beheadings.

"Saddam had tried all tools of oppression, killing and torture he could find against our people (including WMD's) but he failed to make the people believe in his hateful regime. And that's why the people abandoned him and, now he and his regime are just a bad old tale from the past.

"On Sunday, the sun will rise on the land of Mesopotamia. I can't wait, the dream is becoming true and I will stand in front of the box to put my heart in it." [iraqthemodel; see Kurdo's World for images before the election.


---
1.28.05 Iraq catches 3 Zarqawi lieutenants; winning war on rebels
BAGHDAD (Reuters) Jan. 28 – Insurgents bent on wrecking Sunday's election in Iraq killed 10 Iraqis and five U.S. troops on Friday but the government said it had caught three al Qaeda lieutenants and insisted guerrillas were on the defensive. The government imposed extraordinary security restrictions to try to safeguard the polls. Land borders were closed and travel between provinces was banned. An extended curfew was imposed in most cities from 7 p.m. to 6 a.m.

Iraqis began voting abroad as a survey released on Friday predicted a widespread boycott by Iraq's minority Sunni Arabs of the polls expected to cement the power of the majority Shi'ites. In Australia, exiles danced in the streets, proudly displaying blue ink on their fingers which showed they had cast the election's first votes. [More>>reuters.com]
---
1.28.05 Iran-Afghanistan sign 3 cooperation documents
LONDON (IranMania) Jan. 28 - Iran and Afghanistan signed three cooperation documents, emphasizing the need to further develop and expand the two Islamic countries` bilateral ties. The cooperation documents were signed by the two countries` concerned ministers in the presence of Iran`s President Mohammad Khatami and Afghanistan`s President Hamid Karzai, IRNA reported. The cooperation documents signed on Wednesday include providing electricity for Afghan cities, opening of ogharoun-Herat Road, and constructing more border police stations. [More>>iranmania.com]
---
1.28.05 Hamas wins overwhelming victory in Gaza vote
Jan. 28 – Following a sweeping victory by Hamas in the Gaza municipal elections, a senior figure in the organization said Friday this victory demonstrates Hamas' success as a political, rather than a strictly militant entity.
Speaking to reporters in Gaza, Mahmoud al-Zahar said "The clear message [the election results relay] to the Zionist entity is that the programme of the resistance led by Hamas ... can carry out achievements in other areas," meaning the political sphere.

Zahar added that Hamas would still not accept a truce unless Israel agreed to conditions it still has not promised to fulfill, including freeing Palestinian prisoners. [More>>haaretzdaily.com; see also Jerusalem Post]
---
1.28.05 Washington lobbies United Nations for new Darfur court
Jan. 29 – The United States on Thursday lobbied UN Security Council members on a new court for perpetrators of atrocities in Sudan's Darfur region, in an effort to sidestep the International Criminal Court (ICC). The move came as envoys from the U.S. House of Representatives, returning from a trip to Darfur and Chad, called for greater pressure to be exerted on Khartoum in the form of sanctions.

So far the four Europeans and other nations on the 15-member Security Council oppose establishing a new tribunal rather than using the ICC, which the Bush administration vehemently opposes. [More>>dailystar.com.lb]
---
Jan. 28 – Yoel Marcus offers an uplifting perspective on Mahmoud Abbas' positive, immediate effort to bring peace between Palestine and Israel. He offers an interesting comparison of Abbas to Egypt's Sadat:

"Every morning we open our eyes and can't believe it. Is this for real? Another day without mortars and rockets and suicide bombings? It makes us want to stretch out in bed and heave a sigh of relief at the thought that we're on the verge of a turning point in our relations with the Palestinians. Only we're not sure that it's really happening or that it will last.

"Abu Mazen (as Mahmoud Abbas is known) has pulled a fast one on all the news commentators and observers and know-it-alls. They said the new Palestinian Authority chairman was a weakling, that he wants to act but he can't. But now in the span of one week, he has proved two things: (a) that if he wants to, he can stop the violence overnight; and (b) that he's not as wimpy as he looks. Not only has the shelling come to a halt, but he's showing the Palestinians that it's time to do some housekeeping....Sadat survived as Nasser's deputy because he was considered a dimwit. Behind his back, they called him hmar – Arabic for jackass. Abu Mazen survived in Arafat's regime because he was perceived as too weak to endanger the boss. Sadat and Abu Mazen have a lot in common...When Nasser died, Sadat promised to continue in his path – but did the opposite. ..Abu Mazen also promised to follow in Arafat's footsteps, but is doing the opposite. Arafat never gave us a terror-less day... [More>>haaretz.com]

---