9.21.06 Ten 'terrorists' executed in Iraq
September 21 – Ten people, officially described as terrorists, sentenced to death for taking part in beheadings and bombings. "According to a judicial decision, 10 'terrorists' of the group led by Sheikh Zhana Abdel Karim Barzanzi were executed today in Arbil," a security official said on Thursday. Barzanzi, a Kurdish graduate in mechanical engineering, was one of the 10 who were convicted in March of leading a cell linked to the Islamist group Ansar al-Sunna. The official said that during their interrogation the group had admitted to beheading people and carrying out bomb attacks in Arbil and Dohuk. In Baghdad, meanwhile, six policemen were killed when their station was hit with mortar and gunfire, also on Thursday. In a separate incident, the US military said an American soldier was killed by a roadside bomb in the capital. [More>>aljazeera.net]
---
9.21.06 Suits say US impeded audits for oil leases
WASHINGTON, September 21 – Four government auditors who monitor leases for oil and gas on federal property say the Interior Department suppressed their efforts to recover millions of dollars from companies they said were cheating the government.The accusations, many of them in four lawsuits that were unsealed last week by federal judges in Oklahoma, represent a rare rebellion by government investigators against their own agency. The auditors contend that they were blocked by their bosses from pursuing more than $30 million in fraudulent underpayments of royalties for oil produced in publicly owned waters in the Gulf of Mexico.

"The agency has lost its sense of mission, which is to protect American taxpayers," said Bobby L. Maxwell, who was formerly in charge of Gulf of Mexico auditing. ³These are assets that belong to the American public, and they are supposed to be used for things like education, public infrastructure and roadways.²

...In two of the lawsuits, two senior auditors with the Minerals Management Service in Oklahoma City said they were ordered to drop their claim that Shell Oil had fraudulently shortchanged taxpayers out of $18 million. A third auditor, also in Oklahoma City, charged that senior officials in Denver ordered him to drop his demand that two dozen companies pay $1 million in back interest. [Full story>>nytimes.com]
---
9.20.06 View of earth from Saturn
September 20 – (extract of Cassini-Huygens press release) ...Capping off the new batch of observations, Cassini cast its powerful eyes in our direction and ca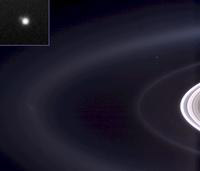 ptured Earth, a pale blue orb, and a faint suggestion of our moon. Not since NASA's Voyager 1 spacecraft saw Earth as a pale blue dot from beyond the orbit of Neptune has Earth been imaged in color from the outer solar system.

"Nothing has greater power to alter our perspective of ourselves and our place in the cosmos than these images of Earth we collect from faraway places like Saturn," said Carolyn Porco, Cassini imaging team leader at the Space Science Institute, Boulder, Colo. Porco was one of the Voyager imaging scientists involved in taking the Voyager 'Pale Blue Dot' image. "In the end, the ever-widening view of our own little planet against the immensity of space is perhaps the greatest legacy of all our interplanetary travels." [More>>jpl.nasa.gov]
---
9.20.06 Celts descended from Spanish fishermen, study finds
September 20 – Don't tell the locals, but the hordes of British holidaymakers who visited Spain this summer were, in fact, returning to their ancestral home. A team from Oxford University has discovered that the Celts, Britain's indigenous people, are descended from a tribe of Iberian fishermen who crossed the Bay of Biscay 6,000 years ago. DNA analysis reveals they have an almost identical genetic "fingerprint" to the inhabitants of coastal regions of Spain, whose own ancestors migrated north between 4,000 and 5,000BC. The discovery, by Bryan Sykes, professor of human genetics at Oxford University, will herald a change in scientific understanding of Britishness.

People of Celtic ancestry were thought to have descended from tribes of central Europe. Professor Sykes, who is soon to publish the first DNA map of the British Isles, said: "About 6,000 years ago Iberians developed ocean-going boats that enabled them to push up the Channel. Before they arrived, there were some human inhabitants of Britain but only a few thousand in number. These people were later subsumed into a larger Celtic tribe... The majority of people in the British Isles are actually descended from the Spanish." Professor Sykes spent five years taking DNA samples from 10,000 volunteers in Britain and Ireland, in an effort to produce a map of our genetic roots. [More>>independent.co.uk]

Editorial note: Archeology supports the thesis of a people moving from the Black Sea area to the British Isles and Germany / Northern Europe. Megaliths: Dolmens, the remnants of mound burials, mounds (called Kurgans) and large standing stones and stone alignments are characteristic of these peoples who also left behind corded ware and beakers. The Corded Ware and Beaker people date circa 3000 B.C. Linguists claim that at one time the Latin and Celtic languages were one language, and it is believed that the division of the early Indo-European peoples began about 6,000 -5,000 B.C., from their homeland north of the Black Sea.

Early Indo-European peoples moved south into Greece and east, arriving in India. Other waves of these people moved up the Danube into Central Europe and beyond, to Austria and some crossed over the Alps into Italy. Others appeared to have moved by boat, along the Mediterranean coasts, to the boot of Italy and Tuscany, then to both coasts of Spain, where the Megalithic monuments became heavily concentrated, north along the Atlantic coast to Brittany and from there to Britain. Coincident with the westerward expansion of the Indo-Europeans was the eastward expansion, including the red-headed Tocharian burials. Noteworthy among the Tocharian burials were fine tartan fabrics matching those from Latvia to Ireland. Their burials are similar to German burials and are located in Kyrgyztan and Western China. The DNA analysis thus provides support to the archeological and linguistic evidence of the spread of Indo-European peoples. See http://www.comp-archaeology.org/Bellbeaker.htm for a concise essay on the Beaker and Corded Ware peoples. The author believes that the Etruscans of Northern Italy are central to the study of these peoples. For information on the spread of the Megalithic peoples, as well as links to other pages, see http://www.maravot.com/Etruscan_Phrases_a.html.

Mel Copeland
---
9.20.06 At UN, Chavez calls Bush 'The Devil'
UNITED NATIONS (AP) September 20 – (Chavez' comments appear in newspapers around the world) Venezuelan President Hugo Chavez took his verbal battle with the United States to the floor of the UN General Assembly on Wednesday, calling President Bush "the devil.'' The impassioned speech by the leftist leader came a day after Bush and Iranian President Mahmoud Ahmadinejad sparred over Tehran's disputed nuclear program but managed to avoid a personal encounter.

"The devil came here yesterday," Chavez said, referring to Bush's address on Tuesday and making the sign of the cross. "He came here talking as if he were the owner of the world." The leftist leader, who has joined Iran and Cuba in opposing U.S. influence, accused Washington of "domination, exploitation and pillage of peoples of the world."

"We appeal to the people of the United States and the world to halt this threat, which is like a sword hanging over our head," he said.

The main US seat in the assembly hall was empty as Chavez spoke. But there was a "junior note taker" there, as is customary "when governments like that speak," the US ambassador to the UN said. Ambassador John Bolton told The Associated Press that Chavez had the right to express his opinion, adding it was "too bad the people of Venezuela don't have free speech." [More>>nytimes.com; See also aljazeera.net and turkishpress.com.]


Editorial note: The people of Venezuela don't have free speech?
---
9.20.06 Saudis fear fall in oil demand
September 20 – Saudi Arabia has said it could become a victim of "selective" global environment policies, and called a balance between a cleaner environment and development to be struck. The kingdom, whose economy heavily relies on its oil income, said the using new technology was the best solution to achieve economic development without harming the climate.

The Saudi oil minister, Ali al-Nuaimi, said: "We are concerned that some environment-related decisions, which some countries are trying to impose, could reduce global consumption of oil. This could hamper our economic development programmes because of our heavy reliance on oil exports," al-Nuaimi told an international conference on the Clean Development Mechanism (CDM), in Riyadh. "We are trying to (convince) the world to adopt positive environment decisions that safeguard the environment and contribute to global economic development." [More>>aljazeera.net]
---
9.20.06 More than 1,000 Taliban killed in offensive: NATO commander
WASHINGTON, September 20 – NATO forces killed over 1,000 Taliban fighters in an offensive in southern Afghanistan that has forced their retreat, NATO's supreme commander said Wednesday. Despite the heavy losses, however, General James Jones predicted that Taliban fighters would attempt to regroup and establish themselves in other areas, possibly farther to the west. "It remains to be seen how much more capacity they have for this kind of fight," Jones told reporters here. "I think they will look for other areas." Jones said NATO allies, who rebuffed a request for an additional 2,500 troops earlier this month, have come forward with most of the extra troops he asked for. But he acknowledged that the force needs more helicopters and fixed-wing aircraft. [More>>turkishpress.com]
---
9.19.06 Thai military imposes martial law in Bangkok after coup
BANGKOK, September 19 – Thailand's military suspended the constitution around the country and imposed martial law in Bangkok, a spokesman for the coup leaders said Tuesday. "In order to maintain law and order, the Council for Political Reform has declared, first, that the Constitution of 1997 has been terminated," Major General Prapas Sakuntanak said on national television.

"Second, the parliament – both the House of Representatives and the Senate – as well as the cabinet, have been terminated along with the Constitutional Court. All other courts except the Constitutional Court still have their jurisdiction and can continue to function," he added. [More>>turkishpress.com ; See also nationmultimedia.com, September 20, "PM's men arrested, wife in Singapore" : Many politicians and those with links to caretaker prime minister Thaksin Shinawatra were spread far and wide last night as the news of the coup broke in Bangkok. First lady Pojaman reportedly flew to Singapore on Monday and it is not known whether Panthongtae, the family's only son, followed his mother last night. The whereabouts of the PM's daughters Paethongtae and Pinthongta were not known.

Thaksin is in New York at a hotel, where he has reportedly been watching the United Nations General Assembly and keeping abreast of developments here. Many Cabinet members and other people deemed hostile by the "Council of Administrative Reform" have been detained. Deputy Prime Minister Chidchai Vanasatidya and Supreme Commander Ruengroj Mahasaranont and pro-Thaksin television host Dusit Siriwan are among them...
---
9.19.06 Yemen arrests 'major terrorist' over US attack plot
SANA'A, Yemen, September 19 – Yemeni President Ali Abdallah Saleh announced on Tuesday the arrest of a "terrorist" – allegedly linked to his main election rival and to Osama Bin Laden – accused of plotting attacks against US interests. "We have arrested a major terrorist who was planning operations against American installations and the Movenpick hotel," Saleh said at a press conference on the eve of the presidential poll. He said the suspect was a bodyguard for Faisal Bin Shamlan, his main challenger in tomorrow`s presidential race.

Saleh`s private secretary Abdo Burji said the suspect, Hussein al-Jerdani, was arrested on Sunday and had close links with the al-Qaeda terror chief. "He was a companion of Osama Bin Laden and is the owner of a house rented to a cell which recently tried to launch attacks against oil installations in Yemen," Burji added.

Four bombers and a security guard were killed Friday when Yemeni security forces foiled twin suicide bombings against an oil refinery in Maarib, in the desert east of the capital Sanaa, and a Canadian-run terminal in the port of N Dhabba on the Gulf of Aden. The government announced Saturday the arrest of four Yemeni "terrorists" linked to al-Qaeda who it said was planning attacks on Sanaa. Friday`s attacks came after Bin Laden`s right-hand man Ayman al-Zawahiri warned that the Gulf and Israel would be the next targets of al-Qaeda, in a video message coinciding with the fifth anniversary Monday of the September 11 attacks on the United States. [>thenews.com.pk]
---
9.19.06 Somalia sees Al Qaeda behind first suicide bombing
BAIDOA, Somalia (AFP) September 19 – Somalia's weak government sought help Tuesday in probing the country's first-ever suicide bombing, an unsuccessful attempt to assassinate the interim president that officials pin on Al Qaeda. Authorities boosted security around the government seat of Baidoa where wreckage from two car bombs, at least one of which was driven by a suicide attacker, still littered the street outside parliament.

In the aftermath of the blasts and an ensuing gun battle that killed 11 people and wounded 18 but left President Abdullahi Yusuf Ahmed unscathed, officials said that they were convinced that Al Qaeda was behind the attack. And with such accusations flying, tension soared between the administration in Baidoa and Somalia's powerful hardline Islamist movement that controls much of the southern part of the country, including the capital Mogadishu. [More>>metimes.com]
---
9.18.06 Iran says Pope's speech 'in line with' US policy
TEHRAN (Reuters) September 18 – Iranıs Supreme Leader Ayatollah Ali Khamenei said on Monday that Pope Benedictıs remarks on Islam were in line with what he said was the United Statesı Œcrusadeı against the religion, state television reported. The Popeıs first big crisis since his election 17 months ago was sparked by a speech in Germany on Tuesday when he repeated criticism of the Prophet Mohammad by a medieval scholar who said everything the Prophet brought was evil. "The Popeıs remarks were the latest chain of the crusade against Islam started by Americaıs (President George W.) Bush," Khamenei said in a televised speech. "The Great Satan (United States) is playing its role in this issue." [More>>khaleejtimes.com ; See also:

thestar.com.my (Reuters) September 18, "Militants vow war, Vatican tries to calm Pope row" : VATICAN CITY – Al Qaeda militants in Iraq vowed war on "worshippers of the cross" and protesters burned a papal effigy on Monday over Pope Benedict's comments on Islam, while Western churchmen and statesmen tried to calm passions. The statement by an umbrella group led by Iraq's branch of al Qaeda came after the Pontiff said on Sunday he was deeply sorry Muslims had been offended by his use of a medieval quotation on Islam and holy war...

haaretz.com, September 18, "Top Sydney priest backs Pope; Syrians protest Islam comment" ...The Catholic Archbishop of Sydney said Monday that acts of violence in response to Pope Benedict XVI's speech about Muslims show that some in the Muslim world think linking religion and violence is justified. "The violent reactions in many parts of the Islamic world justified one of Pope Benedict's main fears," Cardinal Pell said in a statement. "They showed the link for many Islamists between religion and violence, their refusal to respond to criticism with rational arguments, but only with demonstrations, threats and actual violence," he said. The Vatican has issued two separate statements expressing regret for any offense the remarks may have caused...

timesonline.co.uk, September 18, "Why Pope was right "– Comment by Willaim Reed-Mogg : ...The question is not whether the quotation from the Byzantine emperor Manuel II Palaeologus is offensive: it is. The question is whether the emperor is justified in what he said. His main thrust was at least partly justified. There is a real problem about the teaching of the Koran on violence against the infidel. That existed in the 14th century, and was demonstrated on 9/11, 2001. There is every reason to discuss it. I am more afraid of silence than offence.

The Popeıs actual quotation is not just a medieval point of view. It is a common modern view; even if it seldom reaches print; it can certainly be found on the internet. ³Show me just what Muhammad brought that was new, and then you shall find things only evil and inhuman, such as his command to spread by the sword the faith he preached.²

Is it true that the Koran contains such a command, and has it influenced modern terrorists? The answers, unfortunately, are "yes" and "yes." The so-called Sword Verse from Chapter 9 must have been in the emperorıs mind: "So when the sacred months have passed away, Then slay the idolaters wherever you find them. And take them captive and besiege them, and lie in wait for them in every ambush." This does shock many Muslims: extremists are angered by the implied criticism of those who quote it, while moderates who cannot disavow the terms of the Koran prefer more evasive interpretations. The shock it creates shows the importance of the doctrine.

One man who does not question the meaning of the verse is Osama bin Laden. His attitude is discussed at some length in Chapter 14 of an excellent new book, The Qurıan, a Biography, by Bruce Lawrence, who is the Professor of Islamic Studies at Duke University, North Carolina. Lawrence observes the use of this verse as a central argument for jihad in Bin Ladenıs manifesto in 1996; that was a declaration of war against native and foreign infidels.

Maravot News (expressindia.com) 9.16.06 'Pope's statement on Islam not wrong'

Maravot News, 11.25.04, Why the Crusade & Jihad?
---
9.18.06 Iraq violence kills 28 as government expresses hope
BAGHDAD (AFP) September 18 – At least 28 people were killed across Iraq Monday, including four members of a Shiite family shot dead by gunmen as they attempted to flee their homes north of Baghdad. After receiving repeated threats in their home in the restive provincial capital of Baquba, the family packed their belongings in a pickup truck and fled, only to be stopped on the road by gunmen who riddled their car with bullets, killing four and wounding five.

Gunmen also killed two other Shiites busy packing up their belongings in a small town just to the west of Baquba, while 10 other people, three of them soldiers, were killed elsewhere in Diyala, a province where sectarian violence is equaled only by that in Baghdad itself. The violence came even as the Iraqi government gave an optimistic assessment of the impact of a massive security operation in the capital and the return of displaced families to newly pacified neighborhoods. [More>>metimes.com]
---
9.18.06 Further Nato fatalities in Afghanistan
September 18 – Four Nato soldiers and several Afghan civilians have been killed by a bomber in the southern province of Kandahar. The bomber blew himself up as a crowd of children gathered to receive pads and pens from Canadian troops on Monday. Afghan police said about two dozen children were hurt by the blast.

Major Quentin Innis, a spokesman for the Nato-led International Security Assistance Force (ISAF), confirmed that four soldiers and a number of civilians had been killed but did not confirm how many. A witness said the bomber had ridden a bicycle into a crowd of children as they gathered around the soldiers at the scene, around 35km west of Kandahar city. [More>>aljazeera.net and (AFP) turkishpress.com ]
---
9.17.06 Iraq militants threaten reprisals against Vatican
DUBAI (AFP) September 17 – Two armed Iraqi groups threatened the Vatican with reprisals, in statements posted on Sunday on the Internet, even as the pope said he was "deeply sorry" about the anger caused by his remarks on Islam. "Know that the soldiers of Mohammed will come sooner or later to shake your throne and the foundations of your state," said the group Asaeb Al Iraq Al Jihadiya (League of Jihadists in Iraq), which often posts online video footage including attacks on American targets in the country.

In a statement whose authenticity could not be verified, it called on "all Muslims" to retaliate against "Christians and Jews, whose religions are hostile to Islam." Jaish Al Mujahedeen (the Mujahedeenıs Army), which on Saturday threatened to strike at Rome and the Vatican, posted another statement issued by its political bureau on Sunday, saying that the groupıs reply "will come with deeds, not words." [More>>khaleejtimes.com ; See related stories:

theaustralian.news.com.au, September 17, "Gunmen shoot elderly nun dead" : Unidentified gunmen shot and killed an elderly Italian nun at a hospital in the Islamist-controlled Somali capital, witnesses and medical workers said. The attackers entered the Austrian-funded SOS Hospital in southern Mogadishu's Huriwa District and opened fire, killing the nun before escaping in the ensuing confusion, they said.

"They came into the compound and shot the nun and then ran away," one medical worker said. "We don't know who they were." The nun, believed to be in her 70s, was .one the longest-serving foreign members of the Catholic church in Somalia, a former Italian colony, officials said..

haaretz.com, September 17, "Somali Islamist: Murder of nun may be linked to anger at Pope."
---
9.17.06 Many dead in northern Iraq blasts
September 17 – At least 23 people have been killed and 65 injured in a series of bombings in the northern Iraqi city of Kirkuk. In the deadliest attack, a suicide bomber blew up a truck killing 18 people close to offices of Kurdish political parties and a police station. Hours later, a joint US-Iraqi security patrol was targeted in an attack which left three civilians dead. Two further roadside bomb attacks were reported, as well as a suicide car bomb attack at an Iraqi army checkpoint. At least one person was killed in another blast that targeted the house of a local tribal leader. [More>>bbc.co.uk ; See also aljazeera.net, September 17, "Many killed by Kirku car bombs."]
---
9.17.06 Iraq stumbling in bid to purge its rogue police
BAGHDAD, September 17 – Shiite militiamen and criminals entrenched throughout Iraqıs police and internal security forces are blocking recent efforts by some Iraqi leaders and the American military to root them out, a step critical to winning the trust of skeptical Sunni Arabs and quelling the sectarian conflict, Iraqi and Western officials say. The new interior minister, Jawad al-Bolani, who oversees the police, lacks the political support to purge many of the worst offenders, including senior managers who tolerated or encouraged the infiltration of Shiite militias into the police under the previous government, according to interviews with more than a dozen officials who work with the ministry and the police. No one expected a housecleaning to be easy, and some headway has been made in firing people. [More>>nytimes.com]
---
9.17.06 Early US missteps in the Green Zone
September 17 – Adapted from "Imperial Life in the Emerald City," by Rajiv Chandrasekaran, copyright Knopf 2006. After the fall of Saddam Hussein's government in April 2003, the opportunity to participate in the US-led effort to reconstruct Iraq attracted all manner of Americans – restless professionals, Arabic-speaking academics, development specialists and war-zone adventurers. But before they could go to Baghdad, they had to get past Jim O'Beirne's office in the Pentagon.

To pass muster with O'Beirne, a political appointee who screens prospective political appointees for Defense Department posts, applicants didn't need to be experts in the Middle East or in post-conflict reconstruction. What seemed most important was loyalty to the Bush administration.

...Many of those chosen by O'Beirne's office to work for the Coalition Provisional Authority, which ran Iraq's government from April 2003 to June 2004, lacked vital skills and experience. A 24-year-old who had never worked in finance – but had applied for a White House job – was sent to reopen Baghdad's stock exchange. The daughter of a prominent neoconservative commentator and a recent graduate from an evangelical university for home-schooled children were tapped to manage Iraq's $13 billion budget, even though they didn't have a background in accounting. [Full story>>washingtonpost.com]

---
9.16.06 Yemen authorities arrest four militants who planned to carry out attacks in capital
SAN'A, Yemen (AP) September 16 – Authorities arrested four al-Qaida members Saturday who were believed to be planning to carry out attacks in the capital, Sanıa, Yemenıs interior minister said. Interior Minister Rashad Rashad al-Eleimi said the suspects also had links to the four suicide bombers, who had planned to blow Yemeni oil installations on Friday but were killed as the attack was foiled.
Security forces confiscated 12 bags each containing 88 to 110 pounds of highly explosive material as well as masks and womenıs clothing, which militants sometimes use to disguise themselves. The arrests were made Saturday morning after an hours-long standoff that began Friday night when security forces surrounded the militants. The interior minister said the alleged militants opened fire at the security forces but nobody was hurt. "We are certain that this cell has links with the al-Qaida network and with those who carried out the attacks in Mareb and Hadarmut," al-Eleimi told reporters, referring to the areas targeted Friday. The violence coincided with an election campaign in which President Ali Abdullah Saleh, facing his first real challenge since he became head of state in 1978, has been reaching out to the countryıs most strident Islamic movement. [More>>bostonherald.com via yemendaily.com]
---
9.16.06 'Pope's statement on Islam not wrong'
CHANDIGARH, India (PTI) September 16 – Observing that the Islamic world should be ready to face healthy criticism, Bhartiya Janashakti Party chief Uma Bharati said she did not consider as wrong the comments made by Pope Benedict XVI on Prophet Mohammed. "I don't consider [the] Pope's criticism wrong. Healthy criticism should be allowed," Bharati said. "Those who run Islam should be ready to face healthy criticism unless the existence of the community is threatened," she said. She added, "Whether I agree to the views of the Pope or not is debatable." Bharati said that Islamic fundamentalism has increased because of jihadis. "The fundamentalists are responsible for linking jihad with Islam," she said.

Muslim leaders should tell the terrorists not to link jihad with Islam, she said. [>expressindia.com ; See related story, thestar.com.my (Reuters) September 16, "Pope sorry his Islam speech found offensive." and thestar.com.my, September 16, "Palestinian churches attacked after Pope's remarks.']
---
9.16.06 Serious errors of both fact and judgment
September 16 – Even his critics agree that the Pope did not intend to cause offence to the worldıs Muslims. In quoting a work edited by the highly respected Lebanese-born scholar Theodore Khoury, he was trying to assert his academic credentials in the university where he once taught.

...His address is undermined further by a serious error in regards to the Koran. ³Sura 2,256 . . . is one of the suras of the early period, when Muhammad was still powerless and under threat.² In fact, this sura [Koranic chapter] is held by Muslim scholars to be from the middle period, around the 24th year of Muhammadıs prophethood in 624 or 625, when he was in Medina and in control of a state. Contrary to what the Pope said, this was written when Muhammad was in a position of strength, not weakness.

The Popeıs old sparring partner, Professor Hans Küng, a former colleague of his at Tübingen university, agrees that he did not intend to provoke Muslims. "He is very interested in dialogue with all religions. But this quotation and his whole approach to Islam in the lecture was very unfortunate." He found it incredible that the Pope quoted an emperor, a Christian adversary of Islam, who had set down the comments while in the middle of a battle, the siege of Constantinople in 1394 to 1402.

...The Pope has a history of criticism of Islam. According to a leading Catholic, he believes that Islam cannot be reformed and is therefore incompatible with democracy. Earlier this year, Father Joseph Fessio, provost of Ave Maria University in Naples and founder of the publishing house Ignatius Press, said that the Pope believed that reform of Islam was impossible "because itıs against the very nature of the Koran, as itıs understood by Muslims."

...The tragedy of the episode is that the Pope was arguing against the idea that violence can be justified in any religion. He was making the case for the compatibility of reason with religion at a time when fundamentalism is gaining terrifying ground across the religious spectrum. The irony is that the Islamic response illustrates how desperately the world needs to hear his message. [Full story>>timesonline.co.uk ; See also Maravot News editorial September 15, "The need for a consensus against terrorism." and Why the Crusade & Jihad?
---
9.16.06 Islamic movement head: Jerusalem destined capital of caliphate
September 16 – Islamic Movement leader Sheik Ra'ad Salah said that Jerusalem will soon become the capital of an Islamic nation and that Israel's occupation of the Temple Mount is nearing its end, Israel Radio reported on Friday. Salah told a crowd of 50,000 people in the northern town of Umm al-Fahm that comatose former-prime minister Ariel Sharon and President Moshe Katsav, who is currently under investigation for alleged sex crimes, were "paying the price" for damaging Jerusalem's al-Aqsa Mosque.

In his speech, the Sheik responded to Pope Benedict XVI's remarks on Mohammed, saying he hoped they were an accidental slip of tongue. He also addressed the issue of abducted IDF soldier Gilad Shalit, urging Hamas not to agree to a prisoner exchange with the Israeli government which will not include the release of jailed Israeli Arabs. Salah and three other Islamic Movement officials were held by police in detention for 21 months under suspicion of contacting militant Palestinian groups. [>haaretz.com ; See also Jerusalem Post]

---
9.16.06 Yemen bounty for attack masterminds
September 16 – The president of Yemen has set a bounty of around $25,500 for the capture of "terrorists" believed to be behind a foiled attack on the countryıs oil and gas facilities. The announcement by Ali Abdullah Saleh comes days before presidential and municipal elections. "They [attackers] were targeting security, stability and development in this country. Had they succeeded in [hitting] their target, that would have been a great economic crisis," Saleh told a campaign rally on Saturday.

Saleh said the bounty would go to any civilian who helps capture a "terrorist" or any security officer who arrests or kills one. Four bombers were killed when security forces blew up four rigged cars at dawn on Friday before they reached the oil and gas facilities in the eastern provinces of Marib and Hadarmout that they were targeting. [More>>aljazeera.net]
---
9.16.06 7,000 Afghan, coalition troops launch new Afghan operation
BAGRAM AIRFIELD, Afghanistan (AFP) September 16 – Around 7,000 soldiers with the Afghan and US-led coalition forces launched a major new anti-Taliban offensive in eastern and central Afghanistan. Operation Mountain Fury involved about 4,000 Afghan police and soldiers and 3,000 troops with the US-dominated coalition, the coalition said in a statement. It was focused on eastern Paktika, Khost and Ghazni provinces and on central Logar, which adjoins the capital. Mountain Fury had been in preparation for weeks and launched its main "manoeuvre" phase Saturday, the statement said Saturday. [More>>turkishpress.com ; See related story, thenews.com.pk, September 16, "Blast near Kabul kills three Afghan aid workers."]
---
9.16.06 Jordan's Abdullah warns US mistakes since 2001 fueling terrorism
AMMAN, Jordan, September 16 – Jordan's King Abdullah II said Saturday terrorists were exploiting US mistakes since the September 11, 2001 attacks to promote instability in the Middle East, according to a published report. Abdullah made the remarks in an interview with the pan-Arabic daily al-Hayat published on the day he and his wife, Queen Rania, left for a five-day visit to the United States, where he also is expected to address the United Nations General Assembly.

"The American reaction" to terror attacks had "contributed to the empowerment of terrorist groups," the king said in the interview. He did not elaborate. In the wake of those attacks, extremists were "trying to drive a wedge between East and West and exploit American errors in the region in the interest of fostering hatred and division," Abdullah said. The king predicted a "bleak future" for the Middle East if there is no resumption of Israeli-Palestinian peace talks in the coming weeks, urging an immediate return to the negotiating table. [More>>haaretz.com]

---
9.16.06 Iraqi forces find 47 more bodies around Baghdad
BAGHDAD (Reuters) September 16 – Iraqi police found 47 bodies around the capital Baghdad in the past 24 hours, most of whom appeared to have been the victims of sectarian violence, police said on Saturday. Most of the bodies were found with their hands bound and some bore signs of torture, shortly signs of sectarian death squads who ³execute² people briefly after their kidnapping. The US military has confirmed a ³spike² in such killings this week despite a major month-old security crackdown, Operation Together Forward, that has seen US troops have their service time in Iraq extended to reinforce the capital.

Twenty six bodies were found in the mainly Sunni western part of the capital with the other 21 found in eastern Baghdadıs predominantly Shiıite side. The United Nations has said an average of 100 Iraqis are killed every day. Sectarian violence has spiralled ever since the February bombing of a Shiıite shrine by Sunni insurgents sparked tit-for-tat reprisal killings. [>khaleejtimes.com]
---
9.15.06 Algerian group 'joins' al-Qaeda
September 14 – Algeria's main Islamist group said it had joined al-Qaeda, reaffirming its proclaimed allegiance to Osama bin Laden's organisation. Abd al-Malek Droudkel, known as Abu Musab Abdel-Wadoud, leader of the Salafist Group for Preaching and Combat (GSPC), also urged other Islamist groups around the world to join forces to defeat the US. "After nearly a year of contacts, we are happy to announce to the Muslim nation and our Muslim brothers the good news ... the Salafist Group for Preaching and Combat in Algeria has joined al-Qaeda organisation," Droudkel said in a statement, dated September 13, posted on GSPC website.

"After consultations, we decided to announce allegiance to Shaikh Osama bin Laden, and continue our jihad [holy war] in Algeria under his leadership." GSPC, which has rejected a government amnesty aimed at ending years of violence, issued a statement in September 2003 in which it announced its allegiance to al-Qaeda. The US calls GSPC the "most effective remaining armed group" and the "largest, most active terrorist organisation" in Algeria. [More>>aljazeera.net]

Editorial note: See September 15 article, "Al-Qaeda message..threat to France." France has the largest Moslem population in Western Europe, 70% of whom are from Algeria, Morocco and Tunisia (See bbc.co.uk, "Muslims in Europe: Country guide.") The coincidence in this September 14 article from aljazeera and its ongoing support of broadcasting al-Qaeda propaganda is disconcerting.

Mel Copeland
---
9.15.06 'Muslim nations must have nukes'
ISLAMABAD (AP) September 15 – Muslim nations in the Middle East should arm themselves with nuclear weapons to deter Western enemies from attacking them, former Malaysian Prime Minister Mahathir Mohamad said Friday. "They should have tanks, warplanes, warships, guns and missiles," Mahathir said. "Yes, they need to have nuclear weapons too, because only with the possession of such would their enemies be deterred from attacking them."

Mahathir, 81, who retired as prime minister in 2003, remains highly respected and influential throughout the Muslim world. He is currently on a lecture tour of Central and South Asia, and was addressing a conference on religious tolerance in Pakistan's capital, Islamabad. During his 22 years in office, he was known for his often caustic tirades against the West and its policies in the Middle East. When asked whether Muslim nations in the Middle East should acquire nuclear weapons, Mahathir replied, "Well, if you allow Israel to have them, why should the others not have them too?" [More>>expressindia.com]
---
9.15.06 Iraq to build trenches around Baghdad
BAGHDAD (AFP) September 15 – Iraq said on Friday it will dig trenches around Baghdad and seal off dozens of roads with access to the capital as a new security measure to restrict insurgent movements. "As a new security measure, access to the capital will be permitted only through 28 roads," Interior Ministry spokesman Brigadier General Abdel Karim Khalaf told AFP, adding these roads will have new checkpoints. "Dozens of other minor roads with access to the capital will be sealed by trenches and barbed wire."

A top security official told AFP that the plan was to "monitor who is coming into Baghdad and who is going out. This way we will have a better control of movements, including those of insurgents." Baghdad is engulfed in a brutal sectarian conflict with more than 100 bullet-riddled bodies found on the streets in the past three days. [>khaleejtimes.com ; See related stories, turkishpress.com (AFP) September 15, "More than 100 bodies found in Iraq amid 'disaster' warning." and aljazeera.net, September 15, "Iraq suicide bomber kills US troops."]
---
9.15.06 US diplomats begin viewing Lebanon war as success
WASHINGTON, September 15 – Foreign Ministry officials say that American diplomats' criticism of Israeli conduct during the war stems from excessively high expectations of the IDF's performance. Far removed from the military and political squabbles rocking Israel, something has changed in the way Washington leaders are assessing the outcome of the Lebanon war. The war is no longer seen as a "failure," but as an "achievement" and even a "success." The terms are still cautious, but American diplomats are describing the progress in Lebanon optimistically. A senior State Department official told Haaretz on Wednesday that US President George W. Bush and Secretary of State Condoleezza Rice's promises to change the status quo were fast becoming a reality. There is a chance to change the atmosphere, he said. [More>>haaretz.com ; See related story, metimes.com (AFP) September 15, "Analysis: Israel army in disarray over war failures" : JERUSALEM – A general resigns, a colonel is disciplined and a military command battered by an unrelenting storm of criticism: the Israeli army is in disarray as it struggles to cope with the failures of the war in Lebanon. A month after the 34-day war against Shiite militia Hezbollah ended, nothing has halted the flood of criticism against the military and political leadership over their handling of a deadly conflict that failed to achieve its main aims. Two days after Israel's northern army commander resigned, it emerged that embattled army chief Dan Halutz disciplined the head of an armored brigade for criticizing a superior in front of his subordinates during the war

...The war left 162 Israelis dead and failed to achieve either main objectives of retrieving two soldiers captured by Hezbollah in a raid on July 12 or halting the guerrillas' barrage of more than 4,000 rocket attacks on the north. Israel has also weathered heavy criticism abroad for its devastating use of force in Lebanon, where more than 1,200 people were killed and thousands of homes and infrastructure targets were bombed...
---
9.15.06 Massive surge in disappearance of Arctic sea ice sparks global warning
September 15 – Arctic meltdown is speeding up... sea ice is vanishing faster than ever before... polar bears face extinction... and America's top climate scientist warns we only have a decade to save the planet. The melting of the sea ice in the Arctic, the clearest sign so far of global warming, has taken a sudden and enormous leap forward, in one of the most ominous developments yet in the onset of climate change. Two separate studies by NASA, using different satellite monitoring technologies, both show a great surge in the disappearance of Arctic ice cover in the last two years.

One, from the Jet Propulsion Laboratory in California, shows that Arctic perennial sea ice, which normally survives the summer melt season and remains year-round, shrank by 14 per cent in just 12 months between 2004 and 2005. The overall decrease in the ice cover was 720,000 sq km (280,000 sq miles) – an area almost the size of Turkey, gone in a single year.

The other study, from the Goddard Space Flight Centre, in Maryland, shows that the perennial ice melting rate, which has averaged 0.15 per cent a year since satellite observations began in 1979, has suddenly accelerated hugely. In the past two winters the rate has increased to six per cent a year – that is, it has got more than 30 times faster.

The changes are alarming scientists and environmentalists, because they far exceed the rate at which supercomputer models of climate change predict the Arctic ice will melt under the influence of global warming – which is rapid enough. If climate change is not checked, the Arctic ice will all be gone by 2070, and people will be able to sail to the North Pole. But if these new rates of melting are maintained, the Arctic ice will all be gone decades before that. [More>>independent.co.uk]
---
9.15.06 EU replaces US as biggest trading partner of China
HAMBURG (Xinhua) September 14 – The EU replaced the United States as China's biggest trading partner last year, said Xu Kuangding, chairman of the China Federation of Industrial Economics (CFIE) on Thursday. As one of the keynote speakers at the opening of a Sino-European economic summit, Xu said Sino-European trade, with a volume of 217.3 billion US dollars, has exceeded the Sino-US trade volume by some 5.7 billion dollars.

European companies such as Airbus, Siemens, Nokia and Volkswagen, made the EU the fourth largest investor in China and China's most important supplier of technology, Xu said in a speech at the second Hamburg Summit – "China meets Europe." Speaking of EU's concern over intellectual property rights protection in China, Xu asked European business leaders to show a little more patience on this issue. [More>>xinhuanet.com]
---
9.15.06 Bush strongly defends plan on Prisoners
WASHINGTON, September 15 – President Bush today strongly defended his ideas about questioning and trying terrorist suspects and signaled that his resolve has not softened despite opposition by several key Republican senators..."Obviously, we have a little work to do in the Senate," Mr. Bush said at a Rose Garden news conference. He said several times that he was willing to work with the lawmakers before they adjourn later this months for the campaign season

...He insisted that Congress pass legislation providing for the trial of terrorist suspects by military commissions, that these trials not allow defendants access to secret intelligence and that Congress ³clarify² the United Statesı obligations regarding treatment of prisoners under the Geneva Conventions. The president took care to say that he wishes to have those obligations "clarified" rather than "reinterpreted." In particular, he said, the Conventionsı ban on "outrages on human dignity" are so vague that they demand clarification. [Full story>>nytimes.com and Transcript of President Bush's September 15 News Conference ; See background, washingtonpost.com, September 15, "Senators defy Bush on terror measure."]

Editorial note: The need for a consensus against terrorism. President Bush argued in his September 15 News Conference:

Since we are dealing with UN Conventions and Treaties, it would appear that the proper approach on the matter is to obtain an opinion (resolution) from Congress and then call for an international convention to change Article 3 of Geneva Convention relative to the treatment of prisoners of war to make it "clearer." Any nation attempting to unilaterally reinterpret and apply the law, thinking to escape the Geneva Convention, takes the world back to the pre-Geneva Convention days of WWII. That is to say, "It's everyman for himself, no rules." Hitler too scoffed at international conventions and the Nurmburg Trials proved him and his regime wrong. Other leaders since then have found that no leader can commit international crimes, hiding behind the laws of his own nation, and escape the International Court of Justice. Those who believe President Bush is above this court and its scrutiny may wish to read "Current docket of the Court."

It is true that international terrorism has changed the way we approach armed conflicts. The "terrorism" we face as Americans is not like the other "isms" of the past, such as "Communism" or "Nazism." The Islamic terrorists certainly follow an ideology that proclaims violence against Western Nations and the annihilation of Israel. The only way these terrorists can achieve their aims is to find nations that will harbor them. When we examine this aspect in the war against terrorism we find that there is no agreement among Islamic nations as to what exactly a terrorist is. President Malaki of Iraq, for instance, would not concede that Hezbollah were terrorists and at the time of Hezbollah's attack on Israel Arab governments expressed a consensus in support of Hezbollah. The United States has identified Hezbollah as a terrorist organization. Likewise Hamas is viewed as a terrorist group but is not viewed as such by Syria. Iran has on several occasions expressed that it will send out hundreds of "suicide bombers" against the West if it is attacked. And last but not least is the issue involving Pakistan's Tribal Areas which are believed to have been harbouring Osama bin Laden and his Al-Qaeda organization. Only recently has there been a push to flush out al-Qaeda and the Taliban from these areas that sympathize with and cover al-Qaeda and the Taliban. News reports involving these issues and trends can be accessed through the Maravot News archives.

In summation, President Bush is trying to get the US Congress to abrogate the United State's agreement with the Geneva Conventions. It may appear as a step forward, since he previously had declared his decisions as being above the scrutiny of any body, but the problem will still remain for the International Court of Justice to determine whether Mr. Bush and any of his accomplices violated any international laws under the purview of the International Court of Justice.

The United States has a right under UN Conventions to defend itself, just as the other signatories of the Conventions and Treaties. Bush has complicated the defense of the US against terrorists by attacking Iraq who was not a harbor for al-Qaeda. As a result sympathies in the Arab / Islamic world quickly turned against the US. The Islamist cause against the US spread and, unfortunately, Osama bin Laden is still operating somewhere on the border of Afghanistan and Pakistan, and the recent Zawahiri video of September 11,2006, (See September 14 article, xinhuanet.com, "Al Qaeda's video message says terror threats France") with a large library in the background, shows that it was obviously not produced in some hideout in a remote valley in Afghanistan, be it a cave or a hut. The production agency, As Sahab, operates openly, its website is frequented by "terrorists," international news reporters and US government investigators. Government investigators are using the site, as well as other "terrorist" websites, to track down terrorist bloggers. The intensity of participation has produced a common concern in such blogs on how to avoid entrapment. Meanwhile the "terrorist" websites tend to be a main vehicle for terrorist planning and communication. As government investigators listen in and / or participate in such blogs they are also facilitating the communication of the enemy. History has shown that the first thing one must do to overcome an enemy in war is to cut off his ability to communicate.

The Islamist ideology exists and spreads through communication. Certainly the world has changed, wars have changed, insurrections have changed, and the rules of warfare have changed. The ideology of jihad, however, has not changed. While the concept of "suicide bombers" has created a new problem in combatting terrorism, the fact is Marco Polo and others described a sect during the 14th century that followed the teachings of "The old man of the mountain." The teachings of the sect, called "The Assasins,"promised martyrs who commit suicide while murdering unbelievers will instantly go to Paradise and be served by 7 virgins. That sect was eventually destroyed in its mountain hiding places. Had George W. Bush focused on al-Qaeda in the mountains of Afghanistan and Pakistan, their mountain hiding places might have been rooted out. Instead, by attacking the wrong country as a result of 9/11 Bush gave al-Qaeda and its sympathizers a greater cause and more recruits, in hideaways in the streets of the major cities of the world in addition to the front in Iraq.

We need an international accord defining terrorism.

What is the difference between a martyr for God and a terrorist? In searching this out we can ask whether the early Jewish and Christian martyrs who opposed Rome were terrorists. Eusebius (260-339 A.D.), in "The History of the Church," documents the sufferings of martyrs, which he also collected together in a larger volume called "Collection of Martyrs." We may recall that St. Peter carried a sword with which he cut off the ear of an arresting Roman officer. Because of brigands, etc., it was not safe to travel the roads in those times. Earlier, the Apocryphal books of Maccabees record the Jewish resistance and martyrdoms against the Greek Seleucids (B.C. 166-40). The Jewish resistance against Rome, best described by Josephus' "The Jewish Wars," continues the theme of martyrdom and describes the war against Zealots, many of whom were hiding in caves. Some of the disciples of Christ, in fact, were Zealots, including the apostle "Simon who was called the Zealot" (Luke 6.12-16). Near Jericho the Romans slung burning bundles from the ridgetop down into the caves where the Zealots were hiding, torching every last man, woman and child. The last group of Zealots fighting Rome took over a plateau called Masada and held out until 73 A.D., when the Romans constructed a ramp to their mountain top from an adjacent ridge. The Romans found 1,000 men, women and children who committed suicide rather than face servitude. Many in this group were from Qumrun, where the Dead Sea Scrolls were found between 1947-1956.

We can continue with our discussion of martyrdoms to include "heathen" martyrs, such as the Helveti (now known as the Swiss) who migrated from Switzerland down into the plains of France (Gaul), causing Julius Caesar's (100-B.C-44 B.C.) move to stop them, to protect the peace. He records the incident in his work, "The Gallic Wars." Instead of defeat and servitude, when the Helveti were surrounded by Ceasar's troops they decided to commit mass suicide. The incident involved over 50,000 men plus their women and children. There are many incidents like this recorded throughout history. The slaughter of innocent men, women and children resisting occupation is well documented even in the American West involving the Indian wars. And America was not particulary gentle with the Chinese. In a town near Redding, CA I had a teacher that outlined the proud history of the town, how about 100 Chinese were rounded up and taken into a canyon and shot at the turn of the 20th century. Coming from the same area is the account of "Ishi," that speaks of bounty hunters exterminating American Indians in the area and how he came to be the last remnant of his tribe to survive.

We can see from these few examples that identifying a "terrorist" – particularly one that is bent on suicide in the commission of his / her act of resistance – is not that simple. But I believe that an international consensus can at least pin down some criteria that will remove the ability of al-Qaeda in particular to continue its affront against Civilized nations, who (at the least) agree that murder is not an accepted work that can be affected on behalf of God. This small foundation also involves considerable discussion as to how God wants man to defend God and His ways (for those who believe in God or his ways).

Praying for the peace of Jerusalem (Psalm 122.5, 6) is part of the issue. Perhaps we can exploit the fact that Arabs and Jews alike allude to the name of Jerusalem in their everyday greeting, their variant of "salem," meaning "peace." But we have all witnessed that their greetings today sound more like "shallum," "revenge." How to stop the revenge may be another part of the issue, the likes of which are so much the more evident in Baghdad. Eventually everyone may become like Baghdad and complain, "I looked for some to take pity, but there was none: and for comforters, but I found none" (Psalm 69.20). But again there may be hope in the faiths (Islam, Christianity and Judaism) founded on the Bible: The promise of Isaiah 52.8, "Thy watchmen shall lift up the voice; with the voice together shall they sing: for they shall see eye to eye, when the Lord shall bring again Zion" and Zephaniah 3.9, "For then will I turn to the people a pure language, that they may all call upon the name of the Lord, to serve Him with one consent."

President Bush quotes the Bible – in fact everyone engaged by terrorism is quoting the Bible (The Koran derives its authority from the Bible). But there is no one doing good. Truly, the rage and din is so great a small voice on behalf of peace, encouraging you to do good so to increase in goodness, cannot be heard.

Mel Copeland

Why the Crusade & Jihad?
September 15 – Alarmed by reports from aid organisations and human rights groups about escalating violence and a growing humanitarian crisis, France is calling for the deployment of UN troops in Darfur – even against the wishes of the Sudanese government if need be. France's Foreign Minister Philippe Douste-Blazy has raised the possibility of sending UN peacekeeping troops to Darfur, even in the face of resistance from Sudan. The international community has been struggling to respond to the conflict which has seen up to 300,000 people killed and over 2.5 million people displaced over the past three and a half years.

"We don't have a right to let these women and children die," said Douste-Blazy. The UN Security Council passed a resolution on Aug. 31 to send up to 20,000 troops into Darfur, providing the Sudanese government agrees. However, Khartoum has rejected the involvement of the UN, saying it plans to send its own soldiers to the region – a move that could lead to a further escalation in the violence there. [More>>spiegel.de; See also President Bush's comments on Darfur, nytimes.com, September 15, "Transcript of President Bush's News Conference."]