9.05.06 Four dead in Lebanon 'assasination' bid
September 5 – Four people have been killed and four others wounded in what is believed to be an assassination attempt on a leading Lebanese intelligence officer. A remote-controlled bomb exploded on Tuesday morning as a two-vehicle convoy carrying Lieutenant-Colonel Samir Shehade, from the interior ministry's intelligence branch, passed through the Sidon area in southern Lebanon, Aljazeera's correspondent Bushra Abdul Samad said. The four killed were bodyguards and aides to Shehade, an officer who was instrumental in the investigation into the assassination of Rafiq al-Hariri, a former Lebanese prime minister, in February 2005. In August last year, Shehade was involved in the arrest of four pro-Syrian Lebanese generals on suspicion of involvement in the death of al-Hariri. [More>>aljazeera.net]
---
9.05.06 Iraq parliament to debate federal break-up
BAGHDAD (AFP) September 5 – Iraq's parliament reopened Tuesday after a month-long recess marred by mounting sectarian violence, with deputies slated to discuss breaking up the country into semi-independent regions. At the top of the agenda was the controversial issue of whether to allow Iraq's provinces to merge into larger autonomous regions, a move that some Sunni Arab lawmakers fear could tear the country apart. Other groups, however, strongly support a plan that would create virtually independent zones in the oil-rich Shiite south and Kurdish north, and leave the Sunnis economically isolated in the barren western desert. [More>>metimes.com]
---
9.05.06 Palestinians storm parliament in Gaza over salaries
GAZA CITY, Gaza (AFP) September 5 – Thousands of armed demonstrators broke into a government compound in Gaza Tuesday, smashing windows in a violent protest on the fourth day of a strike called by President Mahmoud Abbas' Fatah faction over non-payment of civil service salaries. Chanting Abbas' widely-used moniker "Abu Mazen! Abu Mazen!" the protestors broke into the courtyard of the compound that houses the parliament building, firing shots into the air from automatic rifles. They also pelted windows in the parliament building with stones before heading toward Abbas' residence in the city. [More>>metimes.com]
---
9.05.06 NATO troops kill up to 60 Taliban in Afghanistan
KANDAHAR, Afghanistan (AFP) September 5 – NATO and Afghan forces have killed up to 60 Taliban rebels in fighting in southern Afghanistan. "We have killed 50 to 60 Taliban over the course of 24 hours," NATO spokesman Major Quentin Innis told AFP on Tuesday. Most of the rebels were killed when they attempted to flee an area in Kandahar province's Pashmol district near Panjwayi, where NATO and Afghan forces have been hunting them since Saturday, the spokesman said. [More>>turkishpress.com]
---
9.05.06 New oil field in Gulf may yield billions of barrels
September 5 – What could be a major discovery of domestic oil in the Gulf of Mexico was announced today by a trio of companies led by Chevron Corporation. The discovery, in the deepest water yet explored in the Gulf, could be the biggest domestic oil field since the northern Alaska field opened a generation ago. The news pushed the price of crude oil to a five-month low of $68.38 a barrel in midday trading, although tensions in the Middle East and the threat from hurricanes remained as concerns for traders. The new fieldıs location near the coast of the United States makes it particularly attractive, said J. Larry Nichols, the chairman of Devon Energy Corporation of Oklahoma City, which holds a 25 percent interest in the find. The discovery ³could not have happened in a better place,² he said in a news conference. [More>>nytimes.com]
---
9.03.06 Capture a 'severe blow' to al Qaeda in Iraq
BAGHDAD (CNN) September 3 – Al Qaeda's number two operative in Iraq, Hamed Juma Faris al-Suaidi, has been arrested, the US military and Iraq's national security adviser announced Sunday. Al-Suaidi, also known as Abu Rana and Abu Humam, is sai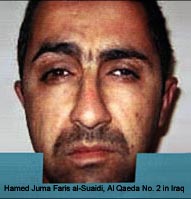 d to be No. 2 in the terrorist group al Qaeda in Iraq, behind Abu Ayyub al-Masri. Al-Masri succeeded Abu Musab al-Zarqawi after he was killed during a US airstrike in June. "This is a very important development," Iraq's Planning Minister Barham Salih told CNN. "It comes in the wake of killing of Zarqawi and also a number of Zarqawi associates. Deliberate intelligence work both by Iraqi forces and as well as multinational forces have dealt a very severe blow to al Qaeda organization in Iraq."

...Al-Suaidi and one of his followers were captured during a raid Friday that ended in a residential building, Iraqi National Security Adviser Mowaffak al-Rubaie said at news conference, according to CNN translators. Important information on al-Suaidi and his location that led to his arrest was gained after former al Qaeda in Iraq leader al-Zarqawi's death.

"We continued to track him down [in the Salaheddin province] and then he moved to north of Baquba in mid-June," al-Rubaie said. "He was arrested without any harm to civilians." The security adviser added that Al-Suaidi was "directly responsible" for Haitham al-Badri, the man believed to have been the mastermind of the Askariya Mosque bombing in Samarra in February. [More>>cnn.com ; See also aljazeera.net]
---
9.03.06 NATO reports 200 Taliban killed in Afghanistan
KANDAHAR, Afghanistan, September 3 – Afghan and NATO forces killed more than 200 Taliban fighters in a major operation in southern Afghanistan, NATO said Sunday. Four soldiers with the NATO-led International Security Assistance Force (ISAF) were killed and seven others were wounded in the fighting in Kandahar province, a statement from the alliance said. "Reports indicate that more than 200 Taliban fighters have been killed since Operation Medusa began early Saturday morning. This figure was arrived at by reviewing information from ISAF surveillance and reconnaissance assets operating in Panjwayi and Zhari districts, as well as information reported by various Afghan officials and citizens living nearby," it said.

More than 80 suspected Taliban fighters were captured by Afghan police and a further 180 insurgents were seen fleeing the district, the statement said. NATO said there were no reports of civilian casualties, despite the heavy weight of fire being used. [>thenews.com.pk ; See also bbc.co.uk, September 3, "Scores die in NATO Afghan clash."]
---
9.03.06 Annan tells Iran Holocaust is undeniable
TEHRAN (Reuters) September 3 – UN Secretary-General Kofi Annan told Iranians the Holocaust was "an undeniable historical fact" on Sunday after meeting President Mahmoud Ahmadinejad who caused outrage in the West when he said it was a "myth." Annan also condemned an exhibition of Holocaust cartoons in Tehran that was staged by an Iranian newspaper in retaliation for the September publication of caricatures of the Muslim Prophet Mohammad in Danish and other European newspapers. Those drawings angered many Muslims and prompted attacks on European embassies, including missions in Iran. "I think all of us in this room remember the uproar the Danish cartoons created particularly in this region," Annan said, adding that the right to freedom of expression had to be exercised with sensitivity and responsibility.

"I think the tragedy of the Holocaust is a sad and an undeniable historical fact so we should really handle that, accept that fact and teach children what happened in World War Two and ensure that it is never repeated. We should be careful not to say anything that is used as an excuse for incitement to hatred or violence," he said.

Ahmadinejad described the Holocaust, in which 6 million Jews were killed by the Nazis, as a "myth" in December. He has not repeated that remark but has said the event is open to question. Annan cancelled a trip to Iran in November after Ahmadinejad called for Israel to be "wiped off the map". That phrase also sparked Western condemnation and he has not repeated it. But his speeches are peppered with anti-Israel rhetoric. [More>>thestar.com.my ; See related story khaleejtimes.ae, September 3, "Iran brushes off Annan criticism, says Holocaust 'exaggerated.'"]
---
9.03.06 Crime boss brokered nuclear-delivery missile sale to Iran
September 3 – The British government was warned more than two years ago that Iran had illegally acquired a missile system capable of carrying nuclear warheads. It has emerged that a foreign government delivered the warning to Britain in early 2004. Separately, it has been disclosed that the system was sold to Iran by a former senior member of the Ukrainian security service. The deal was brokered by an organized crime boss and, it is feared, contributed to the Iranian nuclear programme that is now the subject of an international confrontation.

Iran had also been using large cash payments to lure technical and scientific staff from Ukraine to work on its nuclear programme. Other targets of the bribes included one former head of Ukrainian intelligence, who was offered $5m (£2.6m) to help the rogue state, but he rejected it. It has also emerged that in 2004 the Ukrainian government was investigating the transport of weapons from Iraq to Syria and Iran before the war to topple Saddam Hussein. Now that the row over Saddamıs weapons has died down, however, it is Iranıs nuclear programme that is the more controversial issue. Britainıs policy of trying to use quiet diplomacy to curb the Iranian plans has been in stark contrast to the more bellicose rhetoric coming from America. [More>>iranfocus.com; See timesonline.co.uk]
---
9.03.06 Al-Qaeda deputy urges Americans to convert to Islam
DUBAI (AFP) September 3 – Al-Qaeda number two Ayman al-Zawahiri urged Americans to convert to Islam in a video featuring a converted US national sought by the FBI, who spoke particularly to American soldiers, but the US said it reflected the terrorists' "twisted view of Islam."
In the 48-minute video released Saturday, Zawahiri presented "Azzam the American," and urged the "American people in particular and Westerners in general to listen to the extremely serious words of our brother Azzam the American concerning their fate."
"Our brother Azzam the American is trying to lead his own (people) from obscurity towards the light. Listen to him," insisted Zawahiri, who wore a white tunic and turban. In an Arabic translation of a poorly audible English statement, a man previously identified by the FBI as Adam Yahiye Gadahn said: "I call on all Americans and other infidels to embrace Islam." Gadahn, who recited Koranic verses in fluent Arabic, was also dressed in white tunic and turban. "I call especially on those who have fought for the illusory Crusader plan of (US President George W.) Bush in Afghanistan, Iraq and everywhere else, to convert to Islam," he said. "Time is running out. Choose the right path before it is too late, before you meet the sad end that thousands have (already) known," Gadahn added.
...In May 2004, then US attorney general John Ashcroft said Gadahn was an Al-Qaeda supporter who translated documents for the group. Last September, in a video broadcast by US television network ABC, he threatened Al-Qaeda terror attacks on Los Angeles, California and Melbourne, Australia. The video shown Saturday was entitled "An invitation to Islam" and produced by Al-Sahab, which specialises in recordings for militant Islamist groups, and Al-Qaeda in particular. [Full story>>
turkishpress.com
; See also
msnbc.msn.com
]
Editorial note:
The new message of Islam: Convert or die!
It appears that the new message of Islam is "Convert or die." The message can be answered by Christians by asking the Islamic "teacher" to open the Koran and read the verse that acknowledges Jesus Christ as the Messiah:
The Imrans, 3.45, 47 The angels said to Mary: 'Allah bids you rejoice in a Word from Him. His name is the Messiah, Jesus the son of Mary. He shall be noble in this world and in the next, and shall be favoured by Allah. He shall preach to men in his cradle and in the prime of manhood, and shall lead a righteous life."
Christ is the Greek word for Messiah, the Hebrew term applied exclusively in the Old Testament and New Testament meaning "anointed one." The Koran repeats in many passages that it was written to confirm that the Jewish Scriptures (Old Testament) are true. The Old Testament and in particular Christ advocated "loving one another and forgiveness." The murder of those who do not believe in the scriptures was certainly not part of the message of the Bible. Since God cannot contradict himself, the only way to reconcile the Koran is to accept the Bible as truth. But the teachers of the Koran don't understand this, nor do they understand the common Arabic and Hebrew term, "Messiah." See Why the Crusade & Jihad?

Mel Copeland
---
9.02.06 Kidnappers of Fox reporters vow to target any 'infidel' visiting Palestinian areas
(AP) September 2 – Palestinian militants who held two Fox News journalists hostage for almost two weeks threatened in an online message to abduct non-Muslims visiting the Palestinian territories and kill them unless their demands were met. The statement, posted Saturday in the name of the Holy Jihad Brigades on a Web site frequently used by militants, said the group would kill any hostages it takes unless they converted to Islam, paid a ransom or Muslim prisoners were exchanged for their release. "Any infidel blood will have no sanctity," the group said in a new Web statement. Either Islam, death or something given in return, the group added, apparently referring to a ransom or a swap for prisoners. [More>>haaretz.com]
---
9.02.06 Asian pilgrims killed as Pentagon warns of Iraq civil war
BAGHDAD (AFP) September 2 – Iraqi insurgents slaughtered 14 south Asian Shiite pilgrims and 18 Iraqi civilians after the Pentagon warned that the country was close to falling into a sectarian war. Suspected Sunni gunmen dragged a group of Pakistani and Indian travellers off a bus crossing the desert towards the Shiite holy city of Karbala and shot dead 11 Pakistani and three Indian men. "They were coming in a big bus with children and women. The attackers freed the women and children and shot dead the men, execution-style," said interior ministry spokesman Brigadier General Abdul Karim Khalaf Saturday. Karbala city health director Salim Kadhim confirmed the death toll, and said the bus had taken a route past Ramadi, a stronghold of Sunni Arab rebels, who are often blamed for murderous attacks against Iraq's Shiite majority. [More>>turkishpress.com]
---
9.02.06 UN warns of soaring Afghan opium
September 2 – Poppy cultivation in Afghanistan is expected to soar by 59% this year, providing 92% of the world's supply of opium, the United Nations says. The UN Office on Drugs and Crime predicted a 6,100-tonne harvest of opium, with much of the rise coming in Taleban strongholds in the south. The US is the main backer of a huge drive to rid Afghanistan of opium. But a top US drugs official warned on Saturday Afghanistan could be "taken down by this whole drug problem." The $2.7bn drugs trade accounts for about a third of Afghanistan's economy. The Vienna-based Office on Drugs and Crime said in its report that poppy cultivation in Helmand province alone, which has seen a sharp rise in Taleban-led attacks on international troops, had risen by 162% since last year. [More>>bbc.co.uk ; See related story, thenews.com.pk, September 2, "Peace agreement signed in N. Waziristan" :MIRAN SHAH: In the North Waziristan, the political administration and local Taliban signed Saturday a peace agreement. The agreement was prompted by a 'Grand Jirga' established for the upkeep of peace in Waziristan...
---
9.02.06 Fourteen terror suspects arrested in London
September 2 – Police have arrested 14 men following anti-terror raids in south and east London. The men were arrested late last night and in the early hours of today on suspicion of the commission, preparation or instigation of acts of terrorism. Searches are being carried out at homes in south, east and north London, Scotland Yard said. The suspects are in custody at a central London police station...the arrests were not linked to the recent alleged plot to blow up transatlantic airliners or the July 7 bombings in London. [Full story>>independent.co.uk]
---
9.02.06 Iraqi casualties are up sharply, study finds
WASHINGTON, September 2 – Iraqi casualties soared by more than 50 percent in recent months, the product of spiraling sectarian clashes and a Sunni-based insurgency that remains ³potent and viable,² the Pentagon said in its latest comprehensive assessment of security in Iraq. During the period from the establishment of the new Iraqi government on May 20 until Aug. 11, the average number of weekly attacks jumped to almost 800. That was a substantial increase from earlier this year and almost double the number of the first part of 2004.

As a consequence, Iraqi casualties increased 51 percent over the last reporting period. The document notes that, based on initial reports, Iraqi casualties among civilians and security forces reached nearly 120 a day, up from about 80 a day in the pervious reporting period from mid-February to mid-May. About two years ago they were running about 30 a day. [More>>nytimes.com]
---
9.01.06 Sunni, Shiite factions carve up Baghdad
BAGHDAD (AP) September 1 – Four years ago this was a city where people mixed freely — where, in most parts of town, no one cared if a neighborhood was majority Sunni or Shiite. Loyalty to Saddam Hussein was more important than religious identity. But now a battle for Baghdad is well under way between the two major Muslim sects. Death squads are slaughtering people daily, and an estimated 160,000 Iraqis have fled their homes — mostly here in the capital. Out of that violence, a new but not better city is emerging. Many Iraqis fear that the result will be a Sunni west and a Shiite east, with the broad Tigris River snaking through the middle as the sectarian boundary.

...Baghdad, Iraqıs largest city with a population of more than 6 million, is still a long way from that stark sectarian divide. There are many religiously mixed neighborhoods, and Shiite and Sunni enclaves remain on both sides of the river.

The mixed character of some neighborhoods, such as Jihad and Amariyah, is partly due to Saddam Husseinıs policy of rewarding government officials and Baath Party figures. Spacious villas or plots of land in newly developed neighborhoods went to Iraqis based not on religion but on loyalty to the regime. Rich Shiite businessmen were as welcome as anyone, even in neighborhoods populated by officers from Saddamıs Sunni-dominated military. But that peaceful coexistence began to change after the U.S.-led invasion of 2003 that toppled Saddam.

...As the city reshapes itself, flashpoints are emerging. The core fight today is a struggle for control of the corridors into the city from the north and south. In the north, Shiites control an arc of neighborhoods — Sadr City, Kazimiyah and Shula. In the south, Sunni militants are trying to consolidate power in another arc, comprised of Sadiyah and Dora. [Full story>>msnbc.msn.com]
---
9.01.06 'Pakistan hiding Osama to bargain with US'
AFGHANISTAN-PAKISTAN BORDER (AP) September 1 – The al-Qaeda terror camps are gone from Afghanistan, but the enigma of Osama bin Laden still hangs over these lawless borderlands where tens of thousands of US and Pakistani troops have spent nearly five years searching for him. Villagers say the CIA missed by only a few kilometres when it targeted bin Laden's top deputy, Ayman al-Zawahri, with a missile strike in January. Then in May, US Special Forces arrested one of al-Zawahri's closest aides, suggesting the trail has not gone entirely cold.

As for bin Laden himself? He may be nearby. Yet hopes of cornering the Saudi-born al-Qaeda leader seem distant as ever. The last time authorities said they were close to getting him was in 2004, and in hindsight those statements seem more hope than fact. Five years after the September 11 attacks, the most publicized manhunt in history has drawn a blank. The CIA has dismantled its unit dedicated to finding the al-Qaeda chiefs. And the American military's once-singular focus is diffused by the need for reconstruction and a growing fight against the Taliban, the resurgent Afghan Islamic movement that once hosted bin Laden.

American soldiers climbing through the forested mountains of Afghanistan's Kunar province – where in the 1980s bin Laden fought in the US-backed jihad against the Soviets – still hope to catch or kill him. But they say bolstering the Afghan government is their primary mission now, amid the worst upsurge in Taliban attacks in five years.

"It is like chasing ghosts up there," said Sgt. George Williams, 37, of Watertown, New York, part of the Army's 10th Mountain Division pushing into untamed territory along the border with Pakistan. "Osama bin Laden is always going to be a target of ours as long as he is out there, but there are other missions: to rebuild Afghanistan and attack the militants still here."

The top leaders of al-Qaeda remain free despite more than 100,000 US, Afghan and Pakistani forces at the frontier. High-tech listening posts, satellite imagery, unmanned spy planes – not to mention a $25 million bounty on each man from the US government – all aid the hunt. Yet both bin Laden and al-Zawahri are communicating to the outside world, posting messages on Islamic Web sites to inspire further attacks on the West. Although the al-Qaeda leaders are too isolated to run directly a terrorist operation like September 11, Pakistan says the latest alleged plot, to bomb US-bound jetliners from Britain, may have been blessed by al-Zawahri. [More>>expressindia.com]
---
9.01.06 Scores die in Baghdad rocket attacks
September 1 – At least 46 people have been killed in a series of rocket attacks on homes and shopping areas in a Shia area of the Iraqi capital, Baghdad. Police sources said more than 100 people were wounded during the near-simultaneous strikes on Thursday evening and the death toll was expected to rise as bodies were pulled from the rubble. "Buildings have been flattened... and there are still people trapped," a police officer said, adding that a final death toll was unlikely to be known until daylight. [More>>aljazeera.net ; See also metimes.com (AFP) September 1, "Shiites warn against revenge after Baghdad bloodbath" : BAGHDAD – Muslim preachers warned worshipers Friday against carrying out reprisals that could push Iraq into civil war, after bombs and mortar shells killed 67 civilians in Shiite areas of Baghdad. More than 400 Iraqis were killed this week as a surge of violence raged around Iraq, including scores slaughtered in insurgent bombings in Shiite markets and neighborhoods of the strife-torn capital...
---
9.01.06 Kurdish leader bans Iraqi flag
ARBIL, Iraq, September 1 – The leader of northern Iraq's autonomous Kurdish region has ordered officials not to fly the Iraqi national flag, in a further sign of the country's separatist tensions. "According to the Kurdistan Administration of Iraq's decree number 60, we decide to hoist the flag of Iraqi Kurdistan officially on all offices and government institutions in the Kurdistan region," a statement from Kurdish president Massud Barzani's office in Arbil said Friday. The order said that "regions in Iraq's Kurdistan which have been hoisting the Baathist flag should lower it and hoist only the Kurdistan flag." Iraq's Kurdish minority associates Iraq's red, white and black banner with the ousted leader Saddam Hussein's hated Baath party, although it has been retained as the national flag by the post-Saddam government in Baghdad. [More>>turkishpress.com]
---
9.01.06 In latest push, Bush cites risk in quitting Iraq
SALT LAKE CITY, August 31 – President Bush said Thursday that withdrawing now from Iraq would leave Americans at risk of terrorist attacks "in the streets of our own cities," and he cast the struggle against Islamic extremists as the costly but necessary successor to the battles of the last century against Nazism and Communism. ³The war we fight today is more than a military conflict,"ı Mr. Bush said in a speech to veterans at an American Legion convention here. "It is the decisive ideological struggle of the 21st century."

The speech, the first of five addresses on national security Mr. Bush plans to deliver between now and Sept. 19, was part of an orchestrated White House offensive to buttress public support for the Iraq war and portray Democrats as less capable of protecting the country, a theme that has proved effective for Republicans in the past two elections. Even as Mr. Bush spoke, a series of explosions ripped through Baghdad, providing more images of a sort that he acknowledged have been ³sometimes unsettling² to the public. [More>>nytimes.com]
---
9.01.06 Annan wins Assad pledge to deny arms to Hezbollah
DAMASCAS (AFP) September 1 – UN chief Kofi Annan said on Friday he has won a Syrian pledge to respect an arms embargo against militant group Hezbollah, on the latest leg of a Middle East tour aimed at shoring up a truce in Lebanon. Syria President Bashar Al Assad, whose country is widely believed to funnel arms to the Lebanese Shia group, vowed to help implement UN Security Council Resolution 1701, he said.

"The president committed to me that Syria shall take all necessary measures to implement in full paragraph 15 of Resolution 1701 (which) deals with the arms embargo and rearmament of Hezbollah," Annan told reporters. He said the Syrian leader had undertaken in their meeting to help secure the border with Lebanon by increasing the number of guards deployed there and by establishing liaison mechanisms with the Lebanese army and border police. Syria would also establish, where possible, joint border patrols and control points with Lebanese authorities, while Assad had agreed to international personnel providing technical assistance to the Lebanese. [More>>khaleejtimes.com]
---
9.01.06 California sets global example with historic deal to reduce emissions
September 1 – The state of California is embarking on a ground-breaking effort to curb global warming, following an agreement between Arnold Schwarzenegger, the state's movie star Republican Governor, and the Democrat-dominated state legislature, to cut greenhouse gas emissions by 25 per cent by 2020. The agreement, the result of months of fractious negotiation and considerable bad blood between Mr. Schwarzenegger and his fellow Republicans, sets California far apart from the Bush administration, which has rejected the Kyoto Protocol and questioned the very existence of global warming.

It also opens the way to an outpouring of technological advances in alternative energy in the Golden State - from solar panels on homes and businesses to battery-powered cars and biodiesel trucks. Like others, Mr. Schwarzenegger argues that fighting global warming makes good business as well as environmental sense. [More>>independent.co.uk ; See related article, SF Chronicle, sfgate.com, September 1, "'A Critical step' on warming" : California's new effort to curb greenhouse gases will cut less than one-half of 1 percent of the world's emissions, slowing global warming by just a tiny fraction of a degree, scientists say. But the groundbreaking program is likely to be a catalyst for other states and the federal government to curtail fossil fuel emissions and will spur development of innovative technologies and policies, experts said Thursday.

Dan Cayan, director of the climate research division of the Scripps Institution of Oceanography in La Jolla, called the law's passage "a critical step." Global scientists agree that to prevent catastrophic temperature increases in this century, greenhouse gas emissions by 2050 would have to be 70 to 80 percent lower than 1990 levels...
---
8.31.06 UN chief in Syria, blasts Israel over cluster bombs
DAMASCUS (AFP) August 31 – UN chief Kofi Annan lambasted Israel Thursday for using cluster bombs during its war with Hezbollah as he arrived in Syria for talks on shoring up the truce in Lebanon. "Those kinds of weapons shouldn't be used in civilian and populated areas ... and [we need to] move very quickly to disarm them," Annan said in Jordan, before heading off to Syria, the main backer of Hezbollah along with Iran.

Annan echoed criticism of Israeli military tactics by UN humanitarian chief Jan Egeland, who said that Israel dropped hundreds of cluster bombs in the final days of the month-long conflict before a ceasefire took effect August 14. "What's shocking, and I would say completely immoral, is that 90 percent of the cluster bomb strikes occurred in the last 72 hours of the conflict when we knew there would be a resolution, when we knew there would be an end," Egeland said. [More>>metimes.com]
---
8.31.06 Explosions kill more than 40 Iraqis
August 31 – More than 40 people have been killed in bomb attacks in Iraq, including 24 at a busy market in Baghdad. Police said that at least 24 people were killed and 35 wounded in a roadside bomb attack at the popular central Baghdad market of Shorja on Wednesday. A bomb in the nearby Karrada district killed two people and wounded 21 around the same time. A bomb went off near a busy petrol station, drawing a police unit in response. Five officers were then wounded in a second explosion, when a car bomb detonated. [More>>aljazeera.net]
---
8.31.06 Bombing spree in Thailand's south kills 1
BANGKOK (DPA) August 31 – More than a dozen bombs were set off simultaneously Thursday at banks in Yala and Betong cities, two commercial centres in Thailand's troubled deep South, killing at least one people and injuring 20, officials said. "There were 10 explosions at 11:30 a.m. [0430 GMT] at banks in Yala and another five at banks in Betong, which killed at least two people," said Army Colonel Somkuan Saengpattalanate, spokesman for the Southern Peacekeeping Command.

Yala, the capital of Yala province, has been the target of such attacks in the past, but it was the first time that separatists had attacked Betong, a city also in Yala province best known for its booming prostitution industry catering to Malaysian-Chinese. "The details are still unclear," Somkuan said in a telephone interview with Deutsche Presse-Agentur dpa.

Army intelligence officials have been warning civilians in Thailand's three southernmost, majority-Muslim provinces – Narathiwat, Pattanai and Yala – of possible terrorist acts on Thursday, which marks National Day in neighboring Malaysia. Such simultaneous terrorist attacks in the deep South, where more than 1,300 people have died from violence over the past two and a half years, have become increasingly common as the region's separatist movement attempts to demonstrate its unity and resilience, authorities said. [More>>bangkokpost.net via aljazeera.net]
---
8.30.06 Jimmy Carter agrees to meet former Iranian President Khatami
WASHINGTON (Xinhua) August 30 – Former US President Jimmy Carter has agreed in principle to meet Iranian ex-President Mohammad Khatami when the former Iranian leader visits the United States this week, the Washington Post reported on Wednesday. Carter's term as president was dominated by the rupture in relations following the 1979 Iranian revolution and the takeover of the US Embassy in Tehran, where 52 Americans were held hostage for 444 days until the day he left office.

"Carter, who has every reason to be angry about the way in which the Iranian revolution undid his presidency over the hostage affair, is willing to meet, with no hesitation, a person who was president of the Islamic republic and who never disavowed Ayatollah Khomeni's actions when he was supreme leader," William Quandt, a national security official in charge of the Middle East during the Carter administration was quoted as saying.

The US State Department said on Tuesday that it had issued a visa to Khatami to visit Washington. There will be no restrictions on Khatami's travel in the United States, State Department spokesman Tom Casey said, adding, "This is an opportunity in part for former President Khatami to hear the concerns of the American people." [More>>xinhuanet.com]
---
8.30.06 Iraq bombings kill 53 amid surge in bloodshed
BAGHDAD (AFP) August 30 – Insurgents killed at least 53 Iraqis and wounded scores more in a series of bombings Wednesday, including one in a crowded Baghdad market and another at a military recruitment center. The blast in the Shurja market left 24 dead and 35 wounded and came just two hours after rebels targeted an Iraqi army recruitment center in the Shiite town of Hilla, south of Baghdad, killing 12 volunteers and wounding 38. The Baghdad market blast came despite a massive security crackdown in the violent Iraqi capital, rattling windows one kilometer (half-a-mile) away as a plume of dust and smoke climbed above the skyline. [More>>metimes.com ; See related story, turkishpress.com, August 30, "Iraqi minister cancels truce with Shiite militia."]
---
8.30.06 Kurd rebels vow to turn Turkey 'into hell'
August 30 – A Kurdish rebel group that claimed responsibility for a string of attacks on Turkish holiday resorts in which three people died and 10 Britons were injured, vowed yesterday to turn Turkey "into hell" as part of their separatist campaign. The Kurdistan Freedom Falcons (TAK) said on its website that it had carried out the attack on the seaside town of Antalya on Monday, the deadliest of a series of blasts that rocked the country over the weekend. Three people were killed and dozens injured when a bomb ripped through a crowded shopping centre in the centre of the resort, tearing façades off buildings in one of Turkey's most popular holiday destinations.

Threatening to damage the country's burgeoning tourist industry, TAK, which has already claimed responsibility for the weekend's other attacks, warned yesterday that "the fear of death will reign everywhere in Turkey" in the aftermath of the coordinated blasts. On Sunday, in Istanbul six were hurt by an explosion in the suburb of Bagcilar. Eight of the Britons injured at Antalya remained in hospital last night, two others having already been flown home. [More>>independent.co.uk]


---
8.30.06 Amnesty: 'War on terror' spawns new patterns of disappearances
LONDON (AP) August 30 – Amnesty International said on Wednesday that the international "war on terror" has led to new patterns of disappearances in South Asia, where authorities are removing suspects secretly and without explanation. The human rights group said in a new report that Pakistan had overseen the "enforced disappearance" of several hundred people as part of the "war on terror," and that the country was broadening its sweep to detain other opponents. In Sri Lanka, the report said, there was a new pattern of state agents seizing opponents, after new emergency regulations giving security forces new powers were introduced a year ago as part of the ³war on terror.²

"Enforced disappearance is a gross violation of international human rights and humanitarian law. It affects not only the victims, but also takes a heavy toll on their families," said Catherine Baber, deputy Asia Pacific director at Amnesty International. "Relatives are left to agonize over the fate of their loved ones in the face of official denials and contradictions," she said.

Amnesty and other human rights groups have previously criticized governments of South Asia, Africa and elsewhere for secretly arresting, detaining and questioning civilians, under whatever pretext. Amnesty said that, of those arrested in Pakistan in the "war on terror," some eventually were found to be held by US authorities in Guantanamo Bay, but others were still missing. [More>>khaleejtimes.ae]
---
8.30.06 North Korean leader said to be in China
August 30 – North Korean leader Kim Jong-il may currently be in China, news reports said yesterday. Citing unidentified government officials, reports said that the South Korean government received intelligence information that a special North Korean train entered China through the border along the Aprok River. Government officials refused to confirm the reports, saying that they were checking them.

The train reportedly headed for China on Tuesday. The reports said China did not confirm whether Kim Jong-il is actually visiting. Kim's visits to China are usually revealed after the trips end. China reportedly invited Kim to visit after news reports from Washington suggested North Korea was preparing for a nuclear test. South Korean government officials said last week upon speculation that Kim could visit China, but that it was not likely to happen immediately.

Relations between China and North Korea have taken on a sour note this year after North Korea ignored China's warnings and tested its missiles in July. China has also been showing frustration over Pyongyang's stubborn refusal to return to the six-party talks on its nuclear ambitions. Kim made his latest clandestine visit to China this January to survey industrial and business sites. [>koreaherald.co.kr]
---
8.30.06 Siniora: Lebanon will be last country to make peace with Israel
August 30 – Lebanese Prime Minister Fouad Siniora said Wednesday that he refused to have any direct contact with Israel, and that Lebanon would be the last Arab country to ever sign a peace deal with it. "Let it be clear, we are not seeking any agreement until there is just and comprehensive peace based on the Arab initiative," he said. Siniora was referring to a plan that came out of a 2002 Arab League summit in Beirut. It calls for Israel to return all territories it conquered in the 1967 Six-Day War, the establishment of a Palestinian state with East Jerusalem as its capital and a solution to the Palestinian refugee problem – all in exchange for peace and full normalization of Arab relations with Israel. Israel has long sought a peace deal with Lebanon, but Beirut has hesitated as long as Israel's conflicts with the Palestinians and Syria remained unresolved. [More>>haaretz.com ; See related story, dailystar.com.lb, August 30, "Iranian VP visits Lebanon as aid package takes shape."]

---
8.30.06 Clerics in India tell Muslims insurance policies are anti-Islamic
LUCKNOW, India (AP) August 30 – One of South Asiaıs most influential Islamic seminaries has issued an edict telling Muslims not to buy life insurance policies because they violate Islamic law. Clerics at the Dar-ul-Uloom seminary said Muslims should not invest in life insurance as life is given by Allah and to insure it or assure it, is a crime in the eyes of Allah.

"A true Muslim should never ever go for life insurance policies. This is against the wishes of Allah," Maulana Shahid Rehan, a senior cleric at the seminary, told The Associated Press on Wednesday. Dar-ul-Uloom is in the town of Deoband, about 130 kilometers (80 miles) north of the capital, New Delhi, in the northern Indian state of Uttar Pradesh.

...The edict from the seminary, issued Aug. 7, said: Insurance is not permissible because it is a sort of gambling. Moreover, it also involves interest money which is illegal under 'Shariat,' or Islamic law. While Sunni Muslims welcomed the religious directive, Shia Muslims say the decree is not binding on them because Dar-ul-Uloom is a Sunni institution. [Full story>>khaleejtimes.ae]
---
8.30.06 FBI releases crime statistics from across the US
August 30 – Preliminary figures from the FBI indicate that, as a whole, law enforcement agencies throughout the U.S. reported an 2.5 percent increase in violent crimes in 2005 compared to 2004. These crimes include murder, forcible rape, robbery, and aggravated assault. Look up recent violent crime figures from your community. [More>>msnbc.msn.com]
---
8.29.06 Battle between militia and Iraqi army left 81 dead: officials
BAGHDAD (AFP) August 29 – Fighting between Shiite militiamen and Iraqi government troops in the central town of Diwaniyah left at least 81 people dead, according to an AFP tally of official accounts. "We killed 50 gunmen in the clashes and this incident resulted in the deaths of 23 of our soldiers and injuries to 30 of them," Prime Minister Nuri al-Maliki said in a statement issued as head of the Iraqi armed forces. Diwaniyahıs health director Hamid Jaathi said the townıs two hospitals had also received eight civilian dead and treated 61 wounded bystanders after Mondayıs 12-hour gunbattle between security forces and the Mahdi Army militia.

Adding to the carnage, a disused fuel pipeline exploded outside Diwaniyah on Tuesday as looters siphoned petrol out of it, Taathi said that at least 36 people had been killed in the blast and that the toll was expected to rise. [>Khaleejtimes ; See also thestar.com.my (Reuters) August 29, "Blast at Iraqi pipeline site kills at least 29." : At least 29 people were killed when a blast ripped through scavengers siphoning petrol from pools around a breach in a disused pipeline in central Iraq late on Monday, health officials said...Mutilated and mud-caked bodies lay by a crater at least 10 metres wide. One witness said there were still bodies in the pools and under mud that had not been recovered. "The government is to blame for this. It raised the prices of petrol and forced people to do these dangerous things," an elderly man told Reuters at the scene. A fuel crisis is gripping the oil-rich country, and many Iraqis are desperate for petrol. Fuel prices have soared as the Iraqi government phases out subsidies under an International Monetary Fund deal, angering Iraqis...
---
8.29.06 Annan calls for Hezbollah to free IDF soldiers, Israel to end Lebanon blockade
August 29 – ...Annan arrived in Israel on Tuesday afternoon, after a visit to Lebanon during which he called on Hezbollah to free the two IDF soldiers it is holding and for Israel to end the sea and air blockade imposed on Lebanon at the start of the conflict..."We need to resolve the issue of the abducted soldiers very quickly," Annan said. "We need to deal with the lifting of the embargo – sea, land and air – which for the Lebanese is a humiliation and an infringement on their sovereignty."

"I think the time has come for the siege to be lifted. The Lebanese have shown they're serious about the implementation of [UN resolution] 1701 in all the deployments and efforts they have made," he added. Israel has insisted it will maintain the restrictions until an arms embargo against Hezbollah is enforced. The UN chief has said there is a high risk of renewed hostilities unless the resolution is fully implemented. [Full story>>haaretz.com ; See also thenews.com.pk, August 29, "Lebanese army has seized Hezbollah weapons" : PARIS – The Lebanese army has seized weapons belonging to Hezbollah in south Lebanon, Lebanese Prime Minister Fuad Siniora was quoted as saying in a French newspaper on Tuesday. "The army has been seizing certain weapons, that is confirmed," Siniora told a group of four journalists, accompanying UN Secretary General Kofi Annan to Beirut. "There have been interceptions, but our policy is not to make announcements on such matters," he said, adding that the seizures involved "heavy weapons."...
ANKARA, Turkey (AFP) August 29 – Turkish police are hunting for at least two suspects after a powerful explosion killed three people in a popular Mediterranean resort on a second day of attacks against tourist destinations. Monday's blast in Antalya – at the height of the tourist season – occurred opposite a market near a municipal building in the city's bustling centre, lined with restaurants, cafes and bars. Three Turkish men were killed and 20 others were wounded, one of them critically.

Local police spokesman Akif Aktug told reporters late Monday that the cause of the blast remained unknown, but said they were looking for two suspects. Several Turkish newspapers reported Tuesday that the outlawed Kurdistan Workers' Party (PKK), which has led a separatist armed campaign against Ankara since 1984, was behind the attack. [More>>turkishpress.com ; See also independent.co.uk, August 29, "Kurdish separatists claim deadly attack on popular holiday resorts."]
KANDAHAR, Afghanistan (AFP) August 29 – A series of bomb blasts linked to the Taliban killed two civilians and two policemen in southern Afghanistan Tuesday, a day after one of the deadliest suicide attacks of the year. Two of the blasts were targeted at foreign troops helping to round up rebels, including from the extremist Taliban movement ousted in late 2001 and their allies in the Al Qaeda terror network. The first narrowly missed a convoy of Canadian soldiers with the NATO-led International Security Assistance Force (ISAF) outside the troubled southern city of Kandahar, which has been hit by regular attacks. No soldiers were hurt but two civilians were killed, Navy Lieutenant Sue Stefko said. [More>>metimes.com]
August 29 – President Bush visited New Orleans today on the first anniversary of the Hurricane Katrina disaster and said that he took full responsibility for the failures of federal agencies to cope with the catastrophe. In an emotional speech in a New Orleans high school gymnasium, Mr Bush admitted government failures "at all levels" but said that billions of dollars had been assigned for a recovery effort which he likened to rediscovering the soul of New Orleans.

He said that the floods which devastated the city were of a "biblical scale" and acknowledged that they caused the greatest dislocation in the US since the "dustbowl" famine of the 1930s. The President praised doctors, nurses and other local people who stayed behind to help those trapped and in distress following the disaster which left thousands homeless and around 1,700 dead.

Mr Bush said: "The government, at all levels, fell short of its responsibilities. I take full responsibility for the federal government response." [More>>timesonline.co.uk]
SALT LAKE CITY, Utah (AP) August 29 – Defense Secretary Donald H. Rumsfeld on Tuesday accused critics of the Bush administration's Iraq and counterterrorism policies of trying to appease "a new type of fascism." In unusually explicit terms, Rumsfeld portrayed the administration's critics as suffering from ''moral or intellectual confusion'' about what threatens the nation's security and accused them of lacking the courage to fight back. In remarks to several thousand veterans at the American Legion's national convention, Rumsfeld recited what he called the lessons of history, including the failed efforts to appease the Adolf Hitler regime in the 1930s.

"I recount this history because once again we face similar challenges in efforts to confront the rising threat of a new type of fascism," he said. Rumsfeld spoke to the American Legion as part of a coordinated White House strategy, in advance of the fifth anniversary of the Sept. 11, 2001 terrorist attacks, to take the offensive against administration critics at a time of doubt about the future of Iraq and growing calls to withdraw US troops. [More>>nytimes.com]
August 29 – The Iranian president has challenged his US counterpart to a live television debate. Mahmoud Ahmadinejad made the offer to George Bush on Tuesday. Thursday is the deadline set by the UN Security Council for Iran to suspend all uranium enrichment and reprocessing activities, and Iran faces possible sanctions if it fails to comply. Ahmadinejad said: "I suggest we talk with Mr. Bush, the president of the United States, in a live television debate about world issues and ways out of these standoffs. We would voice our opinions and they would too. The debate should be uncensored, above all for the American public."

The White House called the suggestion a "diversion" from the Thursday deadline and refused the invitation. Dana Perino, the White House spokeswoman, said: "Talk of a debate is just a diversion from the legitimate concerns that the international community, not just the US, has about Iran's behaviour, from support for terrorism to pursuit of a nuclear weapons capability." [More>>aljazeera.net]