---
02.16.05 CIA, FBI warn panel of top threats to US
WASHINGTON (AP) Feb. 16 – Al-Qaida and associated groups top the list of threats to the United States, leading government intelligence officials told Congress on Wednesday in a grim assessment that also highlighted Iran's emergence as a major threat to American interests in the Middle East. Despite gains made against al-Qaida and other affiliates, CIA Director Porter Goss, in an unusually blunt statement before the mostly secretive Senate Intelligence Committee, said the terror group is intent on finding ways to circumvent U.S. security enhancements to attack the homeland. "It may be only a matter of time before al-Qaida or other groups attempt to use chemical, biological, radiological or nuclear weapons. We must focus on that," Goss said. [More>>Associated Press]

---
02.16.05 Some Bush allies question budget request
WASHINGTON, Feb. 16 – President Bush's request for $82 billion, largely for U.S. operations in Iraq and Afghanistan, came under close scrutiny today from some of his most loyal allies in Congress: House Republican leaders. House Majority Leader Tom DeLay (R-Texas), while pledging that the House would move quickly to provide the resources needed to support the troops, said that the request included "items of foreign aid that probably do not qualify as immediate emergencies." [More>>latimes.com]
---
02.16.05 Mosul's Sunni clergy vow to aid authorities in fight against insurgents
Feb. 15 – Senior clerics in the restive city of Mosul have pledged to oust elements seeking violence from their mosques. They also denounced killing of innocent Iraqis whether Muslims and non-Muslims and all attacks targeting local security forces. The clerics made the pledge during a meeting with Mosulıs governor Duraid Kashmoula who told them that there will be no let-up in the fight to clean Mosul of what he described as ³the stray and corrupt gang.² The clerics distanced themselves from violent factions and insurgent groups that have terrorized Mosulıs nearly 1.7 million inhabitants. Mosul is Iraqıs third largest city after Baghdad and Basra and the insurgents are striving to turn it into a major stronghold following the collapse of their major base in Fallujah. [More>>azzaman.com]
---
02.16.05 Fury at al-Hariri's funeral
BEIRUT, Feb. 16 – Former prime minister Rafiq al-Hariri was laid to rest in central Beirut on Wednesday amid scenes of anger as thousands of mourners poured into the streets chanting anti-Syrian slogans. Draped in a Lebanese flag, al-Hariri's casket arrived with some difficulty to the unfinished Muhammad al-Amin Mosque, which is located in downtown Beirut, the district he helped to rebuild and transform from a forgotten ghost area during the Lebanese civil war into a major tourist attraction.

Tens of thousands of people lined up the streets along the 3.2km route taken by the funeral procession. Thousands of others thronged the roads, effectively blocking the ambulance that was carrying al-Hariri's body from reaching the burial site, located just outside the mosque. "Syria get out, Syria get out," yelled the crowds. A woman in black shouted hysterically, "Syria messed up Lebanon. Let them get out of here. I don't want to see a Syrian face." [More>>Al-Jazeera]
---
02.16.05 Rumors of military attack on Deylam strongly rejected
TEHRAN (MNA) Feb. 16 – The governor general of Deylam on Wednesday strongly rejected rumors that there had been a military attack against the city in the southern province of Bushehr. However, he told the Mehr News Agency that an explosion did occur in the hills around Deylam. An official from the Governor Generalıs Office also confirmed that there was a huge explosion on Wednesday in Deylam. Local officials believe the incident may have been caused by an accident at one of the oil installations surrounding the city. According to some reports, the sound of an airplane was also heard at the time of the explosion. [mhrnews.ir; see iranfocus.com (AP report): TEHRAN, Iran, Feb. 16 – Iranian state television said Wednesday that an explosion near Deilam may have been caused by a fuel tank accidentally dropping from an Iranian airplane in the region. The state-run television provided few details, but said local officials had told it that may have been the cause of the unidentified explosion...Two residents of the Deilam area contacted by The Associated Press said they had not heard any explosions in the area.]
02.16.05 Unidentified jet fires 12 missiles in Iran;
TEHRAN, Feb. 16 – A huge explosion has occurred in the Iranian city of Daylam. According to Iranian TV an unidentified jet has dropped a missile however no reports of casualties have so far been received. Iran has also retaliated by firing anti-aircraft guns on the aircraft, which tried to enter the aerial limits of Iran. Iranıs nuclear installations are also located in Daylam however the target of the aircraft is yet to be ascertained and the country from which the aircraft came is also unidentified. It must be clarified that Iran is constructing its atomic powerhouse in Daylam while the US claims that Iran is preparing nuclear weapons there. [jang.com.pk]
---
02.16.05 Lebanon's government claims suicide bomber behind Hariri murder
BEIRUT, Feb. 16 – The Lebanese government said initial investigations indicate former Premier Rafik Hariri was killed by a suicide bomber. The government also firmly ruled out calls for an international probe into Hariri's assassination in which 13 other people were killed and more than 130 wounded according to official estimates. Interior Minister Suleiman Franjieh said: "The security services are almost sure that it was a suicide car bomb. It is not a final conclusion, but it is almost sure." [More>>dailystar.com.lb]
---
02.16.05 Pakistan, Qatar to explore gas pipeline aspects
ISLAMABAD, Feb. 16 – Pakistan and Qatar have formed a Joint Technical Committee (JTC) which will meet in Doha within a week to discuss technical aspects of laying the $1.88 billion Gulf-South Asia Pipeline (GUSA) project from Qatar to Pakistan. Abdullah Bin Hamad Al-Attiyah, Qatarıs second deputy prime minister and energy minister, told reporters after his meeting with Petroleum and Natural Resources Minister Amahullah Khan Jadoon of Pakistan. He said the project had been under discussion by both countries for the last 14 years. [More>>dailytimes.com.pk]
---
02.16.05 Syria and Iran to form "common front"
TEHRAN. Feb. 16 – Iran and Syria, both locked in rows with the United States, said on Wednesday they would form a common front to face challenges and threats. ³We are ready to help Syria on all grounds to confront threats,² Iranian Vice-President Mohammad Reza Aref said in Tehran after meeting Syrian Prime Minister Naji Al-Otari. Otari told reporters: ³This meeting, which takes place at this sensitive time, is important, especially because Syria and Iran face several challenges and it is necessary to build a common front." [More>>khaleejtimes.com; see also iranfocus.com and aljazeera.net]
---
02.16.05 Russian oil chiefs arrested
Feb. 16 – Interior Minister Rashid Nurgaliyev has said that the heads of two large Russian oil companies had been detained on suspicion of embezzling more than $54 million in state funds. The heads the Khanty-Mansiisk Oil Company and Nazym Oil and Gas Exploration Company were taken into custody on Wednesday. The two brothers, Alexander and Nikolai Pershin, are directors of the respective companies operating in the far-eastern region of Siberia. "They are accused of embezzling more than one and a half billion rubles from the budget for the development of natural resources," Nurgaliyev told the ITAR-TASS news agency. [More>>Al-Jezeera]
---
02.16.05 Russia eyes the United States to ship crude
Feb. 16– Russiaıs oil giant LUKOIL and US ConocoPhillips are eyeing construction of liquefied natural gas facilities in Yamal, LUKOIL, President Vagit Alekperov said at the Cambridge Energy Research Associates Conference in Houston. Alekperov pledged the companyıs licensed areas in the region may produce 1 trillion cub. ft of gas in ten years. ³The company is interested in shipping this gas to the United States,² Alekperov pointed out. As informed, LUKOIL intends to put in operation Nakhodkinskoe gas field early April. The field's reserves are estimated at 275 billion cub. m. of gas. Construction of 117-km gas pipeline that will be linked with Gazprom gas main, has been nearly completed, AK&M news agency reminded. [More>>kommersant.com]
---
02.16.05 Yemen dismantles al-Qaida cell
SANAA, Yemen, Feb. 16 – Yemeni authorities aborted plans by terrorists linked to al-Qaida to bomb foreign embassies and government buildings in Sanaa, reports said Wednesday. The pro-government daily newspaper Rai News said the six-member cell was uncovered when one of its members repented and confessed to police that it planned terrorist attacks against the U.S. Embassy and other foreign missions as well as the Yemeni intelligence headquarters. The paper quoted a security source as saying one of the terrorists, who was on his way to carry out a suicide attack last week, refrained at the last minute from committing the act and instead surrendered to police. [More>>newkerala.com; see also khaleejtimes.com]
---
02.16.05 Tokyo stocks fall as Japan goes into recession
Tokyo shares closed lower on Wednesday, after data released showed that the Japanese economy had slipped into recession in the fourth quarter. The benchmark Nikkei 225 average was off 0.4 per cent at 11,601.68 while the broader Topix index was 0.3 per cent lower at 1,164.94. Japanıs economy unexpectedly fell into recession for the fourth time since 1991, as export growth faltered and consumer spending declined. Gross domestic product contracted at an annualised 0.5 per cent in the quarter to December 31. Meanwhile, revised figures showed the economy shrank for three straight quarters. [More>>bignewsnetwork via tajikistannews.net]
---
02.16.05 Chinese protest against move on islands
Feb. 16 – Dozens of Chinese demonstrated outside Japan's embassy in Beijing on Tuesday, protesting against Tokyo's moves to take over a lighthouse on a disputed group of islands in the East China Sea. Citizens of Hong Kong protest against Japan's move on the Diaoyu Islands yesterday. The lighthouse was built by Japanese right-wing activists years ago on the islands, which are small and uninhabited but provide access to rich fishing ground and possible oil deposits. [More>>chinadaily.com.cn]
---
02.16.05 Kyoto Protocol on climate change comes into force
TOKYO, Feb. 16 – The Kyoto Protocol, an international treaty aimed at curbing emissions of greenhouse gases, entered into force Wednesday, seven years after it was adopted at a U.N. conference in Kyoto in 1997. The pact, known officially as the U.N. Framework Convention on Climate Change, took effect at midnight Tuesday in New York, where the United Nations is headquartered, or 2 p.m. Wednesday Japan time. The occasion of the inauguration of the world's first attempt to control climate change was marked around the world. In Bonn, Germany, the secretariat of the U.N. framework convention and civic groups will jointly hold a commemorative event. [More>>kyodo.co.jp]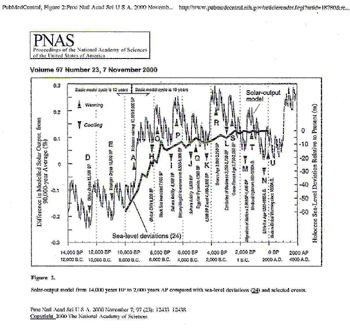 Chart from PNAS report on solar radiation and global warming. Reprinted by permission. Click on chart for larger view.
Editorial note: An interactive presentation on Global Warming is available from www.guardian.co.uk. It is worth reviewing. Archeologists study climate change to examine the movements of large populations of people. We know that the end of the last Ice Age was from 14,000 B.C. to 10,000 B.C., and at the end of that age large populations of people began moving in Europe. Greener pastures were opening up in the north. About 5,000-4,000 B.C. another climatic event occurred that resulted in new populations moving into Britain and another movement occurred about 1,500-1,200 B.C. Historical records now come into play in this event, since we are told by several sources that there was a drought in Turkey, causing several peoples to migrate. This is the time of the "Sea Peoples" who invaded Egypt and were recorded in the Egyptian temples. One of the groups of the Sea Peoples was the Biblical Philistines, who are known now as Palestinians. The Egyptians called them Pulusti.

An interesting chart and discussion that compares solar radiation cycles from 12,000 B.C. to present is at www.maravot.com/Banquet3.html. The movements and traditions involving the Etruscans (listed among the Sea Peoples) and the Indo-European peoples that moved into India with their Rig Veda are explored here.
---
02.16.05 Coal mine explosion kills 5 in southern China
BEIJING (AP) Feb. 16 – An explosion at an illegal coal mine in southern China killed five and left 17 missing, the government said Wednesday, just two days after a separate blast at a state-run mine killed 209. The accident occurred Tuesday afternoon in Songlin Village in China's southwestern Yunan province, the official Xinhua News Agency said. Fifteen miners were also injured and rescuers were searching Wednesday for 17 missing miners, Xinhua said, citing Xu Jianan, deputy director of Yunnan Provincial Administration on Coal Mine Safety. [More>>thestar.com.my]
---
02.16.05 M5.4 quake rattles wide area in eastern Japan, 27 hurt
TOKYO, Feb. 16 – An earthquake measuring 5.4 on the Richter scale shook the Tokyo area and much of eastern Japan before dawn on Wednesday, jolting many residents out of bed and causing minor injuries to at least 27 people in a fresh reminder of Japan's seismic dangers. The quake registered at 4:46 a.m. with the epicenter in Ibaraki Prefecture, about 130 kilometers northeast of Tokyo with a focus 40 kilometers underground, the Japan Meteorological Agency said. [More>>japantoday.com]
---
02.16.05 Moderate quake hits near India's Nicobar Islands
HONG KONG (AP) Feb. 16 - A moderate earthquake shook India's remote Nicobar Islands, which have been jolted by aftershocks since the Dec. 26 tsunami disaster, Hong Kong seismologists said Wednesday. There were no immediate reports of casualties or damage from the 5.6-magnitude quake, which struck at 0825 GMT Wednesday. The tremor was centered about 320 kilometers (199 miles) northwest of Banda Aceh, the Indonesian city that was battered by the Asian earthquake-tsunami disaster, the Hong Kong Observatory said. Several moderate quakes have struck the same area in recent weeks. [thestar.com.my]
---
02.16.05 Strong earthquake strikes remote Indonesian island
HONG KONG (AP) Feb. 16 – A strong, magnitude-6.4 earthquake struck a remote Indonesian island near the Philippines, Hong Kong seismologists said on Wednesday. The quake, centered in the general area of the island of Kepulauan Talaud, 390 kilometers (240 miles) north-northeast of the city of Manado, registered magnitude 6.4 and struck at 9:47 p.m. local time (1447 GMT) Tuesday, the Hong Kong Observatory said in a statement. It wasn't immediately clear if the quake caused any injuries or damage. Earthquakes measuring magnitude 6 can cause widespread damage if they strike inhabited areas. [More>>the jakartapost.com]

---
02.16.05 Antiquity smugglers sentenced to death
Feb. 14 – Three members of a criminal ring that shipped Mesopotamian artifacts to Iran have been sentenced to death, the police have said. Brigadier Ahmad Shihab said his forces had captured the smugglers as they were preparing to ferry ³a variety of archaeological pieces² to Iran...It is the first time smugglers of antiquities are being sentenced to death in the nearly two years since the fall of Saddam Hussein...He said they were convicted to stealing, hiding and smuggling of precious artifacts mainly from the Sumerian and Babylonian eras. Iraq is among the worldıs richest in ancient artifacts but it currently finds it hard to protect the treasures mainly due to lack of security. The Iraq Museum was plundered and ransacked shortly after U.S. troops landed in Baghdad. [More>>azzaman.com]
---
02.15.05 Quake throws Tokyo residents out of bed
Feb. 16 – An earthquake measuring 5.4 on the Richter scale shook the Tokyo area before dawn today, jolting many residents out of bed and causing minor injuries to at least eight people. The quake registered at 4.46am (6.46am AEDT), with the epicentre in Ibaraki prefecture, about 130km northeast of Tokyo, and a focus 40km underground, the meteorological agency said...Eight people were lightly injured when they fell out of bed or were hit by falling objects such as a television and a stereo speaker, according to a round-up of reports from local authorities by public broadcaster NHK...no reports of damage...[More>>theaustralian.news.com.au; earlier a 6.2, Richter scale, quake hit Wushi County in northwest China's Xinjiang Uygur Autonomous region at 7:38am Beijing time, Tuesday. It was at 41.6 degrees north latitude and 79.3 degrees east longitude; chinadaily.com.cn]
---
02.15.05 Strong quake strikes off Sumatra coast
HONG KONG (AP), Feb. 15 – A strong earthquake hit off the coast of the Indonesia's Sumatra island early Tuesday in an area south of where the massive, tsunami-generating quake struck nearly two months ago, Hong Kong seismologists said, but no damage or casualties were reported. The magnitude 6.0 quake was centered in seas 120 miles northwest of Padang. That city is about 560 miles southeast of Banda Aceh - the provincial capital closest to the epicenter of the Dec. 26 magnitude-9.0 temblor that triggered the Indian Ocean tsunami. Tuesday's quake was recorded in Hong Kong at 1:13 a.m., the Hong Kong Observatory said in a statement. The quake caused no damage nor casualties, Sumarso, chief of the local Meteorology and Geophysics Agency, said in the nearby city of Padang Panjang. [thejakartapost.com]
---
02.15.05 At least 59 worshippers killed, over 350 injured in mosque fire in Tehran
TEHRAN, Iran (AP) Feb. 15 – It began with some fabric getting too close to a kerosene heater in a packed mosque. It ended with people being trampled to death and jumping from second story windows to escape the fire, a survivor said Tuesday. Tehran police chief Brig. Gen. Morteza Talaie has blamed lax safety controls at Tehran's Arg Mosque for Monday evening's fire that killed 59 people and injured another 350 people, the official Islamic Republic News Agency reported. "The main cause of the fatal incident is ignoring the basic safety rules, including the installation of a kerosene heater very close to a thick curtain,'' IRNA quoted Talaie as saying.

Tehran municipality workers worked Tuesday to clear the debris from the mosque and to repair it. Artisans repainted the blackened walls and replaced window panes. There was confusion Tuesday over how the fire began, with state television reporting that a curtain separating men from women was set alight by a heater on an upper floor of the mosque. IRNA quoted unnamed witnesses as saying a female worshipper's veil caught fire from the heater, and the flames set alight to the curtain. [More>>thestar.com.my]
---
02.15.05 US recalling Ambassador to Syria following bombing
Feb.15 – The United States today recalled its ambassador to Syria, a day after the assassination of Rafik Hariri, the former Lebanese prime minister whose motorcade was bombed as it traveled through a seaside Beirut neighborhood. State Department spokesman Richard Boucher said in Washington that Margaret Scobey was being recalled for "urgent consultation." Following Hariri's assassination on Monday, "Ambassador Scobey delivered a message to the Syrian government expressing our deep concern as well as our profound outrage over this heinous act of terrorism," Boucher said.

At the White House, spokesman Scott McClellan said the attack on Hariri "is a matter that's being discussed at the United Nations Security Council." [More>>latimes.com]
---
02.15.05 Assassination: All eyes on Syria
Feb. 15 – Syed Saleem Shahzad writes an interesting article with regard to the direction the Hariri assassination may lead, with background information: KARACHI - The assassination on Monday of former Lebanese premier Rafik Hariri, who opposed the Syrian military occupation of Lebanon, places the spotlight firmly on Syria, a safe haven for Palestinian militant organizations.

An explosion in front of Beirut's St. George Hotel killed nine people in the well-protected motorcade in which Hariri was traveling, in addition to the 62-year-old billionaire politician. A previously unknown terrorist group (al-Nasr wa al-Jihad fi Bilad al-Sham - Victory and Jihad in Palestine, Jordan, Lebanon and Syria) has claimed responsibility..."Sooner or later we will hear an accusation from Washington that Syria was behind the killing of Rafik, and then new controversies will be carved out which will question the Syrian presence in Lebanon. Of course, the situation will finally force Syria to pull out its troops, and of course a vacuum will be created, which will be filled by NATO [North Atlantic Treaty Organization] troops once again in the region," said veteran Palestinian writer Samir Allawi, who is an expert on Middle Eastern affairs. "The plot seems to be multi-faceted to fix several issues," Allawi elaborated. [More>>atimes.com; see also bbc.co.uk article, "Beirut blast 'was suicide attack.'
---
02.15.05 Lebanese army placed on full alert as fear seizes
BEIRUT, Feb. 15 – The Lebanese Army went on full alert Monday following the massive explosion which killed former Premier Rafik Hariri. "The army leadership has announced a general alert for all units of the Lebanese Army. Likewise, the fighting readiness is raised to the greatest degree," an army statement said. Beirut shut down with shops, schools and universities immediately closing their doors...In the Arab University quarter of Beirut, demonstrators accused Syria of plotting Hariri's death and set ablaze a picture of Syrian President Bashar Assad outside a Beirut office of the Lebanese wing of the Baath Party. The crowd also pelted the building with stones.

"There is no God but God, and Syria is the enemy of God," demonstrators chanted outside Hariri's Beirut residence. Demonstrators also blocked a road to Syria in northern Lebanon with burning tires, agencies said. A previously unknown Islamist group claimed responsibility for the attack in a video aired by Al-Jazeera satellite station, saying the assassination was punishment for Hariri's support for the Saudi Arabian government. Patrols made up of three or four army vehicles drove through the deserted streets of downtown Beirut. Soldiers armed with M16 assault rifles were seen manning checkpoints throughout the capital's main streets. [More, including names of wounded>>dailystar.com.lb; see Al-Jezeera for article, "Arab world reacts to killing of al-Hariri" and turkishpress.com article, including comment: "...The assassination raised fears about the future stability of the country, amid mounting domestic political tensions and international pressure over Syria's role ahead of planned May elections. A hitherto unknown Islamist group claimed responsibility for the attack, saying it was to avenge Hariri's close ties with the Saudi regime, but experts suggested it required highly sophisticated technology and know-how that only a well organized group or government might possess. Lebanese police raided the home of a Palestinian with the name of a man who appeared in the video by An-Nosra wal Jihad fi Bilad al-Sham (Victory and Jihad in Greater Syria) but failed to find the suspect..."]
---
02.15.05 Analysis: A powerful message that could boomerang
Feb. 15 – Orly Halpern writes that the assassins of Hariri could have their plot backfire on them: The murderers of Rafik Hariri knew their target was among the most significant figures in Lebanon. The self-made billionaire helped reconstruct his country after a destructive civil war, knew all the top people in Washington and was a personal friend of French President Jacques Chirac and Saudi Arabia's King Fahd. "You can't go any higher than blowing up Hariri in the middle of Beirut in the middle of the day," said one analyst in Beirut. "It's a very powerful message to all the Lebanese, and to the opposition."

Hariri was the key figure of the Lebanese opposition to the Syrian presence in Lebanon. Some say he was pushing the US and France to pass the UN resolution calling on Syrian withdrawal from Lebanon last September. But the bomb that ripped through his armored motorcade may have a boomerang effect. Lebanese opposition leaders on Monday night were sounding braver than ever. [More>>Jerusalem Post]
---
02.15.05 Lebanon's tortured history of political assassination
BEIRUT, Feb. 15 – Beirut was often rocked by car bombs and political assassinations during its 15-year civil war, when fighting among religious and political factions all but tore Lebanon apart. But they have been rare since then. Neighboring Syria became ever more dominant during the conflict and took much of the credit for ending the war, but Lebanese voices calling for Damascus to pull out its 14,000 troops have grown louder, backed by a United Nations Security Council resolution calling for their withdrawal. [More>>dailystar.com.lb]
---
02.15.05 Japan urges US to rejoin Kyoto Protocol
TOKYO, Feb. 15 – Japan on Tuesday urged the United States to rejoin the Kyoto Protocol aimed at curbing global warming, which goes into effect on Wednesday, and also called on China and India to join the pact. Foreign Minister Nobutaka Machimura told a press conference, "We'll continue urging such countries to join it." The pact's effectiveness has been clouded as the United States, the largest emitter of global warming gases, withdrew from it in 2001. The protocol was adopted at a U.N. conference on climate change in Kyoto in 1997. Machimura voiced regret that rapidly industrializing countries such as China and India have yet to join the pact. [More>>japantoday.com]
---
02.15.05 Ban Ki-moon and Secretary of State Rice tone down North Korea threat
Feb. 15 – Choi Soung-ah writes an opinion that the US and South Korea may be deferring to China to resolve the North Korean A-bomb issue: "Foreign Minister Ban Ki-moon and Secretary of State Condoleeza Rice reaffirmed once again their will to deal with the North Korea nuclear standoff peacefully, but their overall toning down of the issue has triggered concerns among Korea watchers.

South Korea and the United States appear to be pushing the issue over to China, in hopes that Beijing and Pyongyang, as long-time allies, will somehow reach a compromise that other concerned countries cannot arrange. North Korea's Thursday declaration that it possesses nuclear weapons has raised key questions for many here and abroad on whether the isolated communist country really has atomic arms, or if the statement is merely an attempt at blackmail to win concessions from the international community. But the question is why South Korea along with key players in the six-nation disarmament talks including the United States are seemingly lessening the North's threats..." [More>>koreaherald.co.kr]

---
02.15.05 Iran gas line may dry up in five years: Experts
KARACHI, Feb. 14 – Even as India, Pakistan and Iran agree to go ahead with the much-hyped Indo-Iran gas pipeline, experts have voiced apprehension that the Iran gas line may dry up in five years. According to The News, Pakistani oil experts have said that the Iran pipeline could meet Pakistan's shortfalls for only three to four years. Pakistani officials have said that calculations have revealed that Pakistan would face shortfall of 350-mmcfd from the year 2010, which would eventually go up to 1,691-mmcfd in 2015 and 3,156-mmcfd in 2020. [More>>hindustantimes.com]
---
02.15.05 No country permitted to operate in disputed regions of Caspian
TEHRAN, Feb. 15 (MNA) – Mahdi Safari, the Islamic Republic of Iranıs special representative for Caspian Sea affairs and the general director of the Foreign Ministry Department for Commonwealth of Independent States Affairs, announced here on Tuesday that Iran has come to the conclusion that the Caspian Sea should not be divided now. Safari said that Iran would not allow other countries to operate in disputed areas, and all sides have agreed on this matter. But if the other four countries agree to divide the sea, Iran has also announced its position on dividing the seabed, but is opposed to territorial sovereignty over the seabed, he added. ³So if the limits are specified, there will be no problem,² he told Iranian state television...³The Islamic Republicıs priority was a condominium, but Russia, Azerbaijan, Kazakhstan, and Turkmenistan disapproved and announced that the seabed should be divided...The 20 percent allocated to Iran was estimated according to international regulations and sea law that stipulate the division of energy resources should be done in a Œfairı rather than a Œjustı manner...According to the 1940 agreement, the littoral states are only allowed to make use of energy resources which are ten miles off their coasts and they cannot do anything outside this limit, Safari added. He said that until a legal regime is approved, the 1940 and 1921 agreements are still applicable. [More>>mehrnews.ir]
---
02.15.05 Top terrorist killed in Kashmir
JAMMU (India News) Feb 15 – A top Pakistani terrorist who operated in a border area of Jammu and Kashmir has been killed in a gun battle with security forces, police officials said here Tuesday. Umar "Baroodi," whose nickname was derived from his expertise in making improvised explosive devices (IEDs), was killed with two associates in a fire fight with security forces at Dudhsan last Friday. [More>>newkerala.com]
---
02.15.05 China tops Cambodia's largest investor
Feb. 15 (Xinhua) – China was on the top of Cambodia's foreign investment countries in 2004, according to the figures of the Center for the Development of Cambodia (CDC). The CDC figures, quoted by Cambodia Sin Chew Daily Monday, showed that the agency approved 55 projects worth $217 million in fixed assets in 2004, 8 more than 2003.

China registered 19 investment projects, worth $80.4 million, up 144 percent over 2003 and accounting for 37.06 percent of the total registered projects in fixed assets in CDC. About 15 projects were in garment sector, worth $35.10 million. The second was Malaysia with 23.27 million dollars and China's Taiwan ranked the third with $13.69 million in fixed assets. [More>>chinadaily.com.cn]
---