2.12.05 Australia's PM defies Bush over China arms
Feb. 12 – The Howard Government has defied US efforts to dissuade the European Union from lifting its 15-year arms embargo on China, which Washington fears could transform the balance of power in the Taiwan Strait. The decision by Australia to rebuff the joint private and public lobbying by the US and Japan is the most serious strategic disagreement between Washington and Canberra in recent years. US officials had wanted to make the lobbying a joint effort by the US, Japan and Australia – the three great Pacific democracies, the three strategic allies – but the Howard Government refused. [More>>theaustralian.news.com.au]
---
2.12.05 US, Europe want to renew security vows, but unsure how to do it
MUNICH, Germany (AFP) Feb. 12 – The United States and Europe agreed on a need to renew their transatlantic security vows to confront Islamic extremism and other modern threats, but acknowledged they did not yet know how to adapt their old alliance to new dangers. In addresses to the annual Munich security conference, both German Chancellor Gerhard Schroeder and US Defense Secretary Donald Rumsfeld said the North Atlantic Treaty Organization was still a crucial institution at the core of the transatlantic security relationship.

"However, it is no longer the primary venue where transatlantic partners discuss and coordinate strategies," Schroeder, who did not attend the conference due to illness, said in a speech read by his Defense Minister Peter Struck to top-level defense and security experts from around the world. [More>>turkishpress.com]

---
2.12.05 Car bomb south of Baghdad kills many
Feb. 12 – Eighteen people have been killed and 25 wounded in a car bomb attack in the town of Musayyib, south of Baghdad, police and medical sources have said. According to the head of the Musayyib hospital in the nearby city of Hilla, among those killed on Saturday morning were three police officers. The explosion was caused by a booby-trapped car parked in front of the hospital, said Iraqi officials. "Most of the victims are people who were heading to the hospital or to the headquarters of the local council," said Police Lieutenant Muhammad Tamimi. [More>>Al-Jezeera; see also reuters.com]
---
2.12.05 Iraqi election results available tomorrow
BAGHDAD, Iraq (AP) FEb. 12 – Iraqi officials will announce the final results of the Jan. 30 national elections on Sunday, a spokesman for the election commission said. Farid Ayar said on Al-Arabiya television Saturday that the commission would meet Sunday morning to finalize some unspecified issues and then announce the final figures in the afternoon. The results will be considered official after three days. "We will give three days to verify the results, hear any disputes, and then they will be officially declared final," Ayar said. "All the numbers will be announced tomorrow." [More>>Associated Press]

---
2.12.05 Blair to pressure US on warming
British Prime Minister Tony Blair has said he'll do his "damnedest" to open a dialogue with the United States in the coming months to tackling the issue of global warming. Taking questions from voters at a Labour Party conference, Mr. Blair called global warming "in the long term, the biggest single challenge we face" and stressed the need to make the US part of the solution.

Mr. Blair – this year's chairman of the Group of Eight industrialized nations – was asked via video by an unidentified voter: "What can you do to get the Americans to take the threat of global warming seriously?" "Should be easy," he joked in reply, before turning serious. "The blunt reality is that unless America comes back into some form of dialogue and international consensus, it's very hard to make progress. More>>theaustralian.news.com.au]
---
2.12.05 India may extend sovereign guarantee to pipeline from Iran
NEW DELHI (PTI) Feb. 11 – India may extend sovereign guarantee to the 4.5 billion dollar Iran-India gas pipeline passing through Pakistan, for its implementation by 2009-end. Petroleum Minister Mani Shankar Aiyar will visit Tehran in June to finalize modalities for import of gas through the 2775-km long pipeline, one-fourth of which would pass through Pakistani territory, and possibly sign a long-term import deal. "I am going to Tehran in June and hope this would act as a catalyst in furthering an agreement on import of natural gas through pipeline passing through Pakistan," Aiyar told reporters here. [More>>Press Trust of India]
---
2.12.05 Gazprom to get into US market in 5 years
MOSCOW (RIA Novosti) Feb. 12 – The Gazprom giant is determined, by the middle of 2005, to choose partners on a project to export liquefied natural gas, or LNG, to the American market, says Alexander Ryazanov, the Russian gas major's board vice-chair. The company has drafted a concept to produce and transport liquefied natural gas, which envisages emergence in the US market by 2010, he announced to journalists. Gazprom has close contacts with US-based companies even now. Memorandums have been signed with many of them. Among tentative partners, Mr. Ryazanov highlighted the US Exxon Mobil, ConocoPhillips, Chevron Texaco Sempra Energy, Canada's PetroCanada, and the Norwegian-based Statoil and Norsk Hydro... "The Stockman is our most promising project of all, and we think it offers excellent prospects to liquefy natural gas. Its design output is somewhere near an annual 100 billion cubic meters of gas. It will keep around 30 billion at the very start, of which 22 to 24 billion cubic meters will be liquefied to produce up to 15 million tons of LNG for America - an amount to reckon with," said the Gazprom boss.

The Stockman gas condensate deposit, in the Barents Sea center, is evaluated at 3.2 trillion cubic meters of gas plus 31 million tons of gas condensate. Preparations for its development are made with an account for prospective LNG exports to the US and other countries. [More>>rian.ru]
---
2.12.05 US conducting independent inquiry into Iran assesment
WASHINGTON, Feb. 12 – US intelligence agencies are conducting an independent inquiry into their assessments about Iran's nuclear programme, in order to avoid embarrassment similar to the failed search for Weapons of Mass Destruction in Iraq, which was cited as the reason for dethroning its ruler Saddam Hussein. The intelligence community is now conducting a broad review of its Iran assessments, including a new look at the country's nuclear programme, the nation's economic strength, the future of its ruling clerics and the impact of the Iraq war on Iran's powerful position in the region, according to 'The Washington Post'.

Bush Administration officials are avoiding taking detailed public positions on Iran until the intelligence papers are completed and the Administration decides on a policy, the paper quoted officials as saying. [More>>Press Trust of India]

---
2.12.05 EU wants to help Iran build light-water research reactor
Feb. 12 – EU negotiators were to offer Friday to send a mission to help Iran obtain a nuclear light-water research reactor, in what would be the first concrete move toward rewarding Tehran for abandoning uranium enrichment, a diplomat said. Negotiators from Britain, France and Germany met with Iranian officials for a fourth and final day in Geneva on Friday to convince Tehran to dismantle a uranium enrichment program that the United States says is part of secret nuclear weapons development, diplomats said. The European Union's foreign policy chief Javier Solana had said Thursday he hoped there would be, "by the end of the week some positive news on the negotiations" taking place in Geneva. [More>>dailystar.com.lb]
---
2.12.05 Oil slick caused by tanker collision near Egypt reaches Israel's coast
Feb. 12 – An oil slick caused when two tankers collided off Egypt's Mediterranean coast nine days ago reached the southern Israeli coast Saturday morning. The Health Ministry has issued a warning against bathing in the area of Rishon Letzion's Palmahim beach or eating fish from the same area. Despite the warning, several people took advantage of the weekend's high winds to wind-surf off the coast. But Environment Ministry officials said the slick would not drift further north, saying they believed "we are dealing with a very small slick that will disappear within several days." [More>>haaretzdaily.com]

---
2.12.05 Russia interested in Russian-Jordanian projects in Iraq
AMMAN (RIA Novosti's Yulia Troitskaya) Feb. 12 – Russia has major interest in implementing Iraqi-based projects on which it is working in tandem with Jordan, said Yevgeny Primakov, President of Russia's Chamber of Commerce and Industry. He was addressing an entrepreneurial audience on the premises of the Jordanian Chamber of Commerce in Amman. "We can take part together in laying a petroleum pipeline from Iraq to Jordan, in restoring energy objects and building new ones in Iraq, and in other projects," he offered.

Mr. Primakov sees Jordan as a promising field of Russian expert work. There are, in particular, irrigation and water supply projects, repairs on and cleaning of dams and canals, and petroleum, gas and water prospecting. Russia is willing to join trans-Arabian gas mainline laying to reach Turkey via Egypt, Syria and Jordan, and engage in Jordanian-based power industrial projects and tourist complex construction, added Mr. Primakov. [More>>rian.ru]
---
2.12.05 Japan looks to slash spending on US forces
FEb. 12 – Japan plans to ask the United States to approve a further reduction in the amount of money Japan spends on supporting the presence of U.S. troops here, according to Japanese government sources. Japan plans to raise the matter at the so-called two-plus-two ministerial meeting of foreign and defense chiefs scheduled for Feb. 19 in Washington. Participants in the talks are expected to discuss overall strategy pertaining to the planned realignment of U.S. forces in Japan.

Tokyo hopes to gain an accord from Washington to start debating the so-called sympathy budget, given that a special five-year agreement stipulating provisions for the budget allocation is set to expire in March 2006. Tokyo will seek cuts in electric power, gas and water supply costs amid concerns it might have to foot bills in relation to the anticipated realignment of U.S. forces here, including costs for relocating U.S. military facilities, the sources said. [More>>japantimes.co.jp]
---
2.12.05 Japan, US agree on realignment framework for US forces in Japan
TOKYO (Kyodo) Feb. 12 – Japan and the United States have worked out a framework for ''common strategic objectives,'' featuring reinforcement of bilateral collaboration on a global basis in the face of planned realignment of the U.S. forces in Japan, informed sources said Saturday. The objectives will be incorporated into a joint statement to be issued in a ''two-plus-two'' meeting of foreign and defense ministers of the two countries slated for Feb. 19 in Washington, the sources said.

The framework states that Japan and the United States will reinforce their ties to boost deterrence to deal with new threats such as the spread of weapons of mass destruction, ballistic missiles and activities of international terrorist groups, in light of Japan's dispatch of Self-Defense Forces troops to Iraq and the Indian Ocean for noncombat activities. It says China's growing military power amid lingering tensions with Taiwan and North Korea's nuclear ambitions may be the cause of instability in the Asia-Pacific region and confirms that U.S. military involvement in the region is inevitable for deterrence and prevention of conflict in the area. [More>>kyodo.co.jp]
---
2.12.05Japan action severe violation of Chinese sovereignty
BEIJING (Xinhuanet) Feb. 12 – Officials with the Department of Asian Affairs under the Chinese Foreign Ministry has solemnly raised the issue of Diaoyu Islands with the Japanese side, the website of the ministry said. On February 9, Japan said it had placed under "state control" a lighthouse built by its nationalists on the Diaoyu Islands. The Japanese action is a severe violation of Chinese sovereignty and the Chinese will never accept this, the FM officials said, adding that any unilateral action by the Japanese side is illegal and invalid. Diaoyu Islands has long been Chinese territory and China has indisputable sovereignty over the islands, the officials said. China has always maintained that the dispute should be addressed by negotiation and consultation. "No unilateral action should be taken," Chinese Foreign Ministry Spokesman Kong Quan said on January 18. [More>>xinhuanet.com]
---
2.11.05 Tsunami reveals ancient lions in the sand
Feb. 11 – This undated handout picture from the Archaeological Society of India, shows a stone house on the beach in the town of Mahabalipuram, some 70 km south of Chennai.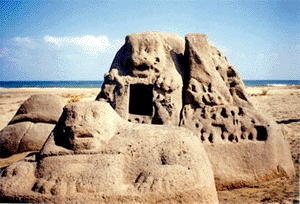 AFP photo of 6' high remains of Indian temple revealed by the tsunami of Dec. 26, 2004
The deadly tsunami that crashed into southern India on December 26, 2004, has unearthed priceless relics, including two granite lions, buried under the sand for centuries, archaeologists say. [More>>hindustantimes.com; see also bbc.co.uk report: "...They believe that the "structures" could be the remains of an ancient and once-flourishing port city in the area housing the famous 1200-year-old rock-hewn temple. Three pieces of remains, which include a granite lion, were found buried in the sand after the coastline receded in the area after the tsunami struck...Archaeologists say that the stone remains date back to 7th Century AD and are nearly 6ft tall...The myths of Mahabalipuram were first set down in writing by British traveller J. Goldingham, who visited the South Indian coastal town in 1798, at which time it was known to sailors as the Seven Pagodas. The myths speak of six temples submerged beneath the waves with the seventh temple still standing on the seashore. The myths also state that a large city which once stood on the site was so beautiful the gods became jealous and sent a flood that swallowed it up entirely in a single day."]

---
2.11.05 China finds more oil reserves
Feb. 11 – Thanks to intensified exploration efforts, China's three major oil companies found more oil and natural gas reserves in 2004, People's Daily reported. China National Petroleum Corp. (CNPC) found 520 million tons of new oil reserves and 243.6 billion cubic meters of natural gas reserves in six regions in 2004. Sinopec found 328 million tons of new oil reserves and 177.9 billion cubic meters of natural gas reserves last year. China National Offshore Oil Corporation also found two new oil fields.
[More>>chinadaily.com.cn]

---
2.11.05 Allawi aims to lead opposition to Shiites
Feb. 11 – Iraq's interim Prime Minister Iyad Allawi met with a key Kurdish leader on Thursday, while police found more than 20 rotting bodies in an ambushed convoy and separate attacks claimed another 10 lives. In the latest emergency measures, the Iraqi government said Thursday it will seal the country's borders to prevent Shiite pilgrims flooding into the country in an attempt to thwart insurgent violence. With results from the historic Jan. 30 elections due within days, Allawi traveled to the northern city of Irbil to meet Massoud Barzani. Allawi later told reporters that a partnership might be on the cards. [More>>dailystar.com.lb]
---
2.11.05 Russia sells 100,000 Kalashnikov machine guns to Venezuela
Feb. 11 – The U.S. administration has made an official protest to Russia over the delivery to Venezuela of 100,000 Kalashnikov machine guns. The Russian Ministry of Foreign Affairs refused to comment on the affair on Thursday. Kommersant sources in the Federal Service for Military Technology Cooperation suggested that they simply want to squeeze Russia out of the market for political motives. The contract for the purchase by Venezuela of 100,000 Kalashnikov AKMs for $50 million was signed during Venezuelan President Hugo Chavez's visit to Moscow late last fall. The day after the contract was signed, the parliament of Colombia, which shares a border with Venezuela, condemned the deal, saying that Chavez is entering into an arms race. Chavez assured his neighbors that the weapons would be used exclusively for national defense and passions calmed down somewhat. [More>>kommersant.com]

---
2.11.05 Barnier calls for US confidence in EU diplomacy
LONDON, Feb. 11 (IranMania) – French Foreign Minister Michel Barnier said on Thursday that diplomacy was the best option for solving the crisis over Iran's nuclear programme and urged Washington to have confidence in the European nuclear talks. "We have favoured the diplomatic option and we want it to succeed for the benefit of everyone," Michel Barnier said at a press conference at the University of Vilnius during his one-day visit to Lithuania. "These negotiations are difficult and fragile", and "we really need the confidence and support of the United States to help us to succeed," Barnier said, according to AFP.

Earlier, US Secretary of State Condoleezza Rice had urged European negotiators to take a tough line with Iran. [More>>iranmania.com]

Editorial note: US Secretary of State Condoleezza Rice apparently has little knowledge of the region or why Turkey is important to the EU and why it is in Iran's economic interest to forge strong ties with the EU, Russia and Turkey / Armenia.
Satellite view of the Black Sea -Caspian Trans-Caucasia area. Click on image for larger view. The penninsula in the Caspian Sea is Baku, Azerbaijan. The lake in the bottom is Lake Van, Turkey. Directly east of Lake Van is the Iranian city of Tabriz. The smaller lake to the northeast of Lake Van is Lake Sevan, Armenia. Just north of Lake Sevan is T'bilisi, the capital of Georgia. The Russian border is on the northern face of the Caucasian mountain range (covered with snow).

The modern roads through this mountainous region mark the ancient routes used thousands of years ago, according to Burney and Lang. At Baku, for instance, is a narrow defile called the Iron Gate – where the Russian-Dagestan city of Derbent is – through which the Persians and Romans and modern armies had to pass to reach the northern region of the Black Sea and the Crimea. The Scythians held off the Persian army of Darius near Baku, but got bored and according to tradition went off chasing a rabbit. Herodotus gives us a good account on these people and their encounter with the Persians. Because of their past behavior no doubt the Bush administration is salivating to conquer and ruin this region as well where ancient roads and modern pipelines pass.
Mel Copeland
Rice will advocate the invasion of Iran hoping to control its oil for the Bush consortium, in my opinion, as is the on-going issue with Iraq. It's all about oil and gas. By mauling Iran, Rice is, as it were, threatening to cut off the planned oil and gas supply to both the West and the East (India and China who are also relying upon gas and oil pipelines from the Caspian Sea and Iran). The junction of this development effort is an area called Trans-Caucasia, which involves an area whose civilizations and cities were linked together as far back as 7,000 - 6,000 B.C. The nations stretch from Georgia (Ancient Colchis was the site of the Golden Fleece in the story of Jason and the Argonauts) to Hattusas, the capital of the Hittites, and Çatal Huyük to Carchemish, Nineveh and the Araxes river basin in what is presently Azerbaijan (site of the early Caspian oil fields). Archeology buffs might enjoy a book on this area: "The people of the Hills," Ancient Ararat and Caucasus, Charles Burney and David Marshall Lang, Phoenix Press, London, 1971.
Mel Copeland
---
2.11.05 Iran, Armenia expands bilateral energy ties
TEHRAN, Feb. 11 (MNA) – Iranian and Armenian ministers of energy met here to negotiate ways of expansion of bilateral ties in the energy sector. In this meeting, the Iranian minister asked to jointly carry out an expert-level study in order to clarify the details of the contract before coming up to a final agreement. Iran had earlier agreed to import power from Armenia and export gas to that country after a 160 km gas pipeline is constructed between the two countries. Armenia has stored 600 million KWH power this year and is keen to export it to Iran. [More>>mehrnews.ir]
---
2.11.05 Iran starts exporting gas to Turkey
TEHRAN, Feb. 11 (MNA) – After a short halt, Iran has started exporting 100,000 cubic meters of gas per hour to Turkey, that is one fifth of the amount agreed between the tow sides, Reuters quoted a Turkish energy official as saying. The Turkish officials had earlier announced that the import of gas from Iran was halted due to the freezing weather of the borders and the increasing gas consumption in Iran. Turkey is the biggest importer of Iranıs gas at present and has a contract to import 500,000 cubic meters of gas per hour. However, due to several reasons the amount has been reduced from time to time. [More>>mehrnews.ir]
---
2.11.05 Russia to sign nuclear fuel deal with Iran
MOSCOW, Feb. 11 – The Russian atomic energy agency said Thursday it would sign a key agreement with Iran on the return of nuclear fuel later this month that would complete Moscow's construction of the Islamic state's first nuclear power plant.

The ITAR-TASS news agency quoted the agency's spokesman Nikolai Shingaryov as saying that the elusive agreement, which has been delayed for over a year, would be signed during atomic energy chief Alexander Rumyantsev visit's to Iran scheduled for February 25-27. [More>>dailystar.com.lb]

---
2.11.05 Man accused of trying to set up suicide through e-mail
KLAMATH FALLS, Ore. (AP) Feb. 11– A man used E-mail to try to set up a mass suicide on Valentine's Day involving as many as 32 people across the United States and Canada, authorities said. Gerald Krien, 26, was arrested Wednesday and faces charges of solicitation to commit murder, according to Klamath County sheriff's deputies.

Detectives learned of the plan from a woman in Canada who said she saw the message in an Internet chat room. The woman, who was not identified by authorities, told detectives she was going to take part in the suicide but had second thoughts when another chat room participant said she would do it and talked about killing her two children, said Klamath County Sheriff Tim Evinger. "He was potentially seeking individuals with the same ideology about suicide as he had," Evinger said. The chat room participants planned to log in on Valentine's Day and commit suicide simultaneously, Evinger told The Oregonian. [More>>Kerrville Daily Times via topix.net]
---
2.11.05 Report: North Korean demands talks with US
Feb. 11 – North Korea has demanded bilateral talks with the United States to defuse the tension created by its announcement that it is a nuclear power, North Korea's U.N. envoy said in a South Korean newspaper interview published Friday. Han Sung Ryol, a senior diplomat at North Korea's U.N. delegation in New York, was the first North Korean official to speak to outside news media since Pyongyang's Foreign Ministry defied the United States and its allies by declaring Thursday that it has nuclear weapons, its first public announcement that it has weapons. North Korea said the weapons are a deterrent against a U.S. invasion and that it doesn't intend to join six-nation disarmament talks any time soon.

"We will return to the six-nation talks when we see a reason to do so and the conditions are ripe," Han told Seoul's Hankyoreh newspaper in a Thursday interview in New York. "If the United States moves to have direct dialogue with us, we can take that as a signal that the United States is changing its hostile policy toward us." [More>>chinadaily.com.cn]
---
2.11.05 North Korean antics catch Bush administration off guard
Feb. 11 – The Bush administration is reeling from the pronouncement by North Korea that it has nuclear weapons. With military operations in Afghanistan entering a fourth year, 150,000 troops in Iraq, sanctions being proposed against Syria, and pressure building on Iran, the last thing the U.S. needs is a conflict with North Korea. Ironically the Bush administration has spent all its time claiming Iraq had nuclear weapons when it didn't, while ignoring North Korea which was saying it was going to develop them, but now admits it already has them, and will expand them further. [More>>bignewsnetwork.com]

---
2.11.05 64 companies implicated in illegal logging in Indonesia
MAKASSAR, South Sulawesi (Antara), Feb. 11 – Illegal logging in South Sulawesi province involves at least 64 wood processing companies, the chairman of the local forestry office, Idris Syukur, said on Friday. The owners of all of the companies have been contacted by local authorities, Idris said. The biggest concentration of illegal logging activities is taking place in Luwu Timur and Mamuju regencies, Idris said. He said illegal logging had destroyed up to 150,000 hectares of the 2.2 million hectares of forest in the province. [More>>thejakartapost.com]
---
2.11.05 Over 50 killed, hundreds missing after dam burst in Pakistan
ISLAMABAD (PTI) Feb. 11 – More than 50 people were killed and several hundreds were missing after heavy rains caused a dam to burst in Pakistan's southwest Baluchistan province, inundating several villages and affecting thousands of people. Fifty-one persons were killed while 1450 marooning people were rescued by the Army, Navy and Coast guard personnel, an official of the provincial government told the state-run PTV. A flash flood washed away the Shadi Kor dam in Pasni Tehsil of the Gwadar last night, marooning thousands of people.

"The Shadi Kor dam was washed away because of accumulation of rainwater beyond its capacity. Half the Pasni Tehsil's population (of 5,000) is now trapped in the floodwater," Baluchistan Minister Syed Sher Jan Baloch told the media at the provincial capital Quetta. [More>>Press Trust of India]

---
2.10.05 North Korea: we have nukes
Feb. 11 – NORTH Korea has for the first time unambiguously declared that it has nuclear weapons, and says it has quit international talks aimed at resolving the nuclear stand-off. The announcement late yesterday sent shockwaves through neighbouring capitals, where governments have been trying to coax one of the world's most isolated and unpredictable regimes back to the negotiating table.

A North Korean Foreign Ministry official said in a statement carried by a regime mouthpiece, the Korean Central News Agency: "We have manufactured nukes for self-defence to cope with the Bush administration's evermore undisguised policy to isolate and stifle the Democratic People's Republic of Korea." Yesterday, even before the statement, top US arms control official John Bolton admitted "time is not on our side" to curb the menace from North Korea – which might have as many as 10 nuclear weapons.

"To whatever extent the North Koreans are proceeding with their program, and we believe they are, the absence of progress in six-party talks means they are making further progress toward their increased capability," Mr Bolton, the State Department's under-secretary for arms control, told reporters in Tokyo...Mr Downer has already said he believes North Korea could have as many as three nuclear warheads and is developing the missile capability to reach Australia with its weapons... [More>>theaustralian.new.com.au; see also chinadaily.com.cn for China's take on the threat and more details.

Editorial note: "Has America been turned into a 'War-keeping nation?'" While Australia may be concerned about having North Korean weapons landing on its cities, the same concern applies for the US west coast and British Columbia. Rice seems to have been taught that rattling sabers, scaring people, and attacking without a foundation is diplomacy. She may have learned this from George H. W. Bush, who attacked Panama, violating UN covenants. In times past the US was criticized for being too reticent in engaging in war (re: WWII). President Bush has demonstrated that he looks for opportunities to go to war. When he referred to himself on several occasions that he "is a War President," he was not kidding. I suspect that the American people may not agree with that persona – as a profile of their mission. I know California Senator Diane Feinstein may have mixed emotions on the issue, since her husband's company has profiteered quite well from the war in Iraq, according to the sources listed in About Maravot News. While it is apparent that Feinstein may enjoy her life of luxury and fine dining thanks to the dead souls in Iraq, I suspect she might be a bit harsher towards spreading war if San Francisco were to suddenly disappear because of a North Korean missile. In any event, I hope that the former mayor of San Francisco will vociferously draw a battle line with the war mongers and save the world from the Bush administration's hostility.
Mel Copeland
Berkeley, CA
---