02.19.05 No bribe, no soup
Editorial note: Saturday's turkishpress.com had an article about a soup commercial being pulled off Turkish television channels because of Bulgaria's sensitivity to a bribe-taking policeman being featured in the ad. Apparently Turkish travelers through Bulgaria complain they are robbed and forced to pay bribes to police. In the exchange of the bribe, a person asks a policeman for directions and the policeman responds, "money for soup," a local phrase for a bribe. While the commercial did not identify in its presentation that the policeman was Bulgarian, apparently the essence of the "money for soup" practice is Bulgarian.

Bulgaria should not be that upset. There are other peoples that are far worse. The "money for soup" practice is a small-scale version of common American political life. In the United States people are not that sensitive about bribery, as demonstrated in the Bush administration's rise to power. But here we call "bribery" "influence peddling" and generally the amount of US bribes runs in the millions, and the halls of Congress are, of course, more packed with influence peddlers than the halls of Louis XVI. In Congress and the halls of nations companies, like Enron, Halliburton, etc., pander for higher stakes than a can of soup and many have Bush's army to help them on the way.

A people tend to resemble their leaders, according to Hobbes' Leviathan and before it Cicero's, The Offices. Thus there is corruption where the leaders are corrupt. I don't apologize for corruption – nor do I enjoy it any more than the French enjoyed the furnishings of Louix XVI in his times. I just recognize that people have a hard time challenging the corrupt when they themselves embrace corruption. I know if a voice in the wilderness is heard complaining eventually there will be an answer.

And the answer can be calamitous, keeping in mind:
T'ai Chia, When Heaven sends
down calamities,
There is hope of weathering them;
When man brings them upon
himself
There is no hope of escape.
In today's world there are so many people complaining I lament in the press the trouble of responding. Alas, the song of the weary has no ear.
Mel Copeland
---
02.19.05 Pilgrims die in wave of attacks
Feb. 20, 5:21am Sydney– AT least 35 people have been killed in another day of suicide and bomb attacks in Iraq that marred the holiest Shiite Muslim day of Ashura for the second year running. In Baghdad, at least 27 people died, including 19 in a suicide attack on a bus carrying Shiite pilgrims, and 109 were wounded, a government source said. An American soldier was also killed in the capital, the US military said. In the most lethal blast, in Baghdad's Aden square, a suicide bicycle bomber attacked the bus carrying pilgrims from a mosque in the north of the city, according to the government source. Another 40 people were wounded in that attack. [theaustralian.news.com.au from news.com.au; see also reuters.com: Insurgents targeted Shi'ite Muslims in a series of suicide strikes and bombings across Baghdad Saturday, killing 30 people and wounding around 130 on the holiest day of the Shi'ite religious calendar.]
---
02.19.05 Egyptian doctors remove baby's second head
BENHA, Egypt (Reuters) – Egyptian doctors said they removed a second head from a 10-month-old girl suffering from one of the rarest birth defects in an operation Saturday. Abla el-Alfy, a consultant in pediatric intensive care, told Reuters at the hospital in Benha, near Cairo, that Manar Maged was in a serious but improving condition after the procedure to treat her for craniopagus parasiticus – a problem related to that of conjoined twins linked at the skull.

"We are still working on the baby. After surgery ... you get unstable blood pressure, you get fever. But she is stabilizing," Alfy said. "We have some improvement." [More & photos>>reuters.com]
---
02.18.05 Congressman George Miller (D. California) says Social Security funding US deficits
SAN FRANCISCO, California, Feb. 18 – In an interview on KTVU's Mornings on Two (Fox News), San Francisco, host Ross McGowan was told by Congressman George Miller that the US government has been taking money out of Social Security funds to reduce the deficit on the National Debt. The National Debt is moving from $8.2 trillion to $10 trillion. The annual deficit (shortfall between US income and US outlays) for 2004 was about $435 billion, ~$321 billion of which was interest on the 2004 $8.2 trillion debt. Apparently the true deficit published by the Office of Management and Budget does not reflect the borrowing from Social Security funds Congressman Miller noted in his interview with McGowan Friday. Nor does the projected 2005 deficit – based upon President Bush's 2005 Budget – accurately reflect the deficits that will be added to the debt needed for the war in Iraq and Afghanistan (~$82 billion), etc. Miller pointed out that the US government stole from Social Security funds prior to the Clinton administration but the Clinton administration paid back some of those funds, only to have the funds tapped again under the present Bush administration. While Corporate executives who falsify Balance Sheets (the US Budget is a Balance Sheet) go to jail in the United States for the illegal practice, such standards of honesty cannot be accounted to the administration of George W. Bush or his father's, George H. W. Bush's administration. To view charts on the US debt click here or click on the charts on the sidebar.

---
02.18.05 Malaysia moves up five rungs to 16th in pool of 60 world economies
Feb. 18 – MALAYSIA moved up five rungs in world competitiveness last year, taking 16th place in a pool of 60 economies. Malaysia was behind Austria (13), Switzerland (14) and the Netherlands (15), but ahead of Norway (17) and New Zealand (18). The top four economies were the United States, Singapore, Canada and Australia. [More>>thestar.com.my]

Malaysia placed 21 among 60 ranked by the Institute for Management Development (IMD) based in Switzerland. The annual rating by IMD is widely used by multinational companies in picking the country / region in which to invest. It analyses how a nationıs environment creates and sustains the competitiveness of enterprises.Criteria used by IMD for ranking economies include economic performance, government efficiency, business efficiency and infrastructure. The following is the ranking published for 2004 for the 60 countries: 1. USA, 2. Singapore, 3. Canada, 4. Australia, 5. Iceland, 6. Hong Kong, 7. Denmark, 8. Finland, 9. Luxembourg, 10. Ireland, 11. Sweden, 12. Taiwan, 13. Austria, 14. Switzerland, 15. Netherlands, 16. Malaysia, 17. Norway, 18. New Zealand, 19. Zhejiang, 20. Bavaria, 21. Germany, 22. United Kingdom, 23. Japan, 24. Mainland China, 25. Belgium, 26. Chile, 27. Catalonia, 28. Estonia, 29. Thailand, 30. France, 31. Spain, 32. Ile-de-France, 33. Israel, 34. India, 35. Korea, 36. Scotland, 37. Rhone-Alps, 38. Maharashtra, 39. Portugal, 40. Slovak Republic, 41. Columbia, 42. Hungary, 43. Czech Republic, 44. Greece, 45. Slovennia, 46. Lombardy, 42. Sao Paulo, 48. Jordan, 49. South Africa, 50. Russia, 51. Italy, 52. Philippines, 53. Brazil, 54. Romania, 55. Turkey, 56. Mexico, 57. Poland, 58 Indonesia, 59. Argentina, 60. Venezuela. Rankings underlined, in blue, are those who rose in ranking 3 points or more over 2003. The big increases were in Scotland which was not on the chart in 2003; Zheijang moved from 38 to 19; Maharashtra moved from 44 to 38; Slovak Republic was 46 and moved to 40; Columbia was 45 and moved to 41. IMD's 2004 World Competitiveness Scoreboard may be obtained from the IMD World Competitiveness Center.

---
02.18.05 Dozens killed in bomb attacks aimed at Iraq's Shiites
BAGHDAD (AP) Feb. 18 – Four explosions ripped through Baghdad on Friday, killing at least 28 people and injuring dozens on the eve of Shiite Islamıs most important holiday, officials said. It was the deadliest day since Iraqıs landmark elections last month.

Suicide bombers struck at two Shiite mosques after Friday prayers ended, another explosion occurred near a Shiite religious procession and a fourth attack, also carried out by a suicide bomber, blasted an Iraqi police and National Guard checkpoint in a Sunni neighborhood. The attacks - the deadliest since last monthıs elections - recalled bombings on the Ashoura holiday a year ago that killed at least 181 during the religious festival. In northern Iraq, meanwhile, three American soldiers were killed in separate attacks on Wednesday and Thursday, the US military said. [More>>khaleejtimes.com] Editorial note: Al-Jezeera reports 36 killed. A fifth attack occurred about 45 minutes after the previous attacks, with one of two bombers being interdicted before he exploded his bomb.
---
02.18.05 Bush demands Syrian pullout as investigation begins
BEIRUT, Feb. 18 – US President George W. Bush delivered a stark warning to Syria telling it to withdraw its troops from Lebanon as pressure intensifies on Damascus and the Lebanese government in the wake of Monday's assassination of former Premier Rafik Hariri. His warning came hard on the heels of comments from US Secretary of State Condoleezza Rice who said that while the U.S. favors diplomacy to resolve its differences with Syria, the use of military force has not been ruled out. The international hardening of attitudes toward Syria came at the same time as the Hariri family demanded an international commission to investigate his murder, intensifying its estrangement from the Lebanese government. [More>>dailystar.com.lb]


---
02.18.05 US, China agree on North Korea nukes
SEOUL, South Korea, Feb. 19 – The United States and China agree that North Korea must end its nuclear ambitions and resolve the standoff through six-nation talks, Washington's top envoy on the issue said Friday, as efforts to restart the negotiations gained momentum. Reviving the stalled talks has taken on greater urgency since North Korea's explosive but unconfirmed declaration last week that it has become a nuclear power. The talks involve the two Koreas, the United States, China, Russia and Japan.

North Korea "has made a big mistake in developing these nuclear programs ... and we are to help them overcome this mistake," U.S. envoy Christopher Hill said in Seoul after a visit to Beijing Thursday to meet with Chinese officials. "But to help them, they are going to have to help themselves, and the first issue they need to do is coming to the table," said Hill, who is also U.S. ambassador to South Korea. [More>>chinadaily.com.cn]
---
02.18.05 Japan to join US policy on Taiwan
TOKYO, Feb. 17 – The United States and Japan will declare Saturday for the first time in a joint agreement that Taiwan is a mutual security concern, according to a draft of the document. Analysts called the move a demonstration of Japan's willingness to confront the rapidly growing might of China. The United States has long focused attention on the Chinese government's threat to use military force against Taiwan if the island, which China views as a renegade province, moves toward independence. Until now, Japan has been content to let the United States bear the brunt of Beijing's displeasure.

A Mirage jet fighter takes off from a Taiwan highway during a test last July. In a policy shift, Japan is set to announce its concern for the island's security. But in the most significant alteration since 1996 to the U.S.-Japan Security Alliance, which remains the cornerstone of U.S. interests in East Asia, Japan will join the Bush administration in identifying security in the Taiwan Strait as a "common strategic objective." Set for release after a meeting of Secretary of State Condoleezza Rice, Defense Secretary Donald H. Rumsfeld and their Japanese counterparts in Washington on Saturday, the revisions will also call for Japan to take a greater role in conjunction with U.S. forces both in Asia and beyond, according to a draft copy ob]tained by The Washington Post. [More>>washingtongpost.com via asiannews.net]
---
02.18.05 Iran, Russia move on nuclear deal
MOSCOW, Feb. 18 – Russian President Vladimir Putin has said, he is convinced that Iran is not trying to develop nuclear weapons and says Russia will continue cooperating with Iran on its nuclear program, Russian media reported. Putin, who met at the Kremlin with Iran's security chief Hasan Rowhani Friday said, he would visit Iran soon. "The latest steps taken by Iran have convinced us that Iran does not intend to produce nuclear arms," Putin said. "In this context, we will continue cooperation with Iran in all areas, including the nuclear energy field," Putin said [More>>jang.com.pk]
---
02.18.05 Rosatom heads visit to Tehran to help in resolving many Iran problems
MOSCOW (RIA Novosti) Feb. 18 – The visit to Teheran on February 26 by Rosenergoatom chief Alexander Rumyantsev will be a stride to resolve problems concerning Iran, State Duma international committee chairman Konstantin Kosachev told the RIA Novosti press conference on Friday. To quote: "Rumyantsev's upcoming visit will be a stride in untying knots which have emerged in connection with Iran".

In the opinion of Mr. Kosachev, the Iran problem is the "sore point" in Russian-American relations. "Our points of view on the problem of Iran do not fully coincide, which only means such interaction is required", noted the Russian parliamentarian. The United States is conducting "a tough line for maximal restriction of Russia, containment of the Russian positions", Mr. Kosachev stressed. [More>>rian.ru; see also haaretzdaily.com article, "Putin convinced Iran has no nuclear weapons program": Russian President Vladimir Putin said Friday that he is convinced Iran does not have a nuclear weapons program, and that he plans to visit Iran.
Putin also said Russia would continue its nuclear cooperation with Iran. (The story is also in other news media)]
---
02.18.05 India seeks oil fields in Kazakhstan
ASTANA, kazakhstan, Feb. 18 – India on Friday sought stakes in four Kazakhstan oil fields, including the giant Kashagan and Kurmangazy oil fields, and offered to build Kazakh-China pipeline and petrochemical plants in the former Soviet Republic to boost trade and economic ties with central Asia. ONGC Videsh Ltd, the foreign arm of India's flagship Oil and Natural Gas Corporation, wants a stake in Tengiz and Kashagan oilfields and hugely prospective Kurmangazy and Darkhan exploration blocks and offered its technical expertise in exploration and production (E&P) In nine others, including Akku and Shetusy.

State-owned gas utility GAIL (India) Ltd. wants to participate in building pipelines from Kazakhstan to China for transporting crude oil. The possible routes of the pipelines are Ishim-Astana-Karaganda-China, West-East pipeline or Bukhara-Almaty branch trunk pipeline (KC Shalkar-KC Shamianovka-China). Besides, New Delhi proposed building gas processing and petrochemical plants at Atyrau and Akhtau. [More>>expessindia.com via Press Trust of India]

---
02.18.05 Iranian foreign minister to visit India
NEW DELHI (India News) Feb. 18 – Iran's Foreign Minister Kamal Kharrazi will pay a three-day visit to India from Sunday during which he will co-chair an India-Iran Joint Commission meeting with External Affairs Minister K. Natwar Singh. During the visit, Kharrazi will call on Prime Minister Manmohan Singh, address the India-Iran Joint Business Council and deliver a lecture on the "Importance of Indo-Iran relations and their role in the region" at the Indian Council of World Affairs.

The visit comes at a time when Iran is under pressure from the US and the West on its nuclear programme. While India has refrained from joining the chorus of criticism against Iran, it has advised Tehran to comply with the Nuclear Non-Proliferation Treaty as a signatory to the pact. [More>>newkerala.com via Indo Asian News Service]
---
02.18.05 Pakistani oil diplomacy at a crossroads
Feb. 19 – M. K. Bhadrakumar examines a possible conundrum Pakistan may be facing over the Iran-Pakistan-India pipeline: "The Indian cabinet decision on February 9 authorizing the Petroleum Ministry to commence negotiations over the US$4 billion Iran-Pakistan-India gas pipeline project poses a dilemma for Islamabad that goes beyond the issues of energy security or trade ties with India. A Hobson's choice faces Islamabad: it has to balance public opinion on cooperation involving Iran and India with Washington's approval of the project.

Indian Petroleum Minister Mani Shankar Aiyar said while announcing the government decision in New Delhi, 'The ball is very firmly in Pakistan's court. It is now for them to respond to my letter of October [2004] which said that we hold a 'conversation without commitment' on cooperation in the hydrocarbon sector and the Iran-India gas pipeline through Pakistan.'

Delhi's decision signifies an all-out effort to firm up energy supplies through pipelines from Myanmar, Bangladesh, Iran and Turkmenistan. A multiple pipeline strategy suits India. By the year 2025, India should meet 85% of its energy requirements through international projects that provide for supplies of 400 million cubic meters of gas per day - as against the current need of 90 million cubic meters...The 12-year-old Iran pipeline idea enjoys a head start over the Trans-Afghan pipeline (TAP) or the Myanmar-Bangladesh pipeline. An Iranian delegation was expected in Delhi this week for further detailed discussions. Aiyar expressed hope that he would visit Tehran in June, and by that time an agreement should be ready committing the Iranian side to deliver the gas on India's border with Pakistan. 'There will be two sets of bilateral agreements. In the first one Iran will enter into a pact with India for delivery of natural gas at Indian borders, while the second would be between Iran and Pakistan on how the gas is to be transported to the Indian border,' Aiyar explained.

In comparison, Aiyar said, 'no steps have been taken till now' on the proposed TAP project (from Turkmenistan via Pakistan). Delhi has yet to study the report on the TAP, which is yet to be handed in by the Asian Development Bank. Besides, TAP is predicated on the volatility of the Afghan situation. Would the renegade Taliban remnants allow it?

Turkmenistan's Dowlatabad gas fields are the intended supply source for the TAP. Despite American enthusiasm for the TAP historically (which Washington has acknowledged to be the basis of the US interest in the Taliban from 1994), Russia gained a long-term access to Turkmen gas reserves that left question marks about any surplus available with Ashkabad for feeding the TAP..." [More>>atimes.com]
---
02.17.05 Thirty kilos of plutonium missing from British nuclear site: report
LONDON (AFP) Feb. 17 – Some 30 kilograms (66 pounds) of plutonium, enough for seven or eight nuclear bombs, are listed as "unaccounted fo" at the British nuclear site at Sellafied, a newspaper said Thursday. The annual audit of nuclear material at all of Britainıs civil nuclear installations is expected to reveal that the quantity of plutonium was classified as "material unaccounted for" last year, The Times said. British Nuclear Fuels, which operates the plant at Sellafield in northwest England, is expected to dismiss the figures as a "paper loss" and an "accounting issue," according to the newspaper. But independent experts were worried about the disclosure. [More>>khaleejtimes.com; see also timesonline.co.uk, " MP's demand explanation for 'lost' plutonium."]

---
02.17.05 Allawi's party warns possible successor over Iran ties and role of Islam in state
FEb. 17 – The secular party of Iraq's outgoing Prime Minister Ayad Allawi on Wednesday warned the religious Shiite now tipped to succeed him over his ties to Iran and the role of Islam in the state. On Tuesday, sources in the coalition that won the Jan. 30 elections and that is backed by Grand Ayatollah Ali Sistani said it had chosen interim vice president and Dawa party leader Ibrahim Jaafari as its candidate for prime minister.

Other sources, however, maintain that leaders of the winning Shiite political alliance have not yet agreed on a single nominee for prime minister, with Jaafari and Ahmed Chalabi insisting on a vote by the parliamentarians elected to the new National Assembly. In a thinly veiled reference to Jaafari's ties with the neighboring Islamic Republic, Allawi aide Imad Shahib said "he has to behave as an Iraqi. He has to be loyal to Iraq and not to another country." [More>>dailystar.com.lb]
---
02.17.05 Radar details large Titan crater; gives close-up of Enceladus
Feb. 17 – Cassini flew by Titan on February 16, getting several close-up shots including a crater 273 miles in diameter. Today it sent back an image of the surface of Saturn's moon, Enceladus.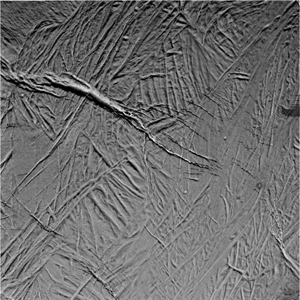 Cassini's view of the surface of Saturn's moon, Encelades. It looks like the back of an elephant or a leaf.
[More>>
http://saturn.jpl.nasa.gov/home/index.cfm
]
---
02.17.05 Bush: Iran must not develop nukes
Feb. 17 (AP) – President George W. Bush on Thursday addressed the issue of Iran's possible nuclear armament, declining to offer his full endorsement of Europe's negotiations to get Iran to halt its suspected nuclear weapons program. He said the United States and Europe share the goal that Iran must not develop a nuclear weapon. Still, he left it up in the air whether he fully supports Europe's approach. "I look forward to ... discussing strategies, ways forward with the Europeans to make sure we continue to speak with one voice, and that is Iran should not have a nuclear weapon and how to work together to make sure they don't," Bush said. [More>>Jerusalem Post]
---
02.17.05 Nuclear fuel deal with Russia imminent, Iran says
TEHRAN, Feb. 17 – Russia will sign a deal with Iran next week to start nuclear fuel shipments for the Russian-built reactor there, an Iranian official said on Thursday. The United States, which accuses Iran of secretly working to develop nuclear weapons, has long called on Russia to avoid supplying the Islamic state with nuclear fuel.

"A fuel deal for the Bushehr nuclear power plant will be signed on Feb. 26," Assadollah Sabouri, deputy head of Iran's Atomic Energy Organisation, told state television. The comments indicated that the two countries had settled disagreements over the terms of their accord after years of negotiations. Oil-rich Iran denies that it is developing nuclear arms and says its programme is solely for generating electricity. Israel said on Wednesday that Iran was just six months away from having the knowledge to build nuclear weapons. [More>>iranfocus.com]
---
02.17.05 Mahathir: America may use Israel against Iran
LONDON, Feb. 17 (IranMania) – Former Malaysian Premier Mahathir Mohamad predicted Wednesday that the United States might use Israel as a proxy to attack Iran's nuclear facilities, the official Bernama news agency reported. "North Korea, however, would be spared an attack over its nuclear program partly because it is not a Muslim country," said Mahathir, a fierce critic of Israeli and US policies who retired in 2003 after leading Malaysia for 22 years, AFP reported.

He noted that Israel had attacked a nuclear plant in Iraq in 1981, adding that "the US seems to want other people to fight for them", Bernama reported. Mahathir said Washington had only attacked Iraq because it knew deposed leader Saddam Hussein had no weapons of mass destruction, suggesting that the United States would be more wary of North Korea, which claims to have produced nuclear arms. "North Korea, the agenda is different. It is not just weapons of mass destruction, there is also this element of hatred against Muslims. There is a religious element in this thing. If it is non-Muslim, the US will not attack," he said. [More>>iranmania.com]

---
02.17.05 Darfur described as living hell
Feb. 17 – Sudanese officials and Darfur rebels have met for talks after UN Secretary-General Kofi Annan called earlier for firm action to end a conflict he described as near hell on earth. Annan urged the UN Security Council to take immediate steps to stop the violence in Darfur, which has killed at least 70,000 people and displaced two million. "Darfur's people are living in hell," said Chadian President Idriss Deby at the start of the Darfur talks in Chad's capital N'Djamena, which were also attended by international mediators and African Union (AU) Commission Chairman Alpha Oumar Konare.

"We hope the parties will declare a total and definitive ceasefire. It is time for them to respect their commitments," Deby told the talks' opening session late on Wednesday. [More>>Al-Jazeera.net]
---
02.17.05 Bush picks Negroponte for Chief of Intelligence
WASHINGTON, Feb. 17 – President Bush today named John Negroponte, the U.S. ambassador to Iraq who built a 40-year diplomatic career in some of the world's most troubled corners, to be the first director of national intelligence. The nomination, announced at a news conference, fills the final, major vacancy in the administration's second term national security team.

Bush also made his first extensive public comments about Syria since the bombing that took the life of former Lebanese Prime Minister Rafik Hariri, long an opponent of Syrian involvement in Lebanon. The president kept the pressure on Syria, telling it to fulfill the U.N. Security Council resolution calling on all foreign forces to leave Lebanon, but he did not announce any new steps. [More>>latimes.com]
---
02.17.05 Thailand plans crackdown on Islamic schools that support rebels
Feb. 17 (Bloomberg) – Thailand will crack down on Islamic schools that support or harbor rebels in the three southernmost provinces, Prime Minister Thaksin Shinawatra said, without saying what measures the government will take against the schools. More soldiers will be sent to villages that are suspected of harboring Islamic separatists, Thaksin told reporters today in the Be Tong district of Yala province, 1,080-kilometer (675 miles) south of the capital, Bangkok. "Some Islamic schools have channeled money from the government and donators for purchases of explosive equipment for making bombs,'' Thaksin said. ``We will deal with those schools in a harsher way.'' [More>>bloomberg.com via yemendaily.com]

---
02.17.05 The US being sidelined by the world
Feb. 17 – Michael Lind writes in his chinadaily.com.cn article, "The new US century is over," a view that points out the new arrangements being made among nations in the opening of the 21st century. These new arrangements – as made evident for those tracking Maravot News Trends – reflect in essence economic and cultural agreements that do not include the United States. George W. Bush's outreach, both verbally and materially, can be reduced to belligerence. Where he has not sent troops he has sent insults. His message has been, "America doesn't need you," as he has snubbed in essence the EU, all of the nations with strong Moslem populations, and China and India. Most of the world has seen a complete change in the persona of the American people, from that of a free, just and strong nation to that of an aggressor whose actions and words cannot be trusted. Americans need to read what other media around the world are saying about them. For perceptions often become reality and the reality of the moment is that the major players in this world – the EU, China, India, Russia, several South American nations, the Central Asian Republics, etc. – are forming a new economic and political world independent of the United States. In effect they are forming trading blocks and exchanges that have been designed to block out the United States. The affects of this new world order are measured in the source of products being diverted from the US to the partners of the new world order, currencies shifting away from the dollar and towards the euro. The US may find itself as an 'also ran' in the era being formed. George W. Bush's policies emphasizing the application of raw military power to achieve dominion are like those of the Soviet Union, Lind points out. He's got a point there, since we have illustrations throughout history that show how mighty powers – like the Soviet Union that lasted only 70 years – have been brought down by economic undermining. China is changing and very active in forming economic and political bonds.

China has traditionally viewed itself as being in the center of the world, and nations that bordered China were held in a tutelary status. This is particularly true with the buffer states of Vietnam and North Korea. An attack on either one of them was viewed as an attack on China.

It is ironic that just before the increased threats of the Bush administration toward North Korea, a story linked in Maravot News Trends talked about "Creeping capitalism in North Korea." Think about it. China has transformed into a Capitalistic society and according to the article below, China is the world's top consumer. If this is true, its people not only buy more products, they also need to produce more and sell more to other nations – which is what China is doing. The American trend of shipping factories over seas to China and India now is being reflected in China, who has a need to find cheaper sources of production. Cambodia is an area being explored, among many, by China at this moment. Some South American nations are likewise being prospected.

India and Russia, by the same token, are exploring the Central Asian nations, who occupy the land where the oil and gas pipelines from the Caspian Sea, Iran and Russia may be routed. As they benefit from the new economy being formed, they will be looking to buy products, as well as produce and sell products. India, for instance, has explored opportunities to set up textile mills in the Central Asian nations that grow cotton. An old railroad line running north-south through Pakistan and India is being resurrected, anticipating increasing trade opportunities. The land-locked Central Asian nations need ports from which to ship their goods; thus the railroad.

George W. Bush should encourage China to develop North Korea into a new market and, thus, a responsible partner in the new trading block(s) being formed in Asia. Maybe, if the United States does not wait too long, America can become a responsible partner in some of the new 21st century trading blocks. Right now, based upon the newspaper reports covering the interchanges taking place outside the United States, America will be lucky to emerge in the next 20 years as a major world power.

South Korea and Japan haven't been doing that well, and they too would be wise to look upon North Korea as a potential new resource and market.
Mel Copeland
---
02.17.05 Expert: China overtakes US as world's top consumer
Feb. 17 – China has replaced the United States as the world's top consumer, eclipsing the world's richest economy in consumption of four of the five basic food, energy and industrial commodities, a global environmental think tank said.

Growing at a rapid rate, China has taken the lion's share in the consumption of grain, meat, coal and steel, and loses out to the United States only in oil among the five basic commodities, according to the Washington-based Earth Policy Institute. In another key area, fertilizer, China's use is double that of the United States while among television sets, refrigerators and cellular phones the world's most populous nation is way ahead. [More>>chinadaily.com.cn]
---
02.17.05 China's endangered Panda expands habitat
Feb. 17 – China's endangered panda is migrating into forest areas restored by the government, the re-discovery of its dung in northern Shaanxi province indicates. Scatologists identified the panda droppings in the region's Qinling mountains where it lived 30 years ago, while locals have reported sighting animals resembling the bear, Xinhua news agency reported Wednesday. The reappearance of the panda in the western parts of the Qinling mountains was attributed to recent efforts by the government to restore the region's natural habitat, the report said.

The Qinling panda has been identified as a sub-species of the giant panda that mainly resides in southwestern Sichuan province. Only around 1,600 pandas are believed to live in the wild, with some 300 of the sub-species living in the Qinling mountains, while the other 1,300 giant pandas live elsewhere in China, Xinhua said in a separate report. [More>>chinadaily.com.cn]
---
02.17.05 China plans nuclear talks with North Korea
Feb. 17 – China planned weekend talks with North Korea over the nuclear crisis amid US hopes that Beijing would bring new pressure on Pyongyang to rejoin negotiations, official sources said on Wednesday.

North Korea shocked the world last Thursday by declaring it had made nuclear weapons and was suspending participation in the six-way talks on the crisis, which also bring together South Korea, Japan, the United States, China and Russia.

It was a major challenge to Seoul and Washington. Beijing hosted three rounds of negotiations and won praise for its lead role in efforts to disarm North Korea. US officials, while grateful for Beijing's diplomacy, have increasingly faulted China privately for not exerting its unique influence to force the North back to the negotiating table. [More>>chinadaily.com.cn]
---
02.17.05 Abu Sayyaf militants arrested in southern Philippines
ZAMBOANGA, Feb. 17 – Police have arrested two Al-Qaeda-linked Filipino militants in the southern Philippines, officials said on Thursday. Police acting on a tip-off raided a house on the outskirts of this southern port city and arrested Abu Sayyaf member Najid Tajid, who put up no resistance, national police investigation chief Vidal Querol told reporters. He said Tajid is a suspect in the 1999 abductions of Roman Catholic priest Roel Gallardo and several students at a Roman Catholic school on the island of Basilan. A second Abu Sayyaf member, Jubail Sahibul, was arrested in a Zamboanga suburb last week, military spokesman said. [[jang.com.pk]

---
02.17.05 Heavy weapons may be used in special [antiterrorist] operations
ROSTOV-ON-DON (RIA Novosti) Feb.17 – Presidential plenipotentiary in the Southern Federal District Dmitri Kozak has said that antiterrorist special operations with the use of heavy weapons will be repeated if necessary.

"If there's no other way out, we will not expose Russian servicemen to risk", Mr. Kozak told journalists on Thursday after a sitting of the antiterrorist commission for the Southern Federal District. It assessed the conduct of special operations in Daghestan, Ingushetia and other North Caucasian republics where large-scale destruction was caused, he said... In his opinion, large-scale special operations carried out in the North Caucasus last month set an example of efficiency of the law-enforcement agencies. [More>>rian.ru; see also Radio Free Europe report, "Russia: Army testing new Equipment in Chechnya."

---
02.17.05
Philippines has the potential to lead global call center industry
Feb. 17 – According to a Canadian market research firm Thursday, the Philippines has the potential to overtake market leader India in the global call center industry. This could take place as early as 2008. The call center industry accounted for 79.14 percent of the $147 million invested in ICT investments in the Philippines in 2004, XMG principal analyst Eugene Talasch told the forum.

If the Philippines made the right decisions, it should be able to earn $3.46 billion in call centers in 2008, when the global call center industry is projected to be worth $69.97 billion, said XMG analyst Cesar Tolentino. That year, India is forecast to earn 2.87 billion dollars from the business, he added.

Talasch said the Philippines, China, Vietnam and Brazil should all benefit from the growth of the call center industry, fueled by cost considerations in the developed countries. [inq7.net]
---
02.17.05 Hotel car bomb kills five
NARATHIWAT, Thailand, Feb. 17 – One day after Prime Minister Thaksin Shinawatra threatened to withhold development funds from the deep South, a car bomb exploded near the Marina Hotel in the entertainment district of Sungai Kolok last night killing at least four people and injuring 37 others. The blast followed fierce criticism which followed the prime minister's plan to stop giving money from development funds to southern villages classified as ``red zones'' plagued with violence. But the prime minister stood firm saying decisive action was needed and he would not allow a single inch of Thailand to be separated even ``if blood covers the land''. Police Lt. Nawin Ninwanit, duty officer of Sungai Kolok district police station, said the bomb was planted in a Nissan NV pick-up truck parked by the Marina Hotel in Soi Sawasdi, about 50 metres from the police station. [More>>bangkokpost.net; see turkishpress.com update: YALA, Thailand (AFP) – A car bomb exploded outside a hotel in southern Thailand, killing five people and injuring up to 40 just two hours after Prime Minister Thaksin Shinawatra cut short a trip to the restive region, officials and police said. The blast in the southern border town of Sungai Kolok was the deadliest single bombing in a campaign of violence that has gripped the Muslim-dominated deep south for the past 13 months and claimed about 600 lives.]
---
02.17.05 Qatar rejects Pakistan's demand for more gas
ISLAMABAD, Feb. 18 – Qatar has refused to commit to increasing the volume of gas it will export to Pakistan through the proposed $1.88 billion Gulf-South Asia Pipeline (GUSA) project. Pakistan wanted an increase from the original 1.6 billion cubic feet (Bcf) of gas per day to over 2 Bcf per day. A meeting of officials of the Pakistani and Qatari governments and Crescent Petroleum was held at the Ministry of Petroleum and Natural Resources on Wednesday. Abdullah Bin Hamad Al Attiyah, second deputy prime minister of Qatar, and Amanullah Khan Jadoon, Pakistanıs minister for petroleum and natural resources, attended the meeting.

Qatar said it had already made many commitments to other countries to supply gas and could only provide Pakistan the volume of gas originally decided upon in 1990. [More>>dailytimes.com.pk]

Editorial note:

While this story involves Pakistan it illustrates the growing problem nations are experiencing in shopping for fuel. This affects the availability of fuel to the United States, which will continue to be a diminishing supply. China and India are the nations who will have more affect upon the fuel supply. The search for fuel is creating tension. There is tension between China and Japan over oil fields in the China Sea. Japan has accused China of running its oil drills into Japanese territory. A few small uninhabited islands between China and Japan have the potential of being sources of oil and gas. Between Japan and Russia are islands that also have the potential of being territories that can produce oil and gas.

The pressure upon China to find more fuel has increased the activity of coal mining in China's eastern provinces. The result of this pressure is coal mine explosions, both by 'wild-catters' and government mines.

As the nations compete for fuel and find themselves fighting over barren land (or sea bottoms, as in the Caspian Sea) they will look at the cause of their fight: George W. Bush and his father who caused the United States to become heavily dependent upon oil as a fuel resource. The United States may have consumed most of the world's oil reserves in the past and gotten away with it, throwing its weight around to control the supply, but there is a new world order that is threatening to change this situation. The nations that are forming this new world order – its alliances and trading blocks – have been eliminating the United States from participation. There are exceptions, such as Libya, where the US has managed through might to capture the bulk of Libyan oil leases.But elsewhere the big contracts do not involve the US in its customary role.
Mel Copeland
---